New Age Islam News Bureau
4 Feb 2014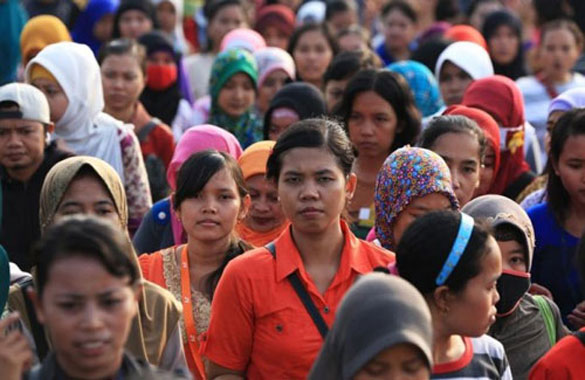 Photo: Muslims join Paris protest against gender equality drive in schools
------------
• After 'Racist' Slur, Saudi Female Pilot Vows To Fight Back
• Saudi Women Urge Top Cleric to End Driving Ban
• Filipino Muslims Urge Hijab Protection Law
• 'I Married Her as Muslim; She Must Leave My House Now That She's Christian'
• A Closeted Life for Tajik Sexual Minorities
• Muslims Join Paris Protest against Gender Equality Drive in Schools
• Iran: Old Challenges Continue For Women under New President
• Nigeria: Vice President's Wife Charges Women on Decent Dressing
• US Abortion Rate Hits Lowest Level since 1973: Study
Compiled by New Age Islam News Bureau
URL: https://newageislam.com/islam-women-feminism/saudi-cleric-suggests-baby-girls/d/35593
-----------
Saudi Cleric Suggests Baby Girls Wear Burqas To Prevent Rape
By Lina Batarags
February 03, 2014
A Saudi cleric has proposed this solution to molestation of young girls: they should be required to wear burqas.
While no law or practice in Islam requires that baby girls wear burqas, Sheik Abdulla Daoud suggested that covering the babies in burqas would keep them from being raped. Daoud made the controversial comment on TV last year, stating that babies were being molested in Saudi Arabia.
The video recently surfaced on social media, and elicited shocked and indignant response from fellow Saudis.
"Now the baby victims are blamed for men's crimes. Allah help us stop the ignorance, stupidity," tweeted Masleeza Othman.
Othman later followed up the original tweet with another condemning those who "abuse, molested and sexually assaulted or harassed the babies, children."
"They aren't supposed to even live!!" Othman continued.
Senior Islamic officers have also been highly critical of Daoud's comments, noting that they "made Islam and Sharia law look bad."
Daoud's comment comes as a contrast to online activists' recent calls for the Saudi kingdom's rulers to impose harsher punishments on child abusers. Most notably, Fayhan al-Ghamdi, a prominent preacher, received a light sentencing after confessing to raping and beating his 5-year-old daughter to death.
Startlingly, al-Ghamdi is protected by Saudi Arabia's Islamic law, under which a father cannot be executed for murdering his children or his wife.
Reports indicate that Saudi Arabia plans to launch a 24-hour hotline, specifically for reporting violence against children.
Sources: http://news.msn.com, http://www.indiandefence.com
http://www.opposingviews.com/i/religion/saudi-cleric-suggests-baby-girls-wear-burqas-prevent-rape
-----------
After 'racist' slur, Saudi female pilot vows to fight back
Feb 04, 2014
A Saudi female pilot has vowed to fight back after saying she was the victim of a racist attack, in which she was called a "slave" by another woman.
Nawal al-Husawi, a Saudi national, is now embroiled in a legal battle after the woman called her "abda," a derogatory term meaning "slave" in Arabic, which traces back to the ancient slave trade which ran through the region.
Enraged, she registered her case in a police station, and hired lawyers to represent her in court.
"I have complete confidence in the judicial system and in fairness of the courts," she told Al Arabiya News.
Racism is a criminal offense in Saudi Arabia.
Husawi has also started an anti-racist campaign on social media, using the word "abda" as a hashtag to raise awareness about alleged racism in the kingdom.
"I started a series of tweets to shed the light on racism," said Husawi. "I wanted to make use of the incident by increasing awareness about the issue and turn the insult from a negative occurrence to a positive one," she added.
A human problem
She is currently in the process of forming a non-profit organization called "Adam Foundation" to raise awareness against racisim.
"Racism is a human problem and not related to any nationality," she said. "Saudi Arabia is like any other country; it is not free of people who are racist."
She also blamed media outlets for fuelling racist sentiments, saying that they portray people of African descent negatively.
Hailing from the kingdom's western region of Hijaz, Husawi is married to a white American.
"Hijaz has many cultures and races, and marrying a non-Saudi is widespread, even preferred by some people."
http://english.alarabiya.net/en/variety/2014/02/04/Saudi-female-pilot-with-African-heritage-wants-justice-after-racist-comment-.html
-----------
Saudi women urge top cleric to end driving ban
Feb 04, 2014
Saudi female activists have appealed for the Gulf Kingdom's top Islamic cleric to push for ending a long-standing ban on women's car driving, saying the benefits of such a law surpass its disadvantages, a newspaper reported on Tuesday.
The London-based Saudi Arabic language daily Al Hayat said the women made the appeal in a letter signed by several female activists and addressed to the country's Mufti, Sheikh Abdul Aziz Al Shaikh.
It said the women told the Mufti they have decided to send this letter after they were advised by male supporters to resort to official channels instead of staging random driving campaigns on roads and clashing with police.
"We appeal for you to reconsider the laws which ban women from driving cars…we decided to resort to you after we found that the benefits of driving a car exceed the disadvantages….otherwise, why there is no law banning women from using mobile phones and internet….we tell those who prohibit female driving that they should also prohibit all other means of technology….those who permit women to use such means should also permit them to drive cars," the letter said.
http://www.emirates247.com/news/region/saudi-women-urge-top-cleric-to-end-driving-ban-2014-02-04-1.537110
-----------
Filipino Muslims Urge Hijab Protection Law
Feb 04, 2014
CAIRO – Filipino Muslim lawmakers have been pushing for a new law to protect women's right to don the Islamic headscarf, or hijab, to ensure veiled women protection against discriminatory institutions or entities.
"We will try to convince other (non-Muslim) members of the House to support its passage," Anak Mindanao Representative Sitti Djalia Hataman told Inquirer Mindanao on Monday, February 3.
According to Hataman, House Bill 659, entitled "The Equal Protection Act", was filed to ensure that institutions, entities, establishments and organizations would not discriminate against the use of hijab.
The proposed law was suggested by Hataman, wife of Autonomous Region in Muslim Mindanao Governor Mujiv Hataman, after she herself experienced humiliation for donning hijab.
She recalled her bitter experience during a forum marking World Hijab Day held last Saturday at the Shariff Kabunsuan Cultural Center.
Hataman broke down as she recalled a humiliating occasion where she and her husband, then congressman Mujiv, were barred from a venue unless she removed her head cover.
She asserted that the unforgettable experience made her faith stronger, and when she was elected party-list representative, she openly declared the wearing of the head cover or scarf by women as her political statement and that Muslim women should not be ashamed of it.
Presenting the new law, Hataman said she was overjoyed that the proposed measure got the support of Muslim lawmakers.
Muslims make up nearly 8 percent of the total populace in the largely Catholic Philippines.
The mineral-rich southern region of Mindanao, Islam's birthplace in the Philippines, is home to 5 million Muslims.
Islam reached the Philippines in the 13th century, about 200 years before Christianity.
Islam sees hijab as an obligatory code of dress, not a religious symbol displaying one's affiliations.
On February 1, one million Muslim and non-Muslim women donned Islamic head scarf in almost 116 countries to mark the second anniversary of World Hijab Day.
The event, held for the second consecutive year, was first suggested by New York Muslim woman Nazma Khan to encourage non-Muslim women to don the hijab and experience it.
It was designed as part of a bid to foster better understanding and counteract controversies surrounding hijab as a Muslim choice.
http://www.onislam.net/english/news/asia-pacific/468799-filipino-muslims-urge-hijab-protection-law.html
-----------
'I Married Her as Muslim; She Must Leave My House Now That She's Christian'
Feb 04, 2014
A Kubwa Upper Area Court, Abuja, Federal Capital Territory (FCT), has dissolved a 16-year-old marriage between Idris Abubakar and his wife, Aishat, over the wife's resolve to change her religion to Christianity.
According to the judge, Alhaji Lawal Munir, Islamic legal system (Sharia) provided that a mere denouncement of Islam by any of the parties automatically dissolved a marriage.
"A case when one of the Muslim spouses denounces Islam and changes religion, the marriage is dissolved," he said.
Munir held that the petitioner's directive that the wife should pack out of the house was proper because they were no longer husband and wife.
The judge said the only contention was the custody of the four children as their interest and welfare must be protected.
He granted custody of the children to the husband because they have been living with him since their mother abandoned them three years ago.
Earlier, Abubakar, who hailed from Okene, Kogi State, told the court that his wife, Aishat, who he married under Islamic laws in 1998, had changed to Christianity.
He said their daughter, Kadija Abudullahi, informed him that her mother was always praying in the Christian way while she attended church services every Sunday.
Abubakar said when he confronted his wife on the issue, she did not deny it. He therefore, urged the court to dissolve their marriage.
The petitioner, who asked the court to direct Aishat to vacate his house, applied for the custody of the children.
He said his wife had left the house for three years and left the children behind.
Aishat, who accepted the divorce and agreed to pack out of the matrimonial home, however, urged the court to grant her the custody of two of the children.
"Abubakar can go with the first two children, while I'm allowed to be in custody of the two younger ones,'' she said.
http://www.tribune.com.ng/news2013/index.php/en/component/k2/item/32298-%E2%80%98i-married-her-as-muslim,-she-must-leave-my-house-now-that-she%E2%80%99s-christian%E2%80%99.html
-----------
A Closeted Life For Tajik Sexual Minorities
By Shahlo Gulkhoja and Firuz Barot
February 03, 2014
"I was a six-year-old boy when I told my mother that I felt like I was a girl," recalls Komil. The next thing he knew, he was undergoing medical treatment intended to cure him of his disease.
After his mother warned him not to share his secret with anyone else, Komil quickly came to realize that there was little tolerance in Tajik society for sexual minorities. Two decades later, the 32-year-old paralegal says, little has changed.
But after hiding his true sexual identity for 25 years, Komil says he is ready to speak about his "life in denial."
Komil says he would love to openly discuss his gender identity, but certain realities lead him to take precautions such as using a pseudonym and speaking with his back to the camera.
"People here think homosexuality is just a treatable illness," he says. "For many years, my parents took me to doctors, faith healers, and mullahs. They took me to mosques, where mullahs tried to exorcize evil spirits from my body. They told me a female genie had taken over my body, and that is why I was attracted to men."
Tajikistan decriminalized homosexuality in 1998, scrapping a Soviet-era law, but homosexuals and other sexual minorities still face firmly entrenched social taboos.
Elena Ibrohimova, a Dushanbe-based gay-rights activist, says parents often pressure their gay children to "fit in," and are even known to force them into heterosexual marriage. Such marriages often end up in divorce, Ibrohimova says.
Komil says his "many years of trying to act normal" put an enormous psychological strain on him.
'Nowhere Else To Go'
At one point, his parents arranged for him to be engaged to a woman who had no idea about his sexual identity.
After going along with the charade for a long time, Komil decided to cancel the engagement.
"I didn't want to mess up somebody else's life and dreams," Komil says.
Komil's decision angered his brothers, however. They stopped talking to him, saying he had brought disgrace on the family.
Like many, Komil suffers in silence. As Ibrohimova describes it, there is a sizeable gay and lesbian community in Tajikistan, "but they try to hide their sexual orientation at any cost."
In Tajikistan, it is not uncommon for psychologists to offer therapy sessions to sexual minorities to cure what they see as a treatable condition.
Dushanbe-based psychologist Zarrina Kenjaeva, who has treated gays and lesbians, says that "homosexuality is another addiction, like drug or alcohol addiction, which you can cure with a strong will."
"We can awaken [gay] men's true, masculine identity through treatment," she says. "It's like treating smoking addicts. Step by step they give up their habit."
Komil's parents haven't still given up hope he will act "normal" one day with the help of counseling and exorcism. Komil, however, says he has had enough.
He has considered moving abroad to live someplace where he can live an "honest life," but financial and visa problems have hampered his plans.
Komil has come to accept that he will likely have to remain in Tajikistan.
"I understand that I will never be accepted in society," Komil says. "I just ask for a bit of space, for a bit of understanding, because I'm also a member of this society and I have nowhere else to go."
http://www.rferl.org/content/tajik-gays-closet/25251804.html
-----------
Muslims join Paris protest against gender equality drive in schools
Feb 04, 2014
Tens of thousands of supporters of the conservative "Manif pour Tous" movement gathered in Paris to protest against gender equality teaching in schools and fertility treatment for same-sex couples.
Sunday's march included a prominent Muslim contribution in a protest movement, originally opposed to gay marriage legislation that was passed in 2013, that has so far been overwhelmingly linked to far-right political parties and to conservative Catholic groups.
The "Manif Pour Tous" (MPT) mounted huge protests before legislation was passed in 2013 allowing gay marriages. Its focus now is on a family law, due to be debated later in the spring, which would allow for medically-assisted procreation (MAP) and IVF treatment for same-sex couples.
Many protesters also told FRANCE 24 they were worried about the state's role in sex education, and the supposed "gender theory" lurking behind an "ABCD of equality" initiative aimed at breaking down gender stereotypes in schools.
The demonstrators claim the move is a deliberate attempt to brainwash children from an early age against what they consider the "natural" differences between men and women, boys and girls.
"The state has no business lecturing children on subjects as private as sexual identity or of imposing adult preoccupations on young children," said MPT leader Ludivine de la Rochère, voicing a concern shared by many of the Muslim associations that joined Sunday's march through central Paris.
Among the heads of the various groups was Samir Driss, of the Muslims for Childhood group.
He told FRANCE 24 that increasing numbers of Muslims were joining the MPT movement, despite its Christian and far-right reputation, attracted to its traditional and conservative view of family life.
"Education should be about teaching children skills so that they can get jobs," he said. "Sex education is not going to get them into work. Sexuality is a subject that I will raise in front of my children when I see fit. I don't want my children to go to school to learn about touching each other."
'I cannot accept it'
His words were echoed by Camel Bechikh, who heads the 'Sons of France' association of patriotic French Muslims.
"The state is responsible for practical instruction of children in schools, not their moral education, which is the business of the family," he told FRANCE 24. "When I take my children to school I expect them to be taught history and geography. I don't want them to be told the state's idea of what is morally right or wrong. That is my job as their father and head of the family."
At the very front of the march, which was dominated by middle class ethnically French demonstrators, Najib Guarraz was among a group holding a huge banner bearing the words, in French and in Arabic: "French Muslims opposed to same-sex marriage."
The 54-year-old father of two told FRANCE 24 he was protesting because the government was "screwing with children's heads".
"I am opposed to gender theory lessons in schools, I am opposed to same-sex marriage," he said. "We are in the process of destroying the fundamentals of French life.
"Gender theory will screw up our children. They are telling them that 'maybe you are a boy but you also have a bit of girl in you, and it's up to you to choose your sex.
"It's not on. Adults are screwing with children's heads and teachers are being trained to poison their minds. I cannot accept it."
Sunday's protest comes a week after several thousand people marched through Paris in a violent "Day of Anger" against the policies of President François Hollande's Socialist government, including last year's law allowing gay marriage.
http://www.france24.com/en/20140202-thousands-french-conservatives-march-family-values/
-----------
Iran: Old challenges continue for women under new president
Feb 04, 2014
Los Angeles, California, UNITED STATES, AMERICAS: Despite the election of new President Hassan Rowhani in the Islamic Republic of Iran (IRI), women continue to face new challenges in exercising their civil rights. For women this means a great challenge to reach equality as well as accessing educational and workforce resources.
Many women's groups have been skeptical about the scope of changes that Iran's new president will bring for Iranian women as women express publicly what they expect from the new president. Asking for Iran's government to remove all "obstacles" that were created during eight years of Ahmadinejad's presidency, many women who have received a higher education are now suffering under a growing national gender gap that is blocking their ability to participate fully in Iran's society, especially its economy.
"These obstacles include measures and policies aimed at limiting women's public and social lives," outlines expert sociologist and Iranian university professor Dr. Ms. Shahla Ezazzi. "Apparently, [the authorities] had come to the conclusion that if men don't want to control their women and force them to stay at home, the government should act as father and grandfather and control women," Ezazzi continued. "…this way of thinking has led to restrictions on women's access to higher education, prohibitions on their studying certain disciplines at universities, and encouragement to stay at home and have babies," she added.
Not only is Iran's new President Rowhani not responding to women activists, but there are new restrictions on women in accessing jobs, especially jobs for single unmarried women.
During the first decade after the Iranian revolution in 1979, many western scholars debated the impact of the revolution on women's economic participation and employment patterns. 35 years after the revolution in 2014 it is clear that the impact of fundamentalist Islamitization and economic policies on Iranian society over the last three decades has not brought good news for women. Instead it has resulted in marginalization in the role of women in Iran's society and economy.
The Comprehensive Population and Family Excellence Plan in Iran proposes legislation that covers 50 legal articles that aim to encourage population growth, a departure from Iran's current population control policies which have been in effect for the past two decades. Incredibly The Plan's main goal is: to "increase the pregnancy rate to 2.5% of the quantitative population growth until the year 2025, simultaneous with qualitative improvement of the population and its stabilization by the year 2051."
The Plan also lays out intentions to deny some women access to the jobs market in the hope that this will make them more likely to stay at home and bear children.
With wide opposition from Iran's civil society The Plan has been opposed by women's groups and activists alike, as well as those living outside in the diaspora. Through an act of opposition 650 signatures on a petition state that The Plan in Iran will only work to widen the country's gender divide in labor. It will also place new and additional restrictions on women's employment, particularly on unmarried women.
According to human rights reporters at ISNA – Iranian Student News Agency, the rate of unemployment for women increased inside Iran in 2013. This was assessed as numbers were recorded for women's employment during the Spring of 2013. Showing a rate that is five times greater than the rate of unemployment for men, women's employment is 13.6 percent, as compared to 64.7 percent for men. Under employment policies that produce a major barrier for women's fair competition in the job market, as well as a chance for 'equal-pay-for-equal-work', the government of the Islamic Republic of Iran now encourages and incentivizes women to stay home, get married and raise more children.
"Much like the other laws and resolutions passed over recent years; women are again deprived of their rights in this plan and are only seen in their reproductive position," shared Iranian women's rights group Change for Equality.
In their statement the 650 petitioners have relayed to the government of Iran that The Plan's "regrettable [policy] articles" covering women, specifically pertaining to new restrictions on the use of contraceptives, intends to further restrict women. It particularly restricts single women from accessing employment and educational opportunities, outlines the International Campaign for Human Rights in Iran.
Barriers on women's employment also affects a diverse array of careers. Women real estate agents, while holding more than 66 percent of the real estate business licenses issued in Tehran, are currently banned in Iran from working in their chosen field as real estate agents. Women are also only currently allowed to be employed as a clerk only in any real estate agency office, including their own office.
According to Sharia Law in Iran, it is the duty of the husband to work for a living and provide nafaqa (maintenance) for the family while the wife has no such duty. However if a wife decides to work, whether on account of her personal desire or due to an insufficient income of the family she does have the right to work, outlines the Law. This right nevertheless is conditional and can be restricted by the husband.
"The husband can prevent his wife from an occupation or technical profession which is incompatible with the family's interests or the dignity of him or his wife," outlines Article 1117 of Iran's Civil Code.
Article 1117 does not forbid or deny the wife's general "right to work." Instead it gives the husband the right to prevent his wife from a "specific job or profession."
According to the Global Gender Gap Report in 2013 issued by the World Economic Forum, Iran now ranks close to the bottom of the list for women's economic participation at position 130 out of 136 countries. As the social and employment engineering of the IRI aims to close the employment gap for women it is actually widening the barriers for women inside the labor market.
In other words, the Civil Code has not prescribed the same rights for a wife to prevent her husband from taking a job even though she may view it as incompatible with the family's interests or her position. Seeing that the Law does not protect women's rights in Iran, some women when marrying their husbands now add binding conditions to their marriage contract stating that a husband cannot forbid them from working. A woman may also stipulate in a marriage contract that she can keep her current job even after marriage.
While restrictions against women real estate agents is not a new ban on women in the field, a recent threat in real estate office closures by the head of Tehran's Real Estate Consultants Association forewarns that offices with any women holding positions as real estate agents will be closed as a form of punishment for one week.
This recent delivery of sanctions has been placed into policy in spite of the fact that out of a total 1,200 real estate business licenses in Tehran, 800 of these licenses for real estate offices were issued to women. The licenses were issued though with a legal precondition that the position of real estate agent, called 'real estate consultant' inside Iran, will only be given to male associates or employees. In contrast a woman owner of a real estate business license is not allowed to work in this capacity.
"According to Islamic rules the rights of men and women are equal but the ban on women holding a position of real estate agent is just to ensure the safety of women," said the president of Iran's Association of Real Estate Agencies in a recent interview.
The 650 signatories of the petition to stop The Comprehensive Population and Family Excellence Plan strongly disagrees though.
"Is there no other way to promote excellence than to deprive women of jobs, income, and education, and to limit women to the role of a procreation instrument and not as half of the population with rights?" outlined the 650 petitioners to The Plan in their statement. "Why does excellence in every issue mean discrimination and limitation and animosity with women's rights for the legislators?" they continued.
Emphasizing that depriving women of employment does not lead to their bearing more children and would only lead to an increase in both women's and men's presence in the unofficial and unsafe job markets, the statement signatories also asked members of the Iranian parliament to remove The Plan from their agenda. They also caution parliamentarians that approving The Plan will only serve to increase gender discrimination in Iran as it becomes "a huge regression for women" under the Law.
The reality of women's economic participation is far from the Sharia Law that manifested itself through religion 14 centuries ago. According to Shargh News in January 2014, women heads-of-household make up 12 percent of all families in Iran. Surprisingly 82 percent of these women are unemployed. This means out of 2.5 million families with women heads-of-household, only 550,000 are employed.
As Iran's labor market 'inflexibility' and social engineering policies deny women public space and presence, the structure of inequality is not on the agenda for Iran's new president. Women's human rights and dignity are as fragile in today's Iran as ever since the beginning of the establishment of Islamic Republic of Iran in December 1979.
Some women do receive minimal governmental support, but 250,000 families are currently not receiving any kind of support in Iran as they become statistics known globally as the 'poorest of the poor'.
"Gender segregation cannot succeed," say women activists who live in Tehran today. "Let us remember that societies only thrive when women thrive," they add.
http://womennewsnetwork.net/2014/02/03/iran-womens-jobs-shrink/
-----------
Nigeria: Vice President's Wife Charges Women On Decent Dressing
Feb 04, 2014
The wife of the Vice-President, Hajiya Namadi Sambo, has urged women to promote their dignity and ensure modesty.
She also lamented that new technologies such as internet and cable television which promote western civilised culture have done a lot of harm in the area of fashion. Speaking at the Maiden World Hijab Day Celebration themed 'My Hijab, My Pride' in Abuja Saturday, Sambo expressed appreciation that more Muslim women are working to sensitise and promote Islamic identity and culture.
"Some modes of dressings in the name of fashion are indecent, indiscipline, and immoral, not modernisation...one of the essences of hijab is to protect women from abuse and disrespect", she added.
"This particularly includes various forms of sexual abuse and harassment which are prevalent in societies in which few women cover. Men often get mixed signals and believe that women want their advances by the way they reveal their bodies," Sambo said.
Also, wife of the Minister of the FCT, Hajiya Aisha Bala Mohammed, in her remarks urged Muslim women to not just imbibe the use of the hijab, but to match the practice with good character.
She added that the hijab did not forbid a woman from doing her work properly or from socialising.
"It is not about black clothes, it is about covering yourself, it is our pride and it protects women. When you wear your hijab, a man hardly challenges you or insults you, rather, you are respected," Mohammed said.
Other speakers include the General Secretary of the Women Rights Advancement and Protection Association (WRAPA), Hajiya Saudatu Mahdi and Senator Khairat Gwadabe.Highlights of the event include the presentation of an award to Sambo, and a fashion parade by local hijab designers.
http://allafrica.com/stories/201402031185.html?aa_source=sptlgt-grid
-----------
US abortion rate hits lowest level since 1973: Study
Feb 04, 2014
NEW YORK: The abortion rate in the United States dipped to its lowest since 1973, coinciding with a steep decline in overall pregnancy and birth rates, a study from a nonprofit sexual health organization showed on Sunday.
The rate declined to 16.9 abortions per 1,000 women between the ages of 15 and 44 in 2011, the latest year studied, which was well below the 1981 peak of 29.3 per 1,000 and the lowest since 1973 when the rate was 16.3 per 1,000, the study from Guttmacher Institute showed.
"With abortion rates falling in almost all states, our study did not find evidence that the national decline in abortions during this period was the result of new state abortion restrictions. We also found no evidence that the decline was linked to a drop in the number of abortion providers during this period," says Rachel Jones, lead author of the study.
The decline in abortions coincided with a drop in overall pregnancy and birth rates, and contraceptive use and methods improved during the period, Jones said. The recent recession also led many women and couples to want to avoid or delay pregnancy and childbearing.
The study also found that the total number of abortion providers declined by only 4% between 2008 and 2011, and the number of clinics, which provide the large majority of abortion services, declined by just 1%.
While the overall abortion rate declined, the proportion of abortions that were early medication procedures continued to increase, according to the study.
An estimated 239,400 early medication abortions were performed in 2011, representing 23% of all nonhospital abortions, an increase from 17% in 2008. The study estimated that 59% of all known abortion providers offer this service.
http://articles.timesofindia.indiatimes.com/2014-02-03/us/46962317_1_abortion-rate-abortion-providers-abortion-services
-----------
URL: https://newageislam.com/islam-women-feminism/saudi-cleric-suggests-baby-girls/d/35593