New Age Islam News Bureau
21 Oct 2017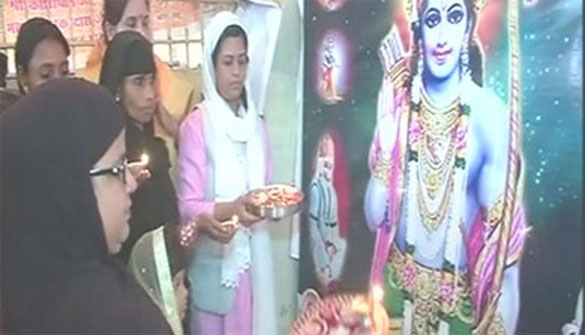 Muslim women performing Aarti in Varanasi a day before Diwali. (ANI Photo)
-----
• Saudi Cleric Says Women Are To Blame for Rape and Harassment
• No Rohingya Woman Safe As Rapists Run Rampant: Experts
• Fatwa Issued After Muslim Women Perform Aarti on Diwali in Varanasi
• 'It's Their Choice': 3 Muslim Women Weigh In On Que. Face-Covering Law
• Burqa Ban is Just another Way of Oppressing Women and Restricting Freedoms
• Princess Reema Should Get Saudi Women Exercising
• Women's Tournament Explores Saudi Collaboration
• Saudi Female Officers to Attend To Women Involved In Road Accidents
• Sharjah Women's Sport Foundation Win New Sponsors
• Iran: Women actively engage in more protests
• Iran: 15-year-old girl arrested by security forces
Compiled by New Age Islam News Bureau
URL: https://www.newageislam.com/islam-women-feminism/saudi-cleric-says-women-blame/d/112973
--------
Saudi Cleric Says Women Are To Blame for Rape and Harassment
Oct 20, 2017
A Saudi preacher has sparked a backlash on social media for suggesting women are the "cause of harassment and adultery".
Ahmed Bin Saad Al Qarni started his rant with a video which he claimed showed a woman "provoking" a man, with the caption: 'If he rapes her, she'll come home crying over her dignity", according to StepFeed.com
"I swear to God, women are the cause of harassment and adultery. Look at the woman in this video, she's the one who stopped the man driving the vehicle, and she's the one who got into the car with him."
The preacher also said: "A woman who leaves her house wearing make-up and perfume is an adulteress."
A number of Saudi women hit back at the cleric's remarks. Reema, a graduate student, told StepFeed:"Al Qarni has no idea what we, as Saudi women, go through on a daily basis."
"He must know that women wearing the Hijab, Abayas and even the Niqab are harassed every single day.
"We'll say it a thousand times, a million times until they understand it: Sexual harassment has nothing to do with the victim. It has nothing to do with what we wear, how we behave, what we say."
"I believe in freedom of expression but not here, not with such bigoted statements. This man needs to either retract his words or be held accountable for them."
After giving women the legal right to drive last month, the Saudi government is now considering introducing legislation that would make sexual harassment a criminal offence.
King Salman bin Abdulaziz has ordered the interior minister to prepare a draft anti-harrassment law, according to local media.
A draft of the legislation seen by Arab News said: "Considering the dangers sexual harassment poses and its negative impact on the individual, the family and society, along with its contradiction of Islamic principles, our customs and traditions [...], the ministry shall prepare a draft law to tackle sexual harassment."
http://www.independent.co.uk/news/world/asia/saudi-arabia-women-rape-sexual-harassment-men-middle-east-muslim-a8010511.html
--------
No Rohingya woman safe as rapists run rampant: Experts
October 20, 2017
Rape is being used as a weapon of war in the Rohingya crisis, with no woman safe from the risk of sexual attack as Myanmar's Muslim minority is driven out of its homeland, according to experts in the field and those caught up in the crisis.
Doctors treating some of the hundreds of thousands of Rohingya Muslims who have fled to Bangladesh from Myanmar in recent weeks have seen dozens of women with injuries consistent with violent sexual attacks, according to U.N. clinicians.
Read more: Rohingya refugee children in dire state, says Unicef.
And women interviewed by the Thomson Reuters Foundation tell of violent rape by Myanmar security forces as they flee their homes, part of a mass Rohingya exodus.
"The Burmese (Myanmar) military has clearly used rape as one of a range of horrific methods of ethnic cleansing against the Rohingya," said Skye Wheeler, a sexual violence expert with Human Rights Watch who has assessed the fast-filling camps.
"Rape and other forms of sexual violence has been widespread and systematic as well as brutal, humiliating and traumatic," she told the Thomson Reuters Foundation.
Myanmar dismisses all such accusations of ethnic cleansing, saying it has to tackle insurgents, whom it accuses of starting fires and attacking civilians, as well as the security forces.
Yet villagers fleeing the violence say rape is a routine weapon in the military's armoury, with the United Nations now deliberating whether the violence amounts to genocide.
GANG RAPE
Whatever the legal definition, 18-year-old Nurshida knows only too well what happened to her.
Speaking to Thomson Reuters Foundation from the relative safety of her camp, Nurshida recalled how her class of 30 was marched in silence to their school last month, held at gunpoint by uniformed soldiers, then manhandled into the main auditorium.
The schoolgirls, she said, cowered as one in a corner; the men - breathing heavily and dripping sweat - occupied another.
The gang rape began immediately.
Fair-skinned Nurshida, with bangles looping her wrist and a loose scarf shrouding her hair, said she was chosen first by the group, six clean-shaven soldiers carrying guns and machetes.
"One of the men held me tightly on the floor. I started screaming, but a second soldier hit me in the face with his hand and undressed me fully. I was silent when they raped me, there was nothing I could do," Nurshida said.
Her two friends were thrown to the floor next. As they were raped, smoke was rising in the distance – her native Naisapru village was on fire, one of many set alight in the exodus.
"All of the schoolgirls were raped and there were loud screams everywhere," said Nurshida, sitting in a mud hut in Bangladesh's Kutupalong camp where she is waiting to register as a refugee.
Authorities say her story fits a horribly familiar pattern.
"The stories we hear point to rape being used strategically as a weapon of war," aid Rashed Hasan, a lieutenant colonel in the Bangladesh army.
Women of all ages and backgrounds have reported similarly brutal sexual assaults - as well as witnessing family killings, losing children and being forced from their homes.
"Rape is an act of power. It knows no discrimination in terms of age, sex or ethnicity," Saba Zariv of the United Nations Population Fund told the Thomson Reuters Foundation.
PREGNANT, RAPED, ABANDONED
At nine months pregnant, Jannet says she was brutally tortured and raped at her home in Myanmar.
"My husband was killed five days before soldiers attacked our village. Our three children have never been seen again since," she said, cradling five-day-old Fatima in the flimsy makeshift tent she now calls home.
Fatima, who was delivered in a rice field, is her only remaining family member.
Late into her pregnancy, Jannet said she was alone when the army marched into Fakira Bazaar village. While everyone scattered into the jungle, the 22-year-old chose to hide.
"Several soldiers broke the door. They saw that I was pregnant, but they all raped me." At the end of the day she was left naked, beaten, her children gone.
"I cried and screamed for them, but I still don't know where they are," she said. "I never want to go back to Myanmar ... I have lost everything."
Yet safety is not guaranteed in the chaotic Rohingya refugee camps that are quickly becoming the world's largest.
Parvin, 20, said she has been rejected by her in-laws after soldiers beheaded her husband and raped her while she was five months pregnant.
"They beat me unconscious," she said. "I woke up to an empty village and my in-laws searching for me. I was lying naked on the floor of their house."
The last thing Parvin's mother-in-law did for her was help her wash after the rape. "They told me they didn't want to take responsibility for me and rejected me."
Now she lives alone in a bamboo house, terrified of men.
"I can never get married again now that I was raped. I have no choice but to raise my baby alone," she said. "That's all that drives me now. I have lost all else."
http://www.thedailystar.net/rohingya-crisis/no-rohingya-woman-safe-rapists-run-rampant-experts-1479280
--------
Fatwa Issued After Muslim Women Perform Aarti on Diwali In Varanasi
Oct 21, 2017
New Delhi: The influential Islamic seminary, Darul Uloom Deoband issued a new 'fatwa' (edict) where prohibiting Muslim men and women from worshipping any other God than Allah.
"If anyone worships any god except Allah, they don't remain Muslim," said Darul Uloom, apparently referring to Muslim women who performed Aarti on Diwali in Varanasi.
The fatwa was issued on Saturday.
The development came days after the Islamic seminary asked Muslims to not post their pictures on any social media platform like WhatsApp, Facebook while terming it 'un-Islamic'.
Justifying the move, Shahnawaz Qadri, Darul Uloom Deoband, said, ''Unnecessary uploading of pictures on social media is wrong. Fatwa of Darul Uloom Deoband is appropriate.''
The seminary issued the fatwa days after a person submitted a written question to Darul Iftaa, asking it to explain whether posting pictures of himself or his wife on Facebook and WhatsApp was un-Islamic or not.
In the wake of this query came the fatwa saying that Islam doesn't allow the act.
Reports have it that earlier this month, the Darul Uloom Deoband also issued a fatwa calling ban on women plucking, trimming, shaping their eyebrows and cutting hair.
Darul Iftaa had then clarified that there are ten acts, including eyebrow plucking and hair-cutting which are banned for Muslim women under Islam.
http://zeenews.india.com/india/fatwa-issued-after-muslim-women-perform-aarti-on-diwali-in-varanasi-2051228.html
--------
'It's their choice': 3 Muslim women weigh in on Que. face-covering law
Oct 20, 2017
Some Saskatchewan residents are concerned how fellow Muslim women in Quebec will be viewed and treated after the passing of a controversial face-covering law.
On Wednesday, a law that mandates people receive and give public services with their faces uncovered was passed in Quebec's National Assembly.
It's been called a religious neutrality law, and it prohibits public sector employees, including dentists, doctors, teachers, midwives and daycare employees, from covering their faces.
The law does not specifically mention the niqab or burka — traditional face-covering garments worn by some Muslim women — but with the law women will have to remove their niqab or burka to take public transit or work in the public sector.
"I think it's really unfair," Rinad Ramadan said, noting she wears a hijab because it's her choice.
In her experience, people seem to think Muslim women are "oppressed or forced" into wearing a niqab, hijab or burka, but she said that's not the case.
"It's their choice, too," she said. "They would think it's oppressive for the government to not give them their right to wear what they want."
Ramadan said Bill 62 is actually what will oppress women. She said it might be hard for people to imagine why women would choose to wear a face or head covering, but encouraged people to put themselves in the women's shoes.
"For me, I don't know how I would be able to go out in public without my hijab. It's just so important to me."
Anam Jamhaed is divided on the issue.
At one point, Jamhaed lived in Pakistan and covered her face, but in Canada she chooses to just cover her hair.
"On one side, I think it's fair that when you are in public and you are dealing with public that you have face uncovered," she said.
Jamhaed said that might be reasonable because of the increasing level of threats and terrorist attacks around the globe.
"On the other hand, everyone should have the freedom to dress however they want."
Jamhaed thinks the law will marginalize women.
On Thursday, Prime Minister Justin Trudeau said it wasn't up to the federal government to challenge the legislation, but that he would "always defend" people's rights under the charter.
The law has been difficult for Dorreya El Sebaee to hear about. She has lived in Saskatoon for about two months and previously lived in Egypt.
"I think it's a shame because Canada is an open-minded culture and they have diversity of peoples," she said.
El Sebaee said the Canadians should accept each other, regardless of what one wears.
She said people should be treated like people rather than a piece of cloth.
http://www.cbc.ca/news/canada/saskatchewan/sask-muslim-women-religious-neutrality-bill-quebec-1.4364113
--------
Burqa Ban is Just Another Way of Oppressing Women and Restricting Freedoms
Oct 20, 2017
Quebec has become the latest place where face coverings have been partially banned. It means those using public services (pretty much everyone) will have to uncover.
It follows similar rulings In France, Belgium and Holland but Trudeau's Canada seemed less likely a place where the veil would be banned.
It's a restriction which will undoubtedly affect Muslim women more than anyone and with recent sexual harassment scandals coming to light, one wonders why authorities and those in a position of power obsess over women.
Canadian politician and lawyer Jagmeet Singh said the ban violates human rights and Prime Minister Trudeau previously called dictating what people can wear a 'cruel joke'.
Everyone has the right to wear what they choose and the Burqa is no different. Banning it is essentially oppressive to religious women who wish to veil themselves, because let's not forget Islam isn't the only religion to recommend covering up.
There are many variations of the covering but its philosophy is essentially the same - to dress modestly and it's up to individual Muslim women to decide what that means for them.
But just like French authorities shamelessly forced a woman to undress on a beach last year, it's becoming ever more apparent that some will seek nothing but abuse, oppression and restriction of women under the guise of 'freedom', 'security' and 'transparency'.
Just because we don't like, understand or agree with other faiths, cultures or garments doesn't mean we have the right to tell people what to wear. We think we're past the days of fascism and intolerance but freedom hasn't ever been such a false and convoluted concept as it has become these days.
Just as Harvey Weinstein is being accused of harassment, this is no less abuse of women's rights and dignity.
It risks creating rifts in communities and destroying tolerance and understanding of other faiths and cultures.
Security is no excuse because women can remove the covering to identify themselves in courts or at airports as happens in the UK but banning it outright in this way restricts both religious and civil freedoms.
Modest dress in Islam applies equally to both men and women. The philosophy of modesty transcends outward appearance, it applies to one's thoughts and actions too.
The veil is the outward symbol of the inner modesty and purity Muslim women seek by emulating Mother Mary whose cited as an example for them in the Holy Qur'an.
But it seems as though some are adamant to do away with modest and decent behaviour and dress.
While Muslim women are restricted in their clothing choices, other women are sexually harassed by men who have lost all sense of decency and self respect.
This is why Islam begins by prescribing modesty to men first and advocates for them to avoid licentious glances, honour the opposite sex and respect their space.
Only after this the Holy Qur'an instructs women to dress modestly and cover up their beauty.
But it starts with the men, who are ultimately the cause of the problem and today seem to feel they can dictate to women how to dress and behave.
If the teaching of modesty, which underpins the concept of the face veil or any covering, was adhered to by both sexes, we would never see the widespread levels of sexual abuse prevalent in our society.
Putting restrictions on women isn't going to help solve the issues of security, harassment or equality. It shows how patriarchal our societies still are despite thinking we've made progress. We haven't.
There needs to be a change in the our approach towards women because the way we're treating them is putting men to shame.
In Islam, the mother is honoured so highly that Paradise lies at her feet and serving her is deemed among the noblest causes.
Can we then at least respect the dignity, autonomy and freedom of all women considering the womb that once nurtured us all?
https://www.huffingtonpost.com/entry/burqa-ban-is-just-another-way-of-oppressing-women-and_us_59ea21f3e4b0542ce4290d13
--------
Princess Reema should get Saudi women exercising
By Heba Kanso
Oct 21, 2017
THE appointment of first Saudi female head of sports should attract more women into gyms and on to sports pitches, female sports organizers said on Friday.
Princess Reema Bint Bandar last week became the first female president of the Saudi Federation for Community Sports that manages sports-related activities for both men and women.
Her appointment came amid a series of changes for women in the Kingdom hailed as a new progressive trend including giving women the right to drive and encouraging more women to work.
But a guardianship system, under which a male family member must grant permission for a woman to study, travel and other activities, remains in place.
Lina Almaeena, who formed Jeddah United, Saudi Arabia's first private female basketball club, in 2003, said the princess' appointment was significant.
"It's going to be changing stereotypes because of her appointment in that role as the head of both genders," she told the Thomson Reuters Foundation from Jeddah.
Female participation in sports has long been a controversial issue in Saudi Arabia where women cannot exercise with men and there are no public sports facilities for women as many clerics consider sport for females as immodest.
Saudi Arabia didn't send any women to the Olympics until 2012.
But this has taken its toll, with around 44 percent of women classified as obese in Saudi Arabia which has some of the world's highest rates of obesity and diabetes.
Susan Turner, chief executive of NuYu, the Kingdom's first chain of female fitness centers, said Reema's appointment would bring women's health to the "forefront".
"It's everybody's right to have access to these facilities and to look after their health ... women are realizing that if they are not doing (exercise) already it is just bringing those statistics and facts to light," said Turner.
According to the Kingdom's Vision 2030 reform plan, only 13 percent of the Saudi population exercises at least once a week. The plan aims to boost that number to 40 percent.
Reema — daughter of a former Saudi ambassador to Washington — championed the licensing of female-only gyms and sports clubs in her previous role leading the women's section of the national General Sports Authority.
Turner said she hoped in addition to getting more women into sports her own business would benefit.
"For us to be able to grow more clubs and that we can get licenses and knowing that somebody very confident and very capable is in charge of sports ... it just gives us a huge amount of confidence," Turner said by phone from Riyadh.
Lina Almaeena, who is also a member of the advisory Shoura Council, said having a woman in the role would have a knock-on effect across Saudi society.
"I see a lot of business opportunities, a lot of women empowerment," she said.
— Thomson Reuters Foundation
http://saudigazette.com.sa/article/519862/SAUDI-ARABIA/Into-the-gym-Princess-Reema-should-get-Saudi-women-exercising
--------
Women's tournament explores Saudi collaboration
October 20, 2017
Sharjah: A delegation comprised of high-level members of the Supreme Organising Committee for the Arab Women Sports Tournament (AWST), headed by Shaikh Khalid Bin Ahmad Bin Sultan Al Qasimi, Chairman of the Committee, met with a number of Saudi Arabian sports bodies and organisations to strengthen collaboration and increase the number of Saudi athletes participating in AWST 2018.
The event is scheduled to be hosted in Sharjah from February 2 to 12.
During their brief visit, the delegation met separately with Prince Talal Bin Badr Bin Saud Bin Abdul Aziz, President of the Arab Sports Council and Chairman of the Union of Arab National Olympic Committees (UANOC), and Princess Reema Bint Bander Bin Sultan Bin Abdul Aziz, Undersecretary of the General Authority for Sports Planning and Development and discussed potential joint initiatives and ways to develop women's sports in the UAE, Saudi Arabia and the wider Arab region in general.
The delegation, which comprised of Shaikha Hayat Bint Abdul Aziz Al Khalifa, member of the Bahraini National Olympic Committee and Chairperson of the tournament's follow-up and supervision committee; Nada Askar Al Naqbi, Director General, Sharjah Women Sports Foundation (SWSF); Sa'ad Bin Saleh Al Sufyani, Assistant Secretary General, UANOC, besides a number of other members and officials in charge of organising and media committees.
"These meetings are in keeping with the directives of Shaikha Jawaher Bint Mohammad Al Qasimi, wife of His Highness the Ruler of Sharjah, Chairperson of the Supreme Council for Family Affairs and Chairperson of SWSF, to bolster cooperation and collaboration with Saudi sports organisations and fulfil the visions of both countries, supporting the presence of GCC women in international sports forums," Shaikh Khalid said.
"Our collective efforts will ensure that there is greater participation and a more holistic approach in developing the status of women's sport across the region and beyond. With these combined endeavours, we will continue to see significant increases in the success of our female athletes with regards to both the level of competition and the results achieved," he added.
Prince Talal and Princess Reema praised the immense support extended to Arab women's sports by His Highness Dr Shaikh Sultan Bin Mohammad Al Qasimi, Supreme Council Member and Ruler of Sharjah, and his wife, Shaikha Jawaher.
They further confirmed that Saudi Arabia is determined to press ahead with women's empowerment and increase their engagement in all domains, especially in sports, an approach that perfectly aligns with UAE's 'Vision 2030'.
http://gulfnews.com/sport/uae/more-uae/women-s-tournament-explores-saudi-collaboration-1.2109590
--------
Saudi female officers to attend to women involved in road accidents
MOHAMMED RASOOLDEEN
21 October 2017
RIYADH: Arrangements are being made by the General Traffic Department to deploy women officials to attend to Saudi women drivers involved in road accidents.
The arrangements are being made in view of the recent royal order issued by King Salman on issuing driving licenses to men and women alike.
In a statement to Arab News, Najm for Insurance Services Co. announced its readiness to support the implementation of the royal decree by initiating a customized program that highlights the role of Saudi women in managing traffic accidents.
As per the directions of the Saudi Arabian Monetary Authority (SAMA), the General Traffic Department and Najm will develop a process of accommodating and serving Saudi females involved in road accidents and helping them finalize the required legal procedures.
The statement added that since its establishment, Najm has been keen to support the development process in Saudi Arabia, now working in line with Vision 2030.
Najm, through its operational strategy, is continuously developing its services by applying an integrated solutions framework and utilizing digital services to meet the demands of their clients to ensure a quick response.
http://www.arabnews.com/node/1180971/saudi-arabia
--------
Sharjah Women's Sport Foundation win new sponsors
October 20, 2017
Sharjah: Sharjah Women's Sport Foundation (SWSF) has announced that the Sharjah Environment Company (Bee'ah) has signed up as its latest sponsor. The organisation says that the sponsorship deal is in keeping with its commitment to forging strategic partnerships with state organisations and private institutions with the aim of elevating women's sports in the UAE in general and in Sharjah in particular.
The sponsorship agreement between the two parties stipulates that Bee'ah, Sharjah's leading integrated environmental and waste management company, will extend sponsorship, financial and logistic support to all table tennis and self-defence teams operating under the umbrella of SWSF. The foundation will reciprocate by providing Bee'ah with promotional space at all of its events and activities.
"Our latest strategic collaboration sees us join hands with one of the leading companies in the field of preservation of the environment and promotion of sustainable development. We are looking forward to extending participatory institutional work that contributes to furthering the elevation of women in sports, locally and regionally," Nada Askar Al Naqbi, the director general of SWSF, said.
"At SWSF, we seek to support our clubs and female athletes and provide them with everything they need to participate and compete in local, regional and international competitions and tournaments, thereby enhancing the position of the UAE on the global sports stage and highlighting the unparalleled support given by the country's wise leadership to Emirati female athletes."
Khalid Al Huraimel, CEO, Bee'ah, said: "Bee'ah is delighted with its most recent collaboration, which sees us cooperate with SWSF, one of the leading entities that seeks to elevate women's sport in the UAE. Through this agreement we aim to establish a contractual formula that enables us to support and sponsor our female sports teams in keeping with our responsibility towards our community and our country."
http://gulfnews.com/sport/uae/more-uae/sharjah-women-s-sport-foundation-win-new-sponsors-1.2109588
--------
Iran: Women actively engage in more protests
20 October 2017
This month has been studded by protests to the state-backed companies in Iran which have looted people's properties and deposits with women playing an active part in them.
In Tehran, people whose deposits have been plundered by Padideh and Caspian institutes rallied at 7 pm, October 19, 2017, in Keshavarz Blvd. and chanted, "Citizens' rights are gone, people are oppressed", "Shame, shame, on the Judiciary."
In Ahwaz, capital of the oil-rich province of Khuzistan in southwest Iran, people protested against the government-backed Arman institute, by gathering at 5 pm in front of the governor's office upon a previous call.
The protesters got furious when they faced closed doors of the governor's office and attempted to break them open, which forced the guards to open the doors.
The State Security Force attacked the protesters by batons, taking away or breaking their cellphones to prevent them from filming the scenes. However, people did not care and continued protesting and shooting films. Eyewitnesses said a large number of guards had surrounded the protesters who chanted, "Death to the irresponsible government", "We are fighters, fight and we will fight back."
One of the women participating in the protest, furiously cried out, "Iran is the only country whose wealth goes everywhere except to her own people."
http://women.ncr-iran.org/iran-women-news/4416-iran-women-actively-engage-in-more-protests
--------
Iran: 15-year-old girl arrested by security forces
20 October 2017
Intelligence forces in Abadan, southwestern Iran, arrested a teenage girl.
Ma'edeh Shaabani Nejad, 15, was arrested at her high school and taken to the Department of Intelligence on October 18, 2017, after her residence was encircled and thoroughly searched by agents of the Intelligence Department of Abadan. Ma'edeh is a high school freshman.
She had been summoned the day before by Abadan's Intelligence HQ 114 and detained from 10 am to 4 pm.
Ma'edeh's father was a dissident poet and a member of the Al-Hawar Cultural Institute, executed earlier this year. The reason for the girl's arrest remains unclear.
http://www.women.ncr-iran.org/iran-women-news/4415-iran-15-year-old-girl-arrested-by-security-forces
--------
URL: https://www.newageislam.com/islam-women-feminism/saudi-cleric-says-women-blame/d/112973
New Age Islam, Islam Online, Islamic Website, African Muslim News, Arab World News, South Asia News, Indian Muslim News, World Muslim News, Women in Islam, Islamic Feminism, Arab Women, Women In Arab, Islamophobia in America, Muslim Women in West, Islam Women and Feminism