New Age Islam News Bureau
30 May 2013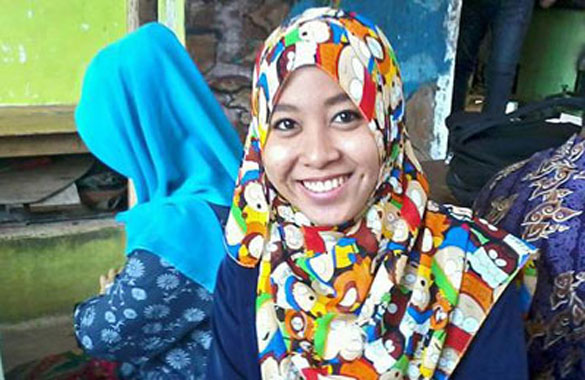 Photo: The girl in a 'South Park' Hijab
----------------
• Women Account For 26% of Saudi Graduates in the US
• Fatima Sheikh from Bangladesh Portrays Malala in the Film Gul Makai
• Happy Reunion of a Bangladesh's Trafficked Girl, Thanks To the Indian Citizen
• Expat Women in Saudi Arabia Rush To Be Fingerprinted
• Durham Woman Gets US State Department Scholarship
• Indonesian Muslim Woman Shows Off Her Playful Side with a 'South Park' Hijab
• Malala in Makkah for Spiritual Solace
• Anti-Femen protest outside Tunisia courthouse
• Domestic abuse among Emirati women is 'more verbal than violent'
• Workplaces 'Need To Be Friendly To Women'
• Contrary To Claims, EC of Pakistan Fails To Release Gender-Based Data
• Rafsanjani Disqualification from Vote Seen Hindering Iranian Women's Rights
Compiled by New Age Islam News Bureau
URL: https://newageislam.com/islam,-women-and-feminism/new-age-islam-news-bureau/saudi-cleric-encourages-harassing-working-women/d/11814
-------------
Saudi Cleric Encourages Harassing Working Women
30 May 2013
A Saudi cleric has stirred heated debate among his followers on Twitter after his post about Saudi women working was accompanied by the hashtag "#harass_female_cashiers," Gulf News reported on Wednesday.
Abdullah Mohammed al-Dawood, who is an author of self-help books, has called on men to harass women working as cashiers to discourage them from leaving home, so as not to lose their chastity.
Some of his 97,000 followers supported his call, with one saying: "It is a man-made law and it can't be accepted in a kingdom ruled by God's law. They had better ban mingling of the sexes, not protect it."
However, another asked: "What kind of person urges the youth to commit debauchery?"
One follower tweeted: "Advocate of female molestation, Abdullah Mohammad Al Dawood, has also written a self-help book. Who would seek his advice, I have to wonder."
Others even suggested that he practise what he preaches, and molest his own wife and sisters.
Conservative cleric Khalid Ebrahim al-Saqabi reportedly supports Dawood's appeal, saying the law proposed by the government against sexual harassment in mixed workplaces was "only meant to encourage consensual debauchery."
Saqabi was quoted by the International Business Times as asking: "Why is the labor minister concerned with finding jobs for women instead of men?"
http://english.alarabiya.net/en/News/middle-east/2013/05/30/Saudi-cleric-encourages-harassing-working-women.html
-------------
Women account for 26% of Saudi graduates in the US
30 May 2013
More than 7,000 Saudi students in the sixth graduating class under the King Abdullah Foreign Scholarship Program graduated from various American institutions this year, said Mohammad Al-Eissa, Saudi cultural attaché to the United States.
Al-Eissa pointed out that the female students represented around 26 percent of the sixth graduating class, with 1,868 female graduates.
In his speech at the graduation ceremony held in Washington recently, Al-Eissa said that 1,190 women graduated with master's degrees, while 139 obtained Ph.D. degrees, accounting for 34 percent of the total number of doctoral candidates.
He commended the women at the attaché for their role in supporting and serving scholarship students.
Al-Eissa stressed the Kingdom's keenness to support women's higher education abroad through national grants and scholarships.
Saudi graduates this year were divided among the 48 states. Those who attended various bachelor's, master's and doctoral programs included 2,223 graduates in business administration, 1,481 graduates in engineering and 148 medical students who have joined fellowship programs.
Khaled Al-Angari, minister of Higher Education, stated that the number of students on scholarships in the US has increased from 5,000 in 2005 to 100,000 this year, which emphasized the message of Custodian of the Two Holy Mosques King Abdullah on the importance of education, the future of young Saudis and the progress of the country.
http://www.arabnews.com/news/453383
-------------
Fatima Sheikh from Bangladesh Portrays Malala in the Film Gul Makai
Jyothi Prabhakar, TNN | May 30, 2013
Filmmaker Amjad Khan, who, as we told you, was making a film on Malala Yousafzai called Gul Makai, has finally found his Malala. Her identity had been kept a secret for the last 40 days, ever since he did her look test and screening. But now, we can tell you that her name is Fatima Sheikh, and she's from Dhaka, Bangladesh.
"There were two reasons for all this secrecy. One was that her parents were extremely reluctant to let her do this role, let alone expose her to the danger it involved, second was the work permit. She is a Bangladeshi citizen and she needed a work permit to shoot in India. Fatima ke parents ko manane mein bahut waqt lag gaya," says Amjad, adding, "Abhi bhi, they have said no to revealing her face till the second schedule of the film's shoot is over."
Ten days ago, Fatima's work permit was in place, and the film's ready to roll now. He is also excited about getting permission to shoot in Islamabad and Karachi. "It took me three months, and finally, the Pakistan government gave me the permission to shoot," says Amjad.
So now, he will also schedule a Pakistan shoot post his London schedule, around November. But for now, it is the first schedule in MP, which got delayed, and will not start on June 2 that he is gearing up for.
"This is a difficult one, I will be shooting what the Taliban activity is all about, how they train youngsters, all this is what I will shoot - I will keep Fatima on the sets so that she gets accustomed to all of us. She is just a kid, actually. Padh rahi hai, so I need to make her comfortable first," says Amjad.
http://timesofindia.indiatimes.com/entertainment/bollywood/news-interviews/Malala-actress-is-from-Bangladesh/articleshow/20329277.cms
-------------
Happy Reunion of a Bangladeshi Trafficked Girl, Thanks To the Indian Citizen
May 30, 2013
A 13-year-old girl, who was trafficked to India, returned home on Tuesday with the help of an Indian national and reunited with her family.
According to the girl, a tenant of her house, Lipi, took her to Faridpur on May 21 to visit their village home. Later Lipi took her to Benapole border and sold her to a gang of human traffickers.
"The traffickers took me to India. They used to torture me, and forced me into illicit affairs", added the girl.
Three days ago, the gang took her to Shiliguri in Assam where she came across a customs commissioner and requested him to help her go back home.
Responding to her appeal, the man contacted with her parents over cell phone. The customs commissioner also phoned the assistant customs commissioner of Hili Land Port.
On Tuesday evening, he came to the land port along with the girl.
In the evening, he handed over the girl to her parents in presence of immigration officials of India and Bangladesh. Customs officials, traders and local journalists were also present.
http://www.thedailystar.net/beta2/news/happy-reunion-thanks-to-the-indian-citizen/
-------------
Expat Women in Saudi Arabia Rush To Be Fingerprinted
30 May 2013
Thousands of expatriate women have been flocking to the Passport Department in Rehab district over the last few days to record their biometric details before the July 3 deadline.
The women appear to be mostly from Pakistan, Bangladesh, Somalia, Sudan and Yemen. The majority are housewives who had arrived with their husbands on Umrah and Haj visas, or had overstayed their visit visas.
There are hardly any illegal or runaway housemaids. The centre has been designated to deal with men and women household helpers, but has over the last four days given priority to women who want to regularize their status in the country.
The centre is now open from 7 a.m. to 8 p.m. and sometimes much later.
Hundreds of cars have been arriving at the centre in Qaryan Al-Meleh Street before 6 a.m. over the past few days, resulting in lengthy queues.
Three days ago, crowds of frustrated women who had been waiting for long hours to get inside, stormed the main entrance of the building, resulting in some falling and hurting themselves. Others fainted outside under the scorching sun.
Now better arrangements have been made for the crowds, including additional staff posted at the centre. A separate gate has been designated for women.
Women have to wait in long queues outside before entering the premises. Only 20 women are allowed at one time inside the room where the biometric scanners are installed to record their data.
All visiting women appear to be in possession of their original passports that contain their invalid Haj, Umrah or visit visas.
Abdul Karim Mohsin Awad, a Sudanese expatriate, told Arab News that he brought his wife at 7 a.m. but she was only able to record her data at 1 p.m.
Mohammed Khurshid Alam from Bangladesh said that he also brought his spouse at 7 a.m. but was able to get inside at noon.
Abdullah Gulzada Khan, a Pakistani, said that he brought his wife on a visit visa three years ago and now wants to return to Pakistan. They have a one-year-old daughter.
Some Arab expatriates and Saudi philanthropists have been handing out water bottles inside to the women and their husbands waiting outside. There is often a rush for the free water by some women inside the premises.
While most of the women leave their children with their husbands outside, some were seen with their little ones inside.
http://www.arabnews.com/news/453390
-------------
Durham Woman Gets US State Department Scholarship
May 28, 2013
DURHAM — Ariana S. Marnicio, a Durham resident and recent graduate from Georgetown University, has been awarded a U.S. Department of State Critical Language Scholarship to study Arabic in Ibri, Oman during the summer of 2013.
Marnicio is one of approximately 610 U.S. undergraduate and graduate students who received a scholarship from the U.S. Department of State's Critical Language Scholarship Program in 2013. Other participants will be in one of 13 countries to study critical languages like Arabic, Azerbaijani, Bangla, Chinese, Hindi, Korean, Indonesian, Japanese, Persian, Punjabi, Russian, Turkish, or Urdu.
Full report at:
http://www.fosters.com/apps/pbcs.dll/article?AID=/20130528/GJCOMMUNITY_01/130529586/-1/fosnews1401
-------------
Indonesian Muslim Woman Shows Off Her Playful Side with a 'South Park' Hijab
May 30th, 2013
"South Park" creators Matt Stone and Trey Parker may have received some flak in 2010 for attempting to depict the Muslim prophet Muhammad in an episode, but this spunky Muslim woman doesn't let that diminish her fandom. Showing off the lighter side of her religious beliefs, this Indonesian woman dons a traditional Hijab covered with characters from the satirical Comedy Central program. The Hijab is worn for public modesty by Muslim women once they reach puberty. The garment can be made of bright or decorative fabric. But it isn't everyday that we see one bedecked in foul-mouthed cartoon characters from Colorado.
http://now.msn.com/south-park-hijab-seen-on-muslim-woman
-------------
Malala in Makkah for Spiritual Solace
30 May 2013
Malala Yousafzai, the teenage Pakistani girl who was shot in the head and critically wounded by militants last year for promoting girls' education, arrived yesterday in the Kingdom with her family to perform Umrah.
Her visit was kept low-profile and it garnered little attention until she met Abu Dhabi Crown Prince Sheikh Mohammad bin Zayed Al-Nahyan in the UAE on her way to Jeddah.
"This is a private visit to the Kingdom dedicated toward performing Umrah," said Malala's father, Ziauddin Yousafzai.
"Malala is keen on performing several Umrahs during her visit and wishes to spend time alone in the Haram Al-Sharif," he told Arab News.
He said: "She is authoring a book and attending school. She has to prepare for her exams and therefore was not able to meet more people."
Officials at the Pakistan Consulate in Jeddah said they were unaware of the details of her visit.
Full report at:
http://www.arabnews.com/news/453402
-------------
Anti-Femen protest outside Tunisia courthouse
Protesters shout slogans against women's rights group Femen as trial of Tunisian feminist Amina Tyler begins in Kairouan
30 May 2013
Dozens of Tunisians demonstrated on Thursday against the topless protests of radical women's rights group Femen, outside a courthouse in the city of Kairouan where Tunisian activist Amina is due to go on trial.
The small crowd shouted slogans, including "Get out" and "Dirty people," that were directed at the young woman who was arrested on May 19 after painting the word "Femen" on a wall near a cemetery.
Full report at:
http://english.ahram.org.eg/NewsContent/2/8/72723/World/Region/AntiFemen-protest-outside-Tunisia-courthouse.aspx
----------
Domestic abuse among Emirati women is 'more verbal than violent'
Yasin Kakande
May 30, 2013
SHARJAH // Psychological or verbal attacks are a more common form of domestic abuse than violence among Emirati women.
A study of 640 victims of abuse in the home from across the country found that almost 31 per cent suffered psychological abuse and 29.5 per cent were abused verbally.
Physical attacks were reported by 22.3 per cent, while 17.5 per cent had endured sexual violence.
Full report at:
http://www.thenational.ae/news/uae-news/domestic-abuse-among-emirati-women-is-more-verbal-than-violent#ixzz2Umo9XWP9
---------
Workplaces 'Need To Be Friendly To Women'
30 May 2013
Women in Saudi Arabia have transcended men in education by a 4 percent margin, according to a recent United Nations statistics.
The statistics revealed that 52 percent of university attendees are women, while men account for 48 percent.
The statistics also showed that women make up the larger part of university occupants in two thirds of Middle Eastern countries.
"This is a worldwide phenomenon," said Saleha Abedin, associate professor of sociology and adviser to the president at Dar Al-Hekma College. "In terms of the number of students enrolled, especially in higher education, women exceed men and this is also true in Saudi Arabia."
Full report at:
http://www.arabnews.com/news/453389
-------------
Contrary To Claims, EC of Pakistan Fails To Release Gender-Based Data
May 30, 2013
ISLAMABAD: With mounting reports of agreements to bar women from casting their votes casting a shadow on the May 11 polls, the Election Commission of Pakistan (ECP) has failed to release gender disaggregated data of votes polled.
The delay is adding to the growing belief that women were kept away from a number of polling stations across the country. A senior official of the ECP told The Express Tribune that the turnout of women on many combined polling stations remained zero, which was why the data was not being shared by the commission.
Full report at:
http://tribune.com.pk/story/556373/women-in-elections-contrary-to-claims-ecp-fails-to-release-gender-based-data/
-------------
Rafsanjani disqualification from vote seen hindering Iranian women's rights
30 May 2013
The disqualification of Akbar Hashemi Rafsanjani from Iran's presidential race has disappointed some women's rights activists who were looking to the moderate candidate to bring about change.
This demographic is now left with just eight candidates who have been approved to run by Iran's Guardian Council. They are all men, and largely hail from a conservative political background.
Ayatollah Mohammad Yazdi, a clerical member of the Council, said the "law does not approve" of women in the presidency, the Mehr News Agency reported on May 16.
All of the 30 women who registered to run in the election were barred, Golaleh Sharafkandi, an Iranian women's rights activist based in Sweden, told Al Arabiya English.
Full report at:
http://english.alarabiya.net/en/perspective/analysis/2013/05/30/Rafsanjani-disqualification-from-vote-seen-hindering-Iranian-women-s-rights.html
-------------
URL: https://newageislam.com/islam,-women-and-feminism/new-age-islam-news-bureau/saudi-cleric-encourages-harassing-working-women/d/11814