New Age Islam News Bureau
14 April 2022
• 36-Year-Old Fajila May Become First British Politician To Wear 'Niqab'
• Muslim Women In Latin America Becoming Online Influencers
• Video of Man Assaulting Woman With Hijab Stirs Anger in France
• Turkish Women's Group Targeted As Erdogan Fans Flames Of 'Culture War'
• Hindu Sindh Foundation Inc Presents Programme For Saving Hindu Girls in Pakistan From Forcible Conversion to Islam
• Turkish, Greek Cypriot Leaders Launch UN-Led Plan To Boost Women's Role
• Will Egypt's New Law Prohibiting Underage Marriage See The Light Of Day?
Compiled by New Age Islam News Bureau
URL: https://www.newageislam.com/islam-women-feminism/saudi-ballerina-samira-khamis-ramazan/d/126795
--------
Saudi Ballerina Samira Al-Khamis Stars In Estee Lauder Ramazan Campaign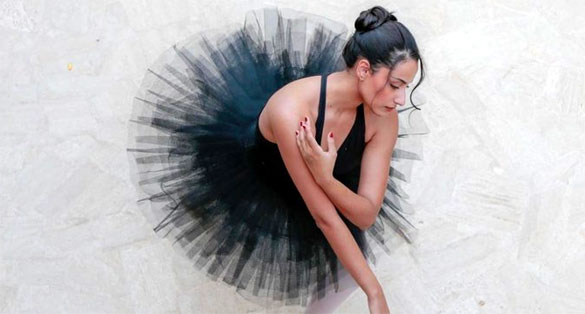 Samira Al-Khamis stars in Estee Lauder Ramadan campaign 2022. Instagram
-----
April 13, 2022
DUBAI: Estee Lauder is celebrating women during Ramazan with their newest campaign titled "Reach for the Stars," featuring three boundary-breaking Arab women at the center of a promotional video.
The campaign stars Samira Al-Khamis, one of Saudi Arabia's first ballerinas, alongside Amna Al-Qubaisi, the first Emirati female race driver, and Nayla Al-Khaja, a film director and producer from the UAE.
Each of the inspiring women in the short film pushed the envelope by dreaming big, working hard and paving the way for women in the region.
Al-Khamis, who earned recognition as a dancer and was featured on the official poster of the first Red Sea International Film Festival, developed an interest in ballet at a young age. She grew up around dancers, including her older sisters, who she watched perform on stage when she began her journey.
"Watching them gave me a powerful sense of inspiration and it stuck with me; it gave me a unique sense of fulfillment that I couldn't find anywhere. Now it's my responsibility to give back to my community and the new generations by passing on the passion and knowledge of dance," she told Mille World.
The 25-year-old recently opened her own studio in the Kingdom, Pulse Personal Training, as a way to help nurture the growing local dance community.
Pulse Personal Training is among a growing number of dance studios cropping up in the Kingdom's major cities, such as Jeddah and Riyadh, in recent years.
One mother decided to establish a dance center for women and girls after her four-year-old daughter showed a passion and talent for the classical art. An instructor at the school said she had been inspired to teach dance to children after following the career of Al-Khamis.
Source: Arab News
https://www.arabnews.com/node/2062461/lifestyle
--------
36-Year-Old Fajila May Become First British Politician To Wear 'Niqab'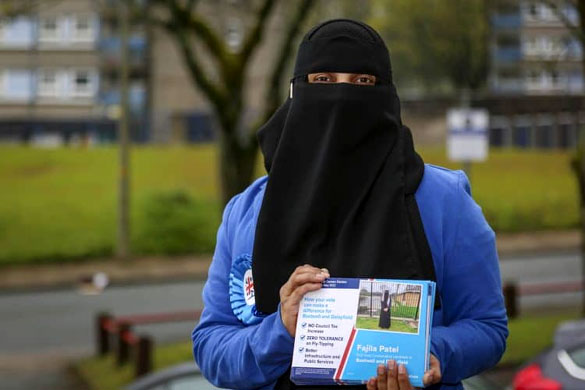 Fajila Patel
-----
14th April 2022
London: While Indian women continue to struggle with the Hijab controversy, a Muslim mother is contesting for a political office in Britain and may become the first British politician to wear a Niqab.
Thirty-six-year-old Fajila Patel, the wife of Tory Councillor, Tiger Patel, is from the Conservative Party and is standing for the Councillor post in the industrial town of Blackburn, Lancashire. She will stand for Councillor in the Bastwell and Daisyfield ward of Blackburn which is going for elections on May 5. Nearly 84 per cent of her electorate are Muslims.
She says she is comfortable with a Niqab and would like to continue to wear it.
Though Hijab, Niqab, and burqa are different kinds of coverings worn by Muslim women all over the world, there are slight distinctions like hijab describes the headscarves worn by Muslim women. These scarves come in many styles and colours. The type most commonly worn in the west covers the head and neck but leaves the face clear.
The niqab is a veil for the face that leaves the area around the eyes clear. It is worn with an accompanying headscarf.
Headscarves are seen as a sign of modesty by people who wear them, and a symbol of religious faith, but not everyone agrees with them and in some European countries there's a ban on wearing garments that cover the face in public.
Fajila Patel would like to be an inspiration for other women including Muslim women to contest for political posts. In a male-dominated society, she wanted Muslim women to break down barriers and participate actively in politics as there were few women in local-level politics.
She is unfazed by Boris Jonson's comments comparing burqa-clad women to "letterboxes" and has said that she did not "agree with everything a Conservative Party politician says or does".
She feels that there are misconceptions about women who wear the full veils in the UK.
Even though Islamophobia is a problem in her own political party, as it was her personal choice to wear the Niqab which is her right, the Conservative leadership there is defending it.
They are accepting that it is the right of the individual to show their religious beliefs in the way they are comfortable with and in case any Muslim woman would not want to wear any religious insignia, they would accept that too.
Source: Siasat Daily
If successful, Patel is believed to be the first Tory councillor to wear the niqab.
https://www.siasat.com/meet-36-year-old-fajila-who-may-become-first-british-politician-to-wear-niqab-2308265/
--------
Muslim women in Latin America becoming online influencers
April 13, 2022
SAO PAULO: With millions of views, videos in which Latin American Muslim women talk about their faith and show their personal lives have become more and more common on social media over the past few years.
In a region where Christianity is still seen as the norm, Islamic influencers face great challenges to succeed in the digital sphere.
Some of them are managing to do it, with creativity, charisma and humor. One such influencer is Mariam Chami, a 31-year-old nutritionist from the Brazilian city of Sao Paulo.
The daughter of a Lebanese father and a Brazilian mother who converted to Islam, Chami was educated in a Muslim school and only felt the weight of wearing a hijab in a Catholic-majority country in adulthood.
"In the beginning, I made videos for Muslim girls who didn't have much knowledge about religion," she told Arab News.
"But then I started to produce content with the goal of explaining Islam and reducing the prejudices that Brazilians have against Muslims."
On TikTok, where she is followed by 1.1 million people, Chami discusses controversial topics for a very liberal country like Brazil such as burkinis — the clip where she wore one had more than 900,000 views — or why her sister-in-law, who is also Muslim, does not wear a hijab. Chami does all that with humor.
"I've been supported by my community and by religious leaders," she said. "Given that I reach many people, I am — along with other Muslim influencers — combating religious intolerance with my work, and making more people admire our religion."
One of Chami's concerns is to show that Muslim women are not the oppressed victims of men, something that comes to mind among many Latin Americans when they see a woman wearing a hijab. Feminist movements in Brazil still cultivate that kind of prejudice, she said.
"I believe feminism is selective: It struggles for a woman's right to be whatever she wants, but if she decides to be Muslim and wears her (Islamic) garments, she's put aside and oppressed by those (feminist) women," she added.
Colombian lawyer and digital influencer Amira Ubaida Sanchez also tries in her videos to deal with the most common misconceptions about Muslim women in her country.
"Me and my sister studied law together. Seeing us with a hijab, people in the university would frequently ask us, with an expression of surprise, if we as Muslim women are allowed to study," she told Arab News.
In her work as an attorney, the 24-year-old usually represents Christian Colombian women who have been abandoned by their partners with their children and no money.
The daughter of a Colombian man who converted to Islam 40 years ago and became a Muslim leader in Bogota, she received a religious education that she now uses to convey complex messages in two-minute clips.
On TikTok, her account @conelvelo — "with the headscarf" in Spanish — has 43,600 followers.
Her father, Imam Carlos Sanchez, said: "I've never told any of my daughters to do this or that. Amira decided for herself to talk about Islam, which she does with great competence. I couldn't be prouder."
Making Islam known in Latin America is not an easy task, he added. Until the end of the 20th century, Catholicism was the official religion in countries such as Colombia.
Cultural differences also complicate Latin Americans' understanding of Islamic concepts.
That is why Amira always uses straightforward language and includes funny elements in her videos.
"Many people want to disseminate Islam in Latin America, but they talk about 'sunnah' and 'hadith,' and nobody knows what those words mean here," she said.
Nallely Khan, a 30-year-old Mexican who lives with her Muslim husband in India, said it is not easy to deal with Islamic issues on the internet for a Latin American audience.
"My goal isn't so much to discuss Islam, but to show the way of living that we have, our daily life. At times I have to explain religious matters, and Latin Americans may disagree," she told Arab News. "Some people don't like Islam."
Khan was born in a Catholic family but converted to Islam as a teenager. She said it was difficult to find materials about it in Mexico, but "now we have many organizations working on the dissemination of Islam in the country."
Her YouTube channel Nana India Vlogs has 147,000 subscribers. She mainly portrays her life in India with her family, with a focus on the cultural differences with Mexico. But the Islamic dimension can be seen in many of her videos.
Her biggest hit until now has been the series "India and my love story," in which she describes how she converted to Islam, how she met her husband, and how she discovered that he had a first wife only after their marriage (the woman ended up divorcing him). The three videos have had more than 2.5 million views.
"I don't consider myself to be an influencer because I know I'm not a perfect person. I always try to become a better Muslim," she said.
"I just hope to keep showing my life, my family, and the fact that Muslims lead normal lives."
According to Arely Medina, a professor of social sciences specializing in Islam in Latin America at the University of Guadalajara in Mexico, the emergence of Muslim women as digital influencers in the region is part of a "strategy of presence in the public space."
She told Arab News: "Over time, women developed different ways of making themselves visible on the street. This way, people would know them and see that they aren't repressed women only because of their religion." The same dynamic is happening now online.
"Of course the audience can stigmatize them, but I think most viewers look for such videos with curiosity and the wish to learn," she added.
Medina said the internet has been a fundamental tool for young people interested in Islam in Mexico and other Latin American countries that until recently did not have large Muslim communities.
"Twenty years ago, many young people who wished to learn about Islam were only able to do so by chatting with Muslims from other countries and searching for online content about it," she added.
Some would even convert to Islam this way, with the help of Muslims by phone or online chats — a process Medina calls "autonomous conversion."
Now, she said, "women who discovered Islam with the help of the internet are using it to talk about Islam to large audiences."
Source: Arab News
https://www.arabnews.com/node/2062451/media
--------
Video of Man Assaulting Woman With Hijab Stirs Anger in France
Safaa Kasraoui
Apr. 13, 2022
Muslims and non-Muslims across the world expressed anger and frustration on social media after a video showing a man attacking two women, including one who was wearing the Muslim hijab in Montpelier in France.
The video shows a man wearing a red jacket pulling the hair of one of the women. Both women were crying for help, while the man deliberately attacked them publicly.
Police said they have opened an investigation to identify the attacker, as well as the other circumstances surrounding the case.
"We strongly condemn this attack which will result in the necessary legal consequences. Respect for others is the cornerstone of our democratic society," the Herault prefecture wrote on Twitter.
Social network users have been heavily sharing the video online, calling for a police intervention to arrest the suspect.
Other internet users have condemned the lack of news reports on the attack, describing it as "Islamophobic."
"Wondering why news channels have not reported on the filmed attack of the women wearing hijab," a Twitter user said.
Another Twitter user condemned the attack against the two young women assaulted by the man, denouncing the lack of media reports and reactions from politicians.
"Apparently, the fact that two underage Muslim girls are assaulted by an Islamophobic coward doesn't even deserve a 1 minute on the news and condemnation from politicians…" the tweet reads.
This is not the first time Muslim women have experienced Islamophobic attacks in France.
In 2020, a video of a man and a woman beating two siblings from Jordan went viral online. The video sparked outrage among social network users, who condemned mounting racism, xenophobia, and Islamophobia in the European country.
The French population is estimated to be 65.10 million in 2019. The Muslim community in France represents 8% of the population or six million.
NGOs and the Muslim community have been concerned about inaction to tackle Islamophobia in the country.
In 2020, the Organization against Islamophobia in France (CCIF) said that Islamophobic attacks increased by 52% in 2018 compared with 2017.
Muslims are more concerned with the issue at present, particularly amid the ongoing elections as several candidates were promoting anti-Islam rhetoric during their campaigns.
Last week, French far-right presidential candidate Marine Le Pen vowed to issue fines against Muslims who wear the hijab in public.
"People will be given a fine in the same way that it is illegal to not wear your seat belt. It seems to me that the police are very much able to enforce this measure," she said.
Source: Morocco World News
https://www.moroccoworldnews.com/2022/04/348334/video-of-man-assaulting-woman-with-hijab-stirs-anger-in-france
--------
Turkish Women's Group Targeted As Erdogan Fans Flames Of 'Culture War'
14 Apr 2022
Turkish public prosecutors have sparked outrage among feminists by demanding the closure of the country's largest women's rights group accusing it of being "against morality".
We Will Stop Femicide (WWSF) has been issued with a letter demanding the group is dissolved on public security grounds and organisers now face a lengthy court battle to stay open. The prosecutors claim the group broke the law and acted with immorality by "disintegrating the family structure by ignoring the concept of the family under the guise of defending women's rights".
Fidan Ataselim, general secretary of WWSF, said: "We don't see this as just an attack on us. For us, this is an attack on all women in Turkey, on all social movements, on the entire democratic public opinion."
It was a grotesque action, said Emma Sinclair-Webb, Turkey director of Human Rights Watch. "It's very provocative," she said. "The authorities know perfectly well that this is a highly successful and very visible campaign.
"It's grotesque to go after this group, it's completely disproportionate – and what are you going after? Everyone knows it's ridiculous."
It is the latest salvo against civil society, already riled by president Recep Tayyip Erdoğan's decision to withdraw Turkey from the Istanbul convention on violence against women last year. The move sparked large protests, many organised by WWSF, which brought a harsh police response.
Erdoğan and his Justice and Development party (AKP) have defended the decision, saying existing laws are enough to protect women. The move to shutter WWSF is regarded as an effort to marginalise feminist campaigners and divide them from more conservative women seen as more sympathetic to the government. A general election is expected this year, and Erdoğan faces growing opposition at the polls.
"They withdrew from the Istanbul convention, and society reacted very strongly. Now they are trying to polarise society. They are trying to marginalise our movement but they won't be able to do it, because we are an organisation that draws its power from society," said Ataselim.
"Ultimately, this is a divisive act intended to pit women against each other," said Webb. "It's sowing further social division going forth as a way to go into an election cycle as well – Erdoğan is pitting women against women in an attempt to shore up support of religious, pious, conservative women against these women who they can say are immoral," she said. "They're trying to make a culture war out of this."
WWSF, with 750 active members, was founded in 2010 in response to the murder of a 17-year-old student by her partner. It has a nationwide network providing legal support to survivors of domestic violence, as well as collecting data on femicide, monitoring trials and organising rallies.
It comes amid a rise in femicides in Turkey. WWSF estimates that 416 women were killed because of their gender last year, and a further 72 murdered from January to March 2022.
Şükran Eroğlu, from the Istanbul Bar Association's women's rights centre, said she had anticipated the authorities' attack on WWSF after changes to the law earlier this year limiting freedom of association. "We knew that this would have consequences," she said. "So this would definitely start with women's associations, because the women's movement is on the rise in Turkey."
Gülsüm Kav, who founded WWSF, vowed to fight the closure.
"This is an attack on women's right to life. So we will never give up our rights, our struggle. We will fight together with the public so that this unlawful step can be reversed," she said.
Source: The Guardian
https://www.theguardian.com/global-development/2022/apr/14/turkish-women-rights-stop-femicide-group-targeted-as-erdogan-fans-flames-of-culture-war
--------
Hindu Sindh Foundation Inc Presents Programme For Saving Hindu Girls in Pakistan From Forcible Conversion to Islam
April 13, 2022
New Delhi: Hindu Sindh Foundation Inc. (HSF) is presenting a comprehensive programme for saving the Hindu girls in Pakistan, to potential patrons, guardians and supporters in the diaspora. The programme envisages relief and assistance both short and long term.Also Read - US-Pakistan Have 'Shared Interests', Enjoy 'Healthy Military' Relationship: Pentagon Spokesman
Women and minor girls belonging to Hindu, Sikh and Christian faiths in Pakistan are routinely abducted and forcibly converted to Islam, as per various human rights groups. It is estimated that at least a thousand such girls were forcibly converted to Islam and this number is the highest from Sindh. Also Read - I'm Going To Disturb Him: Pakistan Pacer Hasan Ali Intends To Be In England Stalwart's Pocket During Lancashire County Stint
The latest case is that of Pooja Kumari, age 18, who was killed recently after she resisted abduction for forced marriage and conversion.
HSF said Hindus of Sindh are living in mortal fear, especially those who are rearing young daughters. Immediate relief and assistance is required to alleviate the suffering of Hindus of Sindh.
Hindu Sindh Foundation Inc. (HSF) comprehensive programme envisages relief and assistance, including legal and other assistance to affected families where daughters have been abducted, forcibly converted and forcibly married to Muslims.
It also includes assistance for rehabilitation of survivors who had been abducted, forcibly converted and forcibly married to Muslims, but now have escaped and are trying to settle down back to normal life.
It includes rescue of girls who have been threatened by the Muslim men and in all probability it would be a matter of time before they are abducted, forcibly converted and married off, HSF said.
The rescue programme includes but is not limited to by facilitating guardianship and patronship in the US, Canada, UK, Europe and Australia, as well as in India and Nepal, where the girls would emigrate for further studies.
The rescue programme also includes possible adoption of young girls after consent of birth parents and proper scrutiny of adopters and their meeting the eligibility criteria as provisioned by law in their home countries, option for "limited adoption" (supervised guardianship without full adoption) would also be available.
Source: India
https://www.india.com/news/world/hsf-presents-programme-for-saving-hindu-girls-in-pakistan-from-forcible-conversion-to-islam-5336002/
--------
Turkish, Greek Cypriot leaders launch UN-led plan to boost women's role
APR 13, 2022
The Turkish and Greek leaders of the divided island of Cyprus met Wednesday to launch an inclusive action plan to boost the role of women in future peace processes led by the United Nations.
The meeting, which was held at a U.N. compound off the defunct airport near Lefkoşa (Nicosia), was attended by Colin Stewart, the U.N. Peacekeeping Mission chief and special representative of Secretary-General Antonio Guterres to Cyprus, Turkish Cypriot President Ersin Tatar, Greek Cypriot administration leader Nicos Anastasiades, negotiators from both parties and members of the Technical Committee on Gender Equality that drafted the action plan.
A U.N. statement said that the Cypriot leaders "attended the official launch of an action plan on ways to ensure women's full, equal and meaningful participation in the settlement process in Cyprus."
The plan was developed in response to a U.N. Security Council request to encourage the sides to ensure the needs and perspectives of women are addressed in a future settlement.
"The technical committee on gender equality expressed their intention to conduct further outreach to civil society organizations" to solicit their views on "how to include a gender perspective in the settlement process," the U.N. said.
There have only been a handful of informal meetings between Tatar and Anastasiades since the former was elected to the Turkish Republic of Northern Cyprus (TRNC) presidency in 2020.
Cyprus has been divided since Turkey used its guarantor rights to militarily intervene in 1974 in response to a Greek-engineered far-right coup aiming to annex the island.
There have been no official U.N.-sponsored settlement negotiations since talks in Switzerland collapsed in July 2017. Guterres said he wants to restart talks between the two sides.
Voters in the TRNC elected right-wing Tatar, an advocate of a two-state solution, at a time of heightened tensions in the Eastern Mediterranean over exploitation of hydrocarbon resources.
Source: Daily Sabah
https://www.dailysabah.com/politics/diplomacy/turkish-greek-cypriot-leaders-launch-un-led-plan-to-boost-womens-role
--------
Will Egypt's new law prohibiting underage marriage see the light of day?
Nehal Samir
Underage marriage is a crime rooted in the norms of Egyptian society, especially in rural communities and Upper Egypt. It violates several rights of girls, damages their childhood, and causes severe health and psychological problems.
During the last period, Egypt`s government was trying to tighten the penalties on the underage marriage, but unfortunately the numbers are still high and the government is still unable to end this phenomenon completely.
As for the numbers and statistics, the Human Development Report for the year 2021 revealed that there are 111,000 females in Egypt who were married before the legal age, and that 11% of females aged 15 to 19 years are married, in addition to that there are about 5,472 girls under 18 years old are married.
According to a study prepared by the Central Agency for Public Mobilization and Statistics, there are 117,000 children in the age group from 10 to 17 years who are married, while the National Council for Women announced in August 2019 that the percentage of underage marriages in the age group from 15 to 19 years reached 14.4%.
Another report issued by the Central Agency for Public Mobilization and Statistics issued in 2018 revealed that there are about 139,760 women who documented their customary marriage contracts out of a total of 887,300 marriages during this year.
Notably, families resort to what is known as (Sunnah marriage), which is an unregistered customary marriage that takes place at the hands of the authorized person or a senior sheikh in the village/area, where the conditions for publicity are met.
In many cases, the authorized person like mazoun (marriage officiant) obtains checks or promissory notes from the guardian of the girl and the husband, threatening them as not to think to report later. The guardian also obtains checks or promissory notes from the husband, which the latter retrieves as soon as the contract is officially registered.
There is another way, which is to circumvent the law by issuing birth certificates to girls under the pretense of "ageing," and giving them an age of more than eighteen.
There are conflicting reports that identify the governorates with the highest rate of child marriage, sometimes placing Upper Egypt at the top of the list, and at other times specifying governorates such as Beheira, Fayoum, Daqahleya, Giza, and Sharqeya, which indicates the lack of accurate statistics on the rates of underage marriage in Egypt.
Trying to control this phenomenon on Tuesday, during its weekly meeting, the Egyptian cabinet approved on Tuesday a draft law prohibiting underage marriage.
The draft law aims to criminalise underage marriage due to children's lack of health and mental ability to bear the consequences of marriage.
In a statement, the cabinet asserted that children are not qualified psychologically, culturally, mentally, and physically to be responsible for a family and raising children, explaining that underage marriage is an attack on childhood, which prompted legislators to intervene to prevent these harmful practices.
Deep look into the law
The draft law stipulates that a marriage contract for a person who has not reached 18 years old may not be authenticated. It also allowed those concerned to submit a request in a petition to the President of the Family Court as a judge of temporary matters to authorise the documentation of a marriage contract for a person under 18 years old in the crimes stipulated in Articles No (267), (268), and (269) of the Law Penalties, after a final guilty verdict is issued.
The draft law requires the mazoun to notify the Public Prosecution of any incident of a customary marriage in which one of the parties is a child under 18 years old at the time of marriage.
A penalty of imprisonment of no less than one year and a fine between EGP 50,000 and EGP 200,000 shall be inflicted on anyone who marries a male or female, neither of whom has reached 18 years of age at the time of marriage.
Parents who participate in marrying their daughter or son who is under 18 years of age would be deprived of the authority of guardianship over the child.
Whoever instigates this crime shall be punished with the same penalty. The child shall not be held criminally or civilly liable for this crime.
The law also punishes mazoun with no less than six months of imprisonment, a fine between EGP 20,000 and EGP 50,000, and being removed from their post, in the event they do not notify the Public Prosecution of the incident of underage marriage.
Attempts to pass a law criminalizing the marriage of minors during the period (2017-2021)
Nagwa Ramazan, Executive Director of Edraak Foundation for Development and Equality Nagwa, praised this step that will help a lot in prohibiting the child marriage rates in Egypt.
Ramdan explained to Daily News Egypt that she is optimistic about this draft law, explaining that this step means that the cabinet approves the law to enter the parliament and this is considered the tenth draft law to be presented to the parliament. So it is the first step in a long process but we are optimistic.
As Ramdan mentioned that there are a number of legislative proposals submitted by MPs or the government to criminalize the marriage of minors. They have been submitted in legislative chapters since 2017, but they have not been passed.
Daily News Egypt dug further to present these trails.
Ramazan pointed to that on 21 March 2021 during the Mother's Day celebration, President Abdel Fattah Al-Sisi expressed in his speech his strong dissatisfaction with the spread of the phenomenon of minors' marriage in Egypt and directed the House of Representatives to quickly take measures to issue a law prohibiting the marriage of underage girls, which brought back the importance of having separate legislation for this crime -temporarily- to the fore, It is not clear the reasons that stand before the Egyptian House of Representatives to approve this law, despite the repeated entry into discussions more than once in the sessions and legislative chapters with different formation and parliamentary composition.
Ramazan mentioned that Edraak published a study that traced the path of the draft laws that were submitted to the parliament during the period (2017-2021).
According to Edraak`s "Ink on paper" study that on child marriage the sequence or the stations were:-
In 2017: Representative Abla Al-Hawari submitted a draft law criminalizing the marriage of underage girls, the most prominent of which is the withdrawal of guardianship from the father if he forces his daughter to marry before she reaches the age of 18, and the imposition of penalties on the notary of the marriage, and the Council did not pass the law.
In 2018: Representative Mohamed al-Akkad submitted another draft law that would increase the penalties for those involved in a minor marriage to imprisonment from 5 to 10 years, or to pay a fine of between EGP 10,000 and EGP 100,000, or both penalties, but the Council did not pass the law.
The Ministry of Justice also submitted a draft law punishing imprisonment for more than 7 years in addition to approving a fine for those involved in the marriage of a minor, and it was referred to the Prime Minister, which referred it to the House of Representatives, and the Council did not pass the law.
In 2019: The National Council for Women submitted a law entitled (Combating Underage Marriage) to the cabinet and the House of Representatives, but the Council did not pass the law.
In 2019: The Council postponed in December 2019 the discussion of the Prime Minister's decision to amend Law No. 143 of 1994 on Civil Status, known as the Law (Preventing Child Marriage).
In 2020: The Council postponed, in January 2021, the Prime Minister's discussion of the draft amendment to Law No. 143 of 1994 on Civil Status, known as the Law (Preventing Child Marriage), to solicit Al-Azhar's opinion.
In 2021: Representative Ahmed Bilal Al-Berlusi submitted a draft law consisting of (11) in addition to an explanatory note that includes the legislative and constitutional pillars that justify the necessities of working to issue the draft law and show the positive societal impact of its issuance (2 October 20121).
In 2021: Representative Enas Abdel Halim submitted a draft law prohibiting a marriage contract from being documented for someone under the age of 18, and increasing the penalty if the crime was accompanied by forgery in official documents, and the draft was not discussed until (11 October, 2021).
In 2022: Representative Amira El Adly submitted a draft law that stipulates the child marriage as human trafficking, and punishes perpetrators by 5 years in prison at least.
What distinguishes the new draft law?
After presenting all the previous stations, the question that is raised is what distinguishes this new draft law. Ramazan explained to Daily News Egypt that she is optimistic about this new draft law as the articles of the law are very good.
"The first point that impressed me in this law that it stipulates that whoever instigates or helped in this crime shall be punished including the mazoun, as we used to witness some concerns on imposing penalties on the mazoun while they are one of the most important pillars that facilitate this crime," according to Ramazan
Ramdan continued that the second point that impressed her was that the crime does not expire by passing time, so the girl can report any age and time.
Will this law be deterrent law in combating child marriage?
For her part, Sakina Fouad, adviser to former interim president Adly Mansour for women's affairs, told Daily News Egypt that child marriages are a violation of childhood and should be considered child trafficking.
She explained that the rise in the number of child marriages in Egypt is a result of the economic conditions and lack of girls' awareness about their rights and is also due to parents' exploitation of some girls' weakness and their lack of awareness of their rights.
Fouad also noted that the bad practice had already existed, but what helped it return at high rates in 2013 was when the Muslim Brotherhood came to power in the country. At the time, the Brotherhood-dominated parliament proposed a law to drop the minimum age for female marriage to 16 years old, but luckily, she said, that parliament was dissolved before the law was approved.
She continued that the crime exists, yet trafficking in the name of religion and using it as a cover for backwardness and extremism is at the core of the matter, which is a violation of the values of the girl and the rights of women.
Thus, she asserted that there is a demand to increase religious awareness and knowledge of true religion, as that will stand in the face of the bad practice.
Fouad said that no doubt that the last years witnessed a strong change in the society but still not the change that we hope for.
In addition, she said that awareness must be spread on the problems arising from child marriage
Moreover, Fouad commented that it is not easy to reap the fruits of the proposed law at the moment, since it will take time to combat traditions and wrong Islamic views, which will not be easily eradicated.
"We have many laws but on the other side we also have a lot of ways to manipulate them," Fouad said.
Fouad explained that the most important point is how to protect the application of this law from all forms of manipulation and deception, such as obtaining birth certificates older than the age of the girl in order to make her marry.
"The law must be supplemented with guarantees to ensure the accuracy of law enforcement, for example, so far we do not have a clear mechanism for age estimation," she said.
Ramazan concluded by stressing that the penalties stipulated in the draft law are enough, but agrees with Fouad that the problem lies in its implementation.
Source: Daily News Egypt
https://dailynewsegypt.com/2022/04/14/will-egypts-new-law-prohibiting-underage-marriage-see-the-light-of-day/
--------
URL: https://www.newageislam.com/islam-women-feminism/saudi-ballerina-samira-khamis-ramazan/d/126795
New Age Islam Islam Online, Islamic Website, African Muslim News, Arab World News, South Asia News, Indian Muslim News, World Muslim News, Women in Islam, Islamic Feminism, Arab Women, Women In Arab, Islamophobia in America, Muslim Women in West, Islam Women and Feminism