New Age Islam News Bureau
26 Jan 2018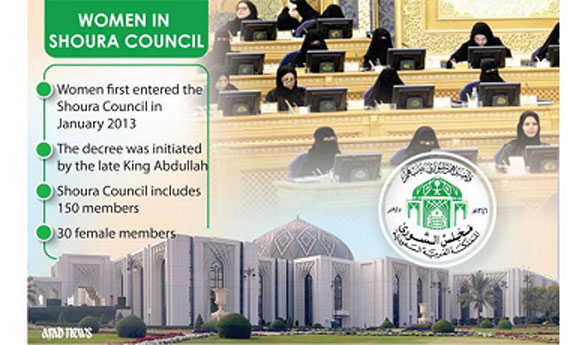 Photo: Saudi Shoura Council member Dr. Eqbal Darandari has called for the General Authority of Civil Aviation (GACA) and Saudi airline companies to support Saudi women working as pilots, co-pilots and flight attendants.
---------
• Saudi Female Prosecutors to Be Recruited to Protect Women's Privacy
• Is Women's Inheritance Next On Reformist Tunisia's Rights Agenda?
• Saudi Women Will Decide the Fate of Vision 2030
• The Only Type of Muslim Woman Acceptable For Major Brands Is a Silent One
• Shock: UK Muslim Groups Complain Over New Female Anti-Terror Tsar
• Soraya Salti's Legacy Lives on in Davos after Arab Women's Awards in Her Name
• Princess Reema Pushes for Gender Equality in Saudi Arabia
• Women of Colour Rock New Global Fridays Season At Arab American National Museum
• Your Move, Ladies: World Chess Queen Calls For Women To Get On Board
• Malala Lauds Feminism as Trump Lands in Davos
Compiled by New Age Islam News Bureau
URL: https://www.newageislam.com/islam-women-feminism/saudi-aviation-authority-urged-enable/d/114062
----------
Saudi aviation authority urged to enable females to work as pilots, flight attendants
ASEEL BASHRAHEEL | Published — Friday 26 January 2018
JEDDAH: Saudi Shoura Council member Dr. Eqbal Darandari has called for the General Authority of Civil Aviation (GACA) and Saudi airline companies to support Saudi women working as pilots, co-pilots and flight attendants.
Empowering women in business and finance is a substantial part of fulfilling the Kingdom's 2030 Vision, Darandari said, and required increasing women's participation in the workforce, enhancing their economic role and providing fair and appropriate opportunities for them alongside their male counterparts.
"Lately, many opportunities have sprouted up for women in the aviation field; women are working in air control, occupying operational and administrative roles, which is good, but airlines take one step forward and two steps back when it comes to pilot and flight attendant positions," Darandari told Arab News.
Darandari said increasing numbers of female students on scholarships were majoring in aviation and related sciences, and others who had valid pilot (and co-pilot) licenses were waiting because they could not use them in the Kingdom.
"Saudi women have already proven their worth in the aviation spectrum, and we've seen Saudi women piloting aircraft outside the Kingdom; now it's time for the GACA to take the initiative. Saudi women deserve to find work in their own country, and it can start small, through piloting domestic flights," Darandari said.
Darandari considers Saudi aviation companies' focus on hiring only non-Saudi women unfair. "I don't know whether it's distrust or fear, or perhaps an exaggerated interpretation of religion, but withholding such opportunities from women under the guise of overprotectiveness is unheard of anywhere else in the world. As long as women are prepared and committed to the requirements and demands of such a job, why hesitate?"
Darandari said women throughout the world worked in the aviation field, including Muslims and conservatives, and that Saudi women were in no way less capable or qualified.
"Giving women the opportunity to pilot an airplane or tend to its flyers will enable many Saudi women to fulfill their dreams of being called a captain or flight attendant. Being religious, conservative and upholding traditions and customs never went and never will go against honorable work and the pleasure of serving one's country. It's about time we hear of captain Johara and flight attendant Moudi wishing us a pleasant flight."
arabnews.com/node/1233296/saudi-arabia
-------
Saudi female prosecutors to be recruited to protect women's privacy
TARIQ AL-THAQAFI | Published — Friday 26 January 2018
RIYADH: Women prosecutors will be recruited to the same positions as their male counterparts, Saudi Arabia's Attorney General Sheikh Saud Al-Mojeb has said.
Responding to questions from Arab News, Al-Mojeb said jobs recently offered to women were meant to protect women's privacy in issues that required female investigators.
Al-Mojeb said the recruitments were in line with Vision 2030 requirements to support the role of women.
Asked whether women had been accused of corruption and if the new jobs (female investigators) were created to investigate their cases, the general prosecutor said no women had been accused. If such a case were to occur, the system would apply without any discrimination, he said.
Al-Mojeb said expanding employment for women in other areas of the public prosecution would be implemented if required.
On a certain ceiling for women's positions, he said the same conditions for male employees of the public prosecution would apply.
On the number of those accused of corruption charges and the key accusations levelled against those at the Ritz Carlton, as well as the results of investigations, he said their number stands at 350.
Key accusations were focused on administrative corruption, wasting public funds, embezzlement, misuse of public office and bribery, he said.
arabnews.com/node/1233321/saudi-arabia
-------
Is women's inheritance next on reformist Tunisia's rights agenda?
Heba Kanso
BEIRUT (Thomson Reuters Foundation) - Women in Tunisia may be able to pass their family name on to their children and have equal inheritance with men if proposals, due to be finalised in February, are adopted in a country regarded as a leader for women's rights in the Arab world.
The Committee on Individual Freedoms and Equality, set up in August, will present its recommendations on Feb. 20 to the president.
"Tunisia is once again pioneering and irreversibly moving towards advancement," the committee's chairwoman Bochra Bel Haj Hmida told the Thomson Reuters Foundation in emailed comments.
"The issue of the right of children to add the title of their mother has been discussed ... All discriminatory laws in the family space and public space are included in the commission's tasks."
Women in the north African country are eagerly anticipating the proposals, following gains in 2017 that lifted a ban on Muslim women marrying non-Muslim men and an end to a law that let rapists escape punishment by marrying their victims.
This led the way for Jordan and Lebanon to scrap similar laws, following lengthy campaigns by activists.
The committee will present two proposals on inheritance, one providing for full equality between men and women and a second merely allowing women to request parity, Tunisia's TAP news agency reported earlier this month.
Wafa Ben-Hassine, a Tunisian lawyer and women's rights advocate, applauded the prospect of further reform but cautioned that new laws must also be implemented on the ground.
A 2017 law criminalizing domestic violence, harassment in public spaces and pay discrimination also requires Tunisia's government to provide services to assist survivors, but did not make provisions for funding them, Human Rights Watch (HRW) said.
"The law ... means little if not backed up by real resources that address root causes of violence," Ben-Hassine said, calling for doctors to receive training to detect signs of domestic violence and for schools to teach gender equality.
Tunisia's religion-based personal status laws - which govern marriage, child custody, divorce and inheritance - are among the most progressive in the region, according to activists.
But men are still designated as head of the household and Tunisian girls do not receive an equal share of inheritance, according to HRW.
"Tunisia is already being seen as a pioneer when it comes to women's rights," Suad Abu-Dayyeh, a Middle East expert with the global advocacy group Equality Now, said in emailed comments.
"These new developments towards gender equality will definitely help affect positive change in other regional countries, such as encouraging the repeal of discriminatory laws (including) those relating to rape and nationality."
Reporting by Heba Kanso @hebakanso, Editing by Katy Migiro. Please credit Thomson Reuters Foundation, the charitable arm of Thomson Reuters, that covers humanitarian news, women's rights, trafficking, property rights, and climate change. Visit trust.org
Our Standards:The Thomson Reuters Trust Principles.
reuters.com/article/us-tunisia-women-rights/is-womens-inheritance-next-on-reformist-tunisias-rights-agenda-idUSKBN1FE2UC
-------
Saudi Women Will Decide the Fate of Vision 2030Published 4 hours ago on January 26, 2018 By Samantha Maloof
Earlier this month, Saudi women attended football matches at three major football stadiums for the first time, overcoming an infamous symbol of gender segregation in one of the Islamic world's most deeply conservative nations.
While the attendees savored the moment, debate raged over the significance of the change. Both supporters and skeptics of Crown Prince Mohammed bin Salman's reforms are wondering: will the presence of women in stadiums prove merely symbolic, or a sign of deeper change to come? How far does the young royal's commitment to social reform go?
The event was indeed about more than 'the beautiful game'. The decision, announced a few months ago, puts to rest one of many battles that will determine the shape of Saudi society in the coming decades. Many argue the impetus for this social milestone is economic, with faltering oil wealth pushing the monarchy to reduce restrictions on women to secure its own future. But Saudi female liberation cannot be written off as simple PR. A small but tireless circle of activists have made personal sacrifices for years to lay the groundwork for these changes. The trailblazing bin Salman should solicit their help when, not if, he goes further.
Vision 2030's Gender Dilemma
The crown prince's blueprint for the future of Saudi Arabia is called Vision 2030. His ultimate goal is to place Saudi at "the heart of the Arab and Islamic worlds, the investment powerhouse and the hub connecting three continents." It's a bold rethink for a country whose economy is overwhelmingly reliant on oil, but requires breaking down deep-rooted Wahhabi social norms in one of the world's most conservative societies.
The role of women will be key to determining whether this strategy thrives or flounders. The past Saudi approach to female empowerment was tantamount to economic self-harm. Saudi women can't even open or maintain their own bank accounts, and the country is ranked at 141 out of 144 on the World Economic Forum's Global Gender Gap index. Female participation in the workforce is just 28% of the rate for men. In the private sector, Saudi women make 56% less than male counterparts.
In fairness, this is a regional problem. "Democratic" Tunisia ranks 126th on the Gender Gap index, while supposedly progressive Turkey and Jordan find themselves in the 130s. All the same, a post-oil Saudi economy and society will need to draw on all its human capital. As Bernard Haykel of Princeton put it, "the Saudis finally understand that the economy will not diversify or reform without bringing women into the workforce."
Saudi women already have the tools to close those gaps. They are well-educated and ready to add their skills to the economy once the barriers in their way are removed. Bin Salman has already slated one of those obstacles, the longstanding ban on women driving, for abolition.
Paying Dividends
The economics of undoing the driving ban are straightforward. The move will enable women to get to work while saving money they have had to spend on chauffeurs. A 2017 labor survey showed around 1.3 million of those chauffeurs were foreign workers, a surefire recipe for funneling money out of Saudi Arabia via remittances. Some believe as much as $4 billion exits the kingdom annually instead of being spent in Saudi and supporting the service industry.
No surprise that the end of the ban is expected to produce a considerable uptick in consumer demand and spending. Employers who hire women will no longer need to factor the cost of a driver into salaries or locate workplaces in expensive city centers. All in all, bringing female participation in the labor force to GCC average levels could add up to $90 billion to the Saudi economy by 2030.
These two moves have already secured considerable dividends for Saudi Arabia's international reputation. The foreign investors the Kingdom wants to attract are also watching developments carefully to see how quickly Saudi can change Western perceptions of oppressive conservatism and gender discrimination. Elevating the status of women is indispensable to that task.
Bin Salman and the government will no doubt be watching the reaction from the global business community intently. Several Vision 2030 initiatives have already generated excitement in Europe, Asia, and North America, even as gender issues lurk under the surface. The expected public offering (IPO) of Saudi Aramco has provoked fierce competition between financial capitals, with New York and London fighting to host it. Theresa May made repeat visits to Riyadh to lobby on London's behalf and emphasize the role women can play in society.
The more the status of women improves, the more success Vision 2030 will have in engaging counterparts overseas. Beyond Theresa May, the crown prince has found other willing partners like France's Emmanuel Macron, who visited him in November and who will receive him in Paris in the next few weeks. French companies like EDF have already been bidding for stakes in major Saudi infrastructure projects. Macron, ever the advocate for French business, will almost certainly borrow from May's playbook in trying to leverage his relationship with Saudi leadership into greater business opportunities.
For all of these headline changes to stick, however, bin Salman should reach out to the activists who plugged away for many years to end of the driving ban and keep narrowing the gap between Riyadh and the West. There is room for plenty of other campaigns to follow the lead of Women2Drive, and many more obstacles to overcome before Saudi Arabia can truly claim to draw on the talents of its entire population.
The bold modernizers at the top of the political pyramid should empower the women at the grassroots to go after other enduring institutions of inequality. Only then can bin Salman's vision truly take root.
moderndiplomacy.eu/2018/01/26/saudi-women-will-decide-fate-vision-2030/
-------
The Only Type Of Muslim Woman Acceptable For Major Brands Is A Silent One
"White women and men are allowed to apologise and get their career back on track. Minorities on the other hand, one red card and you're out."
2.4k
By Rowaida Abdelaziz
Gal Gadot, right, is hailed as a feminist icon, but Amena Khan, left, was criticized for sharing her views on the same political issue.
When L'Oreal announced it had hired Amena Khan, a British, hijab-wearing model and beauty blogger, for its latest hair care product Elvive, the company was widely applauded for it strides towards inclusion. After all, L'Oreal prides itself on "championing diversity."
However, just four days after the announcement, Khan announced on Instagram that she was stepping down after it emerged that she'd posted a series of critical tweets about Israel four years ago.L'Oreal swiftly released a statement declaring that the company "is committed to tolerance and respect towards all people" and "we agree with her decision to step down from the campaign."
In other words, they were not sad to see her go.
This is not the first time L'Oréal has hired and then almost immediately parted ways with a model from an underrepresented community for past social media posts. Five months ago, the company cut ties with Munroe Bergdorf, its first transgender model, over her remarks about white America's systemic racism.
Major brands and corporations have recently been targeting Muslim women, particularly hijab-wearing Muslim women, in recent marketing attempts to showcase their diversity efforts. Nike's launch of its Pro Hijab for female Muslim athletes and Mattel's hijab-wearing Barbie inspired by fencer Ibtihaj Muhammad are just small examples of major corporations featuring visibly Muslim women in the name of diversity and female empowerment.
But are these efforts really all that empowering when Muslim women have to police their opinions on controversial topics?
Amani Al-Khatahtbeh found herself in a similar position just last week. The founder and editor of MuslimGirl.com received Revlon's Changemaker Award in recognition of her advocacy for Muslim women.
But Al-Khatahtbeh declined the award.
"It means so much to me when @muslimgirl's work is recognized and elevated in spaces from which we've been traditionally excluded," she wrote in a caption on her Instagram post. "But that's what makes it even more important at this moment to elevate and stand up for ALL women and girls."
Al-Khatahtbeh said she could not accept the award because she believes the company is not inclusive. In particular, she said Revlon has given Gal Gadot, a brand ambassador for Revlon's newest "Live Boldly" campaign, a pass when it comes to the "Wonder Woman" actress' political beliefs. Gadot has strong opinions about the Palestinian-Israeli conflict and is a vocal supporter of the Israel Defense Forces.
So why is Gadot rewarded for being an empowered woman with opinions and views of her own, while Khan loses out for sharing hers?
@xoamani
Replying to @xoamani
If brands and companies want to get behind women's empowerment, they must do so for ALL of us, not just some of us -- otherwise they are only servicing women's inequality even further.
12:06 AM - Jan 23, 2018
8 8 Replies 92 92 Retweets 170 170 likes
There's a low bar for Muslim representation in mainstream media, which often portrays the Muslim community as politicized and associates its members with war, terrorism and foreign affairs. News stories about Muslims are overwhelmingly negative.
Stories about Muslim women, in particular, often focus on oppression or on companies that feature Muslim women to advance an aesthetic of diversity. But purposeful, authentic Muslim representation, in which a Muslim woman can express her opinions freely and without consequence, is desperately missing.
When Muslim women like Khan ― who are already vastly underrepresented in the mainstream ― have any sort of visibility, it becomes conditional, and they're forced to monitor their speech.
With the whole L'Oréal thing - aren't they ultimately saying, you can have your views but just don't air them or speak them.
Just sit pretty and flick your hijab.
I really feel as though L'Oréal picked up Amena and then left her out to dry.
3:14 PM - Jan 23, 2018
5 5 Replies 22 22 Retweets 60 60 likes
Nafisa Bakkar, co-founder of Amaliah.com, a media company that aims to amplify the voices of Muslim women, recently wrote about the superficial marketing of Muslim women.
"White women and men are allowed to apologise and get their career back on track. Minorities on the other hand, one red card and you're out," Bakkar told HuffPost in an email.
Gadot's outspoken support for Israeli policy has done nothing to discourage companies like Revlon from naming her as their brand ambassador. On the other hand, L'Oreal dropped Khan four days after her critical Israel tweets were uncovered.
L'Oreal and Revlon did not immediately respond to HuffPost's requests for comment.
Despite this, the push to reach Muslim consumers continues. After all, the Muslim market, comprising an approximate 1.7 billion consumers, is a marketable one. According to Thomson Reuters' State of the Global Islamic Economy Report, "the global Islamic economy has a potential bigger than every country in the world except China and the United States."
Female Muslim consumers alone are estimated to spend $464 billion on fashion and $73 billion on cosmetics globally by 2019.
Major corporations are well aware of this. Just last year, London held its first Modest Fashion Week to appeal to Muslim fashion designers. Other major brands such as DKNY, Dolce & Gabbana and Uniqlo have all offered modest fashion lines.
In 2016, CoverGirl named its first hijab-wearing ambassador, 24-year-old beauty blogger Nura Afia. Halima Aden rose to stardom signing with IMG Models and walking at New York's fashion week for Kanye West's Yeezy Season 5. In 2015, H&M, the world's second-largest retailer, featured a hijab-wearing Muslim model in its recycling campaign.
It's not only profitable for major brands to tap into the Muslim market. Muslims want to see themselves in major advertisements and billboards.
Muslims react positively when they see major ads acknowledging their community's identity and needs, according to a research report by Ogilvy Noor, a division of Ogilvy & Mather that specializes in engaging with Muslim audiences. Over 90 percent of Muslims said their religion affects their consumption habits and that they feel "shortchanged by the quality of marketing and products aimed at them in comparison with other consumer groups."
When L'Oreal and Khan cut ties, the online Muslim community reacted, with some even calling for a boycott of L'Oreal products.
Studies have shown that millennial consumers choose brands that feel authentic to them. The Muslim consumer is no different. Showcasing a hijab-wearing model but reprimanding her and other minorities for freely expressing thoughts is not how any brand is going to "champion diversity," as L'Oreal once claimed.
Bakkar agrees. "Too often Muslim women are just used as an aesthetic," she wrote in an email to HuffPost. "When casting for 'diversity' you are looking for more than just someone to sit pretty."
huffingtonpost.in/entry/muslim-women-advertising_us_5a677d38e4b0dc592a0d4f0b
-------
Shock: UK Muslim Groups Complain Over New Female Anti-Terror Tsar
26 Jan 2018
Some of the UK's most prominent Islamic groups have sided with a Muslim Member of Parliament and member of the House of Lords to attack the new head of the government's Commission for Countering Extremism.
The Home Office announced the selection of Sara Khan Thursday, but Labour's Naz Shah MP and Tory peer Baroness Warsi were quick to speak out, claiming her support for the Prevent counter-extremism programme made her unpopular with Muslims.
They also said Mrs. Shah is not qualified and is too close to the government to be respected by the Islamic community.
The CAGE group, which described Islamic State executioner Jihadi John as a "beautiful young man", made very similar arguments, as did the Muslim Council of Britain, which has been linked to the international pro-caliphate group the Muslim Brotherhood.
Former Guantanamo Bay prisoner and 'extremist' writer Dilly Hussain, of the Islamist-sympathising Muslim website 5Pillarz — which has defended jihad, "Islamic expansionism", and targeted minority sects — also railed against the appointment, writing on Twitter:
Dilly Hussain
✔
@DillyHussain88
The @ukhomeoffice's very own puppet - Sara Khan of @wewillinspire - has been appointed as the head of the new 'Countering Extremism Commission'.
This is some high-level trolling from the government 😂🤣😆.
Talk about burying an "initiative" before its inception.
4:53 AM - Jan 25, 2018
3 3 Replies 28 28 Retweets 33 33 likes
Moazzam Begg
✔
@Moazzam_Begg
Sara Khan of @wewillinspire heads new #extremism commission. She endorsed paid police informant, cocaine addict & convicted child abuser who threatened @UK_CAGE. She's welcomed by @HJS_Org who believe: "Conditions for #Muslims in must be made harder." bit.ly/2DJCCmg
6:19 PM - Jan 25, 2018
Gun-wielding former spy pledges to 'go to war' with British Muslim activists
A former cocaine addict, police informant, and convicted criminal has pledged to "go to war" with British Muslim activists. Former undercover agent Mubin Shaikh, who was once convicted of threatening...
5pillarsuk.com
4 4 Replies 60 60 Retweets 25 25 likes
Sara Khan is the current CEO of the Inspire counter-extremism organisation and has written for many left-wing papers. However, her criticism of radical Islamic practices, such as veiling children, has made her a popular target of Islamic fundamentalists.
Home Secretary Amber Rudd said Mrs. Khan was "expertly qualified" for the role and "will bring a wealth of experience and knowledge to the commission which will prove vital as it works to identify and challenge extremism and provide independent advice to the government".
The Commission for Countering Extremism will aim to identify and challenge all forms of extremism, advising ministers on new policies and promoting "pluralistic British values". Its remit is likely to include helping train schools and colleges and protecting women's rights.
Baroness Warsi, who was an MP before being appointed to the House of Lords by David Cameron, said it was a "deeply disturbing appointment in a vital role" and claimed Mrs. Khan was too close to the government.
BBC Daily Politics and Sunday Politics
✔
@daily_politics
"Whoever comes into this role comes into it from a position of strength. This is a person who is going to have to challenge communities who is going to have to take on some tough issues" @SayeedaWarsi querying human rights campaigner appointed to lead counter extremism commission
6:03 PM - Jan 25, 2018
22 22 Replies 40 40 Retweets 49 49 likes
"For the Commissioner to be effective the person had to be an independent thinker, both connected to and respected by a cross-section of British Muslims. Sara is sadly seen by many as simply a creation of and mouthpiece for the Home Office," she said in a statement.
Speaking on BBC Radio 4's Today programme, the Labour MP Naz Shah, the vice-chairman of the British Muslims all-party group, said: "Here we have somebody who does not accept the concerns in the community."
"She continues to profess she's independent," she added. "Even her book she wrote was in partnership with the Home Office. She has taken Prevent funding. She came out of nowhere after the coalition government without any experience."
Mrs. Khan has defended the government's counter-extremism Prevent strategy, explaining that opposition is driven by an "Islamist-hard left alliance" which was "promoting false claims and conspiracy".
Despite the vast majority of violent extremists in the UK being Islamists, in Yorkshire, "far-right" referrals have accounted for nearly 50 per cent of the caseload and 30 per cent of the caseload in the East Midlands.
This shift in focus came after a massive campaign by Islamists, Muslim groups, unions, and senior Labour politicians, who argue Prevent unfairly targets Muslims and is even "racist".
Britain's most prominent Muslim lawyer has slammed such groups for hindering the fight against terror and "undermining" and spreading misinformation about Prevent.
breitbart.com/london/2018/01/26/baroness-warsi-muslim-mp-islamists-oppose-appointment/
-------
Soraya Salti's legacy lives on in Davos after Arab women's awards in her name
ELISE KNUTSEN & OLIVIA CUTHBERT | Published — Friday 26 January 2018
LONDON: Tributes were this week paid to the late Soraya Salti — a regular at the World Economic Forum in Davos — following an awards ceremony in Dubai held in her honor.
"Soraya Salti was at the forefront of fostering Arab youth and encouraging sustainable development across MENA," said Mazen Hayek, the spokesman of MBC group which oversees the memorial Soraya Al-Salti Scholarship Program award.
Soraya and her sister Jumana were in 2015 found dead in suspicious circumstances in a building to the south of the Jordanian capital Amman. Police later declared that the deaths were a double suicide.
Soraya was a passionate businesswoman and activist, and headed the INJAZ Al-Arab organization, which has helped teach financial literacy and entrepreneurship skills to than 2 million young people across the Middle East.
During her illustrious career, Salti emerged as one of the Middle East's strongest and most articulate voices calling for education reform.
Deeply concerned by rising underemployment across the Middle East, Salti scuttled between conferences, board rooms and ministries of education, exhorting leaders and executives to invest in Arab youth by teaching skills relevant to today's job market.
She was selected to join the World Economic Forum's prestigious Young Global Leaders program, which counts Facebook founder Mark Zuckerburg and journalist Anderson Cooper as alums.
Regularly appearing on panels and plenary sessions at Davos over the years, Salti linked outdated curricula and archaic teaching models across the Arab world to joblessness, stagnated growth and youth unrest. "The bottom line is that education is an economic issue," she said in a 2012 interview.
Her legacy was celebrated this week when MBC Al Amal, the media company's charitable arm, named the first beneficiaries of Soraya Al-Salti Scholarship Program.
Five female students hailing from across the Middle East were selected from a pool of more than one thousand applicants to receive the $100,000 grant, which offers full and partial scholarships for Arab women looking to pursue masters programs.
The winners included Irene Baghdadi (Egypt) — Sustainable Development; Khadija Radwan (Egypt) — Design and Project Management; Lynn Sharbatly (KSA) — Law; Mayada Sabry (Jordan) — Communication Disorders; Mariam Al-Nahrawi (Egypt) — Geological Sciences.
Speaking to Arab News about the importance of empowering youth to resolve the region's problems and drive development, Hayek said: "With an overwhelmingly young population — nearly 60 percent under 30 across the MENA region, we're either sitting on a source of immense wealth, or a time bomb."
For Salti, however, there was no question. Unwavering in her belief that young people were the region's most valuable resource, she launched partnerships the world's biggest companies to promote a new business-savvy generation equipped to participate in the global economy.
Described by a Harvard professor after her passing as a "remarkable force for change" possessing "consistent optimism and a bright smile," Salti elevated the voice of Arab youth to the world stage and took their ideas seriously.
"Soraya's role was instrumental in helping Arab startups, entrepreneurs and SMEs flourish and grow," Hayek said.
arabnews.com/node/1232606/middle-east
-------
Princess Reema pushes for gender equality in Saudi Arabia
FRANK KANE | Published — Thursday 25 January 2018
'We will cheer until our throats go sore': Saudi women celebrate at Riyadh football match
DAVOS: Princess Reema bint Bandar made an eloquent plea for gender equality as a driving force for economic change in the Kingdom during her address at the World Economic Forum (WEF) in Davos on Thursday.
Saudi Arabia was advancing the cause of women "because it's necessary for our nation from an economic point of view, and also from the holistic nature of how you want a family to actually function as a family if you're constantly segregating family members. It just doesn't work that way," the princess said.
"We're not doing gender equality because the West wants it, or because it will target Human Rights Watch and get them off our backs, or because Amnesty International is going to say 'great, good job you.' We're doing it because it is right," she said.
Princess Reema, who last year became the first woman to head a Saudi sports body, said sport, culture and entertainment were at the heart of the drive to improve the quality of life in the Kingdom.
She accused the world's media of double standards in covering the Saudi transformation. "There is a determination not to allow us to create a new narrative. My question is, why? You ask us to change, and then when we exhibit change, you come to us with cynicism.
"I find it so destructive on a daily basis, and detrimental to the women I'm trying to inspire.
"But you have to understand that we're not working for anybody outside this nation, we're working for the women of this nation, for the men of our nation, for the evolution to where we need to be, and that's how we will benefit youth, that's how we'll be a global player.
"However, you all have to understand something in this room. A behavioral shift does not happen overnight. Sometimes economic factors drive it, like sometimes you need the money so you let your daughter go to work.
"That was our reality perhaps five years ago, but today the mind shift necessary is: There's value in this woman, there's value in her contribution to the community, there's value in her voice and the decisions she helps make, for a more balanced economy and a more balanced society.
"Perhaps you just have not heard our voices before. Today the introduction of the woman may seem like an anomaly or novelty across the world, and in Saudi Arabia, but we've been there. Where we have been is the silent partner, but today we're being given the opportunity and platform to be more present and more relevant.
"I hope you don't think I'm the only woman in Saudi Arabia that feels this way or is working toward this. I actually represent the thousands of women who are a lot more competent and qualified than I am. All I can hope for is to do them justice while I'm here.
"These are women who are already in the Shoura Council, already in the municipalities, already have PhDs, that took more work and longer than the time I've been alive. It is sad for me that those women are not shown and they are not showcased. I really hope you'll take the opportunity to see that they exist."
arabnews.com/node/1233276/saudi-arabia
-------
Women of color rock new Global Fridays season at Arab American National Museum
18 hrs ago Comments
From dynamic spoken word and compelling musical performances to an original play created and performed by Arab-American Muslim women, the 2018 Winter/Spring Global Fridays season at the Arab American National Museum is a tour de force by women of color.
The season opens with Women Writers Resist!, a Black History Month celebration on Feb. 9. Leading off the evening of poetry and music with a spoken-word set is Aja Monet, a poet of Cuban Jamaican descent and a featured speaker at the 2017 Women's March. The jessica Care moore Quartet headlines, led by the renowned poet, playwright, performance artist and producer. moore's newest album, "Black Tea: The Legend of Jessi James,"features a collaboration with Talib Kweli. Prior to the concert, an artist talk with jessica Care moore and Aja Monet will explore the challenges of navigating the arts industry as black women. An open-mic session for poets, rappers and acoustic singer/songwriters follows the concert; women and nonbinary performers are highly encouraged to take part.
Electronic/experimental music takes the stage for the next two concerts. Lido Pimienta, a Toronto-based interdisciplinary musician and artist-curator of Colombian and indigenous Wayuu descent, performs March 9. Pimienta won Canada's prestigious Polaris Prize in 2017 for her album "La Papessa," ahead of Leonard Cohen and Feist.
The theme continues April 6 with Beirut-born and Chicago-based Thoom, who recently released "Blood and Sand." The concert opens with DJ Tammy Lakkis and DJ Habibti.
To close out the season, Ping Chong + Company is partnering with AANM's Global Fridays to create "Undesirable Elements/Dearborn," an interview-based theater production exploring the experiences and histories of Arab-American Muslims in Dearborn. Internationally acclaimed for bringing unheard voices to the stage, the company seeks participants from Dearborn/Detroit who identify as Arab American Muslim women or nonbinary individuals.
The application deadline is Feb. 15. Apply online at arabamericanmuseum.org/pingchongapp. The company will conduct extensive interviews starting in late February. There is no performance experience or memorization required; performers will be compensated. The resulting "seated opera for the spoken word" concludes the Global Fridays season on May 11and 12.
"Not only is the music and artistry of this season absolutely sublime," said Kathryn Grabowski, who oversees the series, "it also celebrates the stories and strength of women from many backgrounds, using the arts to tackle timely subjects including Islamophobia, navigating America as black women, and celebrating complicated identities."
Tickets – $10 AANM members and $15 for the general public – are available in advance online at arabamericanmuseum.org/GF-winter-2018. Tickets also will be available at the door.
All Global Fridays performances begin at 8 p.m., unless otherwise noted, at the Arab American National Museum, 13624 Michigan Ave. in Dearborn. Free, lighted parking is available in the municipal lot north of the museum.
Source: Arab American National Museum
pressandguide.com/lifestyles/women-of-color-rock-new-global-fridays-season-at-arab/article_efab0bf9-1bf9-5803-9831-bf51f75fcc4c.html
-------
Your move, ladies: World chess queen calls for women to get on board
LULWA SHALHOUB | Published — Thursday 25 January 2018
JEDDAH: The first woman to break the gender barrier in chess has challenged Saudi women to take up the game.
"Chess is available for everyone," the Hungarian-American grandmaster Susan Polgar told Arab News. "It doesn't limit your dress code and your physical strength doesn't matter. Gender or age are not limitations."
Polgar, 48, was speaking at an event at King Abdullah University of Science and Technology in Thuwal, where she played against 10 international opponents simultaneously in a two-hour exhibition — and beat them all.
The grandmaster, who was ranked the world's top female chess player at the age of 15, challenged a Russian grandmaster herself when she was 4 years old. She lost — but it was a memorable and educational experience. "Hopefully, I will give the same pleasant lifetime memories to my opponents here, regardless of the result," she said.
Polgar's visit comes a few weeks after the King Salman World Rapid and Blitz chess championship in late December, which she described as "a fantastic opportunity."
"It is fortunate that the government decided to understand the value of chess and support it with the championship last year. This is a chance for all Saudis, including women."
Polgar, a five-time Olympic champion, believes chess teaches people to be objective and to look at both sides of the coin. "I think a shortcoming in society is that people think too much only from their point of view and don't look at the whole picture or from the other side's perspective," she said.
Entering the male-dominated world of chess was challenging, but it did not deter Polgar. She paved the way for other female chess players by becoming the first woman to qualify for the Men's World Chess Championship. Initially, she was not allowed to enter, but the World Chess Federation changed its policy to include women.
"I think there are still very few women playing chess and, therefore, there are only a few good women players. If you go to a chess club, you will see that about 90-100 percent of members are men," she said. Specialized women's championships can be empowering "as some women don't feel socially comfortable in the environment — being one of the very few women in a room full of men."
arabnews.com/node/1233271/saudi-arabia
-------
Malala lauds feminism as Trump lands in Davos
AFPJanuary 25, 2018
Nobel peace laureate Malala Yousafzai on Thursday urged women to "change the world" without waiting for the help of men, as she addressed an audience of the global, and mostly male, elite at the World Economic Forum in Davos.
The 20-year-old global education campaigner spoke not long before the arrival in Davos of US President Donald Trump, who reached the White House a year ago despite revelations of inappropriate conduct towards women.
On Saturday across the US, thousands of demonstrators took to the streets in a Women's March to mark a year to the day since his inauguration.
The annual Davos conference, which unites the world's business and political elite, also takes place this year in the shadow of the feminist #MeToo campaign that shook Hollywood and spread across the globe in 2017.
"We won't ask men to change the world, we're going to do it ourselves," said Yousafzai.
"We're going to stand up for ourselves, we're going to raise our voices and we're going to change the world," she said.
Yousafzai, who was shot and nearly killed by militants in Pakistan in 2012 for insisting on the right of girls to go to school, has become a global sensation, pleading for the education of women.
Winner of the Nobel Peace Prize in 2014, she has continued her campaigning while pursuing her studies at Oxford University.
"Feminism is just an other word for equality ... and no one will object to equality," she said.
"It is very simple, it's not as complicated as some people have made it."
dawn.com/news/1385226/malala-lauds-feminism-as-trump-lands-in-davos
URL: https://www.newageislam.com/islam-women-feminism/saudi-aviation-authority-urged-enable/d/114062