New Age Islam News Bureau
21 July 2022
• Muslim Women in Uganda Complain About Being Forced To Remove Veils
• Dubai Business Women Council Empowers Female Entrepreneurs
• Abu Dhabi entity empowers 23 women to drive sustainable changes
• Turkish Court Says Erdogan Had Right To Annul Women's Treaty
Compiled by New Age Islam News Bureau
URL: https://newageislam.com/islam-women-feminism/saudi-woman-mechanic-merihan/d/127535
--------
Saudi Arabia's First Woman Car Mechanic Merihan Yehia; Once a Male Preserve in the Kingdom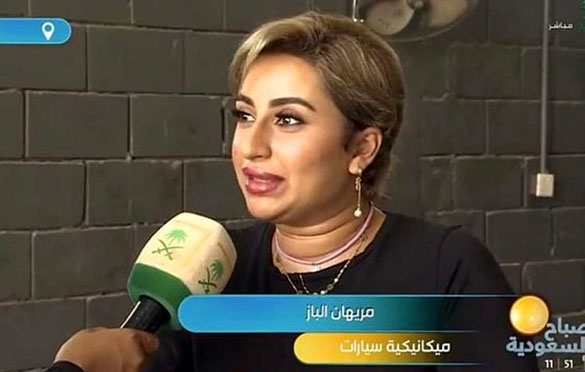 Merihan Yehia talks about her experience in auto mechanics to Al Sudiah TV.
Image Credit: Screengrab
----
July 21, 2022
Ramadan Al Sherbini
Cairo: The first Saudi woman car mechanic has disclosed that she was drawn to the vocation after seeing her father repair auto malfunctions.
In an interview with Saudi television Al Saudiah inside her workshop, Merihan Yehia added she had taken a liking for repairing, loosening and reassembling things since her childhood. "When a person loves something, this happens involuntarily," she said.
Merihan walked into the field that was once a male preserve in the kingdom.
"In the beginning, it was impossible for a woman to work in the field of mechanics. Women were not allowed to drive cars," she recalled.
In 2018, Saudi Arabia allowed women to drive for the first time in its history as part of dramatic social and economic reforms in the kingdom.
"After women were allowed to drive, many fields started opening up to women including mechanics," Merihan said. "Gradually, people began to know about my car repairs. I have made a reputation for myself," the young woman added.
"There is nothing impossible. Women can do any job," Merihan said. On offering help to women or families whose cars break down on roads, she said, they would be appreciative and proud of her.
"People around you encourage you. They think you do something big."
In recent years, Saudi Arabia has made major strides in women's empowerment in different walks of life.
Source: Gulf News
https://gulfnews.com/world/gulf/saudi/meet-saudi-arabias-first-woman-car-mechanic-merihan-yehia-1.89422251
--------
Muslim Women In Uganda Complain About Being Forced To Remove Veils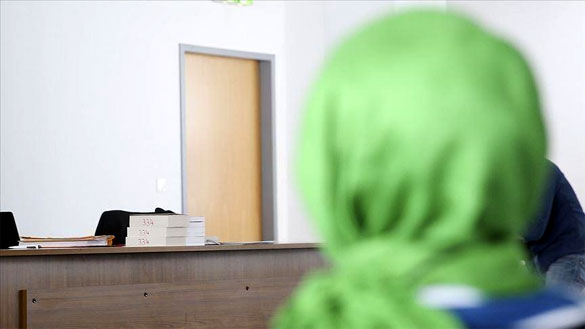 Photo: aa.com
----
Godfrey Olukya
20.07.2022
KAMPALA, Uganda
Muslim women in Uganda complained in parliament Wednesday, saying they are being forced to remove their veils before getting services.
The women said that apart from being forced to remove veils before being photographed at passport offices, some schools force female students to remove their veils.
Female MP for the Butambala district, Aisha Kabanda, said the Constitution allows the population to practice their religions and forcing Muslim women to unveil while taking a passport photograph exposes parts of the body that are not supposed to be seen.
"The act of coercing Muslim women to unveil ... deprives Muslim women of the right of practicing their religion. This is discrimination of Muslim women," she said and demanded that the practice be stopped.
Speaker Anita Among said she had received a petition from Muslim women and Catholic nuns complaining about the issue and she has requested that Prime Minister Robinah Nabanjja act on the complaint.
Nabanja said she has asked parliament to give her time to produce a report on how the problem can be solved.
Source: Anadolu Agency
https://www.aa.com.tr/en/africa/muslim-women-in-uganda-complain-about-being-forced-to-remove-veils/2641825
--------
Dubai Business Women Council empowers female entrepreneurs
July 20, 2022
The Dubai Business Women Council has recently wrapped up a string of seminars, training workshops, and business meetings that addressed crucial topics and catered to the needs of businesswomen and entrepreneurs.
More than 250 businesswomen took part in the DBWC events held in June, which touched on the mental and emotional health of women, fundamental business skills, and how they can increase their productivity in the workplace.
The council also announced it is all set to launch a series of events and initiatives that focus on improving women's labor market competitiveness and strengthening their capacities and skills.
The Health and Wellness Conference will be one of the major events to be organized by the DBWC to support businesswomen in adopting healthy and sound life practices that would relieve them of business and daily life stresses.
The conference will also help female entrepreneurs pursue and adapt to their professional lives and achieve success on both a personal and professional level. It will include interactive workshops and discussions that review the best practices, strategies, and experiences in the healthcare and human development sectors. The event will also highlight how crucial it is to take good care of one's health in order to lead a balanced and successful life.
The conference will be followed by another major event called "DBWC Masterclass for SMEs Leaders" with the theme "New Business Opportunities to Grow and Succeed — Identify your Why and How." The event will empower female entrepreneurs in the business community, brief them on growth and success opportunities, and discuss how best to capitalize on these opportunities.
Nadine Halabi, business development manager of the DBWC, said the council is looking forward to expanding the skillsets of female entrepreneurs and improving their professional and personal experiences to assist them in realizing their business aspirations and dreams. She stressed that the many events hosted by the DBWC have been instrumental in empowering women and in boosting their competitive edge.
"Over the coming period, the council will organize a series of events addressing diverse themes that concern the business community and foster a culture of self-development among female entrepreneurs," Halabi said, adding that the council membership entitles all members to exclusive participation in these events.
Last month's activities included a training workshop on mental and emotional health held in collaboration with Mind Resilience Training. The workshop discussed how female entrepreneurs can employ mental well-being to tackle both professional and interpersonal challenges. The session was designed to fuel individual energy, productivity, encourage learning and adaptability to changes, as well as to reinforce positive thinking and behavioral patterns.
Additionally, the DBWC hosted an exclusive session for its members to explore the art of effective communication, titled "What's Your Point." The session focused on the art of asking the right questions strategically in order to drive meaningful conversation in both public and private settings.
Established in 2002, under the umbrella of the Dubai Chamber of Commerce and Industry, the DBWC is the official representative organization for business women, both professionals and entrepreneurs, in the emirate of Dubai. It aims to provide support to Dubai businesswomen and entrepreneurs taking their first steps in the business world.
Source: Arab News
https://www.arabnews.com/node/2126371/corporate-news
--------
Abu Dhabi entity empowers 23 women to drive sustainable changes
20 Jul 2022
Masdar, Abu Dhabi's renewable energy company, has empowered 23 talented women aged between 25 to 35 years to lead sustainable change in their communities and careers.
In the past four years, more than 70 women of 17 nationalities, including this year's cohort, have graduated from the Women in Sustainability, Environment and Renewable Energy (WiSER) Pioneers Programme.
The WiSER pioneers feel enriched after completing more than 20 hours of educational and skills-training workshops and over 100 hours of one-on-one mentorship sessions.
Eman Thani Alsuwaidi, a process engineer, said: "The programme broadened my understanding of the professional world, encouraged me to develop new skillsets, and gave me the confidence to move forward in my career as a sustainable leader."
Yara Tannoury, an energy consultant, noted: "I was pleased to have the opportunity to connect with like-minded women who share the same interests in sustainability, renewable energy and the environment, and here comes the importance of joining the programme."
Sara Al Hanai, an urban planner, said: "Initiatives such as the WiSER platform empower women to play an active role in addressing global sustainability challenges and achieving the desired goals."
Farah Al Sayegh, a pioneer, underlined: "The programme gave me the opportunity to learn directly from world-class experts, industry leaders, innovators and change-makers, fostering the real-world experience and robust global network I will need to make a meaningful difference."
Aya Shiraz Al-Masri, a process simulation engineer, said the programme has improved her understanding of sustainability.
"By creating a space for young women committed to sustainability to learn from each other as well as industry experts, the programme empowered me with the knowledge and skills to promote sustainability in my community and career."
Maria Jose Martin, a biologist, is proud to have the opportunity to be part of the programme.
"The insights we gained on sustainability and gender equality issues inspired us to grow and innovate for today's world and, more importantly, for the world's future."
Masdar executive director of brand and strategic initiatives, and WiSER programme director, Dr Lamya Fawwaz, said the programme enables future generations of women to become sustainability leaders in their communities, workplaces and around the world, which is critical to meeting the UN's Sustainable Development Goals.
WiSER advisory council member, co-chair of UN-Energy, and CEO and Special Representative of the UN Secretary-General for sustainable energy for all, Damilola Ogunbiyi, is looking forward to the positive impact the graduates will make.
The programme is part of Masdar's broader WiSER initiative, which launched in 2015 on the sidelines of the 70th UN General Assembly to inspire women and girls to play a more active, coequal role in the global energy transition, in line with both the UAE's strategic net-zero initiative and the UN's Sustainable Development Goals.
Source: Khaleej Times
https://www.khaleejtimes.com/education/abu-dhabi-entity-empowers-23-women-to-drive-sustainable-changes
--------
Turkish court says Erdogan had right to annul women's treaty
19/07/2022
Rights groups and Western governments voiced shock and outrage when Erdogan cancelled Turkey's membership of the Istanbul Convention in an overnight decree last year.
Erdogan's political opponents argued the president did not have the power to unilaterally annul membership of an international agreement.
Turkey became the first country to sign the convention in 2011 and ratified it by vote in parliament the following year.
But the top administrative court on Tuesday rejected a request to overturn Erdogan's decision in a case involving testimony from leading women's rights groups and legal scholars.
The court's five judges ruled in a 3-2 vote that a president's decision could not be subject to a legal review.
The two dissenting judges said in a separate opinion that Erdogan's actions overstepped his legal bounds.
A lawyer representing the We Will Stop Femicide Platform rights organisation said the ruling was "tantamount to rejecting the constitution".
"It is terrifying from a legal perspective," lawyer Ipek Bozkurt told AFP. "This erroneous decision should have been stopped by the court."
The treaty -- now enacted by dozens of European countries -- requires member states to adopt domestic legislation that strictly punishes domestic abuse and gender-based violence.
But Erdogan's Islamic conservative supporters argued that its language harmed traditional family values and promoted LGBTQ rights.
Erdogan's main opponents in next year's general election immediately rose to the treaty's defence.
Main opposition leader Kemal Kilicdaroglu vowed to sign Turkey back up to the convention should he become president in the July 2023 vote.
"I can make a promise to the nation," the CHP party leader said.
"When we come to power -- and we will, with God's permission and the nation's approval -- in the first week, even in the first 24 hours, we will implement the Istanbul Convention," Kilicdaroglu told reporters.
Nationalist Iyi (Good) Party leader Meral Aksener accused the court of issuing "a political decision (aimed) at pleasing a dirty mind".
Source: France24
https://www.france24.com/en/live-news/20220719-turkish-court-says-erdogan-had-right-to-annul-women-s-treaty
--------
URL: https://newageislam.com/islam-women-feminism/saudi-woman-mechanic-merihan/d/127535
New Age Islam Islam Online, Islamic Website, African Muslim News, Arab World News, South Asia News, Indian Muslim News, World Muslim News, Women in Islam, Islamic Feminism, Arab Women, Women In Arab, Islamophobia in America, Muslim Women in West, Islam Women and Feminis