New Age Islam News Bureau
2 Oct 2019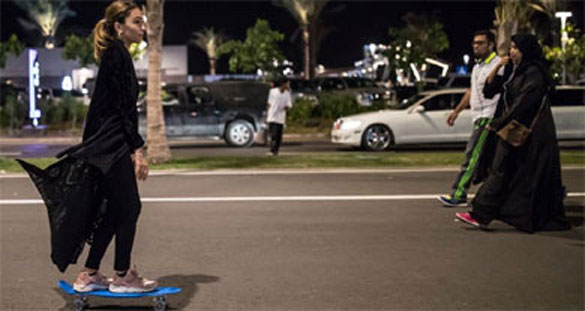 Saudi women today are wearing clothes that, a few years ago, could have landed them in trouble with the police.
------
• Saudi Women Are Breaking Free From the Black Abaya
• Sudan's First Ever Women's Club Football League Begins
• Turkey Imparts Skill Training To Women In Mozambique
• Uzbek Governor In Hot Water After 'Ugly Beard,' Hijab Remarks
• Female Isil Supporter Killed In Row Over Makeshift Sharia Court In Syrian Camp
• New Parliament Elects Indonesia's First Female House Speaker
• Bahrain's Wefaq Asks Women Heads Of State To Support Jailed Activists
• The Hijab, The Veil And The Denial Of The Ghanaian Muslim Women's "Wardrobe Freedom" At Workplaces
• Wusool Program benefits over 40,000 Saudi women
Compiled by New Age Islam News Bureau
URL: https://www.newageislam.com/islam-women-feminism/saudi-arabias-biggest-job-fair/d/119891
--------
Saudi Arabia's Biggest Job Fair For Women Opens In Riyadh
RASHID HASSAN
October 02, 2019
RIYADH: Saudi Arabia's biggest jobs fair for women on Tuesday opened in Riyadh offering thousands of career opportunities in the Kingdom's booming labor market.
The three-day "A Step Ahead Career Fair," organized by Saudi-based Glowork in cooperation with the Ministry of Labor and Social Development, will include 90 leading local and international companies showcasing employment options in a wide range of sectors.
In his welcoming speech Khalid Al-Saleh, managing director and founding partner at Glowork, said he hoped to see increasing numbers of women taking up the chance to work, and pointed to initiatives already in progress aimed at raising female participation in the Saudi jobs market from 22 percent to 30 percent by 2030.
Al-Saleh told Arab News: "We started it (the recruitment fair) seven years ago and organize it annually under the patronage of the Labor Ministry. It is a national-level event designed to empower Saudi women with all educational backgrounds and experiences.
"We invite the top 200 students selected from universities around the Kingdom to listen to experts from big organizations and learn from them to help make careers for themselves.
"We have had more than 190,000 women participating in events over the past six years, over 10,000 who got trained and attended free workshops, and around 36,000 women who have been hired through Glowork, many of them through this event," added Al-Saleh.
He said graduates participating in the fair were also offered jobs by various companies, and many had gone on to reach senior management positions.
The career fair and recruitment conference include workshops designed to develop personal and soft skills for jobseekers.
https://www.arabnews.com/node/1562741/saudi-arabia
--------
Saudi Women Are Breaking Free From the Black Abaya
By Donna Abdulaziz
Oct. 2, 2019
JEDDAH, Saudi Arabia—Saudi women today are wearing clothes that, a few years ago, could have landed them in trouble with the police.
Many are abandoning the plain black version of the traditional abaya, a loose, body-covering dress that all Saudi women wear in public over their clothing to comply with decency laws. In its place, they are opting for conservative but creative alternatives: sporty jumpsuits, business-cut robes and even kimonos.
https://www.wsj.com/articles/saudi-women-are-breaking-free-from-the-black-abaya-11570008601
--------
Sudan's First Ever Women's Club Football League Begins
October 1, 2019
KHARTOUM — Sudan's first ever women's club football league kicked off Monday, with two teams clashing at a Khartoum stadium as crowds of fans and diplomats cheered.
The championship, which involves 21 clubs, would have seemed unlikely just months ago when long time ruler Omar Al-Bashir was in power.
The first club match was played between Tahadi and Difaa in the capital on Monday. Matches are also scheduled for Madani, Al-Obeid and Kadugli.
"Civilian rule, Civilian rule," chanted the crowd as the first match between the two teams began.
Crowds clapped and whistled, with many also chanting "Kandaka, Kandaka," referring to ancient Nubian queens.
The match was attended by Sudan's new Minister of Sport Wala Essam and some Sudanese and foreign diplomats.
"This is a historical game not only for women's sport but for Sudan," Essam told reporters.
"We will give special attention to women's sport and women's football."
After the match ended the players from both teams expressed their joy at what they said was something unimaginable a year ago.
"Before the revolution in Sudan, my plan was to go abroad to play, but now I can play in my homeland," Asma Abubakr, wearing her club Tahadi's green jersey, told AFP.
For Juan Essam of club Difaa it was a "dream" that had come true.
"What happened today is simply fantastic," said Essam.
"For the first time I played inside a stadium. It had been my dream to play in a stadium."
The start of the women's club football league comes amid expectations that the current three-year transition period will see liberal policies implemented across the country, including measures to promote freedom of speech, women's rights, sport and arts.
Sudan joined FIFA in 1948. In 1957, Sudan co-founded the Confederation of African Football with Egypt, Ethiopia and South Africa at a meeting in Khartoum.
A new joint civilian-military ruling body, called the sovereign council, is governing the country for a transition period of 39 months.
The 11-member council has six civilians including two women. — AFP
http://saudigazette.com.sa/article/578692/Sports/Sudans-first-ever-womens-club-football-league-begins
--------
Turkey Imparts Skill Training To Women In Mozambique
Ahmet Furkan Mercan
01.10.2019
Turkey's state aid agency, the Turkish Cooperation and Coordination Agency (TIKA) on Tuesday set up two sewing workshops in Mozambique, an East African country to provide employment opportunities to women in the capital Maputo.
The sewing workshops were inaugurated in the Maputo Municipality Training Center, located in the central Magoanine district within the scope of TIKA's skill building and income-generating activities, according to a statement issued by TIKA.
The state-run aid agency supplied 20 sewing machines to women, who will get sewing trainings now by the municipality, the statement added.
The sewing workshops will remain open for all Mozambicans, to learn personal or commercial sewing and draping of cloths.
Turkey's Ambassador in Maputo, Zeynep Kiziltan, Maputo Mayor Eneas Comiche and local executives attended the ceremony.
Comiche expressed his gratitude to Turkey for initiating a project that will provide employment opportunities to Maputo residents.
Established in 1992, TIKA is responsible for implementing the country's development cooperation policies overseas.
https://www.aa.com.tr/en/africa/turkey-imparts-skill-training-to-women-in-mozambique/1598849
--------
Uzbek Governor In Hot Water After 'Ugly Beard,' Hijab Remarks
September 30, 2019
An Uzbek governor has apologized after saying that Muslim women's head scarves and the long, bushy beards many men wear promote Islamic extremism.
Shuhrat Ghaniev, the governor of the populous Ferghana Province, said publicly on September 30 that he was sorry for the remarks and that he had gone too far in the linkage.
"I admit the error [in making the comments]," Ghaniev said on September 30. "My parents, my relatives, wear national clothes. I wear national clothes myself at home."
But the late apology was belied by his toxic comments just days before.
Speaking at a government meeting last week, Ghaniev said hundreds of women in Ferghana had been reprimanded for wearing Islamic head scarves and a similar number of warnings had gone out to men wearing long beards.
"The government and government officials can't turn a blind eye to some illegal movements acting behind the mask of religion," he said. "This year alone, several people were prevented from going to Syria after falling victim to propaganda groups."
Ghaniev continued, "Studies show that those groups use religious teachings to make the men grow beards and force women to wear the hijab."
RFE/RL's Uzbek Service obtained an audio recording of the governor's speech about the campaign in Ferghana against the hijab and bushy beards that are widely seen as outward signs of Islam.
Ghaniev, who is in his early 50s, can be heard on the recording speaking about men with "ugly beards" in public places, repeatedly raising his voice and cursing such hirsute men.
He spoke of "studies" that had allegedly established which areas of the province he governs have higher percentages of men with long beards.
"There are 386 men with bushy beards -- the cowards," he said. "According to the studies, most of the men with these ugly beards are residents of the cities of Qoqon, Ferghana, and Marghilon, and the districts of Buvaida and Ferghana."
"Among women, it's been established that a total of 851 women wear the hijab," Ghaniev added.
The Ferghana region, located in eastern Uzbekistan, has a population of some 3.6 million people.
"Explanatory works were conducted with them and eventually 300 people agreed to change their appearances," the governor said.
Ghaniev, who has governed the agriculturally rich Ferghana region since 2011, can be heard issuing an angry warning to district governors that he had zero tolerance for women wearing traditional Islamic clothing:
"Remember this, dear governors: if I see a woman in such clothing in your official meetings -- I don't care if she's a neighborhood chief, a teacher, a businesswoman, an activist, a lawmaker -- I'll remove her head scarf and shove it in your mouth," he growled.
Ghaniev urged officials to take action against businesses that import and sell Islamic clothing in Uzbekistan. "These garments that belong to Arabs, Turks, and Syrians don't suit us. Uzbeks have their own national clothing," he said.
Ghaniev, who is known for his rude remarks, also called those at the meeting "stupid."
He is also heard on the recording reminding officials that Uzbek law allows for certain punishments for opening Muslim prayer rooms at state institutions.
Tanzila Narbaeva, the chairwoman of Uzbekistan's upper house of parliament, said on Facebook on September 30 that Ghaniev's behavior was discussed during a Senate committee session after the audio of his speech was posted on social media.
Ghaniev is also a member of the Senate.
Unofficial Campaign
The incident comes as Uzbekistan has in recent months intensified what seems to be an unofficial campaign against Islamic clothing and bushy beards.
Earlier in September, sources told RFE/RL that schools in Qoqon were making lists of female students wearing the hijab. The lists were reportedly given to city authorities so they could start "explanatory works" with the students and their parents.
In the capital, Tashkent, police raided a crowded market in August and rounded up young men with long beards. The men were taken to the police station and their beards were shaven off.
Similar raids have taken place in the eastern city of Namangan, eyewitnesses told RFE/RL recently.
It seems that controlling other people's hair preferences is a prevalent practice in Uzbekistan, as a school official in the Samarkand region's Urgut district was disciplined for using scissors to forcibly cut students' hair that he deemed to be too long -- injuring some of them in the process.
https://www.rferl.org/a/uzbek-governor-in-hot-water-after-ugly-beard-hijab-remarks/30191875.html
--------
Female Isil Supporter Killed In Row Over Makeshift Sharia Court In Syrian Camp
Leila Molana-Allen
30 SEPTEMBER 2019
Afemale Isil supporter was killed and seven others injured during an exchange of gunfire over a secret Sharia court set up in a Syrian camp holding displaced women and children.
The row broke out when a group of female Isil supporters ordered that several other women in the foreigners' section of al-Hol camp be given lashes for refusing to attend an informal Koranic studies class.
Guards from the Kurdish-led Syrian Democratic Forces, who run the camp, intervened and opened fire after one of the Isil members pulled out a pistol that had reportedly been smuggled into the camp.
The women claimed they had also taken hostage employees of Medecins Sans Frontieres, though this was denied by the aid agency, which said it had treated four women for gunshot wounds.
The incident has refocused attention on the need to find a workable legal solution for the 10,000 foreigners living in squalid conditions in the camp, which holds some 73,000 displaced from former Isil territory.
Several reports have said groups of women are attempting to impose Isil law on others in the camp.
"The situation in [al-Hol] camp is deteriorating sharply as Daesh militants have stepped up their regrouping efforts through women in the camp recently," said SDF spokesman Mustafa Bali. "This is going to be very dangerous in future unless governments take responsibility for their citizens."
Experts have repeatedly urged Western governments to repatriate their citizens and try them in their own courts, fearing a situation where the limited resources available to the authorities running the camps are overpowered.
"The lack of action on al-Hol will certainly come back to haunt us," said former Syria adviser to the Pentagon Jasmine El-Gamal. "This is no longer a disaster in the making; it is a full blown security threat."
"The longer these women are left to fester in these camps, the more difficult it will be find a durable solution for them," Ms El-Gamal warned. "With every day comes an increasing risk of an internal prison break or external attack, meanwhile the SDF lacks the institutions and capacity to contain this mess."
"Our doctors should not be treating women for gunshot wounds in a closed, camp setting," said Robert Onus, MSF emergency manager for Syria. "If we find ourselves in such a situation, something has gone terribly wrong."
https://www.telegraph.co.uk/news/2019/09/30/female-isil-supporter-killed-row-makeshift-sharia-court-insyrian/
--------
New Parliament Elects Indonesia's First Female House Speaker
Oct 1, 2019
JAKARTA: Indonesia's new Parliament elected the country's first female speaker of the House of Representatives after being sworn in Tuesday amid sometimes-violent protests against several new or proposed laws, including one that weakens the country's anti-corruption agency.
Puan Maharani, a member of the Indonesian Democratic Party of Struggle, the largest party in Parliament known by its Indonesian initials PDIP, was unanimously elected House speaker.
The 46-year-old politician has served as coordinating minister for human development and cultural affairs in President Joko Widodo's Cabinet since 2014.
She is the daughter of former President and current PDIP leader Megawati Soekarnoputri, and a granddaughter of Indonesian founding President Sukarno.
Tuesday's ceremony included 575 lawmakers from nine political parties. The lawmakers will be under immediate pressure to revisit the controversial legislation, including a proposed new criminal code as well as bills on mining, land and labour.
Security was especially tight in the capital, Jakarta, where authorities blocked streets leading to the Parliament building, and 24,000 police and soldiers were deployed to secure key locations, including the presidential palace.
However, demonstrations were largely peaceful in Jakarta, where about a thousand university students gave flowers to several riot police and marines. They also tossed flower petals into a mock grave bearing the names of two student protesters who died in violent clashes in Kendari city on Sulawesi island last week.
Indonesians went to the polls in April to vote for the president, members of Parliament, and provincial and regional legislative councils. Widodo won a second five-year term, and he and his allies control more than 65 per cent of the seats in the House, more than during his first term.
The ongoing protests and the legislation that sparked them, however, could threaten Widodo's credibility after he campaigned on a platform of clean governance.
Protesters are enraged that the outgoing Parliament passed a law last month that reduces the authority of the Corruption Eradication Commission, a key body in fighting endemic graft in the country and one of the nation's most trusted institutions.
They also demanded that the new lawmakers change parts of a proposed new criminal code that would criminalise criticism of the president and criminalise or increase penalties for a variety of sexual activities.
Critics say the bill violates the rights of women, religious minorities, lesbians, gays, bisexual and transgender people and curtails freedom of expression and association.
The planned revisions prompted Australia to update its travel advice to Bali, warning tourists of risks they could face from extramarital or gay sex if the bill were passed.
The protesters are demanding Widodo issue a regulation replacing the law on the corruption commission. Widodo said last week he was considering revoking the law, but the idea was immediately opposed by members of his coalition.
Activists say the revision weakens the powers of one of the most credible public institutions in a country where police and politicians are perceived as being widely corrupt.
Hundreds of officials from various branches of government have been arrested since the independent anti-graft commission was established in 2002 as part of people's demands during a reform movement following the ouster of the country's longtime strongman leader Suharto in 1998.
https://timesofindia.indiatimes.com/world/rest-of-world/new-parliament-elects-indonesias-first-female-house-speaker/articleshow/71396917.cms
--------
Bahrain's Wefaq Asks Women Heads Of State To Support Jailed Activists
Oct 1, 2019
Bahrain's main Shia opposition group, the al-Wefaq National Islamic Society, has called on women heads of state to support jailed female political prisoners in the tiny Persian Gulf kingdom, and press the ruling Al Khalifah regime to set them free.
Al-Wefaq, in a series of posts published on its Twitter page on Monday, appealed to a number of leaders, including German Chancellor Angela Merkel, Norwegian Prime Minister Erna Solberg, Croatian President Kolinda Grabar-Kitarović and Nepalese President Bidhya Devi Bhandari, to help secure the release of six female detainees.
Alwefaq Society
✔
@ALWEFAQ
To H.E Ms. Angela Merkel,
In your capacity as the Chancellor of Germany, we look forward to your responsible attitude that supports Bahraini women, who are subjected to reprisal due to their political views & are arrested for demanding freedom & democracy.#Bahrain
View image on Twitter
5
12:10 AM - Oct 1, 2019
Twitter Ads info and privacy
See Alwefaq Society's other Tweets
"We look forward to your responsible attitude that supports Bahraini women, who are subjected to reprisal due to their political views and are arrested for demanding freedom and democracy," the opposition group wrote in the separate posts.
Alwefaq Society
✔
@ALWEFAQ
To H.E Ms. Erna Solberg,
In your capacity as the Prime Minister of Norway, we look forward to your responsible attitude that supports Bahraini women, who are subjected to reprisal due to their political views & are arrested for demanding freedom & democracy#Bahrain
View image on Twitter
8
12:05 AM - Oct 1, 2019
Twitter Ads info and privacy
See Alwefaq Society's other Tweets
The jailed female political prisoners are Zakia al-Barbouri, Medina Ali, Hajar Mansoor Hassan and three sisters Fatima, Amal and Iman Abdullah. They are serving jail terms, ranging from three to five years. They were convicted following trials marred by allegations of torture and duress.
Alwefaq Society
✔
@ALWEFAQ
To H.E Ms. Kersti Kaljulaid,
In your capacity as the President of Estonia, we look forward to your responsible attitude that supports Bahraini women, who are subjected to reprisal due to their political views & are arrested for demanding freedom & democracy.#Bahrain
View image on Twitter
10
11:36 PM - Sep 30, 2019
Twitter Ads info and privacy
See Alwefaq Society's other Tweets
On May 27, Bahrain's supreme court of appeal, the Court of Cassation, upheld a five-year prison sentence against Barbouri and stripped her of her citizenship after finding her guilty of trumped-up terrorism-related charges.
On February 6, Bahrain's Fourth High Criminal Court sentenced Barbouri to five years in prison, and ordered her citizenship to be revoked.
Bahraini authorities claimed at the time that the dissident was "transporting materials used in explosive devices" to an alleged cell trained in Iraq.
The officials leveled terror charges against the defendant based on her confessions. Confessions, however, were extracted under duress and torture, according to international human rights groups.
Masked pro-regime militiamen, accompanied by members of the security service, arrested Barbouri early on May 17, 2018 after they raided her home in the village of Nuwaidrat.
She was held incommunicado at a detention facility for weeks following her arrest.
High-profile imprisoned activist Hajar Mansoor Hassan is the mother-in-law of exiled activist Sayed Ahmed Alwadaei, who is the head and founder of the London-based rights group Bahrain Institute for Rights and Democracy (BIRD).
Thousands of anti-regime protesters have held demonstrations in Bahrain on an almost daily basis ever since a popular uprising began in the country in mid-February 2011.
They are demanding that the Al Khalifah regime relinquish power and allow a just system representing all Bahrainis to be established. Manama has gone to great lengths to clamp down on any sign of dissent. On March 14, 2011, troops from Saudi Arabia and the United Arab Emirates were deployed to assist Bahrain in its crackdown.
On March 5, 2017, Bahrain's parliament approved the trial of civilians at military tribunals in a measure blasted by human rights campaigners as being tantamount to imposition of an undeclared martial law countrywide.
Bahraini monarch King Hamad bin Isa Al Khalifah ratified the constitutional amendment on April 3, 2017.
https://www.presstv.com/Detail/2019/10/01/607613/Bahrains-Wefaq-asks-women-heads-of-state-to-support-jailed-activists
--------
The Hijab, The Veil And The Denial Of The Ghanaian Muslim Women's "Wardrobe Freedom" At Workplaces
By Iddrisu ABDUL HAKEEM
01.10.2019
Fellow Ghanaians, believe it or not, in the high court of the hawks the chicken has never been declared innocent even if it deserves justice. Likewise, in our human (Ghanaian) societies the minority groups have always been harassed, suppressed, and even oppressed leading to their depression sometimes.
Why is it that, some Ghanaian women, within the ambit of the law, can only have to be paid if they expose their "love buttons" including their chubby, curvy and heavy butts to the whole wide world in video songs and yet no feminist is complaining about it, but women who also choose to cover their bodies are accused of evil in our society? In a society where gossip has never been in short supply, it is normal to find many tongues wagging about persons, or about an issue. Accusatory fingers pointing at such persons who choose to embrace a certain culture that is though legal but alien to the mainstream society they find themselves in is normal. But it is absolutely abnormal when their rights and freedoms are being restricted by other members of that same society with different worldview from theirs.
According to one of the numerous Law Definitions, specifically, from the Duhaime's Law Dictionary in particular: "A lost nation is not one which lacks a ruler, but one that lacks law. Distortion of law does not mean there is no law. It means there is law but it is not applicable"
Whether we pretend to realize it or not, it is increasingly becoming obvious that some aspects of our democracy appear to be dysfunctional in this country, and the constitution is virtually under a serious mockery by some Ghanaians who do not only openly hate others for their way of life they choose to live in a rather multiparty democratic republican dispensation, but have the audacity to restrict and frustrate them.
Chapter 5, Article 12, Clause
(2) of the 1992 constitution of our dear country states that "Every person in Ghana, whatever his race, place of origin, political opinion, colour, religion, creed or gender shall be entitled to the fundamental human rights and freedoms of the individual contained in this
Chapter but subject to respect for the rights and freedoms of others and for
the public interest."
And just below these Article and Clause in the same chapter, Article 14 Clause 5 that states that "A person who is unlawfully arrested, restricted or detained by any other person shall be entitled to compensation from that other person."
Therefore, it is an offense and forbidden, not by Sharia law but by our own law books we wrote and agreed to obey, to "restrict or detain" anyone because of their "race, place of origin, political
opinion, colour, religion, creed or gender".
However, because of religious jingoism and bigotry or just disregard of moral values, some ignorant or misinformed Ghanaians who deliberately turn a blind eye to the provisions of the constitution, have decided to restrict veil and Hijab wearing Muslim women in government or public offices. Some Muslim women in Ghana are being subjected to daily "naming and shaming" by some misguided and uninformed religious "Crusaders" and bigots because of their religious beliefs.
I still find it difficult rubbing my brain around this delicate but dangerous issue that is very capable of replicating and duplicating Boko Haram in Ghana if mature, responsible, and just leaders across the divide: Christians, Muslims, and African Traditional Religious practitioners do not rise from their reluctance to curb a rather gaping sore. If these haters of other people's culture are not reminded that Ghana does not belong to a particular group of people alone and for whose culture we must all embrace, and that, holding on to one's chosen culture is not a crime as the constitution puts it in Article Twelve (12) Clause Two (2). Otherwise disgruntled and discriminated against groups could be pushed to the brink.
No culture is too superior that others must abandon theirs and embrace it per the provisions of our constitution. Nonetheless, there has been a clash of civilization between the West and the East. According to Samuel Huntington, quoted by Hon. Mustapha Abdul Hamid in his dissertation about Christian-Muslim relations in Ghana, said
"the underlying problem for the west is not Islamic fundamentalism.
It is Islam, a different civilisation whose people are convinced of
the superiority of their culture...The problem for Islam is not the
CIA or the U.S Department of Defense. It is the West, a different civilisation whose people are convinced of the universality of their culture...These are the basic ingredients that fuel conflict
between Islam and the West."
So, there's enough evidence that Ghanaians who are inclined toward either of these civilizations may be suspicious of each other. But in an agreed multicultural society like Ghana, we are guaranteed freedom of association.
In any case, Ghanaians who decide to choose an "inferior" culture must not be coerced to accept a "superior" culture by way of dressing, dancing, eating, etc. That's the beauty of democracy, the rule of law, both of which collectively guarantee multiculturalism, and pluralism of ideologies within the parameters of the law among peoples of divergent views in the same jurisdiction.
Aside the constitutional entrenchment of these fundamental human rights in our constitution, Ghanaians are blessed with three major religious bodies whose beliefs are not that far from one another. Islam, Christianity, African Traditional Religion, all enjoin decency, patience, integrity, trustworthiness, truthfulness, justice, care for others reflected in our usually Ghanaian hospitality. In fact, the Golden Rule in Christianity is expressed in a different way in Islam. Thus, the Prophet Muhammad (saw) is reported to have said: "None of you truly believe until he loves for his neighbor what he loves for himself". The same thing as "Do unto others as you want them do unto you." Mahatma Gandhi confirmed this when he said that Islam and Christianity and Hinduism came from one saw.
Ways by which each of these three religions express these priceless and timeless values may differ, but the ultimate goal is to reach the same destination of protecting the shame of the society and the world in general.
Christianity which is an offshoot of Judaism even long after the Master Jesus Christ left the earth, is a sister religion to Islam. As a result, all the three religions (Judaism, Christianity, and Islam) have their origins from Abraham. Hence, their practices should not differ.
That's why if you read in the Book of Matthew chapter 26:36 Jesus fell on his face to pray and in Quran 53:62 enjoins Muslims to fall on their faces to pray.
Furthermore, in Matthew 19 verse 16, Jesus speaks about salvation responding to a man who asked him about what to do in order to enter heaven, by saying that "those who do the will of God" in Heaven shall enter heaven. Anybody who does the will of God is called "Muslim" and "Mushlim" in Arabic and Hebrew or Aramaic respectively. How would you call such a person in Akan? If the term "Christian" which had its origin from even the pagans, at the time of Christ, who conveniently labeled the disciples of Christ as Christians, also means "a person who does the will of God" and not that of the will of the Satan neither their own desires, then both the Muslim and the Christian are one.
Jesus also says in Matthew 7:21 that "not those who call me Lord, Lord, shall enter heaven; but those who do "the will of God" in heaven they shall enter heaven... " If Jesus was describing and addressing his disciples reminding them that praise singing his name Lord, Lord, without doing "the will of God" in heaven, shall not award them heaven, it means those of the disciples who heeded to this prophetic advice, really did the will of God. In Arabic they would have been called Muslims. If subsequent generations of Christians followed this admonition of Jesus and the earlier advised and admonished disciples, they are also doers of the will of God which in Arabic, is Muslims. Therefore, according to me, Christians are also Muslims.
Perhaps, the photograph of Jesus Christ's mother says it all: Mary is always in veil and Hijab in all her photographs. You wouldn't find and see any of her side boobs showing anywhere. You can't see any part of her thighs let alone "a map" of her private part designed by the dress she is wearing being too tight. Interestingly, Mary is supposed to be the role model of Christian women. But just like anybody, I am aware there's a new breed of Christians today, who have decided to concoct their own brand of Christianity where nothing is forbidden. When you visit the Church today you hardly identify these followers of Christ and his mother. Because, many of these "believers" are almost in bikinis to supposed houses of God presided by "men of God" many of whom take opportunity to fondle with some of the female congregants' genitalia.
When and how did these pious people of God sink this low?
Of course, the good and even the very good Christians who still stand by their values are there but they are few in number.
Perhaps, these group of "man made" Christians are those who are "terrorising" the veil and hijab wearing Muslim women who are only role modeling Mother Mary in the 21st century still.
How unfortunate.
The genuine Christians we are taught ooze love, generosity, and hate only for the sin and not the sinner. They are decent and hospitable. The Quran describes them (genuine Christians) in Quran 5:82 thus, "You will find the Jews and idolaters most excessive in hatred of those who believe; and the closest in love to the faithful are the people who say: "We are Christians," because there are priests and monks among them, and they are not arrogant".
Today, why would these people be nursing grudge against the Muslims and can now hate and even showcase arrogance by looking down upon the culture of others that is similar to theirs?
I don't believe Hijab haters are the Christians we know.
So, who are those chasing Muslim women out of public offices because they refuse to sell their nudity on credit to the lustful eyes of the 21st century man? I don't think the virtues loving Christians are doing that.
But who? The traditionalists?
A cursory look at the African traditional religious landscape would readily prompt an observer what the traditionalists also stand for as their values including what are espoused above. They are simply too pure as well to have engaged in chasing Muslim women home from their workplaces simply because they have decided not to parade their side boobs and curvy backside to the public but covered them in Hijab for only their husbands. So, I don't think our libation pouring friends in the African Traditional Religion have the effrontery to sidestep the constitution, and religious values, and go ahead to openly validate wrongdoing by asking Muslim women who have decided not to wear a trousers that allows everybody to determine the magnitude, latitude, longitude, and even the depth of their vaginas, to vacate their workplaces or maltreated.
So, who are these faceless and "religiousless" Ghanaians who see it fit to betray our constitution, spit on the face of their religious beliefs and values and even go on the railroaded binge to treat with contempt, other citizens of the country who don't dress like them?
Of course, there are other minority religious groups who are vociferous in the country. However, their number is quite negligible to have involved in this painful discriminations. So, who are behind these uncivilized, undemocratic and irreligious acts?
But you see, what those who maltreat hijab wearing Muslim women don't appreciate is that, it is not the women they are fighting and shaming. Neither are they fighting Muslims. It is Allah which Arabic spelling is the shape of the ear of every human being they are daring and fighting. The One Who created the universe from nothing, and Who allow the moon, the sun, and other heavenly bodies to float, each in an orbit, Quran 36:40.
He it is who send down iron from Heaven to the earth, Quran 57:25; Created seven layers of heavens upon each other with the earth having the same number of layers, Quran 67:3. They are fighting their Lord who created them from their mothers' wombs, formation upon formation in three veils of darkness in the womb,Quran 39:6. They are fighting the God who disjointed the heaven and the earth asunder when they were one unit, Quran 21:30. They are fighting the Lord who has created the universe and thereafter keeps expanding it perpetually, Quran 51:47. They are fighting their Lord who created the mountains as the earth's pegs to prevent the earth from shaking with them, Quran 78:7. They are fighting Allah who has inspired the bee to do the "bee dance" in order to produce honey, Quran 16:68. They are fighting Allah who created the ants to behave like humans (by talking), Quran 27:18. They are fighting the God who put invisible barrier between the two seas (one sweet and drinkable, and the other salty and not drinkable so that the huge ocean does not mix with the little drinkable water bodies we rely on for survival), Quran 55:19-20. They are fighting the God who causes and sends down rain, Quran 27:60
They are fighting Him Who has ordained mercy upon Himself to be merciful to His creation despite their multitudinous wrongdoing, Quran 6:12.
He is the Mighty, fully aware of what His creatures are doing.
Let maltreated hijab wearing Muslim sisters be patient and the Muslim community in general. Allah has always been with the patient ones.
That's why He admonished Muslims saying "So you who believe, have endurance in suffering, be patient and persevere, strengthen each other and be firm, and be pious and fear God that you may find success."
Quran 3:200
"Do men think they will get away by saying: "We believe," and will not be tried?
"We had tried those who were before them so that God knew who spoke the truth, and who were liars" Quran 29:2-3
Let every sister understand this is a trial from Allah, their Lord. Be strong.
Harassed veil and hijab wearing Muslim women must take solace in the following verse: "The unbelievers would haply like to wish that they had submitted (and become Muslim)." Quran 15:2.
May God Bless Ghana and bless her people with abundance of understanding and mercy toward each other.
The Writer, Iddrisu Abdul Hakeem, is a MasterCard Foundation Scholar (Alumnus) @ KNUST; Department of Religious Studies.
https://www.modernghana.com/news/958438/the-hijab-the-veil-and-the-denial-of-the-ghanaian.html
--------
Wusool Program benefits over 40,000 Saudi women
October 1, 2019
RIYADH – Over 40,000 female Saudi employees have till now benefited from the Program for Supporting Transportation of Working Women (Wusool), Saudi Press Agency quoted the Human Resources Development Fund (Hadaf) as saying.
The program aims to empower women working in the private sector, increase the percentage of their participation in the labor market and enhance their job stability.
The number of trips by female beneficiaries of the program has exceeded 8 million, Hadaf said.
The fund has introduced some amendments in Wusool Program so as to increase the number of women to benefit from the program and facilitate registration procedures for working Saudi women.
The amendments included the conditions for joining the program, and that for registering in the social insurance system, provided the registration period for the female employee is less than 36 months, and the registered monthly salary does not exceed SR8,000.
The amendments also included the monthly financial support provided by the fund, which is fixed at 80 percent of the cost and a maximum amount of SR800 per month. In addition, the monthly financial contribution previously set at SR200 has been canceled and the support period has been extended to 12 months.
A woman working in the private sector can register in Wusool Program via the link: http://wusool.sa.
The program aims to find solutions that would decrease the transport costs for Saudi women working in the private sector, and improve and develop the transport environment for women to and from their place of work.
This is being achieved by securing high quality and safe transport services for working women by partnering with companies using licensed smart apps to guide private taxi cabs.
http://saudigazette.com.sa/article/578689
--------
URL: https://www.newageislam.com/islam-women-feminism/saudi-arabias-biggest-job-fair/d/119891
New Age Islam, Islam Online, Islamic Website, African Muslim News, Arab World News, South Asia News, Indian Muslim News, World Muslim News, Women in Islam, Islamic Feminism, Arab Women, Women In Arab, Islamophobia in America, Muslim Women in West, Islam Women and Feminism