New Age Islam News Bureau
27 November 2020
• North Yorkshire Police Design New Uniform Hijab Hoping That It Will Attract More Muslim Women To Join Up
• France Debates Virginity Testing As Activists Fear Violent Repercussions For Women
• Somali-US Model Halima Aden Takes Step Back From Fashion Industry
• Malaysian Woman Hopeful Of Reuniting With Foreign Spouse After Govt Relaxes Ban
• Danish Minister's Comment On Sex Before Marriage Angers Muslims
• British Women, Children Face 'Barbaric' Conditions In Syrian Camps: Report
Compiled by New Age Islam News Bureau
URL: https://newageislam.com/islam-women-feminism/saudi-arabia-try-loujain-al/d/123595
--------
Saudi Arabia To Try Loujain Al-Hathloul Who Fought For Right To Drive Under Terrorism Court
November 26, 2020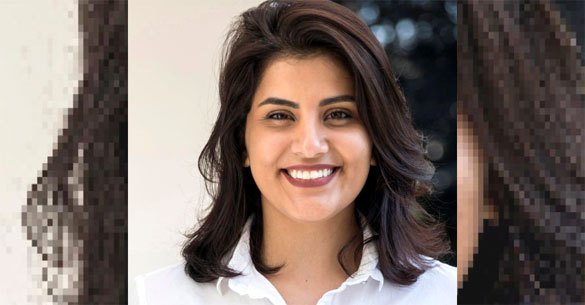 Activist Loujain Al-Hathloul Who Fought For Right To Drive
----
A leading Saudi women's rights activist who's been imprisoned for 2 1/2 years and drawn attention to the kingdom's hard limits on dissent will be tried by a court established to oversee terrorism cases, her family said Wednesday.
The referral of Loujain al-Hathloul's case to the Specialized Criminal Court is a setback for efforts to push for her swift release and means she will face charges related to terrorism and national security. The court is notorious for its secretive nature. A range of cases are brought before the court under broadly worded counter-terrorism laws that criminalise acts such as insulting the government and disobeying the ruler. According to a 53-page report released earlier this year by Amnesty International, the court has been used as a weapon of repression to imprison peaceful critics, activists, journalists, clerics and others. Amnesty International says it had documented numerous cases of trials held in secret before the court.
Al-Hathloul is among Saudi Arabia's most prominent women's rights activists. She was detained amid a sweeping crackdown spearheaded by Crown Prince Mohammed bin Salman, who has ushered in wide-ranging reforms but has simultaneously clamped down on activists who have long pushed for change.
She and around a dozen other prominent women's rights activists were arrested in May 2018 just weeks before Saudi Arabia lifted its decades-long ban on women driving. The women face vague national security charges related to their activism and communication with foreign journalists, Western diplomats and independent rights groups.
Al-Hathloul's family said the 31-year-old activist's case was being transferred to the Specialized Criminal Court due to a lack of jurisdiction by Riyadh's criminal court, where her trial had been suspended for months. They say her body was shaking uncontrollably and that her voice was faint and shaky when she appeared in court on Wednesday. She had been on a hunger strike for two weeks earlier this month.
Al-Hathloul and the other Saudi women activists detained in 2018, some of them mothers, grandmothers and professors, say they were physically and sexually abused while in detention by masked interrogators. The women say they were caned on their backs and thighs, electrocuted and waterboarded. Some women say they were forcibly touched and groped, made to break their fast during the Muslim holy month of Ramadan, and threatened with rape and death. One of the women attempted suicide in prison.
While most of the women have since been released pending trial, al-Hathloul and three other women activists remain imprisoned. Rights groups tracking the trials said only al-Hathloul's case was referred to the Specialized Criminal Court.
The court said it will open an investigation with the prosecution regarding her claims of torture, the family said.
Last year, Saudi authorities told her she could be released if she signs a statement denying the claims of abuse, according to her family. When she rejected doing so, she was kept in solitary confinement.
Al-Hathloul has long been an outspoken defender of women's rights in Saudi Arabia, drawing numerous calls from U.S. lawmakers and others around the world for her unconditional release.
In 2014, she was detained for more than 70 days after she attempted to livestream herself driving from the UAE to Saudi Arabia when it was still illegal for women to drive in the kingdom. She was arrested by Saudi authorities as she attempted to cross the border in protest and later released without trial.
Al-Hathloul's family say in 2018, shortly after attending a U.N.-related meeting in Geneva about the situation of women's rights in Saudi Arabia, she was kidnapped by Emirati security forces in Abu Dhabi, where was residing and pursuing a master's degree. She was then forced on a plane to Saudi Arabia, where she was barred from travelling abroad before her arrest months later.
When asked about her case last month, Saudi Foreign Minister Prince Faisal bin Farhan said she and the other women on trial were not detained because of their human rights activities and that they are charged with serious crimes. He said Saudi courts were independent and that her release would be up to the courts, not the government.
https://www.theweek.in/news/world/2020/11/26/saudi-arabia-to-try-woman-who-fought-for-right-to-drive-under-terrorism-court.html
--------
North Yorkshire Police Design New Uniform Hijab Hoping That It Will Attract More Muslim Women To Join Up
26 November 2020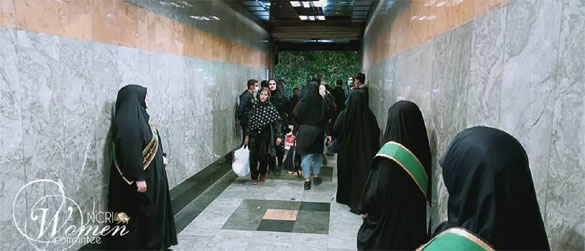 © Provided by Daily Mail MailOnline logo
------
A police officer who helped design a new hijab because the one provided was uncomfortable and unsafe said she hopes it will inspire other Muslim women to join the force.
Pc Uzma Amireddy, a positive action coordinator, said the hijab given to her by North Yorkshire Police was uncomfortable, did not look good and was potentially unsafe in hostile situations.
She said: 'If you want to attract people from diverse backgrounds they have to feel and look good in their uniform and something like that certainly will put people off joining.
'That's why I took it on myself.'
After she took the issue to her chief officer - Pc Arfan Rahouf, who is the force's operational lead for faith and belief, got involved in the development.
With input from Pc Amireddy, he set about finding a hijab that would be suitable.
They sourced one from a local supplier and suggested some alterations to help make it more suitable for use by officers - for example, the head and neck are detachable, meaning if someone were to grab and pull it, it will not pull around the neck.
Pc Rahouf said: 'It looks professional, it looks smart, it's safe, she feels beautiful in in it, she feels comfortable, she feels valued by the organisation because they've provided it and it's just something that represents her faith.'
On Monday, Pc Amireddy wore the hijab on the streets for the first time.
She said: 'When I went out on the streets of North Yorkshire - and I know it's only one shift and I don't know what the future holds - but it went really well and I think people saw past the hijab - which I wanted.
'Because I don't want to be in the spotlight, I don't want to be singled out. I want people to see me as a human being and a person doing the job that they love to do.
'And they saw me as a police officer on the doorstep, not as somebody from a Muslim background and that's what I wanted.'
Now the pair are hoping the hijab might be taken up by forces more widely.
Pc Rahouf said: 'We've been invited to have conversations nationally to see if this can be incorporated as a standard hijab with police forces across the country.'
For Pc Amireddy, she believes she has already seen the potential power the hijab could have.
She said: 'A friend of mine was in the pipeline of joining the police force and when I told her and she'd seen the hijab and she tried it on, she said 'you know what, I'm really happy with this'.
'So for me, that was my proudest moment - that I've made a Muslim female happy with joining the police force.
'She doesn't have to face those obstacles and barriers that I had to.'
North Yorkshire Police commended the two officers, saying they had 'worked really hard' to 'make this important change happen'.
A spokesperson said: 'It's really important for North Yorkshire Police to make sure that the uniform for each and every police officer is fit for purpose.
'Inclusion and diversity is a key agenda for the police service. We need to be more representative of the communities we serve, in order for us to be an inclusive workforce and deliver a better service to all of our communities.'
https://www.dailymail.co.uk/news/article-8991029/Police-design-new-uniform-hijab-hoping-attract-Muslim-women-join-up.html
--------
France Debates Virginity Testing As Activists Fear Violent Repercussions For Women
Nov 26, 2020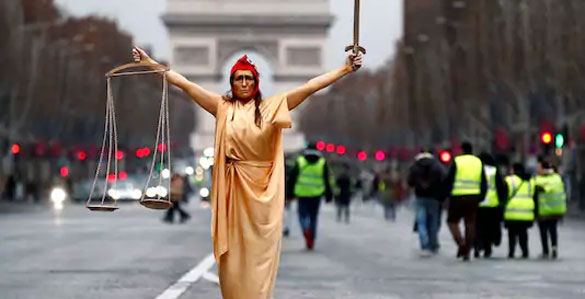 FILE PHOTO: A woman dressed as Justice and French republic symbol "Marianne" poses during a demonstration by the "yellow vests" movement on the Champs Elysees near the Arc de Triomphe in Paris, France. (Photot: REUTERS/Christian Hartmann)
-----
France is split over plans to ban virginity testing, with some campaigners calling the procedure barbaric and others warning of violent repercussions for some Muslim women.
Women in at least 20 countries are subjected to virginity tests, sometimes by force, as families, lovers, or potential employers use them to assess their virtue, honour, or social value, according to the World Health Organization (WHO).
In Europe, the tests are issued in Belgium, the Netherlands, Britain, Sweden, and Spain, according to the WHO.
Virginity tests in France are most commonly used by Muslims and also by some Roma families who want proof of virginity pre-wedlock.
The United Nations says the test is painful, inaccurate, and a violation of human rights, with no place in modern society.
But not everyone agrees, with some experts predicting unintended fallout from France's proposed ban, which is part of a wider Islamic separatism bill due in parliament next month.
Doctors say it could mean women paying excessive fees for illegal tests or risking violent repercussions from family members, partners, or putative in-laws if they lack proof.
"Penalising doctors is to close the only door for patients, where they could have found help and advice," said Ghada Hatem-Gantzer, a gynaecologist in Paris and chief medic at the Maison des Femmes, a local women's violence shelter.
"It is undoubtedly promoting a black market for certificates that dubious pharmacies will charge dearly for," she added.
Before issuing a virginity certificate, a doctor usually inspects a woman's hymen – the thin tissue that may partially cover her vagina – checking for tears or measuring the opening.
It is not clear how many tests are carried out each year, but doctors say they mostly check teenaged girls or young women, often under family pressure.
"There is no data, either official or unofficial, on the number of requests for virginity certificates," said Martine Hatchuel, another Paris-based gynaecologist.
"Personally I have around two to four requests per year…almost always very young girls brought by their mothers."
Doctors say single women fear rejection if they cannot show a certificate to families where traditional gender expectations hold sway when it comes to sex before marriage.
"Their motivation is always: 'it is my parents/my step family/my in-laws who demand it, if it were up to me I wouldn't ask for anything,'" said Hatem-Gantzer.
But she said the girls and young women who came to her were unanimous in declaring: "'I don't want to stay an old maid.'"
Muslims
The French government does not collect such data but think tanks and statistical groups say France has Europe's largest Muslim minority: about 5 million or 7-8 per cent of the population.
Virginity certificates can help protect women who are suspected of having illicit sex from possible retribution, said Liza Hammer of Collectif Nta Rajel, a French feminist collective for North African emigrees.
"If you want to deal with this issue then women must be taken care of, not prevented from having a piece of paper they need to save their lives," she said.
Under draft legislation, President Emmanuel Macron is proposing a year in prison and a 15,000-euro ($17,875) fine for any medical professional who issues a virginity certificate.
The rules are part of legislation aimed at reinforcing secular values and fighting what Macron calls an "Islamist separatism" that he said threatens to overrun some communities.
France's interior and health ministries were not available for comment.
Violent reprisals
While not in favour of the tests, doctors and women's rights groups worry that some girls and women might fall victim to abuse without a certificate to attest to their virginity.
"In certain extreme situations, the only way out for women is to break up with their family or to turn to the virginity (testing) market," the French abortion advice group ANCIC said in a statement.
"Professionals need to make the choice that seems the most ethical to them," the association said.
In an open letter to a French newspaper, a group of 10 doctors called the tests barbaric, backward and sexist.
But they said that banning them could be still worse if doctors fear women might be at risk without their certification.
"To prevent that (test being carried out) would be a disservice to the cause of the patient," they said.
Better education would do more than a ban to end traditional gender constraints, said ANCIC, the abortion group.
Punishing doctors does not address the root cause - fear and ignorance in Muslim communities, said the group of doctors.
Claudia Garcia-Moreno, the WHO's lead on Violence against Women, agreed, saying "culturally sensitive" education must go hand in hand with any ban to prevent tests from going underground.
"It needs to include women and girls understanding their rights and protections," she said.
For Hatem-Gantzer, who sees the fallout from virginity fights first hand at her Paris shelter, a ban will not quickly change such deeply-entrenched attitudes.
"Our only way out is to educate young people relentlessly and to meet their parents to convince them. It's more tiring and expensive than banning, but it's more effective," she said.
https://www.wionews.com/world/france-debates-virginity-testing-as-activists-fear-violent-repercussions-for-women-345554
--------
Somali-US Model Halima Aden Takes Step Back From Fashion Industry
November 26, 2020
MILAN: Somali-American model Halima Aden has announced that she is taking a step back from the fashion industry, saying the pandemic slowdown has allowed her to see instances when her desire to maintain a hijab was not properly respected.
In a detailed Instagram story, Aden wrote this week that she was "not rushing back to the fashion industry" and that she had finally heard her mother's pleas "to open my eyes."
"My mom asked me to quit modelling a LONG time ago. I wish I wasn't so defensive,'' the 23-year-old model wrote. "Thanks to COVID and the breakaway from the industry I have finally realized where I went wrong on my hijab journey.''
Aden became the first hijab-wearing model on the runways of Milan and New York, and has appeared on numerous magazine covers and in print campaigns.
Born in a refugee camp in Kenya, she moved to the United States with her family at age 7 and was the first Muslim homecoming queen at her high school in Minnesota, the first Somali student senator at her college and the first hijab-wearing woman in the Miss USA Minnesota pageant.
In her Instagram posts, Aden detailed where she felt the religious covering hijab had been respected — for example in a campaign for Rihanna's Fenty beauty line — and where it had gone astray, showing an instance when her head had been wrapped in jeans.
"I was just so desperate back then for any 'representation,' that I lost touch with who I was,'' she wrote on one post, and on another, wearing a crystal-encrusted headscarf, she said ""I should have walked off the set because clearly the stylist didn't have a hijab wearing woman in mind."
She said her acceptance of situations that showed a lack of respect for her beliefs was due to a mixture of rebellion and naivete. "What I blame the industry for is the lack of MUSLIM stylists," she wrote.
https://www.arabnews.com/node/1768831/fashion
--------
Malaysian Woman Hopeful Of Reuniting With Foreign Spouse After Govt Relaxes Ban
Teoh Jie Ying
November 27, 2020
PETALING JAYA: Following an announcement that exemptions will be made for the entry of foreign spouses from 23 banned countries, a Malaysian woman said she is both relieved and hopeful about reuniting with her husband from the US.
After months of separation because of border closures, she said she has found a silver lining in this announcement.
The co-founder of the Foreign Spouses Support Group, Bina Ramanand, welcomed the government's move, saying that it will bring solace to many distressed transnational families in Malaysia.
She said many families have been suffering throughout the movement control order (MCO) as well.
The Malaysian woman, who is a small business owner, told FMT that coping with the pandemic had not been easy, and that her husband's health issues and financial struggles had made the problem worse.
"My husband has diabetes and problems with glaucoma that require medical attention. He is legally blind in his right eye. The cold weather has arrived in the US. If his money runs out, he'll be forced to live in his car."
After her last application was rejected, she did not think her second chance would come by so soon.
She said that despite the challenges ahead, she is ready to do whatever it takes to reunite with her spouse.
"However, we would like to urge the authorities to consider reducing the high cost of quarantine in the best interest and well-being of the families," she said, referring to members of the Foreign Spouses Support Group.
While these spouses long to be reunited with their families, she said many have lost their jobs and are unable to afford the journey home, much less the cost of quarantine.
"Some pregnant Malaysians had no choice but to give birth to their children overseas due to travel restrictions," she said.
Bina urged the government to implement temporary measures to address their needs, saying the lack of effective solutions will only compound their problems.
"Sustainable solutions are needed, including relevant law and policy reforms, to ensure the stability of Malaysian families and their welfare," she said.
https://www.freemalaysiatoday.com/category/nation/2020/11/27/woman-hopeful-of-reuniting-with-foreign-spouse-after-govt-relaxes-ban/
--------
Danish Minister's Comment On Sex Before Marriage Angers Muslims
By Urooba Jamal
26 Nov 2020
A Danish minister has caused outrage among the Muslim minority for suggesting imams and community leaders should publicly support the "right" to have sex before marriage for women.
Mattias Tesfaye, foreign affairs and integration minister, said in a Facebook post last month, after meeting with some Muslim leaders: "I asked them very directly if they would say out loud and clear in public that Muslim women, of course, have the right to sex before marriage just like all other women."
In an editorial in the Danish paper, Dagbladet Information, also published in October, Tesfaye wrote: "I hear that some Muslim women fear that they will not bleed on the wedding night. They are afraid of being beaten because the family expects them to be virgins on the wedding night.
"It is your life and your choice. Do not let yourself be ruled by either imams or outdated norms."
Hediye Temiz, who at 22 is one of the youngest city council members in Denmark, in the city of Albertslund, said Tesfaye's approach was misguided.
"He wants to solve (Muslim women's) problems, but I think the way he tries to solve it isn't the right way," said Temiz, adding that she joined politics because she was frustrated with the way Muslims were talked about by politicians in Denmark.
Meanwhile, Halima El Abassi, who advises the Danish government as the chairwoman of the Council of Ethnic Minorities, said Muslim women should decide for themselves and not be spoken about as though they do not have agency.
"It should be the girl's own decision," she told Al Jazeera. "It's not the imam's decision or the minister of foreign affairs' decision."
Tesfaye, in recent months, has increasingly targeted subjects regarding Muslim women in Denmark, which culminated in a new campaign launched on November 14 by the Danish Agency for International Recruitment and Integration, aimed at women from minority backgrounds.
El Abassi features in one of three campaign videos, talking about the negative effect of her arranged marriage.
Tesfaye has previously claimed Denmark is witnessing a "comprehensive war of independence", where young women live in "invisible prisons", in forced or violent marriages, part of what he terms "negative social control".
He has promised a number of bills in the coming weeks to address; classifying "negative social control" as psychological violence, the bills seek to punish imams with up to three years in prison if they produce "religious divorce contracts according to sharia [Islamic] rules", a government press release stated.
Another proposal seeks to criminalise religious preachers or parents of minors – those under the age of 18 – if they carry out the marriage of the child, but this is already illegal in Denmark.
Imams who are not Danish citizens also face the risk of deportation.
Muslim marriages
Last week, Tesfaye, condemned a financial aspect of Muslim marriages, saying they trap women in violent marriages and saddle young men with debt.
In Islam, the mahr, or dowry, is paid by the groom to the bride at the time of marriage. It is often money but can be jewellery or other items, and is seen as a form of protection or insurance for the wife.
"Today there are thousands of women who are in the middle of a freedom struggle," Tesfaye said in a press release. "And we do this to help those women."
Temiz, who broke off her engagement a year ago, returned the mahr to her ex-fiance.
She sees Tesfaye's position as intrusive.
"It shouldn't be in government control, what I'm going to have as the mahr," she said, explaining that Tesfaye assumes all Muslim women in the country are being oppressed.
In a statement to Al Jazeera, Tesfaye's office said: "It must not be the case that dowries keep women in marriages against their will, if it is required that the money must be repaid in case of a divorce. Moreover it can also cause problems for the man who may have difficulty raising so much money."
For Amani Hassani, sociologist and research coordinator at the Center for Danish Muslim Relations (CEDAR), the proposals are alarming.
"It's presented as a government needing to liberate these women," she told Al Jazeera, "The old Orientalist trope of … brown women being oppressed by their brown men and needing us to save them from that."
She added that Muslim women view the mahr as "an important right when entering an Islamic marriage contract because it provides the woman with something that is solely hers."
"Giving up this right is her decision to make, it should not be dictated by her family nor society," she added.
Muslim women often seek religious counsel in matters of marriage and divorce.
If passed, Tesfaye's bill could see some religious leaders prosecuted, even those who simply provide counsel, said Hassani.
"This is … a way for the government to reduce the Muslim community's rights," Hassani said. "It's a way of allowing the government and the state to surveil the Muslim community."
El Abbasi, the government adviser, said while Muslims should recognise the problems associated with wedding-related debt and forced marriages, "you have to solve the problems in the right context."
In the case of the mahr, she said: "You can't make laws to regulate these things."
"No male, either from the Danish society or the society where they come from, decide for them (women) what to do."
But Muslim women in the public eye such as Temiz take a harder line on Tesfaye's rhetoric.
"I think that there's a lot of Muslim girls and women in Denmark (who have) had enough of this talk from the minister," she said. "I just hope that this bill won't do anything worse for Muslims."
https://www.aljazeera.com/features/2020/11/26/danish-ministers-comment-on-sex-before-marriage-angers-muslims
--------
British women, children face 'barbaric' conditions in Syrian camps: Report
November 26, 2020
LONDON: British women and children captured in Syria after the collapse of Daesh are being held in "barbaric" conditions and have had their UK citizenships withdrawn, a report has revealed.
About 15 women and 35 children from Britain are being detained by Kurdish forces in two camps, along with thousands of other women and children from Syria and around the world.
The report, by London-based charity Rights and Security International, warns that the camps are "Europe's equivalent of Guantanamo Bay."
The report claims that British intelligence officials regularly enter the camps, and that once individuals are identified, their UK citizenship is usually withdrawn.
The findings come as lawyers for Shamima Begum appealed to the UK Supreme Court for her right to challenge the removal of her British citizenship.
The report claims that conditions in the camps are "fundamentally unsafe" and involve "cruel, inhumane and degrading treatment." The charity sent a researcher into the camps to gather evidence earlier this year.
In one of the camps, an average of 25 detainees per month have died, with children living in tents and suffering from malnutrition, dehydration and hypothermia. Some have died in fires or have been killed in fights, the report claims.
Guards have allegedly shot and sexually abused camp prisoners, and are ordered to forcibly remove boys from their mothers when they reach the age of 10.
"The camps in which they are being held are fundamentally unsafe environments in which physical violence is common, the conditions are barbaric, and psychological trauma is rife," the report said.
Women are also placed in solitary confinement for months if involved in unrest or caught using a mobile phone.
The charity has urged European countries to fulfil their "legal, political and moral responsibilities and immediately repatriate their citizens."
As part of the Begum case, government documents were revealed that show the UK regards British women in the camps as a "national security risk."
The UK Home Office has said "there are no substantial grounds" to think Begum faced "a real risk of mistreatment" during her detention in Syria.
The two camps are run by the Kurdish Autonomous Administration of North and East Syria — Europe's ally against Daesh in the region. Some detainees have been repatriated, including some British children.
"This is Europe's Guantanamo, but for children. It beggars belief that the UK, who rightly condemned the abuses of Guantanamo Bay, now stands by and let children, including a newborn British baby, die. Now these women and children face another brutal winter with more deaths," said Yasmine Ahmed, executive director of Rights and Security International.
"The claim that it is safer to leave women and children in the camps flies in the face of security experts who say that the real security risk comes from leaving these women and children in the detention camps where they are vulnerable to radicalization, and where their dire conditions can serve as a recruitment tool," she added.
"Have we learned nothing from the last 20 years on the war on terror? When we place people outside the law, when we deny them rights, treat them with brutality and without humanity, we not only undermine the values we are fighting for but we make ourselves and the world less safe, not more."
Ahmed said the UK government is using removal of citizenship "in a far more systematic way" than other European countries.
Richard Barrett, former MI6 director of global counterterrorism who was interviewed in the report, said: "The longer they stay without proper assessment of their mental and physical health or their attitudes towards their families, communities and countries, the more unpredictable they will become. And the more difficult it will be to determine what they're going to do."
Responding to the findings, A UK government spokesperson said: "Depriving someone of their British citizenship is never a decision that is taken lightly, but our priority is always to ensure the safety and security of the UK.
"We have also made it clear that we are willing to repatriate orphans and unaccompanied British children from Syria where feasible and where there is no risk to UK national security. Every request for consular assistance is considered on a case-by-case basis.
"The UK is at the forefront of the humanitarian response in Syria, contributing more than £3 billion ($4 billion) and funding supplies such as food, water, healthcare and shelter, including in camps."
https://www.arabnews.com/node/1768776/middle-east
--------
URL: https://newageislam.com/islam-women-feminism/saudi-arabia-try-loujain-al/d/123595
New Age Islam, Islam Online, Islamic Website, African Muslim News, Arab World News, South Asia News, Indian Muslim News, World Muslim News, Women in Islam, Islamic Feminism, Arab Women, Women In Arab, Islamophobia in America, Muslim Women in West, Islam Women and Feminism