New Age Islam News Bureau
25 November 2020
• Two-Day Women Boxing Championship Opens In Karachi
• Changing Image Of Upper Egypt's Women Is My Top Priority: Youngest Female MP
• Egypt Urged To Release Two Women Whose Pretrial Detention Has Expired
• A Yazidi Woman Searches For Her Lost Daughter, Kidnapped By ISIS 6 Years Ago
• Pakistan's First Female Fighter Pilot Remembered On Martyrdom Anniversary
Compiled by New Age Islam News Bureau
URL: https://www.newageislam.com/islam-women-feminism/saudi-arabia-put-hunger-striking/d/123573
--------
Saudi Arabia To Put Hunger-Striking Women's Rights Activist Loujain Al-Hathloul On Trial
Emma Graham-Harrison
Tue 24 Nov 2020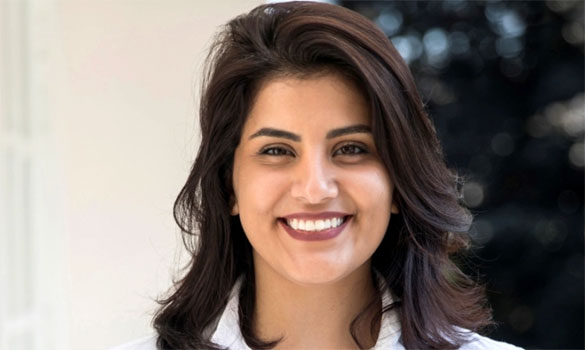 Loujain al-Hathloul, 31, was arrested in May 2018 with about a dozen other female activists [File: Marieke Wijntjes/Handout via Reuters]
----
Saudi Arabia will put women's rights activist Loujain al-Hathloul on trial on Wednesday, more than 900 days after she was detained, and just after the country wrapped up hosting duties on a virtual G20 summit, her family have been told.
Hathloul is on hunger strike and has been held incommunicado for nearly a month. A UN women's rights committee recently expressed alarm about her failing health. Her sister Lina al-Hathloul fears she is being pressured into giving false confessions that could be used against her in court.
"I am extremely worried and anxious about this trial. Everything about her case is illegal and unjust," Lina told the Guardian, pointing out that the family had only been given one day's notice of the court date.
"I hope tomorrow will be the end of this nightmare," she added. Previous planned court appearances have been cancelled at the last minute.
Hathloul was arrested with nine other women's rights advocates in May 2018, months before women were finally granted the right to drive. Her family, including her sister, claim she has been tortured. At least five of those arrested remain in jail.
Ahead of the G20 summit – which had women's empowerment as one of its themes – Saudi Arabia's ambassador to the UK had said the country was considering "clemency" for jailed female activists, even though most have not been found guilty of any crime or even had a day in court.
Khalid bin Bandar bin Sultan bin Abdulaziz Al Saud said a debate was under way in the foreign ministry about whether their continued detention was causing Saudi Arabia so much political damage that it was not worthwhile. However, the meeting came and went without any of them being released.
The US president, Donald Trump, and Saudi Crown Prince Mohammed bin Salman have been close allies, their bond helping blunt international scrutiny of the country's handling of dissent and Saudi Arabia's bloody intervention in Yemen.
The looming transfer of presidential power to Joe Biden will increase pressure on Riyadh over its human rights record. Violations range from the gruesome murder of journalist Jamal Khashoggi in a Saudi consulate by a squad of state killers, to detentions of women's rights campaigners and death sentences for juvenile offenders.
Biden has promised to review US-Saudi relations, including Washington's support for the Saudi intervention in Yemen.
Business ties will continue, however. US dependence on Saudi oil has fallen markedly as a result of domestic shale gas production, but the kingdom's political stability is still a key US concern. The Saudi government sent a message of congratulations to Joe Biden on Sunday.
https://www.theguardian.com/world/2020/nov/24/saudi-arabia-to-put-womens-rights-activist-loujain-al-hathloul-on-trial
--------
Two-Day Women Boxing Championship Opens In Karachi
Faizan Lakhani
Nov 25, 2020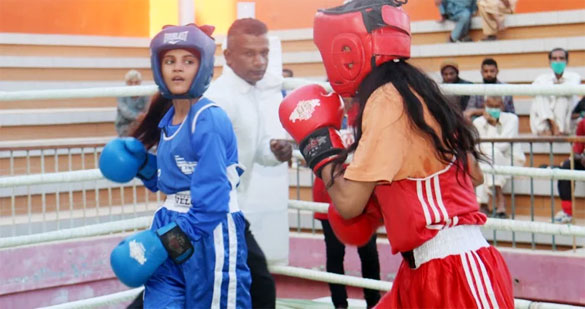 Two young boxers battling it out in the boxing ring, in Karachi, on November 24, 2020. — Photo provided by author
-----
KARACHI: Aiming to make a mark in boxing rings, 47 boxers from various parts of Karachi — aged 14 to 20 — are participating in a two-day Karachi women boxing championship.
The event has been organised by Sindh Boxing Association in collaboration with Karachi's District Municipal Corporation South. Boxers from Karachi's South, West and Central districts are participating in the event.
On the opening day of the championship, 15 bouts were held in which enthusiastic female boxers displayed their fierce power, skill and passion to achieve something.
"This championship is the first step for them to achieve their dreams to do something for the country," said Asif Azeem, the organiser of the championship.
And, what the dream is for these girls?
"To win medals for Pakistan in all international events," responded the girls.
"We can be like Laila Ali, Marry Kom or any other top boxer. If they can do it, why can't we?" said a boxer participating in the tournament.
Boxing was once one of the quickly growing sports in Pakistan but in the last few years, the sport has faced decline due to lack of interest and usual-politics at the helm of affairs in the Boxing Federation.
Pakistan introduced female boxing in 2015 and Razia Banu emerged as first female boxing star from Pakistan.
"It is good to see girls getting interested in boxing, it is not just a sport but can also help them in self-defense. They have role models in the likes of Mehreen and Razia who've made the country proud," said Asghar Baloch, the vice president of the Pakistan Boxing Federation and a renowned boxing organiser.
"We have around 100 girls in our pool at this moment but we are making all efforts to increase this number as our target is to have at least 1,000 girls playing this sport. In Karachi, Liyari has a good number of boxers and there are girls from Balochistan and other parts of the country coming forward as well," he said.
Asghar added that championships at the grass root level will help not only in improving the standard of the game but also in promoting the game of boxing among the masses.
https://www.geo.tv/latest/320378-two-day-women-boxing-championship-opens-in-karachi
--------
Changing Image Of Upper Egypt's Women Is My Top Priority: Youngest Female MP
Sarah El-Sheikh
Nov 25, 2020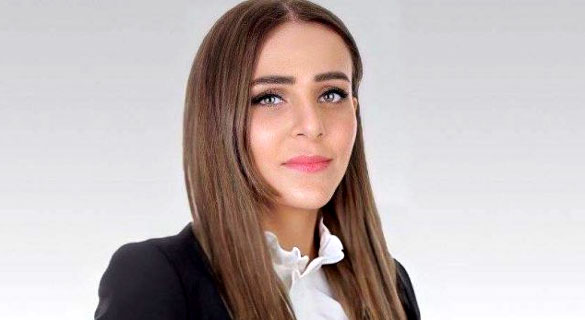 Youngest Egyptian female MP
-----
Egypt's ongoing House of Representatives elections saw a high number of women candidates, with the 2021 Parliament set to have a commensurate high number of female members.
In the 2020 elections, several women have run for seats in the parliament under both the individual and the list systems, and have made considerable gains compared to the previous parliamentary elections in 2015.
In 2019, the Egyptian Parliament approved amendments to the Constitution that included increasing the share of female parliamentary representation to 25% of seats. The move is considered one of several positive steps aimed at improving the conditions of women and empowering their role in the Egyptian society.
In an October statement, the Egyptian Center for Women's Rights (ECWR) said that a total of 347 female candidates were running for individual seats in the 2020 House of Representative elections. Of this number, 303 were running as independents and 44 were backed by political parties. Women accounted for 8.6% of the total 4,006 candidates in the individual system.
There are 280 women candidates running for elections under the party list system, out of a total of 568 candidates, representing 49.5%, thus the total number of female candidates becomes 627, the ECWR said.
Among the female candidates in this year's parliamentary elections is Fatmah Selim, who has become the youngest female member of Parliament (MP) in Egypt after winning in the first phase of elections.
As a member of the Reform and Development Party, Selim took part in the National Unified List for Egypt North, Central and Southern Upper Egypt, in an area extending from Giza to Aswan.
Such is her youth, she was able to submit her documents to apply for the House of Representatives elections only ten days before the nominations door closed. She was selected by her party as one of the members to run in the unified list for the elections.
Selim is not the only politically active member of her family, too, as her father, Ahmed Mohsen Mubarak, is currently a member of the newly-formed Senate. He belongs to another party.
Talking to Daily News Egypt, Selim said that her decision to become an MP, and her selection by the Reform and Development Party, was not initially part of her plan. She said that it all was by coincidence, as she reached the eligible age for candidacy only 10 days before closing the door for nomination.
She said "People were so supportive and happy of my nomination, especially women, not only because I am a woman, but also because I am young."
Although she did receive some negative comments on her candidacy, she added, "The majority of men and women welcomed my nomination and this was surprising for me especially as my constituency is in Upper Egypt, and I really found people happy that there is a young woman in this position."
Selim started working with the Reform and Development Party whilst still a student at university. She joined many of the party's activities, including meetings and seminars. In 2018, she graduated in 2018 from the Faculty of Mass Communication.
"I first worked with a company that works on producing short films and documentaries on educational topics, most of which were sponsored by the United Nations (UN)," Selim said, "After graduation, I studied Arabic language at the Al-Ahram Institute to improve as I wanted to work as TV presenter, and in late 2018, I started working as a news presenter at the AlHadath AlYoum channel."
Regarding her work plan, she said that she will be focusing on three topics: women, youth, and human rights.
"There are certain problems in the government which I will shed light on, and there are other general issues which exist nationwide," she said, "Once I join parliament, I would prefer to join the media and culture committee, since I am, foremost, a media person, or I would like to be a member of a women's or human rights committee."
She added that women's empowerment is the top, and most important, priority in her work plan.
"Women everywhere always face the challenge of what they are able to do, and in Upper Egypt, women are struggling to find work, as men are more preferred for roles outside the home," Selim said
She said that changing this image of women is an important step towards women's empowerment, and it has been aided by people now being able to see for themselves women making progress in terms of their work. This is particularly in the form of women leading highly successful ministries in Egypt, which has significantly contributed to women's empowerment in Egypt.
"An awareness is also part of my plan, which has already been evidenced in a larger number of women becoming aware of their rights and who have started to speak up about their rights, such as documenting harassment," Selim said, "Despite many women recognising that they can reject anything that they don't want, there are still females who don't know this, and this is our role to let them know and be fully aware."
She added, "During my campaign, I visited people in several areas of Upper Egypt that are part of my constituency, where I talked to females about the challenges they face, with the issue of finding work opportunities a real issue for them."
She noted that the women of her constituency mostly complained about the difficulty in finding work in their city, and when they usually do find it, the employment is either outside their city or with low salaries and long working hours.
"Unemployment will also be in my work agenda, even though it's a big file and has a lot of aspects," Selim said, "Many have faced problems of being rejected from work opportunities due to a lack of experience. But how can people get experience when no one wants to give them the chance to work?"
Selim added that she has also suffered from the issue of unemployment following her graduation, noting that "I can understand these concerns and I will work on limiting it in my constituency."
There are some companies that hire people but train them first before work, she suggested saying that companies should invest more in training students and graduates.
On the other hand, there is a large group of youth who want to work a certain job, for a variety of reasons, and this is a misconception which will be worked on to correct, as they have to be open to try different things.
On her evaluation of the role of women in the 2015 parliament, Selim said having extra seats for women in parliament is impressive. There were also a lot of young women who were nominated for individual seats this year, which too is impressive.
This also happened in 2015, with that year's parliamentary elections seeing many females run for individual seats. Female MPs, such as Dina Abdelaziz who worked hard to play a beneficial role for her constituents, became some of the most influential parliamentarians in the 2015 elections.
Abdelaziz proved her critics wrong, disproving the comments of some who said that women join parliament and take the membership, but do not do anything later.
Speaking on the challenges that MPs face, Selim said the most important of these is understanding people's issues and getting them to understand the MP's role correctly. This would then do much to help MPs work on solving the issues seen across Egypt.
She also pointed out that there is a misconception about the role of MPs, as members who are running for individual seats are only working for their constituency. On the other hand, those who join the party lists, such as Selim, need to undertake more of an effort as they are running for several areas.
She also added that people should know that members cannot hire them in jobs, but can help them to gain the necessary qualifications for jobs, and offer them work opportunities.
"I will also focus on youth, that's why I was nominated in these elections, to have a seat for youth. I am their age, I have lived and still live the same issues as them, and I can express them well," Selim said.
https://dailynewsegypt.com/2020/11/25/changing-image-of-upper-egypts-women-is-my-top-priority-youngest-female-mp/
--------
Egypt urged to release two women whose pretrial detention has expired
24 November 2020
The pretrial detentions of Egyptian lawyer and human rights defender Hoda Abdelmonem and political prisoner Aisha al-Shater have expired, Amnesty International has said, calling for their immediate release.
Abdelmonem and Shater had been arrested on 1 November 2018 and went missing until they appeared at the Supreme State Security Prosecution in Cairo a few weeks later on 21 November.
On Saturday, the two women completed two years in provisional detention, and therefore must be released, says Amnesty.
"Their detention has bypassed the absolute legal limit set forth by article 143 of the code of criminal procedures," said Hussein Bayoumi, Egypt researcher at Amnesty International.
"That being said, their detention has always been unlawful," he told MEE.
According to article 143, the maximum two-year limit is only applicable if the detainee was facing charges that could see them sentenced to death or life in prison. But if the detainees were facing charges in a felony punishable by less than life in prison, the maximum limit was 18 months, Bayoumi explained.
"We call on Egyptian authorities to release Hoda and Aisha, as their detention was arbitrary in the first place," he said.
It is common for Egyptian authorities to continue to hold detainees even after the end of their pretrial detention period. Many had new cases brought against them with almost identical charges, in a practice referred to by rights lawyers as "recycling cases".
Abdelmonem, 61, is a prominent human rights lawyer and activist who had a leading role in the 2011 revolution that ousted longtime autocrat Hosni Mubarak. She is a former member of the National Council on Human Rights.
Shater, 39, is a human rights activist and had been involved in activities in support of families of political prisoners prior to her detention.
The arrests came as part of a wave of detentions that targeted nearly 40 human rights workers in Cairo.
They were charged with "belonging to an organisation established contrary to the law" and "inciting to harm the national economy".
Life at risk
According to Amnesty International, officials at al-Qanater prison have denied Abdelmonem visits or other contacts with her family since her detention. Her relatives only saw her briefly on 18 July 2020, during a court hearing.
On 3 November, the African Commission for Human and Peoples' Rights sent a letter to the Egyptian state urging it to allow temporary measures for Abdelmonem, in accordance with article 98 of the commission's rules of procedure, which entitles her to obtain urgent medical attention for fear of irreparable harm to her health.
The letter stated that Abdelmonem had been deprived of family visits as well as proper healthcare, even though she suffers from chronic deep vein thrombosis with high blood pressure and severe joint infections, which saw her health deteriorate further.
She also showed symptoms of angina which were not dealt with urgently and appropriately due to the absence of a specialised prison doctor, according to the letter signed by the chair of the African Commission, Solomon Ayele Dersso.
Likewise, rights groups have previously warned that Shater was at risk of premature death in prison due to her deteriorating health and lack of medical care.
Amnesty International reported in November last year that Shater was critically ill but was denied medical care.
Abdelmonem and Shater are among at least 60,000 political prisoners detained since President Abdel Fattah el-Sisi came to power in 2014 after leading a coup against his predecessor Mohamed Morsi.
Sisi has overseen a crackdown on critics from across the political spectrum, with thousands forced to live in exile and hundreds losing their lives in custody due to medical negligence, including Morsi.
https://www.middleeasteye.net/news/egypt-women-political-prisoners-pretrial-detention-expired
--------
A Yazidi Woman Searches For Her Lost Daughter, Kidnapped By ISIS 6 Years Ago
JANE ARRAF
NOVEMBER 24, 2020
At an orphanage in Mosul, Iraq, the woman and the girl sitting on the long, gray sofa communicate mostly through touch — the girl leans against the woman, playing with her blue bead bracelet. The woman smiles as she removes the bracelet and puts it on the child's own slender wrist.
There isn't a lot of conversation between Kamo Zandinan, 40, and the 10-year-old girl she believes is her lost daughter. The girl, believed to have been kidnapped by ISIS when she was four, was raised by an Arab family. Zandinan, who is Yazidi, speaks only rudimentary Arabic — learned when she was forced to live among ISIS fighters who enslaved her in Syria six years ago.
Zandinan is sure that the girl, found in Mosul in March, is her daughter Sonya. The girl, until now, has only known herself as an Arab named Noor.
A DNA test will confirm whether there's a match.
"God willing, we will get the results soon and you will have the best daughter," orphanage director Amal Zaki Abdullah tells Zandinan. She assures her that the girl is quiet and well-behaved. "Reunions make us very happy," she says. "God only knows what misery and sadness they have been through."
Abdullah urges the girl to tell Zandinan about her art classes. In a soft voice, she reports she has drawn "flowers, a panda and a house."
So far, this orphanage, currently home to 21 children, has reunited three other Yazidi children kidnapped by ISIS with their families. It posts photos of the children on Facebook and on local television, and follows up with DNA tests for possible relatives who come forward.
Zandinan examines the girl's arm, looking for a small scar from a minor injury from a time when her family was intact before ISIS entered their Sinjar region of northern Iraq.
In the summer of 2014, she was a mother of six with a seventh on the way. Her husband Khalil was an Iraqi soldier.
ISIS roared into Iraq and Syria that August, slaughtering almost everyone who opposed it. They declared members of the ancient Yazidi religious minority infidels and embarked on a campaign of genocide. ISIS killed Yazidi men, enslaved women and kidnapped children, seeking to erase their Yazidi identity.
Several thousand Yazidis were believed to have been killed and more than 6,000 women and children were captured after Kurdish forces in charge of security withdrew. To this day, almost 3,000 Yazidis remain missing.
Zandinan's husband and eldest son were taken away; she believes they were shot. ISIS fighters also took two of her daughters — Suzan, 13, and Sonya, 4 — ripping the younger girl screaming from her arms.
Zandinan and her four remaining children, then ranging in age from 3 years old to teenagers, were resettled in Canada as refugees three years ago. There, in March, she saw a Facebook photo sent by relatives, showing a girl found by Iraqi police in Mosul, rescued from an Arab family. Police have occasionally found Yazidi children as they look for ISIS fighters.
This child had Zandinan's distinctive nose and the scar that her mother says she recognized.
A Canadian refugee resettlement organization agreed to pay for her ticket to return to Iraq. After pandemic restrictions eased in October, Zandinan flew to Baghdad with her two youngest children — six- and eight-year-old boys — for DNA tests to help determine whether the girl in the photo was hers. Two weeks after they arrived, the family gave more blood samples to try to identify Zandinan's husband and eldest son Sufian from the remains exhumed from mass graves in Sinjar, filled with ISIS victims.
Her young sons, who now speak English better than their native language, don't remember their father or eldest sibling. To them, Iraq is just the country they come from.
Like many Yazidi girls from poor families, Zandinan never went to school. Her first classes of any kind were the English lessons she took after she arrived in Canada.
The prospect of having her daughter back — she has no doubt of it — fills her with joy. But returning to Iraq has been difficult.
"Hard, hard, hard," she says in her rudimentary English when asked what it was like to see her empty house and deserted village for the first time since ISIS overran it.
Zandinan says in 2014, the family twice made it to safety on Sinjar Mountain, where hundreds of Yazidis escaped ISIS. The first time, they received a warning from ISIS that if they didn't return to their village, the fighters would kill all the young men still left there.
The second time, a trusted Arab friend persuaded the family to go back to their village and stay.
"He betrayed us," she says in Kurmanji, which is spoken by Yazidis in Sinjar. "He told us, 'Don't go, I will help you and bring you food and I won't let anyone touch us.' So we returned and ISIS took us — we were more than 10 families."
A few weeks after she and her family were captured and taken to the Iraqi city of Tel Afar, Zandinan gave birth in the house they were held in. Then, at gunpoint, ISIS took away her husband and eldest son.
"We knew they would separate us," she says. "The only thing we wanted is to finish another day together — we never knew when it was going to happen."
That was the day she lost Sonya too.
"The same day they took my husband and son, they gathered all of us in the yard," she says. "They were going to kill all of us, but they sold some of us instead."
Zandinan says her daughter Suzan, taken from her a few days later, was known for being unusually pretty, with delicate features and a heart-shaped face.
"I told them she is sick, but they tore her clothes in front of me," says Zandinan. "It was so difficult to see her in that situation … We were holding onto each other but they beat me with a stick and she fell on the ground and I couldn't do anything."
"Suzan was crying and screaming, saying, 'Mother, don't leave me!'" Zandinan recalls, tears running down her face.
ISIS took Zandinan and her remaining children to the Syrian city of Raqqa, where she was bought and sold by a succession of ISIS fighters, including a Syrian and a Western fighter. She says some of the fighters beat the children. She tried to escape three times before relatives in Iraq managed to borrow money to pay smugglers to rescue her.
ISIS was defeated in Mosul, the capital of its self-declared caliphate, in a 2017 battle that flattened entire sections of the city. Iraqi forces are now firmly in charge, but most Yazidis are still afraid to go back.
Making the four-hour trip to the orphanage from a camp for displaced Yazidis where Zandinan stays depends on getting a ride or borrowing money for transportation. Her journey to Iraq this year has meant not only navigating the city where so many Yazidis were enslaved and suffered, but also trying to navigate the court system.
On the October day when she visited the Mosul orphanage, Zandinan also went to court to give power of attorney to her cousin, a shepherd, in case she had to return to Canada to care for her other children. The judge — seemingly unaware of what had happened to thousands of Yazidi women under ISIS — asked her why she spoke Arabic with a Syrian accent.
Three years after ISIS was defeated, thousands of Yazidi women and children remain missing. Some, enslaved and held by ISIS fighters, are believed to have been killed in battles across northern Iraq and Syria. But hundreds of others are thought to be living still with the families of ISIS members.
The younger children among them have forgotten they are Yazidi, if they ever knew it at all. There is no systematic effort by Iraqi authorities to screen children in camps housing displaced families who include ISIS members' relatives.
Zandinan believes Suzan is still alive — living with an ISIS family like Sonya was, perhaps even still in Mosul.
"If there was serious help, I could find her," she says. "I don't know where she is, but my heart tells me she never left Iraq."
https://wbhm.org/npr_story_post/2020/a-yazidi-woman-searches-for-her-lost-daughter-kidnapped-by-isis-6-years-ago/
--------
Pakistan's first female fighter pilot remembered on martyrdom anniversary
Nov 25, 2020
ISLAMABAD: Pakistan's first female fighter pilot, Marium Mukhtiar, was remembered on her fifth martyrdom anniversary on Tuesday.
24-year-old Mukhtiar, a Pakistan Air Force (PAF) Flying Officer, became the first female pilot to have died on a mission when an air force's trainer jet crashed near Kundian, Mianwali in 2015.
An FT-7PG flown by Squadron Leader Saqib Abbasi and co-pilot Mukhtiar was on a routine operational training mission when it encountered an in-flight emergency during the final stages of the mission, a PAF statement said at the time.
"Both pilots handled the emergency with professionalism and courage and tried to save the aircraft till the last minute, ensuring [the] safety of property and the civilian population on the ground," it had said.
The pilots ejected from the aircraft and sustained injuries. They were being treated at a nearby military hospital, where Mukhtiar succumbed to her injuries.
Mukhtiar was born in Karachi on May 18, 1992. Her father, Mukhtiar Ahmed Shaikh, who had retired from Pakistan Army as a colonel, became an inspiration for her to join the armed forces.
She rose to become one of the finest female football players in the country and played for Balochistan United in the National Women's Football Championship.
Mukhtiar joined the air force in 2014 as a graduate. She was from the force's 132nd GD Pilot Course, which was attended by six other women.
She was among 21 female fighter pilots in the air force, which only began inducting women in combat roles in 2006, a New York Times report said at the time.
In a 2014 interview with BBC, Mukhtiar talked about the challenges of being a female pilot in a male-dominated environment.
She had said she had joined the air force because she was inspired by the "pomp" and wanted to do "something different."
She also said her mother had been concerned about her decision to join the force but had supported her throughout.
Pakistan is a highly traditional, patriarchal society where opportunities for women are limited. But in 2006 seven women broke into one of the country's most exclusive male clubs to graduate as fighter pilots – perhaps the most prestigious job in the powerful military and for six decades closed to them.
It is unclear how many women have joined the air force as fighter pilots since then. A New York Times report in June put the figure at 21.
Mukhtiar was honoured with post-humous Tamgha-e-Basalat on March 23, 2016, by the government of Pakistan.
https://www.pakistantoday.com.pk/2020/11/24/pakistans-first-female-fighter-pilot-remembered-on-martyrdom-anniversary/
--------
URL: https://www.newageislam.com/islam-women-feminism/saudi-arabia-put-hunger-striking/d/123573
New Age Islam, Islam Online, Islamic Website, African Muslim News, Arab World News, South Asia News, Indian Muslim News, World Muslim News, Women in Islam, Islamic Feminism, Arab Women, Women In Arab, Islamophobia in America, Muslim Women in West, Islam Women and Feminism