New Age Islam News Bureau
05 April 2022
• No Exams Duty For Hijab-Wearing Teachers, Says Karnataka Govt
• British Council Trains 100 Emerging Young Women For Leadership Role
• The Double Oppression Of Palestinian Women
• Lecture Series On 'Arab Women Artists Today' Begins Tomorrow
• 23 Women Drown As Boat Capsizes In Blue Nile In Sudan
Compiled by New Age Islam News Bureau
URL: https://www.newageislam.com/islam-women-feminism/hajj-umrah-mahram/d/126730
--------
Saudi Arabia To Allow Women Under 45 Years Old To Perform Hajj and Umrah Without 'Mahram'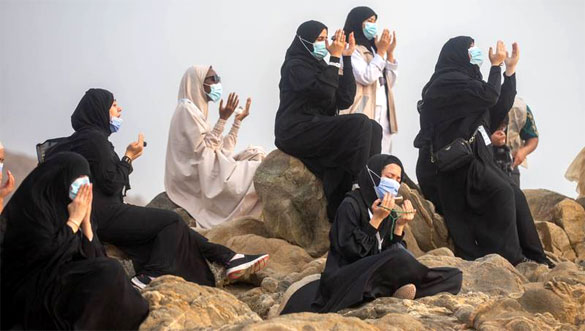 Pilgrims pray on Mount Arafat near Makkah. Photo: Saudi Ministry of Media
-----
April 4, 2022
The former vice chairman of the Chamber of Tourism Companies Basem al-Sisi has confirmed reports that Saudi Arabia will now allow women under 45 years old to travel without a 'mahram' to perform the Hajj and Umrah rites.
Sisi added, in a telephone interview to the "Masaa dmc" program on dmc channel, that while the decision has been confirmed it has not yet been applied by Saudi officials.
The requests for women under the age of 45 are still rejected in the absence of a mahram until the Saudi authorities officially announce applying the decision, he noted.
A member of the Egyptian Tourism Federation Ahmed al-Bakry attributed the price increase for Ramadan Umrah to the small number of visas.
Bakry added, during an interview with journalist Khaled al-Miry, on Sada al-Balad channel, that the Umrah pilgrimages were halted for two years and returned with a limited number of visas.
The number of visas provided in Ramadan is 20,000, whereas the total number of visas during Rajab, Sha`ban and Ramadan is 60,000, he said.
He expected that the Hajj will return again with full capacity this year after lifting the precautionary measures in Saudi Arabia.
Source: Egypt Independent
https://www.egyptindependent.com/saudi-arabia-to-allow-women-under-45-years-old-to-perform-hajj-without-mahram/
--------
No Exams Duty For Hijab-Wearing Teachers, Says Karnataka Govt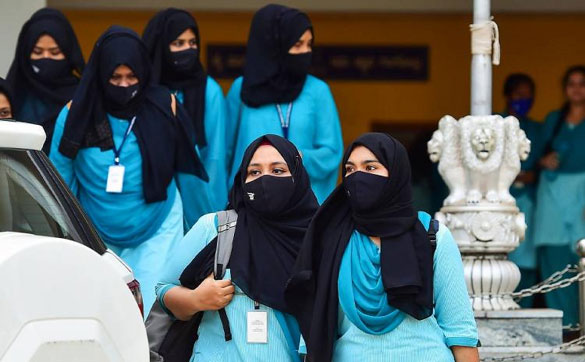 Representative photo
----
4th April 2022
In another blow to hijab-wearing Muslim women in Karnataka, the state government has decided to prohibit teachers who insist on wearing hijabs from exam duty.
"As hijab is not allowed inside the examination hall for students, to be morally right, we are not forcing teachers who insist on wearing hijab to take up exam duty. Such teachers are relieved from exam duty," the Times of India quoted Education minister BC Nagesh as saying.
Over 22,000 students remain absent in the ongoing SSLC exams, a huge spike in numbers as compared to last year, as the high court stayed the state's ban on religious symbols within educational institutions, including headscarves.
A number of Pre-University are also bound to miss crucial exams that are scheduled to begin later this month.
A teacher who was scheduled for SSLC exam duty in the Mysuru district of the state was removed from duty after she insisted on wearing the hijab, although there is no prescribed dress code for government employees.
A large number of petitions have been filed in the Supreme Court challenging the hijab ban that has been imposed.
Hijab ban:
The Karnataka high court on March 15 passed its judgement over the hijab row upholding the ban on hijab putting at stake the future of over 230 hijabi Muslim girls, who choose to wear headscarves as a part of their religious obligation.
The girls who chose to wear their hijabs despite the court's orders will be prevented from attending classes and writing their exams.
According to data compiled by the Muslim Okkoota, a coalition of organisations representing the Muslim community in Udupi, over 230 Muslim students, from Udupi only, will miss their examinations this month.
The data was compiled after inviting students missing their classes, to fill up an online form. It was found that 160 students were studying in pre-university colleges whereas the remaining are from degree colleges. Sixty-one of them are appearing for board examinations in their second PU year, a crucial stage that paves the path for undergraduate courses.
Source: Siasat Daily
https://www.siasat.com/no-exams-duty-for-hijab-wearing-teachers-says-karnataka-govt-2302661/
--------
British Council trains 100 emerging young women for leadership role
April 4, 2022
Celebrating the launch of its 'Women in Leadership' programme in South Asia, the British Council has reiterated its commitment to take more effective initiatives to increase women contribution towards nation building through women empowerment.
The British Council hosted a digital event across South Asia to celebrate the launch of its 'Women in Leadership' programme, a training programme for women in Bangladesh, India, Pakistan and Sri Lanka.
The training programme was launched under which a network of 100 young women leaders in Bangladesh, India, Pakistan and Sri Lanka and the United Kingdom was built.
The programme offered 100 emerging young women leaders (25 each from the four states) a learning opportunity through an eight-week online, self-access leadership course to become more effective in leading interventions to support gender equality and women's leadership within their sectors.
Representatives from British Council, Clore Social Leadership UK, SoLF, Women in Leadership participants, and other experts participated in the event.
The event was moderated by Sidra Iqbal, a celebrated broadcast journalist and media personality from Pakistan while Jehan Ara, Founder and CEO of Katalyst Labs was the keynote speaker.
A panel discussion also took place where stakeholders shed light on the factors hindering gender parity and women decision-making roles.
The discussion called for more vigorous efforts to ensure an enabling environment for capacity building of women.
The panellists included Coordinator Nijera Kori, Bangladesh, Khushi Kabir; Member of Youth Advisory Group on Climate Change, India, Archana Soreng; Country Director Marie Stopes Society, Pakistan, Asma Balal; and CEO Chrysalis, Sri Lanka, Ashika Gunasena.
During the event, inspirational stories of women, who have been part of the Women in Leadership programme, were also showcased.
The British Council is the UK's international organisation for cultural relations and educational opportunities. It builds connections, understanding and trust between people in the United Kingdom and other countries through arts and culture, education and the English language.
Source: Pakistan Today
https://www.pakistantoday.com.pk/2022/04/04/british-council-trains-100-emerging-young-women-for-leadership-role/
--------
The double oppression of Palestinian women
Emad Moussa
02 Apr, 2022
Shoulder to shoulder Palestinian women, with men, have been an active part of the struggle for liberation, going as far back as the beginning of European Jewish influx into Palestine in the late 19th century.
The progress, however, was never linear. The societal collapse that followed the 1948 Nakba saw women's political engagement change from visible activism, to the role of mainly preserving collective memory and national identity, often through the maintenance of cultural artefacts and oral history.
With the coming of age of the post-Nakba generation and the establishment of the PLO in the 1960s, the Palestinian national movement was rejuvenated, and so was much of women's activism. The period saw the emergence of the PLO's General Union of Palestinian Women, whose feminist revolutionary approach soon became part of the operational and ideological framework of many Palestinian political factions, especially on the left.
The formation of the Palestinian Authority following the 1994 Oslo agreement with Israel prompted the building of civil society institutions, leading, among other things, to further recognition of women's rights and increased female political participation.
In the language of statistics, Palestinian women have indeed come a long way, but on the ground, this is yet to translate to actual gender equality, or at least a semblance of equal partnership in decision-making.
According to UN figures, women represent only 8% of the PLO's National Council, they hold 3 out of 24 ministerial positions in the West Bank, and only 1 in Gaza. The electoral quota for women, although increased from 20% to 24% in 2021, still does not meet the minimum requirement of 30% requested by women activists. In higher education institutions, 60% of students are women, yet they represent only 26% of the members of university student councils.
As such, efforts to increase women's representation have been either superficial or aesthetic. Very little thought was given to the fact that meaningful progress is contingent upon dismantling the deeply rooted patriarchal attitude.
Palestine is a patriarchal society - much like the neighbouring Arab societies, sometimes more so. But the dynamics sustaining the traditionalist patriarchy are more convoluted than simply an entrenched social order. They are entwined with the political complexities that, among other things, continue to grant primacy to an overhyped form of masculinity.
Palestinian men, as their peers in most societies, are expected to align with gendered norms of hegemonic masculinity, one conceivably dominated by practical expectations such as provision and protection.
But, unlike most societies, the performance of these three quintessentially masculine acts is regularly undermined by the superior power of Israel's military occupation. Men are often the main targets of questioning, imprisonment, and abuse by the IDF. Their overall context of masculinity, therefore, is one of political subjugation and coercion. This effectively erodes some of the socially approved components which they believe make them men, not least is their ability to act as the protectors and providers.
This dynamic has led to the overcompensation of masculinity, one directed either inwardly and manifested as domestic abuse and/or curbing women's independence, or in most cases, outwardly at Israel through muqawama (resistance).
Either way, this is a defence mechanism; and for many Palestinian men, it is their way of restoring the social role that they have lost to the occupation. And, since nationalism and masculinity are closely entwined, masculinity is viewed as a form of national survival.
But that comes at a high price.
The need to constantly reassert this type of masculinity has sustained the patriarchal order and limited women's liberation as well as political participation.
Most recently, clan leaders in the occupied West Bank called for the Palestinian Authority to withdraw from the Convention on the Elimination of All Forms of Discrimination against Women (CEDAW). They went as far as calling for a ban on all feminist organisations. The justifications for this were weak and included citing traditions, presenting a narrow interpretation of Islam, and framing the treaty as a Western conspiracy to corrupt Muslim women.
On the other side of the issue is the occupation, which is a comprehensive form of oppression, applied to all Palestinian regardless of gender. But, because women are already in a vulnerable societal position, certain Israeli practices are doubly oppressive to them. The closures and restrictions on the freedom of movement, all render Palestinian women incapable of taking part in national or international activities, through which they would otherwise get more politically involved. These restrictions also hinder women's associations and trade unions from developing a strategy to promote women in the decision-making positions.
Palestinian women detainees in Israel are particularly vulnerable to systematic violations. They are routinely physically searched and roughened up by Israeli male guards; as such, their basic human rights are violated and they are stuck with the weight of social stigmas surrounding notions of honour and dignity.
Pressed between the patriarchal hammer and the occupation's anvil, many women have grown to believe that they are less able to play a meaningful part in the decision-making process, much less make a tangible change. Others have internalised the belief that political involvement cancels their feminine identity.
Palestinian women are glorified for being mothers and wives and told that these roles are as important as male militancy and political dominance. They are propped up as the genesis of the revolution and the biological weapon against Israel for rearing children who will one day march towards liberation.
This has also resulted in women voting for male candidates who they believe are more capable of political action and bearing responsibility than women candidates.
Society remains somewhat blind to the prospect of women's equal integration into the political system, and the fact that this would actually aid state-building and, eventually, national liberation.
Meanwhile, the system continues to limp on one leg, the male leg, thinking it is all there is to reach the finish line.
Dr Emad Moussa is a researcher and writer who specialises in the politics and political psychology of Palestine/Israel.
Source: The New Arab
https://english.alaraby.co.uk/opinion/double-oppression-palestinian-women
--------
Lecture series on 'Arab Women Artists Today' begins tomorrow
05 Apr 2022
Doha: A talk on "Arab Women Artists Today" is set for tomorrow, April 6 virtually featuring the artist Youmna Chlala.
This is part of a lecture series entitled Decolonising Art Narratives: Arab Women Artists Today, which is a collaboration between Virginia Commonwealth University School of the Arts in Qatar (VCUarts Qatar) Painting and Printmaking Department, and the Fire Station.
The lecture series brings together critical female Arab voices in Art and Design. It was launched February last year and featured 14 acclaimed artists including Chlala.
According to VCUarts Qatar, the series will ask how Arab women artists can revisit and re-think existing narratives in contemporary art, and will explore issues of gender, politics, colonialism, culture, and identity.
The artist Youmna Chlala was born in Beirut and is based in New York. She is an artist and a writer whose work investigates the relationship between fate and architecture through drawing, video, sculpture, prose and performance.
She has exhibited at the Hayward Gallery, The Drawing Center, Rotterdam International Film Festival, Dubai Art Projects, Kunsthal Charlottenborg, Henie Onstad Kunstsenter and MAK Center for Art and Architecture.
Chlala participated in the 33rd Bienal de São Paulo, 7th LIAF Biennial in Norway, and 11th Performa Biennial. Chlala is the author of the poetry collection, The Paper Camera (Litmus Press, 2019).
She is the recipient of a 2018 O. Henry Award and a Joseph Henry Jackson Award. She is co-editing a new series for Coffee House Press entitled Spatial Species.
Interested individuals who wish to participate may register via Fire Station website. The free lecture will be via Zoom at 7:30pm.
Source: The Peninsula Qatar
https://thepeninsulaqatar.com/article/05/04/2022/lecture-series-on-arab-women-artists-today-begins-tomorrow
--------
23 women drown as boat capsizes in Blue Nile in Sudan
April 04, 2022
KHARTOUM — At least 23 women who work in agriculture have died when their boat capsized on the Nile in central Sudan, the Sudanese Red Crescent has confirmed on Monday.
There were 29 people on board the vessel when it capsized and sank on Friday in southeastern Sennar province, according to the state-run SUNA news agency.
All of the passengers were women except for the captain, who survived, along with five passengers.
The ship capsized off the coast Tarirah al Marfaa town, in Sennar province.
The Sudanese Red Crescent has so far managed to recover eleven of the 23 bodies, in cooperation with the civil defense and the local community.
The Sudan Civil Defense continued to make repeated calls to citizens not to approach or swim in the Nile given the latest incidents that occurred as a result of the recent rise in waters in recent days.
Sudanese authorities reported Monday the sinking of a boat last week on the Blue Nile and said at least 23 women are believed to have drowned.
The Blue Nile is an important transport route for people and goods in the African nation. It joins with the White Nile just north of the capital of Khartoum to form the Nile River, one of the world's longest rivers.
Accidents on overloaded boats are not uncommon on waterways in the African nation, where safety measures are often disregarded.
At least 22 people — 21 students and a woman — drowned in 2018, when a boat sank in the Nile in Sudan.
The boat's engine failed in a high current while it was crossing the Nile to a school in Kabna, a small village in northern Sudan. — Agencies
Source: Saudi Gazette
https://www.saudigazette.com.sa/article/618991/World/Africa/23-women-drown-as-boat-capsizes-in-Blue-Nile-in-Sudan
--------
URL: https://www.newageislam.com/islam-women-feminism/hajj-umrah-mahram/d/126730
New Age Islam Islam Online, Islamic Website, African Muslim News, Arab World News, South Asia News, Indian Muslim News, World Muslim News, Women in Islam, Islamic Feminism, Arab Women, Women In Arab, Islamophobia in America, Muslim Women in West, Islam Women and Feminism