New Age Islam News Bureau
21 May 2020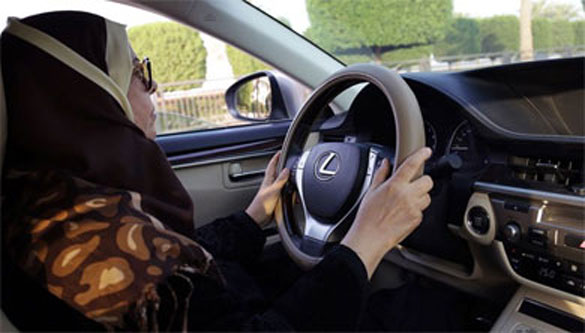 In 2018, Saudi Arabia allowed women to drive for the first time in its history, as part of wide social and economic reforms championed by the kingdom's young Crown Prince Mohammad Bin Salman.
------
• Suspected Killer of Waziristan Girls Arrested
• Top Court Sends Notice to Centre on Plea Seeking Entry of Women In Mosques
• Pakistan's Woman Legislator Dies From COVID-19 As Highest Daily Toll Recorded
• Punjab: How One Northeastern Woman Is Countering Racial Abuse with Compassion
Compiled by New Age Islam News Bureau
URL: https://www.newageislam.com/islam-women-feminism/saudi-arabia-set-boost-womens/d/121914
--------
Saudi Arabia Set to Boost Women's Empowerment
May 20, 2020
Cairo: Saudi Arabia plans to boost women's rights mainly in issues related to marriage, Saudi newspaper Okaz reported on Tuesday as the country recently adopted dramatic social and legal reforms.
The anticipated steps are aimed at enhancing women's independence in choosing and unequivocally agreeing on the marriage partner, according to the report.
Scholars and legal experts predict that the reformed regulations will allow a woman to attend her wedding session, check terms of the marriage contract and approve it.
"The woman's presence in her wedding contract session is part of her rights,"saidQais Bin Mohammad Al Shaikh , an ex-member of the Council of Senior Scholars, which is Saudi Arabia's top Islamic body.
"She has the right to attend it or delegate her male guardian. Marriage is a lasting partnership between both sides based on the couple's wish to be linked together," he said.
The senior cleric confirmed that a woman's consent is essential for the validity of the marriage.
For his part, Issa Al Gheith, a member of the Saudi advisory Shura Council, pointed out that there are no religious or legal restrictions on the woman's presence of her wedding session to check her marriage contract.
"Her presence is seen as blocking anyone from forging her signature or practising coercion on her even under pressure of shyness," Al Gheith added. He said that the marriage contract has to verify the woman's identity and ask her to sign the contract herself.
In 2018, Saudi Arabia allowed women to drive for the first time in its history, as part of wide social and economic reforms championed by the kingdom's young Crown Prince Mohammad Bin Salman.
https://gulfnews.com/world/gulf/saudi/saudi-arabia-set-to-boost-womens-empowerment-1.1589964149673
--------
Suspected killer of Waziristan girls arrested
May 21, 2020
MIRAMSHAH: The police arrested the suspected killer of two teenage girls here on Wednesday.
The girls were gunned down on May 14 in ShamplanGaryam village of North Waziristan tribal district after their 'objectionable' video footage went viral on social media.
North Waziristan district police officer ShafiullahGandapur said suspected killer Mohammad Aslam, who was a cousin of the two girls, was held during a raid in an unidentified location.
The suspected killer had gone into hiding following the honour killings.
Earlier in the day, a central character of the incident, UmerAyaz, confessed before a local court that he had recorded the video.
He was taken to the court by the police amid tight security.
DPO Gandapur told reporters that suspect UmerAyaz told the court that he used the mobile phone of his friend, FidaWazir, who had already been held by the police.
He said UmerAyaz, 28, was married and had two children.
The DPO said the police investigation were heading in the right direction and would ensure dispensation of justice.
Meanwhile, Khyber Pakhtunkhwa Inspector General of Police SanaullahAbbasi announced cash reward and commendation certificates for police officials over arrests in the honour killing case.
He said the newly-merged police would serve the people, ensure dispensation of justice to them, and would fight for the rights of women.
The police have arrested four suspects in the case, including UmerAyaz, Fida Mohammad, father of one of the girls, Zadwal Khan, and the girl's cousin, Roohuddin.
The police claimed that the family of the deceased had kept the killings a secret, so the relevant station house officer registered the FIR as the complainant.
The girls' family had migrated from South Waziristan region due to Rah-i-Nijat military operation against militants and settled in ShamplanGaryam village of the North Waziristan region, where the honour killings were reported on May 14.
The Razmak police station registered the FIR next day.
Initially, the FIR included Section 302 of the Pakistan Penal Code but later, Pakistan Penal Code's Section 311 dealing with FasadFilArd (mischief on earth) and Section 201 (causing of the disappearance of evidence) and Prevention of Electronic Crimes Act's Section 19 (unauthorised interception of a transmission) were included in it.
https://www.dawn.com/news/1558589/suspected-killer-of-waziristan-girls-arrested
--------
Top Court Sends Notice to Centre on Plea Seeking Entry of Women In Mosques
May 20, 2020
New Delhi: The Supreme Court today directed the Centre to respond to a plea seeking that Muslim women be allowed to enter mosques across the country claiming that such restrictions were "unconstitutional" and violative of the right to equality and gender justice.
A bench headed by Chief Justice SA Bobde, hearing the matter through video-conferencing, agreed to hear the petition which has sought setting aside of directions or "fatwa" restraining Muslim women from entering the mosques.
Besides the Centre, the bench, also comprising Justices AS Bopanna and Hrishikesh Roy, issued notices to others including the Ministry of Minorities Affairs, National Commission for Women and All India Muslim Personal Law Board and sought their responses on the plea.
The plea, filed by a Pune-based Muslim women, has referred to the constitutional provisions and said there should not be any discrimination against any citizen on the ground of religion, race, caste, sex or place of birth.
"It is very unfortunate that not a single political party or a chief minister, women included, has thought of advancing the interest of Muslim women by providing them access to mosques that receive monetary aid from taxpayers' money," the plea has claimed.
The petition has alleged that the legislature has failed to ensure the dignity and equality of women in general and Muslim women in particular.
"Despite the observation of this court for the past few decades, the goal of Uniform Civil Code remains an elusive constitutional goal that the courts have fairly refrained from enforcing through directions and the legislature has dispassionately ignored it," it claimed.
The plea alleged that Muslim women are being discriminated against as they are not allowed to enter and pray in the main prayer hall of mosques in violation of Articles 14 (equality before law) and 2l (protection of life and personal liberty) of the Constitution.
It has sought a direction to permit women to pray in the 'musalla' "without being separated by a barrier, including in the front and in mixed-gender congregational lines".
It has sought to declare the practice of prohibiting entry of Muslim women in mosque in India as illegal, unconstitutional and being violative of constitutional rights.
"There is a well-established proliferation in media now a days about the ''burqa clad'' who are thoroughly victimised and need great protection measures through the liberal rights discourse," it said.
The plea said there is nothing in the Holy Quran and the Hadith that requires gender segregation.
It said that a life of dignity and equality is the most sacrosanct fundamental right guaranteed by the Constitution and it prevails above all other rights available under the laws of India.
It said that women are allowed to enter mosques that have a separate space for them, but most mosques in India do not have this facility.
https://www.ndtv.com/india-news/supreme-court-sends-notice-to-centre-on-plea-seeking-entry-of-women-in-mosques-2232365
--------
Pakistan's Woman Legislator Dies From COVID-19 As Highest Daily Toll Recorded
May 21, 2020
A Pakistan Tehrik-e-Insaf (PTI) woman legislator died on Wednesday after contracting COVID-19, Lahore's Mayo Hospital officials said, marking the first death of a political figure in the South Asian nation from the disease at a time the country has lifted its countrywide lockdown.
Pakistan has recorded 45,898 infections and 985 deaths to date from the respiratory disease caused by the novel coronavirus. Tuesday saw the most deaths in a single day reported, at 46.
ShaheenRaza, a 65-year-old female Member of the Punjab Assembly (MPA), the country's largest province, died in the eastern city of Lahore, the CEO of Mayo Hospital, Dr AsadAslam, told Reuters.
"She was admitted to a hospital on May 17, and brought to Mayo Hospital on Monday, where she tested positive for the virus," Aslam said.
Raza belonged to the ruling party of Prime Minister Imran Khan and was elected on a reserved seat for women. Punjab's Health Minister Yasmeen Rashid, who is from the same party, said Raza had been visiting quarantine centres in the province for inspections and was a cancer survivor.
Meanwhile, despite rising rates of infections and deaths, Pakistan continued to open up the country on Wednesday, with cross-country train operations restarting after almost two months.
The timing of the restart presents a challenge for authorities with the holiday of Eid Al Fitr, which marks the end of the Holy Month of Ramadan, due to fall on Sunday or Monday, subject to the sighting of the new moon - meaning tens of thousands of people will be looking to board trains for their home towns.
Railways authorities told Reuters that bookings had been limited to 60% of capacity to ensure social distancing. Tickets sold out shortly after becoming available.
"Walk-through sanitising gates, thermometers and sanitisers have been supplied to all railway stations," Pakistan Railways public relations director Quratul Ain told Reuters, adding no passenger with a temperature or not wearing a mask would be allowed to travel.
https://www.gulftoday.ae/news/2020/05/20/pakistan-woman-legislator-dies-from--covid19-as-highest-daily-toll-recorded
--------
Punjab: How One Northeastern Woman Is Countering Racial Abuse with Compassion
May 18 2020
Jalandhar: In early March, when the number of COVID-19 cases was yet to increase in India, a Northeastern woman in Jalandhar heard a group of men shouting, "Go Corona, we will not ferry you."
Before she could understand what they were saying, they fled in the dark.
It was only after they left that Chelsea Kikon Kaur, who was waiting for public transportation, realised that the 'Go Corona' remark was a derogatory comment directed at her looks and identity as she is from Nagaland. Though she ignored it, after a few days, another girl – a PhD student from Nagaland – shared a similar incident of racial abuse, where a man publicly called her 'coronavirus' at a shop in Phagwara.
These incidents, and others from across the country, would have left anybody dejected, but Chelsea preferred to set an example by reaching out to migrant workers during the COVID-19 crisis. It has been over two months now since she has been providing rice, flour, sugar, pulses and soaps to the migrants, who have been left to fend for themselves during this pandemic-induced lockdown.
A single mother, Chelsea also distributed ration from her Northeastern restaurant, 'The Village by Chelsea' at Phagwara to her employees. "I started the restaurant in November 2019 but it was shut down in March following the lockdown. So, every day, we reach out to the migrants on the highways, in localities, and contribute whatever little we can. The smile we see on the faces of the poor children and their parents is the biggest satisfaction," she said.
Undeterred by the racist comments, Chelsea, along with her brother, said that this was a way to send a strong message to all those who had been targeting communities for the coronavirus outbreak – be it people from the Northeast or Muslims.
"It is disappointing to hear such comments. Coronavirus has affected the entire world but people don't apply their mind before uttering such hateful comments. All I want to tell everybody is that we are not Chinese! We have not spread COVID-19. We are Indians and are helping the poor who are in deep crisis, staring at losses, hunger and poverty in the pandemic," she said.
Chelsea, who is also the advisor of the North East Students Organisation in Punjab, said that it was a big boost when the Delhi police arrested a man for spitting paan at a Manipuri woman and calling her "corona" in March.
"The worst was when people also trolled World Badminton Champion JwalaGutta for her looks and called her 'China kamaalhai, sastihogi' and 'half corona', as her mother was Chinese. Jwala was trolled after she retweeted the Northeastern girl's incident in Delhi. Such incidents hurt us, but I feel that the only way to overcome hatred is through positivity and hope," she said.
The union has over 2,500 students and employees hailing from Assam, Manipur, Tripura, Arunachal Pradesh, Mizoram, Meghalaya and Nagaland who live in and around Jalandhar.
Upon being asked if the union would take strict note of any such cases in future, she said, "We have a legal team, which would tackle racial abuse cases. But, despite these incidents, Punjab is like a second home to us. We still feel safe and people in Punjab are friendly and generous," she added.
On the targeting of the entire Muslim community in the wake of the cluster of COVID-19 positive cases from the TablighiJamaat gathering at NizamuddinMarkaz in Delhi, Chelsea said, "People don't realise that Islam is a religion and Muslims are Indians too."
https://m.thewire.in/article/rights/north-east-woman-racism/amp
--------
URL: https://www.newageislam.com/islam-women-feminism/saudi-arabia-set-boost-womens/d/121914
New Age Islam, Islam Online, Islamic Website, African Muslim News, Arab World News, South Asia News, Indian Muslim News, World Muslim News, Women in Islam, Islamic Feminism, Arab Women, Women In Arab, Islamophobia in America, Muslim Women in West, Islam Women and Feminism