New Age Islam News Bureau
19 Jan 2018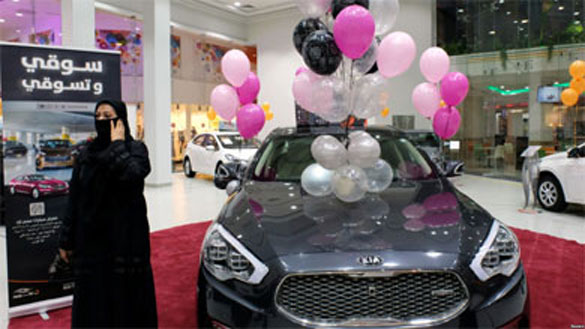 A Saudi woman is seen at the first automotive showroom solely dedicated for women in Jeddah, Saudi Arabia Jan. 11, 2018. (REUTERS/Reem Baeshen)
-----
• It's Official – Almost Half of Saudi Women Marry at This Age
• Saudi Arabia Holds Car Show Just for Women
• Dubai Church to Honour 700 Women Domestic Workers
• Kashmiri-Origin Nus Ghani Becomes First Muslim Woman Minister To Address House Of Commons
• Muslim Activist Says Marina Silent on Right to Wear Hijab
• Meet the Saudi Women Running 5-Star Hotels
• Nigeria: Hijab Controversy - Kwara Muslims Ask Law School to Induct Firdaus
• Women's Campaigns Flourish beyond Iran Protests
Compiled by New Age Islam News Bureau
URL: https://www.newageislam.com/islam-women-feminism/saudi-arabia-repression-overshadows-womens/d/113992
--------
Saudi Arabia: Repression Overshadows Women's Reforms
January 19, 2018
(Beirut) – Saudi Arabia announced reforms during 2017 to enhance women's rights, including ending a driving ban, but stepped up arrests and prosecutions of activists seeking reform or voicing peaceful dissent, Human Rights Watch said today in its World Report 2018.
As the leader of the eight-nation coalition that began military operations against the Houthis and forces loyal to the now deceased former President Ali Abdullah Saleh in Yemen on March 26, 2015, Saudi Arabia has committed numerous violations of international humanitarian law. Human Rights Watch has documented 87 unlawful attacks by the coalition, some of which may amount to war crimes, that killed nearly 1,000 civilians, and hit homes, markets, hospitals, schools, and mosques.
"Mohammad bin Salman's well-funded image as a reformist falls flat in the face of Yemen's humanitarian catastrophe and scores of activists and political dissidents languishing in Saudi prisons on spurious charges," said Sarah Leah Whitson, Middle East director at Human Rights Watch. "Baby steps on women's rights reforms don't paper over Saudi Arabia's systemic abuses."
In the 643-page World Report, its 28th edition, Human Rights Watch reviews human rights practices in more than 90 countries. In his introductory essay, Executive Director Kenneth Roth writes that political leaders willing to stand up for human rights principles showed that it is possible to limit authoritarian populist agendas. When combined with mobilized publics and effective multilateral actors, these leaders demonstrated that the rise of anti-rights governments is not inevitable.
In 2017, more than a dozen prominent activists convicted on vague charges arising from their peaceful activities were serving lengthy prison sentences. Others faced trial for similar offenses.
On June 5, Saudi Arabia, Bahrain, and the UAE cut off diplomatic relations with Qatar and ordered the expulsion of Qatari citizens and the return of their citizens from Qatar.
In mid-September, Saudi authorities arrested dozens of people, including prominent clerics and intellectuals, in what appeared to be a coordinated crackdown on dissent. On November 4, Saudi authorities initiated a mass arrest of princes, current and former government officials, and prominent businessmen over corruption allegations. Some of them were held in a five-star hotel in Riyadh and forced to turn over their assets, outside of any legal process in exchange for their release, news media reported.
Saudi Arabia executed 133 people between January and early December 2017. Of the executions, 57 were for nonviolent drug smuggling. Under international human rights law, countries should only execute people for the "most serious offenses."
Saudi Arabia does not tolerate public worship by adherents of religions other than Islam. The government systematically discriminates against Muslim religious minorities, notably Twelver Shia and Ismailis, including in public education, the justice system, religious freedom, and employment. Government-affiliated religious authorities disparage Shia Islam in public statements and documents despite Mohammad bin Salman's pledge that Saudi Arabia would return to a more "moderate Islam."
Saudi Arabia's discriminatory male guardianship system remains intact despite government reforms in 2017 that banned imposition of "unofficial" male guardianship restrictions. Under this system, adult women must obtain permission from a male guardian – usually a husband, father, brother, or son – to travel, marry, or be released from prison. They may be required to provide guardian consent to get a job or health care. Women regularly face difficulty conducting a range of transactions without a male relative, from renting an apartment to filing legal claims. In September, the authorities announced they are to lift the driving ban for women in June 2018, but some women's rights activists said the authorities warned them not to comment on this announcement.
"Saudi Arabia should free imprisoned activists and take other concrete, visible steps to show the government is willing to improve its dismal human rights record," Whitson said.
https://www.hrw.org/news/2018/01/18/saudi-arabia-repression-overshadows-womens-reforms
--------
It's Official – Almost Half of Saudi Women Marry at This Age
18 January 2018
Data from the Saudi General authority for statistics revealed important figures that reflect a number of demographic, social and economic characteristics in the Kingdom. One of the interesting results of the survey was the fact that majority of Saudi men prefer to get married at the age of 25.3 years, while the average age of Saudi women marrying for the first time was 20.4 years old.
The results showed that Saudi women who were married at an early age (currently married, divorcees or widows) – and those who were married for the first time before the age of 20 - amounted to 46 percent.
According to statistics, out of every 100 Saudi women who were married, there were 46 women who married before the age of 20 years.
On the other hand, the survey brought to light that by the time a Saudi woman turned 32, her chances of marriage became very slim. This category of Saudi women who were aged 32 and unmarried, amounted to 2.95 percent.
In light of this figure, according to statistics, the proportion of those who were unmarried amounted to 10.3 percent.
This means that out of 10 females aged 15 and more who had never married, there was one girl who reached the age of 32 years and was unmarried.
According to previous data, there are 230, 512 Saudi women who are not married out of 2,237,983 Saudi women (2.24 million) aged 15 and over who have never married.
https://english.alarabiya.net/en/variety/2018/01/18/It-s-official-almost-half-of-Saudi-women-marry-at-this-age.html
--------
Saudi Arabia Holds Car Show Just for Women
January 16, 2018
Car manufacturers are wasting no time preparing for the day when Saudi Arabian women will be permitted to drive.
The first car show just for women was recently held at a shopping center in the western coastal city of Jeddah.
The event came a few months after Saudi Arabia's King Salman ordered an end to a longtime ban on women drivers. An announcement in September said the order to give women legal permission to drive would be carried out by June 2018.
Pink, orange and yellow balloons were placed in the showroom to welcome the women. Attendees were seen looking at different kinds of vehicles. Many sat inside the cars and some even posed for photos and selfies in front of their favorite models.
One possible customer, Ghada al-Ali, said the car show was "a big deal" because it was the first such event to be held in the kingdom. "I've always been interested in cars, but we didn't have the ability to drive," she said. "Now I'm very interested in buying a car."
Another visitor said the main thing she liked about the car show is that it emphasized the idea of a woman driving a car. She added that it was also a good way for the whole family to get to learn about all the models. "Before you start driving, you need to know more about cars," she said.
Sharifa Mohammad supervised saleswomen at the event. She said the place where the show was held made perfect sense. "This whole mall is run by women anyway. All the cashiers are women. Everyone in the restaurants are women."
Saudi Arabia's decision to end the ban on women drivers is part of a larger effort by the country's 32-year-old Crown Prince Mohammed bin Salman. He has proposed many economic and social reforms. Some reforms have faced opposition from conservative clergymen with large followings.
One recent government decision gave women the right to attend events at what were once male-only sports stadiums. Another lifted a ban on movie theaters.
https://learningenglish.voanews.com/a/saudi-arabia-holds-car-show-just-for-women/4205377.html
--------
Dubai church to honour 700 women domestic workers
January 18, 2018
Dubai: The efforts of over 700 women domestic workers and nannies in Dubai are going to be recognised at a special event being organised by St Mary's Catholic Church on the occasion of International Women's Day.
The celebration, which aims to laud the female workforce in Dubai, will include a packed entertainment programme to be held at the church on February 9 with the help of 100 of their volunteers, organisers said.
The daylong event called WOW – Women Of Wonder is being organised to hail the silent workers of Dubai as well as thank the Government of Dubai for making this city a safe haven for women and children.
"International Women's Day is a perfect occasion to salute our women, especially those who toil tirelessly behind the scenes," said Rev Lennie Connully, parish priest of St Mary's Catholic Church, Dubai.
"At the same time, we want to use this occasion to express our gratitude to the Dubai government for making this place a better place for women. During this celebration, we will applaud the acts of courage and determination of ordinary women and express our heartfelt gratitude to all women caretakers and workers in the domestic and corporate fields for their hard work, service and sacrifice," he said.
The programme will include an exciting tour of Dubai, and an array of games in community stalls, food, gifts, prizes, raffle draws, cultural programmes and a variety of entertainment activities.
The event will be attended by a large number of dignitaries from Dubai government including the Community Development Authority, Dubai Foundation for Women and Children, Dubai Police, Dubai Sports Council, Dubai Municipality and the Roads and Transport Authority.
http://gulfnews.com/news/uae/society/dubai-church-to-honour-700-women-domestic-workers-1.2159250
--------
Kashmiri-origin Nus Ghani becomes first Muslim woman minister to address House of Commons
January 18, 2018
Nus Ghani, a Kashmiri-origin parliamentarian in the UK, today became the first female Muslim minister to speak from the British Parliament dispatch box. Ghani, born in Birmingham to parents who migrated from Pakistan-occupied Kashmir, was cheered by her colleagues as she addressed the House of Commons as a junior minister in the Department for Transport.
"Made my debut as @transportgovuk Minister and made a bit of history as the first female Muslim Minister to speak from the House of Commons dispatch box," she tweeted soon after her first Commons outing in her new role.
Dispatch box is the designated place where ministers stand and speak from in the Commons.
The 45-year-old was appointed Parliamentary Under-Secretary at the Department for Transport by British Prime Minister Theresa May as part of her New Year reshuffle last week.
The Conservative Party MP from Wealden was also given the assistant government whip in the reshuffle to oversee party discipline.
"The roles are both exciting and challenging opportunities… Transport is a subject on which I have campaigned passionately since being elected as the MP for Wealden. Alongside my ministerial duties, I will continue to be a strong voice for Wealden and deliver for my constituents," Ghani had said in a statement.
The minister in charge of her department, transport secretary Chris Grayling, said Ghani's promotion proved the Tories "were a party of opportunity".
"We're the party to provide…the first Muslim woman minister to speak from the government dispatch box – the member for Wealden. I congratulate her – I'm very proud to sit alongside her," he said.
Ghani worked for charities such as Age UK and Breakthrough Breast Cancer as well as the BBC World Service before first standing as a Conservative Party candidate in Birmingham in the 2010 general election.
In 2015, she became the first Conservative party Muslim female candidate to be elected to Parliament.
After the June 2017 snap election, she made history after she repeated her oath of allegiance to Queen Elizabeth II in Urdu when she was sworn into Parliament.
"My motivation is simple. My parents are incredibly proud that I have been elected to serve as MP and I wanted to honour my mother by speaking in a language she understands and my mother tongue," she had said at the time.
Soon after she was appointed Parliamentary Private Secretary to the UK Home Office. Her rapid rise in May's government is seen as part of the British PM's declared aim of moving away from an all-white middle-aged male Cabinet.
http://indianexpress.com/article/world/kashmiri-origin-nus-ghani-becomes-first-muslim-woman-minister-to-address-house-of-commons-5030580/
--------
Muslim activist says Marina silent on right to wear hijab
January 19, 2018
PETALING JAYA: A Muslim women's group who has been championing the right of hotel workers to wear hijab has criticised Marina Mahathir, accusing the daughter of former prime minister Dr Mahathir Mohamad of being selective in defending Muslim women's rights.
Dr Rafidah Hanim Mokhtar, who leads the International Women's Alliance for Family Institution and Quality Education (Wafiq) said Marina had remained silent in the wake of the controversy over a ban on female hotel workers from wearing the tudung, but was vocal in condemning an incident in which a man had assaulted a group of Muslim women for not covering their hair.
Rafidah said the man seen in the viral video clip "is hardly representative of the majority of Muslims in Malaysia".
"Many Muslims have condemned the incident. Surely the action of one misguided man does not serve as evidence of a so-called 'negative effect of Islamisation'," she said.
Rafidah said the incident paled in comparison to the discriminatory practice by some hotels to ban their Muslim female employees from wearing the hijab.
"It is regrettable that Marina Mahathir has chosen to focus on the recent anomalous incident of a man slapping a woman without hijab, rather than the much bigger current issue of systematic religious discrimination of female employees of international hotel chains who are forbidden from wearing the hijab by their employers," she added.
A footage making the rounds on social media shows a man scolding a group of Muslim women at a bus stop for not wearing the hijab, before slapping one of them.
Marina reportedly linked the incident with Islamisation, something she has spoken out in the past and which is the focus of her latest book "Illusions of Democracy".
Rafidah further criticised Marina's stand on Arabisation among Muslims in Malaysia.
"Incidentally, it is also ironic that while condemning 'Arabisation', Marina chose to name her movement founded in 2009 'Musawwah'. Why use an Arabic term rather than a Malay word?" she asked.
Musawwah, which means equality, is a movement seeking to empower Muslim women.
"Rather than be critical of insignificant elements of clothing wrongly attributed to 'Arabisation', it is high time that Marina show some consistency and speak up for the rights of women who want to wear the hijab and yet are suffering from profound trauma and stress for not being able to do so because of systematic religious discrimination by more powerful entities," said Rafidah.
http://www.freemalaysiatoday.com/category/nation/2018/01/19/muslim-activist-says-marina-silent-on-right-to-wear-hijab/
--------
Meet the Saudi women running 5-star hotels
18 January 2018
RIYADH: Saudi women are making their mark in the hospitality world with friendly smiles and welcoming phrases. Some of them have reached beyond that and are now leading the industry and running high-end properties.
Sarah Qassim is the managing director at Jabal Omar, which is initiating a mega-project around the Makkah's holy mosque, consisting of 40 towers.
When asked about her experience in the industry, Omar said: "When I first started in 2007 at the InterContinental Hotel in Jeddah, I was one of the first Saudi women who entered this industry; there were foreigners but not a Saudi. It was difficult. I doubted myself; people looked down on me in the beginning. Society couldn't understand why I chose to work in the hospitality industry. They didn't understand that it is my passion. Nowadays its completely different. After the King Abdullah Scholarship program, I believe it had a huge impact on women, definitely leading and taking bigger roles."
Sarah is also an author. "In the hotel lobby" is the title of her published book, which she classifies as an "educational novel." Most of the story takes place in the lobby; the idea of the novel is based on her experiences in the hotel's lobby, which spans over 10 years.
Also, a lecturer on hospitality, she gives workshops for the Saudi Commission for Tourism and Natural Heritage, and around 30 females, attend.
Sarah emphasizes: "Saudis are known for their generosity; when you go abroad, they recite poems about our hospitality, culture and beliefs. We are now trying to integrate it with international standards."
Maram Gogandi, also a leading Saudi female in the hotel industry, was appointed general manager for Park Inn Hotel in Jeddah in 2017, with 12 years of experience in the hospitality industry.
Gogandi has worked all over the world and accumulated many awards, one being an international one — The Company Hospitality Award — which she received in 2017 in Paris. She says that many were pleasantly surprised: "I was the first Arab to win it. It is an international award."
The high position she holds now didn't come easy, but after many years of hardships and hard work. Gogandi explains: "I was the first Saudi woman to work in sales for the government and VIP sector. It was difficult then, but now it's a different story. Now I'm being applauded. Rezidor's leadership, program supported me and looked into promoting a qualified Saudi female."
She adds: "Rezidor's leadership program now has 102 ladies, 21 of whom are in executive positions."
"My plan is to meet with other hotels and companies, and help train Saudis of both genders. I am now making a requirements program for all Saudis. It will be systemized with specific requirements, in a specific process, in which we can define their skills and put them in the correct position in which they will be able to give more. Even training companies will benefit; we want to make a generation of leaders."
These leading ladies spoke on their experiences during their long years in the industry. What was noted was that in the span of 10 years many things have changed. What was once considered taboo, and ladies working in this field were looked down upon, is now considered normal and even applauded. They give credit to the King Abdullah Scholarship Program which helped normalize their presence in this field and made it acceptable.
Veteran Saudi females in the hospitality industry are working hard and smart to elevate the status of Saudi women one step at a time.
http://www.arabnews.com/node/1228821/saudi-arabia
--------
Nigeria: Hijab Controversy - Kwara Muslims Ask Law School to Induct Firdaus
18 JANUARY 2018
By Demola Akinyemi
Ilorin — THE umbrella body of all Muslim organisations in Kwara State, the Council of Muslim Organisations, CMO, has demanded that Firdaus Amasa, who was denied induction by the Nigerian Law School, be called to bar immediately.
CMO, which commended Amasa's resoluteness and courage in the drama to defend the sanctity of Hijab in the face of intimidation and molestation, Tuesday, described her as a heroine of Hijab and symbol of sacrifice.
The group, therefore, described as illegal the decision of the Nigerian Law School to bar the law graduate from being inducted because she was wearing Hijab.
Amasa, a law graduate of the University of Ilorin, and an indigene of Kwara State, was not called to Bar for her insistence on wearing veil (Hijab), during induction on December 13, 2017, in Abuja.
Addressing a news conference in Ilorin, CMO's Coordinator and former Grand Khadi of Kwara State, Justice Idris Haroon, said the lady was denied induction on account of her resoluteness to exercise her religious rights as enshrined in the 1999 Constitution.
The apex Muslim organisation said the provision to wear Hijab must be inserted in the Code of Conduct book of the Nigerian Law School, the Nigerian Defence Academy, all para-military formations and other national agencies.
On the New Year's eve mayhem in Ilorin,the group praised the state governor, Alhaji Abdulfatah Ahmed, and the Emir of Ilorin, Alhaji Ibrahim Sulu-Gambari, for their quick intervention.
http://allafrica.com/stories/201801180349.html
--------
Women's campaigns flourish beyond Iran protests
Stefania D'Ignoti
January 18, 2018
As the protests in Iran dominated international news in early January, an editor of Grazia asked Farian Sabahi, a historian who specializes in Iran and the Middle East, to comment on the protests ravaging her country.
Sabahi penned a piece that focused on the role of women in the demonstrations, underlining that they wanted the same thing as male demonstrators — more jobs and more political rights. She said that even though the women's question remains an important one in Iran, the uprising was not directly triggered by the compulsory veil, or hijab. She also referred to the "white veil" photo in the media that showed an unnamed woman stood alone without her hijab, silently waving a white scarf. Sabahi explained that the image did not come during the recent demonstrations, but was taken a day before they started, as part of a movement known as White Wednesday that started months ago. Her commentary underlined that hijab has no role in the current protests, which rather stem from economic as well as political grievances.
When the article came out, however, Sabahi was surprised to see that its contents had been altered — including the caption that identified the photo as belonging to the White Wednesday movement. The writer thought that all the changes twisted her viewpoint and portrayed women's desire to take off the hijab as the engine of the current upheavals. "I wrote an email to the editor-in-chief and she quickly apologized," Sabahi told Al-Monitor. She also posted a correction on Facebook. But though it was taken offline, the erroneous article remained in circulation in newsstands.
For Sabahi and other academics, this event encapsulates the caricaturization of the veil and the women's movement in the Iranian demonstrations. As local and politically outspoken women are a Western media clickbait favorite, women's images and statements are frequently used in the stories about protests even if few women are present. The veil, even when it is a minor player, seems to have become a reductive symbol of women's participation in wider movements.
According to Mahnaz Shirali, a researcher at Sciences Po Paris and author of "The Mystery of Contemporary Iran," the coverage of the Iranian protests in European and American media has indeed often been "partial and sometimes superficial."
"It's true that the question of the veil is important and a symbol of the regime's repression, but Iranian society's — and women's — demands shouldn't be merely reduced to the veil as a main reason for the demonstrations," she told Al-Monitor.
"Women are currently complaining about rising prices, corruption, lack of transparency. Their complaints are on the same issues men are worried about," Sabahi said. Even if many women joined the movement in the streets, the veil "is not their main focus," she added.
Ali Fathollah-Nejad, visiting fellow at the Brookings Doha Center, explained to Al-Monitor that although the majority of protesters are young working-class men, the grievances expressed throughout the protests and their slogans "transcend boundaries of gender and even class."
Although most experts on Iran consulted for this article do not consider the compulsory hijab one of the reasons in the protests, they do nevertheless consider it a crucial driver of Iranian women's resistance.
Iranian women's rights activist Masih Alinejad launched the famous My Stealthy Freedom (MSF) campaign against compulsory hijab in 2014. MSF is currently the largest and best known Iranian online protest against compulsory hijab. Through it, Iranian women speak out not only against forced veiling but also "the unfairness of Iran's rules when it comes to women's rights from employment to marriage and divorce, from traveling to attending sports stadiums and so on," Alinejad told Al-Monitor.
Alinejad explained how the movement she founded has become more visible in the streets since May through the White Wednesday campaigns. She said the continuous presence of MSF and White Wednesday have contributed to empowering Iranian women to become more aware of their social role. "I received many videos from women who had participated in the White Wednesday campaign who were participating in the [current] protests and were sending me clips," she said.
Other women in different cities across Iran have followed the example of the young woman who was photographed waving her white scarf. "I couldn't participate in the recent protests due to health reasons, but I saw the video of that brave girl without hijab waving it like a white flag. I decided to do something to support her and posted some pictures on Instagram without my hijab, showing my support," said Shaparak Shajari, a 42-year-old social media activist who participated in the 2009 protests. "Compulsory hijab is not the only reason we women want a change. We want to regain our dignity," she told Al-Monitor.
The Dec. 27 photo and video of the young woman calmly waving her white shawl in the middle of the busy Enghelab Avenue in Mashad, the second most populous city in Iran, went viral. "As the protests spread, many Iranian activists online were inspired by the nonviolent protest of the lone girl," explained Alinejad. "Thousands of Iranians changed their profile picture to a one depicting her act. Her gesture was seen as a symbol of resistance. Her protest caught the imagination of Iranian women and men, feminists and non-feminists."
https://www.al-monitor.com/pulse/originals/2018/01/veils-role-in-iran-protests.html
--------
URL: https://www.newageislam.com/islam-women-feminism/saudi-arabia-repression-overshadows-womens/d/113992
New Age Islam, Islam Online, Islamic Website, African Muslim News, Arab World News, South Asia News, Indian Muslim News, World Muslim News, Women in Islam, Islamic Feminism, Arab Women, Women In Arab, Islamophobia in America, Muslim Women in West, Islam Women and Feminism