New Age Islam News Bureau
14 November 2021
• Nigerian Interfaith Women's Group Awarded Aachen Peace Prize
• Emirati Doctor Becomes First Arab Women To Get Elected As The IHF President Designate
• Two Women Journalists Reporting On Alleged Religious Vandalism In Tripura Booked; To Appear On Nov 21
• Princess Nourah bint Mohammed 'impressed' with golf uptake by Saudi women
• Dubai: 3 Years In Jail For Woman Who Assaulted Police After Demanding To Be Hired
Compiled by New Age Islam News Bureau
URL: https://www.newageislam.com/islam-women-feminism/saudi-arabia-women-football/d/125767
--------
Saudi Arabia Launches First Edition Of Women's Football League
November 13, 2021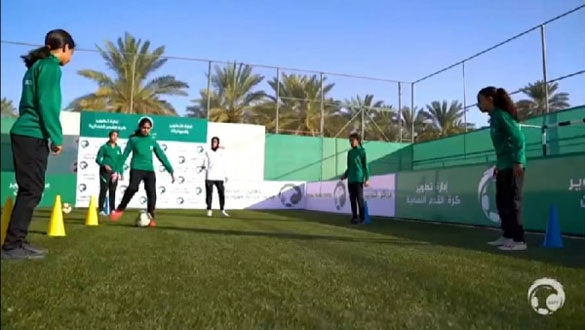 Representative Image/Saudi Gazetter
----
RIYADH — The Saudi Arabian Football Federation launched on Saturday the first edition of the Saudi Women's Football League.
The league, which will start on Nov.22, will be held in two phases through the Regional League in its first phase, with the participation of 16 teams, and its matches will be held in 3 cities (Riyadh, Jeddah, Dammam) with the presence of 6 teams from each region (except for Dammam, four teams) to play in the league system From two rounds, the top three places in Riyadh and Jeddah and the first and second places in Dammam will qualify for the Kingdom Final Championship to be held early next year in Jeddah at King Abdullah Sports City Stadium, which will be held in a one-match knockout system.
The President of the Board of Directors of the Saudi Arabian Football Federation, Yasser Al Misehal, indicated that this announcement is an important moment in the career of the SAFF. He pointed out that the launch of the first official league in the Kingdom was one of the SAFF's goals when inaugurating a special department for women's football.
"Today we live in this moment, which has been achieved by the grace of God and then the unlimited support of our wise leadership for all sectors, particularly in the football sector," Al Misehal said
Al Misehal explained that all the rules and regulations for the league have been completed, stressing the federation's keenness to implement them due to the importance of this edition in the path of Saudi women's football.
The member of the Board of Directors of the Saudi Arabian Football Federation and Director of the Women's Football Department, Lamia bin Bahian, extended her thanks and gratitude to the wise leadership for the unlimited support and attention that women's football enjoys.
Bin Bahian said: "The moment we are living in today cannot be described by the transformation of the dream of the Saudi Women's League into a reality, We enjoy unlimited support from our wise leadership, and in light of this support, we are proceeding today at a steady pace according to an ambitious strategy in which we all share passion, ambition and determination to advance women's football and reach it to the highest levels".
She added: "We have worked since the first day in the Women's Football Department, which began under the supervision of Adwaa Al-Arifi, who made a great and influential effort to complete the step of forming the first women's league in particular, and support women's football in general".
It is worth noting that the 16 participating clubs from the three regions are: Al-Tahadi, Sama, Al-Himma, Al-Seham Al-Zarqa and Al-Yamamah (The middle region) - Al-Asefah, Nosour Jeddah, Ittihad Al-Quwa, Al-Kora Al-Moshtaela and Al-Leith Al-Abyad (Western region) - Shoulla Al-Sharqiah, Al-Mamlaka Al-Nisa'e, Al-Waha and Ittihad Al-Nosour (Eastern region).
Source: Saudi Gazette
https://saudigazette.com.sa/article/613535/SAUDI-ARABIA/Saudi-Arabia-launches-first-edition-of-Womens-Football-League
--------
Emirati Doctor Becomes First Arab Woman To Get Elected As The IHF President Designate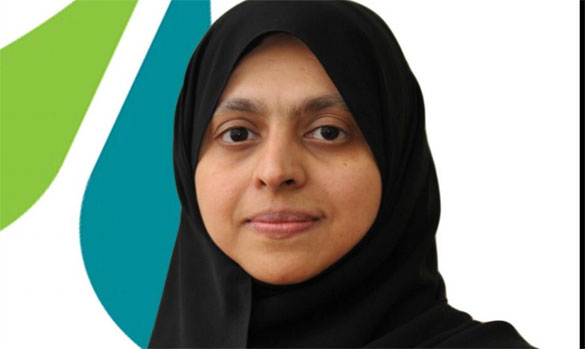 Photo: Supplied
-----
13 Nov 2021
The United Arab Emirates achieved an important victory in the global health front as Emirati Dr. Muna Tahlak, CEO of DHA's Latifa Hospital for Women and Children was elected as the President of the International Hospital Federation.
This is the first time that an Arab woman will hold this esteemed position, the highest international position in the history of the Union.
The IHF Governing Council voted to elect Dr Tahlak as the new IHF President Designate. In doing so, Dr Tahlak ends her term as Treasurer with IHF and now begins her two-year term as President Designate of the IHF.
Commenting on this important historic victory, Dr. Tahlak said, "I am honoured and I extend my deepest thanks and gratitude to our wise leadership who have always directed to empower women. Emirati women have held and continue to hold various high-ranking positions and responsibilities across all fields. The country has provided ample opportunities to support and nurture the growth of Emirati women across all fields and specializations including the medical field.
"This victory highlights not only the progress that Emirati women have made but also reflects the position of the health sector in the UAE."
She stated that she will serve her tenure with utmost dedication and highly values this opportunity.
She added that her work with the IHF over the past five years has helped her gain experience and gave her the opportunity to highlight the successful work of hospitals in the UAE on a global scale.
His Excellency Awadh Al Ketbi, Director General of the Dubai Health Authority congratulated Dr Muna Tahlak on this important and historic victory.
He said that this victory reflects the position of a developed country and the contribution of Emirati women.
He said it is a win for everyone in the health sector in the UAE who are fulfilling their responsibilities and duties with dedication and sincerity.
His Excellency Al Ketbi added that Emirati women have always been successful across all fields, especially in the medical field, and greatly contribute to the growth and development of the country.
It is worth noting a few days ago the International Federation of Obstetrics and Gynecology (FIGO) selected Dr Muna Tahlak, CEO of Latifa Hospital for Women and Children for the for the position of FIGO Regional Trustee Africa - Eastern Mediterranean 2021–2023.
Source: Khaleej Times
https://www.khaleejtimes.com/health/emirati-doctor-becomes-first-arab-women-to-get-elected-as-the-ihf-president-designate
--------
Nigerian Interfaith Women's Group Awarded Aachen Peace Prize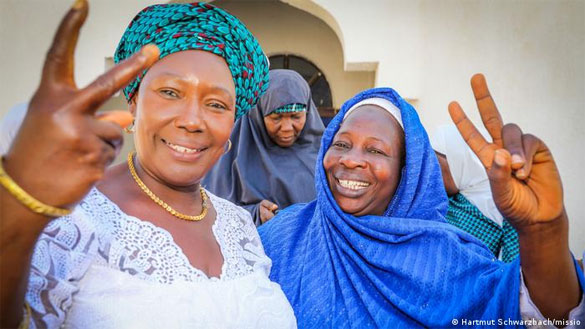 The women of the WIC work toward peace in Nigeria/ DW.com
----
12.11.2021
Uta Steinwehr
"We were so happy, we are still happy and will continue to be happy," exclaimed Daharatu Ahmed Aliyu. "And now we are international superstars!" Elizabeth Majinya Abuk added, laughing.
The two women arrived in Germany from Nigeria two days before they will receive the Aachen Peace Prize on behalf of their organization, the Women's Interfaith Council (WIC).
The organization is being honored for its work in the Nigerian state of Kaduna, where Christians and Muslims stand together for peaceful coexistence.
"A society that neglects women can never develop, can never advance," said Sister Veronica Onyeanisi, who took over the general management of the WIC in 2019.
"So we try to give women a voice so that they can make a positive contribution to society."
Kaduna, in the northwest of the country, is the third-largest state in Nigeria with an estimated 8.3 million inhabitants, according to data from the national statistics agency. About 60% of the population is Muslim and 40% Christian.
Kaduna: Once united
"Life in Kaduna was once very beautiful," said Sister Veronica. "People lived together peacefully, partying together, until religious fanatics and politicians decided to use religion to divide people."
Religious fighting had forced many Muslims to settle in the northern part of the state and Christians in the south. Attacks, acts of violence and kidnappings occur regularly.
Just a few months ago, schoolchildren and students were kidnapped during several incidents, which happened in quick succession, sometimes involving more than 100 young people, sometimes a dozen. Bandits also tried to extort ransom money.
WIC was founded in 2010 to counter the effects of the escalating violence. The organization's women visit victims of attacks, providing them with personal support and organizing further training for other women and young people.
WIC also offers support through a community, ensuring that women of both religions unite and celebrate important holidays together.
Religion used only as a pretext
According to the WIC, the terrorists and bandits use religion to exercise power.
"The Holy Bible and the Holy Quran speak of peaceful coexistence. Why don't the leaders teach what is in the Scriptures?" Sister Veronica asked.
That particular question prompted the WIC to organize seminars in which the basics of Islam and Christianity are explained to attendees.
"Then when people tell them the wrong thing, they can say, 'No, that's not what the Scriptures say,'" Sister Veronica added.
The WIC is made up of several thousand women who are organized in 23 individual associations. Many are personally affected by violence, such as Elizabeth Majinya Abuk, who coordinates the Christian organizations in the WIC.
Before the WIC was founded, Abuk worked with Christian women's associations in Kaduna. When WIC approached her to join the group, she initially hesitated. She had just been dealt a severe blow. Her sister and her family were brutally killed in a robbery.
But Abuk has a "passion for peace," as she put it. And this helped her not to give up, not to lose faith in the good cause, although further strokes of fate followed in the following years. Most of her family members are currently displaced in their own country, she said.
"I don't want what happened to my family to happen to another person. And that's why I pursue with all my strength, with all my thoughts the goal that we have to live together peacefully," said Abuk.
Daharatu Ahmed Aliyu — who represents the Muslim associations — never doubted her work: "Everything has its time. It is not easy, there are so many challenges," she said.
Aliyu remembers the early days when, as a journalist, she initially reported on the development of the WIC. A colleague in the editorial office thought it was a joke that Christians and Muslims wanted to unite. "When the time comes for the crisis to end, it will end," said Aliyu with confidence.
Including men
In order to achieve their goals, they also have to bring on board some men, who usually have the main say in Kaduna's society.
Before they start any project, the women visit traditional and religious leaders.
"We are concerned about some of us because of their experiences with other non-governmental organizations," said Sister Veronica. But the women at WIC can be very convincing: "You know, God has given women a gift that no one else has. Women can be there for anyone, no matter how tough the person is."
Elizabeth Abuk added that the WIC starts at an early stage by working with young people in order to break down prejudices between religions and genders. Abuk is certain that if young men could take on leadership roles, they would do better.
From the point of view of the board of directors of the Aachen Peace Prize, the commitment of women is "very worthy of the award," as Lea Heuser, board member and press spokeswoman for the association, told DW.
Heuser emphasized the "great solidarity of self-affected women towards other women who are exposed to massive violence and a massive patriarchal system, but who, despite their own traumas and experiences of violence, stand up against it, support each other in very solidarity and live this solidarity across all borders."
And the result of the work speak for itself: Other states have already contacted WIC and asked for help because they too want to create interreligious women's councils, said Sister Veronica.
Source: DW
https://www.dw.com/en/nigerian-interfaith-womens-group-awarded-aachen-peace-prize/a-59806114
--------
Two Women Journalists Reporting On Alleged Religious Vandalism In Tripura Booked; To Appear On Nov 21
By Debraj Deb | Agartala |
November 14, 2021
Two women journalists reporting on recent instances of alleged religious vandalism in Tripura have been booked under sections relating to spreading communal disharmony, committing insult with intent of provoking breach of peace and criminal conspiracy.
The FIR against Samriddhi K Sakunia and Swarna Jha, based on a complaint by local Vishva Hindu Parishad (VHP) activists, has been registered at Fatikroy police station in Unakoti district where they have now been asked to appear on November 21.
Unakoti Superintendent of Police Rati Ranjan Debnath could not be contacted despite repeated attempts. However, a senior official of Tripura Police, who didn't wish to be named, confirmed to indianexpress.com that an FIR had been registered. "They were served notice under a case booked at Fatikroy police station to appear in next seven days. They received the notice and assured that they would come back in seven days," he said.
In a series of tweets, the two journalists claimed they were in Tripura for a 'ground report' on last month's communal disturbances and had sought police permission as well as protection for the same. However, in the video tweets, they claimed the police collected their travel details citing grounds of security and later posted cops outside their hotel, preventing them from going anywhere. When the police later asked them to come in for questioning on 'very short notice', they consulted their lawyers and later the police served them a notice to appear again on November 21 here, the journalists claimed.
FIR🚨 in #Tripura@Jha_Swarnaa and I, the correspondent at @hwnewsnetwork have been booked under 3 sections of IPC at the Fatikroy police station, Tripura.
VHP filed complaint against me and @Jha_Swarnaa FIR has been filed under the section: 120(B), 153(A)/ 504.
Copy of FIR pic.twitter.com/a8XGC2Wjc5
— Samriddhi K Sakunia (@Samriddhi0809) November 14, 2021
The Tripura Police, in a tweet, has denied that cops were deployed outside the journalists' hotel. "…neither any police personnel was deployed outside their hotel nor they were restrained from moving out. Police party went to hotel to serve the legal notice as required under investigation of any case. The police party left after serving the notice," the tweet read.
pic.twitter.com/yw2Yjg5AfH
— Tripura Police (@Tripura_Police) November 14, 2021
A copy of the First Information Report (FIR) posted on Twitter by the journalists showed the complainant was one Kanchan Das of Kumarghat who claimed as "part of criminal conspiracy to destroy the communal harmony in Tripura as well as to malign the VHP and Tripura government, the accused intentionally imparted the name of VHP in that incident which could effect the harmony in between Hindu and Muslim community".
Sakunia, in a video recording posted from the Twitter handle of Article 14, said they went to Unakoti district yesterday. "When we went to Pal Bazar mosque, the police was there with us during the entire time we were reporting and at Chowmuhani Bazar mosque too," she said.
Sakunia said she received a call from a police officer at Dharmanagar at 8.30 am, seeking her travel details. "We asked why he needed them. They also took our Aadhaar card at the police station earlier, to which we asked why they would need our Aadhaar card as we had our ID cards with our numbers and addresses," she added in the video. "We received three calls last night from the police at Dharmanagar, who said it was all for our security," she said, claiming that at night they noticed "12-15 policemen… they came here around 9:30 and were standing but they didn't tell us anything".
Sakunia said she thought they were providing them security. However, while checking out today morning to leave for Agartala, she said the police informed them an FIR was registered against them at the local Fatikroy police station by a few VHP activists. "The case was filed stating that we had disturbed communal harmony and said we would have to come to Dharmanagar police station. We told them that we need a lawyer and without him we can't move," Sakunia added. Showing 18-20 policemen standing behind her in the video, she said they were not allowed to go anywhere from their hotel for over three hours.
"We have spoken with them after three hours and they gave us this notice under Section 41 A, in which they said they had to come to us at very short notice and so, we would have to come back from Delhi with our lawyer on November 21," she said, adding that they would now have to take another train to reach Agartala and could end up missing their flight back to Delhi.
Swarna Jha, in another video, said they went down to the local police station after their coverage to take bytes from officials but could not meet them. They later received a call from Dharmanagar police station in the evening asking about their travel details, which they provided after consulting with lawyers. "We asked how they could summon us at such a short notice. We told them that to change the appearing date to November 21 and they changed it. But there is a question – is doing ground reporting a criminal offence?" Swarna asked in her video.
The notice served under Section 41 of the Criminal Procedure Code (CrPC) for appearance before the police, Fatikroy police station in-charge Harendra Debbarma said: "In exercise of the power conferred under sub-section 1 of sec. 41 A Cr.P.C, I do hereby inform you that FTK Case no 2021 FTK 039, dated 14/11/2021, U/S 120(b)/153(A)/504 IPC was registered at FTKPS against you and others miscreants and for investigation of the case, there are reasonable grounds to question you to ascertain the facts and circumstances from you. Hence, you are directed to appear before the undersigned on or before 21/11/2021 with Identity card at Fatikroy PS complex in Unakoti District Tripura. Otherwise lawful action will be taken against you as per law".
Source: Indian Express
https://indianexpress.com/article/north-east-india/tripura/two-journalists-booked-while-reporting-in-tripura-7622170/?utm
-----
Princess Nourah bint Mohammed 'impressed' with golf uptake by Saudi women
November 12, 2021
RIYADH: Princess Nourah bint Mohammed Al-Faisal visited Royal Greens Golf & Country Club on Thursday to see the progress Golf Saudi is making in terms of growing participation in female sport in the Kingdom.
During her first visit to a golf club, Princess Nourah took part in a golf clinic with two Golf Saudi coaches, whilst watching her cousin Prince Khalid Al-Faisal play an event as an amateur.
Picking up a golf club for the first time, Princess Nourah was impressed and excited by Golf Saudi's Mass Participation program and what it meant for the future.
Princess Nourah's visit to the Aramco Team Series was inspired by her love of sport and having lived in the UK for many years, she impressed by the quality of facilities at Royal Greens Golf & Country Club.
In 2020 she was appointed as a consultant by the Chairman of The Jockey Club Saudi Arabia by His Royal Highness Prince Bandar Al-Faisal where she helped work on the conceptualization of The Saudi Cup, as well as curating events for Riyadh and Taif seasons.
Golf Saudi and the Jockey Club Saudi Arabia (JCSA) are building a stronger relationship to help boost participation in sport across the Kingdom. The JCSA is looking to use golf as a way of engaging with global fans in both the U.S. and Asia as well as working with Golf Saudi to discuss new opportunities.
"It was very pleasing, a lot more fun than I expected and I loved it. I think I now understand how people become obsessed with golf," Princess Nourah said. "Sport is essential to Saudi women, it opens up a whole new avenue of possibilities for them, not just as an athlete but also for the career opportunities that are being created for Saudis to work in the sports industry.
"Golf is very new here in the Kingdom and to see women involved in the Aramco Team Series is very important, as Saudi women will try to emulate what they've seen."
She continued: "In 2020 the first female jockeys came to compete in the Saudi Cup, which was a big deal for us. We now have young Saudi women who are jockeys, have taken up training or now have jobs with the Jockey Club. There is something about sports and its ability to help you focus, set goals, train hard and achieve great things. So, the work Golf Saudi is doing to grow the women's game is highly commendable and it was fantastic to visit Royal Greens Golf & Country Club for the first time and hear more about the work of the Ladies First Club powered by Aramco and its efforts to boost participation, all of which has left me in no doubt that the future of sport within the Kingdom is very bright."
Golf Saudi's Mass Participation program aims to grow the game of golf and boost participation in Saudi Arabia and one initiative that Princess Nourah wanted to learn more about was the "Ladies First Club powered by Aramco" which was created exactly a year ago in 2020. Princess Nourah enjoyed a golf clinic and as a result she will now be joining the Ladies First Club in a bid to encourage other women to stay healthy and enjoy a new activity.
Source: Arab News
https://www.arabnews.com/node/1966846/sport
--------
Dubai: 3 years in jail for woman who assaulted police after demanding to be hired
14 Nov 2021
A 31-year-old Asian woman was sentenced to three years in jail and deportation for physically assaulting a policewoman on duty.
According to case papers, the woman had walked into a police station last May and spoke to the male duty officer in an Asian language. A translator said that she wanted to be hired at the station, as she wanted to work with the police.
The male officer testified that he had told the woman that applying for a job in the force had specific channels. He then asked her to leave, and when she refused, he had her escorted out of the premises by a policewoman.
The victim stated that the woman kicked and hit her with her hands while she was carrying out the duty officer's order. The woman was then overpowered and transferred to the women's cell.
The case was then referred to the Public Prosecution, and then to the Criminal Court. The convict will be deported after she serves her jail sentence.
Source: Khaleej Times
https://www.khaleejtimes.com/crime/dubai-3-years-in-jail-for-woman-who-assaulted-police-after-demanding-to-be-hired
--------
URL: https://www.newageislam.com/islam-women-feminism/saudi-arabia-women-football/d/125767
New Age Islam, Islam Online, Islamic Website, African Muslim News, Arab World News, South Asia News, Indian Muslim News, World Muslim News, Women in Islam, Islamic Feminism, Arab Women, Women In Arab, Islamophobia in America, Muslim Women in West, Islam Women and Feminism