New Age Islam News Bureau
30 Jun 2019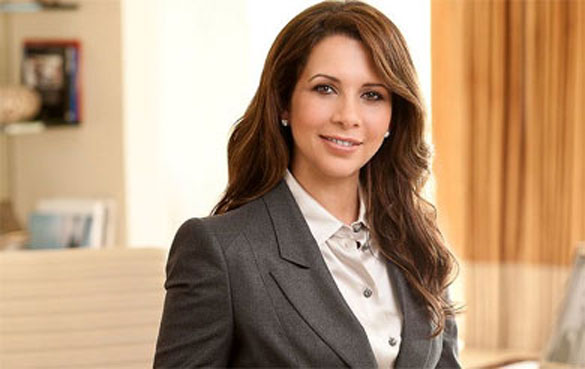 Princess Haya, who had not been seen since February, is said to have fled to Germany with her son and daughter.
----
• Dubai's Princess Haya Ditches Billionaire Ruler, Flees With £31 Million: Report
• Aal Asheikh: Thousands Of Women's Jobs In Islamic Affairs
• Pregnant And Alone: Syrian Women Fleeing Idlib Offensive Forced To Give Birth Outdoors
• Women Empowerment Govt's Foremost Priority: Pakistan PM
• Reasons Why Some Women in Somalia Support Al-Shabaab and Terrorism
• Burkini Dispute Shuts Down Public Pools In One French Town
• Survey Reveals Positive Statistics on Attitudes to Gender Equality in the Arab World
Compiled by New Age Islam News Bureau
URL: https://www.newageislam.com/islam-women-feminism/saudi-arabia-joins-g20-womens/d/119033
--------
Saudi Arabia Joins G20 Women's Empowerment Initiative
FRANK KANE
June 30, 2019
OSAKA: Saudi Arabia joined an initiative on women's empowerment at the G20 summit in Osaka, Japan.
The Kingdom signed a pledge to promote participation in the workforce, enhance education and stimulate involvement in the small to medium business sector.
Japanese Prime Minister Shinzo Abe announced the initiative under the motto "women are able to shine," on the closing day of the summit. He said: "The G20 members will make a united effort to promote women's empowerment. I believe that these efforts will be a driving force for further development of the G20 as a whole."
Saudi Arabia is one of the members of the "troika" that organizes the W20 offshoot to promote female participation in economics and politics.
Queen Maxima of the Netherlands, the UN's special advocate for inclusive finance, said: "I want to thank the troika, Argentina, Japan and Saudi Arabia, for supporting this important initiative to promote inclusive economic growth for women."
She said that if women were employed in the global workforce at the same rate as men, it could add $28 trillion to the global GDP by 2025.
The initiative aims to reduce the gap between male and female pay by a quarter in the next seven years.
It also hopes to guarantee access to education for all women in the world for at least 12 years. Japan is paying to educate 4 million girls in developing countries for the next three years.
The initiative will also seek to support female small businesses via the Women Entrepreneurs Finance Initiative (We-Fi) launched by German Chancellor Angela Merkel and US President Donald Trump's daughter Ivanka Trump.
http://www.arabnews.com/node/1518226/saudi-arabia
--------
Dubai's Princess Haya Ditches Billionaire Ruler, Flees With £31 Million: Report
Jun 29, 2019
The wife of the ruler of Dubai, Sheikh Mohammed bin Rashid Al Maktoum, has reportedly fled the Persian Gulf kingdom to London with £31 million (over $39 million) following the break-up of their marriage.
Princess Haya Al Hussein, who is the half-sister of Jordan's King Abdullah II, is said to be seeking a divorce after initially fleeing to Germany, where she sought political asylum, British tabloid newspaper the Daily Mail reported.
A German diplomat apparently helped the princess, 45, escape from Dubai. There are reports that she has also taken her son Zayed, 7, and daughter Al Jalila, 11, with her.
It is claimed that German authorities have refused a request from the wealthy ruler of Dubai, who is also the vice president and prime minister of the United Arab Emirates, to return his wife, sparking a diplomatic crisis between Germany and the UAE.
Sheikh Mohammed has voiced his fury in an Instagram post, denouncing his wife's "treachery and betrayal." He wrote: "Go to whom you get busy with!!!!!?"
Princess Haya married Sheikh Mohammed in 2004. The end of his marriage is a fresh blow to the Dubai ruler, whose daughter Princess Latifa bint Mohammed Maktoum, 33, sought to escape last year before being captured on a boat off the Indian coast.
Human rights groups claim she is being held in captivity in Dubai.
"Whenever someone applies for political asylum, obviously, it is because their lives are in danger, and because they have suffered severe abuses and violations of their human rights," Radha Stirling, chief executive of watchdog Detained in Dubai, said.
She added, "We already know that Princess Latifa, Sheikh Mohammed's daughter, fled the UAE seeking asylum and alleging unspeakable abuse at the hands of her father.
"Now, it seems, Princess Haya, Sheikh Mohammed's wife, has also fled the country and sought refuge in Germany."
Stirling noted that there are now "serious questions" about what prompted Princess Haya to flee.
https://www.presstv.com/Detail/2019/06/29/599742/Dubais-Princess-Haya-ditches-billionaire-ruler-flees-with-31-million-Report
--------
Aal Asheikh: Thousands Of Women's Jobs In Islamic Affairs
June 29, 2019
By Abdullah Al-Dani
JEDDAH – Thousands of vacancies are available for khateebs, imams and mosque supervisors, Minister of Islamic Affairs, Call and Guidance Dr. Abdullatif Aal Asheikh told Okaz/Saudi Gazette.
He said there are job opportunities for Saudi women.
In statements on the sidelines of his meeting in Jeddah on Saturday with the Director General of the ministry's branch in Makkah Province and directors of mosques administrations in the region's governorates, Dr. Aal Asheikh stressed the leadership's directives to provide care to pilgrims and prepare the suitable conditions for them to perform their rites with ease.
http://saudigazette.com.sa/article/570395/SAUDI-ARABIA/Aal-Asheikh-Thousands-of-womens-jobs-in-Islamic-Affairs
--------
Pregnant And Alone: Syrian Women Fleeing Idlib Offensive Forced To Give Birth Outdoors
By Elizabeth Hagedorn
29 June 2019
This was not how Rabaa al-Shamaa imagined the birth of her fifth child. Out in an open field near the Syrian-Turkish border, the expectant mother lay on the grass, doubled over in pain.
Just two weeks earlier, government air strikes had targeted her hometown in northwestern Syria, bombing its hospitals and sending Shamaa and her family fleeing north. They'd been sleeping in an olive grove ever since.
As her contractions got closer, Shamaa feared she would have to give birth outdoors without any medical assistance.
"I spent hours in labour in the hot sun under a tree," she told Middle East Eye. "I cannot begin to describe the pain."
But upon hearing the roar of a nearby pickup truck, Shamaa's husband managed to flag down the driver and convinced him to take the family to the nearest hospital.
"I arrived at the hospital with my last breath," Shamaa said. Shortly after, her son Nasser was born, and Shamaa said she was discharged almost immediately.
"I saw death one thousand times that day," she said. "I wouldn't wish that on any mother in the world."
Nowhere to turn
More than 300,000 Syrians like Shamaa have fled their homes since late April, when forces loyal to Syrian President Bashar al-Assad began a bloody campaign to retake parts of northwest Syria held by formerly al-Qaeda-linked group Hayat Tahrir al-Sham (HTS).
Russian and Syrian warplanes have relentlessly pummelled residential areas in southern Idlib and northern Hama, medical aid workers and residents say. The constant bombardment has forced at least 49 hospitals and health facilities to partially or completely suspend services, according to Imad al-Zahran, head of the Idlib Health Directorate's media office.
Meanwhile, doctors working in the region have stopped sharing the coordinates of their hospitals with the United Nations after doing so, they speculate, resulted in their direct targeting.
Damascus and its ally Moscow say they are only targeting terrorists in the region, but rights groups say the recent hospital bombings follow years of deliberate and systematic attacks on medical facilities, health workers and their patients.
Since the start of the conflict in 2011, Physicians for Human Rights (PHR) has documented the killing of more than 890 medical personnel in Syria. The New York-based advocacy group says more than 90 percent of the attacks were perpetrated by Syrian government forces and their allies.
With hospital access dramatically reduced, midwives are helping fill the void.
Since fleeing the Idlib countryside last month, midwife Randa al-Ali has delivered dozens of babies in the olive groves scattered up and down the Turkish border.
She left most of her belongings behind and is making do without the tools and pain medications she would normally have on hand.
"I am very worried for these women, many of whom are having their babies under the trees and out in the open," she told MEE.
The hardest part for many, she said, is the lack of dignity in their living conditions. The best they can do is drape linens over tree branches to provide some shade and privacy.
"The women are uncomfortable. There are no bathrooms or running water here, and women who are nine months pregnant are carrying buckets of water on their heads."
Those who do make it to a hospital often suffer from entirely preventable complications. One female obstetrician-gynaecologist, who requested her name be withheld for security purposes, said poor nutrition, extreme stress and the absence of proper sanitation have contributed to a dramatic increase in high blood pressure, urinary infections and miscarriages.
In the past two months, she's delivered more premature babies than she can count, and her understaffed hospital is running low on incubators.
"We often cry at the hospital over our inability to prevent the loss of so many lives," she said.
Area hospitals have also seen an uptick in scheduled caesarean sections, said Dr Zaher Sahloul, president of humanitarian aid group MedGlobal, which sends medical teams to disaster areas, including in Syria. During his recent visit to Idlib, one doctor told him 40 to 50 percent of deliveries in his hospital were now C-sections.
"Women want to control the time that they deliver because things are unexpected," Sahloul said. "A bombing can happen at any time, and in the middle of the night you cannot move to the hospital."
Forced displacement
Idlib was a last resort for many civilians. About half of the province's estimated three million residents had already fled their homes at least once before, many of them evacuated to Idlib from elsewhere in the country.
If the violence in this densely populated part of Syria continues, the UN is warning of an "unimaginable human rights and humanitarian catastrophe", unlike anything seen in eight years of war.
Neighbouring Turkey, which had already absorbed more than three million Syrian refugees, has closed its border. Unable to cross, hundreds of thousands of displaced Syrians have packed into overflowing camps. Others have found shelter in open farmland.
MedGlobal's Sahloul worries that without access to hospitals, the number of displaced civilians will continue to grow.
"People tolerate the risk of falling bombs as long as there is certain civilian infrastructure in their villages," he said. "It gives them a sense of normalcy.
"If these are destroyed, then people leave."
Shamaa had little time to pack when the bombs began raining down on her town. In the chaos, she left behind the baby clothes she had carefully picked out for her future child.
For now, her one-month-old is dressed in a toddler-sized T-shirt Shamaa borrowed from another displaced family.
Holding Nasser tightly in her arms, she can't help but worry about the world he will grow up in.
"I fear so much for his future. I just want my children to live in a safe place."
https://www.middleeasteye.net/news/pregnant-and-alone-syrian-women-fleeing-idlib-offensive-forced-give-birth-outdoors
--------
Women Empowerment Govt's Foremost Priority: Pakistan PM
June 30, 2019
ISLAMABAD: Prime Minister Imran Khan Saturday said women were a vital component of the society and their empowerment was the foremost priority of the government.
During his meeting with lawmakers at his chamber at the Parliament House, the prime minister lauded the positive and overwhelming participation of the female Members of the National Assembly (MNAs) during the budget session, a Prime Minister (PM) Office statement said.
Among the parliamentarians who met the prime minister included Rukhsana Naveed, Shanila Ruth, Dr Seemi Bukhari, Rubina Jamil, Fauzia Bahram, Javeria Zafar Aheer, Munawara Bibi Baloch, Sobia Kamal, Nusrat Wahid, Ghazala Saifi, Asma Qadir, Saima Qadir, Nuzhat Pathan, Zile Huma, Shaheen Naz Saifullah and Saira Bano.
Special Assistant to Prime Minister on Information and Broadcasting Dr Firdous Ashiq Awan also attended the meeting.
The prime minister urged the female parliamentarians to play a more vibrant role to highlight in the National Assembly the national issues, particularly those faced by the women and poor people besides striving for their resolution.
The female member of lower house of parliament lauded the prime minister and his economic team for presenting a balanced annual budget amid difficult circumstances and also congratulated over its passage by parliament.
They also expressed their confidence in the leadership of Prime Minister Imran Khan.
https://www.pakistantoday.com.pk/2019/06/29/women-empowerment-govts-foremost-priority-pm/
--------
Reasons Why Some Women in Somalia Support Al-Shabaab and Terrorism
Amenna Dayo
Jun 29, 2019
There is more than meets the eye.
International Journalist and writer, Kelvin J. Kelley who is known for his investigative journalism work especially in terrorism ravaged countries in Africa, has shared his discoveries on why women in Somalia tend to support terrorism in the country.
According to him, Al-Shabaab's policies lead some Somali women to support the organization politically and in some cases to play key military roles, a new study indicates.
The group's "brutal insurgency" is generally oppressive to women but can also provide them with important benefits, particularly by punishing gender-based violence and by upholding women's rights under Islamic family law, says the analysis by the International Crisis Group (ICG).
Women, in turn, play key roles in Shabaab's armed campaign, the Brussels-based NGO notes.
ROLES
"Their roles range from simply marrying into the group, to actively recruiting and proselytizing, gathering intelligence, smuggling weapons and raising funds," the briefing states.
Somali officials do not perceive women as potential threats and consequently do little to prevent female members of Shabaab from transporting explosives through checkpoints, ICG adds.
But Shabaab does not take advantage of such security lapses by using women as suicide bombers, nor does it allow females to participate directly in combat.
Al-Shabaab's policies in these regards contrast sharply with those of Boko Haram.
That Islamist force in northeastern Nigeria regularly assigns women and girls to carry out suicide attacks, but in Shabaab's case, females have accounted for less than five percent of such operations since 2006, the study says.
In parts of Somalia it controls, Shabaab offers women and girls a "hardly complete, but still appreciable" degree of physical safety, ICG observes.
JUSTICE
Decades of lawlessness in Somalia have made women highly vulnerable to sexual violence. In parts of the country where it can enforce its version of justice, Shabaab punishes rapists and sometimes intervenes on behalf of women in cases of domestic violence, the briefing says.
"Through its courts," ICG adds, "Al-Shabaab upholds tenets of Islamic family law that, to some degree, protect women's rights in matters such as divorce and inheritance in a manner the official justice system does not."
Shabaab's enforcement of these tenets ensures that women can receive a refund of the dowry in cases of divorce or shares of an inheritance, the study points out.
"The even-handedness of Al-Shabaab's judicial mechanisms should not be overstated, with women sometimes suffering cruel punishments on charges that reflect the group's patriarchal ethos," ICG cautions. It cites reports of Shabaab's stoning to death of women accused of adultery.
"But with no state institution in many areas, Al-Shabaab's courts offer women the sole means of getting their just due from ex-husbands or male relatives."
And while women and girls may be forced into marrying militants, "for some families marrying daughters into Al-Shabaab may bring a degree of financial stability," ICG notes.
Some of the women involved in Al-Shabaab recruit other women.
Wives of senior Shabaab members go door-to-door in south-central Somali villages to cultivate support for the group's values and aims. These female proselytizers also encourage women who have married fighters to become active in Shabaab's campaign, the briefing states.
https://www.africanexponent.com/post/10485-why-some-somali-women-support-terrorism
--------
Burkini Dispute Shuts Down Public Pools In One French Town
June 30, 2019
Reviving a three-year old debate over what constitutes appropriate swimwear for women at the beach, a French city shut down its only public pools after Muslim women attempted to swim wearing burkinis despite a ban on them in the city.
The city of Grenoble in southeastern France closed two municipal pools this week after Muslim women went swimming twice in the city's pools wearing burkinis as a form of civil disobedience.
The move was part of an initiative of civil rights group Alliance Citoyenne, an advocacy group in Grenoble, which planned recurring acts of civil disobedience to overturn the ban. According to the BBC, the group said they were calling the campaign "Operation burkini," and that they were inspired by Rosa Parks and other members of the civil rights movement in the United States.
"Freedom of conscience. Free access to public services. #burkini" the group said in a Tweet, with a photo of burkini and swimsuit clad men and women in a pool in Grenoble on June 23. The women were fined roughly $40 by officials when they exited the pool. In response, Grenoble shut down the city's two public swimming pools.
Matthew Chamussy, the municipal councilor of Grenoble, said in a tweet on June 23 that the burkini ban is about women's rights.
"I appeal to all elected Republicans of the @VilledeGrenoble . All who share this same attachment to a secular and indivisible republic. Let's not give in to communitarianism. Women's rights recede wherever political Islamism advances #Grenoble #burkini" he tweeted.
Grenoble Mayor Eric Piolle said in a June 25 tweet, "When it comes to equal access of a public service, the role of the state is to pose clear and just rules for everyone. National solidarity is at stake…"
Notably, Piolle's cover photo on Twitter shows him cheering alongside a woman wearing hijab, a Muslim head covering.
Burkinis are a long, modest swimsuit that cover everything but the face, hands and feet. Typically, they consist of at least two pieces: a hooded, long dress, and footless leggings. They are commonly worn by Muslim women.
Citing concerns over safety and overt displays of religious affiliation, several cities and coastal towns in France issued bans in 2016 against such swimwear. The policies cited the French Republic's concept of laïcité (secularism) as the reason for the ban.
In at least one French town in 2016, the ban was overturned. The Council of State, France's highest administrative court, ruled that the burkini ban in the town of Villeneuve-Loubet "seriously and clearly illegally breached fundamental freedoms," including freedom of belief. But the ban remains in many cities.
While officials have stated concerns that burkinis are a symbol of "political Islam," burkini-wearing women interviewed by The Guardian in 2016 cited personal reasons for the choice, including their religious convictions and their own desires for modesty. "I choose to dress this way because it gives me freedom. I don't have to worry about strange men looking at my figure, desiring me in a sexual way or people commenting on the way I look and judging my looks or talking about my clothes," one woman said.
According to a 2017 Pew study, France has the highest percentage of Muslims of any country in Europe, in large part due to an influx of migrants over the past several years.
The religiosity of these Muslim migrants has clashed with France's strong adherence to laïcité before, causing France to ban the face veil despite complaints that the move violated religious freedom.
French law also bans hijabs, Jewish skullcaps and large Chrsitian crosses in public schools, as well as the wearing of hijab or other religiously-affiliated clothing on school trips, effectively banning any headscarf-wearing moms from chaperoning their child's school trips.
The revived burkini dispute also comes amidst new religious freedom worries in France, over the country's new Universal National Service for teens, a civil service program that will be made mandatory over the next seven years for all French youth age 15-16.
Participants in the program will wear French military uniforms and sing the French anthem daily. They will not be allowed to wear religious symbols, nor will they be released to attend religious services. The meals served at the program will not accommodate for religious dietary needs.
The program is intended to give young people "causes to defend" and "battles to fight in the social, environmental and cultural domains," according to French President Emmanuel Macron, who proposed the revival of a required service program in the country. Marc Guidoni, a veteran trainer for the Values of the Republic and Secularism Plan, told the French Catholic newspaper La Vie this week that he was concerned that the program discriminated against young religious believers, and that it went beyond the bounds of secularism required or allowed by French law.
"With the exception of freedom of conscience, the rest of the constitutional framework relating to secularism does not seem to be respected," Guidoni told La Vie.
"The citizen is free to express his opinions – including religious ones – as long as this does not disturb the functioning of public order."
https://www.eurasiareview.com/30062019-burkini-dispute-shuts-down-public-pools-in-one-french-town/
--------
Survey Reveals Positive Statistics on Attitudes to Gender Equality in the Arab World
By Celia Konstantellou
Jun 29, 2019
Rabat – A survey of more than 25,000 people across ten countries and the Palestinian territories conducted by BBC News Arabic and Arab Barometer research network in 2018-2019, had a lot to reveal about the Arab world's stance on women's rights and the LGBT community.
Women's Rights
According to studies on Human Rights, women in the Arab World have been subject to discrimination and restrictions of their freedoms for years.
Some of these deprivations are a result of religious beliefs, but many have been limitations caused by cultural particularities that are deeply ingrained in the Arab world's tradition and mentality even nowadays.
Most people across the region supported the right of a woman to become prime minister or president. The exception was Algeria where less than 50% of those questioned agreed that a woman could potentially become head of a state.
In 91% of the places surveyed, the majority agreed that women should be allowed to serve as head of government in a Muslim country, but the same margin also claimed that men are better political figures.
The notion of a female political president or prime minister was mostly accepted in Lebanon, Morocco, and Tunisia.
But when it came to domestic life, the majority of respondents – including a majority of women – claimed that husbands should always have the final say on family decisions.
Morocco was the only exception, where fewer than half the population thinks a husband should always be the ultimate decision-maker.
Dima Dabbous, Equality Now's regional director for the Middle East and North Africa, said the contradictory results were "indicative of the dominant mood in the region".
"There is a realization that gender equality is a marker of progress and the 'right thing' to say is to support women empowerment. But when the framing of the question focuses on the role of men, then the real patriarchal, male-centric bias comes to the surface," Dabbous said.
"Women in the Middle East and North Africa are getting more educated and participating increasingly in the labor force, but their empowerment will remain incomplete as long as they are still excluded from decision-making positions and political participation," she added.
LGBT Rights
Lesbian, gay, bisexual, and transgender citizens generally have a highly restrictive lifestyle in most parts of the Middle East region, with many members of the community having experienced threats and hostility which has led them to conceal their sexual preferences.
Homosexuality is illegal in ten out of 18 countries that make up the region. The rights and freedoms of LGBT citizens are significantly affected by the cultural traditions and the religious practices of the Arab world which firmly oppose them.
According to the study's results, acceptance of homosexuality varies but is low or extremely low across the region. Despite having a reputation for being more socially liberal than its neighbors, Lebanon has a 6% acceptance towards homosexuality; the second lowest one after West Bank.
For taboo or difficult questions, respondents were asked to select "acceptable practices" from a series of options. The results suggested that "honour" killings were more acceptable than being gay in all the countries where this question was asked, besides Algeria.
In Algeria, 26% of respondents said being gay was acceptable, while 27% believed "honor" killings were acceptable; in Morocco, the statistics were 21% and 25%, while in Jordan, the figures were 7% and 21%.
Sudan was the only country where a greater number of respondents found homosexuality more acceptable than "honor" killings (17% vs 14%).
An honor killing is one in which relatives kill a family member, typically a woman, for allegedly bringing dishonor into the family.
"Of course, 'honor' killings are more acceptable than homosexuality. [They] preserve a social order based on 'male honor' and dominant masculinity – which is heterosexual – while homosexuality is a threat to it," Dabbous said.
https://www.moroccoworldnews.com/2019/06/277066/survey-gender-equality-arab-world/
--------
URL: https://www.newageislam.com/islam-women-feminism/saudi-arabia-joins-g20-womens/d/119033
New Age Islam, Islam Online, Islamic Website, African Muslim News, Arab World News, South Asia News, Indian Muslim News, World Muslim News, Women in Islam, Islamic Feminism, Arab Women, Women In Arab, Islamophobia in America, Muslim Women in West, Islam Women and Feminism