New Age Islam News Bureau
11 Apr 2018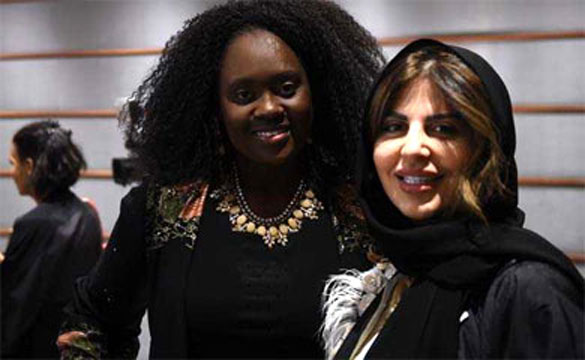 The Saudi edition of the Arab Fashion Week is open only for women (AFP)
------
• Muslim Girl's Hijab Ripped Off, Called 'Terrorist' In US
• Arab Women Leaders Take Spotlight at Top CEO Forum
• Afghanistan to Build First Women's Police Town
• Saudi Arabia to Hold First Cycle Race For Women
• 'Jewellery Salon' Jeddah Fosters Saudi Talents, New Breed of Female Designers
• Turkish Hospital Cures 120-Year-Old Rohingya Woman
• Girls' Headscarf Ban Debate Ties Merkel's Conservatives in Knots
• Three Islamabad Cops Suspended For Harassing Female Colleagues
• Educated Women 'Have a Duty to Work,' Says Jets International Founder
• Women Continue To Face Obstacles but Some Are Starting To Buck the Trend: Arab Women Forum Told
• Princess Reema: Mothers Are Grateful For What Saudi Vision 2030 Will Bring Their Daughters
Compiled by New Age Islam News Bureau
URL: https://www.newageislam.com/islam-women-feminism/saudi-arabia-hosts-its-first/d/114896
--------
Saudi Arabia Hosts Its First, Women-Only Arab Fashion Week
April 11, 2018
RIYADH: Jean Paul Gaultier and Roberto Cavalli are in Saudi Arabia headlining the kingdom's first ever Arab Fashion Week, an event that opened Tuesday to equal parts excitement and controversy.
Two weeks later than initially planned, the Saudi Arabian edition of Arab Fashion Week joins designers from Europe and the Arab world over the course of four days -- including the kingdom's own Arwa Banawi, whose The Suitable Woman line is adored by fashionistas across the region, and Mashael Alrajhi, the eponymous gender-inclusive label of a rarely-seen Saudi sheikha.
Princess Noura Bint Faisal Al-Saud, honorary president of the Arab Fashion Council in Riyadh, joined designers, influencers, and industry insiders from Ukraine to Lebanon for the inaugural season of fashion week at the Ritz-Carlton in Riyadh, the hotel now infamous as the holding place of hundreds of royals and businessmen arrested in a state-sponsored corruption crackdown.
"Fashion has always been an interest of Saudi Arabia," Princess Noura told AFP at the event.
"It has not been something that wasn't on the table or in the picture," she added. "Our fashion council is trying to bring the fashion industry in Saudi Arabia to a whole new level, a whole new industry."
Listed as an international fashion week alongside Paris and Milan, Arab Fashion Week offers exclusively see-now-buy-now collections and pre-collections. Until this week, it had been hosted exclusively by Gulf fashion capital Dubai.
But unlike Dubai, the Riyadh shows are not open to cameras, and attendees remain women-only.
The ultraconservative kingdom has witnessed rapid policy change since the June appointment of Crown Prince Mohammed bin Salman, son of the king and heir to his throne.
As of this summer, women will be allowed to drive in the kingdom. The crown prince has also hinted that the abaya, the long loose robe worn by women from the neck down, may not be compulsory.
"We are so excited today to be announcing a history and new era for the kingdom, and for the entire Arab world, which is Arab Fashion Week," said Jacob Abrian, CEO of the Arab Fashion Council.
A second edition of Saudi Arab Fashion Week is already scheduled for October.
Dubai will continue to host its own parallel Arab Fashion Week, with the sixth edition slotted for May 9-12.
https://www.ndtv.com/world-news/saudi-arabia-hosts-its-first-arab-fashion-week-1835766
--------
Muslim girl's hijab ripped off, called 'terrorist' in US
Apr 10, 2018
A 13-year-old Muslim girl's hijab was ripped off by a man who called her a "terrorist" and threatened her with a knife in an apparent hate crime attack in the US, police said.
The police is investigating the attack as a hate crime that happened last week in the US state of Virginia . They said they think she was targeted "because of her religious attire," the Washington Post reported.
While walking in the Woodbridge area on April 6, the police said, the girl was confronted by a stranger who swore at her and seized her arm.
According to police, she reported that he tried to place her arm behind her back, and then placed a small knife against her arms while calling her a terrorist.
They said the girl told them he removed her headscarf and placed a hand over her mouth when she tried to scream. When a motorist came by and saw what was happening, the attacker fled, police said.
The girl suffered minor injuries, police said. They said on Monday that they are continuing to investigate.
The incident comes amid a spike in hate crimes and assaults targeting hijab-wearing women across the US. PTI
http://www.tribuneindia.com/news/world/muslim-girl-s-hijab-ripped-off-called-terrorist-in-us/571786.html
--------
Arab Women Leaders Take Spotlight at Top CEO Forum
11 April 2018
JEDDAH: The Top CEO forum has returned to King Abdullah Economic City, yet this year the scene is different.
The 2018 edition of the one-day discussion event for business leaders and experts has been preceded by a day dedicated to Arab women in industry.
"Last year, this event was a one-day forum, and I think it's fair to say that it was a largely male-dominated affair," said Frank Kane, master of ceremonies and Arab News senior business columnist, in the opening session of the Arab Women Forum.
Kane said that with the fast pace of change to empower women and encourage their involvement in social and economic development, it was "appropriate, no, essential" to begin the Top CEO forum with a day devoted to women's role in business, the economy and society.
"Women here have the support, encouragement and the backing of a pragmatic leadership," Kane said. "We hear a lot of talk in the rest of the world about the conservative backlash to the changes underway in the Kingdom, but women here have a powerful ally on their side, too."
The first Arab Women Forum, which is co-sponsored by Arab News and the Dubai-based publisher Mediaquest, began on Tuesday.
On the opening day, the women of Arab News took to the stage at the invitation of media personality Muna AbuSulayman, who gave a welcoming address on behalf of Arab News editor-in-chief, Faisal J. Abbas, highlighting the importance of the efforts toward gender equality and women's empowerment.
In recent months, Saudi Arabia has made major changes in line with Saudi Vision 2030 to involve more women in the workforce — and in the economic and social developments that the Kingdom is witnessing.
Vision 2030 reforms aim to increase the percentage of working women from 22 percent to 30 percent.
"In 10 months, things have accelerated … and the gender parity agenda is a fundamental one," said Julien Hawari, co-CEO of Mediaquest, in the opening session.
"With this agenda come the creation of hope and the fostering of jobs and energy. We choose to see hope with this transformation in the region," he said.
http://www.arabnews.com/node/1282566/saudi-arabia
--------
Afghanistan to Build First Women's Police Town
10 April 2018
KABUL: To encourage more women to join the police force in this deeply conservative and male-dominated society, Afghanistan has launched a housing project for female officers.
Women's Police Town was inaugurated on Monday in Kabul and is funded by international donors, with Canada providing $26 million for its first phase.
It includes construction of 10 apartment buildings, each with 30 units and able to house 300 policewomen and their families in Kabul, the US-led coalition and Afghan officials said.
"This is the first such project for female police in the history of Afghanistan," Interior Ministry spokesman Najib Danesh told Arab News on Tuesday.
"It will be expanded to other parts of the country in later stages. The purpose is to encourage women to join the police ranks." The project is due to be completed by 2020.
The proposed complex will be constructed in four phases, and will include an elementary school, child day-care facility, medical clinic, fitness center and community center, officials said. The government will manage and operate the school and day-care facility, they added.
The coalition and foreign donors have said the project is vital for women's participation in the police force, which has to maintain law and order and fight insurgents such as the Taliban and Daesh.
Few Afghan families allow female relatives to join the police or security forces, as it is seen as taboo and very dangerous, with female officers having been killed by suspected insurgents in the past.
Women's Police Town will play a critical role in ongoing government efforts to tackle gender inequality and promote female participation in the security sector, the coalition said.
Canadian Ambassador Francois Rivest said: "Successful recruitment and retention of female police officers is vital for peace and stability in Afghanistan."
He added: "Canada is pleased to support the full participation of women in Afghan society through our sponsorship of the… project."
Afghanistan's first lady, Rula Ghani, said: "The development of a facility such as Women's Police Town is a significant step toward encouraging more women to serve in the Afghan National Police."
She added: "For these brave women to know that their families will be well looked after when they are serving their communities is of comfort to them."
She said: "Women have a unique and positive approach to policing in our communities. With this approach comes increased security and safety for all of us."
http://www.arabnews.com/node/1282231/world
--------
Saudi Arabia to Hold First Cycle Race For Women
April 10, 2018
Manama: Sporting history will be made today in Saudi Arabia when 30 cyclists will compete in the country's first bicycle race for women.
The competition, over a distance of 10 kilometres in the Red Sea city of Jeddah, is part of the "Be Active" initiative and the kingdom's commemoration of World Health Day 2018 held this year on the general theme "Universal health coverage: everyone, everywhere."
The winners will be awarded cups and medals by the General Sports Authority at King Abdullah Sports City, popularly known as Al Jawhara, the multi-use stadium and the second biggest in Saudi Arabia after Riyadh's King Fahd Stadium.
One of the participants has called for allocating special lanes for cyclists to allow women to ride their bicycles on a daily basis, Saudi daily Okaz reported on Tuesday.
"The race is one of the best competitions that are organised for woman and which were not available in the past. Such activities will promote the twin concept of health and sports," Raghd Mohammad, a university student, said.
For Samira Abdullah, the race is a special motivator to make greater efforts to maintain their fitness.
"We are grateful to the General Sports Authority for their generous support."
The bicycle race will be held a few weeks after Makkah, 70 kilometres away, hosted the first women's marathon in the country through a partnership with Al Wehda Sports Club.
In March, around 1,500 women took part in the kingdom's first mini marathon for women in Al Ahsa, eastern Saudi Arabia.
Those who signed their names up were around 2,000, a much higher than expected number that forced organisers to stop accepting participants. Mizna Al Nassar, the 28-year-old engineer who won the 3km race after beating challengers from the US and Taiwan, said she was looking forward to representing Saudi Arabia at the 2020 Olympic Games in Tokyo.
Saudi Arabia has embarked on an ambitious drive to ease social controls, re-introduce entertainment and empower women at all levels, including giving them the rights to attend sporting events and to drive.
The drive is led by Crown Prince Mohammad Bin Salman who wants to repackage the nation as more moderate and more welcoming.
http://gulfnews.com/news/gulf/saudi-arabia/saudi-arabia-to-hold-first-cycle-race-for-women-1.2202991
--------
'Jewellery Salon' Jeddah Fosters Saudi Talents, New Breed of Female Designers
11 April 2018
JEDDAH — The ninth edition of 'Jewellery Salon' was inaugurated at Hilton Hotel where more than 50 international companies are taking part, showcasing the most expensive collection of jewelry in the world.
Prince Faisal Bin Nawaf Bin Abdulaziz inaugurated the 4-day exhibition, in presence of businessmen and businesswomen and mega traders in Saudi Arabia and the Gulf.
The world's most famous designers presented their latest innovations in diamonds, gems, precious watches, and antiques.
During the inauguration ceremony, Prince Faisal Bin Nawaf anticipated that the Saudi market would become one of the most attractive international markets for investors, in light of massive agreements signed by the Kingdom with major international companies recently. He pointed out that the coming years will witness an unprecedented economic movement in all sectors, including gold and jewelry sector, with the beginning of achieving the pillars of Vision 2030.
He expressed his pleasure that more than 50 global companies from 11 countries are participating in the exhibition. "We are proud that the annual exhibition held in Jeddah with the participation of major companies showcasing their latest innovations in diamonds and gems. The Saudi market has become focus of attention of the world, and the Kingdom has strengthened its position as a giant economic force under the important agreements signed by Crown Prince Muhammad Bin Salman, deputy prime minister and minister of defense recently, " he said.
He stressed that the country is proud of its young people and girls as the real capital and the original essence of all development plans, praising their remarkable role in organizing the Jewellery Salon and the honorable image they gave to exhibitors and participants. He also noted the government support to the sector under the leadership of the Custodian of the Two Holy Mosques, King Salman Bin Abdulaziz, and Crown Prince Muhammad Bin Salman, "God Save them," pointing out the importance of giving young people the opportunity and enabling them to carry out their responsibilities to the fullest.
Prince Faisal Bin Nawaf, praised officials of Jewellery Salon, for giving 22 Saudi promising female designers the opportunity to showcase their products during the ninth edition in Jeddah and the seventh edition in Riyadh next week. He stressed that the presence of Saudi girls' creations along with the world's most famous designers will be a big boost; as it is one of the attractive sectors for Saudi women. He called for participating designers to achieve the most benefit from their experience.
He toured the exhibition and listened to the detailed explanation from the chairwoman of organizing committee Haya Al-Sunaidi and team. He praised the distinguished Saudi designs and designers which is shown for the first time during the current edition. He also awarded and honored sponsors of the exhibition.
Haya Al-Sunaidi, confirmed that the participating countries are France, Britain, Italy, Switzerland, USA, India, Turkey, United Arab Emirates and Lebanon, as well as Saudi Arabia. They are competing through a group of international companies to present their latest jewelry products, especially the most beautiful and expensive jewelry collections in addition to rare pieces.
Al-Sunaidi confirmed that The Jewellery Salon is considered the most prestigious exhibition in Saudi Arabia and the Gulf, and hosts the most prestigious international and local jewelry and watch companies, pointing out the successes achieved over the past eight years which have been a catalyst for continued glamour and great attendance this year. She anticipated that the event would achieve the vision 2030 pillars through strengthening partnerships with countries around the world, empowering Saudi women and boosting their presence in the labor market. The event is the official portal for gold and jewelry traders in the world to enter the Saudi market; one of the most attractive international markets.
Al-Sunaidi noted that the current edition would be also the launch of a new generation of talented female Saudi jewelers, giving 10 new designers in Jeddah outstanding spaces to showcase their creations alongside the most famous designers in the world, as well as the opportunity for 13 female designers at Riyadh exhibition in Al Faisaliah Hotel. "This step mirrors the social responsibility of the exhibition officials and is in line with the main strategic objectives of the convention by highlighting the local products, enhancing the spirit of citizenship and encouraging Saudi talents," Al-Sunaidi noted.
http://www.saudigazette.com.sa/article/532478/BUSINESS/Jewellery-Salon-Jeddah-fosters-Saudi-talents-new-breed-of-female-designers
--------
Turkish Hospital Cures 120-Year-Old Rohingya Woman
April 10th, 2018
A 120-year-old Rohingya woman is being treated at a Turkish field hospital in Bangladesh.
Azime Hatun arrived at the hospital in Cox's Bazaar city, near the border with Myanmar, after a tedious six-day journey.
The centenarian was unable to speak due to old age but her daughter Ayshe Hatun agreed to speak on her behalf.
She said she set off on the journey with her mother, two brothers and two sisters.
Her brothers carried their mother on their shoulder, but died after reaching Bangladesh.
Hatun, who is in her late 40s, said now she will have to take care of her mother alone.
She praised the doctors at the hospital, adding that her mother's condition was improving every day.
"We always pray for Turkey," she said.
Husnuye Erdogan, deputy of ruling Justice and Development (AK) Party for Konya province, visited the hospital and met Azime Hatun.
She said that making refugees happy makes Turkish people and leaders proud.
Ayse Dogan, another parliamentarian, said: "Under the leadership of Turkish President and Premier we are here to help you."
The visit was organized by Turkish Disaster and Emergency Management Authority (AFAD).
Since Aug. 25, 2017, more than 750,000 refugees, mostly children and women, have fled Myanmar and crossed into Bangladesh after Myanmar forces launched a crackdown on the minority Muslim community, according to Amnesty International.
At least 9,000 Rohingya were killed in Rakhine state from Aug. 25 to Sept. 24, according to Doctors Without Borders.
In a report published on Dec. 12, 2017, the global humanitarian organization said the deaths of 71.7 percent or 6,700 Rohingya were caused by violence. They include 730 children below the age of 5.
Turkey has been at the forefront of providing aid to Rohingya refugees and President Recep Tayyip Erdogan has raised the issue at the UN.
The Rohingya, described by the UN as the world's most persecuted people, have faced heightened fears of attack since dozens were killed in communal violence in 2012.
https://www.albawaba.com/editorchoice/turkish-hospital-cures-120-year-old-rohingya-woman-1115036
--------
Girls' Headscarf Ban Debate Ties Merkel's Conservatives in Knots
APRIL 10, 2018
BERLIN (Reuters) - A debate over whether to ban Muslim girls under 14 from wearing headscarves in public, prompted by a similar proposal in Austria, has divided Germany's governing conservatives.
Chancellor Angela Merkel, already struggling to paper over cracks in her month-old coalition cabinet, is unlikely to welcome a call for action from members of her own camp that exposes the country's uneasy attempts to integrate its 4 million Muslims.
That process has taken on added complexity following the influx of over one million mostly Middle Eastern and North African migrants in 2015 and 2016, and sharp election gains for the far-right, anti-immigrant Alternative for Germany (AfD) party.
Germany's parliament already passed a law last year preventing civil servants, judges and soldiers from wearing full-face veils at work.
Interior Minister Horst Seehofer, a member of the Bavarian CSU conservative party, and Farm Minister Julia Kloeckner, from Merkel's more moderate Christian Democrats (CDU), said they now backed a headscarf ban for schoolgirls.
Kloeckner argued it was needed to prevent children from growing up with "crude gender stereotypes".
But other conservatives, including integration commissioner Annette Widmann-Mauz, on Tuesday said such a ban would create constitutional problems and challenge parental rights.
Seehofer, whose Bavarian CSU bled support to the AfD in the September national election, aims to woo back those voters before a regional Bavarian ballot in October, in part by taking a more hardline stance on security and immigration.
He drew a firm rebuke from Merkel last month after saying Islam did not belong to Germany.
Germany's centre-left Social Democrats (SPD), junior partners in Merkel's squabbling coalition, generally oppose a ban on headscarves.
Ibrahim Yetim, the party's expert on integration, called it "half-baked" in comments to the German Catholic News Agency on Monday.
Austria, where conservative Chancellor Sebastian Kurz has forged a coalition with the far-right Freedom Party (FPO), announced plans for a headscarf ban in primary schools and kindergartens on April 4 to combat what the government sees as a threat to Austrian mainstream culture.
https://uk.reuters.com/article/uk-nireland-politics/northern-ireland-peacemakers-warn-of-new-dangers-20-years-on-idUKKBN1HH1XW
--------
Three Islamabad Cops Suspended For Harassing Female Colleagues
11 April 2018
ISLAMABAD: Three officials of Islamabad Police have been suspended for harassing female officers in police lines.
Earlier on Monday, female police officers and constables of Islamabad Police sought the help of Chief Justice of Pakistan (CJP) Mian Saqib Nisar to save their lot from sexual abuse at the hands of operators and readers of police high-ups.
The letter also claimed that the female police officers have photos and videos where DSP (Headquarters) and operators and readers are sexually abusing their female colleagues. "We'll WhatsApp the pictures and videos exclusively to the CJP. It is requested that you give us justice and rid our department of these black sheep," the letter said.
The women police officers and constables also demanded that a lady reader should be deputed to avoid such situations.
"Whenever we have an appointment with a DSP or SSP, we get offers from operators and readers that if we go to a certain room, we'll be exonerated without inquiry. The readers and operators have their rooms where these predators have pried upon our colleagues," the letter added.
Following the complaint, the IG ordered an investigation which found the three officials were involved in harassing the female officers. "Further investigations into the matter are underway," the Islamabad IG said.
https://www.pakistantoday.com.pk/2018/04/10/harassment-of-female-cops-three-islamabad-police-officials-suspended/
--------
Educated Women 'Have a Duty to Work,' Says Jets International Founder
11 April 2018
JEDDAH: Educated, capable women have an obligation to society to take their place in the workforce, according to Jean Elsner, CEO and founder of Jets International, which provides workplace training for women.
Ideally, women should be hired on merit, Elsner said. But in countries such as Saudi Arabia, where the government is striving to give women greater opportunities in employment, quotas were needed to help kickstart the process.
"I was against quotas," she said. "I believe a woman should get a position because of her own competence and knowledge, and because she is worthy of the position."
Quotas were needed to make women in the workplace a social norm. Once that was achieved, she said, the hiring of women based on their merit would follow naturally.
In a conservative society, such as Saudi Arabia, men and women work separately in many areas, including education and government bodies. "I believe organizations that separate men and women in the workplace are losing a lot," Elsner said.
"Mixed atmospheres are more healthy and productive," she said. "Each gender needs the other as a correction."
Elsner says educated women should also work because they have a social responsibility.
"An educated women should ask herself what is she doing to (help) society. It is considered stealing not to give knowledge back to the society — it is a duty."
Elsner said that raising a family is a small contribution to the society, and women can do a lot more.
Married women with families are more reliable and productive than women without family responsibilities. "They are super-organized, reliable and efficient," she said.
Elsner has worked extensively coaching and training women in management positions in the West and in Arab countries, particularly Egypt.
Women's qualifications in the Arab world are much more varied than in Europe, she said.
"In Europe, women usually go for teaching, nursing, medicine, and areas that are socially related, while more women in the Arab world go for fields that are occupied mainly by men, such as engineering."
Women around the world face the same problems and difficulties, she said. "It is always challenging to find acceptance in a male-dominant world."
Elsner said her experience working in the Arab region in the past decade had been highly rewarding.
"I worked with women's associations in Egypt, Lebanon, Algeria, and Tunisia. The past 12 years of my life have been the best. The Arab world has changed my way of thinking," she said.
Elsner described Arab women as "high-potential individuals, ready to take the initiative, express themselves and try."
http://www.arabnews.com/node/1282561/saudi-arabia
--------
Women Continue To Face Obstacles but Some Are Starting To Buck the Trend: Arab Women Forum Told
10 April 2018
KING ABDULLAH ECONOMIC CITY, Saudi Arabia: Women's role in society is essential as it helps drive the economy and create diversity around the world - that was the ongoing message throughout the first Arab Women Forum held at King Abdullah Economic City (KAEC) on Tuesday.
Delegates spoke of the struggles women face on a day-to-day basis in society, whether socially, through obstacles preventing career progression or economically.
"The glass ceiling is there, it has to be broken," said CEO of Hawkamah Dr Ashraf Gamal El Din, referring to the hurdles women face.
And Managing director of Women's Forum for Economy and Society, Chiara Corazza said it was not a true representation if people did not acknowledge the significance of diversity women give.
"It would be fake if you don't take diversity as a key role," she said, adding: "It's a global fight, it's not just regional."
Director at the Babson Global Center for Entrepreneurial Leadership Amal Ali Dokhan said younger generations of women and girls needed examples of success stories - women who had succeeded in entrepreneurial leadership.
"The problem," she said, "is the lack of female examples that have experienced entrepreneurial success."
She explained that society needed to hear women tell their success stories so "they actually can lead the way."
But Dokhan said men still dominated education and entertainment industries. "When we talk about entertainment and education, all the examples are men, all the success stories are lead by men, when you actually focus on that, you find that this is again what they are instilling in their heads."
She said the cure to the root of the problem "No matter how you educate women, if you don't educate a society that accepts women as business owners, as entrepreneurs, that will never become a norm, you need to make it a norm, it's not a norm yet."
But it was not all bad news. The forum heard numerous examples of women who had found business opportunities through technology, or where they had exploited aspects of their daily life to create business opportunities.
Executive Director at the Neom Project Dr Maliha Hashmi said: "A woman in a remote area can open an online store and thus she helps the economy.
We see women selling food on Instagram, designers, and just the fact that you have 14 year old girls running their own stores online is fascinating."
Managing Editor at Büro 24/7 Middle East Maddison Glendinning said women were being confronted with more opportunities now than before.
"It means women can start their own businesses from the comfort and the safety of their own home and that can have a viable career option for them that they haven't had before," Glendinning told Arab News.
"It's a really exciting way forward for business and for women." She added.
http://www.arabnews.com/node/1282411/business-economy
--------
Princess Reema: Mothers Are Grateful For What Saudi Vision 2030 Will Bring Their Daughters
11 April 2018
PARIS: Changes in women's status may have come too late for some, but mothers in Saudi Arabia are thrilled that their daughters will benefit, says entrepreneur and philanthropist Princess Reema bint Bandar.
Princess Reema, who is deputy head of planning and development at the General Sport Authority, told Arab News: "Mothers say that even though they did not have the same chances, they are very glad that their children will.
"They may worry about them, but that's a universal worry shared by any parent."
At the same time, she said she was well aware that there was resistance to the reforms from some sections of the older generation.
"We held some forums with students in the US and they told us that they want to work and do things but their parents say no, and I have to admit we dropped the ball on that aspect. So then we had to sit and work out how to persuade and reassure the parent generation."
The princess said young Saudis were now returning to their homeland after studying abroad.
"Parents worry about their children going abroad to study and staying there because life was easier. But nowadays they are coming back home because there are opportunities for them," said the princess, who herself returned to Riyadh after graduating from George Washington University with a bachelor's degree in museum studies.
One of the princess's roles in the General Sport Authority is to work on long-term job creation and develop a career structure in sport.
"If you're an athlete, then obviously your career is short. We are dealing with sport as an industry. We are able to show that sport can and does produce long-term jobs with a career structure and an income trajectory," she said.
Princess Reema, a successful retail entrepreneur whose father was a former Saudi ambassador to the US, was one of the business leaders addressing the Saudi-French Business Forum in Paris on Tuesday. She has launched her own handbag brand and when she was CEO of Alfa International, which operates luxury store Harvey Nichols in Riyadh, she bought more women into the workforce and provided child care services.
At the business forum she spoke passionately about the untapped potential of women in Saudi Arabia.
"This is not a dream. Women's inclusion is not happening because we want to get Americans to say Saudi Arabia is a great place. It is happening because it is our right," she said.
Addressing a room packed with the CEOs of leading French companies; she continued: "What we need to learn from you is how to integrate sports into the economy, as you have done."
Her mission, both abroad and at home, was not necessarily to change people's views of women or of Saudis, she said.
"We are not asking you to change an opinion of us that you already hold, but to consider a fact: We are the future."
The princess evoked the French tradition of the salon, "with scientists, artists and philosophers talking to each other."
She stressed that the changes encompassed in Vision 2030 constituted evolution, not revolution.
"You had to have a revolution here," she said, referring to the 1789 revolt that resulted in the removal of the monarchy in France. "We don't have to have one because we have learned from the past. Freedom of speech, freedom of expression — without these you cannot have a creative society. It's not about being more American or more Chinese or Russian. It's about being the best Saudis we can be."
http://www.arabnews.com/node/1282476/saudi-arabia
--------
URL: https://www.newageislam.com/islam-women-feminism/saudi-arabia-hosts-its-first/d/114896
New Age Islam, Islam Online, Islamic Website, African Muslim News, Arab World News, South Asia News, Indian Muslim News, World Muslim News, Women in Islam, Islamic Feminism, Arab Women, Women In Arab, Islamophobia in America, Muslim Women in West, Islam Women and Feminism