New Age Islam News Bureau
27 Jun 2020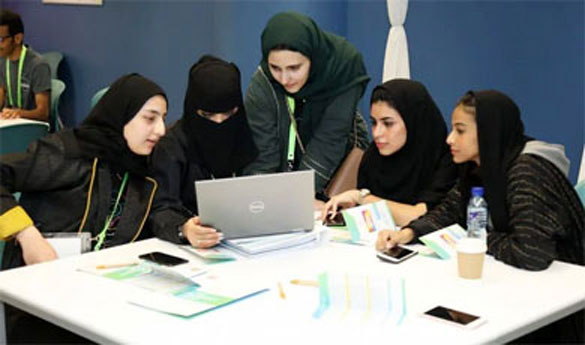 Saudi Arabia stresses women's empowerment in the Arab world. (SPA)
------
• Saudi Female Royal Guard's Picture Evokes Pride, Joy
• Egypt Asks Women To Delay Pregnancy Amid COVID-19
• Muslim Women Constitute A Trillion-Dollar Market, New Makeup Brand Shade M Is Directed Squarely at It
• Meet the Woman Teaching Self-DefenseTo Muslim Women In NYC
• Saudi Arabia Ranked Arab World's Best Country for Women In 2020
• A UAE-Based Start-up Addresses Gaps in Women's Medical Care
• Saudi Arabia Employs Women In All Public Sectors, Helping In Their Empowerment
• Pak Judge Allows Hindu Woman to Live with Husband After She Denied Forced Conversion
• 'Women of The World' Global Festival Goes Online
• From Poisonings To Beheadings, 'Honour Killings' In Iran Gets A Fresh Spotlight With Social Media
• Chechnya's Leader Hinders Justice for Domestic Violence Victim
• UN Women, KP Ombudsperson Launch Toolkit to Eliminate Workplace Harassment
• Provision of Equal Opportunities to Women Essential for Country's Development: Governor
Compiled by New Age Islam News Bureau
URL: https://www.newageislam.com/islam-women-feminism/saudi-arabia-calls-stronger-links/d/122231
--------
Saudi Arabia calls for stronger links between UN Women and GCC
June 27, 2020
JEDDAH: Saudi Arabia has called for greater cooperation between UN Women (the UN Entity for Gender Equality and Women's Empowerment) and Gulf Cooperation Council countries, in a bid to further implement the UN Women 2018-2021 strategic plan.
The Kingdom made the statement at a virtual annual meeting of the UN Women executive board.
"The extraordinary circumstances of 2020 posed a challenge to the progress made in regard to the achievement of the Sustainable Development Goals, as well as the empowerment of women and girls," Saudi Arabia's Permanent Mission to the UN said.
It added: "As the current Women 20 (W20) Presidency, Saudi Arabia's theme of 'Putting Women at the Heart of the G20' adds to the pillars of labor inclusion, financial inclusion and digital inclusion that have been introduced by previous G20 presidencies — a fourth pillar of inclusion in decision making."
As the current Arab Women's Committee Presidency, Saudi Arabia "stresses women's empowerment in the Arab world, with a focus on the 2030 agenda for sustainable development and the follow-up to the recommendations of the ministerial conference on women's empowerment and its impact on social development.
"As a member of the executive board of the UN Women and the Commission on the Status of Women, Saudi Arabia reaffirms the importance of ensuring that UN Women is responsive to the needs and priorities of recipient countries.
"As such, for the work of UN Women to achieve concrete and lasting results, there needs to be a stronger level of collaboration and coordination with these countries, taking into account their national interests, development priorities, and the support they need; and stresses taking into account lessons learned so far from COVID-19, to ensure better preparedness in the event that similar crises occur in the future," the Saudi mission said.
The statement added: "We all perceive the significance of 2020 as it marks milestone anniversaries for the UN and women, be it the UN 75th anniversary, the 10th anniversary of UN Women, the 25th anniversary of the Fourth World Conference on Women and adoption of the Beijing Declaration and Platform for Action (1995), and the 20th anniversary of UN General Assembly resolution 1325, not to mention the 10-year countdown to the Sustainable Development Goals. In short, it is a pivotal year for gender equality and the empowerment of women and girls."
Referring to the coronavirus outbreak, the statement said: "A lesson learned from the coronavirus pandemic is that addressing the health crisis as well as the socioeconomic impacts of this pandemic, particularly on women and girls, and especially as we enter the Decade of Action of the Sustainable Development Goals, requires system-wide approaches and further collaboration between relevant UN agencies, as well as stronger regional and international partnerships."
https://www.arabnews.com/node/1695941/saudi-arabia
--------
Saudi Female Royal Guard's Picture Evokes Pride, Joy
27 June 2020
A picture of a Saudi female Royal Guard standing beside her colleague circulated on Twitter, highlighting the gains Saudi women have recently made from new employment opportunities to more social freedoms.
For years, Saudi women were unable to serve in the military or drive, and strict guardianship laws limited their freedom of movement.
But now, under the leadership of Crown Prince Mohammed bin Salman as part of the Kingdom's ambitious Vision 2030 plan, women have earned more rights and freedoms. In February 2018, Saudi Arabia gave women the opportunity to join the military working in security services for the interior ministry, departments of criminal investigations, security patrol and pilgrimage security. In October 2019, the Kingdom opened the armed forces to women, saying they would be able to serve in the ranks of private first class, corporal or sergeant.
Prince Sattam bin Khaled al-Saud tweeted the photo, saying "One of the duties of the Royal Guard is to provide protection and security for the king and his guests during celebrations and conferences. Accordingly, the role of women in the Royal Guard will be to accompany the guests or women delegations that accompany the guests and deal with them and this is a beautiful and important thing."
It is unclear when the photo was taken.
Another account, Saudi Women Stories, tweeted saying the photo was "an honourable and beautiful image of Saudi women in the Royal Guard.
The Royal Guards mission is to protect the House of al-Saud, and units of the Royal Guard protect the royal family around the clock.
Guard members also perform duties as professional soldiers and have a reputation as some of the most elite and skilled soldiers in the Saudi Army, Gulf News reported.
In 2018, when women first made inroads to serving in the military, around 20 percent of the Saudi female population was unemployed, according to World Bank figures. Part of Vision 2030 is to provide more jobs to Saudi citizens, including women.
As the Kingdom seeks to modernize, women earned the right to drive in June 2019. A few months later in August, the long-standing guardian laws reformed and women no longer required permission from a male guardian to obtain a passport and travel abroad, and also gained the right to register births of their children, obtain family records, and live apart from their husbands.
At the time, Princess Reema Bandar al-Saud, the Saudi Ambassador to the United States tweeted "These new regulations are history in the making."
https://english.alarabiya.net/en/variety/2020/06/27/Photo-of-Saudi-female-Royal-Guard-highlights-gains-women-have-made-in-the-Kingdom.html
--------
Egypt asks women to delay pregnancy amid COVID-19
Jun. 26, 2020
CAIRO - 26 June 2020: Egypt's Ministry of Health has advised women to postpone pregnancy amid the outbreak of the novel coronavirus (COVID-19) pandemic.
In a statement issued on Friday, the ministry stated that the virus could cause blood clotting and, consequently, affects the placenta which feeds the baby. The virus could cause other symptoms to the pregnant woman, the statement added.
The Population's Family Planning Sector at the ministry said that women's immunity becomes lower during the pregnancy period, making them more vulnerable to the infection. The sector added that babies could be affected by the virus.
Egypt recorded, Thursday, 1,569 new coronavirus cases, upping the total number of confirmed cases to 61,130.
In a statement, Spokesman for the Health Ministry Khaled Megahed said 83 patients have died from the virus over the past 24 hours, raising the death toll to 2,533.
https://www.egypttoday.com/Article/1/89003/Egypt-asks-women-to-delay-pregnancy-amid-COVID-19
--------
Muslim Women Constitute A Trillion-Dollar Market, New Makeup Brand Shade M Is Directed Squarely at It
JUNE 26, 2020
Muslim women aren't a niche. They're members of the fastest-growing religious group on earth and constitute more than 12% of the world population. Despite their numbers and spending power estimated at around $1 trillion, NourKhalife and Jolie Nubani, beauty industry veterans of Palestinian and Lebanese Dutch descent, respectively, felt they were given short shrift by entrenched companies. They decided to create what they saw missing in the market: A halal-certified makeup brand speaking to Muslim women as the strong force they are. The brand, Shade M, launched in February with lipstick right before the pandemic disrupted life in the United States. Beauty Independent talked to Nubani about launching at the precarious time, focusing on lipstick first, influencer marketing and moving into mainstream retail.
Tell us about your professional background and what led to your brand.
We met over ten years ago working at L'Oréal. Nour managed Yves Saint Laurent, and has also worked with Chanel and Benefit Cosmetics. I worked with Giorgio Armani Beauty in both the Middle East and U.S. markets. Between the two of us, we have over 18 years of experience. Working in dynamic global luxury beauty brands and markets taught us so much about strategy, passion, leadership, growing a makeup business and also allowed us to identify market gaps. It was so obvious that there was a narrow scope regarding representation and production of products for ethnic women like ourselves. We decided to create Shade M for every shade. [It's a] highly pigmented, clean, halal-certified, PETA-approved vegan and cruelty-free makeup brand. We believe in everyone loving and owning who they are, being the truest form of themselves and screaming, "I am my own shade!" The brand has a mission to drive this message into a global reality.
How do halal principles relate to beauty?
Vegan and clean beauty have been a movement for many years, halal actually goes hand in hand with the growing trend. Halal ties directly with the ethos of vegan and cruelty-free cosmetics, which are increasingly becoming a standard. Regardless of the morals that guide you, halal products are suitable for everyone. From a marketing perspective, we happily highlight and educate everyone around all of our brand promises. Contrary to popular belief, halal isn't limited to the Islamic diet and regulations circling the consumption of food and drink. Halal extends to beauty, too. Simply put, halal makeup doesn't include animal-derived ingredients, alcohol or GMOs that are deemed unclean in Islam. Shade M is proud to be halal-certified by RACS, a halal certification body registered with ESMA [Emirates Authority for Standardisation and Metrology].
What are the intricacies involved with creating a line aimed at a diverse audience?
It's not about a certain product, it's a pigment. Many brands think, "I'll just put enough shades in a range of foundations, and I'll be inclusive," but that's not how it works. You might have 100 shades, but, if the undertones and base pigmentation aren't formulated correctly, the product oxidizes on skin, which can be a major issue because it means the product goes whiter. For a person with darker or more olive skin tones, this just doesn't work. Additionally, pigmentation means coverage. To be inclusive, we've made it a top priority that every product we create has the deepest pigmentation possible. This makes them versatile working for the lightest to darkest shade of skin tone because we genuinely believe everyone should have an equal experience across products.
Who are Shade M's customers, and how do you plan to reach them?
Shade M is for every woman, but especially those who have been underrepresented in mainstream beauty—the ethnic woman—with a special focus on the Muslim woman who represents over 1 billion women in the world, but is rarely seen. We wanted to design products that showcase how awesome and diverse these women are while still being inclusive of women belonging to different minority groups who are often marginalized in the beauty realm.
Shade M has been designed and developed hand in hand with real women, from product development to partnerships with female artists from around the world, it's made with ethnic diversity and representation in mind. For our first product, Muse matte liquid lipstick, we were super excited to collaborate with an amazing Saudi-based digital artist Fida Al Hussan, whose work is centeredaround furthering the conversation of women worldwide. Fida embodies the same ethos as Shade M. She is a strong and confident woman who moves against the tide of society while making strides and positively impacting the world along the way. She truly is a muse!
How did Muse come to be?
Lipstick is an experimental category that people always love to try. We didn't want to make just any lipstick, we were obsessed with making our lipstick better for you. Selecting the shades was such a big deal for us. We made it a mission to cover the best shades of nudes, pinks, reds and purples, but we also pushed the norms and offered a silver lipstick that can be mixed with our other shades or used on its own for the more non-conventional consumer. The range includes 15 shades of matte liquid lipsticks, which we lovingly named Muse after all of the women who inspired us to create Shade M.
Muse is made in Italy, meaning we are free of a lot of not so great ingredients commonly found in makeup like sulfates, SLS and SLES, parabens, formaldehydes, formaldehyde-releasing agents, phthalates, mineral oil, retinylpalmitate, oxybenzone, coal tar, hydroquinone, triclosan and triclocarban. We are happy to say that we have really achieved a better-for-you formula with no compromise on pigmentation and end result for every skin tone.
Shade M is focused on direct-to-consumer distribution now. What's the e-commerce strategy, and are there plans to branch into retail?
For now, we are direct-to-consumer via our own website shademeauty.com. Seeing the landscape that has evolved during COVID makes it even more obvious that e-commerce isn't just a must have, it's the core of our retail strategy. Our ambition is to be the first highly pigmented, clean, halal-certified, PETA approved, vegan and cruelty-free brand to be sold in mainstream retail. We want every woman to see a version of herself in a makeup brand while not having to sacrifice on quality of product or shade availability. There are so many amazing retailers worldwide. Our first markets of focus are the U.S. and U.K. We anticipate partnering with one key retailer per market exclusively.
How do you divide the roles of the founders, and who else is on the team?
Our roles all decisions are made together, and we really enjoy working with each other. There's a lot of respect in our relationship which is key. NourKhalife is the co-founder and CEO responsible for execution and management of all finance, logistics, legal and business development segments of Shade M. I, Jolie Nubani, am the co-founder and CMO responsible for the operational and development marketing, product development, PR and customer service. We have a junior marketing and PR employee who has been critical in helping us manage our influencer partnerships, PR outreach and a number of other admin items that genuinely are helping us grow. We're a small team of only three. We outsource all technical roles, legal, financial, etc. We really focus on maintaining a lean outsourced employee model.
How has the pandemic affected the brand's trajectory?
We launched in February 2020. Our first month was amazing. Then, the onset of COVID really started to impact markets globally. Unfortunately, with lockdowns in place everywhere, the impact to our brand occurred since we are selling lipsticks, but we believe that, as we start to go back out, socialize and enter into a new phase, this temporary impact will hopefully lift.
Was there any fear or hesitation in creating Shade M?
No, we really saw the need for Shade M. We weren't afraid of starting it, but that doesn't mean it's been an easy road. There have been many moments where we questioned our process, but there have been even more wins that keep encouraging us and reminding us that Shade M resonates and speaks to the community.
How does Shade M work with influencers?
The core principle of Shade M is to build a brand for and with our consumer. From day one we've been cultivating our brand story, product assortment and naming with influencers and their audience. We really find the ones who believe in the brand as in it genuinely speaks to them versus those that are simply paid. Those are always our most rewarding relationships. We have been lucky to work with some amazing women around the world.
What advice would you give to other entrepreneurs in the indie beauty space?
Being an entrepreneur is like riding a roller coaster. You don't know which twist or turn is coming up. You have a vision in mind, and you have to be prepared to know that things will not go the way you want. You need to be agile, open-minded, curious and on a continuous mission to learn and to listen. Nothing happens without challenges. Together we've done an excellent job working as a team, with full transparency, honesty and trust, and that has allowed us to make each struggle an optimistic learning experience. We advise any brands to really work together and not sweat the small stuff, just go for it!
https://www.beautyindependent.com/muslim-women-trillion-dollar-market-new-makeup-brand-shade-m/
--------
Meet the woman teaching self-defense to Muslim women in NYC
Katie Mather
June 27, 2020
Malikah is a global grassroots organization and network that aims to train women in power. The movement offers classes for things like self-defense, financial literacy and healing.
Founder RanaAbdelhamid had grown up listening to horror stories from her older female relatives but experienced her first hate crime firsthand when she was only 15 years old.
When Abdelhamid founded Malikah, she drew from her experience of growing up with an immigrant family that understood the power and importance of community.
"I really wanted to understand what happened to me and be able to talk about what happened to me to people who would understand," Abdelhamid told In The Know about the beginning of Malikah.
Malikah started out as a self-defense class Abdelhamid taught at her local mosque. Soon, thousands of women across the globe were interested in the message Abdelhamid was spreading through Malikah.
"'Malikah' means queen, it means power, it means beauty," Abdelhamid explained. "And our vision has to do with transforming the way women see their own power."
Abdelhamid's message expands to every woman in New York City. Her ideal goal is to have every young woman in high school take a class and recognize her own power.
"I feel so lucky and privileged when they do a technique and they light up and they're like, 'Oh my God, it worked!'" Abdelhamid said about her students. "The Aha! moment when women realize the power of their body and realize that they actually can defend themselves — it's really powerful."
Abdelhamid knows that with these women recognizing their power, change is inevitable.
"What would the world look like if all women were safe? If all women were powerful?" she asked. "I get goosebumps just thinking about it."
If you enjoyed reading this article, you might also want to check out the 21-year-old activist leading the fight against period poverty.
https://www.yahoo.com/lifestyle/meet-the-woman-teaching-selfdefense-to-muslim-women-in-nyc-200813176.html
--------
Saudi Arabia Ranked Arab World's Best Country for Women In 2020
June 27, 2020 08:35
Samir Salama
Abu Dhabi: Saudi Arabia has been ranked Arab world's best country for women, and 89th globally, according to a new report recently published by the CEOWORLD magazine.
Oman was ranked second in the Arab world and 91st globally, while Jordan came third regionally and 96th globally.
The UAE was ranked 4th in the Arab world and 100th globally. Qatar, Kuwait, Libya, Egypt and Bahrain followed in the 5th, 6th, 7th, 8th and 9th in the Arab world and 107th, 111th, 117th, 124th, and 128th globally, respectively.
Sweden was ranked the best country in the world for women, according to a new report recently published by the CEOWORLD magazine.
Denmark and the Netherlands follow up in second and third place, respectively. Norway ranks 4th. Eight out of the top ten countries for women are in Europe, including Finland (No. 6), Switzerland (No. 7), France (No. 9), and Germany (No. 10); the list also included Canada (No. 5) and New Zealand (No. 8). The 2020 rankings placed Luxembourg in 11th ahead of Austria 12th; while Italy ranked 13th and Spain 14th. Overall, among the top 20 best countries in the world, for women to live, the 15th, 16th, and 17th positions are held by Japan, Australia, and the United Kingdom.
There is a universal pattern of discrimination and crime against women, but volume and intensity differ from country to country. Regional, racial, and socio-economic factors play a crucial role in determining the objectification of the feminine body and gender equality. Frankly, there is no country in the world that is 100% safe for women with the freedom to live equally. But, some countries are better than others when it comes to equal rights, social inclusion, and a sense of security. Based on a survey of nearly 256,700 women around the world, CEOWORLD magazine has released its annual ranking of the Best Countries for Women.
To produce the Best Countries for Women list, 156 countries were given scores across 9 attributes: gender equality, percentage of legislative seats held by women, sense of security (females 15 years and older who report feeling safe while walking alone at night), income equality, care about human rights, women empowerment, average years of education among women, women age 25 and older who are engaged in paid work, and women's inclusion in society.
Scandinavian countries dominated the list. The latest data show that some of the worst countries for women have achieved gains, even as some of the best are lagging in crucial areas.
There is no doubt women are participating more and have relatively more liberty to rise and shine in the modern era, but the rate of progress is very slow, especially in third world countries. In simple terms, half of the world population is living with a sense of insecurity, and we cannot ever make this world a better place with the half population living in fear, the report said. If you compare the level of women's empowerment around the world, measured in terms of security, justice, and inclusion, then you will find European countries, especially Scandinavian countries doing great. In contrast, some developed countries are still far behind in the race to create a holistic ecosystem for women to flourish with freedom, the report said.
https://gulfnews.com/world/gulf/saudi/saudi-arabia-ranked-arab-worlds-best-country-for-women-in-2020-1.1593232630206
--------
A UAE-Based Start-up Addresses Gaps in Women's Medical Care
June 26, 2020
DUBAI: Investment in the Middle Eastern health care sector is booming. Over $144 billion will be plowed into medical facilities across the Middle East and North Africa by the end of 2020, with Gulf Cooperation Council nations contributing more than half of the total expenditure, according to Al-Masah Capital.
But while much attention is being paid to the region's general rise in non-communicable diseases, more focus must be given to female-specific health issues, says Sophie Smith, founder of UAE-based startupNabta Health.
"Women's health has been under-researched and underfunded since time memorial," she said. "So much global testing is still done only on men, which means women still get adverse reactions to medicines, for example."
Nabta, which she dubs a "hybrid health care" company, aims to address gaps in local women's health care, and to make affordable and accessible health care available to the next generation of women.
According to Smith, a new model of health care is required, "one that improves clinical outcomes by removing some of the inherent inefficiencies in the health care ecosystem."
Nabta says it uses a combination of digital solutions and cutting-edge research to slash time and expenses in treating regional female health care issues.
The social enterprise also supports women by providing hundreds of health-related articles on its online portal www.nabtahealth.com and social media support groups in Arabic and English.
Nabta's business model is based around care pathway models. Its first pathway concerns fertility and enables the diagnoses of polycystic ovary syndrome (PCOS), a condition that Smith says is responsible for around 70 percent of local infertility.
The Nabta solution for PCOS incorporates a pay-as-you-go virtual consultation and a 48-hour couriered blood test.
"We can diagnose in three months rather than years, and for significantly less than it would cost in a clinic. Our solution affords women more privacy and autonomy," Smith said.
In the coming years, Nabta hopes to deliver care pathways for ailments such as endometriosis, gestational diabetes, cardiovascular diseases and reproductive cancers, as well as PCOS aftercare.
Concerned by what she views as a "provider-led and provider-centric" health system in the UAE, Smith stresses that Nabta is an independent company, focused on bettering women's health care.
"The local health care system is very commercially driven. A lot of the laboratories and health care providers are given kickbacks. Patients often get given tests they don't need because of commissions," she said.
"We don't take kickbacks. We'd happily see that aspect of the health care system eliminated forever."
Nabta, which is headquartered in Sharjah Innovation Park, has partnered with the University of Sharjah to help expedite its research and development ambitions.
"Our plan this year is to sign some joint ventures so we can more effectively innovate on a pathway-by-pathway basis and really become more disruptive in women's health care," Smith said.
The social enterprise is also focused on closing its seeding round, before launching its Series A round in June.
Smith, who initially set up Nabta with $110,000 of combined co-founder funding, says she wants to build a "trusted global leader in women's health."
She added: "We want to acquire companies that can help us add to our services. The more money we make, the more people we can help."
Currently, Nabta employs 21 people across the region, including five developers based in Egypt.
"In this region, there's a huge amount of growth potential for female-focused hybrid health care solutions," Smith said.
"We eventually will export globally, but for now we're very much focused on the Middle East," she added.
"Nabta, which means blossoming plant in Arabic, is here to support women's health care as they blossom throughout their lifetime."
https://www.arabnews.com/node/1695841/middle-east
--------
Saudi Arabia Employs Women In All Public Sectors, Helping In Their Empowerment
June 27, 2020
Samir Salama
Abu Dhabi: Saudi women are not new to working in the public security areas. Rather, they began their activities in the various security military departments over 20 years ago, under the auspices of the Ministry of Interior.
However, women's work in various military sectors witnessed a remarkable development with the launch of the vision of the kingdom, which was keen on empowering women and raising their participation in the workforce to 30% by 2030.
Ministry of Defense
The most important step in this regard is the Ministry of Defense's announcement to open the doors of acceptance and recruitment for women who wish to enter the military corps for jobs at the rank of "first soldier, corporal, sergeant agent, sergeant."
Saudi women have worked for years in the Ministry of Defense in non-combat sectors, such as medical, cultural and social specialties, but the new jobs offered are directly related to the military sector, and the women who pass the entrance exams will be given military ranks.
General Security
The importance of Saudi women's working in the military sectors led to their involvement in recent years with military ranks in the public security services, including drug control, prison departments, criminal investigation departments, customs, security guards in many markets and government and private hospitals, to work in the service of women, reducing crimes committed by women, in addition to the operating rooms.
Women are also employed at checkpoints, when women undergo self-inspection, checking the national identity and verifying the image.
Traffic Department
The women became involved in the Traffic Department, after they were allowed to drive cars, as their presence in the sector became a necessity, especially with regard to arresting women involved in accidents or violations.
After successful applicants pass admission, they will undergo advanced professional foundation courses in order for women to be able to perform their work to the fullest.
Consolidated Operations Center
A number of Saudi women have joined the women's section of the National Center for Unified Operations since its inception in 2017, starting with 25 employees and in less than three years the number of female civil servants reached 137 employees, holding educational qualifications as masters in multiple languages.
Military workers also joined the King Fahd Security College during the past days, including more than 230 military personnel, bringing the number of the female component to the new center 911 to about 400 employees, and this new center serves everyone and includes all security sectors and some service sectors, to provide better service in the areas of emergency and other humanitarian services, by receiving calls and tip-offs and relaying them to the competent authority.
Civil Defense
The civil defense departments encouraged Saudi women to join and to develop a culture of prevention and disaster response. Women overcame obstacles encountered during their work in the civil defense by gaining a lot of experience.
The female component of the civil defense is subjected to training through basic individual course, and then they are enrolled in specialised military training, and their work is currently limited to inspection, safety, and inspection of women's sites and gatherings, whether in commercial or other institutions.
Police
Saudi women play an active role in the police, so female civil servants take up all reports received at the police station. As for newly-graduated soldiers, they work to monitor girls' runaway incidents.
The female military component is well prepared through various specialised training courses, to prepare them well in the future.
Passports
The General Directorate of Passports has established several standards and conditions for female applicants to fill military positions, and has cooperated with the relevant ministries in empowering female civil servants in the passport sector.
It finally received female applicants at the rank of soldier to work in the General Directorate of Passports, and began acceptance and registration according to certain criteria.
The Directorate established a specialised center for post-admission, and last year accepted more than 667 female employees at the rank of soldier to work in the passport outlets.
Women are enrolled in training courses on passport systems, ports and passenger handling systems, whether at arrival or departure lounges.
Women's Training Institute
The first women's training institute for public security was opened last year.
The number of female graduates reached 178 female soldiers.
The institute trained the first female class in the Kingdom for basic training for a period of four months, which included unified curricula prepared by the Ministry of Interior to teach it to all sectors and categories of the Ministry of the Interior, in addition to training in physical fitness, control, and infantry.
Saudi women have proven that they are able not only in the field of education and other medical and administrative fields, but also in carrying out security work efficiently and professionally.
https://gulfnews.com/world/gulf/saudi/saudi-arabia-employs-women-in-all-public-sectors-helping-in-their-empowerment-1.1593236245176
--------
Pak Judge Allows Hindu Woman to Live with Husband After She Denied Forced Conversion
26 JUNE 2020
Karachi, Jun 26 (PTI) A judicial magistrate in Pakistan's Baluchistan province has allowed a Hindu woman to live with her husband after her parents accused him of kidnapping their daughter and forcibly converting her to Islam.
Reshma, who is from GarhiSabhayo in the southern Sindh province, went missing after leaving her home on June 17.
Her parents suspected DilMuradChandio of having kidnapped and forcibly converting Reshma to Islam in order to marry her.
Reshma, who belongs to the Bagri community, appeared in the court in DeraAllahyar this week with her husband and declared that she was over 20 years and married Chandio of her own free will.
She said she had taken the Muslim name Bashiran after converting to Islam.
The judicial magistrate allowed her to go to her husband.
Her parents had lodged a complaint at the Saddar police station in Jacobabad.
The Hindu community leaders have protested in the past over the increasing number of young Hindu girls being converted to Islam and married to Muslim men in interior Sindh.
They say that in majority of the cases the girls are kidnapped and then forcibly converted.
According to a report in the Dawn newspaper, the Sindh government has attempted twice to outlaw forced conversions and marriages, including laying guidelines for the court process in the Protection of Minorities Bill, and placing an age limit of 18 years upon conversions and enabling better due process.
In 2016, the bill was unanimously passed by the Sindh Assembly, but religious parties objected to an age limit for conversions, and threatened to besiege the assembly if the it received approval of the governor, who then refused to sign the bill into law.
In 2019, a revised version was introduced, but religious parties protested once again.
A sit-in was organised by PirMian Abdul Khaliq (MianMithu), a political and religious leader and allegedly a central figure in many cases of forced conversions of underage Hindu girls in Sindh.
He and his group claim the girls are not forced, but fall in love and convert willingly.
In March 2019, nearly 2,000 Hindus staged a sit-in demanding justice for two sisters, Reena and Raveena, who they said married Muslim men after being forcibly converted to Islam. PTI CORR MRJ MRJ
https://www.outlookindia.com/newsscroll/3-feared-dead-in-glasgow-stabbing-suspect-killed/1878522?scroll
--------
'Women of the World' global festival goes online
JUNE 27, 2020
The British Council in Pakistan in continuing its partnership with the WOW Foundation, is participating in WOW Global 24 scheduled to take place on June 27-28.
"The British Council believes that empowering women and girls, and achieving gender equality is crucial to creating inclusive, open and prosperous societies," a statement issued by the organization read. "The UK is committed to addressing the gendered impacts of Covid-19, providing access to information and resources to combat its effects, and reducing violence, abuse and harassment against children, women and marginalised groups," it added.
Founded by Jude Kelly, WOW – Women of the World celebrates the achievements of women and girls and looks at some of the obstacles they face across the world. Working with and through WOW – Women of the World Festival, the British Council is supporting platforms to encourage connections, understanding and trust to build an equitable world.
In the last 10 years, WOW – Women of the World Festival has been held in 53 countries globally.
Since 2016, the British Council in Pakistan has been hosting WOW festival. The third festival in 2019 attracted over 16000 people from all walks of life. WOW Global 24 is an extension of the discussion that took place there and more.
YaminaPeerzada, Harsakhiyan, Dr Fozia Tahir, Nighat Dad and Anoushey Ashraf are taking part from Pakistan in the first ever WOW 24-Hour online global festival.
"In times of Covid-19, the WOW Foundation with its WOW Festival's Global 24 plans to keep the conversation going through the first ever free 24-hour online festival," the statement read. "These are difficult times for all people especially the vulnerable groups. Women make up a significant part of vulnerable groups and with the pandemic wreaking its havoc and the economic slowdown resulting from it, the challenges for women have increased manifold. Women entrepreneurs are finding it very difficult to sustain themselves and working women especially those who are single parents are finding it harder to juggle work and caring responsibilities," it went on to say. "With marginalised communities and low-income households, an economic slowdown might mean fewer girls' being schooled and being at risk of dropping out of school which may result in their early marriage to 'ease' the supposed economic burden," it added.
https://dailytimes.com.pk/632581/women-of-the-world-global-festival-goes-online/
--------
From Poisonings To Beheadings, 'Honour Killings' In Iran Gets A Fresh Spotlight With Social Media
June 27, 2020
Last week in the Kurdish-Iranian city of Kermanshah, an 18-year-old pregnant woman was forced to consume aluminum phosphide by her father and brothers in what human rights activists have deemed a brutal "honor" killing.
SomayehFathi was allegedly poisoned for "having a relationship with another man and dishonoring her family," the U.K.-based Iran International reported.
To date, according to local reports, nobody has been held accountable for the poisoning of taking the life of the young woman and her unborn child.
The chilling incident highlights the prevalence of apparent honor killings that Iran has seen in June alone. There is no clear indication if the cases in June suggest a spike in such killings, however, experts say a spotlight has shined on them more brightly thanks to social media.
"Over the past few weeks, there have been at least six publicly documented cases of so-called 'honorary killings' in Iran," NargessTavassolian, a journalist at Iran International TV, told Fox News. "With the traction of social media platforms, more news of these crimes have come to light, but do keep in mind that many times these crimes are not reported, and they do not find their way into the media. ParvanehSalahshouri, a former MP, says there have been at least 10 cases of honorary killings in Iran recently."
On the evening of June 16 in the city of Abadan, a man turned himself in to authorities some five days after fatally stabbing his sister in the neck and chest over rumors she was having "an illicit affair and betraying her husband."
In the same city just days earlier, 19-year-old FatemehBarhi was beheaded by her husband and cousin – her body dumped by the riverside – only two days after running away with a man who helped her escape a forced marriage a year earlier. The husband also handed himself over to police, all while wielding a bloody knife.
Moreover, on June 17, ReyhanehAmeri, 22, was slain by her father in the city of Kerman – belted over the head with an iron pole and left to bleed to death.
And then there is the case of 13-year-old RominaAshrafi, who was beheaded by her father with a sickle while she slept in her family home for merely wanting to "elope with an older lover."
Weeks before allegedly decapitating his young daughter, the 37-year-old father is reported to have sought legal counsel about what kind of punishment he would be facing and was assured that as the girl's guardian he would not be handed a death penalty, but would most likely be sentenced to three to 10 years behind bars.
With such little at stake, the father went ahead with the grim deed, subsequently setting off an angry reaction from women and children's rights activists and raising red flags over the fragility of the legal systems to protect them.
Adding to the failures was the notion that Ashrafi had run away days earlier, sparking an intense search, and when spotted told authorities that she feared to return home due to her violent father, who had threatened to kill her numerous times before.
According to Amnesty International, so-called "honor violence" – typically carried out by male relatives in a twisted bid to reclaim family "honor" – happens when a woman or girl is accused or suspected of "engaging in behavior that could taint her family's status," and generally involves murmurs of infidelity or contact with a male not sanctioned by males in the family.
"Women's bodies, particularly, are considered the repositories of family honor, and under the control and responsibility of her family, especially her male relatives," Amnesty notes. "And large sections of society share traditional conceptions of family honor and approve of 'honor' killings to preserve that honor."
Nonetheless, experts say that for every illuminated case, there are still many more than are swept beneath the rug.
"We fear that there are other unreported cases every year. Women and girls in Iran face domestic violence on a widespread basis, and the Iranian authorities have consistently failed in their obligations to protect the lives and safety of women and girls," said RahaBahreini, the Iran Researcher at Amnesty International. "Iranian authorities have yet to adopt specific legislation criminalizing gender-based violence against women and girls, including domestic violence, marital rape, and early and forced marriage, all of which remain widespread."
In 2019, the judiciary heavily watered down a bill aimed at protecting women and girls against violence during its review and subsequently sent it to the government's bills committee for review in September 2019, where it remains.
"This bill has been stalled for over a decade. Outrageously, the authorities' responsibility for these killings goes beyond their failure to adopt proper laws, policies, and practices to adequately protect women and girls from violence," Behreini continued. "In fact, the Iranian authorities endorse the commission of violence against women and girls through various abusive and discriminatory laws, and grant impunity to perpetrators."
In the midst of recent public outcry, Iran's President Hassan Rouhani asked Parliament to move faster on legislation – which has been languishing for eight years – to criminalize "emotional, sexual and physical abuse and impose jail time for violators," but remains unclear what impact more legislation will have without a more in-depth probe of social norms within the country.
While there is no official data pertaining to honor killings in Iran, internal news agency ISNA estimates that an average of 350 to 450 honor killings occur in the Islamic Republic every year. The agency's study found that almost 20 percent of all homicides in Iran – and at least half of murders committed by a family member – are honor killings.
Under the Sharia law "an eye for an eye" provision, murder is punishable by death; however, the penal code offers exemptions for the killing of a child by the legal guardian – generally the father or paternal grandfather.
"Men who assault or even kill their wives are excluded from the punishments ordinarily applied to such crimes if they prove that they did so while their wife was involved in the act of adultery," Behreini lamented. "Fathers or paternal grandfathers who kill their children or grandchildren are not subject to proportional, which may exacerbate the risk of 'honor crimes' against girls and women."
Behreini continued: "The Iranian authorities also criminalize the work of women's rights defenders, subjecting them to harassment, arbitrary arrest and detention, torture and other ill-treatment, and unfair trials resulting in lengthy prison sentences. They also heavily crackdown on the civil society and prevent civil society activists from establishing crisis centers and emergency shelters which would provide life-saving support to women and girls."
Behreini emphasized that it is the role of the international community, including the EU and EU member states that are in human rights and political dialogues with Iran, to call on the Iranian authorities to end the impunity for violence against women and girls, and to criminalize domestic violence, including child marriage and marital rape.
While Iran is considered to be one of the world's leaders in honor killings, the problem is one that spans almost every pocket of the planet – including the United States and Europe.
The United Nations estimates that around 5,000 women and girls are murdered each year by members of their families. In many countries, Amnesty International highlights, "the punishment for 'honor' crimes are inadequate or non-existent—laws either do not recognize 'honor' crime or have insufficient sentencing for such crime."
And all too often when laws are on the books, activists say, they routinely go unenforced.
https://www.foxnews.com/world/iran-honor-killings-social-media
--------
Chechnya's Leader Hinders Justice for Domestic Violence Victim
Tanya Lokshina
June 27, 2020
Two weeks ago, MadinaUmaeva, 23, died in Russia's Chechen Republic under suspicious circumstances. She had previously complained to family members about her husband repeatedly beating her. On the day she died, neighbors heard screams from her house and said Madina's mother-in-law chased away a neighbor who saw Madina lying on the ground in the yard, claiming it was "nothing but theatrics."
Madina's in-laws buried her in the middle of the night and insisted she suffered a lethal fall down the stairs during an epileptic seizure, though her mother says she didn't have epilepsy. Appalled by the overnight burial and the neighbors' reports of a family row, she and other family members spoke to the media and demanded accountability. Madina's cousin said the young woman described her husband as becoming "unruly, crazed like an animal" during beatings, and although she attempted to leave him, "She came back every time because of [their three] children." Chechen traditional laws, often upheld by local authorities even when contravening Russia's laws and international human rights standards, stipulate that children belong with the father and his family. This often dissuades women from fleeing abusive marriages.
Public outcry following Madina's death pushed the local prosecutor's office to open an inquest. On June 20, authorities exhumed her body. It seemed that justice was on the way, until Chechnya's governor, RamzanKadyrov, intervened.
At a June 23 meeting broadcast on Chechnya's official television channel, Kadyrov accused Madina's mother of spreading gossip about her daughter's death. Although the exhumation findings have not been made public, he said it showed no evidence of a violent death. He expressed his indignation that an exhumation was even done, insisting it ran contrary to Islam and the Chechen authorities' efforts to ensure that "When Chechens die, there is no autopsy." Dismissing beatings as something that "can happen" in a marriage, he demanded Madina's mother prove her daughter was in fact killed and present witnesses. Appearing distressed and frightened, Madina's mother said on camera, "I apologize for having listened to rumors. I apologize to [you]."
Public humiliation of people who speak out isn't new in Chechnya, but these circumstances were especially egregious. And they will block badly needed justice for a victim of domestic violence and reinforce a dangerous message that those seeking redress for abuse should stay silent. Russian authorities have an obligation to ensure women are safe from violence, including in their homes.
https://www.hrw.org/news/2020/06/26/chechnyas-leader-hinders-justice-domestic-violence-victim
--------
UN Women, KP Ombudsperson Launch Toolkit to Eliminate Workplace Harassment
June 27, 2020
The Khyber Pakhtunkhwa Ombudsperson for Protection against Harassment of Women at Workplace and UN Women have released a toolkit on "Understanding Sexual Harassment, Legal Provisions, Roles of Duty Bearers and Right Holders" in order to train inquiry committee members and stakeholders to dispense justice to victims.
According to a press statement by UN Women, the toolkit will train those tasked with investigating workplace harassment cases "on the law and redressal mechanisms for dispensation of justice to victims". It has been developed with the "specialised" help of UN Women.
Quoting UN Women's representative in Pakistan Aisha Mukhtar, the press statement said: "Sexual harassment at workplace is a pervasive issue that hampers women's economic empowerment and their access to employment opportunities. It affects not only victims and their families but also the whole economy in form of decline in productivity and job losses.
"It is encouraging to see more women speaking up about their experiences of sexual harassment and there is a need to enhance the capacities of institutions to effectively respond to complaints."
The press statement highlighted that incidents of workplace harassment do not just affect women and their families — they also have an impact on communities. The aim of both KP ombudsperson and UN Women is to work towards effective implementation of legislation by "strengthening existing mechanisms, raising awareness, producing knowledge products and enhancing the capacity of Ombudsperson Office" so that incidents of workplace harassment can be eliminated.
"Our emphasis is on the execution and smooth implementation of the Workplace Harassment Law to make sure that the environment is safe for women to reach their full potential and contribute to the economy," said KP Ombudsperson RukhshandaNaz during the virtual launch of the toolkit.
The existing law against workplace harassment in Pakistan provides protection against:
improper conduct by an employer, that is directed at, and offensive to employee or makes the employee feels to be working in a hostile environment
any objectionable act, comment or display that demeans, belittles or causes personal humiliation or embarrassment and any act of intimidation or threat
It also binds organisations to constitute a three-member inquiry committee to probe any allegations of harassment — that includes any unwelcome sexual advance, request for sexual favours or other verbal or written communication or physical conduct of a sexual nature or sexually demeaning attitudes, causing interference with work performance or creating an intimidating, hostile or offensive work — within 30 days of the complaint. At least one member of the committee should be a woman.
In case a member of staff is found guilty of harassment, they can be penalised with
censure
withholding, for a specific period, promotion or increment
stoppage, for a specific period, at an efficiency bar in the time-scale, otherwise than for unfitness to cross such bar
recovery of the compensation payable to the complainant from pay or any other source of the accused
Major penalties can include demotion, compulsory retirement, removal or dismissal from service and moentary fine.
https://www.dawn.com/news/1565510/un-women-kp-ombudsperson-launch-toolkit-to-eliminate-workplace-harassment
--------
Provision of Equal Opportunities to Women Essential for Country's Development: Governor
26th June 2020
QUETTA, (UrduPoint / Pakistan Point News - 26th Jun, 2020 ) :Governor BalochistanAmanullah Khan Yasinzai on Friday said the economic system of the country could be strengthened and stabilized only by providing equal opportunities and facilities to women in economic and social fields.
He expressed these views while talking to a delegation of women led by Head of Women Chamber of Commerce and Industry Quetta Sonia Baloch called on him at Governor House Quetta.
He said as the role of economically independent and stable women was imperative for development despite it was also very important for the modern education and training of our children.
Governor Yasinzai said that the present government believed in the participation of women in all activities of life to improve the economic system and increase national productivity.
On the occasion, Governor Balochistan said that there was no shortage of talent among the women of Balochistan but lack of opportunities and facilities were major obstacles in their way.
He urged the delegation to be involved in industry and trade and focus on increasing the number of women as well as their potential so that poor and middle-class women can find new ways to enhance their income by learning modern skills.
During the meeting, Sonia Baloch apprised the Governor about the problems and difficulties of businesswomen in the province.
Governor Yasinzai listened to their problems and difficulties carefully and assured all possible cooperation for their lasting solution.
https://www.urdupoint.com/en/pakistan/provision-of-equal-opportunities-to-women-ess-958436.html
--------
URL: https://www.newageislam.com/islam-women-feminism/saudi-arabia-calls-stronger-links/d/122231
New Age Islam, Islam Online, Islamic Website, African Muslim News, Arab World News, South Asia News, Indian Muslim News, World Muslim News, Women in Islam, Islamic Feminism, Arab Women, Women In Arab, Islamophobia in America, Muslim Women in West, Islam Women and Feminism