New Age Islam News Bureau
20 Jun 2018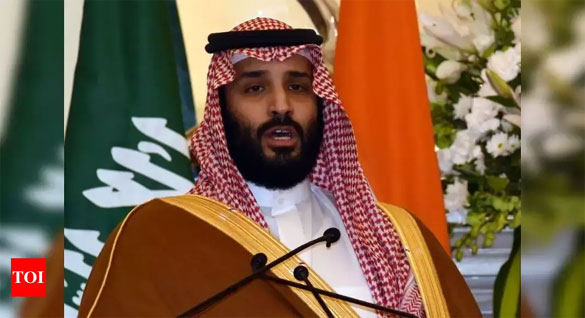 Saudi Crown Prince Mohammed bin Salman greeting unidentified women before a meeting in the Saudi Red Sea resort of Jeddah (AFP)
-----
• Saudi Arabia Arrests Two More Women Activists: HEW
• 1-Year UAE Visa For Widows, Divorced Women And Their Kids
• Pakistan: First Woman To Hold Punjab AGP Office Removed From Post
• Kimberley Miners, 29, Claims She Was Groomed and Indoctrinated Online By Isis
• Pakistani Woman Reaches Home after Serving 12 Years in Indian Jail
• Muslim Girls from Urdu-Medium Schools Score Over 99% in Class 10 Want To Become Doctors
Compiled by New Age Islam News Bureau
URL: https://www.newageislam.com/islam-women-feminism/saudi-arabia-arrests-two-more/d/115592
Saudi Arabia Arrests Two More Women Activists: HRW
AFP June 20, 2018
Saudi Arabia has arrested two more women's rights activists, in an "unrelenting crackdown" just days before the kingdom ends a decades-long ban on female motorists, Human Rights Watch (HRW) said on Wednesday.
The New York-based watchdog said activists Nouf Abdelaziz and Mayaa al-Zahrani were arrested earlier this month following the detention of at least 14 other women's rights campaigners and supporters.
"Saudi authorities have arrested two more women's rights activists... in what appears to be an unrelenting crackdown on the women's rights movement," HRW said.
"Saudi activists have reported that the authorities have placed travel bans on numerous others since May 15."
Saudi officials did not immediately respond to requests for comment.
The government said earlier this month that it detained 17 people for "undermining" the kingdom's security, without disclosing their names.
Rights groups have identified many of the detainees as campaigners for women's right to drive and an end to the conservative Islamic kingdom's male guardianship system.
Activist and writer Abdelaziz was arrested after she publicly expressed solidarity with the detained activists, and her friend Zahrani was apprehended days later, HRW said, adding that both women are being held incommunicado.
Zahrani's arrest came after she posted a letter Abdelaziz asked her to make public in case of her arrest, the watchdog said.
"The Saudi government appears determined to leave its citizens without any space to show even rhetorical support for activists jailed in this unforgiving crackdown on dissent," said HRW's Middle East director Sarah Leah Whitson.
"Nouf Abdelaziz and Mayaa al-Zahrani's only 'crime' seems to be expressing solidarity with their fellow imprisoned activists."
Authorities have said that eight of the 17 detainees had been provisionally released until their investigation is completed.
Nine suspects, including four women, remain in custody after they "confessed" to a slew of charges such as suspicious contact with "hostile" organisations and recruiting people in sensitive government positions, according to the official Saudi Press Agency.
Previous reports in state-backed media branded some of the detainees as traitors and "agents of embassies".
Campaigners have dismissed the reports as a "smear" campaign and the crackdown has sparked a torrent of international criticism.
Saudi Arabia, the only country in the world where women are not allowed drive, is set to lift its decades-long ban on female drivers on June 24.
Source: dawn.com/news/1414973/saudi-arabia-arrests-two-more-women-activists-hrw
----
1-Year UAE Visa for Widows, Divorced Women and Their Kids
Team KT/Abu Dhabi
June 20, 2018
It aims to give women the opportunity to adjust their social and economic status.
Widows and divorced women residing in the UAE can soon apply for a one-year visa extension, it was announced on Tuesday. In the latest of a series of changes to visa legislation, the UAE Cabinet adopted the decision to grant these women and their children a visa extension option for one year from the date of the divorce or the death of the spouse.
"The decision grants widows and divorced women and their children a one-year residence without the need for a sponsor. It aims to give women the opportunity to adjust their social and economic status," the Cabinet said.
The decision takes into consideration the humanitarian conditions of widows and divorcees, and facilitates their stay in the country after the loss of the head of the family. "It also aims to maintain family stability and social cohesion, and affirms the UAE's position as a welcoming country to all nationalities in line with its history and values of extending a helping hand," the Cabinet said.
The resolution will be implemented in the fourth quarter of this year.
Currently, women sponsored by their husbands have to leave the country in the event of a divorce. In cases of a husband's death, women can stay till the remainder of their residency visa validity.
Social workers and legal experts have lauded the move, saying it would bring relief to hundreds of women residing in the UAE.
"I have dealt with such cases and this Cabinet decision will act as a balm to those women in distress. This will be a great relief for widowed or divorced women, who find themselves in a helpless situation. It will give them enough time to adjust and decide their future and that of their children," Abu Dhabi-based social worker M.M. Nasar Kanhangad said.
Ashish Mehta, founder and managing partner of Ashish Mehta & Associates, called the decision an "extremely important one for common expats in the UAE". "It will address concerns of women who may find themselves in a state of shock in the event of a sudden death or divorce. It gives them the confidence to consider their options and take a well-informed decision.
"The decision offers hope to these women, as their children will be able to continue their education in the country.
"This announcement shows the UAE's big heart and is testament to the fact that the government's decisions are based on humanitarian grounds."
The decision grants widows and divorced women and their children a one-year residence without the need for a sponsor. It aims to give women the opportunity to adjust their social and economic status.
The resolution will be effective as of the fourth quarter of this year and is part of the continuous efforts to develop government decisions and legislations that cater for larger segments of UAE's residents and visitors and meets their main needs.
The decision takes into consideration the humanitarian conditions of widows and divorcees, and facilitates their stay in the country after the loss of the head of the family. It also aims to maintain family stability and social cohesion, and affirms UAE's position as a welcoming country to all nationalities in line with its history and values of extending a helping hand.
Source: khaleejtimes.com/news/government/uae-announces-new-residency//-visa-rule-1
----
Pakistan: First Woman to Hold Punjab AGP Office Removed From Post
Rana BilalJune 20, 2018
Asma Hamid, the first female advocate general of Punjab (AGP), was removed from her post after remaining in charge for less than a month, DawnNewsTV reported on Wednesday.
According to a notification issued by Punjab's Law and Parliamentary Affairs Department, the province's Additional Advocate General Muhammad Shan Gul has been handed over the additional charge of the AGP office until another appointment is made.
Speaking to the media about her sudden removal, Hamid claimed she had learnt of her removal from the post via media reports. She said she not been told about the decision earlier and had not been given any explanation regarding her removal.
Following her dismissal, the Lahore High Court Bar Association issued a press release condemning the "arbitrary removal" of Hamid as an "abuse of discretion and a blatant violation of due process".
Hamid's appointment as AGP was approved by Punjab's former chief minister Shahbaz Sharif on May 28, two days before the provincial government completed its term. She was given the office after former AGP Shakilur Rehman Khan tendered his resignation.
At the time, sources in the AGP office had told Dawn that it would be up to the caretaker setup of Punjab whether to sustain Hamid's appointment or to appoint a new incumbent during the interim government as per convention.
Hamid is the daughter of former Punjab governor Shahid Hamid and niece of former federal law minister Zahid Hamid. She was appointed as assistant advocate general in January 2014 and later elevated to AAG on Feb 18, 2015.
Source: dawn.com/news/1414977/first-woman-to-hold-punjab-agp-office-removed-from-post
-----
Kimberley Miners, 29, Claims She Was Groomed and Indoctrinated Online By ISIS
By KATIE FRENCH FOR MAILONLINE
20 June 2018
A glamour model has revealed how an ISIS recruiter brainwashed her on Facebook before grooming her to move to Syria to become the next White Widow.
Kimberley Miners, 29, from London, claims she embarked on an online affair with British ISIS recruiter Naweed Hussain and almost ended up in Syria as his wife.
Hussain's fiancée was Britain's youngest female ISIS terrorist Safaa Boular, 18, who was the head of the UK's first all-female terror cell and planned a grenade and gun attack on the British Museum with the help of her mother and sister.
Miss Miners, a former topless model, said she was groomed to become the next 'White Widow' and follow in the footsteps of Sally Jones, a British mother of one who was killed in a US airstrike on the convoy she was travelling with in June 2017.
In stark contrast to the glamour shots of her past Miss Miners posted a picture of herself in a full face veil at the height of her self-confessed obsession with Hussain and Islam.
But she was arrested by anti-terror police last year after they discovered correspondence between her and Hussain which included a bomb-making manual.
She said: 'It's embarrassing now but I liked the attention. I'd been so lonely. Now I felt I finally belonged'.
Miss Miners was released after security chiefs realised she had been duped by ISIS
She told The Sun she believed ISIS wanted to use her as a new version of Jones. Miss Miners, who was released after security chiefs realised she had been duped, said she had 'totally fallen for it'.
Hussain, a British Pakistani who joined ISIS in Syria in June 2015, also urged Boular, 18, to attack the Palace of Westminster before he died in an air strike.
Boular, her older sister and her mother - who together formed Britain's first all-female ISIS terror cell were jailed for a total of at least 22 years last week for a terror plot dubbed 'The Mad Hatter's Tea Party'.
She described how Hussain flattered her and boosted her confidence, even convincing her to change her name to Aisha Lauren al-Britaniya.
Miss Miners told the newspaper she was lonely after suffering a miscarriage and breaking up with her fiance.
She said she didn't use social media properly until she became single and through loneliness, began making friends with people in Syria after sympathising with the plight of refugees.
Miss Miners said: 'I was upset by what was happening in Syria to the children. I wanted to do something to help.
'I started sharing videos of bomb attacks in the hope of showing people what was going on.
'I soon started receiving lots of friend requests from people in Syria. They'd message me on Facebook.
Miss Miners, a former traffic warden (left) and street cleaner (right) was arrested on suspicion of being in possession of terrorist material in October 2016
'It's embarrassing now but I liked the attention. I'd been so lonely. Now I felt I finally belonged.
'I craved the attention, the respect and the offers of friendship.'
Hussain first got in touch after IS spotted that Kimberley had been using social media to highlight the plight of children caught up in the Syrian civil war.
Hussain, who used the name Abu Usamah Al-Britani with IS, got in touch Miss Miners and the pair began discussing the Syrian civil war.
Among Kimberley's new social media friends was East Londoner Amira Abase, 15, who travelled to Syria with two school friends — and the now notorious Sally Jones.
Jones, a former punk from Kent, had moved to Syria with nine-year-old son Jojo to join IS after meeting a British jihadist online.
By the end of 2015 police were aware of her online activity and visited her at home.
She attended a terrorism prevention course and was monitored weekly. She also attended therapy sessions to identify possible triggers for her behaviour.
But she dropped out of the course. And Hussain, who had initially been in contact on Facebook, told her to open an account with Telegram, the encrypted messaging service.
The single mother of one, said Hussain invited her to Turkey where he said he would meet her and take her to Syria.
Shortly after anti-terror police pounced and arrested her. They discovered all the correspondence between the pair and a bomb manual she had been sent.
Miss Miners was told she faced ten years in prison but was later released from bail without any further action in January. A few weeks later Hussain was killed in a drone strike.
Source: dailymail.co.uk/news/article-5863247/Glamour-model-28-reveals-ISIS-recruiter-brainwashed-Facebook.html
----
Pakistani Woman Reaches Home after Serving 12 Years in Indian Jail
June 20, 2018
ISLAMABAD: After serving 12 years in an Amritsar jail, 64-year-old Pakistani woman Nasreen Akhtar was freed and handed over to Pakistan.
India on Tuesday repatriated six Pakistani civil prisoners who arrived home through the Wagah border crossing. The prisoners were handed over to Pakistani authorities in the presence of officials from the Pakistan High Commission. The six prisoners were lodged in various jails, transit camps and juvenile homes in India.
She was awarded 10 years and 6 months sentence along with payment of fine. Pakistan High Commission had paid the fine in January 2018. Nasreen Akhtar was arrested from Attari in May 2006. She was unwell. Her 90 years old mother and children in Pakistan remained worried for their ailing mother. A Pakistani child Haroon Ali had also been repatriated. He was lodged in a juvenile home. He crossed the border while chasing his mentally challenged elder brother.
Haroon was trying to stop his brother from crossing and meeting the BSF Jawans, who, according to him, called his brother. His brother had been repatriated last year. Nasreen came out of Amritsar Central Jail and greeting all those present, she said, "My mother is 90-year-old and it is her wish to see me before dying. I am very happy that I will meet my mother." She added, "There should always be peace in between both the countries."
Amritsar jail superintendent Arshdeep Singh Gill said, "We have also given Rs50, 500 [Indian rupee] to Nasreen for her labour work in jail." He added there were around 45 Pakistani prisoners in Indian jails.
Nasreen's counsel Navjot Kaur Chabha said, "Nasreen's relatives had not paid her fine. Thus, she had to undergo two more years in jail up to November 2018. The Pakistan embassy paid three Lakh rupees fine for Nasreen and she has been repatriated."
Chabha added there were a number of Indian prisoners in Pakistan and many Pakistani prisoners in India, who had completed their sentences, but could not be repatriated as they could not pay the fines imposed on them. "NGOs of both countries should come forth to help such prisoners," she added.
A message from the Indian capital said The Pakistan High Commission in New Delhi worked closely with the Indian authorities for the release and repatriation of these prisoners. Currently, a total of 52 Pakistani prisoners are in the Indian custody, who have competed their sentences and are awaiting repatriation. They include l5 civil prisoners and 37 fishermen. It is hoped that the remaining 52 persons, including 4 minors, would also be repatriated soon.
Source: thenews.com.pk/print/331226-pakistani-woman-reaches-home-after-serving-12-years-in-indian-jail
----
Muslim Girls from Urdu-Medium Schools Score Over 99% in Class 10 Want To Become Doctors
By Imran Inamdar
June 19, 2018
Nearly two years ago, TwoCircles.net had highlighted the dismal state of Urdu-medium schools in Maharashtra. It is an issue which we had discussed six years ago too. One can say that little has changed since but the marks scored by two girls in Class 10 from these institutes show that there has never been a dearth of potential in these schools.
Zoha Afreen Khan, a student of Rahmaniya Urdu High School, Achalpur from Amravati district has scored 99.8% marks and topped the Amravati division while Sahrish Riba, a student of Anjuman Urdu High School Khamgao from Buldhana district managed to score 99%. What is even more encouraging is that both these girls want to become doctors and help the most marginalised communities of the country.
Fifteen-year-old Zoha, who is fluent in English, Urdu, Hindi and Marathi, is the eldest daughter of her parents. Her father is an Urdu teacher and her mother is a housewife.
Speaking with Twocircles.net, Zoha credited her success to her parents and teachers. She said that proper guidance of teachers and the love and care of her parents gave energy to students. It helped her a lot in achieving such a feat. Informing about her future plans, she said, "I want to be a doctor and work in rural areas so that I can help people in need. I always read in newspapers that Adivasis never receive timely medical assistance. It makes me disheartened to read such news and so after becoming a doctor, my main focus will be to work for and in Adivasi communities."
Shariful Hasan, the father of Zoha, said his daughter's performance has always been excellent. "Studying 6-8 hours daily has been her routine from the beginning. Whenever she lost a single mark during her home exams, she took it seriously and worked hard on it." Commenting on her future plans, Hasan said, "My daughter's career is my top priority. I will do my best to make her dreams a reality."
Badruddin Merchant, Chairman, Rahmaniya School, lauded Zoha for achieving this feat. "She is a very talented and an extremely hard-working student. I thank Allah, her parents and teachers for guiding her." Merchant further claimed that Zoha is the first Urdu medium student from the state to score such high marks.
Sahrish Riba, who scored 99% in her exams, thanked Allah for awarding such an honour. "My parents helped me a lot by motivating me. I studied for nearly eight hours every day throughout the year. Memorising my lessons and clearing all potential doubts was my daily routine. I had completed my syllabus by January and revised all my subjects several times before board examinations."
Sahrish whose father Muzammil Sayed is a teacher at an Urdu High School wants to become a gynaecologist to provide medical assistance to marginalised women of the society. "The marginalised communities, especially women, suffer the most during medical emergencies and they are often unable to get any timely treatment. I want to work towards addressing this issue," she said.
Source: twocircles.net/2018jun19/423814.html?
----
URL: https://www.newageislam.com/islam-women-feminism/saudi-arabia-arrests-two-more/d/115592
New Age Islam, Islam Online, Islamic Website, African Muslim News, Arab World News, South Asia News, Indian Muslim News, World Muslim News, Women in Islam, Islamic Feminism, Arab Women, Women In Arab, Islamophobia in America, Muslim Women in West, Islam Women and Feminism