New Age Islam News Bureau
9 Dec 2017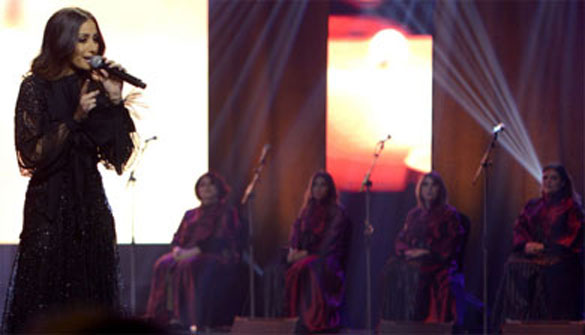 Hiba Tawaji performing in Saudi Arabia. Photo: HAYA AL-SUWAYED/AFP/Getty Images
-----
• Afghan Interior Minister Asked to Boost Women's Role in Police
• SLATE Organises Lecture on Muslim Women Empowerment
• Nightclubs, Cafes Still Risky Business for Iraqi Women
• Turkey Marks Women's Rights Day
• Turkey: Dried Fruit Business Provides Jobs to Women
• Muslim Women's Council Slams US' Jerusalem Decision
Compiled by New Age Islam News Bureau
URL: https://www.newageislam.com/islam-women-feminism/saudi-arabia-allows-first-public/d/113510
--------
Saudi Arabia Allows First Public Concert By A Female Performer, And Saudi Women Go Crazy
By Cristina Maza
12/8/17
Lebanese singer Hiba Tawaji made history by becoming the first female musician to perform a public concert in Saudi Arabia.
Thousands of young women attended the sold-out event on Wednesday, removing their abayas (the floor-length robes women in Saudi Arabia are obligated to wear in public), shaking out their hair and dancing to covers of songs by Whitney Houston and Celine Dion. At one point, Tawaji looked out at the crowd and yelled, "Girl power!"
"This is a very proud moment for Saudi Arabia," a presenter said while welcoming the Lebanese singer to the stage. "All women should express their appreciation for a fact that a woman for the first time is performing at a concert in Saudi Arabia."
The concert was another symbol of Saudi Crown Prince Mohammed bin Salman's attempts to modernize and reform Saudi Arabia.
Salman, who in June was made crown prince by his father, the king, has set out to attract foreign investment and modernize the country's economy by promoting a more moderate form of Islam. The shift away from the ultraconservative form of Sunni Islam practiced in Saudi Arabia was part of a necessary move away from dependence on oil revenue as the Saudi government struggles to shrink its nearly $80 billion budget deficit.
The crown prince has even taken power away from religious vigilantes, announcing in September that Saudi Arabia would soon allow women to drive. In June, Saudi women will reportedly be permitted to apply for their own driving licenses without having to secure the permission of a male guardian.
The decision to allow public concerts was also new. Recently, Greek composer Yanni played a concert for a mixed-sex audience. The country also recently hosted all-male concerts by performers Toby Keith and Nelly.
Tawaji's concert was an especially monumental occasion for Saudi women, who aren't accustomed to seeing women in the public spotlight.
"It's good that women's existence is being recognized," a Saudi university student told the French news agency AFP during the concert.
"After one of my songs, I yelled 'Girl power!' I felt honoured to be one of the first females to sing in a public concert in Saudi Arabia," Tawaji told Arab News. "Saudi ladies are very close to the heart."
Still, those rare moments of freedom do not detract from the long list of things Saudi women are unable to do independently. Women in Saudi Arabia are still prohibited from traveling, getting a job, receiving medical attention or getting a divorce without the permission of a male guardian.
http://www.newsweek.com/saudi-arabia-first-public-concert-female-742244
--------
Afghan Interior Minister Asked To Boost Women's Role In Police
Dec 09 2017
Senior foreign officials, representing key foreign organizations in the country, at a ceremony called on the Ministry of Interior to strengthen women's role in police as they have passed through difficult circumstances in serving the country.
Canada's Ambassador in Kabul, François Rivest, called on Afghan government to improve the safety of policewomen in the country.
"We are in particularly encouraged to see the efforts by the national unity government to improve opportunities for women in policing and to improve their safety and the protection of their rights, in particular the recruitment and training of female police officers, the creation of a police town for women, the establishment of family response units of women police councils," he said.
NATO's Senior Civilian Representative to Afghanistan, Cornelius Zimmermann, meanwhile praised women's role in police and called for increasing their role in the Afghan police lines.
"Women had no easy time that they had to overcome resistance of their own families and that at times they even suffered from discrimination by their male colleagues… This group of female police officers stands for the resilience of the Afghan women who in spite of all obstacles have made it and who are actively promoting the case of women in this country and we need such credible personalities in this country if we want to drive Afghanistan forward," he said.
Why women have lesser role in Ministry of Interior and what are the programs of the new interior minister for boosting women's role in Afghan police were the questions raised at a ceremony in Canada Embassy in Kabul on Thursday.
Interior Minister Wais Ahmad Barmak said improving women's role in police is his top priority.
"We want to have a meaningful participation. It means that women should have first, in terms of their roles, what roles they will play, what positions they will hold in the future. Everything should be meaningful no symbolic," Barmak said.
Ministry of Interior's information shows that at least 3,000 women are serving in the lines of police. This number forms at least two percent of Afghanistan's police.
The interior minister said they are planning to double the number within a short time.
http://www.tolonews.com/afghanistan/interior-minister-asked-boost-women's-role-police
--------
SLATE organises lecture on Muslim women empowerment
December 8, 2017
New Delhi: A lecture on ' Muslim Women Empowerment, Current Situation and Solutions' was organized by Society for Learning and Advancement through Empowerment (SLATE) on Sunday, December 3.
Uzma Naheed, a prominent social activist from Mumbai gave the lecture which was attended by many students from various universities along with scholars and journalists.
Naheed spoke on how and why employment of women becomes very important in some cases and linked Islamic Knowledge with the rights of women.
She stressed on the point that there is a need of respect and dignity for each other in society ( between men and women). She explained how she has been able to mobilize women of all age groups to join them and generate money through their talents and skills.
Naheed shared the idea behind establishment of IQRA International Women's Alliance (IIWA) which became a useful tool to provide employment to a large number of women all over the world, mainly from rural background. She discussed her plans to get associated with international organisations in order to help the women financially and get recognition of their art.
In the question answer session, she pointed out that there are many factors that lead to the suppression of women.
"Women need to be aware of their rights provided by Qur'an, lack of Qur'anic knowledge makes them feel vulnerable because some of the Ulemas also misguide them. Ultimately, they are misused by the media and various organizations," she said.
At the end of the session, she said that there is a lack of realization that women with such talents are really the matter of proud for this country.
The programme was conducted by Afshan Khan who handled the two sessions of it. Whereas, Anida gave the vote of thanks on behalf of SLATE.
Importantly, SLATE is a trust based in Delhi established by Tarannum Siddiqui and Furqan Hashmi. It aims at advancement through empowerment with the help of education and skills. It conducts workshops, lectures and discussions on education awareness, health awareness, legal awareness and gender awareness.
http://twocircles.net/2017dec08/418932.html
--------
Nightclubs, cafes still risky business for Iraqi women
Adnan Abu Zeed
December 5, 2017
BAGHDAD — The Iraqi parliament's Committee on Women, Family and Childhood revealed Nov. 13 that there are organized criminals behind the work of some female minors in cafes and casinos. The committee said this phenomenon is no different from that of human trafficking.
The next day, an Iraqi radio station reported the story of a 17-year-old girl who works at a nightclub in Baghdad. "I have to work because I need money" to support herself and her mother, she said. "The owner of the club raped me more than once." She also said she is subjected to beatings almost daily.
Another girl, however, told Al-Monitor on condition of anonymity that some cafes and nightclubs operate aboveboard and provide desperately needed employment opportunities for young women. "I managed to work at a relative's [place] because I needed money and the casino owner agreed to temporarily hire me for humanitarian reasons."
Regardless of the situation, in conservative societies such as Iraq's, girls and women who work at casinos, nightclubs and even coffee shops are often frowned upon.
Also, as women rarely get involved in this field of work, when they do it often draws media interest. One example is a woman from Nasiriyah who decided Jan. 20 to open a family coffee shop, the first of its kind in the south. The opening was widely covered by local media. Yet while this woman showed courage to embark on a nontraditional career path, other women have faced obstacles. On April 27, the Wasit Governorate Council voted by a majority to ban girls from working in cafes.
Some people still hold extreme views about women working in general, "even though [women] account for 49% of society," Intissar al-Jubouri, the rapporteur of parliament's Committee on Women, Family and Childhood, told Al-Monitor. As there are more job opportunities for men than for women, "The employment of girls in cafes, casinos and other sectors is a must because of the need for money," she added.
"The delay in the enactment of the Social Security Law is one of the causes behind the exploitation of girls in some places of work, where they have to endure persecution and harassment because of the need for money," she said. "The Iraqi Constitution obliges the government to provide a decent living for citizens." She blamed the law's delay on the budget deficit.
"Human trafficking is rampant, even in some displacement camps," she added. "I visited the Ministry of Interior to closely monitor the magnitude of … human trafficking, and I was surprised by the lack of statistics" despite the ministry's "obvious efforts to fight the phenomenon."
She also mentioned another reason women and girls sometimes work in nightclubs: domestic violence.
"There are girls who run away from their families because of violence, and they resort to working in suspicious places. What worsens the situation is that Iraq lacks centers that accommodate battered women," she said. "The absence of the culture of reporting about violence to security and competent authorities makes it easy to exploit women in human trafficking."
Ali Akram al-Bayati, a spokesman for the United Nations High Commissioner for Human Rights in Iraq, told Al-Monitor, "There is confusion in the social and legal assessment of the work of girls."
He pointed out, "The right to work is guaranteed in accordance with international conventions and the constitution. The state has to provide suitable conditions in order for citizens, especially women, to have access to financial resources that allow them to live above the poverty level."
Bayati added, "The social status of girls is still weak, and they may fall prey to exploitation because of poverty and destitution."
His point of view coincides with that of a resident of Baghdad's Karrada district, where nightclubs and casinos are widely spread. Karrada residents complained to authorities about the "recreational places," she told Al-Monitor on condition of anonymity. She confirmed the clubs employ "girls who pretend to work as waitresses or female service workers but do otherwise behind the scenes."
Ali Jaber, a legal expert and former judge, told Al-Monitor, "Iraqi laws protect girls who are 15 years old and above during their work in cafes, casinos and other sectors that are approved by the Ministry of Tourism and security authorities." But to many people, the only acceptable jobs for women are in certain home-related sectors or government departments. Those who work in shops, cafes, entertainment, nursing or the transportation sector (taxi/truck drivers) continue to be conspicuously frowned upon.
https://www.al-monitor.com/pulse/originals/2017/12/nightclub-girls-club-baghdad-iraq-harassment.html
--------
Turkey marks Women's Rights Day
December 05 2017
Turkey's family and social policy minister marked Women's Rights Day on Dec. 5, celebrated by the country every year on the same day after Turkish women's political rights were recognized in 1934.
"We are working to strengthen the status of women, to ensure the equality of opportunities for women and men and for more women to take part in decision-making mechanisms," said Fatma Betül Sayan Kaya in a statement.
Kaya described the 83rd anniversary of Women's Rights Day as a "milestone" for Turkish women involved in all aspects of politics, economy and social life.
Turkish women gained the right to vote and be elected in 1934.
http://www.hurriyetdailynews.com/turkey-marks-womens-rights-day-123576
--------
Turkey: Dried fruit business provides jobs to women
05.12.2017
An entrepreneur in southwestern Turkey is finding success and creating jobs for fellow women through selling specially dried persimmon fruit, calling them "Turkish dates."
Semra Unal, 41, got her first taste of success through selling fig chips, but later found a market for dried persimmons as well.
She managed to dry persimmons, which are widely available in her home of Kuyucak, in the Aegean Aydin province, through natural methods.
To test peoples' interest in the persimmons, she included a free sample in the bags of her dried figs, and found she had a hit on her hands.
Last year, Unal, a mother of three, and her 20 employees produced one ton of dried persimmons, ramping it up to five tons this year due to strong demand.
"From four kilograms of fresh produce, we get one kilo of dried produce. Once dried, it has a taste that's very similar to dates," she said.
"Fig chips have been a great success for us. Persimmons, like figs, are a taste of this region," she explained.
"We've seen strong demand," she added.
"We're shipping this out all over Turkey. We've had orders from abroad as well."
In addition to doubling her income with the project, Unal has created jobs for 20 local women -- her neighbors and friends -- and hopes to offer jobs to women throughout Aydin.
Necla Cinar, 45, one of Unal's employees, said she began working in order to help out her husband with money.
"Semra has provided employment to almost all the women in our neighborhood," said Cinar.
http://aa.com.tr/en/life/turkey-dried-fruit-business-provides-jobs-to-women/990219
--------
Muslim women's council slams US' Jerusalem decision
09.12.2017
The women's council of the Organization of Islamic Cooperation (OIC) has joined the chorus of condemnation against U.S. President Donald Trump's decision to recognize Jerusalem as Israel's capital.
Chairwoman Esra Albayrak warned that women and children would to "pay the price" for the decision, which will see the U.S. Embassy moved from Tel Aviv to the divided city.
"Stopping this process, which has usurped the fundamental rights of the Palestinian people and made it difficult for thousands of Palestinian refugees to return to their hometowns, is the charge of the international community for the Palestinian people and especially Palestinian women and children," she told Anadolu Agency.
The decision to recognize Jerusalem has raised tensions between Israelis and Palestinians and led to unrest and Israeli airstrikes on the Gaza Strip.
Jerusalem lies at the heart of the Israel-Palestine conflict, with Palestinians hoping that East Jerusalem -- now occupied by Israel -- might serve as the capital of a future Palestinian state.
Albayrak said the implications of Trump's decision would "sadden" anyone with a conscience.
"This issue is not a matter that can be used irresponsibly as domestic policy material," she added.
The decision, which is widely opposed by world leaders and goes against UN resolutions, had been imposed on the Palestinian people as a fait accompli, Albayrak said.
"Despite the UN resolutions, the world has watched the quiet but systematic invasion of Palestinian lands for decades," she said.
Albayrak said that the U.S. President's "irresponsible remarks" seemed to be an attempt to legitimize the Israeli occupation.
Sacred
"This is an initiative that not only ignores Palestinians or Muslim countries but the UN itself," she said. "The U.S. has made clear with its decision that it cannot be a mediator in the deepest crisis of the Middle East."
Albayrak also said Trump's description of Jerusalem, which is a holy site for Jews, Muslims and Christians, as "the eternal capital of the Jewish people" was "both hurtful and even threatening, not only for Muslims but also Christians who regard Jerusalem as sacred".
She noted that the city's Al-Aqsa Mosque hosted the first qiblah, or prayers towards Mecca.
Turning to the role of women, Albayrak said woman could be helped to do more for peace in the Middle East.
"I believe we can do more for Palestinian women," she said, pointing to the OIC's initiative Ally for the Future, which brought together successful young women from 50 Muslim countries.
"I believe that women should take a more effective role in building faster peace processes," she said, adding that both Muslim and Jewish women had a role to play.
Groups such as the Boycott, Divestment, Sanctions movement "must be strengthened and the Israeli state should be put under greater pressure by the Jewish people for its decisions and practices in defiance of human rights."
Although it was difficult to remain optimistic, she believed in human conscience, especially in women's common sense and capacity to produce solutions.
Albayrak said it was worrying that foreign policy decisions made for short-term domestic goals provided a fertile ground for radical organizations.
"The Western world does not have the luxury of ignoring it," she said: "Global terrorism, radical organizations are hurting the whole world today."
Sisterly bonds
Desperate, disheartened communities were the main recruiting grounds for extremists. "We should not allow this," she said.
Albayrak said she would continue to work for peace by promoting the establishment of a Palestinian state with its capital as East Jerusalem and creating an environment in which Palestinian women and children could live in peace.
The Women's Consultative Council was launched in April 2016 during the OIC summit chaired by President Recep Tayyip Erdogan.
She said its goal was "strengthening women's social role in Islamic countries, increasing their participation in political and economic processes and contributing to their participation in decision-making positions."
It also aimed to raise awareness and advocate against Islamophobia created through a distorted image of Muslim women.
The council consists of nine women representing the three main regions where Islam is prevalent, Albayrak said. Members are elected for two years.
"As the women of the Islamic world, we have seen that it is fundamental to know each other before anything else to strengthen our sisterly bonds and it was only possible to develop a culture of solidarity after we met," she added.
Albayrak also stressed the importance of leadership skills among young people.
Referring to Palestinian women, who she said lacked access to basic services, Albayrak said: "Concerning the provision of these [services to women], there is a great responsibility especially for international organizations and particularly Islamic countries."
She added: "It is not the time for separation or partition. It is time for all nations, who care about world peace, to unite in order to solve this problem."
http://aa.com.tr/en/todays-headlines/muslim-womens-council-slams-us-jerusalem-decision/999397
--------
URL: https://www.newageislam.com/islam-women-feminism/saudi-arabia-allows-first-public/d/113510
New Age Islam, Islam Online, Islamic Website, African Muslim News, Arab World News, South Asia News, Indian Muslim News, World Muslim News, Women in Islam, Islamic Feminism, Arab Women, Women In Arab, Islamophobia in America, Muslim Women in West, Islam Women and Feminism