New Age Islam News Bureau
30 Nov 2015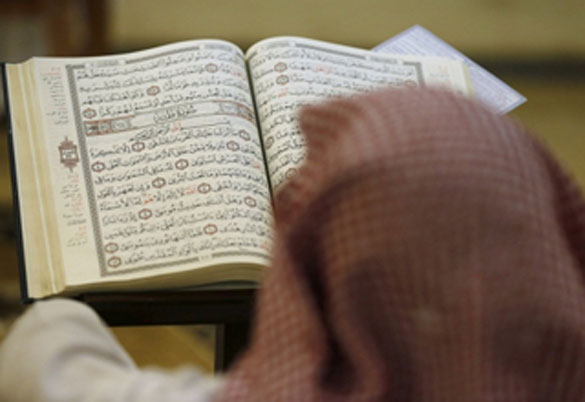 Photo: On November 26 last year, Mashitah reportedly urged Wanita Umno delegates to speak up after claiming that the Chinese had burned a copy of the Quran in Kuala Kedah. — Reuters
----------
• 6,917 in fray: Women pushing boundaries
• Minister says waiting for AGC to decide on action against Umno woman over Quran-burning
• Indian Muslim women take to Islamic fashion's fusion of tradition and modernity
• Animated times: He Named Me Malala
• Appeals for a deterrent anti-harassment law
• Saudi female student knifed in New Jersey
• Canadian Muslim women undertake self-defense classes following wave of racist attacks
• Two activists barred as Saudi women launch first poll bid
Compiled by New Age Islam News Bureau
URL: https://www.newageislam.com/islam-women-feminism/new-age-islam-news-bureau/saudi-arabia-900-women-run-office/d/105464
----------
Saudi Arabia: 900 women run for office
Nov 30, 2015
More than 900 women are campaigning for public office in Saudi Arabia -- a first in the kingdom's history.
The December 12 municipal election will be the first opportunity for Saudi women to vote or run for office since a 2011 order by the now deceased King Abdullah that granted women some opportunities for political participation in the ultra-conservative Sunni kingdom.
Critics have described the change as anywhere from modest to inconsequential. Women will only participate in elections at the municipal level.
At least two women's rights activists announced on Twitter that they had been disqualified as candidates.
Loujain Hathloul, who was arrested last year for defying a ban on women drivers, and Nasema al-Sada, said their names had been left off the final candidates list, and that they plan to appeal.
Just three months ago, Saudi women were allowed to register to vote for the first time.
Despite the elections, the country remains an absolute monarchy ruled by the Saud family, which governs according to a strict Wahhabi interpretation of Sunni Islam.
It employs an informally established guardianship system over women which affords them few freedoms. Saudi women are forbidden to drive, and are not allowed to travel or go to school without a male guardian.
According to the U.S. State Department, municipal elections in Saudi Arabia fill half the seats in municipal councils, with the king selecting the other half.
The late King Abdullah also issued a royal decree in 2013 mandating the Consultative Council, a royally appointed body that advises the King, be at least 20% women, the State Department says.
http://www.centralillinoisproud.com/news/saudi-arabia-900-women-run-for-office
----------
Minister says waiting for AGC to decide on action against Umno woman over Quran-burning
November 30, 2015
KUALA LUMPUR, Nov 30 — The Attorney-General's Chambers has yet to decide on whether action should be taken against Umno's Datuk Dr Mashitah Ibrahim despite police investigations having been completed ten months ago, Datuk Seri Dr Ahmad Zahid Hamidi has said.
The Home Minister said in a written Parliamentary reply that the report was submitted to the Attorney-General's Chambers for further action on February 5 this year.
"The police take incidents that are considered seditious seriously, especially when it involves racial and religious sentiments regardless of the status of the person who uttered those remarks and they will investigate in a just manner," he said in a reply to Alor Setar MP Gooi Hsiao-Leung's question.
On November 26 last year, Mashitah reportedly urged Wanita Umno delegates to speak up after claiming that the Chinese had burned a copy of the Quran in Kuala Kedah.
The week before however, Kedah Mentri Besar Datuk Seri Mukhriz Mahathir said that police investigations had revealed that the Quran was not burnt but was only torn by a man diagnosed with a mental illness.
Zahid also said the incident was investigated under Section 505 (b) of the Penal code which includes offences involving statements against public peace.
http://www.themalaymailonline.com/malaysia/article/minister-says-waiting-for-agc-to-decide-on-action-against-umno-woman-over-q
----------
Indian Muslim women take to Islamic fashion's fusion of tradition and modernity
Eram Agha
Nov 29, 2015
Aligarh: Indian Muslim women are increasingly looking for Islamic fashion, that not only gives them traditional kurtas and abayas but also wide-legged jeans, long skirts, and classic western tops. For those who thought it will be tough to get Islamic clothing fused with western style, there are now options such as the 'Khalida dress', marked by contrasting color and understated modesty; also a wrinkle-resistant line known for elasticized sleeves and a front opening or the smart-looking 'military jilbab' and the sporty 'drawstring dress". These vibrantly-coloured dresses are a far cry from the black Saudi-made abayas found in India.
Women here love this idea because it breaks stereotypes about Muslim women. "There is a desire in Muslim women to make the abaya and hijab reflect their confidence and not suppression. One way of doing this is by sporting urban and funky Islamic or Muslim fashion," said Maryam Khan, a Lucknow-based doctor who loves her maxi skirt with a head scarf and wonders at how the western-inspired Muslim fashion weds fun with faith.
The players here are second generation Muslims who grew up in the west. They are opening fashion houses for the modern yet modest Muslim woman. There is the Islamic Design House that boasts a sporty and urban take on modest clothing, Shukr that focuses on fusing tradition with modernity and Arab, which is unique in providing a minimal feminine take on modest clothing.
These London-based fashion houses have now set up online outlets in India because of demand by India customers on Facebook. The fashion houses were started by women educated at the London School of Economics and other prestigious institutions and who have lived in New York or are familiar with avant-garde European fashion.
The head designer of Shukr, Tabassum Siddiqui, graduated from the prestigious Parsons School of Design in New York City and has worked under some of the most coveted names in the fashion world such as the Spanish designer Miguel Adrover and New York-based fashion photographer Roderick Angle.
These fashion houses reveal that the highest demand for Muslim fashion comes from the Middle East (Egypt, Jordan, Palestine), the Maghreb (North Africa) and the West. Since Indian Muslims are also inspired by western-style Muslim fashion, designers have included India in their international site, which is, as they say, also the fastest growing sector for this kind of fashion.
"We are especially seeing increased engagement from Asian countries with high Muslim populations, such as India. Women's items are the highest sellers. And our popular Khalida dress — a combination of modern and Muslim sensibilities — is a top seller," said Suzanne Hamid, marketing and communication head, Shukr, talking to TOI.
Junayd Miah, creative director of Islamic Design House said, "Islamic fashion is that which adheres to the principle of modesty and reflects the practical and cultural needs of a people. Over the last ten years the demand for modest clothing has grown hugely. I am assisted by business founders Azad Uddin and Harun Rashid. While attending the same gatherings we learned that we wanted to solve the modest clothing problem. Brainstorming sessions led to modest wear that is sporty, casual, urban cool and marked by feminine simplicity. The visually challenging black abaya and all the negative connotations it has was not for this generation. Modern designs allow the Muslim woman today to feel confident about belonging to the modern globalized world."
Miah added, "Our sisters, nieces and female relatives all complained they could not find something that was modest, in line with their religious values but at the same time met their western identity. We couldn't wait for western fashion brands to solve this problem as they were not taking this unique journey. This was one that we had to take responsibility for and meet the challenge head on."
Hamid said that these designs will see further changes as fashion is a fluid concept and also because the Muslim-owned fashion houses in the west are growing rapidly. "I expect to see more options specifically tailored for Muslim communities all over the world," she added.
http://timesofindia.indiatimes.com/city/agra/Indian-Muslim-women-take-to-Islamic-fashions-fusion-of-tradition-and-modernity/articleshow/49974184.cms
----------
Animated times: He Named Me Malala
Sarah Sikandar
Nov 30, 2015
The three bullets shot point-blank on the morning of October 9, 2012 gave resistance a new face: the cherubic yet determined face of a 15-year-old girl from the war-torn valley of Swat. The bullets thrust into her brain certainly backfired, as this girl with a gifted mind has moved from being a local hero to becoming an international symbol of resilience. Malala Yousafzai has transcended geopolitical boundaries to achieve global recognition and appreciation, overshadowing the nefarious agenda of her opponents.
But being Malala is not easy. Taking responsibility for the attack on her, the Taliban had claimed to have targeted her "because of her pioneer role in teaching secularism…she was pro-West; she was speaking against the Taliban; she was calling president Obama her idol". She was an anomaly in her home region.
The documentary He Named Me Malala traces Malala's footprints from rural Swat to a Birmingham flat which she now shares with her parents and brothers. The documentary takes the audience beyond the girl in the public eye to the shy sister of two naughty brothers and the obedient daughter to doting parents.
The documentary tells us that the youngest ever Nobel laureate is named after a heroic character in Pakhtun folklore. Malalai, the legend goes, was a teenage girl who climbed to a mountaintop and addressed the Afghans fighting the mighty British invaders during the Battle of Maiwand. "It is better to live one day as a lion than to live a hundred as a slave," she declared to raise their dwindling confidence.
Malala's story becomes the epitome of the message of freedom and honour delivered by her namesake in the folklore. The twin ideals are cornerstones of her struggle to rise above the submissive role that tradition allocates to her gender in Swat. Her fight is so huge and her effort so Herculean that her mother still seems to be traumatised by its effects and aftershocks. This is how the documentary introduces us to our hero, Malala.
He Named Me Malala is remarkably apolitical. Apart from showing the Taliban's violently radicalised reign in Swat, it doesn't so much as attempt to point out the role the government or the army might have had in the valley's deteriorating social and political climate. Even the 2009 security operation in Swat that forced hundreds of thousands to flee their homes is not mentioned (Malala herself has repeatedly touched upon that operation and the consequent displacement in her book, I Am Malala).
Anyone remotely familiar with Davis Guggenheim's previous work knows that this shunning the political issues is unlike him. He is the Oscar-winning director of such politically charged documentaries as An Inconvenient Truth and Waiting for 'Superman'. In those documentaries, Guggenheim took strong political positions on burning issues such as global warming and the failure of the American public education system. In He Named Me Malala, Guggenheim seems to have taken a break from his signature style and instead relates a story plain and simple — a little too plain and simple, perhaps.
Containing a collage of family interviews, snippets from Malala's life in Swat and Birmingham, and vignettes from her international tours and her appearances at conferences and seminars, the documentary constantly shifts between now and the time before she was shot. While the present is the Birmingham flat or her school in the same city or some public event, the past is almost always shown through animated images. Yes, animated images.
Animation – blurred and surreal – is one of the major highlights of the documentary and the way it is incorporated within the narrative makes it the most effective technique employed by the director. It allows the younger audiences an easier access into Malala's reminisces of her past and adds a peculiar rhythm to an otherwise prosaic storytelling.
Explaining his decision to use animation, Guggenheim said in an interview: "There are these incredibly important epic moments that had to be in the movie and I didn't know how to do it." It was especially challenging to bring on the screen the paradise-like place that Malala's family calls home", he said.
In any case, the constant movement between the animated past and the realistically shown present allows the film-maker to highlight all the various aspects of Malala's life and present them as a whole. This shifting between then and now is also helpful in highlighting her attachment to her roots in Swat and her attempts at assimilation into her new life in England. The binaries of home and migration are well-knitted into the documentary, especially through repeated references to Malala's shawl-clad mother, who gradually recedes into the background in every scene she is in.
Malala has understandably enchanted the world, particularly the West, with her story. It's not every day that a girl from Swat ends up standing next to world leaders at the United Nations. The film is very clearly directed at the kind of audience that is likely to be impressed by such transformation; a life of relative obscurity in the rural hinterland of a Third World country to international stardom. It is the same kind of attention that Slumdog Millionaire, a feature film, had received and for the same reason — a protagonist in a wretched South Asian milieu making it big through sheer grit.
In many ways, the film comes across as a slacked version of Malala's autobiography, I Am Malala, which became a 2013 bestseller. In fact, at times, the documentary appears as too literal a rendition of the book and does not offer any fresh perspective into the life of Malala, the person and the legend.
So, expect hero worship as you would in a biographical documentary but don't expect it to be about Malala only. The attention is shared by her father Ziauddin Yousafzai. His story is intertwined with Malala's. The courage he showed and the opposition he faced while rebelling against the centuries-old traditions of his homeland by leading his daughter into a public life and, moreover, being proud of her achievements are portrayed in as much detail as Malala's own story.
A dominant influence in his daughter's life, it is understandable that Ziauddin Yousafzai is shown as a major character in her narrative of rebellion. Guggenheim is vey obviously intrigued by this father-daughter relationship. The father calls it "one soul, two bodies" and the daughter believes that her achievements would not be possible if it were not for him. Their relationship is, therefore, shown both as a catalyst and a support for her to be able to break free from the patriarchal traditions of Swat. Yet, it is apparent that whatever Malala represents is what her father has told and taught her. His predominance in her life raises an uneasy question: is this not a new type of patriarchy?
The documentary also does not address the criticism that Ziauddin Yousafzai might have put his daughter's life in danger because of his own ambition. "It it is my fault that she suffered," he says, as he is shown in one of the earlier scenes pondering over his role in Malala's ordeal. The director, however, leaves it at that and does not explore the reasons for Ziauddin's readiness to push his daughter into a territory that he knew was full of dangerous possibilities.
He Named Me Malala has received rave reviews for its inspirational subject but has been criticised for its facile approach towards that subject. The documentary tells the audience almost nothing about Malala that they already did not know. For the most part, interviews and events seem rehearsed and staged. The daughter's head on the father's shoulder is an oft-repeated image, as if the director ran out of ways to illustrate their closeness. Thomas Newman's music score also seems to be a waste and mostly fades in the background, unless your ears are well-trained to catch it.
All said, in a world of arrogant teenage celebrities and pompous politicians, Malala's simplicity and innocence are nothing less than a treat to watch.
http://herald.dawn.com/news/1153294/
----------
Appeals for a deterrent anti-harassment law
30 November 2015
ABHA: Many Saudis expressed shock and anger at recent videos showing women being subject to harassment by men.
While many still believe that harassment is an individual case that hasn't evolved into a phenomenon, others state the need to draft laws and legislation to combat this dilemma.
Proponents of having an anti-harassment law base their position on data showing that harassment is on the rise in the Saudi community.
Of women polled by a recent Saudi study, 92 percent say that the increased harassment is caused by the lack of a proper punishment.
Twenty-seven percent of women said they been subjected to verbal harassment; 26 percent said that harassers threw their phone numbers at them; 24 percent said that they were harassed by looks; while 15 percent had experienced physical harassment, the poll results stated. Women said that the majority (59 percent) of harassers are Saudi.
Last year, media outlets criticized the delay in passing the anti-harassment law that was drafted by eight Shoura Council members. Opponents slammed the draft law saying it encourages mixing between men and women in society leading the Shoura Council to delay discussions on the topic for five months.
The proposed law would have punished harassers with sentences of up to one year in prison and fines of SR100,000. The law stated that "any uncalled statement, act, position or signal that the suspected perpetrators use to sexually provoke or humiliate the other party is considered a harassment."
Lawyer and legal counselor Dr. Hadi Al-Yami said that all crimes have punishments explaining that all harassment crimes have had court sentences depending on the judge's assessment on the situation of each case.
He explained that harassment is a general term and needs to be specified in court cases such as harassment by relatives, or those happening in public or at workplaces.
"In some cases, harassment happens in front of everybody such as the Jeddah incident, or it could happen in secret," Al-Yami said stressing that each case has its own details and, as a result, punishments.
Based on these details, Al-Yami highlighted the need for a general law that has a clear definition of harassment and indicates punishments for different harassment types.
He said that harassment could also threaten and affect both genders, not only women.
Al-Yami doesn't believe that harassment has became a phenomenon but said that action should be taken to prevent it from escalating.
Member of the National Family Safety Program Abdul Rahman Al-Qarrash said that harassment is one of the most dangerous issues facing societies, particularly in light of strict rules against it.
Al-Qarrash strongly argued the need for relevant authorities to unite efforts and find laws to deter assailants from conducting their crimes, which have a negative influence on the victim's psychology.
http://www.arabnews.com/saudi-arabia/news/843146
----------
Saudi female student knifed in New Jersey
30 November 2015
JEDDAH: A female Saudi student of medicine was stabbed by an unidentified man in a street at Hackensack, New Jersey, recently, triggering a massive hunt for the culprit and his accomplice.
Fortunately, none of her internal organs were harmed due to the stabbing and she was discharged after treatment in a hospital, a website reported on Sunday, quoting the student.
The woman said she is the fourth year student of the medical college of Colombia University in Hackensack and is unmarried. She is on a scholarship program of the Custodian of the Two Holy Mosques for foreign studies.
According to the student, when she went out for a walk on Thursday evening, two men in a small black car followed her. One of them said in Arabic accent "perhaps you know that with whom you are playing" and stabbed her. His accomplice was speaking good English and both of them fled the scene soon after attacking her.
"However, it does not appear to be a hate crime because the attackers neither touched my veil nor passed any racist comment, as was reported by a section of the media," she said.
Passersby soon gathered around her and notified the police and an ambulance, she said. "I was then moved to Hackensack Hospital for treatment and discharged after my condition improved."
She said the police came to the hospital and recorded her statement and promised that the culprits would be brought to justice.
The Saudi Consulate in New York and the Saudi cultural attaché's office in Washington also clarified in a statement that the student was attacked but her veil was not touched by the culprits.
http://www.arabnews.com/featured/news/843206
----------
Canadian Muslim women undertake self-defense classes following wave of racist attacks
30 Nov, 2015
A group of Muslim women from Toronto are taking matters into their own hands following a spate of attacks against members of their faith in Canada. They are organizing self-defense classes to help protect themselves from would-be attackers.
The fallout from the Paris terror attacks has inflamed what could be a daily problem for Muslims, who face bigotry and racism because of their religion. Muslim women, who wear headscarves have become an easy target, but rather than sit back and take the abuse, a group in Toronto have had enough.
"I felt that as a Muslim girl I shouldn't have to live in fear and we should at least be able to defend ourselves, protect ourselves generally," said Sarah Sabb, the organizer of the self-defense lessons.
"If someone were to grab me or pull me I should be able to at least tell him like 'No, stop, you can't touch me,' you know. And especially for the reasons of me wearing my scarf, which should not be a reason for anyone to have to attack me," she added, speaking to RT's video agency Ruptly.
The self-defense seminars took place at the Al-Huda Islamic Center in Toronto, with local martial arts expert John Kolakovic carefully orchestrating proceedings. He explained in detail what to do if someone tries to launch an attack.
"We're being prepared for if someone were to come and try to rip off my scarf, pull it, say racial slurs about me, where I'm from, my religion, racial slurs, like insults, that kind of harassment that no-one should have to tolerate at all, at any circumstance," Sabb added.
The Masjid Al-Salaam Mosque in Peterborough, Ontario was firebombed two weeks ago in a hate crime against Muslims. This has only served to increase tensions and fears amongst Muslims. However, the local community quickly rallied together and helped raise over $100,000 to repair the place of worship following the arson attack.
Sabb says she is not prepare to let those intent on racial bigotry prevail, saying that those who attack Muslims in the street are just as bad as those who carry out terrorist attacks around the globe.
https://www.rt.com/news/323910-canada-muslims-self-defense/
----------
Two activists barred as Saudi women launch first poll bid
Nov 30, 2015
RIYADH: Hundreds of Saudi women began campaigning for public office on Sunday, in a first for women in the conservative kingdom's slow reform process even as two activists were disqualified.
More than 900 women are standing alongside thousands of men in the Dec 12 municipal ballot, which will also mark the first time women are allowed to vote.
"I've been eliminated as a candidate for the municipal elections," Loujain Hathloul said in a tweet. "I will be filing my objection via the appropriate channels".
Saudi authorities detained Hathloul for more than two months after she tried to drive into the kingdom last December from United Arab Emirates, in defiance of a Saudi ban on female motorists.
She could not immediately be reached but earlier said that she wanted to run "to increase the percentage of women's participation".
Nassima al-Sadah, a human rights activist and would-be candidate in the Gulf coast city of Qatif, said officials informed her late Saturday that her name had been removed from the list.
"I don't know why," said Sadah, who was trained in electioneering from the National Democratic Institute, a Washington non-profit organisation.
Her campaign was on hold as she tried to clarify her case.
Ruled by King Salman, oil-rich Saudi Arabia has no elected legislature and has faced intense Western scrutiny over its rights record.
The country's first municipal elections were held in 2005, followed by another vote in 2011. In both cases only men were allowed to participate.
From restaurants to banks, offices — and election facilities — the sexes are strictly segregated in the kingdom.
"We will vote for the women even though we don't know anything about them", Um Fawaz, a teacher in her 20s, said in Hafr al-Batin city. "It's enough that they are women," she said.
The absolute monarchy, which applies a strict interpretation of Islam, has faced widespread criticism for a lack of equal rights.
Saudi Arabia is the only country in the world where women are not allowed to drive.
They must also cover themselves in black from head-to-toe in public and require permission from male family members to travel, work or marry.
But Aljazi al-Hossaini, a candidate in Riyadh, said she did not need any man in her family to grant permission for her candidacy. "It's by myself," the management consultant said.The late King Abdullah said women would participate in this year's vote. In 2013, he also named women to the appointed Shura Council, which advises the cabinet.
Abdullah died in January and was succeeded by Salman, who stuck to the election timetable.
In other Gulf states, women have had some voting rights for several years.
About 7,000 people are vying for seats on 284 municipal councils, according to the Saudi electoral commission.
Only around 131,000 women have signed up to vote, compared with more than 1.35 million men, out of a native Saudi population of almost 21 million.
Although the voting age has been lowered to 18 from 21 and the proportion of elected council members has increased to two-thirds, winning a seat remains a challenge for women.
Hossaini said she had hoped to set up a campaign tent in Riyadh's Diriyah area. "When I asked the man to give permission for his land... he refused," she said.
Like other contenders, she plans to focus online, and has her own website, www.aalhossaini.com.
In the Red Sea city of Jeddah, Sameera Abdullah al-Shamat was also relying on Twitter, Instagram and other Internet forums widely used in the kingdom.
"My daughter and two sons are running my campaign," said Shamat, a charity worker.
Electoral democracy is still a novel concept in a country where tribal loyalties remain strong and the influence of "wasta" — knowing the right people — is powerful.
Saud al-Shammry, 43 of Riyadh, said it was time for a new approach.
"We strive for development and real change, free from tribal or family biases," he said, adding "there's a big possibility" he could vote for a woman, if her platform is right.
http://www.dawn.com/news/1223188/two-activists-barred-as-saudi-women-launch-first-poll-bid
URL: https://www.newageislam.com/islam-women-feminism/new-age-islam-news-bureau/saudi-arabia-900-women-run-office/d/105464
New Age Islam, Islamic Website, Online Islam, Islamic World News, Womens in Islam, Islamic Feminism, Arab Women, Womens In Arab, Islamphobia in America, Muslim Women in West, Islam Women and Feminism