New Age Islam News Bureau
19 March 2021
• Female Rangers Guard World's Largest Arid Mangrove Forest In Pakistan
• Noorbina Rasheed's Candidature a Victory for Women in Indian Union Muslim League
• Police Trial Anti-Grab Hijabs in Bid to Recruit More Muslim Women
• Rights Group: Indonesian Women Pressured to Wear Head Scarves, Follow Dress Code
• 'Daesh Brides' Open Up In Syria Camp Documentary
• Why Iran's Women's Rights Movement Will Endure Through US Sanctions
• South African Muslim Bodies Call For Government Intervention Over Sri Lankan Burqa Ban
Compiled by New Age Islam News Bureau
URL: https://www.newageislam.com/islam-women-feminism/samia-suluhu-tanzanias-first-female/d/124581
--------
Samia Suluhu Tanzania's First Female Head of State
19 March, 2021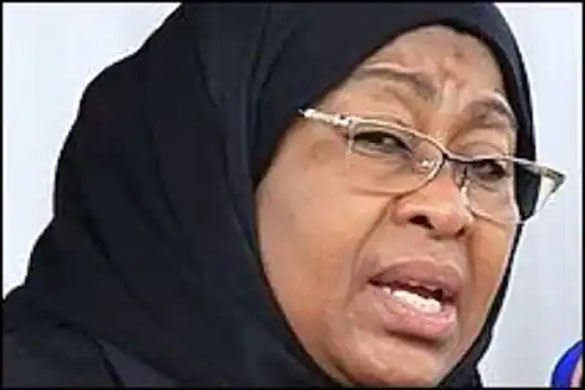 First female president of Tanzania, Samiya Suluhu Hassan (file photo)
-----
Tanzania's Vice President Samia Suluhu Hassan was sworn in as president on Friday, becoming the first female head of state in the east African country following the death of President John Magufuli.
Hassan, 61, was sworn in at State House in the country's commercial capital Dar es Salaam. She assumes the presidency following Wednesday's announcement of the death of Magufuli, after a more than a two-week absence from public life that drew speculation about his health.
In a statement, the presidency said Hassan would address the nation after being sworn in and would also hold a cabinet meeting.
The absence of Magufuli, Africa's most vehement COVID-19 skeptic, since Feb. 27 had fuelled speculation about his health and sparked rumors he had contracted the disease, although officials had denied he was ill. Hassan said he had died of heart disease.
Described as a soft-spoken consensus-builder, Hassan will also be the country's first president born in Zanzibar, the archipelago that forms part of the union of the Republic of Tanzania.
Her leadership style is seen as a potential contrast from Magufuli, a brash populist who earned the nickname 'Bulldozer' for muscling through policies and who drew criticism for his intolerance of dissent, which his government denied.
https://english.alarabiya.net/News/world/2021/03/19/Tanzania-swears-in-Samia-Suluhu-as-president-country-s-first-head-of-state
--------
Female Rangers Guard World's Largest Arid Mangrove Forest In Pakistan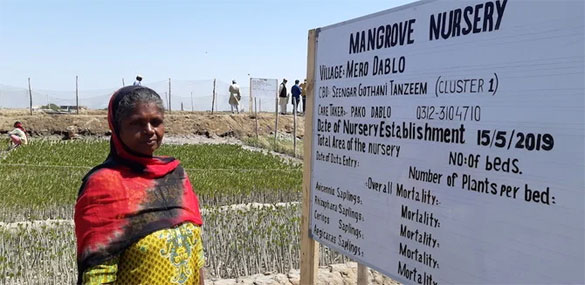 A female forest worker poses with the signboard of a mangrove nursery established by WWF-Pakistan in Mero Dablo village in Thatta, Pakistan, on March 09, 2021. (AN Photo by Zulfiqar Kunbhar)
-----
Zulfiqar Kunbhar
March 18, 2021
THATTA: For decades, grazing animals and loggers destroyed thousands of trees on Pakistan's Indus River Delta, home to the largest arid mangrove forests in the world.
The Indus Delta has around 95 percent of the total mangrove forest cover in Pakistan, and was once home to eight species of mangroves, which the Sindh Forest Department (SFD) says forest destruction reduced by half.
By 2005, mangrove cover had declined to 84,000 hectares — the lowest recorded level — from 260,000 hectares in the 1980s.
In 2019, as part of an ongoing campaign to improve forest cover, the SFD collaborated with the World Wildlife Fund (WWF) to set up a mangrove nursery, hiring 250 women not just to plant new trees but also to guard them against threats from animals and humans.
Hired along with their families, the women, officially called eco-guards, play a "vital role in the protection of mangroves, which is a family unit job," Riaz Ahmed Wagan, the SFD's chief conservator of mangroves, told Arab News.
Assessments by the SFD showed that mangrove cover had increased once more to 210,000 hectares by 2020.
The women eco-guards, Wagan said, had a large role in improving the numbers.
One of them, 60-year-old Hawa Dablo from Mero Dablo, a fishing village on the edge of the Arabian Sea, said she spent her days planting seeds, looking after saplings and standing guard, with other members of her family, against the trees being destroyed by roaming animals.
"I have been working here for the last two years since this nursery was established in my village," Dablo told Arab News.
She said the most vulnerable trees were young mangroves that had to be protected from grazing camels and buffaloes as well as from local loggers.
"In order to preserve mangroves, locals start initiatives from their own households and at the personal level," Dablo said. "Every household or village will ensure that their animals are released for open grazing in only those areas where there are mature mangroves; locals will make sure that animals will not touch the areas where new plantations have been done."
But she said illegal logging still remained a threat, although it was no longer rampant.
"If we notice any mangrove cutting activity we inform our male family members to take further action," Dablo said. "When there is a deliberate cutting of mangroves, mostly by outsiders, we complain to local SFD officials through our male partners."
Dr. Tahir Rasheed, the regional head for the Sindh and Balochistan wing of WWF Pakistan, said that under the mangrove protection program, the women rangers were paid a small stipend and given incentives "including sewing machines to do stitching and embroidery work, iceboxes, and ponds for fishing to improve their livelihoods."
The incentives, he said, were important in an area where it is estimated that nearly 90 percent of the population lives below the poverty line.
Most households on the delta rely on fishing, and preserving mangroves was key to maintaining the marine ecosystem, another female eco-guard explained, given that a wide variety of fish lay their eggs in mangrove bushes on the delta.
"We guard mangroves and don't allow people to cut green mangroves," said Razia Dablo from the island fishing village of Khariyoon Takur. "If there are no more green mangroves, it will destroy the ecosystem for fish; that will negatively affect our livelihoods."
Besides employing eco-guards, the SFD has given full-and part-time "green jobs" to over 50,000 people since 2000 — around 40 percent of them women.
"Despite social restrictions that put limitations on work on women outside their homes, female participation in afforestation on the Indus River Delta is almost half of the total forestation workforce, which is a great achievement," Wagan said. "For upcoming plantation projects on the delta and elsewhere, we are planning to achieve maximum female participation."
https://www.arabnews.com/node/1827666/world
--------
Noorbina Rasheed's Candidature a Victory for Women in Indian Union Muslim League
19th March 2021
KOCHI: The selection of Noorbina Rasheed as the candidate of the Indian Union Muslim League (IUML) for the Kozhikode South constituency has been hailed as a bold step by the party to overshadow the orthodoxy in the community. Noorbina's candidature was celebrated as the victory of the 'progressives' in IUML over the hardliners who never wanted women to enter the public sphere. But those familiar with the history of the All India Muslim League, IUML's precursor, say women played a significant role in the party in pre-independence era and shortly after the country became free.
"There were prominent figures such as Begum Aizaz Resul who was the Muslim League party leader in Uttar Pradesh assembly from 1950 to 52. She joined the party in 1935 and was elected to UP Assembly in 1937," said historian M C Vadakara, who has written the book 'Hundred Years of Muslim Politics.'
Born in the family of landlords, Begum was at the forefront of the agitation against ending the zamindari system and went to jail. "She was the lone woman member in the constituent assembly and was the president of the Indian Women's Hockey Federation and Asian Women Hockey Federation," Vadakara said.
Begum Shanawaz, the leader from Punjab, moved a resolution against polygamy and got it passed at the Lahore session of the Muslim League in 1918. "She was the president of the women's wing of the Muslim League in Punjab and was elected to the Punjab Assembly in 1937. She also represented the League in the delegation for the Round Table conference in London," he said.
Another stalwart among the women leaders was Begum Ameerudeen, who was the member of the assembly of Madras Presidency from 1946 to 1952. "She was an orator par excellence. It is said C Rajagopalachari once came to the House only to hear her speech even while he was down with fever," Vadakara said.
There were other leaders such as Begum Habeebullah, the working committee member of the Muslim League, who was a novelist and a journalist worked with the BBC. "The All India Muslim League had a women's wing of volunteers, the leaders of which were also women," he said.
What made the party and parliamentary posts in the Muslim League inaccessible to women after 1960s? "Religion was not the basis of the League in the beginning though it carried the religious tag. Many early leaders of the party were not very religious. But later, the party became subservient to religious organisations and consequently, women were pushed to the side-lines," said writer Mujeeb Rehman Kinaloor.
"Vote bank of organised religious outfits became important for the party and decisions were taken after consulting with them. The dominance of the orthodox Sunnis in IUML prevented women from entering the public space," he said.
Noora V, who wrote a book on the legendary Muslim leader Haleema Beevi, recalled how Beevi was elected as the Tiruvalla taluk secretary of the Travancore State Muslim League in 1946. "Haleema Beevi was the secretary of not the Vanitha League, but that of the party that consisted of men and women. The membership in the committee was dominated by women and she was elected the secretary," she said.
https://www.newindianexpress.com/states/kerala/2021/mar/19/noorbina-rasheed-s-candidature-a-victory-for-women-in-iuml-2278487.html
--------
Police Trial Anti-Grab Hijabs in Bid to Recruit More Muslim Women
19th Mar 2021
Elham Asaad Buaras
Leicestershire Police is trialling "anti-grab" hijabs to encourage more Muslim women to join the force.
Police have given the hi-tech headgear to a student officer to roll them out to colleagues on the front line. Made of a sports fabric and fastened with magnetic buttons, which allow for quick release if a suspect attempts to grab it, the hijab is designed to sit comfortably with police headgear such as caps and radio earpieces.
A team spent 16 months designing the new-look hijabs at New Zealand's Massey University College in Wellington. New Zealand Police introduced them into its uniform last November and they are now expected to be rolled out to forces in the UK.
Chair of Leicestershire Police's Association of Muslim Police, Detective Constable Yassin Desai, said, "If everything goes well and the necessary tests and approvals are met, we could be rolling this out in Leicestershire.
I have also been talking to other forces in England and Wales and the Home Office about it being a national solution for emergency services and frontline staff. It's really important for our Muslim officers who wear the hijab. Operationally, a standard hijab is needed".
"It looks professional, uses very similar material to our current police uniform and has relevant design and safety features. More importantly, it will help attract other Muslim females to become police officers. It will also help provide role models to the community to show them they too can follow a career in policing".
In a statement to The Muslim News student Officer Khadeejah Mansur, who is trialling the hijab, said, "Once fellow Muslim females see me as a frontline hijab-wearing officer, I hope it will inspire them to look at a career in policing as there are no restrictions or setbacks."
She added, "It is a big step for Leicestershire police to be able to cater to upcoming hijab-wearing Muslim female officers. It breaks down barriers, breaks stereotypes and brings communities together and that is something that we value as police officers.
The hijab itself is fashionable and practical; I hope it will be inspiring to fellow Muslim females to encourage them to start a career with our police force."
Deb Cumming, Senior Design Lecturer at Massey University in New Zealand, created the hijab with colleague Nina Weaver said, "The hijab fits the head and neck-shoulder area for freedom of movement and rigorous performance with contoured panels and reinforced zones for durability, access for the communication device and a quick-release fastening system for safety reasons.
It is made from a technical sports fabric, which is light to wear, antibacterial, moisture-wicking and robust. We conducted extensive wear trials to ensure the hijab was fit for purpose".
Suleman Nagdi, who is running a project "Cops Communities Consent" for the last three years through the Open Society Foundation and working with the police forces in Leicestershire, Antwerp and Rotterdam, said, "I hope that this new dress addition to our forces uniform will contribute to making the Police more reflective of the communities it serves, this will encourage a greater diversity of applicants and demonstrates the openness of our Police Force to consider applicants from all backgrounds."
http://muslimnews.co.uk/newspaper/home-news/police-trial-anti-grab-hijabs-bid-recruit-muslim-women/
--------
Rights Group: Indonesian Women Pressured to Wear Head Scarves, Follow Dress Code
2021-03-18
Women and girls face increasing pressure to follow religious dress codes in workplaces and schools amid growing Islamic conservatism in Indonesia, according to a report released by Human Rights Watch on Thursday.
A recent decree prohibiting public schools in the Muslim-majority country from enforcing religion-based dress codes – such as headscarves and long skirts – does not include Islamic schools, or women who work in the civil service and government offices, the HRW report said.
"Over the past two decades, women and girls in Indonesia have faced unprecedented legal and social demands to wear clothing deemed Islamic as part of broader efforts to impose the rules of Sharia, or Islamic law, in many parts of the country," the report said.
"These pressures have increased substantially in recent years," said the report titled "'I Wanted to Run Away': Abusive Dress Codes for Women and Girls in Indonesia."
HRW said that compelling women and girls to dress a certain way is discriminatory.
Responding to HRW's report, an executive at Indonesia's semi-official authority on Islam denied that women had been forced to wear hijabs.
Amirsyah Tambunan, secretary general of the Indonesian Ulema Council, also questioned why HRW said urging women to wear headscarves was discriminatory.
"What I see in society is that wearing a headscarf for Muslim women is voluntary and there is no coercion," Amirsyah told BenarNews.
"On what basis is HRW reporting that calling on women to wear headscarves is a discriminatory act against women? Have they done research with correct methodologies based on facts on the ground?"
An official at the Ministry of Women's Empowerment and Child Protection said the government needs to take reports of discrimination against women seriously, "especially when victims experience bullying and harassment."
The ministry would respond to any cases of such discrimination, said Lenny N. Rosalin, the deputy for child development.
"Such discrimination has an impact on children and we must take action," Lenny told BenarNews.
'Jilbab bullying'
Pressuring girls and women to wear garments such as long skirts and the jilbab – a cloth that covers a woman's head, neck and chest – is an assault on their rights to freedom of religion, expression and privacy, and an attack on gender equality, HRW said. This compulsion also affects girls' and women's physical and mental well-being, the report said.
Ifa Hanifah Misbach, a psychologist in Bandung, spoke to HRW about what she called "jilbab bullying" – teachers and colleagues punishing girls and women and harshly ridiculing them for not strictly adhering to what they consider modest dress.
HRW recommended that the government take strong disciplinary action against institutions that pressure women and girls to wear the jilbab or other religious dress.
In some parts of Indonesia, women are forced or pressured to wear jilbabs and long skirts instead of long pants, HRW said.
In February 2020, 10 Girl Scouts wearing their uniform – long skirts – died when they were swept into a river during a hike in Yogyakarta, local media widely reported.
Wahyu Efendi L., the Yogyakarta head of the National Search and Rescue Agency (Basarnas), told The Jakarta Post that the girls' long skirts caused them to be dragged away by the strong flood current and limited their physical movement.
In its report, HRW recommended that Indonesia's scouting authority repeal provisions of the uniform regulation that have been interpreted as requiring female scouts and schoolgirls to wear the jilbab and other religious dress.
'Decree needs to be applied broadly'
In 2014, the Ministry of Education and Culture issued a regulation on public school uniforms which was widely interpreted as requiring Muslim female students to wear headscarves.
"Even when school officials have acknowledged that a 2014 national regulation does not legally require a jilbab, the existence of the regulation adds to schools applying pressure on girls and their families for the girls to wear one," HRW said last month. Education and Culture Minister Nadiem Makarim, who co-signed the Feb. 3, 2021, decree allowing students to choose what they wear to school, told HRW at the time that the schools have "misinterpreted" the 2014 ministerial regulation.
The latest decree, she hoped, would correct that misinterpretation, HRW said.
Still, the new decree applies only to state schools under the management of local governments and the Education and Culture Ministry.
The rights group recommended that the government review dress codes in Islamic state schools and universities under the Ministry of Religious Affairs, "which makes mandatory jilbab [a] requirement."
The February decree does not apply to publicly funded institutions either, where female civil servants are pressured to wear a jilbab and "decent clothing," HRW's report said.
A lecturer at a public university in Jakarta – who wished to remain anonymous – told the rights group that she had been under pressure to wear a jilbab even though there was no campus regulation on the garment and the university mandated only "decent clothing."
The constant pressure to dress a certain way prompted the lecturer to resign last March.
"She took a new job at a private university where she says she is not judged for teaching without a jilbab," HRW said.
The Indonesian government must also work with Islamic organizations to create a public messaging campaign against requiring or pressuring women and girls to wear the jilbab and promoting tolerance and inclusivity, the HRW report said.
https://www.benarnews.org/english/news/indonesian/id-women-dress-03182021154545.html
--------
'Daesh Brides' Open Up In Syria Camp Documentary
March 18, 2021
LOS ANGELES: "Okay, um... My name's Shamima. I'm from the UK. I'm 19."
Spoken with a nervous laugh, the introduction to a room full of women and restless babies could be the start of any young mothers' support group.
But the speaker is Shamima Begum, the teenage "Daesh bride" who left Britain for Syria in 2015 to join the Daesh group, and whose desire to return sparked a right-wing press frenzy that saw her stripped of her citizenship.
The footage is captured in "The Return: Life After ISIS," a documentary premiering Wednesday at the online Texas-based South By Southwest festival.
Spanish director Alba Sotorra got rare, extensive access to Begum and other Western women over several months in Syria's Kurdish-run Roj camp, where they remain following the so-called caliphate's collapse in 2019.
"I would say to the people in the UK, give me a second chance because I was still young when I left," Begum tells the filmmakers.
"I just want them to put aside everything they've heard about me in the media," she adds.
Begum left her London home aged just 15 to travel to Syria with two school friends, and married a Daesh fighter.
She was "found" by British journalists, heavily pregnant at another Syrian camp, in February 2019 — and her apparent lack of remorse in initial interviews drew outrage.
But Begum and fellow Westerners including US-born Hoda Muthana strike a very different and apologetic tone in Sotorra's film.
The documentary follows "workshop" sessions in which the women write letters to their younger selves expressing regret about their departures for Syria, and plant a tree to remember their loved ones.
"It was known that Syria was a warzone and I still traveled into it with my own children — now how I did this I really don't know looking back," says one Western woman.
Begum recalls feeling like an "outsider" in London who wanted to "help the Syrians," but claims on arrival she quickly realized Daesh were "trapping people" to boost the so-called caliphate's numbers and "look good for the (propaganda) videos."
Sotorra, the director, gained camp access thanks to Kurdish fighters she had followed in Syria for her previous film.
She set out to document the Kurdish women's sacrifices in running a camp filled with their former enemies' wives and children, but soon pivoted to the Western women.
"I will never be able to understand how a woman from the West can take this decision of leaving everything behind to join a group that is committing the atrocities that Daesh is committing," Sotorra told AFP.
"I do understand now how you can make a mistake."
On Sotorra's arrival in March 2019, the women — fresh from a warzone — were "somehow blocked... not thinking and not feeling."
"Shamima was a piece of ice when I met her," Sotorra told AFP.
"She lost the kid when I was there... it took a while to be able to cry," she recalled.
"I think it's just surviving, you need to protect yourself to survive."
Another factor is the enduring presence of "small but very powerful" groups of even "more radicalized women" who remain loyal to Daesh and exert pressure on their campmates.
"We had (other) women who joined in the beginning, and then they received pressure from other women so they stopped coming," said Sotorra.
In the film, Begum claims she "had no choice but to say certain things" to journalists "because I lived in fear of these women coming to my tent one day and killing me and killing my baby."
The question of what can and should be done with these women — and their children — plagues Western governments, sowing divisions among allies.
Last month, Britain's Supreme Court rejected Begum's bid to return to challenge a decision stripping her citizenship on national security grounds.
How much the women knew about — and abetted — Daesh's rapes, tortures and beheadings may never be known.
In the documentary, Begum denies she "knew about" or "supported these crimes," dismissing claims she could have been in Daesh's feared morality police as a naive 15-year-old who did not even "speak the language."
"I never even had a parking ticket back in my own country before... I never harmed anybody, I never killed anybody, I never did anything," says Canadian Kimberly Polman.
An incredulous Kurdish woman points out that "maybe your husband killed my cousin."
Sotorra believes the women could be useful back home in preventing the same mistake in future generations, and points to the cruelty of raising young children in this environment.
"It took them a while to realize that they have responsibility for (their) choice... they cannot just think 'Okay, I regret, I go back, as if nothing has happened,'" she said.
"No, it's not about this... you have to accept the consequences."
https://www.arabnews.com/node/1827106/middle-east
--------
Why Iran's Women's Rights Movement Will Endure Through US Sanctions
MAEDEH SHARIFI
8 MAR 2021
Donald Trump may be out of office, but women in Iran will continue to feel the weight of his "maximum pressure" campaign as sanctions are being maintained under Joe Biden.
During the electoral campaign, Joe Biden addressed Donald Trump's policy of sanctions against Tehran as a failure but has refused to offer the country relief to the sanctions upfront. The diplomatic stalemate between Iran and the US means Iranian women have been left to tackle the repercussions of economic sanctions and Covid-19, just as the country is expecting a fourth wave.
TRT World spoke to Amir Abdoli, Assistant Professor at Jahrom University of Medical Sciences in Tehran, to gain insight on what the healthcare impacts are on vulnerable women during the pandemic.
"Besides heavy inflation due to sanctions, many people have lost their job due to the Covid-19 outbreak, resulting in fallen household incomes. In these situations, vulnerable people, including pregnant women are more affected" Abdoli tells TRT World.
"Pregnant women need to consume healthy diets containing proteins, vitamins, and minerals. The inflation caused a sharp rise in the price of basic foods, such as meat, poultry, fish, vegetables and fruits. In addition, the costs of routine screening, medicines and supplements approximately 10 times increased during the sanctions of Trump's administration. Poor nutrition and lack of access to health services severely affect maternal and child health, especially in poor groups of society" Abdoli adds.
As the sanctions are yet to be lifted by the Biden administration, Abdoli believes that "the long-term effects of sanctions could be more dangerous for female populations than their short-term impact".
The impact of US sanctions
America has framed part of its sanctions policies in the name of civil society, yet, the reality of these policies hurt not only ordinary women but also the movements happening on the ground in the realm of women's rights.
Assal Rad, a Senior Research Fellow at the National Iranian American Council, tells TRT World "While U.S. policymakers may argue that sanctions are intended to target the Iranian government, in practice, they impact ordinary Iranians of all backgrounds".
Washington's narratives have been pushed back since Trump's re-imposition of sanctions in 2018 by analysts and regional experts. They argue that sanctions impede the women's rights movement in Iran even further, and the no sanctions on Iran coalition of feminist Iranian-American scholars, artists and activists are calling for an end to them.
"Studies on the impact of sanctions have shown that they tend to exacerbate women's rights, and this is not just the case in Iran. Since sanctions have a negative impact on a country's economy and political stability, women tend to suffer more because of their vulnerable political status as well. The security threats that come along with sanctions and heightened tensions create an atmosphere of greater security measures and increased repression of civil society movements, including but not limited to women's rights" Rad adds.
The interlink between the state and sanctions
The U.S sanctions, which have been in place since 2018, have not made it any easier for the women in Iran that are spearheading the movement towards gender equity. In an economy being crippled by sanctions, the pressure mounts on women's rights defenders, with several activists being handed prison sentences in the past two years.
Ali Fathollah-Nejad, an expert on Iranian sanctions, and an affiliated scholar at the Centre for International Cooperation and Development Studies with the Université libre de Bruxelles, explains to TRT World how the negative impacts from sanctions materialise.
"In most cases, authoritarian governments try to externalise the costs of sanctions onto the civilian population. Both discursively and materially. Also in the Iranian case, there is a process of externalisation of costs, discursively and materially, onto the civilian population, including civil society and its main components in Iran, namely the students, labour and women's movements".
"The discursive externalisation, for instance, works in a way that activists may be portrayed as being pawns in the hands of malign outside forces of imperialism in order to de-legitimise what they're doing" Fathollah-Nejad adds.
Due to the negative economic impacts of sanctions, he says "the economic well-being of civil society activists is being complicated so that it could lead to a scenario in which political activism becomes merely a luxury".
A consensus certainly exists among regional analysts - although the movement for women's rights in Iran is intensified by US sanctions, the country's own policy choices are considered the root of its deplorable women's rights records.
Fathollah-Nejad tells TRT World "When it comes to the specific issue of women's rights in Iran, the most important hurdle is the state, and not sanctions. The most important factor is the state and its multifaceted limitations imposed upon women, their rights and activism. This is something that is quite clear in the Iranian case".
https://www.trtworld.com/magazine/why-iran-s-women-s-rights-movement-will-endure-through-us-sanctions-44824
--------
South African Muslim Bodies Call For Government Intervention Over Sri Lankan Burqa Ban
March 19, 2021
South African Muslim organisations have called on the country's foreign minister to intervene in the proposed Sri Lankan ban on the burqa and closure of hundreds of Islamic schools.
This followed the announcement by Sri Lanka's minister for public security, Sarath Weerasekera, during the weekend that his country would ban the traditional full-face covering worn by some Muslim women because it posed a threat to national security.
This was quickly followed by a statement from the Sri Lankan foreign ministry, which said a decision would only be taken on the proposal after consultations and further discussion.
The United Ulama Council of South Africa (UUCSA) has now asked South Africa's Minister of International Relations and Co-operation Naledi Pandor to intervene in the matter.
UUCSA had earlier also called for such intervention when Sri Lanka decided that Muslims should also be cremated rather than buried, in defiance of Muslim requirements, which prohibit cremation. The cremation ruling was rescinded later.
"The UUCSA will once again appeal to the Department of International Relations and Co-operation to engage with its counterparts to stop state-sanctioned Islamophobia," Yusuf Patel, the secretary-general of UUCSA, told the weekly Post.
"Muslims in Sri Lanka have become targets of virulent hate speech in mainstream and social media. The ban on the burqa and the closure of schools are meant to appease Sri Lanka's Buddhist majority, who thrive on entrenching sectarian and religious divides through hate propaganda," Patel said.
Adding its voice to the call for action against Sri Lanka, the South African Muslim Network (Samnet) said it was hypocritical of the Sri Lankan government to target Islamic schools.
"There are other religious groups who also have institutions that teach their religious teachings, but there has been no attempt to target those," Samnet chairperson Dr Faisal Suliman told the weekly.
"Such moves like this, on the Muslim community, will likely give rise to radicalism, fundamentalism and underground movements, which will in fact be a greater source of insecurity than working with religious schools, interacting with them and looking at the syllabi taught. By doing this, they will be ensuring that there are standards and uniformity of the teachings."
Suliman said Samnet would express its concerns to both the local foreign ministry as well as the Sri Lankan embassy in South Africa.
https://indianexpress.com/article/world/south-african-muslim-bodies-call-for-government-intervention-over-sri-lankan-burqa-ban-7235046/
--------
URL: https://www.newageislam.com/islam-women-feminism/samia-suluhu-tanzanias-first-female/d/124581
New Age Islam, Islam Online, Islamic Website, African Muslim News, Arab World News, South Asia News, Indian Muslim News, World Muslim News, Women in Islam, Islamic Feminism, Arab Women, Women In Arab, Islamophobia in America, Muslim Women in West, Islam Women and Feminism