New Age Islam News Bureau
17 January 2021
• Sameera Fazili and Aisha Shah, Two Kashmiri-Origin Women Named In US President-Elect Joe Biden Team
• Skokie's Bushra Amiwala, 22, Youngest Muslim-Elected Official In U.S.
• Harris To Be Sworn In By First Latina Justice Sotomayor At Inauguration
• Gunmen Shoot Dead Two Women Supreme Court Judges In Kabul
• Saudi Female Participation In Science Rising
• 13 women among 20 Indian-Americans roped in by Biden for key White House positions. Take a look
• Before He Stormed Capitol, Republican Lawmaker Harassed Women At Abortion Clinic
Compiled By New Age Islam News Bureau
URL: https://www.newageislam.com/islam-women-feminism/sameera-fazili-aisha-shah-two/d/124088
-------
Sameera Fazili and Aisha Shah, Two Kashmiri-Origin Women Named In US President-Elect Joe Biden Team
Jan 17, 2021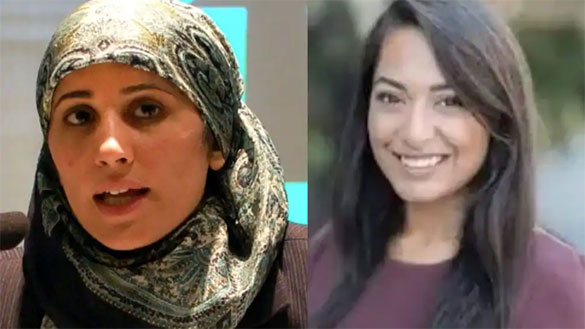 Indian-American women, Sameera Fazili and Aisha Shah, have been named in the team of US President-elect Joe Biden
-----
Two Indian-American women, Sameera Fazili and Aisha Shah, have been named in the team of US President-elect Joe Biden so far. Kashmiri-origin Fazili's parents wanted her to be a physician, but she was not quite in agreement. Fazili's plans fructified on Friday when the Biden-Harris Transition named her as the deputy director of the National Economic Council at the White House. The council coordinates the economic policy-making process and provides advice to the US president.
Fazili is the second Kashmiri-origin Indian-American appointed to a key position in the incoming Biden administration. Her appointment has sparked off jubilations in her extended family in Srinagar. "We are very proud. Everybody in Kashmir should be proud as it is a proud moment for the whole Kashmir," her uncle Rouf Fazili told PTI.
"It is a great honour and respect for every one of us and a great occasion." "She was not born here and her parents left the Valley in 1970-71, but she has a strong affinity with Kashmir," Rouf Fazili said. "The last time she visited the valley was in 2007."
Rouf Fazili did not have the opportunity to speak to her niece as she was very busy with US President-elect Joe Biden's inauguration, which will take place on Wednesday. "But, I spoke to the rest of the family and, obviously, they are very happy!" he added. Another close family member said Sameera Fazili, whose father is a surgeon and the mother is a pathologist, was a bright child and brilliant in her studies. "Her parents wanted her to be a physician, but she had other plans. Her inclination was towards public service," the relative said.
Sameera Fazili is a very active person who loves skiing, swimming, tennis and travelling, the relative said, adding that she was very fond of Kashmiri cuisine. She is currently the economic agency lead on the Biden-Harris Transition and was earlier posted at the Federal Reserve Bank of Atlanta, where she served as the director of engagement for community and economic development.
In December, another Kashmiri-origin woman, Aisha Shah, was named as partnerships manager at the White House Office of Digital Strategy. In the Obama administration, Sameera Fazili served as a senior policy advisor on the White House's National Economic Council and as a senior advisor at the US Treasury Department in both Domestic Finance and International Affairs.
Prior to that, she was a clinical lecturer of law at Yale Law School. Originally from Buffalo in New York, she now lives in Georgia with her husband and three children. Sameera Fazili is a graduate of Yale Law School and Harvard College.
https://zeenews.india.com/india/two-kashmiri-origin-indian-american-women-sameera-fazili-aisha-shah-in-us-president-elect-joe-bidens-team-know-who-they-are-2336305.html
------
Skokie's Bushra Amiwala, 22, youngest Muslim-elected official in U.S.
January 17, 2021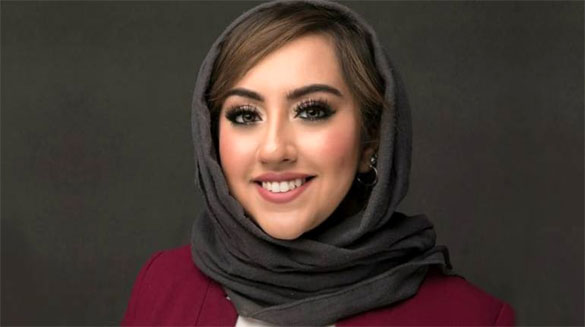 Bushra Amiwala
------
The youngest Muslim-elected official in the United States of America, Bushra Amiwala, is advocating for young voices in politics.
First running while in college, Amiwala's campaign received recognition from TIME Magazine, Teen Vogue, and The New York Times.
She was named Glamour Magazine's College Woman of the Year for her first campaign though she lost.
She decided to run again, passionate for public service and education, she kept advocating for others in her community and won!
She now serves on the Board of Education for Skokie School District 73.5 at just 22-years-old.
https://abc7chicago.com/localish/youngest-muslim-elected-us-official-lives-in-skokie/9689524/
--------
Kamala Harris To Be Sworn In By First Latina Justice Sotomayor At Inauguration
By: AP
January 17, 2021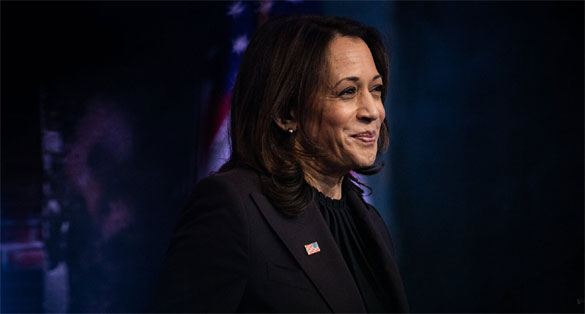 Kamala Harris
-----
Vice President-elect Kamala Harris will be sworn in by Supreme Court Justice Sonia Sotomayor on Wednesday, a history-making event in which the first Black, South Asian and female vice president will take her oath of office from the first Latina justice.
Harris chose Sotomayor for the task, according to a person familiar with the decision. She'll also use two Bibles for the swearing-in, one of which belonged to Thurgood Marshall, the first Black Supreme Court justice.
Harris has expressed admiration for both Sotomayor and Marshall. She and Sotomayor share experience as prosecutors, and she once called Marshall _ like Harris, an alumnus of Howard University one of her "greatest heroes."
The vice president-elect said in a video posted to Twitter that she viewed Marshall as "one of the main reasons I wanted to be a lawyer," calling him "a fighter" in the courtroom.
And this will be the second time Sotomayor takes part in an inauguration. She swore in President-elect Joe Biden as vice president in 2013.
https://indianexpress.com/article/world/kamala-harris-to-be-sworn-in-by-first-latina-justice-sotomayor-at-inauguration-7149888/
--------
Gunmen Shoot Dead Two Women Supreme Court Judges In Kabul
January 17, 2021
by Taboola
Kabul: Gunmen shot dead two Afghan women judges working for the Supreme Court during an early morning ambush in the country's capital Sunday, officials said, as a wave of assassinations continues to rattle the nation.
Violence has surged across Afghanistan in recent months despite ongoing peace talks between the Taliban and government -- especially in Kabul, where a new trend of targeted killings aimed at high-profile figures has sown fear in the restive city.
The latest attack comes just two days after the Pentagon announced it had cut troop levels in Afghanistan to 2,500, the fewest in nearly two decades.
The attack on the judges happened as they were driving to their office in a court vehicle, said Ahmad Fahim Qaweem, a spokesman for the Supreme Court.
Afghanistan's Supreme Court was a target in February 2017 when a suicide bomb ripped through a crowd of court employees, killing at least 20 and wounding 41.
In recent months, several prominent Afghans -- including politicians, journalists, activists, doctors and prosecutors -- have been assassinated in often brazen daytime attacks in Kabul and other cities.
Afghan officials have blamed the Taliban for the attacks, a charge the insurgent group has denied.
https://www.ndtv.com/world-news/gunmen-shoot-dead-two-afghan-women-supreme-court-judges-in-kabul-2353711
-------
Saudi female participation in science rising
RAWAN RADWAN
January 16, 2021
JEDDAH: In the past five years, Saudi women have taken great strides in scientific fields and, with the support of the government, the best seems yet to come.
Saudi women are now serving as leaders in their research fields, and many have gone on to serve as deans, directors of research centers and more.
In an interview with Al-Arabiya, Hind Al-Zahid, undersecretary for women's empowerment at the Ministry of Human Resources and Social Development, said that "the percentage of women in STEM (science, technology, engineering and mathematics) is higher than men" in the Kingdom.
According to a 2020 study published on statista.com about the gender distribution of 2018 STEM graduates in Saudi Arabia, Communications and IT is the most popular major among female graduates.
Asrar Damdam, founder and CEO of UVERA, is one of the many Saudi women who are not only pursuing degrees in STEM but also working for the empowerment of women by providing them with job opportunities.
She told Arab News that she followed her passion and obtained a bachelor's degree in electrical and computer engineering followed by a master's degree. "Now I am a Ph.D. student at the King Abdullah University of Science and Technology. It wasn't an easy start but as soon as I entered the job market five years ago, many companies were not only welcoming to women but many were searching for them to join. Times have changed and you now see more women exploring their options in various fields of science."
With her company based in Silicon Valley, she opened a syndicate in the Kingdom. Damdam has found that her recent female recruits are passionate about their work and are going through the learning curves required to excel in their respective fields.
"Their work ethics are exceptional and their passion is felt as they continue to provide insight and finding innovative ways to reach the company's goals," she said. "It's because of their passion that they are able to contribute and it wouldn't have been achievable without the programs that provided me and the many women in the fields of STEM with these opportunities."
This was reiterated by Al-Zahid, who spoke of Saudi Arabia's eagerness to pursue empowerment for women and to provide them with adequate positions fit for their fields of expertise.
"The numbers tell the story," she said, adding that international markers have shown the Kingdom's pursuit in empowering women in the labor market is exceeding expectations.
https://www.arabnews.com/node/1793791/saudi-arabia
--------
13 women among 20 Indian-Americans roped in by Biden for key White House positions. Take a look
PTI
January 17, 2021
US President-elect Joe Biden has nominated at least 20 Indian-Americans, including 13 women, to key positions in his incoming administration, a record for the small ethnic community that constitutes one per cent of America's population. As many as 17 of them, including Neera Tanden who has been nominated as the Director of Management and Budget, would be part of the Biden administration in the powerful White House complex.
The January 20th inauguration, the 59th in all, where Biden, 78, would be sworn in as the 46th President of the United States is already historic in the making as for the first time ever a woman, Kamala Harris, would be sworn as the Vice-President of the country. Harris, 56, is also the first ever Indian-origin and African-American to be sworn in as the Vice President of the United States. It is also for the first time ever that so many Indian-Americans have been roped into a presidential administration ever before the inauguration. Biden, a Democrat, is still quite far away from filling all the positions in his administration.
Topping the list is Tanden, who has been nominated as Director of the White House Office of Management and Budget and Dr Vivek Murthy, who has been nominated as the US Surgeon General.
Vanita Gupta has been nominated as Associate Attorney General Department of Justice, and on Saturday, Biden nominated former foreign service official Uzra Zeya as the Under Secretary of State for Civilian Security, Democracy and Human Rights.
"The dedication that the Indian-American community has shown to public service over the years has been recognised in a big way at the very start of this administration! I am particularly pleased that the overwhelming majority are women. Our community has truly arrived in serving the nation," Indiaspora founder M R Rangaswami told PTI.
Mala Adiga has been appointed as Policy Director to the future First Lady Dr Jill Biden and Garima Verma would be the Digital Director of the Office of the First Lady, while Sabrina Singh has been named as the White House Deputy Press Secretary.
For the first time, the Indian-Americans nominated for Biden administration include two who trace their roots to Kashmir: Aisha Shah, who has been named as Partnership Manager at the White House Office of Digital Strategy and Sameera Fazili, who would occupy the key position of Deputy Director at the US National Economic Council (NEC) in the White House.
White House National Economic Council also has another Indian-American, Bharat Ramamurti, as Deputy Director. Gautam Raghavan, who served at the White House in the previous Obama administration returns to the White House as Deputy Director in Office of Presidential Personnel.
Among Biden's inner circle is his top confidant for years Vinay Reddy, who has been named as Director Speechwriting. Young Vedant Patel is all set to occupy a seat in the White House lower press, behind the briefing room, as Assistant Press Secretary to the President. He is only the third-ever Indian American to be part of the White House press shop.
Three Indian-Americans have made their way to the crucial National Security Council of the White House, thus leaving a permanent imprint on the country's foreign policy and national security.
They are Tarun Chhabra: Senior Director for Technology and National Security, Sumona Guha, Senior Director for South Asia, Shanthi Kalathil: Coordinator for Democracy and Human Rights.
Sonia Aggarwal has been named Senior Advisor for Climate Policy and Innovation in the Office of the Domestic Climate Policy at the White House and Vidur Sharma has been appointed as Policy Advisor for Testing for the White House COVID-19 Response Team.
Two Indian-American women have been appointed to the Office of the White House Counsel: Neha Gupta as Associate Counsel and Reema Shah as Deputy Associate Counsel.
Also, for the first time in any administration, the White House would have three other South Asians in key positions -- Pakistani-American Ali Zaidi as Deputy National Climate Advisor White House; Sri Lankan American Rohini Kosoglu as Domestic Policy Advisor to the Vice President and Bangladeshi-American Zayn Siddique: Senior Advisor to the White House Deputy Chief of Staff.
"As President, I'll also continue to rely on Indian-American diaspora that keeps our two nations together, as I have throughout my career," Biden had said in his address to the Indian-American community during a virtual celebration of India's Independence Day on August 15, 2020.
"My constituents in Delaware, my staff in the Senate, the Obama-Biden administration, which had more Indian-Americans than any other administration in the history of this country and this campaign with Indian Americans at senior levels, which of course includes the top of the heap, our dear friend (Harris) who will be the first Indian-American vice president in the history of the United States of America," Biden had said in his video address.
Biden and Harris will be sworn in as President and Vice President of the United States during a largely-virtual swearing-in ceremony on January 20.
But it won't be a typical inauguration, for several reasons. The ongoing coronavirus pandemic and fresh security concerns following a pro-Trump mob breaching the Capitol last week have combined to force some major changes to what is a historical American day.
https://www.indiatvnews.com/news/world/20-indian-americans-joe-biden-administration-us-white-house-top-positions-13-women-full-list-678695
-------
Before he stormed Capitol, Republican lawmaker harassed women at abortion clinic
Samantha Schmidt
17-01-2021
Derrick Evans walked with his phone out in front of him, camera facing forward, as he advanced on the patient in the abortion clinic parking lot. Surrounding the car, clinic volunteers tried to shield the patient with umbrellas and their own bodies. It was no use: on this February morning in 2019, Evans captured the patient on Facebook live, streaming to tens of thousands of followers.
"You will not do this in secret in West Virginia," Evans said. He wore a "Make America Great Again" hat, as he did every week when he protested outside the Women's Health Centre, the only abortion clinic left in the state.
Evans was a fixture at the clinic for much of 2019, with a reputation for harassment so severe that the clinic erected a 10-foot fence to deter him. A volunteer escort obtained a restraining order against him, accusing him of stalking her. When Evans was around - often accompanied by dozens of supporters - women would cry in the waiting room, said clinic patient Hunter Crites, afraid they'd be identified and screamed at as soon as they stepped outside.
By the time Evans stepped foot in the U.S. Capitol on Jan. 6, he had amassed over 32,000 followers on Facebook - and enough votes in the 2020 election to win him a seat in the West Virginia legislature. Everywhere he went - the abortion clinic, Black Lives Matter protests, drag brunches - Evans brought along his phone, and his following, doing what he could to shame and agitate the people around him.
On Jan. 6, those followers cheered him on as the state lawmaker joined a pro-Trump mob pushing its way into the U.S. Capitol, chanting, "Who's house? Our House!" Wearing a helmet, Evans told the viewers of his live stream that he had been pepper-sprayed in the eye, but was marching forward anyway.
"We're in!" he shouted on his Facebook Live as he walked into the Rotunda of the revered building. "Derrick Evans is in the Capitol! Let's go!"
Days later, Evans resigned from his office in the House of Delegates after he was arrested and charged with two federal misdemeanours of unlawfully entering restricted grounds and violent entry and disorderly conduct. Evans's arrest and resignation, just weeks after he was sworn into office, punctuated a years-long effort to build a brand as a confrontational local activist known for harassing people he deemed as immoral or threatening. Usually, his targets were women or people of colour.
Many of the women who had been the subject of Evans's taunts were not surprised to see him join the group storming the U.S. Capitol. For almost two years, staff and volunteers at the abortion clinic urged police officers and legislators to take Evans's behaviour seriously, said Jamie Miller, the clinic escort who was granted the restraining order. Instead, he was voted into elected office.
Evans did not respond to requests for comment, and his family members declined to be interviewed. But John Bryan, a lawyer representing Evans, defended his client as an "independent activist and journalist, who has long exercised his constitutional rights to engage in peaceful protest."
"The people that voted for him, they knew that they were getting a conservative political activist," Bryan said in an interview with The Washington Post. "His constituents knew about that and were supportive of that, or at least a majority were."
Evans's arrest came just days before he was set to begin his first session in the West Virginia House of Delegates, after being elected in his second bid to claim a spot in the legislature. After a failed attempt to run as a Democrat, Evans campaigned as a Republican last year, focused on banning abortion, protecting gun rights and attacking the transgender community.
A married father of three children, with a fourth on the way, Evans previously worked as a teacher with Wayne County schools and as an assistant football coach at Tolsia High School. He was also a real estate investor and property manager, according to local news reports during his campaign. But in the community, he was known by the name associated with his Facebook profile: "Derrick Evans - The Activist."
Before Evans became her colleague in the legislature, state Del. Danielle Walker knew him as the man who would stake out lawmakers at the Capitol and put a camera in their faces, recording videos for his Facebook. Walker, a Black woman and a Democrat, recalled a time when, a day after a gala for the American Civil Liberties Union, Evans "just sat in his car and took pictures and videos of us and posted it online, saying we're a threat to the country." On a different day at the Capitol, "GOP Day" in 2019, Evans went up to Walker and another Black delegate and "yelled the most disgusting things at us," she said.
"He told us we didn't have a place in the state Capitol," Walker said, adding that her oldest son was with her that day at the Capitol. "He told us to go back where we came from."
Walker, a queer woman and the mother of a gay son, has often been the subject of Evans's Facebook posts. He has called her "satanic," she said, and claimed her support of LGBTQ rights amounted to defending paedophilia. For the last several months, in part due to attacks from Evans and others, she has started wearing a bulletproof vest every time she leaves the house - at the Capitol, at Walmart, at the salon. If her son rides in the passenger seat of her car while she's driving, she said, he wears one, too.
At the Women's Health Center, Evans targeted clinic staff and volunteers, calling them "deathscorts" and "baby murderers." He knew everyone's full names, said Katie Quinonez, the executive director of the Women's Health Center - and would repeat them, again and again, on his live stream.
He knew an unsettling number of personal details, Quinonez said. Once, when she was helping a patient into her car, Evans sprinted toward her with his phone. Standing so close that she could feel his spit on her face, she said, he yelled her fiance's name and the name of his business. Then he promised to "eat a cheeseburger" in her honour.
Clinic staff and volunteers worried about their safety, said Stacy Kay, another clinic escort. Many received threatening messages from Evans's followers - or found pictures and memes of themselves floating around his Facebook group. Kay lived only a short drive from the clinic, driving past it every day on her way to work. She often worried that Evans or his followers might follow her home, she said.
Evans's confrontational behaviour at times extended beyond his activism. Reva Sanders-Wallace was the principal of Tolsia High School when Evans worked with the football team, and said Evans frequently yelled in her face.
"He pretty much insisted he didn't have to listen to anything I had to say," Sanders-Wallace said. "I don't know where he developed that sense of trying to demean women, but he did it consistently."
Sanders-Wallace is an avid Trump supporter, but she disagreed with Evans's decision to storm the Capitol. "I have no idea why he pushes every button to the extreme," she said.
In the hours and days after his arrest, both Democratic and Republican lawmakers in the West Virginia House called for Evans's removal from office. One of them was Del. Ben Queen, a 25-year-old Republican. He sees Evans as representing the influence of President Trump on conservative men, many of whom use social media to seek validation and energize supporters.
"I'm sure that emotion led him into the Capitol," Queen said. "It's just a shame that we have to use force and aggression to get our way."
"People are donating thousands of dollars to him. There are some like-minded people that feel he had every right to do that," said Walker, referring to Evans's decision to storm the Capitol. "What else do they feel that he has a right to do?"
Kay, the clinic escort, has been thinking about the last time Evans faced legal repercussions, in May 2019. The day after the judge granted Miller's restraining order - requiring Evans to stay away from the clinic - a new group of men showed up on the sidewalk.
They carried pistols and rifles, Kay said, wearing hats and T-shirts that read, "Oath Keepers," a designated hate group.
"It was definitely to make a statement," she said.
Miller's restraining order expired on 31 December.
The clinic staff and volunteers aren't sure what to expect, Miller said. Evans could be back outside the clinic any day.
https://www.independent.co.uk/news/world/americas/us-politics/capitol-siege-derrick-evans-trump-maga-b1788368.html
-------
URL: https://www.newageislam.com/islam-women-feminism/sameera-fazili-aisha-shah-two/d/124088
New Age Islam, Islam Online, Islamic Website, African Muslim News, Arab World News, South Asia News, Indian Muslim News, World Muslim News, Women in Islam, Islamic Feminism, Arab Women, Women In Arab, Islamophobia in America, Muslim Women in West, Islam Women and Feminism