New Age Islam News Bureau
6 Jan 2018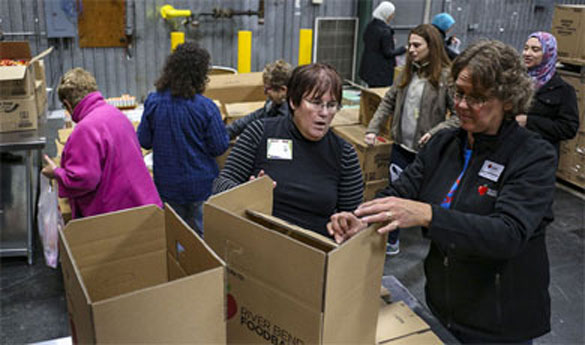 Members of the Quad Cities Sisterhood of Salaam Shalom chapter volunteer at the River Bend Foodbank in Davenport, Iowa, as part of the National Sadaqa-Tzedakah Day in December 2017. Photo courtesy of Sisterhood of Salaam Shalom
----
• Salaam Shalom: Muslim and Jewish Women Start a Movement to Thwart Religious Bigotry
• Iran: At Least Four Female Students Arrested In the Uprising
• Wan Azizah Wants Three in Ten Pakatan's GE14 Candidates to Be Women
• How can I help you? More women join Saudi tourism and hospitality industry
Compiled by New Age Islam News Bureau
URL: https://www.newageislam.com/islam-women-feminism/salaam-shalom-muslim-jewish-women/d/113841
--------
Salaam Shalom: Muslim and Jewish women start a movement to thwart religious bigotry
By Sheryl Olitzky
Jan 06, 2018
When my friend Atiya Aftab and I started the Sisterhood of Salaam Shalom in 2010, we could never have envisioned the need for, or the exponential growth of, what began as a dozen women in New Jersey.
The Sisterhood of Salaam Shalom is the only national group of Muslim and Jewish women in the United States committed to building trust and respect through the development of relationships with one another.
The women join SOSS as strangers, develop into friends and evolve into sisters. They commit to protecting one another and standing up for each other's communities. SOSS grew from our group of a dozen women in 2010 to thousands of women in communities large and small across the United States and Canada.
Exponential growth has turned it into a movement: from just 25 chapters in spring 2016 to nearly 120 chapters (with another 30 in the start-up phase) now. In the year ahead, following a successful pilot of five teen chapters, SOSS will expand the number of teen chapters and will develop professional affinity groups, as well.
When SOSS began some years prior to the last national election, there was no way to envision the magnitude of anti-Muslim and anti-Jewish sentiment that surrounds us.
The rise in religious bigotry in the United States is also troubling to confront because of the perception that Jews and Muslims are very different from one another and just don't get along. My experience over the past seven years shows this couldn't be further from the truth.
The so-called "Trump effect" has brought Muslim and Jewish communities together in new ways.
We shudder at the demonstrable increase in anti-Jewish and anti-Muslim acts of hate since the Trump election. But the commonalities do not stop there. There are positive aspects to the Trump effect: a rapid growth in people who are rising up against such hate in our midst, who refuse to allow those who would destroy the very foundation of this country to be the only voices heard. This is the new commonality shared between Muslims and Jews today. The common purpose to join together has never been stronger.
Beginning as a desire among small groups of women to enter into dialogue and get to know one another, our movement has out of necessity taken on an activist focus.
The neglect by the current administration to take action to stop the cycle of hate has forced SOSS members into advocacy. In the past year, members of SOSS have convened a national Unity Vigil to peacefully protest the ban on travel from certain majority Muslim countries. They have repaired desecrated synagogues and mosques, joined anti-hate rallies, educated the public against hate with a social media campaign, written letters to school boards and public officials, and traveled to places where some people had never met Jews or Muslims — and certainly not together.
Last month, SOSS convened its fourth annual women's leadership conference at Drew University in Madison, N.J. While 100 women attended the first national conference in 2014, registration had to be closed at 650 this year. It was believed to be the largest gathering of Muslim and Jewish women ever in the United States. The theme, "Rising Up Against Hate," gave attendees the skills, confidence and a support network to respond to hate incidents when they returned home.
Critics have challenged SOSS to demonstrate that it can change attitudes. A recent study conducted by Civil Politics, a team of university-based researchers, indicated that four out of five women who join become more dedicated to speaking out against hate and also more committed to protecting the stranger. The study also found that nine out of 10 members are proud to tell others about their experience.
Even as our movement of just a dozen women has grown into thousands, our message is still the same: We are stronger when we come together as women, as activists for religious tolerance, and as Americans to build the country we all want to see.
http://religionnews.com/2018/01/05/salaam-shalom-muslim-and-jewish-women-start-a-movement-to-thwart-religious-bigotry/
--------
Iran: At least four female students arrested in the uprising
05 January 2018
Based on reports disseminated on the internet, at least four young women studying at Iranian universities have been arrested by security forces.
Negin Arameshi, a student of German language and interpretation at Tehran University's School of Foreign Languages and Literature, was arrested on Tuesday evening, January 2, 2018.
The Women's Committee of the National Council of Resistance of Iran has already reported on the arrests of Touran Mehraban, Leila Hassanzadeh and Faezeh Abdipour.
http://www.women.ncr-iran.org/iran-women-news/4652-iran-at-least-four-female-students-arrested-in-the-uprising
--------
Wan Azizah wants three in ten Pakatan's GE14 candidates to be women
BY DANIAL DZULKIFLY
January 6, 2018
KAJANG, Jan 6 ― Pakatan Harapan (PH) president Datuk Seri Dr Wan Azizah Wan Ismail said today she wishes to see 30 per cent participation of women in the 14th general elections (GE14) for the federal Opposition coalition.
Speaking at the the launch of the women's wing of the pact at Dewan Seri Chempaka here, Dr Wan Azizah said the role of women in policy making, helming organisations and socio-economic development can no longer be denied.
"Malaysian women represent 50 per cent of the voters today and yet many still do not know their rights and are simply looked over.
"With more women participating in decision making roles, particularly politics, we could be a force to be reckoned with," the PKR president said to a room of 1,000 women delegates.
Women make up 49.5 per cent of Malaysian citizens, and 48.4 per cent of the overall 32 million population, according to the latest estimates by the Department of Statistics published in August last year.
http://www.themalaymailonline.com/malaysia/article/wan-azizah-wants-three-in-ten-pakatans-ge14-candidates-to-be-women#AxKEgDw0FFGpLvmB.97
--------
How can I help you? More women join Saudi tourism and hospitality industry
6 January 2018
NADA HAMEED
JEDDAH: The number of Saudi women working in the tourism and hospitality sector is rapidly growing.
Many have begun to work at five-star hotels in positions ranging from receptionists to public relation managers, customer services, bookings and other jobs.
Ibraheem Al-Sini, dean of the tourism and hospitality college at King Abdul Aziz University (KAU) in Jeddah, told Arab News: "In 2019, a special degree for females will be offered, and a tourism and hospitality major will form one of the specialties under the department of events management."
A study conducted by Al-Sini over the past 12 years has shown that a huge transformation has taken place in terms of improvements in qualifications and employee performance.
He added that another study was conducted globally on the number of people working and studying in the events management sector which revealed that more than 75 percent of employees in this field are female.
"Thus, we decided to have events management as a department for female students at KAU."
Asked about qualifications for working in the tourism and hospitality sector, he said: "Employees have to have practical experience, not only theoretical, to be able to cope with hotel rules and understand how to deal professionally with consumers."
Language and communication skills are also important, he added: "Mastery of the English language is one of the basics in such jobs, and speaking more than one language will make the employee more confident when communicating with customers."
The recruitment department at the Jeddah Hilton Hotel told Arab News: "Many females are occupying jobs at Hilton hotels such as guest relations, receptionists on the businessmen's floor, and other administrative positions.
"Conditions of recruitment depend on the employee's English language skills. Also, priority goes to tourism and hospitality graduates. We have two female employees for now and look forward to increasing the number."
As the tourism sector is one of the fastest developing sectors in the country and in the world, it should offer graduates ample opportunities for work.
http://www.arabnews.com/node/1219916/saudi-arabia
--------
URL: https://www.newageislam.com/islam-women-feminism/salaam-shalom-muslim-jewish-women/d/113841
New Age Islam, Islam Online, Islamic Website, African Muslim News, Arab World News, South Asia News, Indian Muslim News, World Muslim News, Women in Islam, Islamic Feminism, Arab Women, Women In Arab, Islamophobia in America, Muslim Women in West, Islam Women and Feminism