New Age Islam News Bureau
10 Sept 2019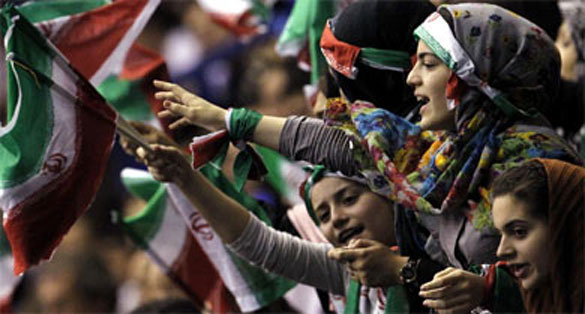 Iran's supporters shout during the FIVB Men's Volleyball World Championship first round match between Iran and Italy in Milan September 27, 2010. © 2010 Reuters
-----
• 2 Muslim Teachers Fired From Canadian Schools For Refusing To Remove Headscarves
• Husband Gives Triple Talaq through Voice Message Sent To Brother
• Canadian Artist Commemorates Muslim Female Travellers
• Saudi Women Directors Bring Empowerment Message To Venice
• Chandrayaan-2 a Giant Leap for South Asia: Pak Woman Explorer
• A New Face in Kosovo Looks to Transform the Role of Women in Politics
• Inside the Minds of the Women Who Joined ISIS
• After Breaking Political Glass Ceiling, Druze Woman Aims For Equality
• Jawazat issues passports to Saudi women thru Absher
• Pakistani Woman Police Officer Slapped By Lawyer Demands Justice
Compiled by New Age Islam News Bureau
URL: https://www.newageislam.com/islam-women-feminism/sahar-iranian-woman-faced-return/d/119705
--------
Sahar, an Iranian Woman, Faced Return to Jail for 'Wearing Improper Hijab' At Stadium, Attempts Suicide
Minky Worden
September 9, 2019
In March, Sahar was arrested by police trying to enter the main stadium in Teheran to watch a football match. Today, the 29-year-old lies in a hospital bed in critical condition, with life-threatening burns from a suicide attempt outside the courthouse where she faced charges for "improperly wearing hijab."
Since 1981, Iran has banned female spectators from football and other stadiums. As a consequence, some women dress as men to access matches, posting photos on social media in protest, and others demonstrate in front of stadiums.
Sahar's tragic arrest, jailing, and suicide attempt underscore the need for Iran to end its ban on women attending sports matches – and the urgency for regulating bodies like FIFA to enforce its own human rights rules.
Sahar's sister told Rokna, an Iranian news outlet, that Sahar was trying to attend a football match when morality police arrested her in front of the country's main sports complex, Azadi (Freedom) stadium. According to her sister, after the arrest Sahar was sent to Qarchak prison before being released on bail. Her sister also said that Sahar has bipolar disorder, and her mental health deteriorated while in prison. On the day of the suicide attempt, Sahar apparently learned from judicial authorities that she would have to serve 6 months in prison. She set herself on fire outside the court.
The stadium ban is not written into law or regulation but is ruthlessly enforced by the country's authorities. Iran's ban is a clear violation of the rules in FIFA's constitution, the statutes, and human rights policy. Article 4 of the statutes says discrimination against women "is strictly prohibited and punishable by suspension or expulsion."
In June, FIFA president Gianni Infantino warned the Iranian Federation that it must take concrete steps to allow women in stadiums or else face sanctions. In August, Iranian authorities arrested four women, including one award-winning photojournalist, for flouting the stadium ban. The four were later released on bail.
Following FIFA's pressure, Iran's sport officials have said that women will be allowed to watch the next national team game at the Azadi stadium – but that is not enough.
FIFA's long delay in enforcing its own rules means the ban continues and leaves the brave women and girls in Iran who challenge the ban exposed to harassment, beatings, and arrests by the Iranian authorities. FIFA urgently needs to uphold its own human rights rules, end gender discrimination, and punish violators.
https://www.hrw.org/news/2019/09/09/woman-banned-stadiums-iran-attempts-suicide
--------
2 Muslim Teachers Fired From Canadian Schools For Refusing To Remove Headscarves
Sep 10, 2019
Two Muslim teachers in Canada's second-largest city Montreal were fired from their jobs after refusing to remove their headscarves at work over a recent controversial law to ban public employees from wearing religious symbols, local media reported Monday. The proposal to ban such symbols was introduced in the Canadian province of Quebec last June and prohibited civil servants, teachers, nurses, bus drivers, lawyers and other people who interact with the public from wearing religious symbols while at work, including Sikh turbans, Christian jewelry and Jewish kippahs, but the focus of the controversy has been on headscarves worn by many Muslim women living in the province.
Catherine Beauvais-St-Pierre, chairman of the Alliance des professeures et professeurs de Montréal, a professional trade union that represents teachers in the city, told reporters that the two Muslim teachers,whose names were withheld, were told by the school boards to "remove their headscarves or face dismissal."
"We're hearing about some of our teachers working in tense conditions, being asked very personal questions about their faith," Beauvais-St-Pierre said, adding that "The law has opened the door to these kinds of questions and behavior."
Speaking of the recent firing incidents, Jean-François Roberge, Minister of Education in Quebec, said that it is not a surprise since the ban is now a law and they are going to enforce it.
"Every school board has an obligation to enforce the law. Those who do not comply with the law may face a penalty. For those who do not want to face penalties, there is the option of removing their headscarves and doing their job," he said.
The controversial law, "Bill 21", stirred a fiery debate and thousands of demonstrators attended a recent march in Montreal to protest the measure, with some holding signs saying, "No one tells women what they can wear" and "It's what's in my head, not on my head, that matters."
Nelson Wiseman, a political science professor at the University of Toronto previously said that "The proposed legislation will affect Muslims more than other groups as they are the fastest-growing religious group." Muslims represent about 3% of Quebec's 8.3 million people.
The National Council of Muslims of Canada (NCCM), which has reacted to the bill since the beginning, has appealed to the Quebec Supreme Court for the annulment of the law and the court process is still ongoing.
https://www.dailysabah.com/islamophobia/2019/09/10/2-muslim-teachers-fired-from-canadian-schools-for-refusing-to-remove-headscarves
--------
Husband Gives Triple Talaq through Voice Message Sent To Brother
by Younus
September 09, 2019
Kasaragod: An FIR has been registered against a 34-year-old man for giving triple talaq to his wife through WhatsApp.
The 34-year-old Keralite identified as B M Ashraf, a native of nearby Kudlu Village pronounced triple talaq to his wife on WhatsApp, TT reports.
The 29-year-old victim in her complaint against the accused on Sunday night stated the husband had pronounced the triple talaq in a voice message sent to her on March 15.
"The accused was said to be in the Gulf when the incident happened. As per the wife's complaint, the talaq message was sent to her brother's phone having WhatsApp account," a police official told.
A case has been registered against the accused under Section 4 read with Section 3 of the Muslim Women (Protection of Rights on Marriage)Act, 2019, the official said.
Section 3 of the Act has made the pronouncement of talaq by words, either spoken or written or in electronic form or in any other manner whatsoever void and illegal while Section 4 provides punishment with imprisonment for a term which may extend to three years and shall also be liable to fine.
A comprehensive probe into the case will be taken with the help of cyber cell the official added.
https://www.siasat.com/husband-gives-triple-talaq-through-voice-message-sent-brother-1611818/
--------
Canadian Artist Commemorates Muslim Female Travellers
Sep 10, 2019
Canadian Muslim artist and writer Laurelie Rae brings the memories of Muslim female travelers to the present with miniatures. Rae, who comes from a family of artists, became a Muslim at the age of 17, while conducting academic research on many branches of Islamic art, as well as creating many works of art.
Rae spoke to Anadolu Agency (AA) about the details of her journey into Islamic art and details of her miniatures.
After completing her master's degree in the U.K.'s Prince's Foundation School of Traditional Arts, Rae came to and has been living in Istanbul for the past six years and continues her academic and practical studies of the traditional and modern art branches at the Visual Arts and Visual Communication Design Department of Sabanci University.
At her workshop in Balat, where she teaches ceramics, she initiated her miniature project depicting the stories of Muslim female travelers, who she defines as "being lost on the pages of history."
Symbolizing and coding Muslim female travelers with different names she encountered during her academic studies, Rae aims to publish a book with her miniatures, which are mostly embroidered in gold.
After deciding to convert to Islam, Rae became interested in Islamic art in order to better understand the cultural accumulation of Islam and said that her family was influential in this process.
"My mother is a ceramic artist. We worked together when I was a child. My art life started when I was 4 years old. My mother, me and my sister have always been interested in art. Art brings you to a very different place in life. You get your inspiration from life. Plants, flowers, leaves, trees are my inspiration, but inspiration is different for everyone in art. After working on ceramic for many years, I started to learn Persian miniature," Rae said.
After many years of interest in the ceramic arts, she started drawing miniatures. Discussing her project on Muslim female travelers, Rae noted that she entered the magical world of miniatures after being interested in many branches of art. She tracks Muslim female travelers in libraries and reads the stories of forgotten Muslim women.
"I bring them to the present day by creating new characters out of them. I reveal what they did and their secrets in books. I symbolize important sections of their lives and turn them into miniatures. At first, I come across different life stories in the autobiographies of and books on Muslim travelers such as Nour Begum and Forough Farrokhzad. I have never told anyone about the information I gathered from my research and I'm keeping them as secrets. Iranian and Indian women have many stories about their journeys waiting to be discovered. I will try to show in miniatures that Muslim women tried to discover the world in every period," said Rae.
Colors open a new world
Rae emphasized that she tried to make sure that the colors and materials used in Islamic art are natural.
"Lapis Lazuli, for example, is a stone used especially in Christian traditions and today, it is much more expensive than previous periods. It is mostly used on the clothing drawings of Jesus and Saint Mary. Whereas turquoise tones prevail Islamic art. This stone is believed to have a sacred value and all the colors used were made of natural products. For example, in order to make the ink used calligraphy, smut from burning candles was used. Nothing was wasted and the artists used all the natural products obtained in some of the works of art. Now, the colors used turn into other colors after 50 years and do not look nice. But the colors used in miniatures made 600 years ago still retain the same vividness," Rae added.
Rae said that she would collect miniatures of Muslim female travelers in a book and called on young artists to work more in the field of traditional Islamic art.
https://www.dailysabah.com/arts-culture/2019/09/10/canadian-artist-commemorates-muslim-female-travelers
--------
Saudi Women Directors Bring Empowerment Message To Venice
September 6, 2019
Female Saudi Arabian directors Haifaa Al-Mansour and Shahad Ameen brought a message to the Venice Film Festival along with their movies: Women must be seen and heard.
Mansour's "The Perfect Candidate" is one of two films by female directors out of 21 competing for the festival's Golden Lion award, telling the story of a woman doctor facing gender-based challenges while running for municipal council.
Ameen's "Scales," which screened out of competition, focuses on a young girl surviving against superstitious villagers who believe she is a curse.
Both directors hope their films will convey a message of empowerment at a time when Saudi Arabia has been easing male guardianship rules that have long been criticized abroad.
"Showing a lead female character, it is indirectly empowering women," Mansour told Reuters.
"The one who will make most money in this film is the girl, she is not a supporting role, she is the main role. You invest in her journey, love her and root for her that is what is very important for a conservative audience to see."
The start of Mansour's film reflects the changes in the Muslim kingdom, with protagonist Maryam driving her car to work. Last month, Saudi Arabia also ended travel restrictions for adult women, allowing them to do so without permission as well as giving them more control over family matters.
Asked what she wanted Saudi female audiences to take away from the film, Mansour, also known for the English-language film "Mary Shelley," said: "That it is about time to put themselves out there and not to be afraid of failure or to be judged.
"We come from a very traditional society so even with the liberties, like ... (women) driving is legal but not a lot of women drive because it is not accepted still socially. So it is very important for women ... to take advantage of the new freedoms given to them because that is ... how to move forward."
"DIFFERENT CITY"
In "Scales," Hayat has been saved by her father from a village tradition of families sacrificing their daughters to sea creatures, making her an outcast.
"It was my story, it was my experience ... of people treating me in the country that I was in, in a very segregated society, in a society which obviously they prefer men over women," Ameen told Reuters.
"Do we come to accept these bodies that they've disfigured for years in our head with their voices? Do we come to have our own voice at the end? I think it's every girl's story, not just in the Middle East."
In 2018, Saudi Arabia lifted a nearly 40-year ban on cinemas. Mansour has previously described how she at times had to hide in a van while directing her 2012 film "Wadjda" about a young Saudi girl determined to buy a bicycle.
"It's changed a lot, I don't have to be in the van anymore ... and accessibility ... we shot in really remote areas and we were able to shoot, she said.
Ameen also noted changes for filmmakers in Saudi Arabia, which will host a film festival next year.
"With all the social media, people are much more at ease with cameras, especially with the changes happening in Saudi. I'm from Jeddah, it's like a different city," she said.
"When you see women in the streets, functioning in the society, it brings change to a city. It makes it colorful."
https://www.jpost.com/Middle-East/Saudi-women-directors-bring-empowerment-message-to-Venice-600844
--------
Chandrayaan-2 a Giant Leap for South Asia: Pak Woman Explorer
Sep 9, 2019
NEW DELHI: Amid all the hostilities and war of words with India, Pakistani explorer Namira Salim has praised Chandrayaan-2 mission, saying India's attempt to make a landing on Moon was a "giant leap".
Namira, who was born in Karachi and currently based in the UAE, said, "The lunar mission is indeed a giant leap for South Asia which not only makes the region but the entire global space industry proud."
Her statement came two days after Pakistan science and technology minister Fawad Chaudhry mocked the Indian mission, saying "the Indian toy has landed in Mumbai instead of Moon". The minister's statement drew a lot of criticism from Pakistanis as well.
Namira, who holds an Ivy League masters degree in international affairs from Columbia University, had been trained and qualified for her suborbital spaceflight at the NASTAR Center in the US under the supervision of Virgin Galactic in 2007. She had undertaken peace expeditions to all three poles of the world as well as the first Asian to skydive (tandem) over Mount Everest in 2008.
Meanwhile, the praise of India's moon mission continues to pour in. The UAE space agency appreciated the mission, tweeting, "The UAE Space Agency assures their full support to Isro following the loss of contact with their spacecraft, Chandrayaan-2..."
Japan, which is going to launch a "joint lunar polar exploration with India in early 2020s", too has lauded India's efforts. "We applaud Isro and their scientists for their challenges with the Chandrayaan-2," the Japanese embassy in India said.
The Australian space agency also lauded Isro's commitment to its mission. It said, "To the team at Isro, we applaud your efforts and the commitment to continue our journey into space."
The Planetary Society community in America called for support to Isro in order to encourage them and boost their morale. "Planetary Society community, please join us in sending support to Isro on the apparent crash landing of their Vikram Lander," a tweet by the Planetary Society said.
https://timesofindia.indiatimes.com/india/chandrayaan-2-a-giant-leap-for-south-asia-pak-woman-explorer/articleshow/71054850.cms
--------
A New Face in Kosovo Looks to Transform the Role of Women in Politics
Sep 10, 2019
Pristina, Kosovo - As Kosovo heads for arguably its most important elections in the past two decades, I sat down with one of the candidates seeking to enter parliament for the first time.
Besa Ismaili, 44, is a mother of three and if she wins, she will also be one of the first women with a headscarf to enter parliament in the 95 percent Muslim-majority country for one of the main political parties, the Democratic Party of Kosovo (PDK).
When I met Ismaili in one of Pristina's coffee shops early in the morning, she had just dropped one of her children to a sports club.
"Look, I have been working with women in the villages, survivors of sexual violence, survivors of domestic violence, survivors of violent extremism, I was one of the first to denounce Islamophobia," she says in between ordering tea.
"I have tried to break down stereotypes about Muslim women and also tackle prejudice towards them," she adds with a sense of determination.
It might seem like a strange thing to say in a Muslim-majority country, but when previous female candidates with headscarves have attempted to run for parliament, they have faced abuse.
In the 2017 parliamentary elections, one female candidate was called a "wild beast" and a "bastard" by members of the Albanian Christian Democratic Party of Kosovo for running as a woman wearing a headscarf.
Another prominent Kosovo journalist, Enver Robelli, alluded to Ismaili running for parliament in a Facebook post as an attempt by the party to retain power.
And since then he has been regularly speaking against "the headscarf as a symbol of women's subjection and humiliation!" on his Facebook.
He is not alone, another journalist well known for her views against Muslims has also spoken out against Ismaili.
Many in society, however, are not concerned about such issues; instead, they are more worried about jobs and corruption.
There is a vocal yet influential minority in the media and politics that has led the charge against those that show visible signs of observing their faith.
Such voices are not, however, confined to the anti-Muslim extremes.
There are some, albeit much less powerful voices within the Muslim community, that believe she should not run for politics because "it's un-Islamic."
"For a long time, I was alone as an activist, without the backing of any political parties or money behind me and it was an uphill struggle," Ismaili says recalling her time in activism.
With a background in Feminist theory in English Literature, she is currently in the process of finishing her PhD focusing on post-conflict societies.
"People speak about what is safe to talk about, but that's not how I have got to the position I am in today. I will and have always spoken about the things no one wants to speak about."
Joining the PDK has not been her safest move.
The young country declared independence in 2008 after a bloody war with Serbia in 1998-99 after the Belgrade government attempted to cleanse the region of its ethnic Albanians.
Since then, however, Kosovo has struggled to manage the expectations of its young population. High levels of unemployment and corruption have stifled progress.
The blame for the ills plaguing Kosovo has been laid at the feet of the centre-right PDK as well as other parties in Kosovo who have taken turns in ruling Kosovo over the last 20 years.
"I believe the party wants to change and become broader, and I will need to earn the trust of my parliamentary group to achieve this," says Ismaili of PDK "moreover, I believe I can bring new ideas into the party. Kosovo politics needs new faces."
She believes the last two decades of activism have prepared her for office.
"I feel that I have reached all I can do personally alone, it might not be very high for some people, but for me personally it's a lot, I cannot do more alone."
"When I get into parliament I will be looking at every piece of legislation that tackles underrepresented women from the villages, stay-at-home mothers as well as working mothers, religious freedoms, ethnic minorities and also the situation of Roma, whom I will defend and ensure they are represented."
Ismaili has been working with marginalised groups in Kosovo for more than two decades and believes she has what it takes to be their voice.
In addition to that, she worked with the Organization for Security and Co-operation in Europe (OSCE) as a translator in the democratisation department for more than six years.
She joined every government delegation and was part of training activities aimed at new parliamentarians for office and worked in increasing cohesion between people from different faiths and ethnicities.
Fluent in English, Arabic, Serbian and Turkish, Ismaili also worked for the European Union Rule of Law Mission in Kosovo (EULex) and is currently working as a lecturer in Islamic studies.
As one of the first female professors at the Faculty of Islamic Studies and one of the first women with a headscarf to work at the OSCE and EULex, Ismaili bears a visible sense of accomplishment in what she has achieved for women and, in particular, visibly Muslim women in Kosovo.
"Some of the challenges that women are facing are material, but mainly it is access to equal to opportunities."
"I don't mean just equal opportunities, for instance, only in applying for a job. If the state and society have only invested in men and the family invested in men, that's not good enough. I will work hard to fight for women's access to education, women from the village, survivors of sexual violence — there have been some historical injustices towards women in Kosovo, which I want to address."
"My husband is not into social activism, he's into science completely, but he encourages me to do the work I am doing, and he is so supportive. When I get tired sometimes, he tells me to carry on! He believes in me."
By chance, Besa's husband, a neurosurgeon, calls her and they briefly discuss who's going to pick up which child from their different social activities.
But before she goes, she wants to get one message across more than anything.
"I will speak and stand for the truth for my people."
https://www.trtworld.com/magazine/a-new-face-in-kosovo-looks-to-transform-the-role-of-women-in-politics-29639
--------
Inside the Minds of the Women Who Joined ISIS
By Anne Barnard
Sep 10, 2019
Azadeh Moaveni has written a powerful, indispensable book on a challenging subject: the inner lives and motivations of women who joined or supported the Islamic State militant group. It is a great read, digestible and almost novelistic, but it is much more than that. "Guest House for Young Widows: Among the Women of ISIS" tackles many taboos that have hampered cleareyed discussion of Islamist extremism in general and ISIS in particular. The book provides an illuminating, much-needed corrective to stock narratives, not only about the group that deliberately and deftly terrified officials and publics across the world, but also about the larger "war on terror" and the often ineffective, even counterproductive policies of Western and Middle Eastern governments. Moaveni follows 13 women and girls — Tunisian, British, Syrian and German — creating three-dimensional portraits of their worlds, their logic, the choices available and unavailable to them. She made me hang on every turn to find out what would happen to them. This approach will likely infuriate some audiences, especially after years of media coverage that portrayed such women as uniquely evil, bloodthirsty extremists, or as brainwashed fetishists hot for jihadi men.
Moaveni anticipates such objections, acknowledging "the extraordinary horror and centrality" of the suffering of women victimized by Islamic State, like the Yazidis whose enslavement and rape have received enormous, sometimes prurient, coverage. "But along the way," she writes, "we have been perhaps too caught up in revulsion to fully appreciate the conditions that gave rise to the group's female adherents." To truly understand these conditions, Moaveni argues, we must look at these women "with more nuance and compassion."
Her call is urgent now, as hundreds of female ISIS members, or former members, and their children languish in camps and detention centers across the Middle East, subject to summary trials, the stripping of citizenship and indefinite incarceration in dangerously filthy conditions. Governments, including the United States and the United Kingdom, are dumping the problem of their own citizens who joined ISIS on ill-equipped authorities in Iraq and Syria.
Moaveni's central observation, a theme that surfaces again and again in her detailed accounts, is that the decisions of female ISIS recruits — some of them young girls — made sense to them on their own terms. But almost no one bothered to address them on those terms when it mattered. The book highlights the failures of families, communities and governments to listen to the real and legitimate concerns of the women and girls, concerns that ISIS exploited, and address them in ways that could have made better sense to them than the call of the caliphate.
As Moaveni writes, one challenge was, and is, that such discussions can come perilously close to sounding like sympathizing with ISIS. From the United States and Europe to the Arab states, counterterrorism dragnets too often equate any degree of Islam-infused politics with support for Islamic State or Al Qaeda. Worse, in this atmosphere, any political discussion among young Muslims about the geopolitical or social issues most pressing to them increasingly risks being labeled "jihadist."
Moaveni pulls no punches about what has helped to get us here. As ISIS carved out its so-called caliphate amid larger, politically driven conflicts in Syria and Iraq, she writes, it used "highly manipulative and effective" tools to draw recruits, subjugate populations and eliminate "the gray zone" of coexistence for Muslims in the West. But by playing on the world's fears of Islam, they provided "cheap kindling for reporting that took the militants' religious claims at face value."
Thus, Moaveni writes, "ISIS became, in the Western imagination, a satanic force unlike anything civilization had encountered since it began recording histories of combat with the Trojan Wars." It was seen as somehow uniquely incomprehensible, requiring a whole new class of "demonologists," as Moaveni slyly labels them, to inspect just how rooted ISIS was, or wasn't, in mainstream Islam. Less attention was given to the group's origins in "American policies and wars," or to the lived experiences of Muslims in the West and elsewhere, or to the "cold calculation" of many in the West that Syria's violently repressive president, Bashar al-Assad, was preferable to any likely religious alternative.
As Moaveni shows, Islamic texts may provide clues about some ISIS leaders and theologians, but they were rather beside the point for thousands of foot soldiers, administrators and go-along-to-get-along caliphate residents who mostly lacked religious expertise and were driven by a varied mix of politics, faith, economics and self-preservation.
The particular individuals Moaveni concentrates on have page-turning life stories that make the book's analysis go down easy. Their starting points are diverse: Nour, a Tunisian teenager, was stifled by an authoritarian secular government, inspired by the peaceful revolution that toppled it and disillusioned when the revolt's promise faded. Emma, a lonely young German, converted because she loved the warm Muslim community of her German-Turkish friends. Lina, a Lebanese-German, left her abusive husband and found solace in increased observance, only to be rejected by her secular Lebanese father. Asma, Aws and Dua were not-particularly-religious residents of Raqqa, Syria, forced to game out survival when ISIS took over their city.
And then there are the three Bethnal Green girls, from a well-regarded London high school. They were friends of Shamima Begum, and all four absconded to ISIS when they were in their teens. Begum, whose parents are from Bangladesh, recently resurfaced in a camp and was stripped of her British citizenship after being judged insufficiently apologetic. She had given birth to three children, one in the camp. All of them had died.
As Moaveni acknowledges, some of her sources may have had incentives to play down involvement and emphasize dissent. However, her portrayals dovetail with what my colleagues and I learned in years of reporting, and she goes deep into her sources' experiences to provide convincing answers to crucial puzzles. For one, why was Tunisia, the relative success story of the Arab revolts, a top supplier of recruits? (She points to failed reforms and the dashed hopes of newly galvanized observant youth.) For another: Why were some academically successful second-generation Britons drawn to the group, and how could their parents not have known, or stopped them?
Here, Moaveni is particularly poignant and incisive. If these poor, sometimes non-English-speaking immigrant parents had time to notice daughters spending more time at mosques, they saw that as a sign of good values and safety. She brings to life the children's chafing between their freewheeling London environment, pressure to succeed and conservative family strictures.
And she homes in on a prickly subject. The pain and anger over the West's treatment of Muslims, while exploited by ISIS, are entirely mainstream in Muslim households, including the vast majority that deplore any violence against civilians. But children alienated from their parents, like converts with no family context, were vulnerable to extremists.
Even more disturbing, Moaveni reports that the Bethnal Green parents were not informed directly by the school, or the police, that one of their daughters' friends had run off to join ISIS. The British police, she writes, knew one girl was in Turkey on her way to ISIS but failed to have Turkish authorities stop her. Did they treat young teenagers as counterterrorism pawns, Moaveni and the girls' families wonder, rather than victims needing urgent rescue? For me, these questions raised another: Would they have treated white British girls the same way?
Finally, for all its compelling material, one of the book's lasting accomplishments is its form. It is a master class in illustrating the big picture through small stories. And it uses women's experiences — still so often framed as a subplot — to reach the heart of ISIS. Centering a narrative on women leads, here, to a superior analysis of the overall subject, and this is a lesson with applications far beyond ISIS.
Anne Barnard covered Syria for The Times as Beirut bureau chief from 2012 to 2018, and previously served as Iraq bureau chief and Middle East bureau chief for The Boston Globe.
https://www.nytimes.com/2019/09/10/books/review/guest-house-for-young-widows-azadeh-moaveni.html
--------
After Breaking Political Glass Ceiling, Druze Woman Aims For Equality
By ALEXANDRA VARDI
Sep 10, 2019
AFP — Before a row of women seated in traditional Druze robes and white veils, Gadeer Kamal Mreeh stands out with her black suit and high heels.
"We are proud of you," a voice cries out from the audience of women who came to hear the candidate's political platform in her village of Daliyat al-Karmel, set in the hills of northern Israel.
The 35-year-old became the first Druze woman to be elected to Israel's parliament in April, but new polls were called shortly afterwards and she is hoping to win reelection in the September 17 vote.
Mreeh is part of the centrist Blue and White alliance led by ex-military chief Benny Gantz, the main rival to Prime Minister Benjamin Netanyahu and his right-wing Likud party.
With this election, she hopes to win a real mandate, and her 25th place on Blue and White's electoral list gives her a strong chance to do so.
"It is the only way to change things," she told AFP in her village.
"It is time to send Bibi home and let Israel return to a little common sense," she said, using Netanyahu's nickname.
From Mreeh's point of view, Israel is moving too far to the right.
She points to a law passed in 2018 declaring the country the nation-state of the Jewish people, which Druze and other Arab Israelis say threatens to relegate them to second-class citizens.
Netanyahu pushed for the law, and Mreeh has made changing it her main issue.
"I joined politics for that reason — to bring back equality," said Mreeh, who earlier in her career became the first non-Jewish Hebrew-language anchor on Israeli national television.
Some 140,000 Druze, who follow an offshoot of Shiite Islam, live in Israel.
They serve in Israel's military unlike other Arab Israelis who are descendants of Palestinians who remained on their land following the 1948 creation of Israel.
'It wasn't easy'
Mreeh was joined at the recent event by two other candidates from her party who are also women: retired army general Orna Barbivay and Penina Tamanu-Shata, the first woman of Ethiopian origin to be elected to Israel's parliament.
Mreeh calls for diversity to be valued in Israel.
"I'm a woman and I'm a minority member," said the ex-journalist and mother of two.
"I made it. It wasn't easy. Believe me when I tell you that you can do it."
Nisreen Abu Asale, a 25-year-old law student, was convinced.
"She represents me completely," she said. "It's the voice of a new generation."
Yara Zahereldin, 21 and a political science student, said she was especially moved by her words on equal opportunity.
"She inspires me," said Zahereldin.
Mreeh has also been given the blessing of the spiritual head of the Druze community in Israel, Sheikh Mowafaq Tarif.
Many Druze have voted for Netanyahu's Likud in recent years, but the majority opted for Gantz in the last elections, said Yusri Khaizran, a specialist in Middle Eastern history at Jerusalem's Hebrew University.
He believes the vote will be similar this time.
"It's mainly because of the feeling of frustration of Druze, who feel betrayed by the nation-state law," he said.
He added that Mreeh's "presence on the centrist list is undeniably a plus."
https://www.timesofisrael.com/after-breaking-political-glass-ceiling-druze-woman-aims-for-equality/
--------
Jawazat issues passports to Saudi women thru Absher
September 9, 2019
By Hussein Hazzazi
JEDDAH — The Ministry of Interior, represented by the Directorate General of Passports (Jawazat), has started issuing and renewing passports for Saudi women aged 21 and above via the Absher online portal. This is in implementation of the amendments recently approved by the Council of Ministers in the Civil Status and Travel Documents Regulations with regard to allowing adult Saudi women to travel without permission of their male guardian.
An informed source at Jawazat told Okaz/Saudi Gazette that the launch of services for issuance and renewal of passports of Saudi women, in addition to the rest of the services, has been made through Absher system. The source pointed out that the launching of the service through Absher will be announced formally only after the official launch of the service in the near future.
The Jawazat has confirmed a few days ago that the service of issuing or renewing the passport for citizens who are 21 years of age and above will be made available through the Absher soon. Those citizens who want to issue or renew passport can contact the Department of Passports after securing an appointment for availing of the service, the Jawazat statement said.
The Ministry of Interior recently announced that the Jawazat and Civil Status departments and their branches in all regions of the Kingdom have started implementing the amendments made in the regulations. The regulatory changes stipulated that a Saudi passport should be issued to any citizen who applies for it and that any person above the age of 21 does not need permission to travel. They also granted women, for the first time, the right to register child birth, marriage or divorce and to get issued official family documents and eligible to be a guardian of minor children.
http://saudigazette.com.sa/article/576796
--------
Pakistani Woman Police Officer Slapped By Lawyer Demands Justice
September 09, 2019
Sana Jamal
Islamabad: Faiza Nawaz, a woman Punjab Police constable, has resigned saying in a video message that "she cannot face the powerful corrupt mafia".
Nawaz's message comes after a man who assaulted her was released from jail. Lawyer Ahmad Mukhtar had slapped Nawaz when she cautioned him against parking his car in a no-parking area in Ferozwala town of Punjab's Sheikhupura. She then arrested the lawyer for the assault.
Pictures of Nawaz arresting Mukhtar were hailed on social media and it was believed that justice was served. However, much to the dismay of citizens, the lawyer was released the next day due to a mistake in his name in the first information report (FIR). His release was a huge disappointment and embarrassment for Nawaz, who then demanded President Arif Alvi and Chief Justice of Pakistan Asif Saeed Khosa take notice of the incident.
In her video message, Nawaz complained that she is fed up with "the unjust, tyrannical, and cruel system. I don't understand whether I should commit suicide or die. Where should I go? I'm really mentally depressed because I'm worried about my respect … about my future."
Lawyers call the arrest insulting
The powerful picture of a woman constable arresting her attacker was welcomed by citizens but was termed as "insulting and humiliating act of police towards lawyers" by Pakistan Bar Council Vice Chairman Syed Amjad Shah. In a statement, the bar council "condemned the registration of FIR and arrest of Ahmad Mukhtar" and demanded inquiry and strict action.
However, Nawaz said "the behaviour of the lawyers [towards police] has been insulting in the past but the lawyer crossed all limits when he attacked and slapped me."
She regrets joining the police service to serve the public, especially women seeking justice.
"Now I am feeling dejected that I did not get justice, despite doing my duty honestly," she said.
She has also requested security for herself and her family in an application submitted to the police. She feels humiliated because of her "character assassination" and "weak response" of law enforcing agencies.
Response of Punjab police and government
According to the latest information, the Punjab police and government have reportedly persuaded the policewoman not to quit her job. Sheikhupura District Police Officer (DPO) Ghazi Salahuddin was quoted as saying by an English daily that he had held a meeting with the constable and claimed that she was not resigning now. Punjab chief minister's spokesman Shahbaz Gill lamented the granting of bail to the suspect over a minor mistake in the FIR and also said Nawaz would not resign.
Punjab Police under fire
Punjab police has been continuously under fire over alleged violent acts after disturbing videos and photos of torture surfaced on social media. Most recently, a gardener Amir Masih died in police custody in Lahore. Earlier, the father of the mentally disabled man, Salahuddin Ayubi, who died in police custody in Rahim Yar Khan, claimed that his son was tortured. In another viral video, a police officer was seen misbehaving with an old lady. Although Punjab Inspector General Police Captain Arif Nawaz Khan has said that arrests have been made and inquiries ordered in all the cases, the woman police officer's case reveals how deep the problems run.
Police reforms
After the recent incidents, activists and citizens are calling for police reforms that were once the top agenda of Prime Minister Imran Khan's PTI government. Talking to Gulf News, activist Jibran Nasir asked: "How can common citizens feel safe when those in police uniforms don't feel secure themselves?"
"The common perception is that police only protects and safeguard the right of elites which has shaken the trust of public," Nasir said.
Stressing for immediate measures to improve the law and order department, he said: "First, there should be proper research to study psychological and social behaviour of the police in order to bring improvement in the services and build trust between police and citizens."
Urgent measures by police
In an attempt to placate critics, IGP Punjab has announced that the police would register FIRs against police officials involved in cases of torture or death in custody, while the station house officer (SHO) involved in such incidents would be blacklisted for being posted at any police station.
Meanwhile, spokesperson to the Punjab Chief Minster, Dr Shahbaz Gill, said that the provincial government would soon introduce reforms in the police force and added that a report in this regard has been sent to PM Imran Khan for final approval. He told the media that the government was striving hard to make things better and added that a positive change would be visible within six month, not only in the province but across the country.
https://gulfnews.com/world/asia/pakistan/pakistani-woman-police-officer-slapped-by-lawyer-demands-justice-1.66317023
--------
URL: https://www.newageislam.com/islam-women-feminism/sahar-iranian-woman-faced-return/d/119705
New Age Islam, Islam Online, Islamic Website, African Muslim News, Arab World News, South Asia News, Indian Muslim News, World Muslim News, Women in Islam, Islamic Feminism, Arab Women, Women In Arab, Islamophobia in America, Muslim Women in West, Islam Women and Feminism