New Age Islam News Bureau
22 September 2021
• Saudi Female Speed Biker Dania Akeel Is Leading Change in the Saudi Kingdom
• Afghan Girls School Ban Would Be Un-Islamic, Pakistan PM Says
• Average Monthly Salary Of Saudi Women Exceeds That Of Men For First Time In H2 Of 2020
• 'This Is Our Homeland': Women Plead For Basic Rights in Afghanistan
• Female Afghan Prosecutors Detained In Self-Prison
• No Women Included In Taliban's New Cabinet in Islamic Emirate of Afghanistan
• Taliban Bans IPL Broadcast In Afghanistan Over Presence of Female Audience
• Kuwaiti women taste first victory in 18th Asian Handball Championship
• UK Must Save Female Afghan Judges, Lawyers: Campaign
• Rana Zumai Is Helping Saudi Women Shatter Stereotypes in Business
Compiled by New Age Islam News Bureau
URL: https://www.newageislam.com/islam-women-feminism/muslim-league-fathima-thahiliya/d/125413
--------
Sacked Fathima Thahiliya Wants Voice for Women in the Indian Union Muslim League As Well As the Community in Kerala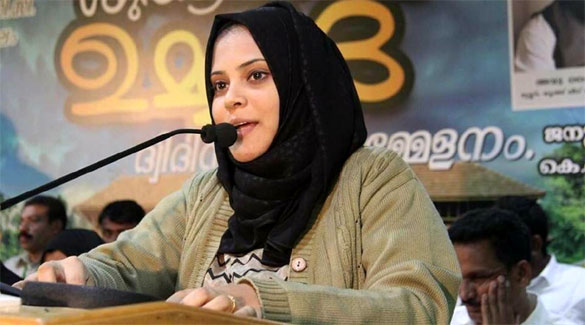 Fathima Thahiliya was sacked as national vice-president of IUML's student outfit. (Express Photo)
------
By Shaju Philip
September 22, 2021
"Our hands and legs are not tied… If the party has become person-oriented in recent years, it should be brought back on the right track… We are ensuring that there is space for women and their voices."
Fathima Thahiliya is determined to take the battle forward.
"I am going to form a collective of like-minded women within the Indian Union Muslim League to fight as a corrective force within the party as well as the community. The name will be announced soon," says the 30-year-old lawyer from Kozhikode in Kerala.
Thahiliya was the face and voice of Haritha, the women's wing of the IUML's student outfit Muslim Students Federation, which was disbanded last month after it raised charges of sexual harassment against some male MSF leaders.
Last week, she was sacked from the post of MSF national vice-president for accusing the party's leadership of trying to hush up the allegations.
Thahiliya hails from a conservative family of IUML supporters but remains unfazed. "Our hands and legs are not tied. I am merely an ordinary member of the IUML now. I take the removal (from the MSF leadership) in a positive manner,'' she says.
That's not all. This post-graduate in law is also aiming to spearhead a reform movement of sorts within the IUML, which is an influential constituent of the Congress-led UDF that was in power in Kerala until 2016.
Referring to the IUML leadership, which is dominated by the Malappuram-based Panakkad Thangal family, she says: "The IUML is not person-oriented, and the values of democracy are enshrined in its Constitution. If the party has become person-oriented in recent years, it should be brought back on the right track. The party should become more democratic.''
Thahiliya was the first state president of Haritha, when it was formed in 2012. Until then, women supporters of IUML did not have a platform on college campuses. Yet, Haritha had raised eyebrows within the party since its own women's wing, Vanitha League, had failed to make much of an impact.
"Recognition for Haritha came later when we helped MSF increase its footprint on campuses and wrest several college unions. But still, we had to wait till last year's local body elections to get our women fielded as candidates,'' says Thahiliya.
Two months ago, Haritha leaders alleged that during a meeting of MSF office-bearers in June, three leaders — state president P K Navas, Malappuram district president M Kabeer and district general secretary V A Wahab — allegedly made vulgar remarks against them.
But with the party failing to take action, the Haritha leaders filed a complaint with the state women's commission in August. Angered by the move, IUML retaliated by first freezing the wing's state committee for "indiscipline", triggering protests in several MSF campus units, and finally disbanding it.
"Those in responsible roles in IUML were spreading canards and indulging in character assassination. When the party said you should shut your mouth, we reacted openly. That helped society realise what has been going on,'' says Thahiliya.
According to her, Haritha did not question the leadership but only wanted to make the political space gender neutral, and ensure "space for women and their voices". "We wanted to uphold the self-esteem of women,'' she says.
It is not the first time, though, that Thahiliya has fought for the cause of women in her community. In 2013, when a debate over underage marriages among Muslims emerged in Kerala, she was among the first to oppose the practice.
"I had said 'Let girls take the decision'. The clerics did not hear the girls before pushing their agenda. I had only echoed the growing sentiment among girls that they wanted to pursue studies,'' says Thahiliya, whose husband Shahzad K is also a lawyer.
"It is very difficult to fight for the cause of women in communities that have a patriarchal mindset," she says.
Source: Indian Express
https://indianexpress.com/article/cities/thiruvananthapuram/unfazed-by-sacking-fathima-thahiliya-wants-voice-for-women-in-muslim-league-7525886/
--------
Saudi Female Speed Biker Dania Akeel Is Leading Change in the Saudi Kingdom
Mariam Nihal
Sep 22, 2021
As Saudi Arabia marks its 91st National Day, 'The National' sits down with pioneering Saudis to talk about the changing face of the kingdom.
In recent years, Saudi women have been at the forefront of changes in the kingdom.
As much as anyone, Dania Akeel symbolised those changes when she became the first Arab woman to win the World Cup for the T3 Desert Baja Rally in Italy this year.
Saudi women were granted the right to drive just three years ago — a move that aimed to empower women across the country — but in that time, they have excelled in motorsports on a global level.
The FIA World Cup is an annual competition that hosts Baja-style rally raid events for buggies, lorries, cars and side-by-sides in multiple countries.
Speaking to The National, Dania said she does not consider rally an extreme sport as she has been a driving enthusiast "far before becoming a motorsport athlete".
As a young girl, she enjoyed off-roading on weekends with her father in Jeddah. Together, they would find "open spaces and he'd give me the wheel and teach me the basics on how to drive," she said.
"Once it was over, I'd ask when we could go back again."
Aged 17, Dania secured her UK driving licence while at a boarding school there. The following year, in 2011, she went on to study at university in London.
"I travelled for a bit, did my master's degree and officially moved back to Saudi Arabia in 2016."
She enrolled in an off-road rally in the UK and a driving course along the Swedish Lapland in early 2019, a region made up of frozen lakes.
"There are a few companies that teach you how to drift on ice and they have these F1 replica circuits carved into ice, which was a lot of fun," she said.
Then, later that year, Crown Prince Mohammed bin Salman announced Vision 2030, an ambitious plan to reform the country. The kingdom opened up its doors to the world and offered new youth opportunities, with a strong emphasis on empowering women in different fields.
Dania Akeel at the Dakar Rally in Ha'il, Saudi Arabia, in January. Reuters
Dani said: "I don't look at driving in the long term. What matters most are the moments that have taken me to the sport. It's about enjoying what you're doing when you're doing it.
"That's what driving gives me. I enjoy every moment, even the difficult ones," she says. "It's important that whatever you do has a purpose and you have to be able to connect with it. What you do has to be able to benefit you yet enable you to help others."
Dania said some of the most challenging moments on the road have helped her evolve off it.
Her master's degree in international business helped her "mark out her career in motorsports" in the country, she said. She used her experience as a consultant and knowledge of problem-solving from her master's degree to get sponsors behind her to participate in motorsport events locally.
She is the first Saudi woman to receive her Speed Bikes Competition license with the help of the Saudi Arabian Motorsport Federation (SAMF), which also issued her KSA driver licence in late 2019.
She acquired the license to participate in the UAE National Sports Bike Super Series while immersing herself in "driving experiences", in ice, sand, and mud.
However, rallies weren't her planned goal, she said. She had bought a motorcycle in the UAE and started racing. Then during one of her races in Bahrain, she sustained an injury and returned to Saudi Arabia.
Earlier this year, she participated in Sharqiyah International Baja Toyota in Saudi Arabia, an opportunity she "jumped on" following the return of the sport from a Covid-19 shutdown. Later, she discovered she could build on her FIA championship points in a similar race in Jordan.
"I called the sponsors to ask if they were on board as the race was only 10 days later and they agreed," she said. "Later on, SAMF called and encouraged me to keep going."
She continued to race and claimed her spot in the top three, generating income and receiving a fair share of recognition and support from men and women in the country.
Dania will be one of the first female Saudi athletes to participate in the annual Dakar Rally in 2022.
"The borders shut down but naturally I was still connected to racing," she said. "Once I was introduced to the Dakar rally, I was in a place that facilitates these insanely high-level global rallies. I figured this is what I will do. It was almost like the decision was already made.
"The training period was six months. I was supported by the trajectory of Saudi culture. I was invited to watch the Dakar rally the first time we hosted it in the kingdom. They asked me to participate and honestly, I got a lot of help and support from them giving me a solid foundation to get on this track."
SAMF helped provide training, education and a platform to Dania and other drivers.
Having had no professional training before races, Dania said she has continued to learn from experts on different tracks.
She said she recommends that aspiring athletes take the well-structured road, while she found herself piecing her journey together.
"The team I am going to race with [South Racing Middle East, based in the UAE] have been communicating with me for training up to the Dakar race," she said, adding that so far she has been lucky to have a network that allows her to learn from pros all over the world.
"You get what you need at the right time I believe and people have been very generous in offering their guidance, knowledge and contacts to connect me with the right people. I think South Racing Middle East will have a good structure for someone who wants to learn A-Z.
"Mostly because I took the opportunity I discovered SAMF would be the best place to start as they are the ones who guided me to the right places."
Humble and determined to work harder, Dania is not motivated by titles. She said she believes several women driving enthusiasts are enrolled in motorsports and are slowly coming into the limelight.
"There was a Saudi female driver, Mishaal, in Shargiyah and I know Reema Juffali is planning for F1, so it's wrong to presume that I or someone is the only one. I am sure there are many other girls out there."
Another example of the growing demand for motorsports is the Bikers Skills Institute, a certified motorcycle training school in Riyadh established by Captain Wael bin Huraib, a Saudi rider and trainer. He says the school now employs two female trainers and has trained 70 women so far.
"I just hope I finish the Dakar rally race for now," she said when discussing her goals. "What matters eventually is being a good person, to live a productive and fulfilling life. Not just for ourselves but to be able to share it with others."
Dania feels it is too early to claim that motorsports will be her only focus in the future.
She hopes the new opportunities and "unlimited support" of the Saudi Arabian Motorsport Federation inspire women across the country to participate in both local and international sports arenas.
Source: The National News
https://www.thenationalnews.com/gulf-news/saudi-arabia/2021/09/22/saudi-female-speed-biker-dania-akeel-is-leading-change-in-the-kingdom/
--------
Afghan girls school ban would be un-Islamic, Pakistan PM says
September 22, 2021
Pakistan's Prime Minister Imran Khan has said preventing women from accessing education in neighbouring Afghanistan would be un-Islamic.
In an interview with the BBC, Mr Khan laid out the conditions that would need to be met for Pakistan to formally recognise the new Taliban government.
He called for the leadership to be inclusive and to respect human rights.
Mr Khan also said Afghanistan should not be used to house terrorists who could threaten Pakistan's security.
Last week, the Taliban excluded girls from secondary schools with only boys and male teachers allowed back. But Pakistan's leader said he believed girls would soon be able to attend.
"The statements they have made since they came to power have been very encouraging," he told the BBC's John Simpson.
"I think they will allow women to go to schools," he said. "The idea that women should not be educated is just not Islamic. It has nothing to do with religion."
Since the Taliban took control of Afghanistan in August, fears have grown over a return to the regime of the 1990s when the hardline Islamists severely restricted women's rights.
Its leadership maintains that the rights of women will be respected "within the framework of Islamic law".
The decision to exclude girls from returning to school last week prompted an international outcry, with a Taliban spokesman later saying they would return to the classroom "as soon as possible".
But it is not yet clear when girls will be able to return or what form of education will be provided if they do.
When pressed on whether the Taliban would realistically meet his criteria for formal recognition, Mr Khan repeatedly called on the international community to give the group more time.
"It's just too early to say anything," he said, adding that he expected Afghan women to eventually "assert their rights".
Pakistan has not been seen by all as a firm ally in the battle against jihadist terrorism. It has long been accused by many in the United States and elsewhere of providing support for the Taliban, something it denies.
After the 9/11 attacks that were planned in Afghanistan, Pakistan positioned itself as an ally of the US in the so-called "war on terror". But at the same time, parts of the country's military and intelligence establishment maintained links with Islamist groups like the Taliban.
Mr Khan said that Pakistan would make a decision on whether to formally recognise the Taliban government alongside other neighbouring states.
"All neighbours will get together and see how they progress," he said. "Whether to recognise them or not will be a collective decision."
Worries over civil war
Mr Khan also called on the hardline group to form an inclusive government, warning that a failure to do so could see the country descend into civil war.
"If they do not include all the factions, sooner or later they will have a civil war," he said. "That would mean an unstable, chaotic, Afghanistan and an ideal place for terrorists. That is a worry".
On Tuesday, a Taliban spokesman announced the remaining members of Afghanistan's all-male government.
The additions included a doctor as health minister, but analysts say the government is predominantly made up of loyalists with little minority representation.
Source: BBC News
https://www.bbc.com/news/world-asia-58639538
--------
Average monthly salary of Saudi women exceeds that of men for first time in H2 of 2020
September 15, 2021
ABHA — The average monthly salary of Saudi women employees has exceeded that of their male counterparts in the second half of 2020, according to a report in Al-Watan newspaper.
The salary of men amounted to SR3,944 while the salary of women reached SR4,105 during the period and this increase in the salary of women was registered for the first time.
The report was based on data from the Ministry of Human Resources and Social Development, the General Organization for Social Insurance (GOSI), and the National Labor Observatory of the Human Resources Development Fund (HADAF).
According to the report, the average salaries of new Saudi employees of both sexes recorded a slight difference of about SR231 at the end of the first half of 2020, with men's average salary amounted to SR4,539 while women's salary stood at 4,308.
The salaries of women registered a growth of SR613 compared to SR603 for men on an annual basis. This showed an increase of SR603 (15.32 percent) and SR613 (16.59 percent) in the salaries of newly hired Saudi men and women respectively on an annual basis. The salaries of newly hired Saudi men reached SR3,963 while that of women reached SR3,695 by the end of the first half of 2020.
The average salaries of Saudis in the private sector reached SR6,838 for men and SR4,476 for women. The average salary for males grew by 3.6 percent and for females by 8.2 percent on an annual basis, reaching SR6,596 for males and SR4,137 by the end of the first half of 2020.
The report also covered the statistical figures of private sector establishments including individual, joint-stock, limited liability enterprises, and societies that are registered in the GOSI systems.
There has been a continuous increase in their number from the first quarter of 2020 to the first quarter of 2021, and then decreased in the second quarter of 2021, where the number of establishments for the second quarter of 2021 reached 630,798 establishments, and the increase in the number of establishments reached 10 percent compared to the same quarter of 2020.
While the percentage of decrease was 2.7 in the number of establishments in the second quarter of 2021 compared to the previous quarter. During the second quarter, about 26.7 percent of the private sector establishments were in the wholesale and retail trade sector and the repair of motor vehicles and motorcycles.
The following are the average salary of the newly hired Saudi male and female staff in the private sector over the last two and a half years. First half 2019: men SR3,986, women SR3,624; second half of 2019: men 3,881, women 3,588; first half of 2020: men 3,963, women 3,695; second half of 2020: men 3,944, women 4,105; first half 2021: men 4,539, women 4,308.
The following are the average salary of the Saudi male and female staff in the private sector over the last two and a half years. First half of 2019: men SR6,190, women SR4,285; second half of 2019: men 6,493, women 4,027; first half of 2020: male 6,596, female 4,137; second half of 2020: men 6,663, women 4,335; first half 2021: men 6,838, women 4,476.
Number of private sector establishments: 2020: first quarter 563,430 establishments; second quarter 574,498; third quarter 605,922; fourth quarter 629,790. 2021: first quarter 648,184; second quarter 630,798 establishments.
Source: Saudi Gazette
https://saudigazette.com.sa/article/610943/SAUDI-ARABIA/Average-monthly-salary-of-Saudi-women-exceeds-that-of-men-for-first-time-in-H2-of-2020
--------
'This is our homeland': Women plead for basic rights in Afghanistan
Sep 22, 2021
KABUL: As the Taliban increasingly excludes women from public life in Afghanistan, some are determined to speak out despite the threat of retribution from the hardline Islamist group.
The Taliban were notorious for their brutally oppressive rule from 1996 to 2001, when women were banned from going to school or work and only allowed to leave the house with a male chaperone.
They have promised to change, saying they would respect women's rights within the framework of Islamic sharia law, but many remain sceptical.
In Kabul - the city that has seen the most change over the past 20 years - some young women, such as activist Shaqaiq Hakimi, refuse to be forced into exile by a return to Taliban rule.
"I want to fight and regain the rights that they took from us. We don't need to go to another country. This is our homeland," she told AFP.
"If we are not forced to leave, then we won't go anywhere."
The Taliban claim that blocks on women returning to work or girls going to secondary school will be lifted once new systems are established.
But this is an echo of the early days of the last regime, which never allowed women to return.
NGO worker Farkhunda Zahidbaig, 21, described how Taliban fighters entered her office to tell management that women employees should leave.
"After this, our boss made the decision that the rest of us shouldn't come to the office," she said.
"Women want to have a profession, but... they can't continue in their jobs. The Taliban have taken away their freedom to work."
Shabana, who asked to not be identified, is fearful she will never find a job again.
This would leave the 26-year-old unable to provide for loved ones.
"I am very worried because I was the sole breadwinner of the family," said the former employee of a Swedish organisation.
Gains for women under the Western-backed government were largely confined to cities in the conservative country, but the Taliban have faced international censure for incrementally stripping them away.
In the face of that criticism, the group pledged Tuesday to allow girls to return to school "as soon as possible" but did not provide a timeframe.
Their all-male government has also shut down the former administration's ministry of women's affairs and replaced it with one that earned notoriety during their first stint in power for enforcing religious doctrine.
On top of the pressures of unemployment, women now fear going outside alone.
"We're afraid that if we go out the Taliban might whip us or hit us," said Shabana, who was travelling around Kabul with her father.
"We can't even go to the bazaar alone."
Hakimi said she would wait to see if the Taliban fulfil their promise to allow all Afghans to go back to work or school.
"I hope that they do just that."
Source: Times of India
https://timesofindia.indiatimes.com/world/south-asia/this-is-our-homeland-women-plead-for-basic-rights-in-afghanistan/articleshow/86422163.cms
--------
Female Afghan prosecutors detained in self-prison
22 Sep 2021
As per the CNN report, the former female Afghan prosecutors have been self-detained for the fear of reprisal from those who were once jailed after their judgments and have now been released.
Thousands of prisoners have been freed throughout Afghanistan by the Taliban after they took over the country.
They claim that the ex-prisoners have been searching for them for revenge and one of the female judges has said that she has repeatedly been called by unknown numbers after the Taliban takeover.In the meantime, tens of female judges who managed to flee the country are now abroad but hundreds are hidden.
Female prosecutors usually dealt with the cases of women's rights violation, women's torture, rapes, murder, and family harassment.
Along with other female employees in Afghanistan, female prosecutors have also been at their homes and have been told not to go to their jobs.
Source: Khaama Press
https://www.khaama.com/female-afghan-judges-detained-in-self-prison-9676676/
--------
No women included in Taliban's new cabinet in Islamic Emirate of Afghanistan
Sep 22, 2021
Kabul: In a move that's hardly surprising to the world now, there will be no women representation in the government of Islamic Emirate of Afghanistan. On Tuesday (September 21), the Taliban announced the expansion of cabinet ministers and no women were named as a part of the new cabnet.
As per Zabihullah Mujahid, the Deputy Minister for Information and Culture said that new members of the caretaker cabinet of the Taliban were announced in an effort to ensure inclusivity by adding "minorities" to the cabinet, reported Tolo News. The new members of the caretaker cabinet are - Haji Nooruddin Azizi, acting minister of commerce; Haji Mohammad Bashir, deputy minister commerce; Haji Mohammad Azim Sultanzada, deputy minister of commerce; Qalandar Ebad, acting minister of public health; Abdulbari Omar, deputy minister of public health; Mohammad Hassan Ghiasi, deputy minister of public health; Mullah Mohammad Ibrahim, deputy minister of interior affairs for security; Mullah Abdul Qayyum Zakir, deputy minister of defense; Nazar Mohammad Mutmaeen, acting head of the National Olympic Committee; Mujiburrahman Omar, deputy minister of energy and water; Ghulam Ghaws, deputy minister of disasters management; Mohammad Faqir, acting chairman of Central Statistics Authority; Haji Gul Mohammad, deputy minister borders and tribal affairs; Gul Zarin Kochai, deputy minister of borders and tribal affairs; Arsala Kharoti, deputy minister of refugees and repatriation affairs; Lotfullah Khairkhwa, deputy minister of higher education; and Najibullah, director of the Nuclear Energy Department.
The new list also does not include any women. Earlier, when the Taliban had announced its list of 33 cabinet ministers, it did not include any women.When asked about the women's affairs ministry and girls' education, Mujahid said the caretaker cabinet is working to address women`s demands for work and education, reported Tolo News. "We are working to complete the procedures so that girls can resume their education," he said.
Mujahid also announced that the inauguration ceremony for the new government was cancelled due to their focus on providing service to the people at this point. Responding to a question on the status of the new cabinet, Mujahid expressed his hope that the international community will recognize their cabinet in near future, reported Tolo News. Mujahid also talked about the country's economic situation and said that the domestic revenues might be enough for basic needs."We are using all diplomatic channels to unfreeze the Afghan assets," Mujahid said.
Meanwhile, figures by watchdog organizations show that 153 media outlets have stopped operation in the last month for various reasons, including lack of access to information and budget issues, reported Tolo News. However, Mujahid vowed that the Afghan media will be allowed to operate. "Media are important and we support the media. There have been some problems in provinces that are being addressed," he added. He also said the Kabul airport`s main radar was badly damaged and international commercial flights will resume after it is repaired. He added that helicopters at the Kabul airport were destroyed "by American soldiers".
Source: Zee News
https://zeenews.india.com/world/islamic-emirate-of-afghanistan-no-women-included-in-talibans-new-cabinet-2395989.html
--------
Taliban bans IPL broadcast in Afghanistan over presence of female audience
September 21, 2021
The Taliban-ruled Afghanistan has banned the broadcast of the hugely popular Indian Premier League (IPL) in the country over the presence of "female audience and spectators" in stadiums.
Ever since the Taliban's takeover of the strife-torn country last month, the international sporting community has been concerned about the fundamentalist group's position on women participating in sports.
Former Afghanistan Cricket Board (ACB) media manager and journalist M Ibrahim Momand said the live broadcast of IPL matches was banned due to possible "anti-Islamic" content.
"Afghanistan national (TV) will not broadcast the @IPL as usual as it was reportedly banned to live the matches resumed tonight due to possible anti-islam contents, girls dancing & the attendance of barred (sic) hair women in the (stadium) by Islamic Emirates of the Taliban," Momand had tweeted on Sunday when the IPL action resumed.
Another journalist Fawad Aman, who has also served as the spokesperson of the Ministry of Defence as per his Twitter handle, wrote, "Ridiculous: Taliban have banned the broadcasting of Indian Premier League (IPL) in Afghanistan."
"Taliban have warned that Afghan media outlets should not broadcast the Indian Cricket League due to girls dancing and the presence of female audience and spectators in stadiums."
Top Afghanistan cricketers like Rashid Khan, Mohammad Nabi and Mujeeb ur Rahman are taking part in IPL 2021.
The second phase of the IPL resumed in the United Arab Emirates on Sunday with a match between Chennai Super Kings and defending champions Mumbai Indians.
According to a media report, Afghanistan's new sports chief last week said that the Taliban will allow 400 sports -- but declined to say anything on women's participation.
"Please don't ask more questions about women," he was quoted as saying.
During the extremist group's regime from 1996 to 2001, women were banned from playing any sport.
After taking over the country last month, the group has stressed that women's rights would be respected within the framework of Islam.
The knockout stage is scheduled to begin on October 10 with the final slated to be held on October 15.
Source: Business Standard
https://www.business-standard.com/article/sports/taliban-bans-ipl-broadcast-in-afghanistan-over-presence-of-female-audience-121092101098_1.html
--------
Kuwaiti women taste first victory in 18th Asian Handball Championship
September 22, 2021
AMMAN, Sep 21: The Kuwaiti women's handball team won its first official victory in its fifth match against the Palestinian team in the 18th Asian Championship hosted by Jordan. The Kuwaiti women's team was able to defeat its Palestinian counterpart (28-20) in the match. Kuwaiti players had a comfortable lead in the first half (16-10) with teamwork and attacking play. Kuwait had an advantage as Palestinian team lacked superior skill.
With this victory, the Kuwait team earned its first two points in the tournament and were placed fifth in its group, Palestine ranked at the bottom. Japan and Iran have qualified for the World Cup. Jordan and Syria will compete for the fifth spot in the next round of the tournament. Kuwait will face Singapore for ninth and tenth spot in the championship on Thursday.
Source: Arab Times
https://www.arabtimesonline.com/news/kuwaiti-women-taste-first-victory-in-18th-asian-handball-championship/
--------
UK must save female Afghan judges, lawyers: Campaign
September 21, 2021
LONDON: A new appeal to provide support to female Afghan judges, lawyers and human rights activists has been launched by UK House of Lords member Helena Kennedy QC.
The #EvacuateHer campaign demands that the UK government provide urgent sanctuary to those groups and their families.
The UK's Afghan Relocation and Assistance Policy no longer includes judges in eligibility measures.
The lobbying group includes several high-profile Afghan women who fled their country and are now based in the UK.
Over the past two decades, about 270 women have sat as judges in Afghanistan, and in their positions have presided over cases that human rights groups warn place them in immediate danger of Taliban "revenge" efforts.
Female Afghan judges have played a key role in changing legal norms in the war-torn country by freeing women from forced or abusive marriages, and protecting the right of girls and women to pursue education and jobs.
Some have also been involved in the prosecution and imprisonment of Taliban and Daesh members.
"It was not easy to become a female judge in Afghanistan. But now the Taliban have taken everything from us – our job, our family and our security," one anonymous judge told The Guardian newspaper.
"I cannot sleep because I am not sure if I will be alive tomorrow. The Taliban can enter my house and kill me at any time.
"They believe it is against Islam for a woman to be a judge. I want the UK government to help us today. Tomorrow may be too late for us."
Judge Anisa Dhanji, representing the International Association of Women Judges, said: "Our efforts are focused … on the judges who remain in Afghanistan and in trying to help to evacuate them, especially those who, because of their ethnicity, type of work or their individual profiles, are at exceptional risk.
"A group from the IAWJ board and other members have been working in shifts on these efforts for more than a month now. It has been extremely difficult, and often heartbreaking, when after days of intense efforts, hopes are dashed at the last minute, because of one obstacle or another.
"As women judges, they are at particular risk because they have had the temerity to sit in judgments on men. Judges have sent us specific details of the threats they have received, some to the effect that 'now you have no power, and we will find you'."
One woman taking part in the lobbying effort, 42-year-old Runna Alizoy, fled Afghanistan to the UK 19 years ago, but her older sister is a senior judge in Afghanistan and is now in hiding.
"It's hard to put into words my grief for my sister," she said. "The lives of female judges have been stolen. They say that the Taliban have changed — they have changed. Twenty years ago they whipped women in the street and sent them home. Now they shoot them and send them to their graves."
Another member of the appeal, UK-based Marzia Babakarkhail — a former judge in Afghanistan who was threatened twice by the Taliban — said: "Afghanistan is burning and all the women are on fire."
Source: Arab News
https://www.arabnews.com/node/1932986/world
--------
Rana Zumai is helping Saudi women shatter stereotypes in business
Mariam Nihal
Sep 22, 2021
As Saudi Arabia marks its 91st National Day, 'The National' sits down with pioneering Saudis to talk about the changing face of the kingdom.
From helping to create jobs for women in rural areas over the past decade, Rana Zumai is now a consultant for SMEs and corporate communications head at Nesma Holding, one of Saudi Arabia's biggest private companies involved in the sectors of energy, oil and gas, construction, entertainment, real estate, hospitality, tourism, telecom and IT.
She believes Saudi women have already passed the point where they need to prove themselves in the workplace and thinks it is time to see Saudi women leading in the Middle East and North Africa, as well as internationally.
"We are past proving ourselves. We have seen Saudi women achieve great things. We are now at a stage where we need to create something unique and make an impact with the empowerment we are given for our country and for expatriates living in the kingdom," she told The National in an interview to talk about major changes in the kingdom before Saudi National Day on September 23.
She credits Saudi Arabia's Vision 2030 for helping women to shatter stereotypes and glass ceilings and for helping to create more opportunities and accelerate the pace of change for women in the corporate world.
"I work with many start-ups by women and I admire the diversity and their belief that there are no limitations," she said, adding that the future looks bright for Saudi women in the banking and finance sectors.
Vision 2030, announced in 2016, states that a successful and progressive nation must encourage and empower all members of society, including women, and therefore reviewed its civil and labour laws and regulations that influence the ability of women to travel, work and participate in society.
In 2019, women over the age of 21 were granted the right to obtain a passport and travel without their male guardian's permission. The retirement age was raised to 60, to be level with men, and women were given more leadership roles and increased protection from employment discrimination.
Saudi Crown Prince Mohammed bin Salman aims to increase women's participation from 22 to 30 per cent by 2030.
An estimated 48,000 Saudi women entered the workforce in 2018, an 8.8 per cent increase from the previous year, marking the highest number of women employed in the country's history.
"The vision has paved the way for women to follow their dreams and ambitions like never before," she said.
"I started my career in the communication department at Nesma just three years ago. I would love to reach new heights by creating new areas of communication.
"I believe human communication is more effective than technical communication. The former has the power to make political strides, create partnerships between entities and forge long-term and successful relationships between humans."
Prior to corporate communication, Rana worked in the non-profit organisation Nesma Embroidery, where she helped create social value-added opportunities for the company for seven years.
She played a role in creating job opportunities, focusing on improving socio-economic conditions for women living in rural areas.
"Nesma gave me an opportunity to work with Saudi women in rural areas and empowered me in leadership positions, to expand our business and factories across the kingdom," she said.
"But it really helped me for my role today as I was part of human development, culture, economical development in textile and other areas. The experience gave me the education and advanced communication skills. I was able to learn key elements and strengthen areas like the dignity of labour, by giving our women advanced titles and roles."
She said the new school of thought is that corporate social responsibility should be changed to CSV - community shared values.
"I think this is how we should look at it. We should start this education at an early level at schools in the kingdom," she said.
Even after all she has done to help Saudi women in business, Rana said her biggest achievement is being a mother.
"I have a son who's 17 who wants to go into the petroleum and energy sector," she said. "My 12-year-old girl is in school and she's a creative artist and my youngest one is six years old and is a dancer who wants to be in the Olympics. I support them all to pursue and I enjoy empowering them so that they achieve their dreams."
Rana wants to be a role model for Saudi women who represent culture, religion, trust, humility, and integrity. She wants Saudi women to "dream big and remember there are no limitations". "I want to continue giving back to my country," she said.
Source: The National News
https://www.thenationalnews.com/gulf-news/saudi-arabia/2021/09/22/rana-zumai-is-helping-saudi-women-shatter-stereotypes-in-business/
--------
URL: https://www.newageislam.com/islam-women-feminism/muslim-league-fathima-thahiliya/d/125413
New Age Islam, Islam Online, Islamic Website, African Muslim News, Arab World News, South Asia News, Indian Muslim News, World Muslim News, Women in Islam, Islamic Feminism, Arab Women, Women In Arab, Islamophobia in America, Muslim Women in West, Islam Women and Feminism