New Age Islam News Bureau
26 Apr 2015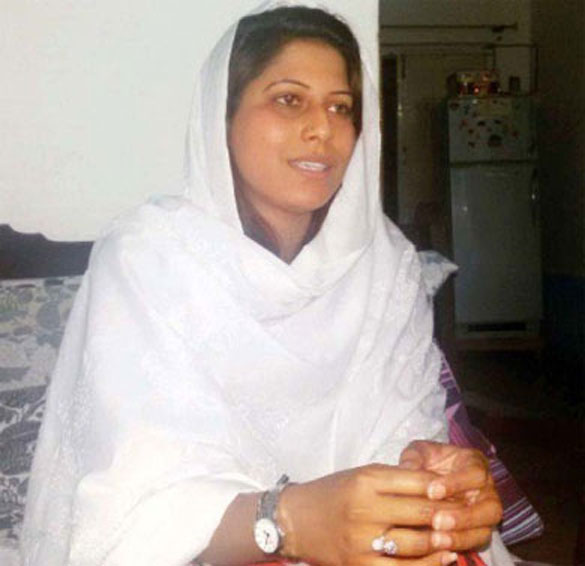 Swat's First Christian Woman Hina Patras says if elected she will focus on women's rights violations and helping marginalised communities
------------
• Row after Headscarf-Wearing Women Removed From U.S. Talk Show Audience
• Meet Swat's First Christian Woman Contender for LG Polls
• Muslim Woman, Najwa Mordhah, Shed Light to Help Shed Misconceptions
• Hounded By Mullahs, a Muslim Woman Writer, Sharmila Seyyid, Is Forced To Flee Home
• Whip Child Killers and Rapists, Islamic Council of Jamaica Says
• Islamic School in New Zealand Keeps Watchful Cyber Eye on Students
• Pakistani Politician, Hina Butt with Designs on India
Compiled by New Age Islam News Bureau
URL: https://www.newageislam.com/islam,-women-and-feminism/new-age-islam-news-bureau/sabeen-was-being-coerced-into-'suspending-her-activities'/d/102675
-------
Sabeen Was Being Coerced Into 'Suspending Her Activities'
26 April, 2015
KARACHI: Social activist and intellectual Sabeen Mahmud, who was shot dead in Karachi's Defence Society on Friday evening, had been receiving threats on her mobile phone for the past "four to six weeks" to suspend her activities, disclosed a senior police officer on Saturday.
She was shot dead shortly after the end of a discussion programme, "Unsilencing Balochistan", which was organised by her and attended by journalists and rights activists, including Abdul Qadeer Baloch, founder leader of the Voice for Baloch Missing Persons.
DIG Karachi-South Dr Jamil Ahmed, who is leading the investigation team formed by the Karachi police chief, said: "It is a clear case of targeted killing and police are working on a few possible motives for the murder."
Firstly, he said, the investigators were looking into the possibility of the involvement of some extremist organisations in it, as she was a 'liberal, educated and intellectual woman' who used to organise programmes on different issues.
Secondly, he said, an 'enemy country or its intelligence agency' might have wanted to reverse the "stability" returning to the country after the launch of Operation Zarb-i-Azb.
Thirdly, he said, her murder might be related to some 'personal enmity'.
"These are some aspects on which the investigators are working," said the DIG.
In reply to a question, Dr Jamil Ahmed said police had got feedback from the wounded mother and friends of Ms Mahmud who disclosed that she had been receiving threats for the past 'four to six weeks'.
In all these threats which she had received on her mobile phone, she was told to 'suspend your activities', he said, adding that they would get her phone record and also try to get CCTV footage from the crime scene to get any clue to the attackers.
Her mother Mehnaz Mahmud, who was stated to be out of danger, lodged an FIR (214/2015) with the Defence police station against unidentified persons under Section 7 of the Anti-Terrorism Act, 1997, Sections 302 (murder), 324 (attempted murder) and 34 (common intention) of the Pakistan Penal Code, said SHO Kansan Dean.
Following the registration of the FIR, police started formal investigation into the murder.
Sabeen Mahmud, the founding director of social forum T2F, and her mother were returning home in a car from the T2F after the programme when they were attacked by some armed motorcyclists near Defence Central Library.
She died on the spot after being hit by four bullets while her mother sustained two gunshot wounds. Her mother was shifted from the emergency department to a room at a private hospital on Saturday.
A large number of mourners, some dressed in T2F T-shirts, gathered on the T2F premises in DHA Phase-II extension, where her body was brought before her funeral on Saturday.
Her mother was also present.
Inside the space that has become well-known for hosting numerous talks, book readings, art exhibitions, film screening, music performances and plays, one poster read "We will not forget you, Sabeen".
The body was later taken to Masjid-i-Mustafa, near DHA Office in Phase I, where funeral prayers were offered after Asr.
She was laid to rest at DHA Phase I graveyard.
Meanwhile, SHO Kansan Dean, who is also a member of the investigating team, clarified that Ms Mahmud's driver had not been taken into custody.
He said the driver, who was sitting on the back seat, told investigators that he did not see the attackers because he had ducked for cover after hearing gunshots.
The SHO said Ms Mehnaz told police that her daughter had been receiving threats for the past one-and-a-half years. But neither did she say anything to suggest the identity of the callers nor about the reason cited by them.
http://www.dawn.com/news/1178312/sabeen-was-being-coerced-into-suspending-her-activities
---------
Row after Headscarf-Wearing Women Removed From U.S. Talk Show Audience
26 April, 2015
U.S. media giant Warner Bros. have defended themselves in light of a recent complaint that two Muslim women were asked to move from the audience of talk show "The Real" due to their wearing of headscarves.
According to a complaint against the studio, the two women were requested by officials to move out of the front row as it was against studio policy to have audience members wearing Hijabs in shot.
"Warner Bros. has no legal justification for removing the hijab-wearing women from the camera's view," a spokesperson for a U.S. based Muslim civil advocacy group Council on American-Islamic Relations who lodged the complaint said.
"No studio should maintain such a discriminatory policy that prohibits people wearing religious head coverings from being seen in its studio audiences. It's especially baffling that this particular show would want to hide their visibly-Muslim viewers, when the show purports to cater to a wide-ranging audience with its diverse cast," read the statement.
Warner Bros. responded in a statement to media site HollywoodLife.com that their "policy is to welcome everyone and anyone into our studio audience. 'The Real' is a show that was created to represent and celebrate diversity. We take this inquiry seriously and are looking into the matter."
http://english.alarabiya.net/en/media/television-and-radio/2015/04/25/Row-after-headscarf-wearing-women-removed-from-U-S-talk-show-audience.html
---------
Meet Swat's First Christian Woman Contender for LG Polls
26 April, 2015
MINGORA: Only six years ago, girls in Swat were barred from leaving their homes and their education was banned by the Taliban. However, since the security forces drove out the militants, the district's women have made great strides in raising their voices for their rights. From Malala Yousafzai campaigning for girls education to Tabassum Adnan working for women's rights and Humaira Shaukat becoming Swat's first women lawyer.
Hina Patras, a representative of Swat's small Christian community, has now joined the ranks of these brave women. Patras, 25, has become the first Christian woman to contest local government polls for a district councillor seat in Saidu Sharif.
Patras has a master's degree in sociology and is a social worker by profession.
"Serving people was my innate drive," Patras tells The Express Tribune. Her passion only grew after she joined an NGO and came across those marginalised by society.
For Patras, fighting for minorities' rights and resolving their problems is not the only factor that pushed her to contest elections; she wants to serve humanity irrespective of religion and creed.
"In my social work, when I meet poor communities, particularly women, my heart sinks. I want them be happy and prosperous, with equal rights," she says, adding the major hurdle in women speaking up for their rights is lack of awareness and education.
The problems minorities are facing in Swat are a bit complicated; they do not face discrimination from locals, but they feel that the government does not take their needs seriously, she says. "We (Christians) have no proper church or graveyard, and we are only considered fit for lower positions such as sanitary workers and peons, in government departments despite being highly educated," she says.
However, Patras is confident that if elected she would resolve these issues as she believes she has the support of minorities and Muslims alike.
Patras is aware that working in a male dominated set-up will not be easy but she says her parents encouraged her in her cause. "Some people tried to put pressure on me to give up the idea of contesting. They said politics is not a woman's job but I will show them that women can be better at it than men, if they have the support of their community and passion to serve," she says.
After finding out that Patras will be contesting, many women have already started listing their demands. "Girls want me work on establishing a playground and women's university. They also want skill training schools in Swat," she says.
A staunch supporter of girls education, Patras says many women have received higher education but do not make use of it for various social reasons, which should not be the case.
"I will mainly focus on women rights violations in the area because domestic violence, underage marriages, dowry demands, denial of legal share in property, acid throwing and swara affect me emotionally," she adds.
Patras says she will do all she can to fight for women's rights and for the rights of marginalised people, but she also calls for collective action. "Alone I cannot do much, but collectively we can make a difference."
A staunch believer in equality, Patras says, "I am not a minority, I am an equal citizen of this country."
http://tribune.com.pk/story/875983/in-the-running-meet-swats-first-christian-contender-for-lg-polls/
---------
Muslim Woman, Najwa Mordhah, Shed Light to Help Shed Misconceptions
26 April, 2015
The man who hurt Najwa Mordhah didn't know her.
He only saw her scarf.
As the native of Saudi Arabia was taking a walk in Norfolk one day, he pulled up in a white car, rolled down his window and started shouting at her.
Then he raised his middle finger.
Mordhah walked away with "heavy steps and heavy tears," she recalled Saturday at Old Dominion University's Islamic Centre.
"Why do they hate me - or us?" she remembers thinking.
Mordhah, who will graduate with a doctorate in public administration from ODU in May, decided then to become an agent for change. She felt it was her duty to correct the many misconceptions Americans have about Muslims - particularly Muslim women.
Yes, she covers her hair with a scarf, but "this Muslim woman has never been oppressed," she told a diverse group of about 100 women and children who had gathered to discuss Muslim women as precious and valuable gems - hidden beneath their scarves, niqabs and burkas because they choose to control who sees their beauty.
Mordhah gave up her dream of becoming a physician after having two boys, but with inspiration from her father, support from her husband and a grant from her government, she was able to study in the United States to become a different kind of doctor. When she finishes her degree, she and her family will move home to Saudi Arabia.
Two other speakers, one black and one white, told stories about their journeys as Muslim women, but they brought different viewpoints because they chose to "revert," or convert, to Islam as young American adults.
And yet, they've had similar experiences.
Le'Jeané Ellis, who holds a bachelor of sociology degree and a master's in applied sociology with an emphasis on criminal justice from ODU, also was verbally accosted by a stranger driving by.
"You don't have to burn in hell," she said he shouted, half his torso hanging out the car window. "Jesus can save Muslims, too."
Ironically, Muslims believe Jesus, one of many prophets, was birthed by the Virgin Mary. He appears in the Quran in numerous passages.
Danielle Leibovici, a Jewish woman who attended the event, said she was pleased to have learned so many new things about Islam and Muslims. For example, she didn't know that Moses, a prophet in Islam, is mentioned more in the Quran than Muhammad.
"Women can bring everyone together," she said. "We are all children of Abraham, and we have so much to bring to the world."
http://hamptonroads.com/2015/04/muslim-women-shed-light-help-shed-misconceptions
---------
Hounded By Mullahs, a Muslim Woman Writer, Sharmila Seyyid, Is Forced To Flee Home
26 April, 2015
As a poet, Sharmila Seyyid is used to dealing in imagination but even she couldn't have imagined that an innocuous remark in an innocuous BBC interview would trigger a chain of events that would turn her world upside down--ultimately forcing her to go into hiding in a place far away from her home.
A Muslim woman journalist, writer and activist, Seyyid is being hounded by fundamentalist groups –not in one but two countries--because of her outspoken criticism of certain "Islamic" practices such as the Purdah system, and her warnings against creeping "Talibanisation" of the Muslim community.
A Tamil-speaking Sri Lankan and a single mother with a small child, she finds herself stuck in a safe house in Chennai after being forced to flee her home in Batticaloa, eastern Sri Lanka. This followed a systematic and vicious campaign of intimidation, including death threats and threats to kidnap her young sister with whom she ran an English language school. The school was attacked, and an attempt made to burn it down.
But if Seyyid thought that moving to India would buy her peace, she had not reckoned with the long reach of her tormentors. For, far from dying down, the hate campaign against her has grown in recent weeks with Indian Muslim fanatics taking over where their Sri Lankan comrades left off.
Yet, surprisingly, Seyyid's nightmare has attracted little media attention outside Tamil-speaking circles. Among the national English language newspapers, only The Hindu took note of it courtesy an op-ed (Chronicle of a Death Online, 7 April) by Kannan Sundaram, editor of Kalachuvadu, a Tamil monthly.
Meanwhile, vigilantism has gone online with her critics taking their dirty tricks to social media.
A few weeks ago, they warned her to remove all of her photographs without purdah from Facebook within 24 hours. When she refused, an audio of a lewd conversation between a high-ranking Tamil Nadu police officer and a female subordinate was posted with a photo of Seyyid tagged to it suggesting that the woman the officer was talking to was her. It was widely shared on the net, and though she was finally able to get it off the web the damage had been done.
Emboldened by their "success'', the bullies attempted another –even more obscene—stunt. This time, they posted what sounded like a real news item of a woman being "raped'' and "murdered'' attached to a photoshopped picture of Seyyid's body.
It went viral, and such was its impact that her family and friends thought it was true and landed up at her home. Her father Seyyid Ahmed has made a formal complaint to the police alleging a concerted attempt to incite hatred against his daughter. He says his family is living a nightmare; and fears for their safety.
Now back to the BBC interview which triggered Seyyid's nightmare.
It happened in 2012 when speaking to the BBC's Tamil Service she backed legalising sex work arguing that it would help protect sex-workers. It was not part of any agenda. She was simply answering a specific question about her debut collection of poems Siragu Mulaitha Penn (The women who grew wings) in which one poem was about sex workers.
Fundamentalist groups, who already had her in their sights because of her progressive (allegedly "anti-Islamic'') views, seized on her remarks to launch an all-out attack accusing her of "endorsing'' prostitution, considered haram in Islam.
"The threatening calls began soon after. By the next morning, Ms. Seyyid had received hundreds of missed calls on her mobile phone. There were news reports that condemned her for supporting sex work and the social media joined in,'' according to The Hindu article.
Threats and intimidation continued even after she apologised for unwittingly hurting anyone's sentiments. But she refused to retract her statement under duress. This provoked the mullahs to step up their attacks—finally forcing her to seek refuge in India, only to discover that you can run away from your country but you can't run away from the growing menace of religious fundamentalism.
Sayyid has been praised for standing up to the bullies.
"Horrid as this entire episode is, I think, Sharmila's courage, strength and tenacity will inspire women everywhere to fight oppression,'' human rights activist Mari Marcel Thekaekara wrote on her blog.
Seyyid's case comes on the heels of that of Mumbai-based Shirin Dalvi, then editor of an Urdu daily, Avadhnama. She was targeted in a similar fashion for "hurting" Muslim sentiments. Her "crime" was that while writing about the murder of Charlie Hebdo journalists , she reproduced the magazine's cover carrying a cartoon of Prophet Mohammad. And though she was quick to publish an unconditional front page apology, it did not satisfy Islam's self-appointed custodians who continued their relentless smear campaign.
On their complaint, she was arrested, and multiple cases were registered against her for "outraging religious feelings … with malicious intent." Things reached a point where she felt so insecure that she took to wearing burqa to escape attention and to move out her family home.
Unfortunately, few liberal Muslims stood up for her. In fact, a senior Urdu newspaper editor admitted that elements of the Urdu Patrakar Sangh, which represents Urdu journalists and of which she was a member, were party to the cases filed against Dalvi.
Understandably, Muslims resent being called upon to condemn every act of Muslim extremism by arguing why the entire community should be held accountable for a few rotten apples. But here was a Muslim woman being harassed by their own lunatic fringe.
In Seyyid's case, though, some liberal Tamil Muslims have joined an online protest but that's not enough. Contrast this with the strong liberal Hindu response in the Perumal Murugan case. They rushed to support the Tamil writer when he was attacked by Hindutva groups objecting to certain portions in one of his best-known books.
What if Dalvi and Sayyid had been victims of Hindu fanatics? I'm sure Muslims would have reacted with outrage. And rightly so. But such selective outrage not only weakens the broader fight against religious fanaticism but gives a handle to the Hindu Right to exploit such cases for their own political ends.
It is not about defending individuals but about standing up for civilised behaviour when it is under threat irrespective of the source of the threat. For, if allowed to go unchallenged, this "lunatic fringe'' can also turn against us one day.
http://www.firstpost.com/world/hounded-mullahs-muslim-woman-writer-forced-flee-home-2213446.html
---------
Whip Child Killers and Rapists, Islamic Council of Jamaica Says
26 April, 2015
AS the heinous murders and attacks against the nation's children continue to escalate, the Islamic Council of Jamaica believes that it is time for the Government to introduce stricter measures in order to clamp down on the brutal crimes.
One of the suggestions made by the Council is for there to be public beating and humiliation of some of the island's criminals who continue to rape and attack citizens, especially the nation's youth.
"You might want to say that what Islam prescribes is barbaric, but when a man rapes a woman or girl, that is an extremely heinous crime in Islam," said Al Hajj Mekaeel Maknoon, acting president of the Islamic Council of Jamaica, in an exclusive interview with the Jamaica Observer.
"What Islam normally prescribes in those circumstances is that the persons are beaten," he stated.
He said that the Holy Qur'an prescribes 100 lashes in public.
The calls from the Council's hierarchy comes a day after the island was left mourning the death of another of its children, this time a 12-year-old girl in Riversdale, St Catherine.
The child, Jameila Johnson, also known as 'Zella', a student of the Harewood Primary School in St Catherine, was brutally murdered and her body dumped in bushes close to a river near her home in Williamsfield, near Riversdale in the parish, on Friday.
There were unconfirmed reports yesterday that the child was pregnant.
Describing the act as heinous and brutal, the Muslim community's top man said that it was his belief that if the punishment is not effective, then the commission of the crime will escalate.
Asked if he believed that local authorities would introduce that form of punishment, Maknoon said:
"I believe that if the consciousness continue to be 'you know we ready to do the time so we going do the crime, we need to make it unprofitable, you need to make it onerous, for the persons to rape or murder. If it is not onerous then they will never stop it," said Maknoon.
"It is a question for us to review the way in which we deal with certain things and to simply dismiss certain punishment as barbaric. I don't think that is intelligent."
He said that the Government needs to look at what is happening ... look at the detrimental effect that crime was having on the community and how it was escalating, over the long term.
Maknoon said that the Government needs to make a judgment call to look at whether the approach would be inherently good or bad, and then work on the legislation.
According to the Ministry of Education, the child's parents reported that she went missing last Tuesday night after she asked her grandmother for toilet tissue and proceeded to the outdoor pit latrine.
When she did not turn up several hours later, a search was launched. Three days later the partially decomposed body of Johnson was found in bushes.
On Friday, a group of angry residents, after learning about the little girl's death, went to her family's house and set the structure on fire. The child's mother and grandmother were also attacked by the mob and had to be escorted from the community by the police.
The group claimed that it was neglect by the family that led to the child's death.
Due to the attack, reporters did not get a chance to speak to members of Jameila's family.
Since January, two underaged girls have suffered similar fates.
Santoya Campbell, a 14-year-old Westmoreland girl, went missing on January 26 and her body was found two days later, stuffed in garbage bags under a bridge.
According to grief-stricken relatives, Santoya, who was a grade eight student of Frome Technical High School, did not reach school after leaving her home early the morning that she went missing. Following a post-mortem it was found out that Santoya was pregnant.
Similarly, another 14-year-old girl, identified as Kayalicia Simpson of St Thomas, was hacked to death and her mutilated body dumped metres from her house on March 3. Police reported that about 5:00 am that day, the grade eight student went outside her house as she prepared for school. About half-an-hour later her body was found lying face down in bushes close to the one-room wooden structure in which she lived.
Like Santoya, a post-mortem report revealed that Kayalicia was pregnant.
And last week three 14-year-old Clarendon boys were held up at gunpoint and shot dead by criminals execution-style.
http://www.jamaicaobserver.com/news/Whip-child-killers-and-rapists--Islamic-Council-says_18823510
---------
Islamic School in New Zealand Keeps Watchful Cyber Eye on Students
26 April, 2015
Teachers at New Zealand's biggest Islamic school are monitoring students' online activity in light of increasing international concerns over how extremist groups are using the internet to recruit members.
Principal of Mangere's Al-Madinah School, Asin Ali, told the Herald on Sunday that cyber-monitoring of his 550 students was being conducted, including scanning for extremist-related material. The students and their parents know of the surveillance.
Ali said no content had caused concern but vigilance remained important to help ensure young, Islamic New Zealanders were protected from dangerous activity.
"We try to monitor the internet and what students are using and make sure we are talking to them to help mitigate these kinds of risks and make sure that nobody comes to any extreme views," Ali said.
"We have not encountered anything like that, but we do also encourage our students to report any concerns about extreme views.
"We ensure that the message of living in New Zealand and being a common Muslim is promoted — and that any sort of violence is not."
National spy chief Rebecca Kitteridge last week said the risk of a terrorist attack in New Zealand had risen over the last year and extremist groups such as Islamic State were using the internet, particularly social media, to spread propaganda in attempts to recruit susceptible individuals.
This week 140 Kiwi troops began their deployment to Iraq as New Zealand joined the fight against IS, while counter-terrorism police in Australia also foiled an alleged terrorist targeting Melbourne's Anzac Day commemorations.
The exposure of that plot has also led British prosecutors to charge a 14-year-old boy with two offences of inciting terrorism overseas.
The Education Ministry said New Zealand schools were responsible for their own policies around online monitoring. A spokesperson said the ministry was not aware of any concerns about the radicalisation of students of any religious or ethnic background in New Zealand schools.
Ali said students' education at Al-Madinah also included coping mechanisms in the event of encountering prejudice and misinformation around the Muslim faith's connection to extremism.
Al-Madinah is one of three Islamic schools in New Zealand. Zayed College For Girls is also located in Mangere, and declined to comment. The third is Haleema Kindergarten in Lower Hutt.
http://www.nzherald.co.nz/nz/news/article.cfm?c_id=1&objectid=11438738
---------
Pakistani politician, Hina Butt with designs on India
26 April, 2015
LAHORE: She's a member of the Punjab assembly. And she has a fashion label of her own – Teena. She also believes India is a great market for Pakistan-designed labels.
Hina Butt feels improving trade between India and Pakistan can give a boost to the fashion industry in both countries. "I think both governments should make trade between the two countries a smooth affair," Butt told IANS when asked about the one thing that she would want the government to help the design fraternity with.
IANS caught up with Hina as she was participating as a designer in the eighth edition of PFDC Sunsilk Fashion Week 2015 – a four-day mega fashion gala, which started on April 18.
The designer feels that with campaigns like Aman ki Asha – a joint initiative by one leading media house each from India and Pakistan to improve diplomatic and cultural relations between the two nations — the situation is becoming better gradually.
"I think that with programmes like Aman ki Asha, many things have started, I can see celebrities going to and fro and spreading the message of peace. As a common citizen, I would love to have open trade (with India), but especially so because I am a designer."
Butt said the Pakistan government of Nawaz Sharif was in favour of such opening up and was doing a good job about it. The 30-year-old, who has been a member of the Punjab assembly since 2013, says that given an opportunity, she would love to showcase her creations in India someday, as most of her clients in Dubai happen to be Indians.
"I think people in India love Pakistani designs. India is a great market for us and I think we should definitely focus on it and do maximum business from there," said the designer, herself a big fan of Bollywood stars Deepika Padukone and Ranbir Kapoor who would love to design for them one day.
"I have started stocking (my designs) in Dubai. I have seen a lot of Pakistani cuts are loved by Indians. Similarly, I did an exhibition once or twice there (in Dubai) and it was sold out, so I think Indian market can be a very good opportunity,"she added.
At PFDC Sunsilk Fashion Week 2015, her collection, under her label Teena by Hina Butt, was titled Suzandozi. With focus on colourful needlework, the collection was inspired by Suzani, a textile technique from Uzbekistan.
With clean cutlines, the collection comprised of crop tops, volume gowns, straight printed pants, embroidered kurtas, skirts and digitally printed dresses.
Hina launched her label in November 2010 and has since established a distinct brand presence in an increasingly competitive industry under the philosophy of delivering luxury formal, semi-formal and bridal wear for fashion consumers in Pakistan and overseas.
Politics aside, Hina knows how to rock the runway with her designs, here's what her Twitter fans had to say about her work at PFDC Sunsilk Fashion Week 2015:
http://tribune.com.pk/story/875682/pakistan-politician-hina-butt-with-designs-on-india/
---------
URL: https://www.newageislam.com/islam,-women-and-feminism/new-age-islam-news-bureau/sabeen-was-being-coerced-into-'suspending-her-activities'/d/102675