New Age Islam News Bureau
1 Jul 2015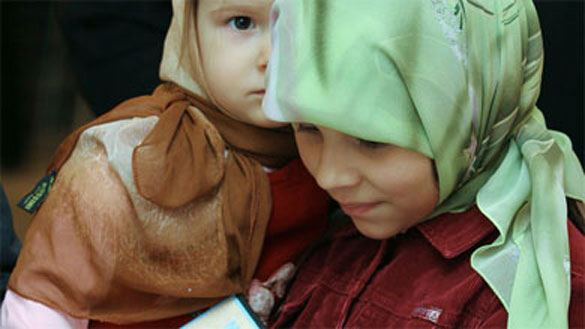 Three-quarters f Russians oppose hijab in schools, poll shows RIA Novosti / Maksim Bogodvid
----------
• New Sports Uniforms Level the Playing Field for Muslim Girls
• UN: South Sudan Army Raped Girls And Burned Them Alive
• US Senators Call For Punishing Malala Attackers
• Muslim Women Fight for Right to Wear Islamic Headscarf
• Iowa Woman Organizes Love-In Following Anti-Muslim Hate Crime
• Muslim Wife-Beaters 'Hide Behind the Cloak of Faith': Woman HR Director
• Germany: School Warns Parents to Dress Daughters Modestly To Avoid Offending Muslim Refugees
• Pakistan: Women in Mingora Shelter Home Need Breathing Space
Compiled by New Age Islam News Bureau
URL: https://www.newageislam.com/islam,-women-and-feminism/new-age-islam-news-bureau/russians-oppose-wearing-of-muslim-hijab-in-schools-–-poll/d/103725
-----------
Russians Oppose Wearing of Muslim Hijab in Schools – Poll
By Anna Dolgov
Jun. 30 2015
Three out of four Russians are against allowing Muslim students to wear hijab head coverings in schools and universities, and the opposition is even higher in Moscow, where 91 percent of inhabitants oppose the practice, a poll released Tuesday indicates.
About 18 percent of Russians believe that Muslim women should have the right to wear religious headscarves to schools, while 74 percent are against it, the poll by the independent Levada Center showed.
The poll comes amid reports of a number of Russian students converting to radical Islam and traveling to Turkey in an attempt to cross the border into Syria and join the Islamic State terrorist group. The reports have prompted Russian politicians, including lawmakers and children's rights ombudsman Pavel Astakhov, to call for educational policies that would dissuade students from adopting radical views.
A sociologist at the Levada Center, Karina Pipiya, said that Russians' dislike of hijabs stems from fears of violence spilling over from turbulent predominantly Muslim parts of the North Caucasus, and should be countered by educating the nation about the more peaceful aspects of Islam, Izvestia reported.
"Islam is very varied, but in the media, Islamists are practically equated with terrorists, because the news focuses more frequently on terror attacks than on any positive things," Pipiya was quoted as saying. "Perhaps if there were more historical broadcasts, showing Muslims from a different side, the [poll] numbers would be different."
In Moscow, opposition to hijabs in schools reached 91 percent, compared to the 74 percent national average, according to the poll. Opposition was also the strongest in Russians over the age of 40, among whom the proportion of those opposed to hijabs rose to 76 percent.
Previous Levada Center polls have also indicated that Russians harbor negative feelings toward natives of the North Caucasus region, Pipiya was quoted as saying. The region saw two wars in Chechnya over the past decades, and neighboring Dagestan is plagued by violent insurgencies by Islamist militants.
But Russians' dislike has shifted to perceived foreign foes amid the country's standoff with the West following Moscow's annexation of Crimea and support for separatists in eastern Ukraine, she was quoted as saying. Another Levada Center poll released this week indicated that 66 percent of Russians believe that Western sanctions applied against the country over the Ukraine conflict are aimed at "weakening and humiliating" it.
"In 2014, in the context of the Ukraine crisis, the focus of internal dislikes and fears linked to Muslims shifted to external political enemies," Pipiya was quoted as saying, adding, however, that the shift had "not significantly affected" the results of the latest poll, which was conducted among 800 adults around the country and had a margin of error not exceeding 4.1 percent.
In a much-debated ruling earlier this year, Russia's Supreme Court upheld a ban on religious headwear in schools in the republic of Moldova.
The region's top Muslim leader, grand mufti Fagim Shafiyev, criticized the ban, saying it violated the Russian Constitution and infringed on freedom of religion, according to media reports.
Russian Education Minister Dmitry Livanov also argued earlier this year that students should wear "secular" clothes to school, Izvestia reported.
http://www.themoscowtimes.com/news/article/russians-oppose-wearing-of-muslim-hijab-in-schools--poll/524682.html
-----------
New Sports Uniforms Level the Playing Field for Muslim Girls
MINNEAPOLIS — Jul 1, 2015
Girls in stylish athletic wear walk the runway as the sounds of Taylor Swift and Katy Perry blare from speakers. The crowd claps and cheers as the young models strike poses with basketballs, lacrosse sticks and boxing gloves. Finally, the big reveal: the Lady Warriors community traveling basketball team takes the stage in their cardinal red uniforms.
This is no ordinary fashion show. The models are East African, primarily Muslim girls living in Minnesota who designed their own culturally sensitive sportswear that lets them move freely without worrying about tripping on a long, flowing dress or having a head scarf come undone at a crucial point.
"The girls for years have been telling us, 'We would like clothing. We would like clothing,'" said Chelsey Thul, a lecturer in kinesiology at the University of Minnesota who helped lead the two-year project.
The uniforms' roots stretch back further, to the day in 2008 when then-college student Fatimah Hussein founded a girls-only sports league that now includes the Lady Warriors and began claiming gym time at a community center in the heart of Minneapolis' Somali neighborhood.
The girls quickly learned that traditional dress and basketball don't mix, said Thul, who was a volunteer research consultant to the program.
The answer, Thul said, was a functional yet modest uniform "so they could do that between-the-legs dribble, make that three-pointer, and not have clothing be a barrier."
She worked with Hussein, girls from her sports league, the University of Minnesota's College of Design, the Tucker Center for Research on Girls & Women in Sport at the university, coaches and community members on the project.
Sertac Sehlikoglu, a social anthropologist working on leisure, sports and the Muslim communities at the University of Cambridge, noted that Iran has been developing culturally appropriate female sportswear for years. She agreed with the Minnesota project's organizers that the girls' designs could catch on in other cities with large Muslim populations.
The U.S. "has been an important actor in triggering global trends, if not leading them, and thus I believe that would have a positive impact," Sehlikoglu said in an email.
Starting in 2013, the girls attended female sporting events to see how uniforms worked. University designers helped the girls get their ideas on paper. The project culminated in the fashion show this June at the university.
The girls came up with two designs. One teal-and-black uniform with stripes — good for all sports including swimming — features leggings and a knee-length tunic. Both the everyday active wear and the basketball team's bright red outfit include a tight black headpiece. Arms, legs, hair and neck are all covered.
Style was important, said Amira Ali, 12, who helped with the design.
http://abcnews.go.com/Sports/wireStory/sports-uniforms-level-playing-field-muslim-girls-32144683
-----------
UN: South Sudan army raped girls and burned them alive
30 Jun 2015
The UN has accused South Sudan's army of raping and then burning girls alive inside their homes during its recent campaign, a report by its mission in the country said.
The statement, published on Tuesday, warned the recent upsurge in fighting had been marked by a "new brutality and intensity".
"The scope and level of cruelty that has characterised the reports suggests a depth of antipathy that exceeds political differences," the UN said.
Members of the UN mission in Sudan (UNMISS) said they interviewed 115 victims and eyewitnesses in Unity state where South Sudanese forces were involved in fighting against opposition fighters in April.
The survivors allege that the Sudan People's Liberation Army (SPLA) killed civilians, destroyed villages and displaced 100,000 people, the statement added.
The UN said attempts to corroborate the reports were prevented by the SPLA, which denied its teams access to the areas concerned.
"UNMISS human rights officers visited two additional sites of alleged atrocities and conducted more interviews of eyewitnesses and victims. The information gathered from those visits and interviews provided further corroboration of the earlier accounts," the statement read.
"We call on the SPLA to fulfil this commitment and allow our human rights officers unfettered access to the sites of these reported violations," said Ellen Margrethe Loej, the head of UNMISS.
The military spokesman for the South Sudanese army, Philip Aguer Panyang, told Al Jazeera that the accusations made in the report needed further verification, and questioned accusations South Sudanese troops had obstructed UN investigators.
"Our role as an army is to facilitate humanitarian deliveries and access for civilian protection," Panyang said.
"If the UN has been denied access, they have the right to present those claims to the SPLA command."
South Sudan attained independence in 2011 but the country has disintegrated into chaos. Thousands of people have been killed and almost two million displaced in a civil conflict that erupted in late 2013 as forces loyal to Salva Kiir tried to put down an uprising led by his former deputy, Riek Machar.
Peace talks between the factions collapsed in March this year, and clashes have since escalated.
Kiir said that he will not be forced into a premature peace deal and rejected the UN threat of sanctions against his country.
http://www.aljazeera.com/news/2015/06/south-sudan-army-raped-girls-burned-alive-150630073042209.html
-----------
US senators call for punishing Malala attackers
July 1st, 2015
WASHINGTON: Two US senators have urged Pakistan to redouble its efforts to punish those who attempted to assassinate Nobel Laureate Malala Yousafzai.
Senators Marco Rubio and Barbara Boxer expressed deep concern over the recent acquittal of eight of the 10 suspects.
"We urge the government of Pakistan to redouble its efforts, in a transparent and public manner, to bring those responsible for this brutal attack to justice," they said in a letter to Pakistan's Ambassador to the US Jalil Abbas Jilani. The letter sent on June 29 was released to the media on Tuesday.
Mr Rubio, a Republican, chairs the United States Senate Foreign Relations Committee's Subcommittee on Western Hemisphere, and Ms Boxer, a Democrat, is its ranking member.
The two senators noted that in April, Pakistani officials announced that after a secret trial, all 10 suspects were found guilty for their roles in the attack against Malala and were given 25-year prison sentences.
They said that although they had serious concerns about the trial's lack of transparency and general absence of information regarding the cases against the 10 individuals, they welcomed the announcement.
"We were encouraged to hear that the Pakistani judicial system was actively working to hold those responsible for this heinous act," they wrote.
"That is why we are particularly alarmed by recent media reports that eight of the 10 convicted were actually acquitted of these charges against them," they added.
The senators argued that the acquittal had raised "significant concerns about the transparency and the accountability of the Pakistani judicial system".
As such, "we respectfully request that the Pakistani judicial system provide an honest and transparent accounting of the events surrounding the cases against these 10 individuals and continue its important work to bring all those responsible for the brutal attack against an innocent teenage girl to justice," they said.
Malala is the youngest recipient of Nobel Prize.
In 2012, while she was riding home from school, Taliban terrorists boarded her school bus, asked for her by name, and shot her in the head.
This forced her to leave Pakistan for surgery. She now lives in Britain but travels across the globe, campaigning for her cause.
The US lawmakers wrote that the Taliban targeted Malala because of her public advocacy for the right of women and girls to receive education.
"Extremists' efforts to silence the fifteen-year-old activist were in vain. Despite all odds, Malala, who is now seventeen, has continued to champion the cause of girls' education, an act that earned her the Noble Peace Prize in 2014," they noted.
Published in Dawn, July 1st, 2015
http://www.dawn.com/news/1191538/us-senators-call-for-punishing-malala-attackers
-----------
Muslim Women Fight for Right to Wear Islamic Headscarf
July 1, 2015
When Raghdaa Ali of Dearborn Heights attempted to walk into a cash advance store one day last summer to get a money order, an employee pointed to the Islamic headscarf Ali wore and said: "You need to take it off."
The Advance America Cash Advance store in Inkster has a sign outside that reads: "Please Remove hat and Sunglasses" and requires customers to be buzzed in to enter and temporarily remove their head coverings for security reasons.
But as an observant Muslim woman who keeps her head covered in accordance with her faith, Ali tried to explain why she unable to remove her scarf, known as hijab. She was denied entry and told that unless she left, police would be called.
"I felt really hurt that day," recalled Ali, a native of Iraq. "I'm a U.S. citizen and should not be treated differently because of my religion. This is pure discrimination against hijab."
Ali later filed a lawsuit, and now her case may come to trial this year in Detroit, illustrating growing tensions as Muslim women fight for the right to wear hijab in public places. It's a conflict that has come up more frequently in recent years as a religious minority seeks acceptance of its faith.
In addition to Ali's lawsuit, there have been several other cases involving Muslim women in metro Detroit and the U.S., which civil rights advocates say shows a pattern of misunderstanding about Hijab. On Tuesday, Maha Aldhalimi sued the city of Dearborn, saying their officers forced her to take off her Hijab for a booking photo after arresting her on parking violations.
In Michigan, several police departments of municipalities that have growing Muslim populations — Dearborn, Dearborn Heights, Hamtramck and Canton — are wrestling with how to deal with Muslim women who wear Hijab when they are arrested. Police are asking them to remove their Hijab for photographs and identification purposes, but Muslim women say they should be allowed to keep them on or at least have female police officers handle them. They note that the Secretary of State allows Muslim women to have on Hijab for their drivers' license photos.
"These are constitutional violations," said Canton attorney Nabih Ayad, who has handled several Hijab cases in recent years. "You have to respect the right to wear religious attire."
Violation of rights?
Robert Sedler, a distinguished professor at Wayne State University Law School who teaches constitutional issues, agrees, saying that it appears the rights of Muslim women who wear Hijab are being violated during police booking photos and in the Advance America case.
Ayad filed a lawsuit last month against the Oceana County Sheriff's Department on behalf of Fatme Dakroub, a Muslim woman of Arab descent from Dearborn who wears Hijab and was on vacation in the county with her family. On May 17, she was pulled over by police for allegedly speeding in a parking lot and was told her license was suspended, both of which Dakroub disputes.
Arrested and handcuffed, the officer took her to the station, where she "was asked to remove her headscarf in front of three male officers," said the lawsuit, filed May 28 in U.S. District Court in Detroit.
Dakroub said she explained to the officers the "substantial religious significance of her headscarf and clearly told the officers that she did not want to remove her headscarf because of her religious beliefs."
"Dakroub requested for a female officer to oversee her booking when removing her headscarf, but was told that having a female officer was not an option," the lawsuit said.
She then said she was placed in a holding cell without her headscarf for about three hours next to male cellmates, some of whom made passes at her, further humiliating her.
Oceana County sheriff's officials did not return a call seeking comment.
Aldhalimi said she faced a similar experience on Sept. 15, 2014, after police spotted her in a no-parking zone at a Walmart in Dearborn. Police arrested her on a warrant for an unpaid parking violation and ordered her to remove her Hijab for the booking photo in the station.
Aldhalimi said she tried to explain to them why she needed to keep it on, but officers ordered her "to remove her Hijab or it would be removed involuntarily against her will."
Dearborn spokeswoman Mary Laundroche didn't comment on the lawsuit or on city policies with how its police treat Muslim women who wear hijab.
'Symbol of modesty'
For many Muslim women who wear Hijab, having their head uncovered in front of men who are not immediately family members — such as parents, brothers, and sons— is like being naked. Islam teaches that women, and also men to some extent, should be dressed modestly and cover themselves in certain areas. The Islamic headscarf is the most visible symbol, but the idea of modesty also can include loose-fitting clothing that doesn't reveal the shape of a body.
"It's a symbol of modesty," explained Ali. "We wear it in front of male strangers."
The sensitivity around it can lead to tensions with police departments that might not be aware, or care, about the concerns of Muslims. In January, a lawsuit was filed by Ayad on behalf of a Muslim woman from Dearborn Heights, Malak Kazan, against Dearborn Heights police, accusing their officers of making her remove her headscarf to take her booking photo, which requires no hats or head coverings.
"To have her hair and neck uncovered in public," the lawsuit said, is a "deeply humiliating, violating, and defiling experience."
Like Dakroub, Kazan, 27, said she explained to the officer that she couldn't remove her hijab because of her faith, and requested to have a female police officer present. The male Dearborn Heights officer "denied that request and threatened to further her detention if she did not comply."
Dearborn Heights officials did not return calls seeking comment. In their legal response, their attorney said that Kazan "is a scofflaw and an individual who habitually drives on a suspended license."
The city strongly defended its policies in the legal filing, saying that "individuals may be hiding contraband in the Hijab, such as a razor blade, or an illegal substance, and further, biometric data is necessary in the booking process, and that is a statutory requirement."
It said that "any individual, regardless of race, age, ethnicity, etc., must remove all items covering their head or neck."
Moreover, "a female officer is not always present or on duty or available."
"The City of Dearborn Heights Police Department does everything it can to respect every individual's religious custom, but in furtherance of the protection of the citizenry, a compelling state interest determines that female Muslims must remove all head covering."
A spokesman for Advance America Cash Advance, Jamie Fulmer, had similar views, saying that they ask people to remove their head coverings for security reasons.
While "Advance America respects all religious beliefs and serves all customers with dignity and respect, for the safety of our customers and employees, we do have a security policy in place that requires anyone seeking entry into our centres briefly remove any hoods, hats, sunglasses or other head coverings," Fulmer said. "It is an important security measure designed to ensure that anyone entering our centres can be easily identified. That policy was being enforced in this particular case. The safety and security of our customers and employees are our primary responsibilities and we take them seriously."
Sedler said that in the case of Advance America, it appears that what happened to Ali may have violated the state's civil rights law, the Elliot-Larsen Civil Rights Act. He compares her situation to that of an observant Jewish man who might be denied service for not removing his Kippah, which covers part of the head.
"These types of things, in my opinion, reflect discrimination against Muslim people," Sedler said. "If she's being refused service, what is the justification?"
Regarding the issue of police departments, Sedler said it appears unconstitutional to force a Muslim woman to remove her hijab to take her photo. The city of Dearborn Heights says it has a "compelling state interest" to remove it, but Sedler said "there's a serious constitutional question of whether requring her to remove her Hijab for booking is precisely tailored to advance the compelling government interest."
"We're talking freedom of speech, freedom of religion," he said. "They have to have a strong justification. ... The state doesn't have it."
In the cases of being jailed, though, the city may have more of a case, Sedler said.
Then there's the veil
The issue of niqab — the Islamic face veil that covers the entire head except for a narrow slit showing the eyes — has also come up in recent years in Michigan. In 2009, the Michigan Supreme Court ruled that judges can decide whether to allow women to wear niqab when testifying. Last year, a Wayne County judge was believed to be the first judge in the U.S. to allow its use, in the case of a Muslim leader on trial for sexual assault.
Sedler said that while women have the right to keep on a Hijab for police booking photos, they wouldn't for Niqab because the person couldn't be properly identified.
In 2009, Raneen Albaghdady of Dearborn Heights was told by Wayne County Circuit Judge Bill Callahan to remove her headscarf when she was before the court. The judge requires hats to be removed, and said later he thought she was wearing a hat, not a religiously mandated headscarf.
Majed Moughni, a Dearborn attorney, said he hopes the city of Dearborn changes its policies.
"If the prisoner doesn't remove the Islamic scarf, they are threatened with physical removal, which is even a greater violation of a women's honor," Ayad said. Given Dearborn's sizable Muslim population, "the mayor of Dearborn knows better than to allow this abuse to continue."
Akeel, who is Ali's attorney in the Advance America case, said that "in my 17 years of practicing law, I have never seen such blatant discrimination in denying someone service because they choose to practice their faith."
Akeel said this issue is not just important for Muslim women, but for other religious minorities with unique dress, such as a Sikh who wears a turban or an Orthodox Jewish man with a head covering.
"My hope is that they change their policies," Ali said of Advance America. "I don't wish for other women to be treated the way I was treated. ... We are all human. We should be treated the same."
http://www.freep.com/story/news/local/michigan/2015/07/01/hijab-muslim-right-wear-lawsuits/29543203/
-----------
Iowa Woman Organizes Love-In Following Anti-Muslim Hate Crime
Antonia Blumberg
01/07/2015
Responding to a reported hate crime against a Muslim man in her community, Cedar Rapids, Iowa, resident Lori Carlson decided to extend a message of love.
Carlson and her friends organized a love-in that drew about 100 people Tuesday evening after reports that a home owned by Tigani Mohamoud, who moved to the U.S. from Sudan in 2007, had been vandalized. Mohamoud told police on June 24 that his Cedar Rapids home had been painted with anti-Muslim graffiti, including a message reading, "You will be killed here."
Mohamoud said the house has been repeatedly broken into in the two years since he bought it, and the fence and water heater have been stolen.
The Council on American-Islamic Relations, or CAIR, reported that a representative of its Iowa chapter was called a "raghead" and "f**king Muslim" by a local resident when she went to investigate the vandalism.
"It broke our hearts," Carlson, a photographer who has lived in Cedar Rapids for roughly two decades, told The Huffington Post. "So we decided to gather and do a little love-in."
Carlson described a love-in as "a form of peaceful social activism" and said the event was themed "love thy neighbor" and included music, conversation and meditation. Speaking from Time Check Park, where the love-in took place, Carlson said she and her co-organizers had set up an altar with peace signs, a coexist prayer flag and blankets nestled in a circle of trees.
The attack "just seemed really close to home," Carlson said. "We just wanted to show support in our community."
"We have the potential for a hate crime, obviously," Cedar Rapids police investigator Rick Dvorsky told The Gazette. "We're going to take a serious look."
CAIR-Iowa executive director Miriam Amer told local news she wasn't surprised by the outpouring of support from Carlson and other Iowans, despite anti-Muslim hate crimes that have been happening across the country,
"The people of Iowa are generally very welcoming," Amer said.
Amer, who attended the love-in, said the event sent an important message of tolerance. "This show of solidarity and humanity is indeed necessary," she told HuffPost. "The love shown today was so loud and so strong, the voices of hate are drowned out. Hate is something that is learned, and it can be unlearned."
A supporter in the nearby city of Marion started a GoFundMe page to help Mohamoud rebuild the house. The fund had received more than $3,000 as of Tuesday evening.
For Carlson, who said she doesn't follow any organized religion, the love-in represents more than just acceptance of Muslims.
"This wasn't really about one particular person or one particular religious group," she told HuffPost. "My friends and I are all about everyone coexisting -- whether it's your sexuality, religion, or race -- we're all human beings and we all deserve to live without fear."
http://www.huffingtonpost.com/2015/06/30/iowa-love-in-muslim_n_7701166.html?ir=India&adsSiteOverride=in
-----------
Muslim Wife-Beaters 'Hide Behind the Cloak of Faith': Woman HR Director
JULY 01, 2015
Muslim men who abuse women take advantage of misconceptions about Islam and use it as an excuse for their actions, say ­advocates who have called for greater efforts to fight domestic ­violence in the Muslim community.
Australian Muslim Women's Centre for Human Rights director Joumanah El Matrah said men who cited their faith in efforts to excuse their abusive behaviour might not even have any relationship with Islam itself, relying on the religion solely to avoid blame.
"What we know with Muslim men is, where they are perpetrators of family violence, religion is used to justify that violence, that is one of the excuses they use," she told The Australian.
"It's a way, really, that they can sidestep any responsibility for their actions."
The group has provided examples of men misappropriating their religion in a submission to the ­Victorian Royal Commission into Family Violence, published this week. They include men threat­ening or joking to marry a second wife, using parts of the Koran ­selectively to promote their own interests, and using religious leaders to dissuade women from seeking recourse because "it is against the religion to go outside the community".
Ms El Matrah said the use of Islam as an excuse did not demonstrate the true extent of the abuser's faith. "There's no relationship between level of adherence and using Islam as an excuse for violence," she said. "I think that a lot of Muslim men who are violent ­towards their wives understand that there are a lot of misconceptions about Islam and that they can use that to their advantage."
The royal commission is due to begin public hearings later this month and to report by March next year.
Ms El Matrah said the use of ­religion in domestic abuse was more about the perpetrator being opportunistic than genuinely ­believing the religion gave him permission to be violent.
"Perpetrators of violence against women will generally allocate responsibility to everybody else or anything else for their violence except themselves, and Muslim men are no different in this regard," she said.
"But it does ­require that one has a fluency around Islam to respond to that and that men who beat their wives and use Islam as the excuse need to be stripped of that excuse."
The centre has called for the royal commission to recommend greater support for community education and community initiatives against family violence.
Ms El Matrah said an increase in racism against Muslims also had women reconsidering whether to leave a violent relationship.
"It used to be that they had this perception that they could move away from one violent situation and then set up their life in a way that was safe and meaningful for them," she said.
"Now, in looking at violence within their home and in thinking about leaving their home, they are really aware that they live in a society that can be quite unsafe."
http://www.theaustralian.com.au/in-depth/community-under-siege/muslim-wife-beaters-hide-behind-the-cloak-of-faith/story-fnubfp6c-1227422515714
-----------
Germany: School Warns Parents to Dress Daughters Modestly To Avoid Offending Muslim Refugees
06/30/2015
The head teacher at a school in a small town in the southeast corner of Germany has sent a letter warning parents to prevent their daughters from wearing any skimpy clothing because about 200 war-displaced Syrian refugees are living in a shelter next to the school's gym.
The fifth-grade to 11th-grade school is Wilhelm-Diess-Gymnasium, reports Die Welt, a German newspaper.
The school is located in Pocking, a Bavarian borough (pop.: 15,034) located 14 miles south of the somewhat larger German city of Passau.
In his note to parents, head teacher Martin Thalhammer explained that female students should dress especially modestly to avoid offending the Syrian refugees with the sight of too much skin.
"Revealing tops or blouses, short shorts or miniskirts could lead to misunderstandings," Thalhammer instructed.
"The Syrian citizens are mainly Muslims and speak Arabic," the head teacher wrote, according to Russia Today. "The refugees are marked by their own culture. Because our school is directly next to where they are staying, modest clothing should be adhered to."
An unidentified local politician told Die Welt he supports the head teacher's admonition.
"If underage Muslim boys go to the pool, they are completely overwhelmed trying to see girls in bikinis," the politician reportedly said. "The boys — in their culture bare skin of women are totally frowned upon."
The letter also notes that the Syrian refugees will be barred from school grounds.
"For the refugees, access to the school gardens and buildings is strictly forbidden," Thalhammer wrote. "The same goes for the school grounds during the day. The number of teachers on duty during breaks has been increased."
The school's gym has been shuttered while the refugees reside in their makeshift accommodations next to the school. Physical education classes have been moved to a nearly elementary school.
Closer to home, schools in the United States are certainly not immune to kerfuffles over the way girls dress — though the potential to offend newly-arrived Muslim refugees has not been involved.
Earlier this school year, a small-town Oklahoma school district superintendent was fired after she publicly made examples of some female students for wearing what the superintendent deemed inappropriate attire.
In 2013, the school district in Little Rock, Ark. announced plans for a dress code requiring teachers to wear underwear. Every single day. Female teachers now have to wear bras, too.
Also in 2013, students at a high school in suburban Connecticut protested a rumoured ban on yoga pants. A number of male and female students roamed the halls clad in yoga pants and leggings to protect yoga pants-wearing righs. The befuddled school principal said he wasn't sure how the rumour started and that no such ban was actually going to happen.
http://dailycaller.com/2015/06/30/school-warns-parents-to-dress-daughters-modestly-to-avoid-offending-muslim-refugees/
-----------
Pakistan: Women in Mingora Shelter Home Need Breathing Space
FAZAL KHALIQ
MINGORA: More than 70 women and their children are staying in the lone shelter home (Darul Aman) of Malakand division which has accommodation capacity for 40 women only.
The inmates say that they face multiple issues in the shelter home but authorities concerned are least bothered to pay attention to their problems. The shelter home, situated in Mingora, caters to the needs of needy women of seven districts of Malakand division.
"There are only four rooms for more than 70 women where they have been accommodated like animals in a stable. Most of the women have health issues but they are neglected and there is no system for cleanliness," said Tabassum Adnan, the chairperson of Khwendo Jirga, after visiting the shelter home.
Several children are also staying in the shelter home along with their mothers. The future of such children is at stake.
Apart from elderly and mentally retarded women, some teenage girls also stay in the shelter home.
"I have come out of my home as my family was not allowing me to get education. I want to get higher education," 16-year-old Sidra told Dawn. She said that lack of space was major issue in the shelter home. "There must be separate bed for every woman and girl staying here," she added.
Inmates say authorities have neglected them
The women staying in the shelter home said that there must be several toilets and washrooms and proper system of cleanliness in the building. "There are only two toilets in the shelter home and we have problems with the mentally retarded women living with us," said a woman, who wished not to be named.
Most of the women said that they were suffering from skin diseases owing to lack cleanliness.
The children staying in the shelter home along with their mothers also said that the rooms were small and the building was congested.
"My father would beat my mother and would not take care of me so police brought us here. Although we get food yet the building is small and I am not happy here," said 10-year-old Afsa. About 10 staff members including four women and six men work in the shelter home. "There must be another warden to take care of the hostel," said Nosheen, the warden of the shelter home.
District Social Welfare Officer Rahtullah Khan, who is also the superintendent of the shelter home, said that he was searching for new building with enough space and once he found 15 to 20 rooms building he would hired it immediately.
He said that there should be a permanent building of the shelter home, properly designed for the purpose with hostel, waiting rooms, guestrooms and vocational centres.
Published in Dawn, July 1st, 2015
http://www.dawn.com/news/1191613/women-in-mingora-shelter-home-need-breathing-space
-----------
URL: https://www.newageislam.com/islam,-women-and-feminism/new-age-islam-news-bureau/russians-oppose-wearing-of-muslim-hijab-in-schools-–-poll/d/103725