New Age Islam News Bureau
31 Jul 2015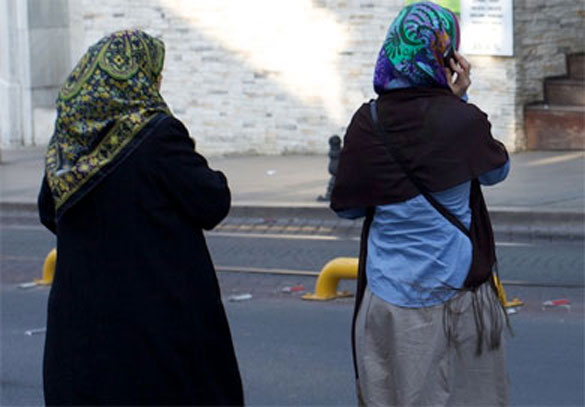 In an interview with LifeNews, one of the suspects said that she had received a total of 45,000 rubles ($752) from members of the Islamic State she met online.
-----------
• Pakistani Woman Arrested For 'Crossing Border without Passport to Meet SRK, Salman'
• 71, Mostly Women and Girls, Rescued From Boko Haram Captivity
• Afghanistan: Another Woman to Be Introduced For Supreme Court Membership
• Gisele Bundchen accused of mocking Islam with Burqa disguise in France
• First Woman to Oversee 60,000 Employees in Saudi Aramco
• Girls Clinch All Nine Top Positions in SSC Exam in Pakistan
• Racket Held for Forcing Girls into Prostitution in Bangladesh
Compiled By New Age Islam News Bureau
URL: https://www.newageislam.com/islam,-women-and-feminism/new-age-islam-news-bureau/russian-women-accused-of-posing-as-jihadist-brides-to-dupe-islamic-state-–-report/d/104110
----------
Russian Women Accused of Posing as Jihadist Brides to Dupe Islamic State – Report
By Howard Amos
Jul. 30 2015
A group of women from the North Caucasus republic of Chechnya have been accused of posing as cash-strapped Jihadist brides in a bid to defraud Islamic State recruiters, Russian tabloid LifeNews reported Thursday.
Members of the Islamic State offered one woman a payment of 10,000 rubles ($167) to travel to Syria, but rather than purchasing a plane ticket, she pocketed the money and blocked her would-be suitor on social media, LifeNews reported.
Recruiters for the feared terrorist organization, which is banned in Russia, have been particularly active in the largely Muslim republics of the North Caucasus, where corruption and poverty are rampant and an anti-Moscow Islamic insurgency has simmered for over a decade.
Three women were detained by Chechen police as suspects in the alleged fraud, but were released after signing an agreement not to flee the country, according to LifeNews, which enjoys close ties to the Russian security services.
In an interview with LifeNews, one of the suspects said that she had received a total of 45,000 rubles ($752) from members of the Islamic State she met online. The woman, who gave her name as Maryam, said that she originally intended to follow the example of friends and join fighters in Iraq and Syria, but ended up just pocketing the cash and remaining in Chechnya, according to LifeNews.
The ruse has also been practiced by other Chechens, including local men who have posed as Muslim women in order to defraud Islamic State fighters, LifeNews reported.
Russian officials, who fear the consequences of battle-hardened Islamic fighters returning to Russia, have estimated that 2,000 Russian citizens are currently fighting for the Islamic State. Ramzan Kadyrov, the head of the Chechen republic, said in an interview with Russian state-run news agency RIA Novosti on Thursday that Islamic State was sending money and specialists to his region amid efforts to spread its influence.
http://www.themoscowtimes.com/news/article/russian-women-accused-of-posing-as-jihadist-brides-to-dupe-islamic-state--report/526508.html
----------
Pakistani Woman Arrested For 'Crossing Border without Passport to Meet SRK, Salman'
By Web Desk: July 31, 2015
Indian authorities arrested a Pakistani woman, Fozia alias Chanda, for allegedly crossing the border without a passport or any other travel documents in a bid to meet Bollywood actors Shah Rukh Khan and Salman Khan, IBN Live reported.
According to reports, Indian police allegedly arrested 27-year-old Fozia alias Chanda on Thursday from Jalandhar after she had entered India via Samjhota Express, a train service between India and Pakistan, without any valid documents, a passport or a train ticket.
The woman claimed that she came from Pakistan with a valid visa and passport; however, her documents remained with her uncle who she lost contact with while on her way.
In her statement she said she went to Indian on a 15-day visa and visited a Dargah where she lost contact with her uncle.
According to reports, Fozia is a fan of Bollywood stars Shahrukh Khan and Salman Khan and asked the police officials to let her catch a glimpse of them.
The woman also claimed she is from Karachi and her husband's name is Salman Khan but apparently her Karachi address given to the police officials is 'fake'.
The Indian police are now investigating her statements after she was handed over by railway police to Attari police.
Meanwhile, authorities in Pakistan deny having any information about Fozia. "We do not have any information on Fozia alias Chanda," a Rangers spokesperson said, according to Express News.
http://tribune.com.pk/story/929859/pakistani-woman-arrested-for-crossing-border-without-passport-to-meet-srk-salman/?utm_source=Daily+Roundup+Newsletter&utm_campaign=82d79eabbe-Daily_Roundup_5pm&utm_medium=email&utm_term=0_19961368d8-82d79eabbe-65338937
------
71, mostly women and girls, rescued from Boko Haram captivity
July 31st, 2015
MAIDUGURI: Nigerian soldiers rescued 71 people, almost all girls and women, in firefights that killed many Boko Haram militants in villages near the northeastern city of Maiduguri, the military said on Thursday.
Some captives said they were in the clutches of the Islamic extremists for as long as a year.
"I was waiting for death ... they often threatened to kill us," said Yagana Kyari, a woman in her 20s who said she had been kidnapped from her village of Kawuri and taken to a militant camp in Walimberi, about 40 kilometres southeast of Maiduguri, the biggest city in the northeast and the birthplace of Boko Haram.
Kyari said they often went hungry because the extremists never provided enough food.
"Our gallants troops have rescued a total number of 59 civilians in two camps of the terrorist group," army spokesman Col. I.T. Gusau said. "Many of the terrorists were killed in the course of the operations, but mop up is still going on."
The 59, all women and children except for five elderly men, were freed on Thursday, he said. Another 12 women and girls were rescued on Wednesday from Kilakisa, 90 kilometres southwest of Maiduguri, he said.
The military has said hundreds of captives were freed in March when they declared they had seized back all towns held by Boko Haram, which last year had declared an Islamic caliphate in a large swath of the northeast.
But attacks have increased in recent weeks, with hundreds killing in suicide bombings and village assaults.
At least two women and girl suicide bombers this month were said to have come from the area where those freed this week were held. It is feared Boko Haram is turning its captives into weapons.
http://www.dawn.com/news/1197483/71-mostly-women-and-girls-rescued-from-boko-haram-captivity
----------
Afghanistan: Another Woman to Be Introduced For Supreme Court Membership
Jul 31 2015
The Chief Executive Officer Dr. Abdullah Abdullah has said other women would be introduced as the member of the Supreme Court of Afghanistan following Anisa Rasooly's rejection by the Afghan parliament.
The commitment CEO Abdullah was made during a meeting with the female lawmakers, women rights advocates and civil society activists on Thursday.
He praised the women role in politics, social and cultural affairs of the country and promised to support the women and their role in the government of national unity.
Abdullah also added that Miss Rasooly was introduced the member of the Supreme Court considering all the legal standards but she could not obtain enough votes from the lawmakers.
Rasooli who holds a degree in Law and Political Science from the University of Kabul was introduced to the Lower House of the Parliament – Wolesi Jirga for formal procedures by President Mohammad Ashraf Ghani to get membership of the Supreme Court of Afghanistan but she could not receive the vote of confidence on Wednesday's session.
She was introduced to the Afghan Parliament as part of President Ghani's promise to appoint a female judge in the Supreme Court of Afghanistan during presidential campaign for the second round of election last year.
President Ghani said he has spoken with the religious scholars and the appointment of a female judge in Supreme Court does not have any legal or religious issue.
He said the women have been deprived of their rights all these years and insisted to give them their rights.
Ghani said, "Our pledge is that we will have a woman Chief Justice in our government."
http://www.khaama.com/abdullah-another-woman-to-be-introduced-for-supreme-court-membership-1346
----------
Gisele Bundchen accused of mocking Islam with burqa disguise in France
July 30, 2015
Supermodel Gisele Bundchen is taking heat for reportedly disguising herself in a burqa so she could sneak in and out of a French plastic surgery clinic undetected.
Mrs. Bundchen, wife of Patriots quarterback Tom Brady, and her younger sister wore the traditional Muslim clothing in Paris during the holy month of Ramadan, irking devout Muslims and people who support the country's burqa ban, the New York Post reported. "In the street it is illegal to wear the burqa! It therefore violated French law," wrote a commentator on the French-language gossip site Public. "A cap and a scarf would have been less conspicuous."
"She's not doing it for Islam. This is very bad," Imam Muhammad Abdullah Kamal Al-Azhari of the Astoria Islamic Center in Queens told the Post. "She's wearing a holy thing for a bad purpose."
A clerk at Islam Fashion in Astoria called the stunt "disrespectful to Islam."
"This is a religious garment. It's not so you can hide when you're going for a doctor's appointment," Shazia ­Raheel told the Post.
http://www.washingtontimes.com/news/2015/jul/30/gisele-bundchen-accused-of-mocking-islam-with-burq/
----------
First woman to oversee 60,000 employees in Saudi Aramco
July 30, 2015
SAUDI state-run oil giant Aramco earlier this week appointed Huda Al-Ghosn as its executive director of employee relations and training, making her the first women to fill this position in the company's history.
The company said that Al-Ghosn will be responsible for all programs entailing workforce planning, recruiting, training and development as well as retention, services and legal relations coordination of more than 60,000 employees.
Ghosn holds a MBA from the American University of Washington D.C. and a BA in English from Riyadh's King Saud University.
Listed by Forbes Arabia as one of the 100 most powerful women in the Arab world, Al-Ghosn joined Aramco in 1981 and has been moving up the ladder since.
Al-Ghoson served as the general manager of training & development at Yanbu Aramco Sinopec Refining Company (YASREF), where she was responsible for the design and delivery of corporate education, together with training and development programs for all segments of the workforce covering industrial, administrative, professional and leadership positions.
She joined YASREF in 1981 and held a variety of positions within human resources and support organizations including health care services, facilities planning, finance, community services, industrial relations and human resources policy & planning. She served as a member of the Board of Directors at Vela International Marine Limited, Aramco Far East (Beijing) Business Services Company Limited (ABS), YASREF and Saudi Aramco Development Company (SADCO); all are subsidiaries of Saudi Aramco. She serves as a member of the Board of Trustees of the Arabian Society of Human Resources Management (ASHRM).
She has completed a number of leadership and management programs including Sloan's Health Executives Development Program at Cornell University, New York in 1988; Saudi Aramco Management Development Seminar, Washington D.C., in 2004; The Economics of Oil Program, London in 2006; Oxford Advanced Management Program in 2007; Executive Influence Program, London in 2008; the Advanced Human Resource Executive Program at Ross School of Business, University of Michigan in 2010 and Oxford Energy Seminar in 2012. Al-Ghosn is also a Certified Compensation Professional.
http://www.saudigazette.com.sa/index.cfm?method=home.regcon&contentid=20150731252001
----------
Girls Clinch All Nine Top Positions in SSC Exam in Pakistan
SHAZIA HASAN
July 31st, 2015
KARACHI: Nine girls bagged all the top positions in science, general and special groups as the results of the Board of Secondary Education Karachi (BSEK) announced the Secondary School Certificate (SSC) part-II results here on Thursday.
Her eyes brimming with tears of joy, Yusra Asad of ABSA School for the Deaf, who stood first in the special group with 759 marks out of a total of 850, received her prizes from board chairman Anwar Ahmed Zai. A teacher from her school came forward to interpret for her. Later, she introduced herself as not just a teacher from the school but also Yusra's mother. There was thunderous applause from the audience in the hall comprising other parents, teachers, students and media persons when she said she had specially learnt sign language after realising that her daughter was deaf and mute.
Yusra gestured that she wanted to be an artist and hoped to get into the Indus Valley School of Art and Architecture someday. She also hoped to get a regular job after completing her studies.
Her mother, Asma Asad, said that Yusra was a very hard-working student. "She is very bright too and doesn't let go of her books until she has thoroughly understood her lessons," she said.
Tooba Shahid from the same school stood second with 758 marks. She spoke through her mother, Salma Shahid, who also said that she learnt sign language to be able to teach and communicate with her three deaf and mute children. "I left my job for my children who may have their family around them at home and friends who are like them at school, but get very lonely when brought out of these two environments. Therefore, I request all people to learn sign language in order to fill the communication gap with deaf and mute people who are very bright and full of ideas otherwise so that they, too, can be brought into the mainstream," she said.
Tooba gestured to say that she wanted to become a teacher after completing her education. She also said that she liked to stitch and her mother added that Tooba stitched her own school uniform.
Fatima Abbas, who stood third with 746 marks, couldn't be there due to being out of town, also belonged to ABSA School for the Deaf.
Aqsa Zubai of Al-Badar Higher Secondary School, who stood first in the general group (760 marks), shared her ambitions of going into fashion designing. Hareem Siddiqui (757 marks) and Hafiza Kainat Malik (742 marks), who in the same group stood second and third, respectively, belong to Iqra Haffaz Girls Secondary School.
In the science group, Anousha Asghar of Oxford Islamic Scientific School (789 marks), Muneeba Talib of the same school (787 marks) stood first and second, respectively, while Muneeza Azam of Programmer Girls Sec School (786 marks) stood third. All three bagged the A-One grade and hoped to go into medicine later.
There they stood, their heads held high, the special students in green gowns, the science students in maroon gowns and the general group students in dark blue one. "They are the seeds that will one day grow into big trees providing shade to others. Though very young right now, they deserve all our respect so the board gave them these gowns to wear," said BSEK Chairman Anwar Ahmed Zai.
http://www.dawn.com/news/1197491/girls-clinch-all-nine-top-positions-in-ssc-exam
----------
Racket Held for Forcing Girls into Prostitution in Bangladesh
July 31, 2015
Police in an overnight drive arrested a gang which abduct girls and female and later force them into prostitution.
"Police conducted drives in Chittagong city's Bakalia and Chandgaon areas and arrested seven members of the gang," said Mohammed Mohsin, officer-in-charge of Bakalia police station.
The arrestees are Badiul Alam alias Alam, 45, his wife, Mony Begum, 32, Omar Faruk alias Badsha, 25, Ariful Haque, 19, Abu Taleb, 55, and Baby Akhtar, 30.
Of them, Alam and his wife were held from Bakalia area while the rest of the arrestees were arrested from Faridapara area. Police also rescued a girl during the drive.
The OC said the gang had brought a domestic help from Banshkhali upazila a few days back luring her to provide a good job. Later, the syndicate confined her into a flat at Faridapara. Later, taking the case into cognizance filed by the abducted girl's brother police conducted drives and rescued the girl from the clutches of the gang.
http://www.dhakatribune.com/crime/2015/jul/31/racket-held-forcing-girls-prostitution
----------
URL: https://www.newageislam.com/islam,-women-and-feminism/new-age-islam-news-bureau/russian-women-accused-of-posing-as-jihadist-brides-to-dupe-islamic-state-–-report/d/104110