New Age Islam News Bureau
15 Oct 2012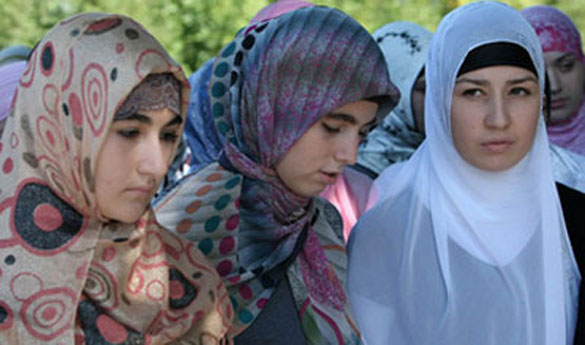 • Women Can Perform Hajj without Mahram
• Malala Yousafzai Sent To Britain for Treatment
• Nigeria: Zamfara Govt to Assist Widows Get Married
• Pakistanis Should Consider Naming Their Baby Girls, Malala
• Identity Mix-Up with Slain Neda 'Destroyed' Life of an Iranian Woman Author
• Women Lose Out On Affordable Housing in GCC Countries
• Palestinian Women Look To Bethlehem To Boost Their Role
• Malala's Arduous Journey from Blogger to Rights Icon
• New Programme "Infitah for Her" for Female Moroccan Entrepreneurs
• Students of Pakistani School, Jeddah, pay tribute to Malala Yousufzai
• Woman Must Relinquish Kafka Papers, Says An Israeli judge
• All-Female Ticket Aims to Be Heard, if Not Seen
Compiled by New Age Islam News Bureau
Photo: Russian school bans 5 Muslim girls from classes for wearing Hijab
URL: https://www.newageislam.com/islam,-women-and-feminism/new-age-islam-news-bureau/russian-school-bans-5-muslim-girls-from-classes-for-wearing-hijab/d/8987
--------------
Russian school bans 5 Muslim girls from classes for wearing Hijab
15 October, 2012
A head teacher of a school in Russia's North Caucasus region banned five Muslim girls from attending classes while wearing a Hijab. Indignant parents filed suits at a local prosecutor's office over the issue.
The scandal erupted a week ago at a school in the village of Kara-Tyube in Russia's Stavropol region. Several Muslim girls of different ages were told they would not be allowed to enter the school unless they took off their Hijab.
"But that is unacceptable in our religion," Ravil Kaibaliyev, the father of one of the children told Izvestia daily newspaper.
The children's parents filed complaints at the district prosecutor's office, claiming that the school had violated their constitutional rights to education and freedom of religion.
The prosecutor promised to issue a legal assessment of the incident within 30 days, and to take appropriate measures if the school's headmaster was found to have broken the law.
School principal Marina Savchenko said that wearing a Hijab violates school policy, which requires students to attend classes in secular clothes. "We didn't insist that the girls shouldn't wear Hijab at all, but suggested they replace it with a headscarf while during the school classes," she told Izvestia.
Russia's Education Ministry backed the school's administration, saying that schools are allowed to adopt their own regulations regarding uniform and rules of conduct.
However, Russian children's rights ombudsman Pavel Astakhov said that the school in Kara-Tyube "is clearly overreacting."
"There are no common rules regarding pupils' appearance. And a Hijab in this case is not some indecent item," Astakhov said, adding that in Western countries, similar conflicts are usually resolved in favour of tolerance.
Russian Islamic clergy condemned the ban, saying that there are no laws in the country regulating a person's appearing. Wearing the hijab is also an integral part of the lifestyle of certain Islamic faiths, a senior official from the Council of Muftis told Izvestia.
http://rt.com/politics/hijab-school-muslim-scandal-464/
-----------
Women Can Perform Hajj without Mahram
Sadeeq Abubakr
12 October 2012
TODAY's piece is coming at a time when more than 1000 female pilgrims from Nigeria are detained in Saudi Arabia for lack of chaperones. As I write this, 171 of them have already arrived Kano on Max Air; deported. My purpose here is to show that the Nigerian hajj authorities have been acting rightly on the issue of Mahrams for female pilgrims on the strength of the understanding of scholars in this part of the world; the challenge is with the interpretation of the law guiding their counterparts in the holy land. I shall conclude with a prayer for the position of Nigeria on this issue, its peculiarities, and nature of Hajj operations to be respected by the Saudi authorities.
I will start by saying people, including the learned, are confusing Muharram with Mahram. The former refers to one of the Islamic months; it literary means the forbidden or sacred. Mahram is a man whom a woman is forever forbidden to marry because of blood ties, etc. like her father, brother or any unmarriageable kin. A husband could also serve as a Mahram.
Let us understand the context in which the Prophet (peace and blessings be upon him) mentioned the oft-repeated hadeeths barring women from travelling alone. These hadeeths were reported in Al-Bukhari and other collections, to the effect that women are not to travel by themselves; that it is mandatory on them to be accompanied by their husbands or Mahrams. Ibn 'Abbas (may hajj be pleased with him) reported that Allah's Messenger (peace and blessings be upon him) said: "A woman is not to travel except with a mahram, and a man is not to enter upon her except if she has a Mahram." Ibn 'Abbaas (may Allah be pleased with him) who said: I heard the Messenger All of hajj (peace and blessings of ah be upon him) say, when he was delivering a sermon, "No woman should travel except with a Mahram." A man stood up and said, "O Messenger of Allah, my wife has set out for hajj, and I have signed up for such-and-such a military campaign." The Prophet (peace and blessings of Allah be upon him) said: "Go and do Hajj with your wife."
And also on the authority of Abu Hurayrah (may Allah be pleased with him) the Prophet (peace and blessings be upon him) is quoted to have said: "It is not permissible for a woman who believes in Allah and the Last Day to travel a distance of one day and one night without a Mahram with her."
Based on the above authorities, some scholars in a number of Arab countries assumed, unreasonably, that there is an inherent evil associated with the woman and her dispositions; that, for example, whenever a woman is out, something immoral will occur. Thus, she has to be accompanied at all times, to grocery stores, markets and even to such women-only ceremonies like marriage banquet, etc. she has to be with a male relative. A woman in some of these countries is not trusted to cross from one side of the street to another unless her husband or any male relative guides her steps lest she falls or be snatched by an evil doer. This is engrained somewhat in the psyche of average Arabian to such an extent that you do not talk to your friend when you meet him outside his home with his wife. You pass each other like total strangers; when he is alone, you can be friends again. Of course, you have to avoid him as much as possible in situations like that, because speaking to him, it is believed, may produce a sinful act between you and his wife, even though she is covered in full niqaab, face-veil.
In his answer to the question of a woman performing hajj without Mahram, Sheikh Muhammad Ibn 'Uthaimeen (may Allah have mercy on him) said: This action – hajj without a Mahram – is Haram; that the 'Mahrams presence' is to protect the woman from 'those who do not fear Allah'. The Sheikh went further to debunk the position of the scholars who averred that she could travel in a safe company, rifqah ma'munah, citing the above hadeeth of the man ordered to go and perform hajj with his wife instead of taking part in jihad. Sheikh 'Uthaimeen concluded by stating that under no condition can a woman travel by herself, on road or air, for Hajj or any type of trip without Mahram. She could be exposed to sin either at the airport, during transit for connecting flights or 'there may have been a man sitting next to her on the plane who would deceive her and may like her and she likes him.' Full stop. What the Sheikh has not addressed in this context is whether the situation will remain unchanged if the woman is 50 years old. Well, some senior citizens are prone to flirting with contemporaries. Therefore, you can now see why authorities acting on the verdict of such scholars would debar more than 1000 female pilgrims from entering the holy land.
These scholars failed to view Mahram as a means of care for the woman and a way of upholding her reputation and dignity. A Mahram protects her from the desires of those in whose hearts is a disease, from the assault of a rapist or a thief. They have failed also to consider the nature of travel at the era in which the Prophet's edict was pronounced; a period in which a traveller must traverse deadly deserts, in a time when there was no sense of security, and where the places were unpopulated.
Islam is a way of life based on mercy and compassion; it is a religion that aims at protecting the weak and the vulnerable. Therefore, it is with the specific intent of safeguarding a woman's honour, dignity, and reputation that the Prophet (peace and blessings be upon him) forbade women from undertaking long journeys without a Mahram. Since the true intent of the prohibition is safety and protection, women are allowed to travel in a safe company, rifqah ma'munah, accompanied by elders and reputable Muslim men and women, as our hajj authorities have been doing with Nigerian female pilgrims for many decades. Majority of scholars are of this view. Ibn Umar used to travel for hajj leading women from his neighbourhood. Imam Hassan Al Basri said: 'A Muslim is in himself a mahram: meaning the righteous and God-fearing Muslim can serve as mahram to the woman; and in some cases, a non-mahram proves more trustworthy than actual mahram.' (Sharhu Saheehil Bukhaari vol. 4 p. 532)
Sa'eed Ibn Jubair, Ibn Sireen, Al-Auzaa'ee, Imam Maalik and Ash-Shaafi'ee are of the opinion that women, in the company of trustworthy and faithful women, can travel without mahram (al i'laam biwaa'idi umdatil ahkaam vol. 6 p. 79). Yes, a woman can travel even with just one free trustworthy and faithful woman, provided the road is safe. Sheikhul-Islam Ibn Taymiyyah said: "Every woman can perform Hajj without a mahram as long as she will be safe." And he said: "This is directed towards every travel in obedience... Al-Karaabisi transmitted this from Ash-Shafi`i pertaining to the supererogatoryhajj. And some of his companions also said this about supererogatory hajj and about every travel that is not obligatory, like visiting and trading." (Sharhu Sahihil Bukhaari vol. 4 p. 532)
Al-Artham transmitted from Imam Ahmad: "A mahram is not a condition in the obligatory hajj." His justification for this is his saying: "Because she goes out with women, and with all those whom she is safe with." Ibn Sireen even said: "With a Muslim it is okay." Al-Auzaa'ee said: "With a just people." Malik said: "With a group of women." Ash-Shafi`ee said: "With a trustworthy faithful Muslim woman." And his companions said: "By herself if there is safety."
Abubakr, is a member of National Association of Hajj Operators.
http://tribune.com.ng/index.php/eyes-of-islam/49050-women-can-perform-hajj-without-mahram-
--------------
Malala Yousafzai Sent To Britain for Treatment
October 15, 2012
A teenage Pakistani rights activist was flown to Britain for specialist long-term care on Monday after being shot in the head by the Taliban for campaigning for the right to education.
Malala Yousafzai, 14, who was attacked on her school bus in the former Taliban stronghold of the Swat valley last Tuesday, was sent abroad at a time when her condition is "optimal and before any unforeseen complications set in", the military said.
An air ambulance provided by the United Arab Emirates took off from Islamabad airport after daybreak, and Pakistan said an intensive care specialist was accompanying her.
The shooting has been denounced worldwide and by Pakistan, which has said it will do everything possible to ensure Malala recovers, paying for her treatment and offering more than $100,000 for the capture of her attackers.
The cold-blooded murder attempt has sickened Pakistan, where Malala came to prominence with a blog for the BBC highlighting atrocities under the Taliban, who terrorised the Swat valley from 2007 until a 2009 army offensive.
Activists say the shooting should be a wake-up call to those who advocate appeasement with the Taliban, but analysts suspect there will be no significant change in a country that has sponsored radical Islam for decades.
On Sunday around 10,000 people gathered in Karachi for a rally in support of Malala, organised by the Muttahida Qaumi Movement (MQM) political party.
MQM leader Altaf Hussain, who lives in London and addressed the rally by telephone, condemned the Taliban and called on Pakistanis to unite against the militants, who he said were dragging the country to hell.
But right-wing and conservative religious leaders have refrained from publicly denouncing the Taliban. They have warned the government against using the attack on Malala as a pretext for an offensive in the militant bastion of North Waziristan.
The United States has long called on Pakistan to wage an operation in the district. It is considered the leadership base of the Haqqani network, blamed for some of the deadliest attacks in Afghanistan, as well as a Taliban stronghold.
Malala was first airlifted from Swat to a military hospital in the northwestern city of Peshawar, then to the country's top military hospital in Rawalpindi, where doctors on Sunday took her off a ventilator for a "successful" short trial.
The army said a panel of Pakistani doctors and international experts agreed Malala needed "prolonged care to fully recover from the physical and psychological effects of trauma that she has received".
It was also expected that damaged bones in her skull would need to be repaired or replaced, and that she would need "long-term rehabilitation, including intensive neuro-rehabilitation".
Pakistan has not disclosed the name or location of the centre where Malala will be treated, but said it had the "capability to provide integrated care to children who have sustained severe injury".
British Foreign Secretary William Hague said Malala would receive specialist care in a National Health Service hospital and reiterated condemnation of the shooting.
"The public revulsion and condemnation of this cowardly attack shows that the people of Pakistan will not be beaten by terrorists. The UK stands shoulder to shoulder with Pakistan in its fight against terrorism," he said.
Security worries meant Malala's departure -- in a white airliner with no insignia but a black stripe down the side, according to Pakistani TV footage -- was not announced until the plane was airborne.
The army said all expenses, including Malala's air ambulance flight and treatment abroad, would be covered by the government of Pakistan.
Schools and mosques across Pakistan have held special prayers for Malala.
A senior police official has told AFP investigators have questioned dozens of suspects, but that the hunt for the main culprits is continuing.
Ahmad Shah, police station chief in the town of Mingora where Malala was shot, has said nearly 200 people were detained including the bus driver and a school watchman. But most had been released.
http://www.hindustantimes.com/worldsectionpage/Chunk-UI-WorldSectionPage-Pakistan/Pakistan-s-teenage-rights-activist-Malala-sent-to-Britain-for-treatment/Article1-944742.aspx
--------------
Nigeria: Zamfara Govt to Assist Widows Get Married
6 OCTOBER 2012
The Zamfara Government says it has concluded plans to assist widows to fund their marriages in order to reduce the burden they face.
The Commissioner for Women and Children Affairs, Hajiya Bilkisu Ahmad, said this in an interview with the News Agency of Nigeria (NAN) on Friday in Gusau.
She said that the ministry was collaborating with stakeholders to identify such women and counsel them toward a happy and enduring married life.
She said that the idea which received the blessings of the state governor, Alhaji Abdulaziz Yari, led to the receipt of some necessary materials needed to contract the wedding under the government's sponsorship.
She said that efforts were being made to consult with traditional rulers on the best ways the ceremonies could be made to last.
She cited the example of Kano which started implementing similar exercise.
Ahmad said that the ministry, with the support of the traditional rulers would also counsel would-be husbands to be of good behaviours to their wives so that better families could evolve under the scheme.
She, however, noted that the state government alone could not handle the matter and implored all well-to-do individuals to contribute toward ensuring the success of the scheme.
The commissioner, who could not say the number of women involved, said: "This is still being worked out and we will contact all the affected women to come forward as soon as we finish the paper works so that the programme can start in earnest."
http://allafrica.com/stories/201210070095.html
--------------
Pakistanis Should Consider Naming Their Baby Girls, Malala
Will Pak respond to the malignant forces within?
Oct 15, 2012
An entire generation of Pakistanis should consider naming their baby girls, Malala. For one thing, the name has a lovely, melodious ring to it. For another, the inspiration would have come from Malala Yousafzai, the kind of brave and courageous girl child Pakistan needs.
The attack on Malala is an example of barbaric behaviour by the Taliban and like-minded factions of male-collectives brainwashed into a regressive realm of religious dogma. Happily, it has cultivated rage among Pakistanis, not just because it is a terror act, but also because it is so blatantly vile in its choice of the persecuted.
Every numbed heart has been touched by Malala's shooting. This Saturday crowds gathered outside the Karachi Press Club to lobby collectively under the banner - Enough is Enough: Zero Tolerance for Terrorism. And it is fitting that it takes an attack on an outspoken young girl to begin momentum for a movement against internal destruction.
Full report at:
http://timesofindia.indiatimes.com/world/pakistan/Will-Pak-respond-to-the-malignant-forces-within/articleshow/16816607.cms
--------------
Identity Mix-Up with Slain Neda 'Destroyed' Life of an Iranian Woman Author
14 October 2012
Neda Soltani, a lady whose picture was mistakenly confused by media with Neda Agha-Soltan who was shot dead by Iran's regime forces during the 2009 Iranian election protests, has said the mix-up incident "destroyed" her life.
When the Iranian secret service realized the mix-up incident, they moved in quickly to take advantage of it. They wanted Solatni to pose as the slain Neda Agha-Soltani and claim she was not killed as the media reported.
The mistake made Soltani a living dead, she said. "They wanted to use me to say the whole thing was a fake made up by Western media – 'see, here is this Neda and she is alive'," Soltani told the Guardian.
Full report at:
http://english.alarabiya.net/articles/2012/10/14/243665.html
--------------
Women Lose Out On Affordable Housing in GCC Countries
MONA S. ALMUNAJJED
14 October 2012
Gulf Council Cooperation (GCC) governments are meeting the challenge of providing affordable housing for low- and average-income nationals through some bold initiatives and strategies. But women still face discrimination under most GCC regulations for getting land, housing or interest-free construction loans.
Although international conventions recognize the right of all human beings to equal access to land and housing, including women and those living in poverty, women in the GCC countries still face legal and social discrimination in their access to housing, as they are not granted the same rights as men to the affordable housing services provided by their governments. Gender discrepancies are emanating from the patriarchal system favoring men over women and giving priority to adult males in housing distribution. Some GCC governments have acknowledged the problem and issued new legislative and administrative reforms to improve the access of poor, divorced and widowed women to affordable housing, but these measures don't go far enough.
Full report at:
http://www.arabnews.com/women-lose-out-affordable-housing
--------------
Palestinian women look to Bethlehem to boost their role
14 October 2012
"Many people still believe the post of mayor is exclusively for men," says Vera Baboun, aiming to become the first female mayor of the Palestinian town of Bethlehem, and in the process shake up a society where men still make the laws and do the deals.
The university lecturer has a good chance of achieving the first goal in municipal elections being held across the West Bank on Oct. 20. She heads a bloc of 12 Muslims and Christians in Bethlehem representing the Fatah movement, which one recent survey found to command 49 percent support in the West Bank.
The municipal ballots are the first in the territory since 2005. In the ancient hilltop city just a few miles from Jerusalem, posters with the faces of six blocs of hopefuls cover nearly every lamp post and wall.
Full report at:
http://english.alarabiya.net/articles/2012/10/14/243618.html
--------------
Malala's Arduous Journey from Blogger to Rights Icon
Rohit Gandhi
October 15, 2012
A young, frail, 11-year-old girl walked towards me making her way up the incline on the road, wearing a loose tunic and pants; she had a veil loosely covering her hair. I had became interested in speaking to her when I heard that a girl from the Swat valley, a Pashtun from the tribe of Yousaf Zai, had a reputation of standing up against the Taliban, for the freedom of girls to get education.
Voice of courage
Malala was a breath of fresh air. While her demeanor was that of a young child, tiny in height and petite in structure she had a mind and speech clearer than that of a well-honed politician. She thought clearly and spoke eloquently in English, a language that was not her mother tongue. In a place where she could not really practice her spoken English, she had picked up listening to broadcasts of PBS, BBC and CBC.
Full report at:
http://www.hindustantimes.com/world-news/Pakistan/Malala-s-arduous-journey-from-blogger-to-rights-icon/Article1-944677.aspx
--------------
New Programme "Infitah for Her" for Female Moroccan Entrepreneurs
BY HASSAN BENMEHDI
11 OCTOBER 2012
Casablanca — Morocco is launching a project to enhance the digital skills of small business owners Morocco just initiated the "Infitah for Her" programme encouraging small businesses to use information technology.
Female-owned small businesses constitute the base of the solidarity economy in Morocco. Many families live thanks to these mothers, widows and divorcées who undertake a number of small projects.
"Infitah for Her" is an integral part of the Infitah programme launched last May. The project's goal is to ensure the livelihood of these small women-owned businesses by giving them sufficient and adequate support.
Full report at:
http://allafrica.com/stories/201210150360.html
--------------
Students of Pakistani School, Jeddah, pay tribute to Malala Yousufzai
15 October 2012
JEDDAH: Students of the Pakistani International School Jeddah, English Section (PISJ-ES) paid tribute to Malala Yousufzai, who was shot in an assassination attempt on Oct. 9. The school dedicated a day to acknowledge Yousufzai's contributions and prayed for her early recovery, good health and long life.
Yousufzai is a 14-year-old youth activist who has fought to promote the schooling of girls – something that has not always been a given in her hometown of Mingora, Pakistan.
She first came into the public eye in 2009, when private schools in Pakistan's Swat valley were ordered to close in a Taleban edict that forbade girls from attending school. From January 2003, Yousufzai kept a diary for the BBC's Urdu service, in which she detailed how the ban affected her and her peers. Last year, she was nominated for the International Children's Peace Prize, given by the Dutch organization Kids Rights, and was one of five short-listed candidates out of 98.
Full report at:
http://www.arabnews.com/pisj-es-students-pay-tribute-malala-yousufzai
--------------
Woman Must Relinquish Kafka Papers, Says An Israeli judge
By JODI RUDOREN and MYRA NOVECK
2012/10/15
JERUSALEM — An Israeli judge has ruled that a huge trove of documents written by Franz Kafka and his friend Max Brod that have been hidden from view for decades must be turned over to Israel's national library, which plans to publish them online.
The ruling, made public on Sunday, came after a lengthy legal battle that divided literary scholars around the world and pitted the government of Israel against the reclusive daughter of Mr. Brod's former secretary, who had possession of the papers and sold some of them for millions of dollars.
"This case, complicated by passions, was argued in court for quite a long time across seas, lands and times," Judge Talia Kopelman Pardo wrote in a 59-page decision. "Not every day, and certainly not as a matter of course, does it happen that a judge dives into the depths of history and it is revealed before him fragment by fragment, shard by shard."
Full report at:
http://www.nytimes.com/2012/10/15/world/middleeast/woman-must-relinquish-kafka-
---------
All-Female Ticket Aims to Be Heard, if Not Seen
By JODI RUDOREN
2012/10/15
HEBRON, West Bank — The faces of five men in business suits and one woman in a white head scarf beam under the slogan "Modern Hebron" on campaign banners along the streets of this famously conservative city ahead of local elections scheduled for Saturday. Other banners saying "Hebron Independents" feature 12 less formal photos, including three women, with looks more stern than smiling.
But the purple banners labeled "By Participating, We Can" show no faces, only a drawing of a vaguely female figure, arms aloft, in front of the Palestinian flag and the Tomb of the Patriarchs. The drawing stands in for the pictures of 11 women, the first all-female list of candidates for elective office in the Palestinian territories, and possibly the Arab world.
Full report at:
http://www.nytimes.com/2012/10/15/world/middleeast/all-female-ticket-a-first-in-
-----------
URL: https://www.newageislam.com/islam,-women-and-feminism/new-age-islam-news-bureau/russian-school-bans-5-muslim-girls-from-classes-for-wearing-hijab/d/8987