New Age Islam News Bureau
6 Apr 2020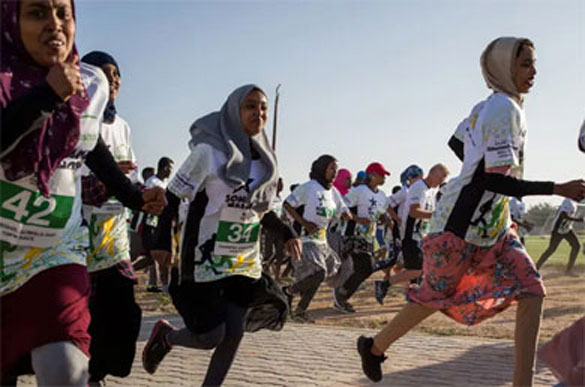 More women running shows that life, slowly, is changing ( Mustafa Saeed and Hamza Sulub )
-----
• 'Run and Beat the Boys with The Skinny Legs!' Urges A Woman Decked in A Brown Jilbab, The Female Somali Runners Aiming to Break More Than Records
• For Saudi Women, In Isolation Lies Economic Opportunity
• Coronavirus: Iraqi Women at Risk as Conservative Families Refuse Treatment
• Egypt's Women Council Pays Tribute to Female Doctors, Nurses Battling Coronavirus
• Do We Still Believe That Women Should Do All Housework Amid COVID-19?
• Qatar- Female Volunteers Join Inspection Campaign of MME on Food Outlets
• Malaysia Apologises for Telling Women Not to Nag During Lockdown
• Malaysian Lockdown Also Means Women Have to Give Birth Alone
• UN Chief Urges Govts To Protect Women During Virus Lockdown
• The Face of Feminism Is No Longer Just White and Middle Class
• Yemen Officials Say Rebel Shelling Kills 6 Women Prisoners
• Empowering Indonesia's Women Farmers
Compiled By New Age Islam News Bureau
URL: https://www.newageislam.com/islam-women-feminism/run-beat-boys-with-skinny/d/121500
-------
'Run and Beat the Boys with The Skinny Legs!' Urges A Woman Decked in A Brown Jilbab, The Female Somali Runners Aiming to Break More Than Records
April 5, 2020
"Why can't you just stay at home?" shouts a man at two young female runners as they dart by on the racecourse – wearing long skirts, arm-covering T-shirts and running tights in the 90-degree heat. He is not the only person jeering at the women running in this 10km race, part of an annual event that includes a marathon, where more than 250 of the 320 contestants this year are men. But some spectators have kinder words.
"Run and beat the boys with the skinny legs!" urges a woman decked in a brown jilbab, a traditional loose-fitting robe, as a different pair of women sprint past. All the female runners are dressed in line with Muslim practice in the region, which calls for most of a woman's body to be covered.
The marathon began two years ago as a fundraiser for education in Somaliland, which declared independence from Somalia in 1991, creating its own parliament, currency and flag. The breakaway region, in the northwest of Somalia, is not recognised internationally. But in contrast to areas in the south, which are plagued by clan infighting and terrorism, Somaliland is an oasis – attracting tourists, hosting a prominent literary festival and even enticing multinationals like Coca-Cola. The running events are part of this cultural and commercial outreach, with athletes from all over the world participating. This year, runners from 16 nations came to Hargeisa, the region's capital, to take part.
Each year, more and more Somali women have been competing, though only in the 10km event. The increased participation reflects how life is changing, albeit slowly, for women here. In Somaliland's male-dominated society, government, business and the media are still the almost exclusive preserve of men. Women are twice as likely as men to be unemployed and less likely to reach higher levels of education, and they face persistent obstacles in winning elections, according to a study published last year. Still, in recent years there have been hints of change, with women becoming doctors, entrepreneurs, teachers and human rights activists. And some are running.
Hana Mukhtaar, 17, runs each morning at dawn on the outskirts of Hargeisa, usually with a teenage friend. There are barely any sidewalks, let alone running tracks. But by leaving the city proper, they avoid the traffic that clogs its sandy roads, where donkey carts and SUVs jostle for space. Goats and sheep wander aimlessly, and the city's minarets and colourful corrugated roofs appear in the distance. Here, the young women don't have to withstand the stare and taunts from the men and some women who disapprove. "When I run, I feel strong and free," says Mukhtaar, who won the 10km run this year and last.
With 1 million people, Hargeisa has grown over the past few years. Shopping centres, apartments and hotels have sprung up. New restaurants, serving camel steak and sweet and creamy tea, have opened, along with cultural centres offering live music and dance. The city centre bustles with activity, as traders sell spices and frankincense next to vendors with textiles imported from China. Money changers with wads of cash sit under billboards advertising telecom companies promising cheap data and international call rates.
Asma Dhamac, a psychologist and mental health advocate, also likes to run with friends outside the city in the early hours of the day, taking advantage of the cooler morning air. Even amid the acacia trees and quiet roads, she says they still sometimes encounter people who chide them. "They would say: 'Women are not allowed to run or wear trousers. You will become barren,'" says Dhamac, who competed in the 10km race this year. Comments like this do not seem to be making much of an impression, though, on Somali women.
https://www.independent.co.uk/news/long_reads/somali-muslim-marathon-runners-a9420801.html
--------
For Saudi women, in isolation lies economic opportunity
April 06, 2020
This week, the world continues to grapple with the coronavirus disease (COVID-19)-induced isolation that has given rise to both unimaginable loss and moments of resilience.
In the Gulf, daily life has been reshaped by restrictions that few could have predicted. Saudi Arabia, which acted quickly to suspend travel, implement remote work, and close restaurants, stores, and malls out of concern for public safety, has been hailed for its thorough response.
The Kingdom recognized that the earlier it mandated these measures, the more severe economic disruption it might face in the immediate term. The public's welfare took priority, nevertheless, with the aim of shielding the Kingdom from a more devastating outbreak down the line.
Now, with most citizens and residents at home, some may see opportunity in isolation. Saudi women in particular may use these challenging times to identify ways to enter a market that will shift almost entirely online.
Saudi Arabia is likely to see an increase in homebound women selling goods and services online. For those who are otherwise not working or studying remotely, the shuttering of physical storefronts can boost sales for businesses run from the home.
In February 2020, Saudi Minister of Commerce Majid Al-Qasabi stated that e-commerce in Saudi Arabia represented SR80 billion ($21.3 billion) in services and products, with the Kingdom boasting over 45,000 shops and e-commerce platforms.
These figures are likely unsurprising to many Saudi women, who have long found creative ways to generate income from their homes, using social media and word of mouth to sell goods as diverse as traditional foods, custom-designed abayas, handmade jewelry, perfume, and more.
In fact, women owned nearly half of the 27,000 online shops registered on the Ministry of Commerce's Maroof portal last year.
Some of these women have faced difficulties entering the traditional workforce due to personal or cultural factors, including family concerns over gender mixing at work and a higher likelihood of starting a family while young. In recent years, these barriers have in part lowered due to Crown Prince Mohammed bin Salman's reform drive.
Under the National Transformation Program, the government aims to raise Saudi women's economic participation from 17 to 25 percent. Progress has been extremely promising so far: In early 2019, the number of women working increased by more than 280 percent, from 156,000 in 2018 to 596,700 only one year later.
In the coming days, it is likely that even more Saudi women will embrace opportunities to work as independent businesswomen from the privacy and comfort of their homes.
We may also see a rise in women as service providers, from teachers to language tutors, life coaches, counselors, and consultants. Should these women one day decide to scale their pursuits into larger enterprises, they will be able to take advantage of the lightning-quick time it takes to process a business license in the Kingdom, which the Saudi Arabian General Investment Authority (SAGIA) cut from 53 hours to 4 hours in 2018.
A question worth asking, then, is what the Saudi workforce might look like when the situation eventually stabilizes and normalcy returns to daily life. The country as a whole will benefit if Saudi women who become engaged in e-commerce during the COVID-19 crisis can maintain their economic participation.
Income-earning women produce societal and economic rewards for all. With more gender-inclusive economic growth, a diversified range of goods and services often appears to meet the public's tastes. At the family level, working women can contribute to empowered households where financial decision-making is more equitably spread.
Greater female inclusion can also lead to higher spending power among women who give back to the national economy. One World Economic Forum study noted that achieving greater gender balance in the workforce could increase GDP by approximately 35 percent, leading to higher productivity and pay for both men and women.
The Saudi government and business community can take a number of steps to encourage women who are now wondering how to monetize their pursuits from home. For example, SAGIA can release an online business toolkit tailored to women seeking to initiate small enterprises. Prominent female business owners can also share their success stories and practical advice in virtual workshops and coaching sessions with aspiring entrepreneurs. Most practically, Saudi Arabia's Small and Medium Enterprises General Authority (Monsha'at), which has facilitated millions of riyals in new business funding and online training for entrepreneurs, can also consider a new round of online outreach campaigns targeted towards women.
Well suited to innovate in these challenging circumstances, Saudi women deserve the financial assistance and professional mentorship necessary to raise their economic participation at a time when it is needed most.
Without a doubt, the road to economic recovery will be long and arduous. The public will find, however, that while Saudi Arabia stays at home, women's economic ambitions will not be limited by four walls.
• Madison Clough is a strategic communications professional residing in the Gulf. She holds a master's degree in international security from George Mason University and specializes in communications on geopolitical and cultural issues.
https://www.arabnews.com/node/1653826
--------
Coronavirus: Iraqi women at risk as conservative families refuse treatment
By Suadad al-Salhy
5 April 2020
The medical team had come to the modest one-storey home in the Basra suburb of Al Hayaniya to treat a woman infected with coronavirus.
"She is doing well. Her condition is getting better and, if you like, I can allow you to talk to her on the phone," said Muthana al-Sudani, the woman's brother-in-law, standing in his doorway.
The footage was widely viewed across Iraq after it was leaked last week, but it is not the first death threat doctors have received in recent weeks.
A physician in Al-Shattra, a town about 300km south of Baghdad, received death threats from the family of a female patient after he confirmed her infection with coronavirus on Sunday, local medical sources told Middle East Eye.
Another doctor received similar threats on Monday after he confirmed the infection of a female patient in Diyala governorate, 60km east of the capital, local security sources told MEE.
Some Iraqis are stopping women in their family from accessing treatment because they do not want them to be in contact with men or to stay in hospitals alone, healthcare providers told MEE.
In more traditional corners of the country, especially those controlled by tribes and religiously conservative areas, women are seen as symbols of family honour that could be stigmatised by the virus.
"Frankly, not all Iraqis are of the same level of awareness or healthy culture," Dr Radhwan Kamel al-Kindi, general director of the Najaf Health Directorate and member of the Iraqi government's coronavirus crisis cell, told MEE.
After the leak of the video and widespread criticism of the Iraqi security authorities in the media, the intelligence officers were sent to arrest Ali al-Sudani, who was also caught on tape on Saturday, only hours after the first video.
Immediately afterwards, his wife - whose identity has not been disclosed to protect her privacy - was taken to the hospital by a medical team and ambulance that had been on stand-by.
Iraq ranks second after Iran among countries in the Eastern Mediterranean with the highest coronavirus mortality rates, according to a World Health Organisation statement issued this week.
According to the latest statistics announced by the Iraqi Ministry of Health on Friday, the number of people infected with the virus has reached 820, including 54 deaths.
Iraq's death rate, however, is four times higher than the global rate because people are arriving at hospitals in the late stages of their infections because families fear quarantine and the shame they associate with the illness, crisis-cell members told MEE.
Healthcare providers have estimated that five percent of Iraqi women may have been denied access to treatment in a timely manner as a result of customs and traditions, while Iraqis of both sexes may be at risk of not getting the care they need over fears they will be disgraced.
According to Iraqi law, authorities have no power to intervene by imposing treatment of an adult without their consent, but the outbreak has caused the Supreme Judicial Council to allow security services to intervene when someone refuses treatment or quarantine.
One solution being used by hospitals in Baghdad is to place family members in the same hall "to relieve them and to reassure men that their women are not alone," a physician at Ibn al-Khatib Hospital in the capital told MEE.
Many patients who are currently getting treatment in Ibn al-Khatib hospital, and who were reached by MEE, confirmed that they are staying with their family members.
At a facility in Najaf, Kindi said that health personnel allowed the father of an infected girl to be with her inside the hospital around the clock after they failed to persuade him to let her be alone.
"We accept any settlement with the affected families to ensure that the impacted women will receive the treatment," Kindi said.
"The affected woman must be treated. This matter is not subject to discussion because it affects the security of society and part of national security."
https://www.middleeasteye.net/news/coronavirus-iraqi-women-risk-conservative-families-refuse-coronavirus-treatment
--------
Egypt's Women Council pays tribute to female doctors, nurses battling coronavirus
Apr. 5, 2020
CAIRO – 5 April 2020: Maya Morsy, head of the National Council for Women, Egypt's only national independent women organization, paid tribute to the medical teams nationwide, who have been directly involved in the fight against the novel coronavirus (COVID-19).
Morsy expressed appreciation for the sacrifices made by the female doctors and nurses in the country, due to the "fierce war" they fight against the pandemic, considering them in the "third line of defense" for Egypt.
While all members of society are staying at homes, female doctors and nurses are fighting the epidemic and are going days without sleep, Morsy said. "They sacrifice their comfort, health and security, adopting a slogan that the nation's health is more precious than theirs."
"As Egyptian women have been the third line of defense for the homeland in June 30 revolution, doctors and nurses now are the third defense line for the homeland in facing this pandemic," she added.
Morsy also said media succeeded to highlight the role played by female doctors and nurses to curb the spread of the novel virus.
Late in March, the Egyptian Medical Syndicate confirmed the death of the first doctor in Egypt due to coronavirus. Ahmed Al-Lawah, 57, died in a quarantine hospital in Ismailia in northeastern Egypt.
Also, the country's National Cancer Institute (NCI) was closed after detecting 17 positive cases of coronavirus among the medical staff.
On March 29th, President Abdel Fattah el-Sisi ordered Sunday to boost the allowance of those working in the medical field by a 75 percent increase as a gesture of appreciation for their current efforts to contain the threat of coronavirus.
The president's directions came during a meeting that included prime minister Mustafa Madbouli, ministers of defense and military production, minister of higher education, minister of finance, and minister of health to discuss the current situation.
Sisi praised the efforts exerted by the medical doctors and ordered to allocate 2.25 billion pounds to boost medical staffers' allowance, he also issued a directive about launching a risk fund for doctors and workers in the medical field.
https://www.egypttoday.com/Article/1/83376/Egypt%E2%80%99s-Women-Council-pays-tribute-to-female-doctors-nurses-battling
--------
Do We Still Believe That Women Should Do All Housework Amid COVID-19?
MIRNA ABDULAAL
APRIL 5, 2020
There was a time for me when visitors ringing the doorbell was considered to be possibly the best moment – a time for fun gathering and company. I was young and couldn't care less to prepare the cups of tea, wash the dishes or prepare the meal for around five or more individuals.
It was a task for the other older women in the family: my grandmother, my mom, my aunts, female cousins and just about all the women in the room. It almost felt like it was a natural law. None of the men really objected to helping out, but in actuality, none of them were willing to do so.
They all sat back, relaxed, and smoked their cigarettes, looking busy in their conversations, while a woman gently asked them how many spoons of sugar they preferred or which slice of cake they liked to be served.
At the time, I didn't see the big issue with it until the role was thrown onto me. I still remember the first time I was expected to serve others and how anxious it made me feel: Am I expected to get up now and serve tea? Who gets up first among the women in the family? Will they hate me if I don't even get up at all?
Immediately, my value as a woman became connected to a very simple act that was not even thought about or prioritized by the other men in the room. A woman who gets up and serves others is a good woman, a woman who doesn't is bad.
I dreaded the moment visitors rang the doorbell ever since. Not because of the act of serving others, which is considered to be an embedded value in our culture, named 'karam' or generosity, that is directed for both men and women, but because I felt that housework and the way we perceived a woman's role inside a house was very much unfairly divided.
As Megan Stack notes in her insightful article, 'housework is a ubiquitous physical demand that has hamstrung and silenced women for most of human history. And yet, it is seldom considered as a serious subject for study.'
For me, the simple fact of being expected, at all times, as a woman in the household to serve others during family visits was the moment I began to feel how deeply rooted, and also invisible, these unexplained and unjust power structures exist in societies.
Now, as the COVID-19 crisis is taking over the world, think pieces like "Women's Domestic Burden Just Got Heavier with the Coronavirus" and "The Coronavirus Is a Disaster for Feminism," were shared on my timeline by other friends, and while I shared the same concern, I also questioned: why are we still made to believe that women should do all the 'housework'?
At this point, shouldn't more members in the household be more cooperative since everyone is now spending more time at home? Why are we still tied to the idea that it should be only the women in the house preparing meals, doing the laundry and the dishes?
History tells us that roles in societies change as contexts and attitudes change. Over the last decade, an increasing number of women have gone to work, and the gender pay gap has been gradually narrowing. In 1974, Sweden became the first country ever to introduce a gender-neutral paid parental leave benefit, where both women and men were entitled to 480 days of paid parental leave (16 months) per child.
This way, a month was reserved for each parent to achieve a more even distribution of unpaid household and care work. And it worked, (for the most part, though there's still a long way to go), making Sweden among the highest female and maternal employment rates in the world as it became possible for both parents to combine work and family life. This was also matched with extensive system of public child care, and most importantly, strong political will through the comprehensive 'gender equality policy'.
In Egypt, women are entitled to 90 days of paid maternity leave in the private sector and 120 days for workers in the public sector. Employers with 100 or more women in a workplace must also provide childcare facilities, though many resort to lowering the number of women in the workplace on purpose to avoid higher costs of childcare. With little incentives to support women to remain in the workforce, and no policies that recognize that work-family balance measures concern both women and men, women's domestic burden continues to prevent economies from tapping into the reservoir of female talent.
In collaboration with Gallup, the ILO surveyed men in 2016 on their perceptions of work, which revealed that women's quest for decent work and employment largely depended on men. In Egypt, when asked whether they prefer for the women to stay at home or work at a paid job, 55 percent said they preferred that the women stay inside their homes, revealing the deep rooted social restrictions that is inhibiting women's work.
Rather than taking this COVID-19 crisis as a step back for women, or creating the image that women are forever trapped inside the hole of domestic housework, what should be done is turning this into an opportunity to push for more changes.
More Egyptian male friends have started to tell me their experiences of cooperating at home ever since the outbreak, like vacuuming, washing the dishes, and laundry nearly every day. Other women with more males in their households also reflected on the slow changes that can occur when there is a push coming from their side. "At first, it was my mother calling on my brother to help out in the kitchen or other chores, but now we are starting to see him spontaneously doing chores on his own," says one of them.
Largely, however, these efforts are still confined to 'trying' to 'help' out in random tasks, rather than actually participating in the entire process of planning and managing the house. In her book 'Fair Play', American author Eve Rodsky made an important point when she highlighted the 'mental load' that women carry, as they are the ones that mostly lead and plan out the entire day.
In her book, titled Fed Up: Emotional Labor, Women, and the Way Forward, Gemma Hartley defines emotional labor as 'emotion management and life management combined. It is the unpaid, invisible work we do to keep those around us comfortable and happy'. It is the invisible labor that women do which glues a household together that is often overlooked.
On social media, various images of Egyptian men 'helping out' in housework were shared widely and sparked a debate. What stood out most for me, however, is the way we praise tiny little efforts that are small and incomparable to the efforts of the mother in the household. Why should we use the term 'helping out' when it is also where they reside and not someone else's property? Sociologist Arlie Hochschild put it in her 1989 book 'The Second Shift', where she noted that if a man does just a little more what the average man does in his community, he's regarded as "exceptionally helpful."
Now that spouses and families are confined together all day, we should be looking for new ways to define 'home'. It isn't someone's property that is solely under their control, but a place for other members to feel real belonging and safety. There is no reason to not include 'home' as a variable in everyone's work-life equation, because home is really part of every individual's life.
We must all treat this time of social isolation as a period to change tiny beliefs and attitudes that can eventually contribute to the well-being and development of the society as a whole. In short, it is to become a cultural warrior for your own family and future generations.
https://egyptianstreets.com/2020/04/05/do-we-still-believe-that-women-should-do-all-the-housework-amid-covid-19/
--------
Qatar- Female volunteers join inspection campaign of MME on food outlets
4/5/2020
(MENAFN - The Peninsula) A number of female volunteers joined the women inspectors of Health Monitoring Section of Doha Municipality in an inspection campaign at a major food outlet here yesterday.
The inspectors ensured the targeted outlet was complying with the health rules like food handlers holding valid health certificates, wearing masks and gloves, following preventive and precautionary measures to protect themselves and other from COVID-19 etc.
The country wide inspection and awareness campaigns on food outlets in cooperation with a number of male and female volunteers are continuing under an initiative of the Ministry of Municipality and Environment (MME) to support volunteering work under a slogan 'your safety is my safety', said the Ministry in a release.
The inspectors of Health Monitoring Section of Al Wakrah Municipality in cooperation with some volunteers conducted inspection and awareness campaigns on food outlets to ensure that they are complying with the health rules for the safety of the consumers.
A number of volunteers at Al Sheehaniya Municipality received necessary training on how to inspect food outlets during an inspection campaign launched by the civic inspectors of the Municipality on food establishments.
Al Khor and Al Zakhira Municipality also provided practical training to some volunteers by involving them in an inspection campaign conducted yesterday at a major food outlet. The volunteers were briefed about the basic rules and regulations of inspection according to the law No. 8 of 1990 for regulating foods focusing on the scientific aspects of the regulations.
The inspection campaigns came within the initiative of MME to forge community partnership enhancing the roles of institutions and community members in the operation of the Ministry especially those related to food monitoring and hygiene.
Meanwhile, Health Monitoring Section of Doha Municipality conducted inspection campaigns on 3,125 food outlets in Doha city in March.
As much as 147 violations for preparing food in unhealthy conditions were recorded. The Municipality also closed 47 erring food outlets and received 120 complaints which were responded on time.
The Municipality issued four administrative decisions to close two eateries and one sweet shop. As much as 18 reconciliations were made for erring outlets after rectifications.
https://menafn.com/1099971019/Qatar-Female-volunteers-join-inspection-campaign-of-MME-on-food-outlets
--------
Malaysia apologises for telling women not to nag during lockdown
31 Mar 2020
Malaysia apologised on Tuesday after telling women to avoid nagging their husbands and speak in an infantile voice during coronavirus lockdowns, a move that sparked a sexism outcry.
In a series of Facebook posts, the Malaysian women's ministry offered tips for how wives should behave during the lockdown, which began on March 18, with a series of online posters with the hashtag translating as #WomenPreventCOVID19.
One of the campaign posters depicted a man sitting on a sofa and asked women to refrain from being "sarcastic" if they needed help with household chores.
Another poster suggested using humour or imitating the infantile voice of Doraemon - a blue robotic cat from Japan that is popular across Asia - in lieu of nagging.
"We apologise if some of the tips we shared were inappropriate and touched on the sensitivities of some parties," the ministry's women's development department said in a statement.
"(It) is extremely condescending both to women and men," said Nisha Sabanayagam, a manager at All Women's Action Society, a Malaysian advocacy group.
"These posters promote the concept of gender inequality and perpetuate the concept of patriarchy," she told the Thomson Reuters Foundation by phone.
A government hotline that helps domestic abuse victims and vulnerable children has received nearly 2,000 calls - more than doubled the usual numbers - since the start of the partial lockdown, local media reported.
"How did we go from preventing baby dumping, fighting domestic violence to some sad variant of the Obedient Wives Club?" Twitter user @yinshaoloong wrote before the apology.
There have been fears of a surge in domestic violence worldwide as the stress caused by confinement and job insecurity increases the likelihood of conflicts.
A government-run helpline in Malaysia for vulnerable people, including victims of domestic abuse, has seen an increase in calls of more than 50 percent since the start of the lockdown, local media reported. Some governments have stepped up their response, including in France, which has offered hotel rooms to victims.
Malaysia is ranked 104 out of 153 countries in the latest World Economic Forum's Global Gender Gap index, after scoring poorly on political empowerment and economic participation.
https://www.aljazeera.com/news/2020/03/malaysia-apologises-telling-women-nag-lockdown-200331161122688.html
--------
Malaysian lockdown also means women have to give birth alone
April 6, 2020
During Malaysia's Movement Control Order (MCO), there will be pregnant women who will have to go through labour and birth without their husbands by their side.
With new restrictions in place at hospitals, pregnant women will have to manage without their spouse or companion to aid them in the delivery room or ward as they face one of the most special days of their lives.
One woman, Ms Anies Surianie Mat Daud, 27, has shared on Facebook the experience of giving birth to her second child in such circumstances. Giving birth at the Tengku Anis Hospital in Pasir Puteh, Kelantan, on March 24, she said it was far different from the birth of her first child in 2016.
Speaking to Bernama news agency via Facebook Messenger, she said that when she found out her husband would not be allowed to keep her company during labour or see her after delivery, she was upset and worried that she would not be strong enough to go through the delivery by herself.
Ms Anies Surianie said that it was indeed a struggle doing it all alone despite it being her second delivery. She shed tears every time she moved, especially when she had abdominal cramps, and having to deal with the postpartum pain.
She also had some advice for other women due to give birth. She urged them to go to hospital prepared, to bring along masks to wear, to listen to the doctor's or nurse's advice without panicking and to pay attention to what was said in the delivery room.
http://theindependent.sg/malaysian-lockdown-also-means-women-have-to-give-birth-alone/
--------
UN chief urges govts to protect women during virus lockdown
April 6, 2020
UN Secretary General Antonio Guterres has urged governments to include the protection of women in their response to the deadly novel coronavirus pandemic.
Reports of domestic violence have surged globally in the wake of massive lockdowns imposed to contain the spread of the disease.
"Violence is not confined to the battlefield," said Guterres in a statement and video released in multiple languages, days after his call for a worldwide ceasefire in the wake of the outbreak.
Describing the rise in domestic violence as "horrifying," he urged all governments "to make the prevention and redress of violence against women a key part of their national response plans for COVID-19."
India reported double the usual number of domestic abuse cases in the first week of nationwide movement restrictions, according to the country's National Commission for Women.
Cases in France rose by a third in the week after that country's lockdown, authorities said, while Australia reported a 75 percent increase in internet searches relating to support for domestic violence victims.
Guterres called for setting up emergency warning systems in pharmacies and groceries, and for safe ways "for women to seek support, without alerting their abusers."
"Together, we can and must prevent violence everywhere, from war zones to people's homes, as we work to beat COVID-19," he said, as he called "for peace at home -- and in homes -- around the world."
https://www.thejakartapost.com/news/2020/04/06/un-chief-urges-govts-to-protect-women-during-virus-lockdown.html
-------
The face of feminism is no longer just white and middle class
by Iman Sultan
3 Apr 2020
Growing up, I struggled to call myself a feminist. In theory, feminism was supposed to be for all women, but in practice, it seemed to be only for white, upper-middle-class women seeking to break the glass ceiling and integrate into the capitalism of their male counterparts.
As a Pakistani girl growing up in the US after 9/11, I confronted the misogyny of both the wider white world, as well as the gendered norms enforced by my culture.
Feminism became a battle cry, not just to end the racialised sexism that I, and so many other women of colour faced, but also against jingoistic policy that expanded US military influence in Muslim countries. The idea that veiled and "oppressed" Muslim women - a symbol propagated by the US media at the time - could be "saved" only by the increased deployment of troops in the region - even when women are among the most numerous victims of war.
The impact of movements like #BlackLivesMatter and Standing Rock, followed by Trump's Muslim entry ban, crackdown on immigrants, and anti-LBGTQ policy, have all helped to establish the need for a movement led by women of colour and other groups which have historically been pushed out of the traditional fold of "womanhood", such as transgender women, lesbians, sex workers and Muslim and/or black women.
The coronavirus health crisis and the everyday precariousness that young people face, whether the looming threat of climate change, gun violence or unemployment, has spurred the urgency of a movement that does not just break glass ceilings, but collectivises empowerment and agency for all women.
One is the more "bourgeois" women's movement, which opposes the sexism of conservatives, such as Donald Trump's misogynistic statements or anti-abortion legislation, and calls for liberal reforms such as equal pay or proper electoral representation for women, rather than a systemic restructuring of society and an end to capitalism, racism and imperialism.
The other is the movement for women who constitute what grassroots movements term "the 99 percent", which mobilises workers, recognises the relationship between gendered labour and capitalism, and confronts war and racism as twin evils responsible for violence against women.
Sometimes, these two threads converge, often manifesting as bonds of solidarity or more pragmatic alliances. Ever since Trump was elected US president, white women have been more conscientious in including women of colour in feminist advocacy. Their protest movement - Women's March - has principles which acknowledge that "women of colour and indigenous women carry the heaviest burden in the global economic landscape".
Middle-class, suburban women, many of whom are mothers, are getting involved in politics for the first time, with demands for paid leave and compensation for unpaid domestic labour - a recognition of how capitalism exploits them.
But this politicisation has its blind spots. Women's March has failed to link up with organisers who have been doing work on the ground for some time. Its stated progressive aims also did not prevent Zahra Billoo, an American-Muslim civil rights lawyer, from being voted off the board of the organisation for opposing the Israeli occupation of Palestine. Veteran Black Lives Matter activists in different US cities have criticised Women's March for "erasing" their labour.
As such, there were two dates for the Women's March each year. The first is the anniversary of Trump's inauguration - January 21 - and the second is International Working Women's Day, a legacy of the female garment workers' strike in New York in the early 1900s, which is celebrated worldwide every year on March 8. Indeed, in 1917, working women in Imperial Russia led protests on March 8 that triggered a series of uprisings, leading to Tsar Nicholas abdicating from his throne two weeks later.
In Mexico, women went on strike the day after the protest on March 8 this year, in a bid to demonstrate to the men in their country the cost of their absence from schools, offices, shops and government workplaces. A day without women meant a day without the female workers who held up the economy, and who make up 40 percent of the workforce in Mexico. The strike used women's labour as a bargaining chip to protest against patriarchal violence, which has caused women in Mexico to literally "disappear" in gender-motivated killings.
More than 10 women are killed each day in Mexico; victims of gang violence, sexual harassment and laws that fail to punish murderers and deliver justice to the victims. In 2018, only 136 perpetrators were convicted for femicide in Mexico, according to Inegi, the Mexican statistics authority. In 2019, more than 1,000 women were killed there.
Mexican women certainly are not alone when it comes to lethal attacks on their bodies. According to the UN, 87,000 women were murdered in the world in 2017 alone, a staggering and horrific number.
Latin America has experienced an awakening of women's mobilisation for safety and respect. The #NiUnaMenos ("Not One Less") movement first started in Argentina in 2015, protesting against the murders of women that gripped the region. The grassroots movement sparked fires of resistance across Brazil, Chile, Peru, and other countries, fires that still blaze today.
In Chile, feminist collectives rallied on March 8 and then organised a second day of protests in a nationwide movement against sexism and social inequality. Protesters marched in Santiago to the presidential palace, charging the state with violence and neglect of women.
In December, the Chilean feminist protest song "A Rapist in Your Path" went viral and inspired performances from women around the world. The song crucially did not just hold individual perpetrators of rape to account, but lay the blame at the feet of "the cops, the judges, the state".
In South Africa, women organised self-defence training and handed out pepper spray on stalls in the streets of Johannesburg, a practical and unapologetic measure against sexual violence and harassment. Karabo Moshodi, a 25-year-old activist from Soweto, raised funds to buy 1,000 pepper sprays and employed the assistance of self-defence professionals. Participants were trained in basic self-defence before receiving a spray.
South Africa has also seen a growing movement led by students, young people and women, after Uyinene Mrwetyana, a 19-year-old student, was raped and murdered in a post office. Luyanda Botha, a 42-year-old post office worker, confessed to the crime and was sentenced to life in prison. The murder triggered nationwide protests galvanising thousands of people in outrage.
In India, Muslim women-led a sit-in at Shaheen Bagh, a working-class neighbourhood in New Delhi, for 101 days. The movement for a more just India has drawn women to the frontlines. Women, after all, are the first to suffer in religious, caste and ethnic violence.
In Pakistan, attendees at the "Aurat March" (Women's March) braved right-wing suppression of their protest. Their slogan, "Mera Jism, Meri Marzi" ("My Body, My Choice") was construed as vulgar by men in power, but hundreds of middle-class women still chanted it in defiance of the threats against them.
Lesser known, but equally important was a demonstration in Karachi by poor, working women, who do stitching and other forms of labour from home, and who won recognition as legal workers by the government.
The global south is rife with political and militant movements for the liberation of women, which also confront the role of capitalism and state violence in enforcing patriarchy.
In the US, the women's movement has transcended white feminism and pink pussy hats. Contingents of marginalised women continue to attend the Women's Day March and to organise their own marches and protests. Take, for example, Gizelle Marie, organiser of the New York City strippers' strike. When black, dark-skinned strippers found their jobs threatened by lighter-skinned Instagram influencers, strippers in New York City went on strike to protest against the loss of their wages. The strike was a breakthrough in sex worker organising centring black women and addressing the ways in which darker skin was considered less worthy of capital, and Marie led contingents of strippers in different feminist actions to promote the strike.
In the south of the US, black and/or immigrant women and nonbinary people (those who identify as across the gender spectrum, rather than as just as a man or woman) fight on the front lines against Trump's war on Roe v Wade, the landmark Supreme Court case that ruled a woman had the right to choose an abortion and that government interference violated her constitutional right to privacy.
Abortion care centres in the South not only stand in solidarity with the LGBTQ community, women's shelters, and immigrant advocacy groups, they also provide health care, gynaecological services, education and, if needed, the right to choose abortion. The movement for abortion rights in the South is a coalition of the most marginalised in society.
The participation of teachers' unions in Women's March throughout the years challenges Trump's privatisation of education and empowers an underpaid profession associated with care and nurture (thus a gendered one, as 75 percent of teachers in the US are women) with a platform and a voice. In 2018, 30,000 West Virginia teachers went on strike, and won a 5 percent raise in pay on March 7.
Middle-class, white women still seem to gain the most visibility because of their privilege. Yet, the reality is changing. Activism is no longer just the domain of the privileged, but has become the duty of the oppressed.
While the 99 percent has always organised for collective freedom and liberation, for the first time they are being celebrated, recognised and supported on the world stage, bringing more people to their ranks and radicalising the women's movement as a whole.
https://www.aljazeera.com/indepth/opinion/face-feminism-longer-white-middle-class-200401084751413.html
--------
Yemen Officials Say Rebel Shelling Kills 6 Women Prisoners
April 06, 2020
Yemeni government officials said shelling by Houthi rebels Sunday hit a prison for women in a southwestern province, killing at least six prisoners.
The officials said the attack also wounded at least two dozen prisoners, including four children staying with their imprisoned mothers at the central prison in government-held Taiz province.
The shelling came amid a drastic escalation in fighting between the internationally recognized government's forces and the Houthi rebels in recent weeks.
The increased violence in the Arab world's poorest country has displaced more than 40,000 people since January, adding to the roughly 3.6 million who have fled their homes since the war began more than five years ago.
Yemen's civil war erupted late in 2014 when the Shiite Houthi rebels seized the capital, Sanaa, along with much of the country's north. The Houthi advance ousted President Abed Rabbo Mansour Hadi.
The war has killed more than 100,000 people, many by Saudi-led airstrikes. It has triggered what the United Nations has described as the world's worst humanitarian crisis, leaving millions suffering from food and medical shortages.
https://www.republicworld.com/world-news/rest-of-the-world-news/yemen-officials-say-rebel-shelling-kills-6-women-prisoners.html
--------
Empowering Indonesia's Women Farmers
5 April 2020
"If you teach a man to farm, his family will eat. If you teach a woman to farm, the whole community will eat." This quote highlights the fact that closing the gender gap in agriculture would not only produce more food but also provide long-term benefits for farming families and their communities.
An empirical study in the Springer Journal titled, Gender in Agriculture reveals that women lack access to agricultural inputs, training, information and marketing services. Furthermore, the Women's Empowerment in Agriculture Index shows that women lack access to various agricultural groups and are poorly represented across a range of civic, government and business groups. The Food and Agriculture Organisation (FAO) declared that eliminating this gender gap in agriculture would increase production in developing countries by 2.5 to four percent.
According to Anna Fälth of United Nations (UN) Women, the global population is expected to grow by 2.3 billion people by 2050, which will cause food demand to rise by 60 percent. As approximately half the world's smallholder farmers are women, closing the gender gap in farming would not only fight hunger but would also have positive secondary effects. According to the FAO, around 43 percent of the agricultural labour force in developing countries consists of women, and up to 79 percent of women in some of these nations report agriculture as their primary economic activity.
In Indonesia, approximately 49 percent of agricultural households comprise of women farmers according to the 2018 Agriculture Census. These women are involved in almost all agricultural processes and vital functions, yet they still often lack recognition. Their agricultural work is perceived as secondary to their domestic responsibilities and to men's involvement in agriculture. Agriculture generates income for numerous households and is a critical sector in Indonesia's economy, thus it is imperative that the role of women in agriculture should be pointed out as Indonesian women are generally community oriented.
Indonesia's agrarian commodities range from rice, maize, soybeans to strategic plantation commodities such as palm oil, cocoa, and rubber, as well as livestock commodities such as cattle, poultry and goats. In 2018, the agricultural sector absorbed 32.9 percent of the total labour force in Indonesia and contributed 13.6 percent to the gross domestic product (GDP). This sector is also pivotal in national efforts leading towards food security and poverty alleviation.
As rice is the primary staple crop, rice farming practice in Indonesia is very critical. In Bali, one of Indonesia's most prosperous provinces where wet-rice production is an economic mainstay, rice cultivation for its farmers is not only an agronomic and economic process but profoundly social and religious, as well. The Balinese agrarian irrigation system is called Subak. The Subak is more than just a traditional irrigation system for the Balinese. It allows the participation of the community to manage water allocation. A Balinese practice dating back to the ninth century, it is also seen as a solution to the current water crisis. The Subak system of democratic and egalitarian farming practices has enabled the Balinese to become the most prolific rice growers in the archipelago despite the challenge of supporting a dense population.
The egalitarian farming practice of Subak can also be found in the participation of Balinese women farmers. The role of women farmers in the Subak agrarian system is critical for land cultivation, seed planting and harvesting. A study in the Agriculture Journal and Ecosystem Balance of Universitas Mahasaraswati Denpasar states that women farmers' participation in Subak farming in Tabanan, a regency of Bali, had reached 83 percent.
This high participation of women farmers in agricultural management activities is one of the basic social capitals in creating agricultural sustainability. The participation of women farmers is not merely seen as equality of rights but is also an expression of their role as a key factor in rural society development.
In contrast, in most Indonesian communities, women are still traditionally responsible for domestic activities and are not perceived as household heads to engage in community dialogue. As an example, gender analysis in a FAO Gender Assessment conducted in Karawang district in West Java Province found that women farmers' access to agricultural information is directly dependent on land ownership. One reason for this is that formal agrarian extension service providers only invite male land owners to village meetings. Discrimination was also found in staffing with only 20 percent of field extension staff being women.
In considering the above-mentioned studies, it is evident that women who are in need of information, still do not have adequate access to it and are unable to further develop their potential. Building the capacity of women and increasing their access would benefit farmers, the private sector, and the government as women's involvement in agriculture provides a considerable contribution. This would also boost women's confidence, broaden their knowledge and raise their voices within the family and the community.
The Indonesian government has addressed women's empowerment and education by taking an active role in the global commitment to the 2030 Agenda on Sustainable Development (SDG). At the national level, these concerns have been addressed through Village Law No. 6/2014 that explicitly outlines the critical importance of women's empowerment and gender equality. There are also several other laws, policies and programmes that aim to reduce rural poverty such as Presidential Regulation No. 59/2007 and the 2015-2019 National Medium-Term Development Plan on improving the quality of life and the roles of women in the implementation of development programmes.
Challenges, however, remain in mainstreaming gender in policies and programmes in regard to the agriculture and rural development sector. In order to support government programmes and policy, collaborations need to be tailored to the incentives and capacities of stakeholders in considering women as a neglected actor. The private sector in agriculture needs to contribute to adopting more inclusive practices that leaves no one behind and treats women as an important player as their involvement is critical in agriculture. Gender-equal agrarian reform will only be achieved when women are able to define their place and influence in the agricultural sector in a significant manner.
https://theaseanpost.com/article/empowering-indonesias-women-farmers
--------
URL: https://www.newageislam.com/islam-women-feminism/run-beat-boys-with-skinny/d/121500
New Age Islam, Islam Online, Islamic Website, African Muslim News, Arab World News, South Asia News, Indian Muslim News, World Muslim News, Women in Islam, Islamic Feminism, Arab Women, Women In Arab, Islamophobia in America, Muslim Women in West, Islam Women and Feminism