New Age Islam News Bureau
21 May 2014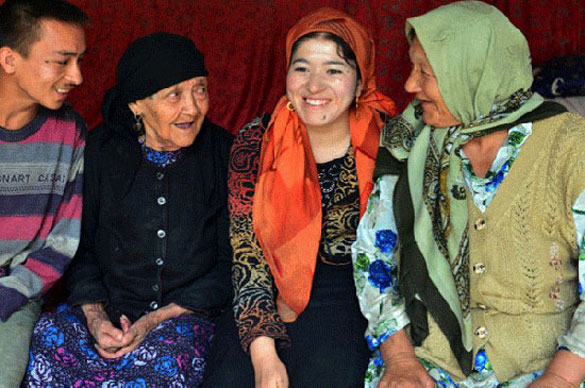 A Uyghur family at home in Xinjiang's Kashgar Prefecture, Aug. 16, 2013
-----------
• CII Urged To Formulate Laws against Forced Conversion of Hindu Girls
• Julia Gillard: 'I Didn't Know My Misogyny Speech Would Reverberate Around the World'
• Xinjiang Police Open Fire at Protest against the Detention of Women and Girls
• Female Survivors of Afghanistan' Landslide Face Particular Challenges
• Ministry Says Face Veil a Must for Workers in Women Shops
• Expat children of Saudi mothers face difficulties in accessing govt services
• Women's Reproductive Health: Conditions in Bangladesh must improve
• Syrian refugee children lose education
Compiled by New Age Islam News Bureau
URL: https://www.newageislam.com/islam,-women-and-feminism/new-age-islam-news-bureau/rs720m-special-funds-meant-for-girl-students-withdrawn-by-pak-punjab-govt/d/87127
-------------
Rs720m Special Funds Meant For Girl Students Withdrawn By Pak Punjab Govt.
May 21, 2014
RAWALPINDI: Thousands of girl students in Punjab would have to wait for an indefinite period for the provision of missing facilities in their institutions as the provincial government has withdrawn Rs720 million allocated for the purpose.
The special budget was earmarked in 2013 to provide missing facilities in government schools across the province.
Dr Masoom Yasinzai, the rector of the International Islamic University Islamabad (IIUI), said without ensuring basic facilities the drop-out rate cannot be overcome.
"On the one hand, we are talking about an education emergency and on the other hundreds of schools are facing shortage of furniture and washrooms. The government should release funds for the provision of missing facilities in all schools," he said.
The special budget was set aside for provision of missing facilities in schools last year
A source in the education department Rawalpindi said the Punjab government had withdrawn the special allocated funds of Rs720 million from all the districts. The amount had been released in four instalments last year with the last one approved in December 2013.
The special budget was supposed to be spent on the provision of clean drinking water, construction of toilets, boundary walls and purchase of furniture.
The district of Rawalpindi had been allocated Rs152.35 million in the special budget.
However, on Monday the education department was informed by the finance ministry that the government had decided to withdraw the Rs38 million given to the district in the fourth instalment of the special budget.
"Yes, our last quarter of the budget has been withdrawn. This move will disturb our development projects. At present, 83 schemes related to the construction of boundary walls around girls' schools are underway," said Executive District Officer (education) Qazi Zahoorul Haq while talking to Dawn.
"By utilising the three instalments of the allotted special budget, we had almost completed the purchase of furniture, provision of water and construction of toilets in the schools. The fourth instalment was supposed to be spent on 87 schemes of boundary walls." He said no reason was given by the government for the withdrawal of the special funds.
When contacted. Sheikh Rashid Ahmed, MNA from Rawalpindi, criticised the government for taking back the amount from the education department. "This is unfortunate. It seems the rulers have no interest in improving the education sector which is declining day by day," he added.
A source in the education department told Dawn that the fourth instalment was supposed to be spent on the provision of missing facilities in schools focusing on girls' schools.
He said for 26 districts, the budget was released to provide missing facilities in girl's schools while in eight districts had been given the funds for boys' schools.
"This is not a positive development. We have no idea why all of a sudden the government withdrew the amount. This move will disturb the ongoing development schemes," said Rana Liaquat Ali, the additional general secretary of the Punjab Teachers' Union.
He said hundreds of schools in the province were facing shortage of furniture, toilets and boundary walls.
http://www.dawn.com/news/1107677/rs720m-special-funds-withdrawn-from-education-department
-------------
CII Urged To Formulate Laws against Forced Conversion of Hindu Girls
May 21, 2014
ISLAMABAD: A Hindu member of the National Assembly requested the Council of Islamic Ideology (CII) on Tuesday to formulate effective laws to discourage the forced conversion of Hindu girls on the pretext of marriage.
The CII meeting held in Islamabad discussed the Hindu Marriage Act, presented in the National Assembly by MNA Dr Ramesh Kumar who insisted that it was the right of the Hindu community to have their marriages registered in the relevant districts.
"There is currently no law regarding Hindu marriage, as a result, our marriages are not registered anywhere," Dr Kumar said, adding that this had many serious repercussions.
He was addressing an in-camera session of CII for around 45 minutes, but later spoke to media about the need for a well-defined marriage law for Hindus.
"The main issue faced by our community is forced conversions as the kidnapped girls ultimately submit to the key demand of the kidnappers – convert and marry a Muslim," he said.
MNA deplores absence of Hindu marriage registration provisions
He said that the law being framed should declare the minimum age of marriage for a Hindu girl to be 18 years and 21 years for boy.
Currently, only Nadra-issued CNICs serve as proof of marriage for Hindus since there is no forum to register their unions.
"The downside is that any person can get an affidavit made from the court declaring that a certain boy or a girl is their spouse – and Nadra will accept that affidavit as proof of marriage," he added.
Dr Kumar said that the bill submitted to the CII and the Ministry of Law contains clauses relevant to the Hindu religion and tradition.
"There is no concept of divorce in Hinduism, therefore the term separation has been used in the bill," he told Dawn.
However, there are more issues to contend with before a law on Hindu marriage is framed, as the law ministry has already raised an objection that they can frame laws only for Islamabad Capital Territory (ICT).
Law ministry officials have told the MNA that marriage laws were a provincial subject and a law for ICT can only be presented in the National Assembly.
There are around eight million Hindus in the country, mostly in Sindh. The bill currently under discussion suggests that all the Hindu marriages should be registered in the relevant district councils within 15 days.
The marriage certificates, which still need to be devised, must be attested by the pundit who solemnised the marriage, along with two witnesses.
http://www.dawn.com/news/1107639/cii-urged-to-formulate-laws-against-forced-conversion-of-hindu-girls
-------------
Julia Gillard: 'I Didn't Know My Misogyny Speech Would Reverberate Around the World'
May 21, 2014
Julia Gillard, Australia's first woman prime minister, was pilloried for being female, unmarried and childless. Here, she gives her first British interview since being ousted
Often, as she travels from one foreign destination to the next, Julia Gillard is accosted by a stranger. The faces and location vary, but the message to Australia's first female prime minister is always the same. "It still amazes me that I'll be at an international airport and someone - usually a woman - will come up to me and say: 'Great speech.'?"
The address to which they allude ranks among the most famous political oratories of all time. Miss Gillard's invitation to her chief opponent to look in a mirror - "If he wants to see what misogyny looks like in modern Australia" - has had more than 2.5 million You Tube hits, attracted the notice of Barack Obama and prompted the revision of the dictionary definition of "misogyny".
Much good it did her, some might think. Not long afterwards, Julia Gillard was ousted from the leadership of her country's Labor party, which went on to lose the next election. Now, when Tony Abbott, the opposition leader she once rebuked, studies his reflection in the glass, the 28th prime minister of Australia stares back.
Eighteen months after she spoke out, Julia Gillard and I meet for a rare interview during her two-day visit to London to see government ministers in her new role as chairman of the Global Partnership for Education (GPE), an organisation dedicated to getting all children into schooling. Miss Gillard, I am told, will not speak about her days in office. Since she was deposed last year, she has remained silent, aside from writing an essay in which she confessed that losing power "hits you like a fist".
Even that blow seems slight compared with the pummelling she took in office. Her hair, her accent and her unmarried state were derided by opponents, who famously put up "ditch the witch" posters. Perth radio interviewer Howard Sattler asked her if her hairdresser partner was gay, while Liberal senator Bill Heffernan accused her of being "deliberately barren" because she had decided not to have children.
If she chose to draw a veil over all such memories, that would be understandable. Instead, she is open about a past that helped turn her into an evangelist for the world's forgotten children and, in particular, for the girls denied an education.
She has just been to see the Britain's Foreign Secretary, William Hague ("nice to catch up with an old friend"), before a planned meeting with the Development Secretary, Justine Greening. She is deeply grateful to the generosity of the UK, the biggest donor nation helping her organisation with a contribution to date of US$770 million (£460 million). Now she is working to raise money for the next four years and would be "delighted" if Britain were to offer a similar amount.
Ms Gillard is particularly enraged at the plight of girls denied a safe school place - a problem thrown into the spotlight by the crisis in Nigeria, where 250 schoolgirls abducted by the Islamist group, Boko Haram, are still missing after five weeks.
With the West looking increasingly powerless to help them, what would she do? "There's no simple solution. We've fought terrorism in its many guises, and this is terrorism. It requires a policing response, a law and order response. As the chair of the GPE, I've added my voice to the outrage of the world."
Does she think the girls will ever be restored to their families? "I'd need a very good crystal ball to predict what's going to happen next, but the world community coming together and working with Nigeria is the only way forward." So all talk of military intervention is nonsense?
"I don't think it's for me to rule in or out what would be the most effective strategies, but the world is now engaged. That happened far more slowly than I would have liked. If 200 girls were kidnapped here in London, the reaction would be instant. It shouldn't be any different for girls in Nigeria."
If she is guarded, then her diplomacy is hard-wired by years at the top table. As leader of one of the most influential nations on earth, she played host to David Cameron, Ed Miliband and a host of international leaders. These days she lives in a smart suburb of Adelaide, with her partner, Tim Mathieson, and their dog, but for the years of power she chose a simple, three-bedroomed house reminiscent of her humble background.
Australia's first woman prime minister was born in Barry, south Wales, to parents from poor mining stock. John Gillard and his wife, Moira, had two daughters, of whom Julia, the younger, contracted broncho-pneumonia as a baby and spent weeks in an oxygen tent in hospital. Told by doctors that she needed to live in a warmer climate, the Gillards decided to emigrate to Australia as "Ten Pound Poms".
The six-week boat journey from Southampton must have been arduous for a family with a sick baby, though she rejects any suggestion of danger as "too dramatic. But yes, we went out as assisted passage migrants - one of the last ships to get through the Suez Canal before the crisis - and that has been our life ever since."
While her father trained as a psychiatric nurse and her mother worked as a cook for the Salvation Army, Julia became a straight-A student, graduating from the University of Adelaide in Law and Arts and working as a lawyer and then a political aide, before embarking on a path to power, inspired in part by her lifelong hero, Nye Bevan.
As she confessed much later, she did not think she could have juggled work and children. There are, she says, still no regrets. "Look, I'm comfortable with my life's choices. It gave me my chance to work as minister of education and PM, and now in this role, working for children in the most disadvantaged places on earth. I do get the delight of family contact and children. Post-politics, Tim and I moved back to where I grew up."
Her mother, now widowed, lives nearby. "So do my sister, my sister's children, and now the first of the next generation - my niece's son, Ethan, who turns 1 in July. I love travel, but when I'm back in Adelaide, I have plenty of time and contact with all of them. And now I have the delight of watching a baby grow."
As PM, she was photographed for the Aus-tralian Women's Weekly, knitting a toy kangaroo for Prince George. "The then High Commissioner delivered it, so it has been duly received," she says. While some critics greeted her endeavour as the image-building stunt of a pro-republican leader, she is actually a devoted knitter. "I find knitting is a good wind-down thing at the end of big days, and knitting for babies is so much faster than doing an adult jumper."
Mostly, however, she is focused on the dropped stitches of human progress. She is eager to play down the bitter legacy of the discrimination she encountered, stressing that her days running a country left her well-prepared for the politics of the development world. "I know what it's like for donor nations to put taxpayers' precious money into supporting change in some of the poorest countries.
"I know what it's like sitting round cabinet tables and having difficult discussions; I know what it's like to assess priorities from the perspective of countries like the UK. In the 59 countries we work with, I know what it's like trying to build an education programme from scratch or trying to get more money into schools."
As for resilience and hard times, she says: "I've had a bit of practice. But looking across the broad sweep of my life, I think of the advantages I've had, growing up in a wonderful country and having the support of a strong and loving family. I don't feel I'm in a position to lecture on what it's like for girls in Pakistan or female teachers in Afghanistan, because I have never faced challenges of that order."
Though progress is being made in fragile and war-torn states - she points to the 23 per cent increase in girls at school in the areas where her organisation is working in Yemen - the challenges continue. Few people, it is fair to say, are more adept at dealing with adversity than Julia Gillard.
Her famous misogyny speech, she now confesses, was not destined to be a speech at all. Despite accusations about alleged sexist messages sent by the Speaker, she never planned to give the Gettysburg address of feminism, in which she told Mr Abbott that she would not be lectured by him on prejudice - "not now, not ever".
"I knew I was likely to face a question time focused on gender issues, but I didn't know I was going to give a speech. I wrote the notes there and then and spoke in the moment, and perhaps that was the power of it. But I didn't know it was going to reverberate around the world." In general, she is less impulsive, saving her full account of her years running Australia from 2010 to 2013 for the memoir which - no doubt to the alarm of her successors - she will publish this October.
"I wrote it in Adelaide in one long, hot summer, working for 11 hours a day." And will it tell the full, unexpurgated story? "You'll have to read it and see," she says, which means yes. With Britain on the cusp of an election, she is too diplomatic to pronounce on the downbeat nature of the Europe poll, though she does commend Australia's compulsory voting system.
Would she recommend it here? "Every nation has its own system, but it does mean our politics is about the mainstream views of the mass of the people. It works well for us," she says, adding that she would never tell other countries what to do.
Except in one respect. For the sake of the 57 million children in the world who cannot get an education, she is relying on politicians of all nationalities and allegiances. Her UK connections notwithstanding, she declines to get involved in the homegrown political fray. "Both Prime Minister Cameron and Ed Miliband are making a quality contribution, but I'll leave domestic politics to the people here."
For Britain as a whole, she has nothing but gratitude for the cross-party support to safeguard international aid, even in hard times. "That goal has not been resiled from, and that says something about the generosity of the people of the UK and their ability to join the dots between development, security and a more prosperous and peaceful world."
The credo of Australia's pioneering prime minister will, she hopes, echo from the staterooms of Westminster to the pit villages of South Wales, which she is proud still to call her home.
http://www.telegraph.co.uk/women/womens-politics/10843756/Julia-Gillard-I-didnt-know-my-misogyny-speech-would-reverberate-around-the-world.html
------
Xinjiang Police Open Fire at Protest against the Detention of Women and Girls
May 21, 2014
Police in China's restive Xinjiang region opened fire Tuesday at a protest by hundreds of mostly Muslim ethnic minority Uyghurs angry over the detention of several women and middle school girls for wearing headscarves, according to residents who fear several were shot dead.
The mass protest in front of government buildings in a township in Aksu prefecture's Kucha county turned violent when participants beat the principal of the girls' school and a township official and pelted stones at the buildings, the residents said.
Eyewitnesses said up to four people may have been killed and several others wounded when special armed police blasted several rounds of gunfire at random apparently to control the swelling crowd near the Alaqagha township state buildings.
Police also detained dozens among the protesters, who had demanded the immediate release of the girls and several other women detained by local authorities for wearing headscarves and Islamic robes.
"I heard the sound of gunfire. All the protesters were shocked and fled in different directions," a Uyghur woman who was at the protest scene told RFA's Uyghur Service.
"I don't know for sure how many people were shot dead but the people around me were saying three or four were gunned down on the spot and several others wounded, including in the legs," she said. "The armed police also detained many people."
Trigger
She said the incident was triggered by an ongoing crackdown by local authorities on Uyghur men sporting beards and women wearing headscarves as well as on schools with girls adhering to Islamic dress. An unknown number of them had been detained by the authorities in recent days.
"Their families and relatives gathered at the main door of government buildings today and demanded that the detainees, including schoolgirls, be freed," the woman said, adding that the protests became bigger as other residents joined to express their anger over the detentions.
She said the protesters beat the principal of the Alaqagha township middle school—identified as Tursun Qadir—who helped the authorities round up girls wearing headscarves.
"The head of the township government [identified just as Ahmad] emerged to speak to the protesters but he was also beaten by the angry protesters."
Police who were contacted by RFA said the situation had calmed down by late Tuesday but refused to provide details such as the number of fatalities and of those detained.
"The situation is already under control," an officer at the Alaqagha township police station said, declining to elaborate on the incident, the latest in a series of violent events to rock Xinjiang.
An officer at the neighboring Dongqotan police station, when contacted, said police were huddled in an emergency meeting and wanted all queries to be directed to the county authorities.
Curbs on Islamic practices
Uyghur rights groups accuse the Chinese authorities of heavy-handed rule in Xinjiang, including curbs on Islamic practices and the culture and language of the Uyghur people.
Many Uyghurs say headscarves are a marker of Uyghur rather than Muslim identity. Chinese authorities, however, discourage the wearing of headscarves, veils, and other Islamic dress in the region.
More than 100 people, mostly Uyghurs, are believed to have been killed in violence in the region over the last year as the authorities launched an aggressive campaign to clamp down on dissent and suppress what they call "separatist" campaigns.
A woman resident of Alaqagha said she heard numerous gunshots from her house several meters away from the protest site on Tuesday.
She said power supply to the township has been cut off and security forces were in full force in the streets.
"Now, the police and other security forces are patrolling everywhere. We cannot walk in the streets. The electricity has been cut off and we are staying at home without lights."
Security tightened
Security has been stepped up across Xinjiang since three people were killed and 79 injured in a knife and bomb attack on a railway station in the regional capital Urumqi when President Xi Jinping concluded a visit to the region last month.
Following the attack, Xi called for "decisive actions" against such raids, saying "the battle to combat violence and terrorism will not allow even a moment of slackness," the official Xinhua news agency said.
Deadly 2009 ethnic riots between Uyghurs and Han Chinese in Urumqi left around 200 people dead and sparked a security crackdown targeting Uyghurs.
Reported by Eset Sulaiman for RFA Uyghur Service. Translated by Eset Sulaiman. Written in English by Parameswaran Ponnudurai.
http://www.rfa.org/english/news/uyghur/dress-05202014202002.html
-------------
Female Survivors of Afghanistan' Landslide Face Particular Challenges
May 21, 2014
Jamila, 13, used to be a chatterbox. That changed two weeks ago when a mudslide claimed the lives of both of her parents and left her empty-handed and responsible for four siblings. Concern Worldwide has been working with Jamila and other survivors since the deadly landslide. Today, her 12-year-old sister ran, elated, to share the news with our team: Jamila spoke and smiled for the first time since May 2. The Jamila her family knew is returning, albeit slowly.
When the mountainside came crashing down on the village of Aab Bareek in north-eastern Afghanistan on May 2, it destroyed everything in its wake and, along with it, Jamila's childhood. Only recently a teenager, Jamila is now the head of her family, after the landslide killed both her mother and father. She is responsible for providing for her brothers and sisters -- aged 12 years to nine months -- in a country where the challenges of raising a family as a single woman, let alone at Jamila's tender age, are next to impossible.
The landslide left Jamila and her brothers and sisters with nothing more than the clothes on their backs. The family's ten sheep, two cows, plough, land and home were all swallowed by the earth, along with her parents. Her youngest sibling, Ayoub, nine months, constantly cries for their mother to feed him, and Jamila cradles him and feeds him biscuits and powdered milk, their only option.
Two weeks after one of the deadliest landslides in Afghanistan's history, enormous needs remain for the families affected. Part of the village has become a swamp as debris has blocked the drainage system. A small lake is forming, eroding mud homes that survived, and sparking panic among families as it is threatening to inundate the nearby burial site, something that would be seen as disrespectful to the dead.
Outsiders, hopeful of getting some of the aid being delivered to the affected families, are still lingering in Aab Bareek, though distributions have slowed. In the past two weeks, making sure aid reached the most vulnerable families was particularly difficult, especially for female-headed households.
"I don't have anyone to go to the distribution place and get the support," says Hawa Gul, who lost her husband and two sons in the landslide and now lives with her four surviving children. "I have parents, but they are disabled. I have two brothers, but they have their own families to take care of. They are poor and can't support my family."
Concern Worldwide was the first organization to identify genuinely affected families like Hawa's and provide emergency shelters. Now, the 51 families living at the site have emergency latrines and bathing facilities as well as safe drinking water and waste management. Concern also created mechanisms to ensure that women who trust others to collect aid on their behalf actually receive what is allocated to them.
While we will continue to support families at the temporary camp, we are now shifting our focus to how best to support the most affected families over the coming months so that they can slowly recover and begin to rebuild their lives. UNHCR, the UN agency responsible for refugees, the government and non-governmental organizations, including Concern Worldwide, are looking at where to establish a camp with transitional shelter.
"I don't know how I can take care of [my children]," says Hawa. "I don't have any land, an orchard, an animal, or any other livelihood option to run my life. I have no answers for my son, Mohammad Ashoor, who keeps crying and asking about his father ... I appeal that the government provide me a permanent shelter and some livelihood sources so I can take care of my children."
Education also has to be planned for, as the landslide damaged the nearest school to Aab Bareek. Now, students have to walk more than an hour to reach another school in the area. Child-friendly spaces are currently in place, but efforts are underway to create a temporary school and provide stationery and supplies to students.
It is because of that safe space for children to play and laugh together that Jamila, even with the weight of an entire family on her young shoulders, was able to smile and interact once again with her siblings and other children. But formal education will likely remain a luxury for her and other children like her as lost parents, homes, and livelihoods will increase their responsibilities at home.
"What should I do with my brothers and sisters?" Jamila asks. "How do I look after them? I am the eldest one in my family now."
http://www.huffingtonpost.com/azima-roya/husbands-and-parents-lost_b_5359951.html
-------------
Ministry says face veil a must for workers in women shops
May 21, 2014
Saleswomen at shops selling women's items will be obliged to cover their faces, according to new ministry directives.
"Administrations where we work have verbally stated that we should cover our faces and that the head cover will not suffice," one saleswoman said. "We were also told not to speak with our male colleagues while on duty, according to directives they received from the Ministry of Labor."
A business owner who confirmed the new directive said that women workers are also not allowed to smoke at break rooms in shopping centers.
Upon investigation, Arab News found that Saudi saleswomen had covered their faces in full at several shopping complexes.
Fahd Al-Takhifi, undersecretary for Planning and Development at the ministry, said the ministry insisted at the very beginning of the feminization process that employees should adhere to the Islamic dress code.
The ministry's website specified the dress code for women workers, he said. "Female employees should cover up in accordance with Islamic law," said a clause in the the ministry's regulations. "The ministry is closely monitoring women's shops to ensure that the regulations are strictly adhered to," he said.
He said the ministry planned to include open malls under the feminization regulations. "We intend to implement this plan with the cooperation of the owners of open commercial centers," he said.
The ministry had signed a memorandum of understanding with the Commission for Promotion of Virtue and Prevention of Vice stipulating that shops selling women's articles should employ only female workers and that only female customers would be served.
This is in addition to the construction of a 169-cm wall separating women's departments in large shops from other sections.
http://www.arabnews.com/news/574291
----------
Expat children of Saudi mothers face difficulties in accessing govt services
May 21, 2014
Children of Saudi mothers in the Kingdom are facing difficulties in accessing public services such as education, health and other government services despite the government's decision to give them equal treatment at par with Saudis.
There are currently about 750,000 expatriate children with Saudi mothers living in the Kingdom who are denied access to these important services. However, the government has reiterated its pledge to deal with this category of residents and help them in obtaining the public services.
A number of Saudi mothers of non-Saudi sons have complained that some government bodies neglect to provide necessary services like social insurance making it very difficult to survive owing to the lack of a monthly income and to cope with the rising prices of food, housing and other essential commodities.
Dr. Sahaila Zain Al-Abdeen, a member at the National Society for Human Rights (NSHR) said, "Some Saudi officials are giving different interpretations of the Cabinet's decision preventing this section of society from accessing the government services," adding that the NSHR had received a lot of complaints from this category of residents and had tried to get in touch with high government officials to heed their issues.
Speaking to Arab News she said, "Many non-Saudi sons from Saudi mothers cannot work in the public and private sector and government hospitals refuse to provide them free medical services. We try to help them the best we can as they represent a large section of Saudi society numbering 750,000 according to our records."
Earlier, the Ministry of Labor had said that it considered non-Saudi sons of Saudi women as Saudis in the Nitaqat system that aims to strengthen Saudization in the labor sector and which would help them gain work in private sector companies. The ministry had also said that expatriate sons of Saudi women can be registered in Saudi public schools as Saudi students, according to local media.
The number of Saudi women married to expatriates has reached 584 in the Makkah region, 543 in Riyadh and 490 in the Eastern province. Approximately 2000 Saudi women married foreigners in 2011 according to a recent statistical report released by the Ministry of Justice.
Many expatriates who were born in the Kingdom believe that marriage to Saudi women is the best way to continue living in the Kingdom by transferring their sponsorship to their Saudi wives.
http://www.arabnews.com/news/574276
---------
Women's Reproductive Health: Conditions in Bangladesh must improve
May 21, 2014
Bangladesh needs to improve the overall sexual and reproductive health of women in the country, said speakers at a seminar in Chittagong yesterday.
Asian University for Women (AUW) organised the three-day long seminar titled "National Sexual and Reproductive Health and Rights (SRHR) Seminar 2014".
The sexual and reproductive health of women in Bangladesh is poor while maternal mortality is unacceptably high, said speakers on the first day of the seminar, adding that Bangladesh has one of the highest rates of child marriage in the world.
Dr Shuchi Karim, a senior research fellow of Institute of Educational Development, BRAC University, said Bangladesh has one of the lowest rates of birth registration in the world that constraints legal protection against child marriage.
She said 74 percent of the girls get married before the age of 18 and over one-third even before the age of 15.
Argentina P Metaval, Bangladesh country representative of United Nations Population Fund (UNFPA), and Gerben Sjoerd de Jong, ambassador of Netherlands to Bangladesh, also spoke.
http://www.thedailystar.net/city/conditions-in-bangladesh-must-improve-25014
---------
Syrian refugee children lose education
May 21, 2014
ZAATARI, Jordan — For 12-year-old Ahmed Mahmoud, school is a distant memory. Already, the Syrian refugee boy insists he is no longer a child.
Ahmed helps his father sell vegetables in a wholesale market near their makeshift refugee camp just outside Jordan's capital, Amman, where he has lived for the past year. On a recent day, he watched other kids play buy refused to join. Instead, he supervised them, scolding them if they argue or get out of line.
"These are children. I am a man. I am too old to be playing with them," Ahmed said, wearing a wristband with the colors of the Syrian flag.
He fiddled with a kite other children left behind, raising it in the air but then going and picking up his toddler brother who tried to join the children's games.
More than 2.8 million Syrian children inside and outside the country — nearly half the school-aged population — cannot get an education because of the devastation from the civil war, according to the UN children's agency, UNICEF.
They include a half-million children from among the wave of Syrian refugees that has flooded neighboring Jordan, Lebanon, Turkey and other countries in the region.
In Jordan, some 93,000 Syrian children are out of school, according to UNICEF — most, like Ahmed, because they have missed too much school already and are ineligible.
Aid agencies have set up schools in Jordan's main official refugee camp, Zaatari. But Ahmed's family left the camp more than a year ago because of overcrowding and lack of security and moved into a small informal camp of about 300 families farther south, just outside of Amman — where there are no schools.
The conflict in Syria, now in its fourth year, has etched itself deeply into Ahmed's childhood. He can vividly recount the devastation he saw in his home city, Hama, before his family fled.
"I want to go back to Hama to fight with the Free Syrian Army and liberate my country," he said.
Here is a selection of photos of Ahmed and other refugee children by Associated Press photographer Khalil Hamra.
http://www.saudigazette.com.sa/index.cfm?method=home.regcon&contentid=20140521205856
-------------
URL: https://www.newageislam.com/islam,-women-and-feminism/new-age-islam-news-bureau/rs720m-special-funds-meant-for-girl-students-withdrawn-by-pak-punjab-govt/d/87127