New Age Islam News Bureau
26 December 2020
• Nayla Tueini of Annahar: Media Personality of the Year at the 2020 Arab Media Forum
• Only 11 Per Cent of Women Have Access to Overall Financial Services in Pakistan
• Pakistan President Seeks Contribution of Women In Overall Development
• Rukhshana, One of Afghanistan's First Female Singers, Dies at 80
• Coronavirus: Egyptian actress Youssra tests positive for COVID-19
Compiled by New Age Islam News Bureau
URL: https://www.newageislam.com/islam-women-feminism/routine-strip-searches-women-prisoners/d/123891
--------
Routine Strip Searches of Women Prisoners Sparks Anger in Turkey
December 25, 2020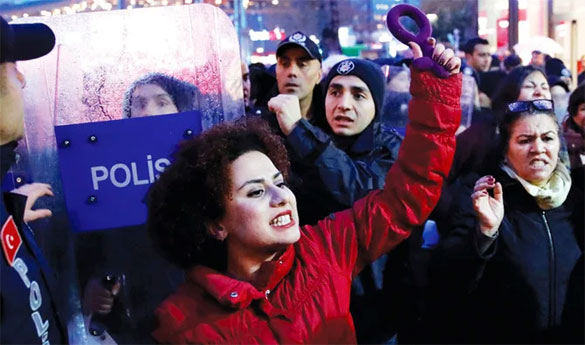 Women take out a protest demonstration in Ankara against the growth of violence and persecution against women and the inaction of the authorities. (Reuters/File)
------
ANKARA: Claims that Turkish police routinely strip search women detainees have sparked a war of words between the government and opposition MPs.
Pro-Kurdish People's Democratic Party MP Omer Faruk Gergerlioglu recently said that female suspects and detainees had been subjected to humiliating strip searches by police in provinces across Turkey.
Recently a group of female prisoners in the Aegean province of Usak claimed they had been forced to undress before being searched.
However, Turkish Interior Minister Suleyman Soylu has denied the allegations and accused Gergerlioglu of being a "terrorist."
"The person who casts such an aspersion on the Turkish police without proof is a rascal, dishonorable and low. Gergerlioglu is a terrorist," Soylu said.
But Gergerlioglu, a member of parliamentary human rights investigation commission, said that he was being attacked for revealing the truth.
"I stand against sexual harassment of women, men and children," he said.
The MP's allegations have been supported by thousands of prisoners who told dissident media outlets about their experiences of systematic sexual violence at the hands of police.
Among the claims are that children of women detainees have had their diapers checked for contraband items.
An investigation was launched on Dec. 23 after women shared accounts on social media of being strip searched.
Meanwhile, Turkey's prisons and detention authority has defended its controversial use of strip searching — or what it calls a "detailed search" — at its jails, calling it a "necessary" and "exceptional" practice to prevent the smuggling of forbidden items into prisons.
Strip searches are permitted under Turkish legislation if the detainee is believed to be carrying weapons or knives.
According to the Human Rights Association of Turkey, almost 170 women have been beaten in the past year after refusing to be searched.
Mustafa Yeneroglu, deputy chair of the DEVA Party, a breakaway from the ruling Justice and Development Party (AKP), said that he has been following up similar claims in recent months.
"The interior minister makes baseless allegations, and defends silencing Turkish people and subjecting them to ill-treatment. He even terrorizes the judiciary as he sees the rule of law as a burden for the government," he told Arab News.
Yeneroglu, who was previously the chair of the parliamentary human rights committee, said that the government should have investigated the allegations and "done whatever is necessary if there is a crime."
He claimed that four women recently had been subjected to a strip search before being admitted into a detention facility in Usak province.
"If you brand these people terrorists, all such practices are being legitimized. They only search the bodies of political prisoners, not those convicted of drug dealing, for example" he said.
Some women from conservative family backgrounds needed psychological support afterwards, Yeneroglu claimed.
"They couldn't even confess this traumatic experience to their own families. They cannot sue the authorities because they are also going through a terror investigation," he said.
Yeneroglu described strip searches as "dehumanizing" and "a serious act of humiliation."
"It is a violation of human dignity and now has become common practice on political prisoners," he added.
The hashtag "don't stay silent to strip searches" remained among trending topics on Twitter.
During his weekly parliamentary group meeting on Dec. 22, Kemal Kilicdaroglu, leader of the main opposition Republican People's Party, also said that he believed the claims were genuine.
A dissident female journalist, Aslihan Gencay, could spend an additional year in prison after objecting to a strip search when she was due to be transferred to another facility. She was placed in solitary confinement for three days and now faces a prison investigation.
https://www.arabnews.com/node/1782816/middle-east
--------
Nayla Tueini of Annahar: Media Personality of the Year at the 2020 Arab Media Forum
Tarek Ali Ahmad
December 26, 2020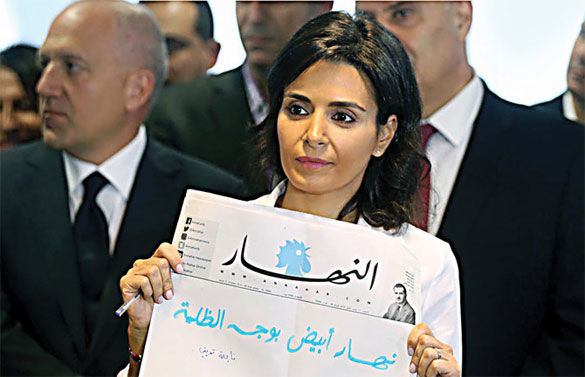 Nayla Tueni holds a blank edition of her newspaper during a news conference in Beirut. (Reuters)
-----
LONDON: In 2005 and at the young age of 23, Nayla Tueini's whole world virtually turned on its head. The young journalist was catapulted from undergoing a month-long training program at French newspaper Le Figaro, to being prepped to take over and lead one of the biggest Lebanese dailies, Annahar, after her father — renowned editor and publisher Gebran Tueini — was killed in a car bombing in the Mkalles suburb of Beirut.
"It was a big challenge because I was a young woman starting. I was in the middle of people with 30, 40, 50 years' experience, and they were saying, 'Who is she? She doesn't know anything. She's just a young girl … trying to have fun'," Nayla told Arab News.
Fifteen years later, at 38, she has been chosen as Media Personality of the Year at the 2020 Arab Media Forum, held virtually from Dubai, for her strong and steady leadership of Annahar through what has been described as Lebanon's worst year ever.
In 2020, the country experienced an unprecedented financial crisis, devaluation of the local currency, the coronavirus pandemic, the Aug. 4 blast at the Port of Beirut and ongoing political corruption.
The blast shattered the newspaper's glass-facade headquarters, which stands not 700 meters from the port.
"Having 30 injured people, blood around you, all the glass, everything … it was worse than the war," Nayla said. "It was a difficult year."
Fresh start
After arduous work and training in journalism and newspaper management under her grandfather Ghassan Tueini from 2005 until his death in 2012, Nayla took the reins of Annahar with fresh, innovative ideas to inspire a publication suffering in an industry in turmoil.
When the alarm bells of the financial crisis began sounding in 2017, newspapers across the country started shutting their printing presses, some even shuttering their doors.
Nayla was adamant to both keep the paper circulating and adapt to the rapid rise of digital and social media, regardless of some of her colleagues' criticisms.
"They weren't taking me seriously (with) what I was trying to do, and when I started the online … and becoming 24 hours with live news, with putting lifestyle, health, gossip … and to have more readers in a different way with videos, web TV, social media," the mother of three said.
"They'd say, 'No, we have a scoop, we have to keep it for tomorrow.' And I just always told them … 'You can't with all those changes. Social media users, bloggers, if they have news they'll post it as soon as they have it. They won't wait for the next day'," she said, adding that the paper now also includes special issues, editions and the newly launched Annahar Al-Arabi that caters to a pan-Arab audience and was announced mere hours before the port blast.
Looking back at her 15 years at the paper, Nayla humbly brings it all down to the editors, reporters and photographers who have kept Annahar going.
"When we have a success it's not just for me, it's for all the Annahar family," she said. "When they suffered with me, they really suffered. They were what kept Annahar alive. They were what made Annahar keep going."
Among the special issues that came out was the Naharoki edition, the feminine connotation of "Your Day" in Arabic, which featured an altered version of the Lebanese national anthem across the front page that included the line "for the women," given that the original only has "for the men."
During the October 2019 nationwide protests against government corruption, "we had an idea of doing Naharoki for women because the women were leading the revolution, they were the frontlines, and we decided to salute the women in the national anthem," Nayla said.
Another special issue came out in 2018. Annahar printed eight blank, white pages of its newspaper, and had its website and social media accounts do the same, in protest at the government-formation paralysis that had seen the country without an official Cabinet for months.
"Just to make a shock and to really express the anger we had, we had to put white paper, not black, because we believe in a better tomorrow, we believe in better days, we believe in everything, but we're speechless in front of those conditions," Nayla said.
A calling
Despite the uphill task of trying to keep a newspaper afloat in an ailing economy, the editor in chief asserts that she is a fighter.
"I always try, even when I'm not feeling well, to be positive and optimistic. Someone always sends me a message from above. I always get a sign that, 'You have to continue in the toughest of times. You have to fight'," she said.
"To lead this institution, and to follow what it was made to be from my father and my grandfather and to make it what it is — this responsibility is in my hands."
Ever since Annahar started publishing in 1933, Nayla said, the paper and its team have always had two role models: Her grandfather Ghassan and her father Gebran.
Ghassan was a "calm person who'd think, who was a philosopher, who believed in Lebanon and the Arab countries and would defend the Lebanese and Arab projects," she said.
"Then you had Gebran who was full of passion and full of revolution and believed in the freedom of journalism and freedom of speech. For him, Lebanon was more than his love — he gave his life for Lebanon. And he knew he was going to give his life to Lebanon for this freedom and for this journalism, and for Lebanon to be free from any interference."
https://www.arabnews.com/node/1782986/media
--------
Only 11 Per Cent of Women Have Access to Overall Financial Services in Pakistan
By Shahzad Paracha
Dec 26, 2020
ISLAMABAD: Around only 11 per cent of women have access to overall financial services in Pakistan.
A World Bank report states that women make up the majority of this unbanked population, where only 11 per cent of women have access to overall financial services, as compared to 21 per cent of men.
Around 100 million Pakistani adults do not have access to formal financial services, hinting at their use of conventional means for their financial management.
The report raises concerns on the matter since women are traditionally responsible for domestic affairs in Pakistani households and their economic empowerment is central to an empowered family.
In addition, as more and more women are entering the workforce and taking up important positions in the professional field, their financial management needs have increased manifold.
An overview of popular financial services in the country shows that the majority of these services are designed according to male usability, focusing on their specific needs, while females largely remain an excluded segment
Tapping on this issue, Hysab Kytab, a leading personal financial management application, conducted a digital experiment with the support of the Karandaaz Pakistan to promote the uptake of digital financial services among women and highlight the gaps left by financial service providers in targeting the female segment.
Karandaaz Pakistan promotes access to finance for micro, small and medium-sized businesses through a commercially directed investment platform, and financial inclusion for individuals by employing technology-enabled solutions.
After carrying out extensive secondary researches and elaborate analysis of the needs of female users, Hysab Kytab experimented with its own UI by modifying the interface content, illustrations, and overall feel of the application, that also catered to female users' needs along with its male users, and traced the impact of these modifications on service uptake by female users.
The results reflected stark differences in the before and after phase, with a rise in conversion rate by 10 per cent and a drop in user acquisition cost by 40 per cent. With such simple changes in the interface, the application was able to garner more female users.
It was also noted that these modifications did not affect the rate of male users since the changes were basically gender-neutral and inclusive, responding to the needs and preferences of both genders. Thus, it was found out that by taking the needs and preferences of female users into account and integrating them into their course of action, service providers can accelerate the uptake by female users remarkably and contribute in including the largely-excluded segment.
Where this inclusion is beneficial for social prosperity, it is also highly important for the greater economic welfare, where businesses can extend their services to the other 50 per cent and generate increased revenues from them.
By entering the untapped and underserved market through the introduction of specific products and services that relate to the specific needs of this segment, financial technology companies have an opportunity to increase their business exponentially. Therefore, providing services to female customers ultimately achieves the complementary goal of helping providers by expanding their customer base, and helping consumers by enabling them to use financial services to improve their lives and invest in the community.
https://www.pakistantoday.com.pk/2020/12/26/only-11-per-cent-of-women-have-access-to-overall-financial-services/
--------
Pakistan President Seeks Contribution Of Women In Overall Development
24 Dec 2020
ISLAMABAD: President Dr Arif Alvi on Wednesday emphasized the importance of contribution of women in the overall development of the country.
Speaking at a webinar on national initiatives to address gender based discrepancies and for the promotion of legal, economic and social empowerment of women, he said that women could not be empowered without their economic empowerment.
He said women needed to be encouraged in their economic activities, and called for social protection of the women. The constitution of Pakistan fully guaranteed rights of the women, he added.
The event featured a working session on issues confronting women, including property rights, legal, media, and other sectors, which later presented their recommendations for onward consideration by the government.
He said being a gender neutral, the country's constitution also guaranteed women rights and even provided special provisions; however the implementation of the relevant laws was far more important.
Highlighting the issues confronting women such as insecurity at police stations, delayed disposal of divorce cases, hesitance to register harassment or rape cases, and domestic violence, the president said such sittings would provide a timeline for relief to the women.
Dr Alvi told the gathering that almost 40 percent pregnancies took place owing to non-availability of contraceptives which must also be thought of while devising the policies.
Later, the representatives of respective working groups presented their recommendations on rights of women in media, their access to education, health, legal rights, and economic empowerment.
Following the recommendations, the president, in his concluding remarks, said all the proposals would be forwarded to the ministries concerned for their point-wise response along with the financial implication of the suggested measures.
He called for a wider discussion in media on women rights and awareness among them about the measures being taken for their facilitation.
Endorsing the pre-dominant campaign about harassment of women on social media, the president said though the men were also the victim of the tendency but the bigger damage was to the women.
He urged the political parties for their non-partisan reaction in such case.
He also agreed to the demand for women-specific facilities such as daycare centres, washrooms at workplaces, and called for a survey of offices in this regard.
Calling women the lowest risk in debt market, the president called for safe transport, workplace, women courts, and their security at police station.
Speaking on the occasion, Minister for Information and Broadcasting Shibli Faraz said protection of women's rights was utmost necessary as they made 50 percent of Pakistan's population.
He emphasized on highlighting social issues through literature, drama, and culture.
The event was attended by Law Minister Farogh Nasim, Human Rights Minister Shireen Mazari, Educations Minister Shafqat Mahmood, Information Minister Shibli Faraz, Special Assistant Sania Nishtar, Special Assistant to the Prime Minister on Health Dr Faisal Sultan, and others.
https://www.brecorder.com/news/40044231/president-seeks-contribution-of-women-in-overall-development
--------
Rukhshana, One of Afghanistan's First Female Singers, Dies at 80
By Mohammad Haroon Alim
25 Dec 2020
Afghan prominent singer Hamida Aseel, famous as Rukshana, died on December 20th in the United States of America.
Rukshana was the daughter of Aseel Khan Waziri, a general in the Afghan army.
She gained her popularity as a singer in the 1960s and 1970s in Afghanistan and was being credited for being the first among female singers to join the Afghan music industry after Mermon Parwin.
At the height of her popularity, she was exhibited in posters that were widely distributed in Kabul, and her photos also appeared on the covers and magazines of that era.
She reached a larger segment of Afghan society as she could sing in both National languages of Afghanistan (Dari and Pashto).
Rakhshaneh immigrated to the United States from Afghanistan following the political upheavals before 1360 (Solar Hijri Year), she has two children.
Rukhshana became isolated after emigrating and did not continue her musical career.
Her death was confirmed by the admired Shahwali Taranasaz's (Songwriter, Composer) family in a Facebook post, this family was close to Rukhshana.
She died at the age of 80 in Semi Valley in California.
https://www.khaama.com/rukhshana-one-of-afghanistans-first-female-singers-dies-at-80-778877/
--------
Coronavirus: Egyptian actress Youssra tests positive for COVID-19
25 December 2020
Legendary Egyptian actress Youssra confirmed in a Facebook post on Friday that she has tested positive for coronavirus, one week after attending an awards ceremony.
"My sincere thanks to all my friends inside and outside Egypt and to the generous fans for [asking about me] after confirming that I got infected with [the] coronavirus," she said on her official page.
Yossra also thanked the Ministry of Health and the medical teams who are caring for her.
"No words are enough to give these people what they deserve for their great effort in facing this virus, may God bless you all and cure all patients," the actress added to the post.
There was no confirmation on her condition or how she contracted the virus, however, on Thursday, the Egyptian star shared photos of herself holding an award on stage with a caption: "Throwback to Dear Guest Magazine Best Actress Award."
The awards ceremony, hosted by Dear Guest Magazine, was held on December 18 at the Dusit Thani hotel in Cairo. Other Arab a-List stars were in attendance, including Nelli Kareem, Yousef al-Sharif, Joumana Murad and Ilham Shaheen.
Videos and photos from the event show attendees sitting at dinner tables in a hall with no masks or social distancing.
In July, Famed Egyptian actress Ragaa al-Geddawy died at the age of 81 after contracting COVID-19.
In total, nearly 127,000 infections and 7,000 deaths have been confirmed in Egypt as of December 23, since the start of the pandemic, according to Reuters.
https://english.alarabiya.net/en/News/middle-east/2020/12/25/Coronavirus-Coronavirus-Egyptian-actress-Youssra-tests-positive-for-COVID-19-
--------
URL: https://www.newageislam.com/islam-women-feminism/routine-strip-searches-women-prisoners/d/123891
New Age Islam, Islam Online, Islamic Website, African Muslim News, Arab World News, South Asia News, Indian Muslim News, World Muslim News, Women in Islam, Islamic Feminism, Arab Women, Women In Arab, Islamophobia in America, Muslim Women in West, Islam Women and Feminism