New Age Islam News Bureau
23 June 2022
• A New "Boy Cut" Trend For Saudi Working Women and What It Means
• UAE's Women Engineers Love Solving Problems, Building the Nation
• UNIDO, UN Women Praise Egypt's Role in Supporting Women's Issues
• 'Emotional Independence of Muslim Women Discussed In Fatima Jinnah Women University's Seminar
• Islamic Marriage and the English Legal System: Nikah
• Iran share spoils with Guinea at IHF Women's Junior Handball World Championship
Compiled by New Age Islam News Bureau
URL: https://newageislam.com/islam-women-feminism/rosita-haji-baju-yazidi-isis-slave/d/127307
--------
Rosita Haji Baju, Yazidi Girl Rescued After Being Kidnapped at 8 in 2014, Sold in ISIS Slave Markets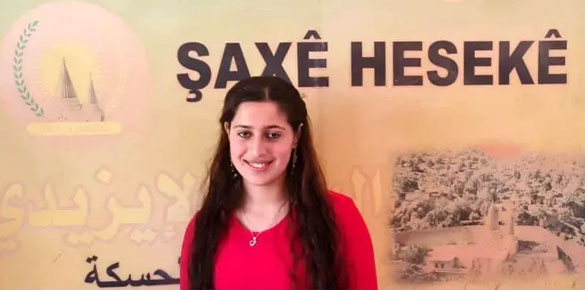 Rosita Haji Baju, 16, was recently rescued from the Al-Hawl refugee camp in Syria after she was abducted by the Islamic State (IS) on August 3, 2014, when she was 8 years old.
@MALAEZDIYAN/ZENGER
-----
6/22/22
The nightmarish ordeal of a Yazidi girl kidnapped by ISIS terrorists in 2014 when she was 8 years old and repeatedly sold between families as a slave has ended after she managed to contact a family member on social media from a refugee camp.
Rosita Haji Baju, now 16, had been terrified that if she revealed her past, she would suffer further abuse and instead sought help on social media, desperately hoping to find a relative she could alert to her ordeal.
Her nightmare began in August 2014 when ISIS invaded Shengal (Sinjar), Iraq, from nearby Mosul and the Iraqi army had fled. Men in her community were killed, and thousands of women and children were kidnapped, including Rosita who was just 8 at the time.
She ended up with her mother at Raqa in Syria where they were sold to an Algerian she named as Abu Islam. She said that her mother was raped by his brother and committed suicide shortly after.
Rosita herself was then repeatedly sold between different families as a slave and in March 2019, when ISIS was toppled in Baghouz, Syria, she ended up in a refugee camp with ISIS families. She was 13 at the time.
"Many times I wanted to tell the camp manager that I was a Yazidi girl but I was afraid that our society would not accept me," Rosita said.
She said she had also been threatened by extremists not to tell her story or reveal who she was.
Hussein Kuru, head of the Yazidi Abductees Affairs' Bureau in Duhok, Iraq, told Shafaq News Agency that Rosita will arrive in the Kurdistan region soon.
"Operations to locate the abductees are underway in al-Hol camp and other territories inside Syria," he said. "The federal government did not contribute to the release of the abductees. We asked for help many times but Baghdad has not made any step so far."
He concluded by saying that "More than 3,500 Yazidi children and women, from a total of 6,400, have been released so far."
ISIS subjected the Yazidis of Sinjar (Shengal) to a campaign of genocide beginning in August 2014. Thousands were killed and hundreds of thousands were displaced, most of whom fled to the Kurdistan region.
Many were subjected to atrocities and mass executions at the hands of the extremist group for years. ISIS forced women and girls into sexual slavery, kidnapped children, forced religious conversions, executed men, and abused, sold, and trafficked women and girls across the areas they controlled in Iraq and Syria.
Source: News Week
https://www.newsweek.com/girl-rescued-after-being-kidnapped-8-sold-isis-slave-markets-1718274
--------
A New "Boy Cut" Trend For Saudi Working Women and What It Means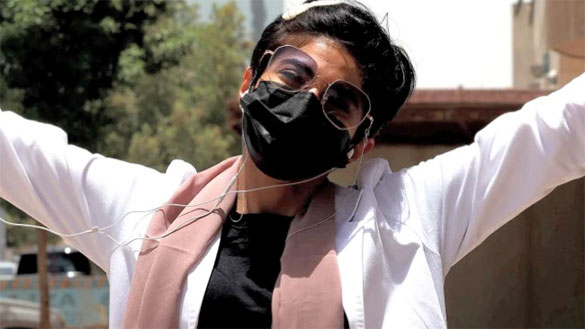 Many working women praised the "boy" cut as a tool for navigating their new professional lives.
-----
June 23, 2022
Riyadh: When Saudi doctor Safi took a new job at a hospital in the capital, she decided to offset her standard white lab coat with a look she once would have considered dramatic.
Walking into a Riyadh salon, she ordered the hairdresser to chop her long, wavy locks all the way up to her neck, a style increasingly in vogue among working women in the conservative kingdom.
The haircut –- known locally by the English word "boy" –- has become strikingly visible on the streets of the capital, and not just because women are no longer required to wear hijab headscarves under social reforms pushed by Crown Prince Mohammed bin Salman, Saudi Arabia's de facto ruler.
As more women join the workforce, a central plank of government efforts to remake the Saudi economy, many describe the "boy" cut as a practical, professional alternative to the longer styles they might have preferred in their pre-working days.
For Safi, who asked to be identified by a pseudonym to preserve her anonymity, the look also serves as a form of protection from unwanted male attention, allowing her to focus on her patients.
"People like to see femininity in a woman's appearance," she said. "This style is like a shield that protects me from people and gives me strength."
A practical time-saver
At one salon in central Riyadh, demand for the "boy" cut has spiked –- with seven or eight customers out of 30 requesting it on any given day, said Lamis, a hairdresser.
"This look has become very popular now," she said. "The demand for it has increased, especially after women entered the labour market.
"The fact that many women do not wear the hijab has highlighted its spread" while spurring even more customers to try it out, especially women in their late teens and twenties, she said.
The lifting of the headscarf requirement is just one of many changes that have reordered daily life for Saudi women under Prince Mohammed, who was named as the heir to his 86-year-old father, King Salman, five years ago.
Saudi women are no longer banned from concerts and sports events, and in 2018 they gained the right to drive.
The kingdom has also eased so-called guardianship rules, meaning women can now obtain passports and travel abroad without a male relative's permission.
Such reforms, however, have been accompanied by a crackdown on women's rights activists, part of a broader campaign against dissent.
Getting more women to work is a major component of Prince Mohammed's Vision 2030 reform plan to make Saudi Arabia less dependent on oil.
The plan initially called for women to account for 30 percent of the workforce by the end of the decade, but already that figure has reached 36 percent, assistant tourism minister Princess Haifa Al-Saud told the World Economic Forum in Davos last month.
"We see women today in every single job type," Princess Haifa said, noting that 42 percent of small and medium-sized enterprises are women-owned.
Many working women interviewed by AFP praised the "boy" cut as a tool for navigating their new professional lives.
"I am a practical woman and I don't have time to take care of my hair," said Abeer Mohammed, a 41-year-old mother of two who runs a men's clothing store.
"My hair is curly, and if my hair grows long, I will have to spend time that is not available to me taking care of it in the morning."
'Show of strength'
Saudi Arabia has traditionally outlawed men who "imitate women" or wear women's clothing, and vice versa.
But Rose, a 29-year-old shoe saleswoman at a Riyadh mall, sees her close-cropped hair as a means of asserting her independence from men, not imitating them.
It "gives me strength and self-confidence... I feel different, and able to do what I want without anyone's guardianship", said Rose, who did not want to give her full name.
"At first my family rejected the look, but over time they got used to it," she added.
Such acceptance partly reflects the influence of Arab stars like actress Yasmin Raeis or singer Shirene who have adopted the style, said Egyptian stylist Mai Galal.
"A woman who cuts her hair in this way is a woman whose character is strong because it is not easy for women to dispense with their hair," Galal told AFP.
Nouf, who works in a cosmetics store and preferred not to give her family name, described the message of the "boy" cut this way: "We want to say that we exist, and our role in society does not differ much from that of men."
Short hair, she added, is "a show of women's strength".
Source: ND TV
https://www.ndtv.com/world-news/a-new-boy-cut-trend-for-saudi-working-women-and-what-it-means-3092586
--------
UAE's Women Engineers Love Solving Problems, Building the Nation
By Ashwani Kumar
22 Jun 2022
As the UAE strives to bolster the manufacturing sector, Emirati and expat women engineers are proving their mettle at the workplace by shouldering responsibilities, earning their place and respect too.
As the country celebrates International Women in Engineering Day on June 23, women engineers who have broken through the glass ceiling at different entities of the state-run military contractor EDGE Group, share their experiences with Khaleej Times. Here's what they said.
Salama Al Dhaheri, design engineer, ADASI
Salama always wanted to be an engineer and work on the leading edge of advanced technology.
"Being an engineer means you are tasked with creating and innovating each and every day. This career provides meaningful solutions to problems involving climate change, health and so much more. By pursuing a career in engineering, you open up the potential to make meaningful contributions to individuals and communities locally, nationally, and beyond."
Her job at ADASI, an end-to-end solution provider within the autonomous systems industry, is to find innovative ways to modify existing products that provide new functions and meet clients' operational requirements.
Salama thrives at the workplace with her problem-solving skills.
"Throughout my education, I have learned that good problem-solving skills are necessary for an engineering career. Problem-solving skills support the overall development of solutions. Without these skills, engineers will run into more challenges and barriers. Innovation and curiosity go hand-in-hand when it comes to succeeding in the engineering field, and I have found that this, paired with a passion for what I do, allows me to do my best."
Salama is proud to see her design being manufactured and used on aircraft.
"I worked closely on Garmoosha, the first UAE-made VTOL unmanned aerial vehicle that was designed and built at ADASI. I worked on designing installation brackets and support tools so to see the product succeed is a major achievement for me."
She urges more women to enter the engineering field.
"Recruiting more female engineers can improve the design of new products and solutions to benefit both men and women. Women engineers are needed as role models to inspire more girls to study science and technology-based subjects and foster a new generation of technical professionals. It is important for us to engage with girls from a young age to ensure they grow up knowing that both boys and girls have a place in STEM subjects."
Janine de Wet, mechanical design engineer, design and specification department, HALCON
Janine's passion for aviation from a young age drew her to the engineering field
"Once I was in the field, I realised how exciting it was to be part of innovative projects, solve engineering problems and see your designs come to life. I also wanted to prove to myself and others that you can do anything you put your mind to and be an example to other females that want to become engineers."
And Janine chose to join the defence industry as she aimed to be at the forefront of advancements in innovation, technology and design.
"Working for an advanced technology company that is constantly looking for new and exciting projects that challenge engineers is thoroughly gratifying. From an engineer's perspective, it provides the required space to enhance our skills and capabilities."
On challenges of being a female engineer in a male dominated field, she said: "Being a minority in any situation comes with its own challenges and perhaps there is more to prove. Overcoming the challenge of being a female engineer in a male-dominated environment can take time. Once you show what you have to offer, get involved in projects and get your hands dirty where required, the respect will fall into place."
Janine, who has been part of various industries and started her own business, stressed that it's time that the perception that engineering is a male-dominated field gets changed.
"Gender is not a factor when becoming an engineer. Women have everything it takes – intelligence, ability to build relationships and to take the initiative. I would definitely encourage women to become engineers. It is a tough field but being a part of it is highly rewarding. The result of your hard work is directly seen when a project comes to fruition," said Janine, who became an engineering manager at the age of 26. "In five years from now, I hope to have advanced in my current company to a position of leadership and management and to strengthen my engineering design capabilities in defence."
Khasaiba Obaid Al Remeithi, architectural engineer, AL TAIF
Khasaiba underlined that engineering is a very exciting profession that allows you to innovate, be creative and challenge yourself. "It is a great outlet for the imagination, and the perfect career for independent thinkers. I always encourage women to enter this field, especially if they have an inquisitive nature, excellent problem-solving skills, and pay great attention to detail."
She said that the fields of mechanical or electrical engineering are still dominated by men, but they are becoming increasingly popular among women too.
"In my opinion, it is related to the cultural expectation and belief that engineering is a 'hard science' and therefore it is more suitable to men. For the most part, women tend to choose arts and softer sciences. I chose engineering because in this profession, we are constantly changing the world with inventions and solutions that affect everyone's lives. I studied Architectural Engineering as it is the only field which includes both science and art," said Khasaiba, who has been working at AL TAIF for nine years as an architectural engineer focusing on maintaining premises and designing new facilities that meet the evolving needs of the organisation and its employees.
A mother of five children, Khasaiba pointed out that maintaining a personal-professional balance can be done by setting priorities.
"For me, those priorities are always my family and work. Being organised and practising time management is a must. In addition, it helps to delegate tasks that can be handled by other people."
She was awarded a scholarship to do her masters at Masdar Institute in collaboration with Massachusetts Institute of Technology. "I completed my master's in engineering system and management. A key moment in my career was meeting globally renowned architect Adrian Smith who designed the world's tallest structure, the Burj Khalifa. I had the privilege of working closely with his firm on a great project too," she said about the different opportunities that come along the way in her job.
Alyazia Alshamsi, systems engineer, HALCON
Alyazia was attracted to engineering because it allows her to find solutions to technological issues.
"I have the opportunity to contribute in creating new technologies, products and develop solutions that will improve the UAE. The job never gets boring or repetitive because working in the engineering field constantly presents new challenges."
She noted that working at EDGE gives her the opportunity to contribute in developing defence systems that implement advanced technologies such as autonomous systems and artificial intelligence. Her role involves assisting in the research, analysis, system specifications and testing responsibilities related to design, development and integration.
"The challenges that we face as engineers are keeping up with the rapid growth of technology on a global scale. Overcoming these challenges takes a passionate and innovative mindset with a focus on developing emerging and disruptive technologies."
According to reports, some women decide to leave their field, especially engineering, to pursue other careers. Asked about this trend, Alyazia disagreed that gender plays a role in such decisions to switch or leave jobs.
"There are definitely some challenges for a woman pursuing a career in a male dominated field. Engineering is a tough job. However, people will have different reasons for leaving the engineering field to pursue other careers. Reasons that may not necessarily be tied to gender. In my opinion, engineering can be a physically demanding job, which may be overwhelming for some."
Alyazia pointed out that it was important for women to not be hindered by restrictions in the engineering field based on gender.
"If a woman decides to go into the field of engineering, she must be allowed to do so. I encourage more women to enter the engineering field. Engineers are artists in their own right. As an engineer, you have the ability to be creative, learn new things every day and contribute in the design of products and tools that will enhance the way people live," said Alyazia, who has done her master's in systems engineering and management.
Source: Khaleej Times
https://www.khaleejtimes.com/uae/never-boring-uaes-women-engineers-love-solving-problems-building-the-nation
--------
UNIDO, UN Women praise Egypt's role in supporting women's issues
22 Jun 2022
CAIRO – 22 June 2022: A joint statement by the United Nations Industrial Development Organization "UNIDO" and the United Nations Entity for Gender Equality and the Empowerment of Women "UN Women" praised the role of the Egyptian state in supporting women's issues.
This comes in conjunction with a conference highlighting the objectives of "Rabeha" program for economic empowerment of women, which is consistent with Egypt's Vision 2030.
Rabeha program aims to reduce the gender gap in the Egyptian entrepreneurship ecosystem, targeting 1,000 female beneficiaries age 21 and above, who often lack specific skills relevant to starting their own businesses throughout two years.
The program will pay attention to targeting women from underprivileged and rural areas in seven governorates, Cairo, Giza, Alexandria, Behira, Fayoum, Bani Sweif, and Minya.
According to the statement by both UN organizations, the conference, held on Wednesday, will review the upcoming UN plans aimed at promoting employment and self-employment in the governorates of Beni Suef, Fayoum, Minya and Giza.
Following this event, UNIDO intends to continue its support to institutions to link their activities and services for women with development partners and donors, ensuring wider reach to all women job seekers and aspiring entrepreneurs.
The statement pointed out that the program will build the capacity of the institutions participating in this event during the first quarter of 2022.
This included training a group of employees from five ministries and different government bodies, namely the Ministry of Local Development, the Ministry of International Cooperation, the Ministry of Trade and Industry and the Ministry of Youth and Sports and the Medium, Small and Micro Enterprise Development Agency. They will be trained on various topics related to women's economic empowerment.
The statement added that the training topics included methods related to how institutions can enhance their services that target job seekers and ambitious entrepreneurs at the governorate level, as well as strengthening comprehensive strategic partnerships to increase the numbers of self-employment and employment in the targeted governorates within the framework of the program.
Source: Egypt Today
https://www.egypttoday.com/Article/1/117051/UNIDO-UN-Women-praise-Egypt%E2%80%99s-role-in-supporting-women%E2%80%99s-issues
--------
'Emotional Independence of Muslim Women Discussed In Fatima Jinnah Women University's Seminar
Mohammad Ali
June 22, 2022
RAWALPINDI, (UrduPoint / Pakistan Point News - 22nd Jun, 2022) :The Department of Law at Fatima Jinnah Women University (FJWU) on Wednesday organized a seminar titled "Emotional Independence of Muslim Women and their Identity." Sahil Adeem, a well-known motivational speaker and Muslim influencer was the event's keynote speaker where he spoke at length on various issues, primarily emphasizing on the need of emotional freedom in the lives of Pakistani women.
The seminar's theme emphasized over women's financial and emotional independence in today's society as per the Holy Quran teachings.
The main goal of this session was to change the perception of women as the lowest common denominator in the society and to make all young women realize their stature and caliber.
The guest speaker discussed how negative stereotypes had confused islam with cultural customs, failing to acknowledge the progressive rights given to women by Islam.
He emphasized the participants to be aware of their own rights and strengths.
Sahil Adeem also shed light on some distinctive yet most vulnerable topics, such as, strength of women, liberalism and flexibility in Islam in granting liberty to women in several aspects, as highlighted in the Holy Quran and Sunnah.
To make the seminar more interactive, a question-and-answer session was scheduled at the end, with students asking questions to clarify their perspectives on various topics.
Source: Urdu Point
https://www.urdupoint.com/en/pakistan/emotional-independence-of-muslim-women-discu-1528532.html
--------
Islamic Marriage and the English Legal System: Nikah
June 22 2022
Introduction
Islam is now the second largest religion in the United Kingdom, with results from the United Kingdom 2011 Census giving the UK Muslim population in 2011 as 2,516,000, 4.4% of the total population, while more recent Office of National Statistics sources have it in 2018 as 3,372,966. With the rapid rise in numbers, it is no surprise that there are occasions when Sharia Law conflicts with English law. Hence why it is ever more important to look at this in the context of the English Courts. There is an increasing number of cases coming before the courts in England arising from this very conflict. To compound matters with further complications, the Muslims are mainly split up into two groups Sunni and Shia with several subgroups depending on which madhhab school of thought Islamic jurisprudence the individual believes in. This article considers the Sunni jurist's view according to the four main schools of thought, each named after the classical jurist who taught them. The four primary Sunni schools are the Hanafi, Sahafi, Maliki and Hanbali rites. The legal interpretation and application differ, largely depending on what methodology is being used and to what degree.
The aim of this article is to provide some guidance for Family Law practitioners in England and Wales on how best to deal with Muslim clients that have undertaken a Nikkah only. It is instrumental to have a good grasp of Islamic Family Law to be able to best advise the client on what is required and how it should be done. Managing the client's expectations has never been greater when dealing with matters of this kind. The complexities are insurmountable, especially when dealing with clients who have very little understanding of Islamic/Sharia Law and rulings. There are several sources that are required to be examined and understood to advise comprehensively. Islamic/Sharia Law legal rules are namely devised from the following four sources: The Holy Quran, Sunnah, Ijma and Qiyas. The outcome will differ depending on which school the client follows. The four schools of thought are now recognised by the vast majority of Sunni Muslims. It should be noted that these schools are in good agreement on all essential aspects of the religion of Islam. They all acknowledge the authority of the Holy Quran and the authentic Hadith (sayings, teachings, and observations of the Prophet Mohammad) (PBUH). Only in situations where these two sources are silent, do the four schools use their independent reasoning in which they may differ with each other.
The Demand for a Parallel System of Islamic Law
Rowan Williams, then Archbishop of Canterbury, gave his lecture on Civil and Religious Law in England on 7 February 2008 in the Great Hall of the Royal Courts of Justice. He had recently given two speeches touching on the themes that he would explore more deeply there: the first at the Building Bridges Seminar in Singapore on 6 December 2007; and the second, Religious Hatred and Religious Offence', at the James Callaghan Memorial Lecture in the House of Lords on 29 January 2008 (when the planned abolition of the common law offence of blasphemous libel was the subject of heated debate).] "Civil and Religious Law in England' might then be seen as the completion of a series of three lectures.
In the lecture at the House of Lords, the Archbishop had suggested: It is commonly said that since a religious believer chooses to adopt a certain set of beliefs, he, or she is responsible for the consequences, which may, as every believer well knows, include strong disagreement or even repugnance from others. But this assimilation of belief to a plain matter of conscious individual choice does not square with the way in which many believers understand or experience their commitments. For some - and this is especially true for believers from outside the European or North Atlantic setting - religious belief and practice is a marker of shared identity, accepted not as a matter of individual choice but as a given to which allegiance is due in virtue of the intrinsic claims of the sacred. We may disagree, but I do not think we have the moral right to assume that this perspective can be simply disregarded. It is one thing to deny a sacred point of reference for one's own moral or social policies; it is another to refuse to entertain - or imagine - what it might be like for someone else to experience the world differently. The uncomfortable truth is that a desacralised world is not, as some fondly believe, a world without violence, but a world in which there can be no ultimate agreement about the worth of humans or other beings.
Nikkah – Marriage Contract
The Literal and Religious Meaning of Nikäh
Nikkah literally means intercourse and union. In practical terms, it is a marriage contract that makes a sexual relationship between a couple permissible. In Islamic terminology, Nikkah is a marriage contract and with it, the couples can benefit from each other in a lawful way. Nikkah implies mutual benefit between couples.
Imam Shafi holds that Nikkah only means the marriage contract. However, the Quran uses this word with more than one meaning: "when they reach the age of marriage (mikab)." In another verse, Nikkah is used to mean sexual intercourse: "If he divorces her (finally, for the third time), she will no longer be lawful to him unless she marries (nikkah) another husband," Quran 20:230. This verse informs us that a woman who is divorced for the third time cannot lawfully remarry to her first husband unless, in the meantime, she marries another man, and the marriage is consummated through sexual intercourse. If she then divorces the second husband, it is lawful for her to remarry the first husband. Here the word Nikkah is used to mean sexual intercourse but not to mean the marriage contract. The meaning of Nikkah is extracted from the expression "another husband' in the previous verse. Thus, to understand the proper meaning of Nikkah, the context must be known. If God addresses the guardians of girls to get them married, the meaning of the marriage contract is understood from the context: "marry (Nikkah) those among you who are single (whether men or women)," Quran 24:32. Under Islamic law, marriage is viewed as a contract by which the parties agree to live as husband and wife in accordance with the guidance contained in two sources: The Holy Quran and the Sunnah of the Prophet Mohammad (PBUH).
Nikkah Contract and the treatment by English Law
It is a common misnomer that most Muslims believe that a Nikkah Contact performed in England and Wales is valid in the eyes of God, it is not a valid marriage per se under the law of England and Wales. It would stand then that the parties are merely cohabitees. Thus, Muslims must marry in a registered mosque in England and Wales in accordance with s.26(1)(a) Marriage Act 1949 or undergo a civil marriage as well as nikkah.
To help illustrate this it would be useful to consider the case of MA v JA [2012] EWHC 2219(Fam) [2012] All ER (D) 338 (Jul). The court was concerned with whether the parties' Islamic ceremony of marriage could create a valid marriage under English law and if so, whether the ceremony had in fact created a valid marriage in that case.
Facts
The applicant and respondent asserted that they were validly married pursuant to a ceremony of marriage which took place at a mosque in England. The mosque was registered for the solemnisation of marriages under s.41 of the Marriage Act 1949 (MA 1949). The applicant planned for the marriage. He knew nothing of the formal requirements of the MA 1949 and made no enquiries beyond his discussion with the chairman of the mosque.
During the ceremony, the parties were asked words to the effect of whether there was any reason why they could not marry and whether they both freely consented to marry. The parties each agreed to take the other as husband/wife. After the ceremony the Imam assured the applicant that the parties were now married and that there was nothing further, they needed to do. The parties signed a register book and were provided with a document signed by the Imam and headed 'Contract of Marriage'. The document certified that the 'Marriage Contract was concluded according to Islamic Sharia" and that the marriage was 'proposed by' the petitioner and 'accepted by' the respondent in the presence of two named witnesses. The parties failed to give notice to the superintendent registrar and there was no certificate of marriage. However, the parties intended to conduct a marriage which was valid under English law and believed that they had done so because of the ceremony. They had lived together as a married couple since the date of the ceremony. The respondent was subsequently advised by the Register Office that the marriage was not registered. The applicant supported by the respondent sought a declaration under s.55(a) of the Family Law Act 1986 that the marriage had been a valid marriage.
The intervener, the Attorney General, contended that the purported marriage was void under s.11 (a)iii of the Matrimonial Causes Act 1973, in that the parties had 'Intermarried in disregard of certain requirements as to the formation of marriage', or alternatively, that it was a 'non-marriage' on the basis that the ceremony had not even purported to be of the kind contemplated by the 1949 Act. Consideration was given to the principles summarised in Collett v Collett [1967] 2 All ER 426 and Hudson v Leigh [2009] All ER (D)124 (Jun).
Overseas Nikkah and its validity under English law
*Always check: GOV.UK getting Married abroad.
If you're a British national getting a marriage or civil partnership abroad, you might need certain documents from the UK government, for example, a certificate of no impediment (CNI). Use this website to find out how to get the documents you'll need.
You'll need to contact the local authorities where you want to get married to find out what you need to do. Your marriage or civil partnership will be recognised in the UK if both of the following apply:
you followed the correct process in the country where you got married; and
it would be allowed under UK Law.
Family Procedure Rules 2010, PD 7A, 3.1 provides that the validity of a Nikkah conducted overseas, if undisputed, is proved in England and Wales by the production of a marriage certificate or similar document issued under the law in force in that country; or a certified copy of such a certificate or document obtained from the register of marriages kept under the law in force in that country. Where a Nikkah contract is not in English it must be accompanied by a translation, certified by a notary public or authenticated by a statement of truth.
Akhter -v- Khan (2018) EWFC 54
Although the decision in the recent case of Akhter -v- Khan, has given some Muslim women 'hope'. It is important to note that Mr Justice William in the High Court stressed that each case will be decided on its own facts to see if it falls within the Marriage Act 1949. As the case was "not about whether an Islamic marriage ceremony should be treated as creating a valid marriage in English law". In his judgement, Mr Justice William declared that the parties 18-year relationship was void, as opposed to a non-marriage. Ms Akhter was therefore entitled to a decree of nullity under the Matrimonial Causes Act 1973, as they had only had an Islamic marriage ceremony and not a civil ceremony. The case of Akhter -v- Khan has opened the doors to various questions, to which no one seems to have the answer. It is however hoped that as these questions have arisen at an interesting time, this area will evolve in line with modern practices.
Conclusion
In the 21st Century, it is seriously surprising to note that approximately 61% of Muslims do not register their marriage in the UK as they believe their Islamic marriage, commonly referred to as Nikkah will be recognised in the UK. This is simply not true as the UK Courts generally do not sadly, recognise the validity of a Nikkah. It is seen to be a religious ceremony and so not seen as carrying the same weight as a civil ceremony.
As couples do not take steps to register their marriage in the UK, they find that they are without any financial security in the unfortunate event of a divorce, which often leaves women in a vulnerable position. Under Sharia Law, a husband can divorce his wife by saying 'talaq' three non-consecutive times, without addressing the division of any matrimonial assets. This differs to the way in which matrimonial assets are divided if divorce proceedings were issued within the UK Courts, which you can only do if your marriage is recognised under UK Law.
GLOSSARY
Madhab - A madhhab is a school of thought within fiqh. The major Sunni madhhabs are Hanafi, Maliki, Shafi'i and Hanbali.
Nikkah - In Islamic law, marriage – or more specifically, the marriage contract.
Quran - The Islamic sacred book, believed to be the word of God as dictated to Prophet Muhammad (PBUH) by the archangel Gabriel and written down in Arabic.
Sharia: Islamic canonical law based on the teachings of the Quran and the traditions of the Prophet (Hadith and Sunna).
Shia - The Muslims of the branch of Islam comprising sects believing in Ali and the Imams as the only rightful successors of Prophet Muhammad (PBUH) and in the concealment and messianic return of the last recognised Imam.
Sunni – A member of the branch of Islam that accepts the first four caliphs as rightful successors to Prophet Muhammad (PBUH).
Source: Lexology
https://www.lexology.com/library/detail.aspx?g=a719ae55-2a06-490a-a0fd-340e62f7e566
--------
Iran share spoils with Guinea at IHF Women's Junior Handball World Championship
June 22, 2022
Iran will play Tunisia in Group B on Thursday.
The 32 teams are divided into eight group of four teams.
The top two sides in each group will qualify for the main round, with pairings of two joining each other in the alphabetical order from the preliminary round groups (i.e., the Group A teams will face the Group B teams, Group C will play Group D, etc). Subsequently, the top two teams in each main round group will progress to the quarter-finals, as the other two sides will play the placement matches.
The Championship take place in three Slovenian cities Celje, Laško and Velenje from June 22 to July 3.
Source: Tehran Times
https://www.tehrantimes.com/news/473951/Iran-share-spoils-with-Guinea-at-IHF-Women-s-Junior-Handball
--------
URL: https://newageislam.com/islam-women-feminism/rosita-haji-baju-yazidi-isis-slave/d/127307
New Age Islam Islam Online, Islamic Website, African Muslim News, Arab World News, South Asia News, Indian Muslim News, World Muslim News, Women in Islam, Islamic Feminism, Arab Women, Women In Arab, Islamophobia in America, Muslim Women in West, Islam Women and Feminism