New Age Islam News Bureau
9 Aug 2015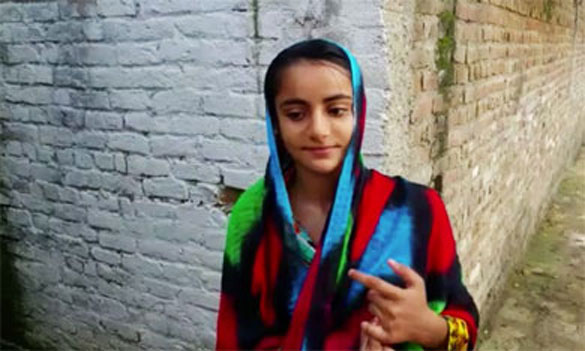 The fact that Nayab Bibi's arm has been paralysed since birth does not deter her from doing what she does best. - Photo by author
------------
• Romania's Disappearing Girls: Poverty, Desperation Drive Girls into the Arms of Sex Traffickers
• Taliban Hang Woman to Death in Badakhshan Over Adultery Charges
• 11-Year-Old Nayab Bibi — A Special Little Athlete from Swabi
• Women's Horror Rape Stories in South Sudan's Bentiu
• Pakistan's Biggest Child Sex Abuse Scandal Uncovered Involving 280 Children
Compiled By New Age Islam News Bureau
URL: https://www.newageislam.com/islam,-women-and-feminism/new-age-islam-news-bureau/romania's-disappearing-girls--poverty,-desperation-drive-girls-into-the-arms-of-sex-traffickers/d/104214
------
Romania's Disappearing Girls: Poverty, Desperation Drive Girls into the Arms of Sex Traffickers
August 9, 2015
On a mud wall in the corner of the back room where Stefania Nastrut lives with her father, the names of the brothers and sisters she never sees are written in a colourful teenage scrawl. Nearby sits the car battery that is the family's only electricity.
"I'm staying here only to finish my school," said Nastrut, 18.
"After I finish school, I will leave somewhere. I will not expect no one to give me money, to criticize me that he gives me money," she said.
Nastrut is a rarity in this hilly region of Romania, among the poorest in the European Union, simply because she is still there. By the time they reach her age, most teenage girls there — as young as 13 — have long quit school, with many disappearing into the realm of sex trafficking. According to the U.S. State Department's 2014 "Trafficking in Persons" report, one-third of Romania's trafficking victims are underage girls.
There, traffickers have a keen eye for those made vulnerable by their desperation to leave, making the girls ideal victims. The Eurostat 2015 report notes that Romania was one of the top five countries of origin for victims of human trafficking in the EU, as registered by organizations (governmental and nongovernmental) throughout the bloc.
Stefania Nastrut, 18, is a rarity in her region, the poorest in the European Union (EU), simply because she is still here. Teenage girls often quit school after the age of 13, many disappearing into the realm of sex trafficking. (Click to enlarge images)
According to ADPARE, a non-profit group working to prevent trafficking and protect its victims in Romania, fuelling the problem is the region's emergence as a sex industry destination. The country is routinely listed as a top destination on websites promoting and rating sex tourism.
Since its 2007 accession to the EU, Romania has become a major sex market in Europe — a development that can be seen on the streets of the capital, Bucharest, and in online advertising of Romanian erotic massage parlors. Strip club owner Gheorghe Anghel Alin, 30, said the market is booming. He has invested in two strip clubs in the past couple of years.
Some girls are trapped and sent to Spain, Italy or elsewhere, but most are taken to Bucharest because of the city's newly renovated allure and the ease of transportation.
"[As a foreigner], if you get your contacts right, you land at 9 in the evening on Friday, and by 11, you'll be with a girl. So it's faster, it's safer, it's cheaper. Not only sex-working, but everything — the hotels, the wine, the cigarettes," said Dan Popescu, the harm reduction coordinator for the Romanian Association Against AIDS, an NGO that offers needle exchanges, condom distribution and rapid testing for HIV and hepatitis B and C for at-risk populations in Bucharest.
The quiet farmlands of eastern Romania smell of wood fire. Horse-drawn carts sprint along the highways of hilly Bacâu County, Romania, disturbing the halo of smoke surrounding the farm where Stefania Nastrut lives with her father. (Click to enlarge images)
Romania's response to trafficking, according to the Global Slavery Index, is among the worst in the EU.
"It is very difficult to find the real number of victims. You can identify a girl that's been trafficked for a year. You identify her this year, but she's been trafficked for a year. When do you report her — as being trafficked last year or this year? It's very difficult to keep track of victims," said an anti-trafficking officer at the Romanian Directorate for Combating Organized Crime. She declined to be named because she works undercover on cases.
"Internal traffic is rising … its exploitation on Romanian territory," she continued. "It's an invisible crime. Not only on the streets — in apartments as well as hotels … Most of the time, you can't walk by her on the street and recognize she's a victim."
In Romania, people who testify in court against their traffickers are publicly named by the police, making combating trafficking — an enterprise with strong ties to organized crime — even more difficult. Compounding the problem is the fact that the Romanian parliament in 2014 reduced sentences for traffickers from five to 15 years to three to 10 years.
Viola Tudor, a convicted human trafficker, served his sentence at the Timisoara prison in western Romania. Sitting in a visiting room, Tudor wasn't shy about explaining his role in trafficking, claiming that he helped the girls he sold – and boasting of the monetary temptations of a product that can be sold and resold, over and over, with high profits. (Click to enlarge images)
"With this new penal code changed last year, many people come here in our penitentiary, and they are accused of trafficking with minors and adults," complained Viola Tudor, a convicted human trafficker serving his sentence at the Timisoara prison in western Romania. "They have been in prisons before, and they get three years. And you give me — arrested for the first time but arrested two years ago — eight years?" he said.
Sitting in a visiting room, he was not shy about explaining his role in trafficking, claiming that he "helped" the girls he sold — and boasting of the monetary temptations of an industry in which girls and women can be sold over and over.
"I had girls from the whole country. I had a guy in a nearby village, and he was looking for the girls for me. He was asking for 500 euros [about $750 at the time] per girl," he bragged. "In the worst night, a woman would make you 300 euros. There were some nights when a woman made 1,500 to 2,000 euros.
Tudor was released in early May, after four years of imprisonment, for good behavior.
An air of shame and a culture of extreme privacy prevent most communities from confronting the traffickers who take away so many girls.
Despite the pronounced absence of young women in one village, when asked about sex trafficking, a local priest, who declined to be identified, whispered that the people in his community are very private.
"I've heard about it, but I've never seen evidence of it here," he said.
Some police visit schools in an attempt to educate girls on the issue of sex trafficking, but it is often boiled down to a lesson to stay away from bad men.
Most girls remain unaware of the real fate that awaits girls who follow the often familiar faces of men known as lover boys.
The lover boy method is the technique most often used to recruit girls. A trafficker purports to fall in love with a vulnerable girl, offering romance, nice dinners, gifts and the promise of a fairy tale life far away.
The lover boy then claims to fall on hard times and persuades the girl to sell herself just to help make ends meet for a short time.
Once the girls are swayed into selling their bodies, manipulated into feeling obligated to repay the lovely meals and gifts, they are often too ashamed to return home, fearing they will no longer be accepted.
They are sometimes videotaped and threatened with blackmail, then prostituted from apartments, out of sight from police and society.
The local police are often involved in the trafficking, and the girls have no governmental protection. Romanian police declined to give an official response to Al Jazeera's interview requests.
And when they stay in the trap, they don't see the money they earn," said Yana Matei, the director of Reaching Out Romania, an NGO.
"There are always some bad people," said an anti-trafficking officer at the Directorate for Combating Organized Crime, who did not want to be named.
But, she said, she knows the work of only the 250 officers in her force, who, she said, are not involved in trafficking and are well educated in the different methods traffickers use.
For the police in Bucharest and across the rest of Romania, unless there is obvious physical evidence of restraint or coercion, sex trafficking is often conflated with prostitution. While both are illegal, prostitution implies consent by all (adult) participants; sex trafficking does not, and it frequently involves minors.
"We see only prostitutes on the street," said a representative of the Bucharest police, who also declined to be named. He added that "those girls" do what they do by choice. "We don't see trafficking."
She says the girls rarely talk with one another about the trauma they experienced. Instead, they attend school, learn how to be teenagers and discover the meaning of self-respect.
In the hallway of the shelter is a crib for girls who became pregnant while captives of the traffickers. Two sisters at the home tattooed the names of their family members on their bodies, "to keep them close," one said.
The girls' stories are similar: Loveless homes. An attractive young man. Lost in guilt. Perhaps drug use, either forced on them by the traffickers or used as a means to forget. And a feeling that there is no one they can trust. Sometimes they are lured by another girl.
"I met a girl and mentioned my problems with Mom," said one girl, who was 14 when she was trafficked from her village outside Timisoara.
"She then invited me to move into her house. I said yes because I couldn't live with my mother. The girl's father was invalid, in a wheelchair, and her mother was doing the exact same thing, like her daughter. I found later, everybody knew what was happening there," said the girl, now 15.
"Even my doctor told me that the house was like a nightclub, a bar," she said. The girl stayed at the house for four months before she could escape.
"The worst things are the beating and the reputation. The most painful thing is to hear people shouting at you on the street that you did this or that," she said, adding that there were other girls in the house, all from broken homes, too ashamed to go back.
"The girls feel guilty. They feel they don't deserve any good coming their way," said Matei. "They think they are stupid for falling for it … They have low self-esteem. No self-worth. That is the biggest hard thing to go through … and then to motivate to go to school."
A 13-year-old girl displays her drawings at the shelter. She escaped her sex traffickers about 6 months ago. "The girls feel guilty. They feel they don't deserve any good coming their way," said Yana Matei. "They think they are stupid for falling for it … they have low self-esteem. No self-worth. That is the biggest hard thing to go through … and then to motivate to go to school." (Click to enlarge images)
Although the shelter's location is kept secret, the local villagers know the girls there as the "whores on the hill," said Matei's son, Stefan Matei, who also works at the shelter.
"It's organized crime. And they [law enforcement and government officials] choose not to react," said Yana Matei.
"We should ask ourselves this question, 'Are you going to do something about this, or are we going to look the other way?' Where is the police? Where is the interest to fight this crime? It's lip service."
Some of the names in the story above have been changed to protect the privacy of the subjects.
http://projects.aljazeera.com/2015/08/sex-trafficking-in-romania/index.html
------
Taliban Hang Woman to Death in Badakhshan over Adultery Charges
By KHAAMA PRESS - Sun Aug 09 2015
The Taliban militants have hanged a woman death over adultery charges in northeastern Badakhshan province of Afghanistan, local officials said Sunday.
The officials further added that the woman was found guilty adultery during a tribal court hearing conducted by the Taliban militants.
The provincial governor spokesman Ahmad Nawid Frotan confirmed the incident and said the woman was hanged in the restive Teergaran district.
He said the woman was hanged to death on Saturday in Sarda area which is under the control of the Taliban militants.
Badakhshan is among the relatively volatile provinces in northeastern Afghanistan where anti-government armed militants are actively operating in its various districts and frequently carry out insurgency activities.
This comes as reports emerged earlier that a woman was sexually abused by the Taliban militants and was then executed in this province.
http://www.khaama.com/taliban-hang-woman-to-death-in-badakhshan-over-adultery-charges-9571
-----
11-Year-Old Nayab Bibi — A Special Little Athlete from Swabi
ALI AKBAR 09 08 2015
PESHAWAR: Nayab Bibi is a fast runner. The fact that her arm has been paralysed since birth does not deter her from doing what she does best. She returned a champion to her hometown of Maneri Payan in Swabi district of Khyber Pakhtunkhwa (KP).
Nayab made her country proud in the 2015 Special Olympics in Los Angeles. She brought home with her a bronze medal in the 200 metre run. She also came fourth in the relay race and sixth in the 100 metre run.
11-year-old Nayab is unaware of exactly what she has achieved for Pakistan, but she feels proud. She knows that she did something important when relatives, guests and officials come to her home to visit and congratulate her.
A group of people waits in the hujra of her house to congratulate her. The young athlete is dressed in a colourful shalwar kameez and scarf. She follows her brother, Abdullah, and her uncle, Shafi Kaka, into the hujra.
The visitors stand up and congratulate her and her family on her success. She sits down on a wooden sofa as her medals and ribbons are displayed on a table in front of her. She realises that she has done something special.
When asked by reporters how she feels after winning a bronze medal, Nayab looks uncertainly at her family and doesn't respond. She's not used to speaking in front of elders, especially men. But when she's asked if she's happy that she won the medal and whether she'll participate in future competitions, she nods shyly.
Her uncle tells her that she has made Pakistan and her village very happy by winning a bronze medal. "It's an honour for Pakistan that our little Nayab won the medal and we will continue to support her to bring credit to our country."
Abdullah is very happy with Nayab's success at the World Games. He recognises her school, which teaches special children. "It's all possible because of Mashal School and the teachers. They worked hard with Nayab and provided her opportunities within the country and abroad to participate in events," he said.
Mashal Institute for Education was established in 1998 for special children. Currently, 166 students are enrolled – 64 girls and 102 boys. The school accommodates students from play group to matric.
According to Mr Abdul Wahid Ghaznawi, Director Administration of the institute, the school educates students free of charge. It has its own board of directors and runs on donations. Mr Ghaznawi added that four special students from Mashal, including Nayab, participated in the Special Olympics. They collectively won four medals, two silver and two bronze.
At the last World Games four years ago, seven students participated and won four gold medals, two silver medals and one bronze medal. The administration said that students specifically prepared for participation in the Special Olympics at school.
Before the World Games in Los Angeles, Nayab has participated in the National Games and won several medals and ribbons.
http://www.dawn.com/news/1199214/nayab-bibi-a-special-little-athlete-from-swabi
-------
Women's Horror Rape Stories in South Sudan's Bentiu
08 Aug 2015
Bentiu, South Sudan - The displaced women of Bentiu have horrific stories to tell.
They came from villages in Unity State in South Sudan. When recalling home, one of the first things they'll mention, and with pride, is that they owned cattle.
Cattle are South Sudanese gold.
The greater the number of cows one owns, the higher the social status. The women described their lives as simply "happy and peaceful".
But quickly our conversations turned to husbands and uncles, sons and neighbours who were killed or who they haven't seen since the country's almost 20-month civil war came to their doors.
Anna fled her village in May.
The 50-year-old woman says when South Sudanese soldiers arrived in her village, they treated her family and neighbours "like animals".
She says they killed her husband when he was trying to protect their cattle, shot her six-year-old stepson in his bed and gang-raped her and her daughter.
When I asked if she tried to plead with the soldiers to show some humanity she said: "If you opened your mouth, they would kill you."
She told me she spent five days at the mercy of soldiers thinking, "There was no God if something like this could happen," but telling her six children that "they would be safe again when they arrived at the UN Mission in South Sudan".
She says before the soldiers left her village they burned her home, making sure to also burn the family's supply of sorghum.
Then, what was left of Anna's family began their almost week long walk to safety at the displacement camp in Bentiu.
But arriving at the camp doesn't mean an end to the violence for everyone - certainly not for Mary, a 24-year-old woman who hoped to become a doctor, before war forced her to take her two small children to the displacement camp.
She hasn't seen her husband since she left home.
If he's alive and she reunites with him, she says she'll tell him that she was raped, because he needs to know. But she says she will understand if he leaves her.
Like many women in the camp, Mary would walk into the bush to collect firewood to sell.
She says one day she and a group of women were gang-raped at gunpoint by South Sudanese soldiers.
When I asked her why she thought the men hadn't killed her she said: "We were almost as good as dead. After they did a bad deed and they leave you like that, you're as good as dead. You're useless. All that's left is that they shoot us."
Anna and Mary's stories are not unique in the camp.
In fact, during our visit, the International Rescue Committee or IRC, held a meeting with some of the community leaders to address the growing number of reported rapes of women, while they're deep into the bush collecting firewood.
The women are aware of the dangers and are taking risks to survive. Food is already scarce as the camp population has doubled to about 124,000, since the beginning of the year.
We asked presidential spokesman Ateny Wek Ateny about allegations that the South Sudanese soldiers were using rape as a weapon of war.
He says an investigation is under way and if individuals are committing atrocities, they'll be punished. But he cautioned against believing in allegations of mass rape by soldiers.
"The country is polarised and divided. You will find people who will say things that shock you because they don't want to tell the truth. It's a smear campaign against the government," he said.
Aid groups say all parties in South Sudan's civil war are guilty of sexual violence against women.
The IRC says it's already helped thousands of women in Bentiu alone.
Joanne Creighton, the group's Senior Women's Protection and Empowerment manager describes the issue as "endemic" in South Sudan.
Even if women report rape and seek treatment, there are already limited resources in the country to assist them.
Accessing them if you're displaced is even harder.
Mary says since being gang-raped she hasn't been able to get tested for HIV or any sexually transmitted diseases. The young mother is now wracked with worry that she's contracted something and is going to get sick.
http://www.aljazeera.com/blogs/africa/2015/08/women-horror-rape-stories-south-sudan-bentiu-150808222140831.html
------
Pakistan's Biggest Child Sex Abuse Scandal Uncovered Involving 280 Children
By KHAAMA PRESS - Sun Aug 09 2015
Shocking report has emerged from Pakistan revealing the country's largest ever child sexual abuse scandal involving almost 280 children.
According to the local media reports, more than 400 videos featuring more than 280 children forced to have sex, have been discovered in Kasur district of Punjab province.
The videos purportedly shows the sexual abuse of children aged as low as 6-year-old, while majority of the children have been reported to be under the age of 14.
In one of the videos obtained by the authorities, a 6-year-old boy is shown performing a homosexual act by force, while another video shows a 10 year-old girl being molested by a 14 year-old boy.
Another video also shows a boy being molested by five to six men with reports suggesting the victims were initially intoxicated with drinks or injected with a drug in their spine.
At least seven suspects have been arrested in connection to the massive child abuse scandal with authorities admitting child abuse cases were being reported in Kasur for last several years. However, they insist that the issue has links with land dispute.
The issue was reportedly uncovered earlier this week following a clash between the parents of the victims and police officials where almost 4,000 people had gathered to protest against police for failing apprehend those who were behind the child abuse crimes.
The protesters also accused the police of being involved with the criminal gangs who were perpetuating such nefarious activities.
According to the protesters, at least 25 young men and teenagers are involved in the massive child sexual abuse scandal and at least two individuals who are believed to be 40-year-old are supporting the group.
The sexual abuse of the children reportedly began in 2006 and continued till last year.
http://www.khaama.com/pakistans-biggest-child-abuse-scandal-uncovered-involving-280-children-9574
---------
URL: https://www.newageislam.com/islam,-women-and-feminism/new-age-islam-news-bureau/romania's-disappearing-girls--poverty,-desperation-drive-girls-into-the-arms-of-sex-traffickers/d/104214