New Age Islam News Bureau
21 Aug 2016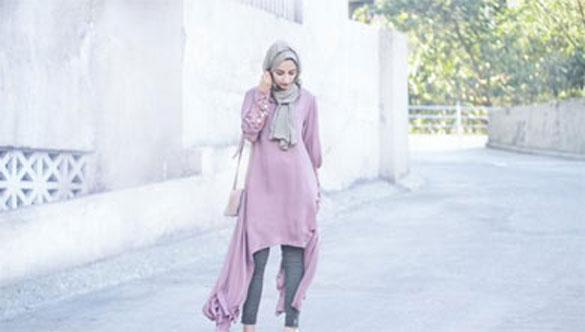 Blogger Farheen Naqi is the most popular face of the Hijabi fashion movement in India, with hundreds of followers on social media. She calls her blog a platform to style clothes in modest, yet modern ways. (Filter Fashion Blog)
----------
• Where Hijab Meets the High-Street: Modest Fashion Has Reached India
• Burkini Changing Lives for Muslim Women
• ISIS Is Still Holding Nearly 2,000 Yazidi Women as Slaves
• France's Liberal TraditionsWon't Be Helped by the Burkini Ban
• Meet the Pakistani Woman Who Topped the Bar across Commonwealth
• Germany's Potential Burqa Ban: Muslim Journalist Reacts
Compiled by New Age Islam News Bureau
URL: https://newageislam.com/islam-women-feminism/romance-novellas-women-nigeria-challenge/d/108319
-------
Romance Novellas by Women in Nigeria Challenge Traditions
Michelle Faul, Associated Press August 20, 2016
KANO, Nigeria – Nestled among vegetables, plastic kettles and hand-dyed fabric in market stalls are the signs of a feminist revolution: piles of poorly printed books by women that advocate forcefully against conservative Muslim traditions such as child marriage and quick divorce.
They are part of a flourishing literary movement centered in the ancient city of Kano, in northern Nigeria, where dozens of young women are rebelling through romance novels. Handwritten in the Hausa language, the romances now run into thousands of titles. Many rail against a strict interpretation of Islam propagated in Nigeria by the extremist group Boko Haram, which on Sunday posted video showing dozens of the 218 girls militants abducted from a remote school in April 2014.
"We write to educate people, to be popular, to touch others' lives, to touch on things that are happening in our society," says author Hadiza Nuhu Gudaji, whose views have gained a recognition unusual for women in her society.
Gudaji's novellas are so popular that she is invited to give advice on radio talk shows. She describes how she was able to influence the future of a 15-year-old who called in, begging the novelist to persuade her father not to force her into marriage.
"We said: 'The father of this girl, you are listening to us, you hear what your girl is saying,' " Gudaji recounts. " 'If you force her, maybe the marriage will not end so well, maybe the girl will run away and come to a bad end.' "
A few weeks later, the girl called to say thank you, and that she was back in school — a striking example of the kind of power the author wields.
The novellas are derogatorily called "littattafan soyayya," meaning "love literature," Kano market literature or, more kindly, modern Hausa literature. Daily readings on about 20 radio stations make them accessible to the illiterate.
"It's a quiet revolution," says Ado Ahmed Gidan Dabino, a male novelist, essayist, actor and head of the Kano branch of the Nigerian Writers' Association. "Nothing hard-hitting, but small, small, and gradually challenging."
They have become so popular that young girls call in to say they're learning to read because they want to follow more stories. That is no minor feat in a region that has more children out of school than almost anywhere on Earth.
In northeast Nigeria, the birthplace of Boko Haram, only one in five girls has had any formal education. Parents routinely pull 13- and 14-year-olds out of school to get married, and even the name Boko Haram means "Western education is sinful."
Boko Haram denounces the Western influences that are inextricably entwined with the romance genre — an argument Gudaji firmly rejects. Her 16-year-old son was blinded in one eye and took seven bullets during a 2014 Boko Haram attack on Kano's Grand Mosque. Boko Haram has also kidnapped girls from the Chibok school and married them off to militants.
"What they are preaching and doing is not in the Quran, it's un-Islamic," she says, waving a hand with a flower painted into the palm in violet-colored henna. "They are not really against education — their problem with the education of girls (masks) their own agenda."
Although the romance industry caters largely to women, it's often men who profit. The best-known reader on the radio is a man, journalist Ahmad Isa Koko, who raises his voice an octave to imitate a woman's.
Book hawker Adamu Said bought 70 novellas at the market one recent day, boasting that he can deliver them via motorbike to villages inaccessible by car. He purchases them for about 130 naira (65 cents) and sells them for 200, and has been doing so for 12 years.
"I make a comfortable living," says the 30-year-old, who makes enough to support his wife and 6-year-old boy.
The Maharazu Bookshop has piles of paperback novels reaching to the ceiling, some gathering dust on the floor. Two teenage girls look at posters of just-published books but are unable to read the titles. They say they just like the pictures.
Men sort through books by women
Owner Suleiman Maharazu is going through a list from a middle-age female reader who is too shy to be interviewed without the permission of her absent husband. They have titles that translate as "The Importance of Love," "Big Tragedy," "Your Face is Your Passion," "The Beauty of a Woman is in Cooking," and "The Woman Who Lost Control."
"I don't read them, I just sell them," says Maharazu.
Only a couple of the Hausa novels have been translated into English. "Sin is a Puppy that Follows You Home" was translated by Indian publishers and subsequently made into a Bollywood movie. The book is available on amazon.com, which describes it as "an Islamic soap opera complete with polygamous households, virtuous women, scheming harlots, and black magic." Author Balaraba Ramat Yakubu, a veteran founder of the movement, was herself a child bride twice, after her first husband returned her to her family, and she only learned to read and write as an adult.
Critics say the novellas give girls unrealistic expectations, inspire rebellion and are un-Islamic. The most famous disgraced book is "Matsayin Lover," about lesbian love at a girls' boarding school, dating to 1998. Abdulla Uba Adamu says his own friends and fellow writers forced him to remove the book from the market, though he insists it reflects reality.
The books may sound dramatic, but they often mirror life. In one recent Kano court case, a prosecutor sought the death sentence for a girl forced into marriage at 13 to a 38-year-old man whom she poisoned and killed. A human rights lawyer managed to get the girl freed, but her family rejected her because they had to return the bride price paid for her.
Sometimes the reaction is violent. Last year, one young writer was badly beaten. Young men gang-raped another in her home after she published a book about women's rights in politics, according to Gidan Dabino.
Some books are also banned or censored for steamy content. Gudaji says the Censorship Board has seized many books from the market. She hasn't had problems because she's careful.
"If I want to write about a husband and wife, there is a limitation," she explains. "A kiss is allowed but nothing deeper, or I will be fighting with that Censorship Board."
Gudaji has an iPad and smartphone, but says she writes best by hand, lying on her stomach on her bed. The completed story is taken to a business center, where a clerk types it up and puts it on a memory stick. With that, she's ready to go to a bookseller or publisher and bargain. Sometimes, a bookseller will buy a book and have it published himself. Often, however, the writers pay a printer and then take the books to a seller.
The romances are cheaply printed with covers of photoshopped stars from Nollywood, Nigeria's burgeoning film industry, or Bollywood, the Indian variety some writers are accused of plagiarizing. Many writers end up losing money.
Gudaji's first novel challenged a tradition where poor rural parents will send a child to family members in the city, hoping the child will be educated. Often they are turned into domestic slaves instead, ill-treated and raped by men in the home.
Her second novel addresses the scourge of divorce and how to deal with problematic husbands. In northern Nigeria, a man can divorce a woman simply by pronouncing three times, "I divorce you." When that happens, the former wife leaves alone and may not know what has happened to her children.
Not all the romances challenge the status quo. They range from the universal Cinderella story of a poor girl marrying a prince to how to behave when your husband takes a second wife.
And even for Gudaji, tradition still holds. Happily married, she still has to seek the permission of her husband to allow two male journalists into her home. She was not a child bride, she insists, though she is 38 and her oldest daughter, Khadija, is nearly 21. Khadija is studying physics at Kano's Northwestern University.
Gudaji explains the role of a dutiful daughter when parents want to arrange an unwelcome marriage.
"A girl may love a boy but if they don't suit, you have to stop her, and a girl has to obey her parents — 100%," she says, looking at her daughter and brooking no argument. "She must obey your rules and regulations."
freep.com/story/life/2016/08/20/romance-novellas-women-nigeria/88953652/
------
Where Hijab Meets the High-Street: Modest Fashion Has Reached India
Zehra Kazmi, Hindustan Times | Updated: Aug 21, 2016
Blogger Farheen Naqi is the most popular face of the Hijabi fashion movement in India, with hundreds of followers on social media. She calls her blog a platform to style clothes in modest, yet modern ways. (Filter Fashion Blog)
As far as portmanteaus go, the Burkini packs in the ultimate clash of civilizations. It brings together the burqa and the bikini in one innocuous-looking garment, a fully covered swimsuit, similar to the kind worn by scuba divers.
In France, the Muslim swimwear has become a trigger point, a symbol of fraught racial, religious and cultural divides. This week, three French resort towns, including Cannes, banned the Burkini from their beaches. The offending garment, said the Cannes mayor, fails to respect 'good morals and secularism '. The Burkini first hit the headlines in 2011, when celebrity chef Nigella Lawson was photographed wearing one on an Australian beach, an incident dubbed by the tabloid press as 'the great cover up'. Cut to March 2016: British retail giant, Marks and Spencers, decided to stock a Burkini line, drawing both praise and criticism.
Read:Disdain in Britain, US for French burkini ban
The target customers for this line were Britain's large population of Muslim women, who want to shop for fully-covered, yet functional and fashionable clothing. This is the demographic which as the heart of the modest fashion movement.
Of hijabs, high-heels and handbags
Farheen Naqi knows style. Her Instagram account, with a following of more than 23.2k, is one stunning shot after another. In one shot, the tall and willowy fashion blogger poses in a salmon pink abaya jacket over high-waisted trousers and heels. In another, she pairs a button-down blue cambric shirt with a khaki maxi skirt and a white hijab.
Farheen is perhaps the most popular face of the modest fashion movement in India, where young women are slowly experimenting with it. In 2014, she started her blog, Filter Fashion, as her "personal challenge" to style pieces in modest, yet modern ways.
"I wanted it to serve as a platform where I hoped girls like me could…see that it is possible to dress modestly and still be fashionable," says Farheen, who shuttles between Mumbai, Lucknow and Seychelles.
Across the country, in Chennai, 26-year-old Ayesha Nawab, a trained pilot and religious studies teacher, decided to make her Instagram account public, showcasing her zany mix of colour, headscarves and prints. "I got requests asking where I got my scarves from," says Ayesha, who goes by Miss_Nawabi on social media, "For girls coming out of the abaya zone, this was totally new."
The 'abaya zone' is an apt description of what modest dressing traditionally meant for Muslim women. In India, the preferred mode of modesty was a black burqa, consisting of a robe and a niqab which you tied under the chin. In later years, all-season polyester replaced cotton burqas, and you could buy jazzed up versions with embroidery or sequins.
The throwing back of the niqab, the signature move of heroines in Bollywood's Muslim socials of the 1960s, such as Mere Mehboob and Chaundvi ka Chand, is a thing of the past.
Other women opted for chadars over their salwar-kameez or dupattas covering their heads. Hijabs and abayas are fairly recent additions to the closet of Muslim women in India.
Social media has flattened the fashion landscape. Young girls wanting to experiment with modest dressing can find tons of #hijabinspiration and #chicmuslimahs on Instagram and Pinterest. On YouTube, there are hundreds of hijab tutorials – turbans, knotted on the side, stacked like a beehive with multiple folds.
"I think it's great that we're coming to a place where modest dressing for Muslims isn't being restricted to one thing," says Farheen.
The modesty movement
Globally, modest fashion is a well-documented trend, first popularised by Middle-Eastern bloggers and second or third-generation Muslims in the US and UK, often called hijabistas.
According to Junayd Miah, founder of Islamic Design House, an online portal, the movement traces its origins to the post-9/11 environment. After the backlash that followed, many Muslims in Europe and America started actively embracing markers of their 'Islamic' identity. In the face of hostility, donning the hijab became a political move for some. For others, it was a search for religious roots, a harking back to a more conservative interpretation of Islam.
Out of these tumultuous cultural negotiations, the modesty movement was born.
"This resulted in young Muslim women, in particular, wanting to dress in accordance with their faith," says Junayd, "But at the same time they wanted to remain fashionable & stylish…as part & parcel of their western identity."
Junayd launched the Islamic Design House in 2005. At that time, all that was available in the bleak landscape was the quintessential black burqa, imported from the Gulf. "These designs did not speak to our sisters as we had grown up with mainstream Western fashion brands," he says.
The business of modesty
Over the years, niche e-commerce sites have mushroomed to cater to the growing demand. Brands such as Haute Hijab, Inayah, Ruh, Shukr Clothing stock collections aimed at the modest Muslim consumer. According to the 2015-2016 State of the Global Islamic Economy Report , Muslim consumers spend an estimated $230 billion on clothing. It wasn't long before both couture and high-street brands took note. In September 2015, popular high-street brand H&M made a hijab-clad Mariah Idrissi the face of their new campaign . This January, Dolce and Gabbana launched a line of luxury hijabs and abayas , complete with their trademark lace detailing and embellishments.
The D&G collection is aimed specifically at the petro-dollar rich Gulf countries, but other hotspots include Turkey, which hosted the first ever modest fashion week last year, Indonesia and the Indian sub-continent.
In 2015, the Islamic Design House launched a dedicated website in India, due to the large following and requests made on their Facebook page. Their best-selling item? "The denim jilbab," says Junayd. "One of the reasons is that denim is strongly associated with western fashion and a symbol of modernity."
Homegrown innovation is catching up. Ayesha and her sisters have started Mysha, a by-request service to customise hijabs. Farheen has started sourcing scarves for a new online venture, tentatively, and quite aptly called 'Little Black Hijab'.
This Ramzan, Chennai-based friends and new hijab wearers, 23-year-old Nayaab Shawl and Shanaz Rukhsana, launched Hayaah Hijabs. Their own experience of the hot and humid Chennai weather informs their collection.
"In our climate, you can't wear a lot of layers. We focus on wearability and style," says Nayaab.
Their collection includes modern riffs on the hijab, including a pick-and-wrap line with bright colours and little pom-poms as well as a glam line in satin with pearl detailing.
"Our motive is to make hijab fun," says Shanaz.
The hijab debate
This idea – that there is no contradiction in mixing faith with fun and fashion – is at the core of the modest fashion movement. You can be fashionable and religious, it proclaims.
But it is difficult to talk of modest fashion without getting caught in the crosshairs of the furious debate surrounding it. On one hand, feminism is about respecting choice. The Burkini ban, as well as France's earlier ban on the burqa, violate this principle. But how much is choice influenced and conditioned by family pressure and socio-religious diktats? And, more troubling, does the modesty movement normalise the idea that women should cover up, that they have to keep themselves hidden from the eyes of lusty men?
Read:Nice becomes latest French city to ban burkini
According to Sabina Yasmin Rahman, a PhD scholar at Delhi's Jawaharlal Nehru University, the debate cannot be reduced to a competition between my liberation and yours. "Many women argue that in a society which sees them as sexual objects, covering up liberates them. By this definition, the opposite is true as well," she says.
"Wearing the hijab can be a choice, but you have to acknowledge that not wearing it is not a choice for many, many women," she adds.
Ayesha says she has fielded criticism from both sides – strangers who question her decision to wear the hijab and others who deem her clothing not modest enough. "When I was 18, my family wanted me to wear the burqa. I hated it. It was a cultural influence, not out of my own willingness." At 22, she chose to wear the hijab. "Eventually, you have to figure out how important it is you," she says.
Both Nayaab and Shanaz concur. Their 'hijab moment' was a gradual result of reading up about Islam, not a family compulsion. "I still don't wear the hijab every day. I am growing towards it," says Shanaz.
The world of modest fashion is in a state of constant churn. Along with the Burkini, abaya gowns, hooded jilbabs, hijab jewelry are all a reality. Nor is the innovation restricted to clothing.
Junayd has his sights set on updating the traditional prayer mat. "We have partnered up with Visual Dhikr, a contemporary Muslim artist and created a collection that will be really cool," he says. "Think prayer mat meets interior décor."
hindustantimes.com/fashion-and-trends/where-hijab-meets-the-high-street-modest-fashion-has-reached-indian-shores/story-n4d7TdrFYTtLpvPdq084vK.html
------
Burkini changing lives for Muslim women
August 21, 2016
Subel BhandariDeutsche Presse Agentur
Siham Karra-Hassan was 15 when her older brother took her to learn how to swim at a public pool in western Sydney.
Excited, she jumped in the pool wearing a cotton shirt and trousers.
"A few seconds later, a lifeguard came and asked me to get out of the pool because I was not dressed properly," she said.
"It was the most embarrassing moment of my life."
Karra-Hassan did not enter a pool again for the next 20 years.
"And then came the burkini, and it changed my life. It allowed me to go to the pool again. I learned swimming at the age of 35," said Karra-Hassan, who came to Australia when she was three.
Now, swimming has become part of her regular exercise regime, helping her fight postnatal depression.
The burkini, a two-piece swimsuit that covers the full body, was invented by an Australian woman, Aheda Zanetti, in 2004.
It consists of trousers and a long-flowing pullover that is attached to a hijood, or hijab hood, that covers the head but not the face.
Zanetti first came up with the idea of comfortable and modest activewear for Muslim women while watching her niece play netball.
"She was wearing track pants underneath her shorts. She looked extremely uncomfortable and hot," Zanetti said.
"I wanted to buy her modest sportswear, but I could not find any."
So she sewed a dress herself. After positive responses from friends and relatives, Zanetti moved on to swimwear, producing her first Lycra-Teflon burkini in June 2004.
Her company, Ahiida, now makes the garment from a high-performance stretchable polyester.
In recent months, many European towns and cities, including some in Germany and France, have started banning the burkini from public places.
"They should not use our garment for their political reasons. I came up with this so that we could integrate in Australia more easily," Zanetti said.
"[A] Muslim woman's body is always politicised. It doesn't matter whether she is covered or not," said Zanetti, who has also designed active sportswear for Afghanistan's women's football team and a Bahraini Olympic sprinter.
"[The] beach is a public space. The ban on the burkini in a public space is ignorance," said Karra-Hassan.
"They really want us to conform to their Western ideas. I am an empowered, independent woman.
"This is my body. It's my temple. I choose how I want to present it."
Zanetti said the backlash in Europe has boosted online sales.
"We are producing more than ever. In France, the sales have gone up by 30-40 per cent in the past three months. In Germany we had to change the delivery service to cater to growth in sales online," Zanetti said.
Growing up, Sydney resident Salwa Elrashid had always wanted to go to Europe. So when she got married last year, she considered going there for her honeymoon. Instead, she went to Dubai and Abu Dhabi.
"After seeing the backlash against Muslim women and refugees, I don't want to go there anymore. I feel like I will be restricted," the 23-year-old said.
"They think Muslim women are all oppressed, but with these kinds of bans they want to oppress us more," said Elrashid, a student at Western Sydney University.
"I am married and I have a husband. But I also work and study. I go out and have fun. I am doing all this out of my choice, not because someone is forcing me."
Elrashid said that without the burkini, she would not have been able to swim at all.
"If not [for the] burkini, then I would be wearing shorts with tights, which is extremely uncomfortable when wet. Also, you cannot use public swimming pools wearing shorts and tights because it would be hard for lifeguards to save you."
Zanetti said the burkini has given thousands of Muslim women the confidence to venture out and participate in an active social life.
"When I was young, none of these things existed. We wore normal cotton clothes and sat by the beach. We were restricted from using the pools. [The] burkini gave Muslim women power and freedom, and now they want to take it away," she said.
"This may be just a swimsuit, but it's a lot more than that for many of us."
news.com.au/national/breaking-news/burkini-changing-lives-for-muslim-women/news-story/eada16ca3f19e221b5ff0e7bc7b0de1b
------
ISIS Is Still Holding Nearly 2,000 Yazidi Women as Slaves
By Benjamin Gilbert
August 20, 2016 | 6:32 pm
The Islamic state still holds nearly 2000 Iraqi women as slaves, most of them Yazidis, and more than 300,000 Yazidis are still displaced almost two years after the group swept into the northern Iraqi district of Sinjar, according to a new United Nations report.
Sinjar district was home to more than 300,000 people — mostly Yazidis but also other ethnic minorities — before August 3, 2014, when Islamic State conquered the district, and at least 200,000 people fled north toward the safety of Kurdistan. Approximately 55,000 others fled to the barren slopes of Mt. Sinjar, which Islamic State surrounded. As temperatures passed 100 degrees, dozens perished before US airstrikes and Kurdish Peshmerga could open a corridor to allow the civilians to escape on August 8.
The UN now estimates that between 2,500 and 5,500 Yazidis were killed during Islamic State's offensive and subsequent occupation of the area's towns and villages. The group also abducted around 6,300 Yazidis, including 3,537 women and 2,859 men, and while many escaped, about 3,800 remained in captivity as of May 2016, the UN reported, including 1,935 women.
Testimony from Yazidis — an esoteric religious group that blends ancient Persian and pre-Islamic beliefs — and other ethnic minorities in the area included "accounts of systematic and widespread killings, sexual violence and sexual slavery, cruel, inhuman and degrading treatment, forced conversions and forced displacement, among other abuses of international human rights and humanitarian law," the report said.
Related: In Photos: Now Free From the Islamic State, It Has Been a Desperate Year for Sinjar
Women told the UN that Islamic State militants had sold them multiple times, and "snatched their young children and babies from them."
"One woman told how she was sold to a 26-year-old Syrian ISIL member who raped her regularly for at least 15 days, threatening to kill her daughters if she did not submit," the report said.
The report also contains many accounts of Islamic State killing captured men. "In one instance, up to 600 men were reportedly killed in Tel Afar District," the report said. "In other instances, members of the Yazidi community were forced to convert to Islam or be killed."
The report states that the violations and abuses committed by Islamic State may amount to war crimes, crimes against humanity and genocide.
"Thousands of men, women and children have been killed or are missing, or remain in captivity where they are subjected to unspeakable sexual and physical abuse," said Special Representative of the UN Secretary-General for Iraq, Ján Kubiš. "Faced with such evidence, it is of paramount importance that the perpetrators of these heinous acts are fully and properly held to account."
news.vice.com/article/isis-is-still-holding-nearly-2000-yazidi-women-as-slaves
------
France's liberal traditions won't be helped by the burkini ban
Sunday 21 August 2016 00.05 BST
Liberal Europe is fighting for its life. Across our continent, it is suffering reverse after reverse before the onslaught of violent jihadism, which in turn can provoke Islamophobia. In vain do European liberal leaders – politicians, philosophers, civic officials and even some journalists – counsel against stigmatising an entire religion for each successive crazed killing. The wider population is less willing to hear pleas to hold its nerve. Muslims should be confronted and stigmatised. Let there be a clash of civilisations.
I told a close friend I was planning to write about the several French seaside resorts that have banned the burkini, backed by the prime minister, Manuel Valls, and Germany's proposed partial ban on wearing the burqa in public places. This comes with the gathering strength of mainstream feeling in both countries that they need to affirm their secular values and identity, not least to close down opportunities for the extreme right.
German minister to propose ban on full face veils in wake of attacks
I don't get it, my friend said, anticipating my argument. Yes, many Muslims share our values. But liberals like you connive in not condemning a religion and culture, dimensions of which are offensive not just to what you believe in, but to any conception of universal human values. Islam – or versions of it – either indulges or actively supports misogyny, homophobia, medieval conceptions of justice, stoning, genital mutilation and oppression of women. Women covering their bodies in public is not even required by the Qur'an. It is rank oppression of women by men. Yet it is left to the populist right to acknowledge these truths. Liberals like you plead for tolerance of the intolerable.
We don't. Of course those illiberal dimensions are damnable and offend not just the canons of a liberal society but of any statement of universal human rights and values. One might also agree with the German interior minister who argued that burqas undermine social cohesion and are intrinsically divisive. The same is true of covering up on the beach. But is the best way to respond by descending into bans? Is it right, desirable or likely to be effective? Who ever won or wants such a clash of civilisations?
It has become fashionable to lampoon multiculturalism and its respect for diversity as a source of our problems in Britain. But assimilationist, anti-multicultural France, which banned wearing the burqa six years ago, finds itself as the epicentre of Islamic terrorist attacks in Europe. The first waves of Muslim immigrants into France (from North Africa), into Germany (from Turkey) and Britain (from Pakistan and Bangladesh) were broadly secular; mosque attendance was minimal. Today in all three countries it is rising, as is the wearing of symbols of religious and ethnic identity. That's the case whether a country has championed multiculturalism, as in Germany or Britain, or assimilation, as in France. Identity, in 2016, has come to matter more, not less, for both Muslims and wider populations alike. Until that changes, the chances of an internal revolution in Islamic cultural attitudes – towards women, gays, justice and even tolerance to other religions – are minimal.
The rise of identity politics is fundamental. Contemporary western societies have become very weak in offering their citizens meaning. The French writer Michel Houellebecq, whose bestselling book, Submission, in which an Islamicised France in 2022 meekly accepts the veiling of women, sharia and the compulsory teaching of Islam in schools, says that Enlightenment man and woman live barren and empty lives.
The ease with which his imaginary Islamic president, Ben Abbes, elected by a coalition of left and centrist parties to block Marine Le Pen, is able to impose Islamicisation on France is down to the degenerate nature of French society itself. Or so runs the novel's argument. The elite feather their nests in remote, amoral companies, while the rest are left to fend for themselves in a world of cold suburbs and weak civic and social institutions, consoled by shopping, drugs, casual sex and the silos of social media. Abbes has a purpose and mission before which France is defenceless.
This is fiction – but illuminating. A teacher of my acquaintance, in a once thriving Welsh mining and steel town, said how shocked she was at the scale of the casual misogyny, homophobia and anti-immigrant/anti-Islam prejudice she encountered among parents, children and even some teachers. The strong trade unions and chapels that had sustained better values had almost disappeared. Inevitably, the town voted for Brexit, even though, as a major recipient of EU money, it would create recession and misery. What mattered was identity.
Successful liberal societies depend on multiple civic and social bodies, charged with purpose, that embody liberal values, from trade unions to sports clubs, employee-owned companies to libraries. Supporting them gives a meaning to lives and an inner self-confidence that lessens the imagined threat from diverse others and makes people readier to hear invocations to citizenship and universal values.
What went wrong with multiculturalism, as Kenan Malik argues in a fine article in Foreign Affairs, is not its respect for diversity. Rather, as implemented, it created a network of competing monocultures fostering antagonistic separateness. Equally, what has gone wrong in France, with its belief in assimilation, is not the commitment to universal values. Rather, it is that such statements are cast as those of the majority "tribe" confronting a hostile other in a sort of war, the language too readily deployed in France. Muslims are not part of the tribe. Both mistakes should be avoided and the good components built on.
What is required is not burqa and burkini bans or, indeed, measures in Britain such as Prevent, which, for all its apparent rational intent to close down opportunities for hate speech, only stigmatises Muslims as "other". Instead, we need continual clarion calls to uphold universal values and a characterisation of jihadism as conducted by the deranged who need medical treatment, rather than legitimisation as warlords.
We also need an insistence on mutual tolerance as the only long-term solution and a huge effort to create economic and social institutions that offer more meaning for the mass of our citizenry. If that is pie in the sky, the alternative is a war of civilisations and, with it, the collapse of liberal society. Nobody, I hope, wants that.
theguardian.com/commentisfree/2016/aug/20/muslims-liberal-society-uk-france-shared-values
------
Meet the Pakistani Woman Who Topped the Bar across Commonwealth
By Sumayia Asif
Published: August 21, 2016
Mariam Atta Malik is nothing short of genius. She was only 13 when she decided to become a lawyer.
Not only is she a barrister today, she is also the recipient of Lincolns Inn's Joan Denning Prize for topping the Bar Professional Training Course (BPTC) across the Commonwealth. The Joan Denning Prize is awarded to a student who obtains an 'outstanding' in the exceptionally demanding BPTC.
During an interview with The Express Tribune, Malik who recently got to know her result says she still hasn't fully grasped it.
"It hasn't sunk in yet. I was expecting a good result, but not this," she adds.
Pakistani student tops international LLB exam
Elaborating her experience, Malik says she had not anticipated how difficult the course was going to be. However, within the first week of starting university she realised how extraordinarily demanding the course was.
Recalling her schedule she says she used to wake up at 7am, have black coffee, attend her earliest classes, eat something, head to the library, head home, relax for 15-20 minutes, have more black coffee and get back to studying. She says she couldn't enjoy weekends because she had to study. "I used to spend most of my time in the library…I've spent nights there," Malik says.
Malik's affiliation with law began after she came across a documentary on rape which highlighted the number of unreported rape cases and the outcomes of those that made it to court. She realised there was a dearth of people fighting for women in Pakistan.
Recently, after appearing on a radio show, Malik says she was surprised to find how little women in Pakistan know about the rights granted to them under the Nikahnama. She wants to work to educate people about their rights. "People need someone to explain their rights to them. It's not one person's responsibility, it's the responsibility of the state," she adds.
Furthermore, Malik particularly wants to work towards establishing ethical practices in the legal system by introducing a code of conduct.
Girls grab top four positions in HSSC exams
For students who want to follow in her footsteps, perseverance is key. "There are going to be times when you feel like everything is falling apart. But you have to push through," Malik says. She recommends having a short-term and a long-term goal and then finding a way to achieve it. She also stresses the importance of being organised. " You can't be lazy," she adds.
Do you have a role model? I ask her. Her answer is short.
"No. My future self is my role model"
Where do you see yourself in 20 years?
"I'll either be a very successful lawyer or a high court judge," she says with confidence.
Towards the end of the interview, Malik expresses gratitude to her tutors, friends and parents. She makes a special mention of her father, who was initially averse to the idea of her becoming a lawyer. He is now her greatest supporter.
tribune.com.pk/story/1166500/meet-pakistani-topped-bar-across-commonwealth/
------
Germany's Potential Burqa Ban: Muslim Journalist Reacts
August 21, 2016 | by Meymona Naeem | 0
The controversy over the Burkini Ban that has gripped France for the past few months now appears to be spilling over to Germany. The 'Burkini" a full-body swimsuit designed for Muslim women was originally banned by the French town of Cannes during the annual film festival. Cannes Mayor said the Burkini represents the forces France is fighting, and that it may create some unruly incidents on the town's beaches.
So far three Mediterranean towns – Cannes, Villeneuve-Loubet and Sisco on the island of Corsica – have banned the burkini, and Le Touquet on the Atlantic coast is planning to do the same. France has already banned the Full Burqa or the Islamic veil.
Similar plans are being discussed by other EU countries and the influx of Muslim refugees in Germany has lead to a similar debate in Germany where Thomas de Maiziere, Germany's Interior Minister has called for a partial burqa ban.
"It doesn't fit in with our open society. Showing the face is a constituent element for our communication, the way we live, our social cohesion. That is why we call on everyone to show their face." says the Interior Minister.
Germany far right AFD party has not only called for a full ban on the Burqa but also on Adhan, which is the Islamic call to prayer.
Reacting to the Minister's comments, Germany's outspoken Ahmadiyya Muslim journalist Khola Maryam Hübsch said that in her opinion the Burqa ban is a "constitutional matter rather than a controversial one". Hence she is surprised that every now and then the far right will bring up something that is inconceivable. Hübsch says, "However, a general ban will never get through".
" The constitutional and legislative body in Germany states that the ban is unconstitutional and according to political constitutions it will not be in accordance. Yet the whole discussion about the banning of the burqa is being discussed. "
Hübsch went on to say that "this is a matter of wanting to achieve a point now, The Minister's comments show how some specific minorities are not wanted and hence the proposed ban on certain clothes"
burkini_khola_maryam_hShe went on to say there is no theological reason behind the full veil as there is no reference to the burqa in the Qur'an, but this is constitutionally relevant. Women who choose to wear the burqa define what it means to them, whether they wear it for religious reasons or they have a desire to wear it for any other reason should not be an issue. Many women, especially in France, who converted to Islam and wear the niqab have mentioned in interviews that they find themselves determined and are not forced to do so. This too is part of reality and people have to accept their choices.
" Some have linked the full veiled Burqa with security issues, But looking at this from a realistic perspective, there hasn't ever been an incident where a crime was committed using a burqa. How has affected France ? Where even after the ban on the burqa, terrorist attacks have still taken place? There is obviously no connection and this whole thing is just bizarre and been blown out of proportion. "
Many in Germany believe the issue is being used to distract people's attention from other important ahead of regional elections. While Federal elections will take place around the same time next year.
rabwah.net/germanys-potential-burqa-ban-muslim-journalist-reacts/
URL: https://newageislam.com/islam-women-feminism/romance-novellas-women-nigeria-challenge/d/108319
New Age Islam, Islam Online, Islamic Website, African Muslim News, Arab World News, South Asia News, Indian Muslim News, World Muslim News, Womens in Islam, Islamic Feminism, Arab Women, Womens In Arab, Islamphobia in America, Muslim Women in West, Islam Women and Feminism