New Age Islam News Bureau
17 Aug 2013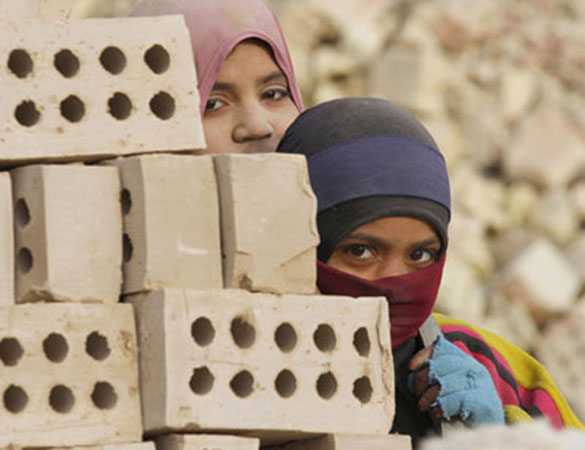 Iraqi women work in the brick factory in the town of Nahrawan, east of Baghdad, March 8, 2012. (Photo by REUTERS/Thaier al-Sudani)
------------
• Somali Women Help Each Other Overcome Trauma from Violence
• French Muslim Women Rally in Support of Hijab
• Iraqi Women Face Workplace Discrimination
• Quranic Artworks by Iranian Women to Be Displayed in Kazan
• America Ready for Female President: Michelle Obama
• 'Climate of Islamophobia': Two Attackers Rip Veil off French Girl
• Dubai Court Fines Married Couple Dh1, 000 Each for Fight In Front Of Son, 4
• Dubai Teen's Joy As A-Level Grades Earn Her Place at University
• The Women's Majlis: Sheikhas Inspire Sport for Women
• Express forum: Abida terms talks with India at parity 'fiction'
• 'Lyari's PPP MPA was not target of attack'
• For Women, Saudi Arabia's New Metro May Mean Greater Mobility
• 28 yrs Old Acid Attack Victim of Dhaka Dies
• Gun Assault: ANP Leader, Najma Hanif Killed Inside Her House
Compiled by New Age Islam News Bureau
URL: https://www.newageislam.com/islam,-women-and-feminism/new-age-islam-news-bureau/rock-of-(young)-ages--music-camp-for-girls-in-dubai/d/13067
---------
Rock of (Young) Ages: Music Camp for Girls in Dubai
Erin McCafferty
August 17, 2013
It conjures up images of young women expressing themselves through music and, in the process, suggests rebellion and overwhelming girl power. Think strong beats, exaggerated movements and attitude.
It's an impressive image. And even more so in the context of the Middle East, where it appears to be at odds with the traditional female stereotype.
Unlike the West, which has for decades promoted the idea of women in rock bands, women playing rock music is clearly a very modern concept in this part of the world. Indeed, here there are few female rock stars and even fewer all-girl rock bands.
It was this fact that prompted Zahra Soar, 30, to set up the Rock Camp for Girls along with her friend and fellow music devotee Rasha Omer, 27.
Soar, who grew up in Sharjah to British parents, is a presenter of the Lunchtime Live radio show on Dubai Eye. Omer, who has lived in the UAE for seven years but comes from Sudan, works for the website www.triplew.me, which highlights talent from the region in music, film and photography.
As a radio presenter for the past three years, Soar is used to receiving demo CDs from aspiring musicians. However, she notes that they are mainly from young men.
"The music scene in the UAE is particularly male-dominated," she says. "My dream is to see more young women in rock bands here. It was for this reason that I decided to set up Rock Camp for Girls along with Rasha. It's something I've wanted to do for a long time and she agreed it was a good idea."
"It's a phenomenal initiative," says Omer of the rock camp. "Through my work on www.triplew.me, I've found myself regularly asking why there aren't more girls in bands, performing, composing and promoting their music here."
Omer agrees that the gender imbalance in rock music is not exclusive just to the Middle East. She says that it's more apparent here because the music scene in general is quite new. "The music scene here, and I'm talking about grassroots or independent artists and bands, is quite small to begin with," she says. "What's more, it's still very young and still developing."
While they're both doing what they can to address the problem of gender imbalance in rock music, both women agree that females need to be encouraged to be in bands here.
"There needs to be a lot of work done in terms of support, education, empowerment and changing of attitudes to change the situation," says Omer. "Music and the creative arts in general here should be embraced across society."
It was a TV documentary about the all-girls Willie Mae Rock Camp in New York, as well as a book she came across in a Mall of the Emirates bookstore called Rock 'n' Roll Camp for Girls: How to Start a Band, Write Songs, Record an Album, and Rock Out!! that this summer prompted Soar to take action to address the imbalance.
"The documentary was based on a similar rock camp for young women in America," she says. "I found it inspiring.
"The book I picked up by accident and it was full of practical information. It had chapters explaining things like how to pick up a guitar and play it; how to make your voice sound like a vacuum; how to write a press release about your band …"
The first Rock Camp for Girls, which costs Dhs999 per student, will take place from August 25-29 at the In the Mix studio in Al Quoz, Dubai. It will be run from 9am-1pm daily and will be limited to 16 students, aged between 7 and 17.
The girls will be split into four bands and each group will be mentored by a different woman, each of whom is involved in the music scene here, with each bringing different skills to the initiative.
So while the young women taking part will be taught the basics of playing an instrument and singing, and given tips about performance on stage, they will also receive practical instructions about how to market themselves as a band.
Fatiniza Gamarra Ponzon, known as "Fatiniza", is a Dubai-based, Colombian rock singer. She will teach the students how to play the guitar, how to jam as a band and how to write music.
Carla Saad is a Syrian/Palestinian who also lives in Dubai. She plays in a local R'n'B band called As Per Casper and will focus on singing.
Francy Tabourda is a Dubai-based, Colombian drummer who plays in a number of different bands here. She will teach drumming.
The fourth mentor, who calls herself Noush Like Sploosh, is Indian but has lived in Dubai for many years. She's not only a well-known local musician but also a graphic artist. She'll instruct the girls on how to put a press kit together, how to promote themselves and how to create a flyer for their gigs.
There will also be a number of one-off workshops with other women in the local music industry.
Soar has also approached the British singer-songwriter Kate Nash, who is currently on a global tour, in the hope that she'll record a video message to be shown at the rock camp. Nash recently ran her own rock camp for young women in the UK who had suffered from bullying.
On the last day of the course, the girls will perform an end-of-camp gig, showcasing what they've learnt throughout the week. It takes place at 5pm on August 29 at thejamjar in Al Quoz. Sponsored by White Cube Productions, which runs music workshops in Abu Dhabi, it's open to the public and admission is free.
In fact, the whole rock camp initiative is a non-profit making exercise for both Soar and Omer, who are doing it simply because they're passionate about the subject.
"We just want to encourage young women here to be in bands," says Soar. "The money we charge is to cover the cost of the studio and the equipment rental, and we're paying the mentors because we believe that too many people expect musicians to work for free and we don't agree with that."
But it's not all about music. Both Soar and Omer are hoping that the rock camp experience will encourage the girls taking part not only to play music and to form successful bands, but to be more confident in their everyday lives.
"This isn't just a music camp, it's an experience which we hope will further strengthen the students' confidence to pursue a passion - whatever that passion might be," says Omer. "It's a stepping stone to help them find a voice in a fun and productive environment."
"Ultimately, our aim is to improve the confidence of the girls and make them believe that they can succeed," adds Soar. "When you really believe in yourself, anything is possible."
It's for this reason that Cathleen Nicol has enrolled her daughter, 7-year-old Lily Nicol, in the Rock Camp for Girls. "I would love if it improved her confidence with regard to performing," explains Nicol, who comes from Inverness, Scotland, but has lived in Dubai for the past four years.
"Lily has always been theatrical. She sings and dances and makes up shows at home all the time. She's wanted to play the guitar for a long time, too, but up until now her hands were too small. She loves music - Justin Bieber, One Direction, Hannah Montana, etc. She's typical of kids who grew up watching the Disney Channel. So much of children's media these days is based around music and dancing."
Nicol adds that, although her daughter is clearly musical, the thought of going on stage to perform in front of people makes her nervous
"She attends Kings' school in Dubai and they hold two shows per year. Lily loves to take part but I've seen her filled with dread before a show. When I saw the Rock Camp for Girls advertised on Facebook I thought it was the perfect opportunity to help her in this respect," she says. "Hopefully it will give her the confidence she needs to continue her hobbies of singing and dancing. And if nothing else, it will be a fun experience for her.
"She's very excited about it," she adds. "She's already planning her rock-star outfits for the week."
Jane Carol, from Durham, UK, but in Dubai for three-and-a-half years, is another mother hoping the Rock Camp for Girls will improve her child's confidence. The mother of 9-year-old Toni says: "Hopefully it will give her the confidence she needs to continue her interest with music."
She points out that Toni has always been musical and, although her music taste varies considerably, she has inherited her father Keith's love of rock music. "She likes AC/DC and Marilyn Manson as much as Miley Cyrus and Taylor Swift," explains Carroll. "She definitely got that from her father."
Toni is another child who's been singing and performing for as long as her parents can remember. "She's very creative," explains Carroll. "She even writes her own songs and she has a good voice.
"When I saw the Rock Camp for Girls advertised I knew immediately she would love it. It's so unusual to find something like that here in the UAE. It will be really good for her to see the whole process of how a song is put together and eventually performed on stage. Hopefully she will have fun too."
Toni agrees. "I can't wait to take part," grins the budding rock star. "I am so excited. I want to learn how to play the guitar because I love music. I especially like Katy Perry. I'd like to be like her one day."
http://www.thenational.ae/lifestyle/rock-of-young-ages-music-camp-for-girls-in-dubai#ixzz2cDGrM2T6
---------
Somali Women Help Each Other Overcome Trauma from Violence
August 16, 2013
Cross-posted from UN Women
"I was alone," remembers 14-year-old Hoda*, recalling that evening in January 2013. "My father is a police officer, and he was working that night." Hoda was in the bathroom preparing for bed, while two armed men quietly broke into her house. A man of 75 years and his son then hid under her bed. When Hoda returned to her room, the men emerged and began to rape her. Eventually her screams were heard by neighbours, who came to her aid, detaining the men, who are now in prison awaiting trial.
Such situations are common in Somalia. Ever since the outbreak of civil war in 1991, the country has been enveloped by sectarian and clan violence and foreign military intervention. In 2011, African Union forces supported by the United Nations ousted the militant Islamist group Al-Shabaab and have been tasked with maintaining public security and stability for the democratically elected government. While open fighting is no longer the norm, for the people who live here, daily life is still dangerous. For women and girls, who often bear the brunt in post-conflict situations, violence remains an ever-present threat.
To help survivors overcome their trauma, UN Women is supporting a community healing project being run by the Somalia Youth Development Network (SOYDEN). The director of the project, Adan Bare, recalls seeing Hoda sitting at the back of a trauma healing session, ashamed to tell her story. He spotted her and asked a female staff member to speak to her privately.
"Rape is a serious taboo among Somalis, but she [Hoda] is a brave one," says Adan. "She came forward and she realized there where many others like her. When you speak out you find that you are not alone."
SOYDEN has been training community leaders to understand trauma and facilitate healing in the Benadir Region, which includes Mogadishu and a long stretch of Somalia's Indian Ocean coastline. Eighty people, most of them women, were trained in Benadir to conduct two community healing forums in each of the region's 32 districts.
Hoda says she attended the healing session because she believes the community must be aware of the crimes taking place. She says that her experience isn't unique in Mogadishu. "While children in other parts of the world struggle for education, we struggle to recover from the shock of rape and murder."
Adan himself is an ethnic Somali from Wajir, a town in northeastern Kenya, close to the border with Somalia, where clan divisions contributed to armed conflict in the 1990s. He says that the collective nature of the sessions helps overcome clan allegiances and encourages women's involvement in decision-making processes: "It gives strength to women to see that they can talk about their problems in front of men. This is very important. We had the same problem where I came from – reconciliation can't be successful unless women are engaged and involved."
During the training sessions, many of the women leaders being trained themselves felt compelled to share their experiences with trauma, and the sessions became impromptu healing sessions. Adan remembers one woman in particular: "For five years she was silent, a single mother who was humiliated and abused by the family of her son-in-law. When she came to the training, she finally spoke and we had the district peace committee intervene to resolve the case by bringing it out into the open," he recalls. "Once one woman told her story, others joined in, and by the end they all came together to give moral support, singing, hugging and praying together."
Osman Moallim, SOYDEN's Director, says they work with existing local institutions in each district, such as peace committees. "We target the women members of the peace committees. They each have a minimum of four women, as well as elders and religious leaders."
Osman says working with religious and clan leaders is important in order to confront traditional notions of guilt and the social stigma attached to women who have been sexually assaulted, who are often considered unfit for marriage.
"The true Islamic position is that a raped woman is innocent. It's the traditions that say she can't be married," Osman explains. "The religion is stronger though, and after our training, every Friday, these religious leaders begin preaching that raped women are innocent."
News about SOYDEN's approach is proving successful and they have recently been asked to train the country's newly-elected parliamentarians so that they too can assist trauma survivors.
"In Somalia, traumatic experiences have happened to people from all walks of life, no matter if you are rich or poor, even parliamentarians themselves have had these experiences and can benefit from the training. It doesn't only help those in pain, it facilitates social reconciliation, one of the six pillars of the Somali Government," says Adan.
*Name changed to protect her identity
http://www.unwomen.org/en/news/stories/2013/8/somalia-trauma-healing-project
---------
French Muslim Women Rally in Support of Hijab
August 17, 2013
Muslim women in France have held a rally in protest against growing Islamophobic attacks on Hijab-wearing women.
The rally was held in the Ile de France area in north of France on Friday, August 16, islametinfo website reported.
The participants in the rally shouted slogans in support of Hijab and protested again the rise in violence against Muslim women and the new laws restricting Hjab in France.
They called on the region's authorities to do more to curb violence against Muslim women in the region.
The region has been the scene of Islamophobic attacks recently and the police not only have failed to act against these attacks but have sometimes participated in discriminatory actions against Muslims.
http://iqna.ir/en/news_detail.php?ProdID=1273668
---------
Iraqi Women Face Workplace Discrimination
August 17, 2013
Women in Iraq have made huge leaps in terms of obtaining the right to work and participate in the economy. Nevertheless, they are still subject to sexual and social discrimination, not to mention their inability to get suitable job opportunities amid declining economic growth and the deteriorating security situation. According to the indices of the latest report issued by the Central Bureau of Statistics in the Iraqi Ministry of Planning in August 2012, the percentage of women working in a sector other than agricultural in Iraq in 2011 increased to 14.7%, compared with 12.1% in 2008. Erbil comes in first place, while Baghdad witnessed an increase from 13.4% to 18.9%.
The report indicated that there is a high percentage of women who are educated and competent, but who have not entered the labor market. Israa Ibrahim, who graduated from university in 2006 with a degree in chemistry, searched for work for years. Ibrahim told Al-Monitor, "Suffering is the only common ground between Iraqi men and women. The transition from studying to working is a problem for both genders. I searched for a job for three years, but in vain. Finally, a political figure pulled some strings to get me into my current job."
Israa mentioned that her uncle, who holds a master's degree in international law, paid $5,000 to a member of a political party to get a job teaching at a university in Baghdad.
Another report about the economic empowerment of women in Iraq described the challenges and opportunities involving the integration of women in the Iraqi economy. The study was based on research conducted in 2011 by the United Nations Development Program in Iraq, in cooperation with the independent non-profit Iraqi Al-Amal Association.
The report said, "The impediments standing in the way of women's work stem from social discriminatory notions and radical religious motives, in addition to tribal norms."
Ithar Issam, a materials engineer who works in a governmental company in Kut, south of Baghdad, told Al-Monitor, "The management of projects and fieldwork is usually not assigned to female engineers, even if there is an available vacancy. Usually, female engineers are only hired in administrative office positions."
Issam said, "This phenomenon is caused by the stereotype that women cannot cross long distances and deal with workers and contractors. Security, maintenance and transport jobs that require effort or nightly shifts are still strictly reserved for men."
However, Ibrahim's resolve to change this image pushed her to participate in fieldwork in a project to build a bridge in her hometown, Kut.
According to the UNDP report, sexual harassment in the workplace is very worrying in Iraq. In the city of Sulaimaniyah in the Iraqi Kurdistan Region, 73.7% of women who were surveyed as part of the UNDP report noted that they have been sexually harassed, but only 12.3% of them remembered the details of the incident.
There are no regulations on sexual harassment in the workplace in the chapter on protection of women in the applicable 1987 Unified Iraqi Labor Law no. 71.
Maysoun al-Dimolji, a member of the Iraqiya List in parliament, said in a statement to BBC Arabic, "Some lawmakers verbally harass female MPs in order to force them to leave parliament."
Cyran Hadi, a recruitment consultant in the city of Erbil in the Kurdistan region of Iraq, speaking to Al-Monitor via telephone, said, "Women have equal and even more opportunities than men. Yet, the society's perception of women may sometimes limit their options, as some parents prefer their girls working in the government rather than the private sector. Moreover, some private companies prefer hiring men instead of women as they do not demand maternity leave or have child-care obligations."
Janan Mubarak, head of the Iraqi Center for Women's Rehabilitation and Employment (ICWRE), a non-governmental, non-political and non-profit organization, told Al-Monitor, "One of the biggest challenges facing Iraqi women at work is the spread of favoritism, especially in advanced administrative positions, because nominations to these posts are made by political parties."
"Although articles 22 and 25 of the Iraqi Constitution of 2005 provided for equal rights and employment opportunities regardless of gender, there is no supportive legislation except for the quota system, which is only implemented in parliament and does not allow women to hold decision-making positions, which are controlled by political parties. Our center seeks to reach legislation regarding quotas for women in governmental positions" Mubarak added.
There are nearly 1.5 million widows in Iraq, only 8% of whom receive social security payments, amounting to approximately $80 a month, according to a report published by Oxfam (an international confederation of 17 organizations working to find lasting solutions to poverty and injustice) on Iraqi widows on the occasion of the International Widows' Day that that took place on June 23, 2013.
Moreover, among other prevalent social phenomena in Iraq, parents push their daughters to get married instead of working. In fact, Iraq ranked first among the countries with high rates of child marriage, according to the Minister of Planning and Development Cooperation, Ali Shukir. He delivered a speech during the ceremony held on Word Population Day in Baghdad on July 11, 2013. "Iraq ranks first among the countries with high rates of child marriage, with a rate of 11%," he said.
The report on the economic empowerment of women indicated that parents try to alleviate the economic burden on poverty-stricken families by marrying their daughters off early.
Noha Mohammed works at a public sector company in Baghdad. She told Al-Monitor, "There is a bright side to this distinction between men and woman. For instance, I am not berated in public if I have done something wrong, unlike my male colleagues. I can also easily have a day off."
However, she complains about the dire security situation, which restricts her movement for fear of abduction and the harassment she faces in public transport.
http://www.al-monitor.com/pulse/originals/2013/08/iraq-women-workplace-challenges.html#ixzz2cEVksw91
-----------
Quranic Artworks by Iranian Women to Be Displayed in Kazan
August 17, 2013
Quranic artworks by Iranian women artists will be showcased in an exhibition in Kazan, the capital of Tatarstan Republic.
It will be part of the Iran and Tatarstan Women Friendship Week, slated to start in Kazan on September 16, public relations office of the Islamic Culture and Relations Organization (ICRO) reported.
It will organized by the ICRO's women and family affairs department in cooperation with Tatarstan's ministry of culture.
The event is aimed at promoting an atmosphere of dialogue about joint cultural issues, exchanging experiences and helping the women and Iran and Russia's Tatarstan Republic to know more about each other.
The friendship week also includes a seminar with the theme of "family in the third millennia", an Iranian movie screening, an exhibition of Iranian arts and a workshop on Iranian arts.
Lawmaker Shahla Bayat, chancellor of Al-Zahra University Ensiyeh Khazali, and artists Narges Moqani, Zohreh Kaviani, Somayyeh Kavian, and Sakineh Besharat, will visit Tatarstan during the friendship week.
http://iqna.ir/en/news_detail.php?ProdID=1273637
---------
America ready for female president: Michelle Obama
August 17, 2013
WASHINGTON — US First Lady Michelle Obama says in remarks published Friday that America is ready for a woman president, but would not comment on prospects for Hillary Clinton getting the job.
Obama's comments came in an interview with Parade magazine, excerpts of which were published on its website.
Asked if she thinks the country will see a female president in her lifetime, the wife of President Barack Obama said: "Yes, I think the country is ready for it. It's just a question of who's the best person out there."
She declined to comment on the prospects for Clinton running to succeed Obama in 2016.
Hillary Clinton, a former US senator and secretary of state under Obama during his first term, has been vague on whether she will seek the nation's highest office.
She left her post as the top US diplomat in February and polls released with the Democratic nominating convention still three years off say she is ahead — both in the Democratic primaries and in the theoretical general election.
Of Clinton's prospects, Mrs Obama said, "She hasn't announced anything, so I'm certainly not going to get ahead of her."
She added that she herself will not run for president.
Obama also said she thinks her husband's time in office has helped ease racial prejudice in the United States.
"Children born in the last eight years will only know an African-American man being president of the United States. That changes the bar for all of our children, regardless of their race, their sexual orientation, their gender," Obama said. — AFP
http://www.saudigazette.com.sa/index.cfm?method=home.regcon&contentid=20130817177153
---------
'Climate of Islamophobia': Two Attackers Rip Veil off French Girl
August 17, 2013
A 16-year old girl was attacked in Paris suburb and had the Islamic veil she was wearing torn from her face. As anti-Islamic attacks in France soar, a French Muslim leader condemned the 'climate of Islamophobia' and urged the government to act.
The teenager was leaving a friend's house in Trappes at about 5:45 pm, when she was attacked by two "European looking" men, one of whom was also described as having a shaven head.
Her assailants then shouted anti-Muslim and racist abuse at her while brandishing a box cutter, before tearing off her veil, pushing her to the ground and hitting her.
A third man intervened saving the girl and the attackers fled by car. The victim was driven to hospital in Trappes, the same blighted suburb of Paris that saw violent clashes between police and mainly Muslim youths last month.
A source told the newspaper le Parisien that she was treated for "light scratch marks" on her face and throat. She reported the incident to the police on Tuesday.
The French Interior Minister Manuel Valls was quick to condemn the attack.
"I severely condemn this newest demonstration of anti-Muslim hatred and intolerance. Police services have been fully mobilized so that the authors of this unacceptable attack are identified, found, arrested and handed over to the courts," he said.
This latest attack is one of many anti-Muslim incidents in France, which have risen by 60% in recent months.
There were two days of rioting in Trappes in July after a woman in full Islamic head gear was stopped by police. While in June, a Muslim woman allegedly had a miscarriage after being assaulted by skinheads in Argenteuil, although it was not clear if the attack was the direct cause of the loss of her baby. This came just three weeks after another attack on a veiled woman in Argenteuil.
Also on Tuesday a man was arrested in the southern city of Avignon for writing anti-Islamic slogans on several buildings including the Palais des Papes, a Unesco World heritage Site.
The spike in hate crimes against Muslims in France has led to Kamel Kabtane, the rector of the Grand mosque in Lyon, to urge the government of President Francoise Hollande to take "serious measures" to counter the rising tide of Islamophobia in France.
Addressing over 100 supporters who were gathered outside the Forkane mosque in Venissieux, a suburb of Lyon, he spoke of his extreme concern for the arrest of a soldier, who was detained at the Mont Verdan airbase last Wednesday for allegedly planning a series of terrorist attacks against the Forkane mosque.
"The fact that a soldier has been arrested for a terrorist plot shows a climate of Islamophoboia reigns in France today, we cannot deny it."
He added that the presence of such "back sheep" in the army was proof that it has been "infected" by the extreme right.
The vice president of the far right party the National Front was quick to contradict the Muslim cleric's words.
He said on the French TV that Kabtane's comments "didn't make sense."
"Does this mean that one day the French people woke up and said 'today I will be intolerant?'" he said, adding that the French "are a welcoming people but we hate communitarianism," in an apparent reference to minority groups in French society.
http://rt.com/news/france-anti-muslim-attacks-460/
---------
Dubai Court Fines Married Couple Dh1, 000 Each for Fight In Front Of Son, 4
Salam Al Amir
August 17, 2013
DUBAI // A married couple who fought in front of their 4-year-old son have each been fined Dh1, 000.
An argument between the pair turned violent after the wife NH, 32, called her husband MM, 32, from Iran, a "pimp".
She claimed she did so because he was having an affair, but he claimed the fight started because she questioned his orders that she should not continue her education.
The Misdemeanours Court heard that the pair had been suffering marital problems for the past three years and that these turned to blows on November 24 last year.
The husband said he was heading to an Iranian function with his sister when his wife insulted him by calling him a "pimp". He claimed not to have responded to the insult, instead sitting with his sister to tell her about his marriage problems.
"I then noticed that my wife was listening to us from behind the door," said the husband. He said his wife then opened the door and started slapping and punching him all over his body. He denied hitting her back.
"I just pushed her away from me and left the house with my sister," he added.
His sister testified that his neck was scratched in the attack. "I tried to break up the fight but she insulted me and slapped me," said the sister, 27.
When the husband returned the next morning his wife and son were no longer living in the house. "She claimed that I kicked her out of the house," said the husband.
But the wife claimed she was protesting against her husband's decision to bring home a woman he was having an affair with.
"He told me he loved her and he told me to leave the house," said the wife.
She said that when she refused to leave, on the grounds she had nowhere to go as all her family is in Iran, he punched her several times.
After this, she claimed, he threw her out of the house and threw her clothes out too.
She told prosecutors the husband also beat their son. "You can see the slap marks on his face," she said.
She also claimed to have a text message from her husband threatening he would kill her if she reported him to police for the assault.
The court convicted both on a charge of mutual assault.
salamir@thenational.ae
http://www.thenational.ae/news/uae-news/courts/dubai-court-fines-married-couple-dh1-000-each-for-fight-in-front-of-son-4#ixzz2cDFi44GR
---------
Dubai Teen's Joy As A-Level Grades Earn Her Place at University
August 17, 2013
DUBAI // Alice Taylor wept when she found out she had achieved three Bs on her A-levels yesterday.
"It's what I needed to go to university," said the 19-year-old Briton, a student at Jumeirah College in Dubai. "I'm going to go to King's College in London to study adult nursing."
The interview process to get a place on the course was nerve-wracking.
"It was very challenging to get in," Alice said. "I went for interviews, and that's only if you get through the first selection, and then you have to do group interviews, maths and English exams.
"I went to one day and there were 150 people there - and that was just one of the days - so there was a huge demand for places."
Alice will fly to London before her start date of September 16.
"I've always wanted to do health care because I love the idea of helping people in a way that benefits the families and King's College is renowned," she said. "It was my first choice, so it seemed like the right thing to do.
"It was horrible coming here [to get the exam results] because of the nerves and the wait for two months after the exams, so I'm really relieved and it was really worth the wait."
cmalek@thenational.ae
http://www.thenational.ae/news/uae-news/education/dubai-teens-joy-as-a-level-grades-earn-her-place-at-university#ixzz2cDFtICua
---------
The Women's Majlis: Sheikhas Inspire Sport for Women
Fatima Al Ali
August 17, 2013
Each month, Weekend will pose a different question to be debated by a series of female Emirati columnists. This month, we ask Fatima Al Ali:
What do you think about the level of sport for women in the UAE? Would you do anything to change it?
The level of sports opportunities available in the UAE is relatively low compared with other countries around the world. However, in the past couple of years, participation of Emirati women has grown in many fields, including sports. Nowadays, rather than limiting sports to schools, many groups and foundations are encouraging women to engage in athletics, not only to foster a better, healthier lifestyle, but also to show the world that women in the UAE are capable of competing not only nationally but also internationally.
There is no doubt that a lot of women in the UAE have accomplished and blossomed in the field of sport, without going against cultural and religious beliefs.
Lately, a lot of women's sports are being established and supported, such as ice hockey, handball, fencing, karate and many more. The participation of the UAE'S Sheikhas also has encouraged women to follow; Sheikha Maitha bint Mohammed Al Maktoum, the tae kwon do athlete, is a role model for all ladies in UAE, as is Sheikha Fatima bint Mubarak, who established the Fatima bint Mubarak Ladies Sport Academy to support women in sport here.
The level of sports is gradually increasing, and the development to a more advanced level will need some time and effort. But there's no limit to where we can reach. A lot of women are aspiring to find success internationally. This success depends on how our society supports women's role in athletics.
I became interested in ice hockey when I watched a tournament in 2008; my mother, though not much into sports, was happy that I joined in 2011. Since then, I've played in tournaments in Hong Kong, Bangkok, Bahrain, Abu Dhabi and Dubai.
But to start competing internationally, more women must be encouraged to participate. This is done by planning and providing women with the necessary resources and guidance. By providing women with the right and professional training, they will be able to grow and learn how to improve and enhance themselves. The level of sport might have increased, but it still needs improvement. Another important aspect is the support and motivation of families and authority figures; their acceptance will allow women to fully commit to sports.
Our ice hockey team improved greatly within three years, but we still lacked ice time, though we took advantage of every minute out there. The first year that the team played in Hong Kong, we lost all our games by wide margins, but this did not stop us from improving, going back the year after and finishing in third place.
After playing games against other teams and getting in plenty of practice, we finally won first place in tournaments in Bangkok and Hong Kong; this shows what a little effort from all parties can achieve.
Fatima Al Ali is a member of the Abu Dhabi women's ice hockey team, The Storms.
weekend@thenational.ae
http://www.thenational.ae/lifestyle/the-womens-majlis-sheikhas-inspire-sport-for-women#ixzz2cDGcaPrA
---------
Express forum: Abida terms talks with India at parity 'fiction'
August 17, 2013
LAHORE: Speakers at a forum discussing Pakistan India dialogue process after tension on Line of Control expressed divergent views on the position Pakistan has to take, but were unanimous that talks must continue.
Politicians, diplomats and defence experts present at the Express Forum said that border tension should not be used to ignite public emotions.
They said talks with India must continue but at a level of parity and in a manner that the national dignity is not hurt.
However, veteran politician Syeda Abida Hussain said that talking about dialogue with India at parity was fiction. "We may think we are equal to India, but does India consider us so," the former ambassador to the US said.
She said that everyone wants peace on borders, but the Pakistani nation must realise its position.
India was a much bigger state and a regional power whereas Pakistan due to its peculiar circumstances was considered the epicentre of global terrorism, Abida Hussain said.
She said that even the global powers were not willing to help Pakistan against Indian aggression, though a senior US official in Kabul admitted that India was working against Pakistan's interest.
She said Pakistan's relations with three of its neighbours, India, Afghanistan and Iran were not normal. In such a situation, she said, it would be sheer fictional thinking to talk at parity with India.
Leftist leader and president of Awami Workers Party Abid Hasan Minto said today even the hawkish Jamaat-e-Islami does not want a war. Till few years back, the Jamaat was always calling for war with India, but now the nation has understood that war is not a solution. The only result war gives is carnage.
"We know that nuclear bombs are never made to be used," Minto said. He too delved into detail over the supremacy of India over Pakistan in the realm of power, area, economy, democracy and diplomacy. Minto elaborated on the political and economic weaknesses of Pakistan and the role of military in every sphere of life.
He said Pakistan is moving towards disintegration and it would be unwise to be aggressive towards India and provoke public sentiments.
Awami National Party Secretary General Ehsan Wyne said religious extremism is present both in India and Pakistan. Nawaz Sharif had started dialogue process with India in his earlier term, but his government was toppled. PM Nawaz has again taken the initiative to ensure the talks with India which should be supported. "But," Wyen stressed, "it must be kept in mind that Pakistan India dialogue should be held at a parity level."
Jamaat-e-Islami Deputy Secretary General Dr Fareed Ahmed Piracha said that India has violated borders 84 times in 12 days killing a number of civilians.
"We are not against dialogue, but not at the cost of national dignity and honour," he said.
He said the tensions on the border and the war hysteria was being created in India only because of the upcoming elections. "Politics in India runs on anti-Pakistan sentiments," he said.
"So far 132 rounds of Pakistan India dialogue have taken place, but with no result and not even a word about the core issue of Kashmir or dams on rivers coming into Pakistan from the Indian side," he said.
He said Nawaz Sharif has made friendship with India the prime agenda of the government and set aside terrorism, power shortage and other issues haunting the nation.
Former corps commander of Mangla, retired Lt Gen Ghulam Mustafa said Pakistan India tension should be seen in historic perspective. He said that the Pak-Afghan region has been strife-ridden for centuries. The British, Russian and now American powers have tried their luck in the region and now India was spreading its wings.
India wants to spread its influence to acquire the resources of the Caspian Sea region, which is rich in minerals, oil and gas reserves, he said.
"India wants to weaken the borders to the extent that it has no difficulty in reaching Afghanistan and then further north. But we cannot allow this to happen," he said.
http://tribune.com.pk/story/591376/express-forum-abida-terms-talks-with-india-at-parity-fiction/
---------
'Lyari's PPP MPA was not target of attack'
SAHER BALOCH
August 17, 2013
KARACHI: The attack on Pakistan Peoples Party (PPP) MPA from Lyari, Saniya Naz, was not a "direct attack on her life," DIG South, Dr Ameer Shiekh told Dawn.com on Friday.
His response came a day after Naz's car was attacked near Juna Masjid in Kalri area of Lyari. The attack was not a planned one, the DIG Sindh police said, as "those who plan to target a high-profile person, don't leave without finishing their job."
According to Saniya Naz, she left for Dubai Chowk from Jinnah Hospital around through the ICI Bridge near West Wharf and the reason for taking a longer route was to avoid traffic she added. "I was in Dubai Chowk to meet the families of the children who were targeted in the recent blast after a football match. And to let them know that their finances have been taken care of," she said.
As soon as she left Dubai Chowk after meeting the families, the driver "forgot" the route and took her towards her home through Juna Masjid in Kalri around 11:45pm.
The area is notorious for gun fights between Kachhis and members of the banned Aman Committee. "The second we entered the area, we heard gun shots from a street near Juna Masjid which resulted in people running for cover," added Saniya.
Saniya's guards resorted to aerial firing, which did not result in any casualties, she said adding: "As soon as I got back home I switched my mobile phone off to avoid creating a panic. But it was useless, as by then news channels had run tickers. As a result of that there were visitors and well-wishers in our home till 4am."
On Friday morning, after holding a two-hour long meeting with Saniya, DIG Shiekh explained that the incident was not an attempt on her life.
"She hasn't even registered an FIR," he said adding that, "as for the incident, it's a known fact that there is a turf war going on in that area for past few months. The aerial firing was to scare the outsiders (Saniya) away from their territory."
DIG Sheikh said three elements are active in the area at the moment: One involves Kachhis, who want to reclaim their areas from the dominance of the proscribed Aman Committee.
Second, there is a political fight between two political parties.
Third, is the infighting between the Baloch gangs in Lyari.
"It can be any one of these factors," he added.
However, Zafar Baloch, senior PAC leader, claimed that for quite some time, they had been receiving threats from separatists and extremists. "The separatists are angry that we don't support them as they expected off us, considering Lyari is populated predominantly by Baloch people. And for the record, we don't support their demands for separation."
He added, "Secondly, there are militants who are angry at us for providing intelligence regarding their hideouts to the law enforcement agencies," he explained.
But in this case, he added, "it is the same old rivalry that we have with a political party and the people they back in parts of Kalri and Agra Taj Colony that is the root cause of the firing."
When general secretary of Kachhi Rabita Committee, Akhter Kachhi, was asked about the firing incident he said that: "We were not the ones to open fire at Saniya Naz's car, not that anyone knew she was inside the car, anyway."
He said that what happened to the MPA is something that local Kachhis go through on a daily basis.
"We have repeatedly asked the authorities to deploy paramilitary forces in conflict zones to avoid bloodshed of innocent people, but to no avail."
Akhter said that just a day ago two Kachhi men were killed in the area and considering the tense situation in the area it cannot be ascertained when a clash would break out.
"This is not a first incident, and is probably not going to be the last, until the authorities take serious notice of the matter at hand," Akhter Kachhi added.
Born and raised in Lyari, Naz is the first female to contest and win elections on a PPP ticket for a general seat (PS-109) in the area.
http://dawn.com/news/1036257/lyaris-ppp-mpa-was-not-target-of-attack
---------
For Women, Saudi Arabia's New Metro May Mean Greater Mobility
By Caroline Winter
August 17, 2013
Public transportation has been found to reduce traffic congestion, cut pollution, fight obesity, and boost economic productivity by millions, even billions of dollars. In Riyadh, where Saudi Arabia plans to build a $22 billion subway system, it may also unleash social change. In particular, it will allow women to travel without male escorts.
Without the right to drive, Saudi women are largely house-bound and highly dependent on male escorts. Violating the religious decree against driving is punishable by arrest; two years ago, a Saudi court sentenced a female activist to 10 lashes after she posted a YouTube (GOOG) video of herself behind the wheel.
Scheduled for completion in 2019, the Riyadh metro may provide far greater independence. Women and children will have their own compartments, separate from men, allowing them to travel the city safely and without escorts and controls, according to Spiegel International. The metro system will include six lines—both above and below ground—that extend 109 miles and fan out across the city.
In addition to the Riyadh metro, Saudi Arabia also has subway projects underway in Mecca and Jeddah. Meanwhile, Riyadh's Princess Nora bin Abdulraham University, an all women's school, will soon get its own rail line, which will reportedly be operated by an all-female staff.
All this is further evidence that the desert kingdom's women's rights movement is slowly gaining ground. The kingdom last year allowed a female athlete to participate in the Olympics for the first time and in 2011 said women will be granted the right to vote in 2015. Recently, 30 women were appointed to Saudi Arabia's highest consultative body, the Shura Council, which drafts laws and advises the king.
Still, the country's religious police may still find ways to curtail female mobility. Earlier this year, Saudi women were granted the right to ride bicycles—"but only in circles," as the Guardian put it. When taking to two wheels, they must wear head-to-toe coverings and be accompanied by a male relative. They're also required to stay in parks and recreational areas and to cycle only for the sake of entertainment. Not transportation.
Winter is a reporter for Bloomberg Businessweek in New York.
http://www.businessweek.com/articles/2013-08-16/for-women-saudi-arabias-new-metro-may-mean-greater-mobility
---------
28 yrs Old Acid Attack Victim of Dhaka Dies
August 17, 2013
A 28-year-old housewife succumbed to her injuries at Dhaka Medical College Hospital yesterday after struggling with acid burns for 10 days.
The victim, Suraiya Begum, hailing from Narsinghi, was attacked allegedly by her husband Ramiz Uddin on early August 5.
Suraiya returned from Dubai eight months back and was to go back there after Eid-ul-Fitr, said Nur Islam, the victim's brother. She was living with her husband in Raipura of Narsingdi, he added.
On August 5, just before Sehri time, Ramiz poured acid on Suraiya's face while she was sleeping and fled the scene. Hearing her screams, neighbours rushed to the spot and took her to DMCH, Nur said.
Talking to The Daily Star, Nur Islam said during her treatment, Suraiya told him that on that day she woke up due to severe pain and saw her husband fleeing the room.
Suraiya and Ramiz married in 2001, said Nur.
"Their relationship turned sour over the last two months. Ramiz barely stayed at home and sometimes he would spend days outside home. The two argued over it the day before the incident," he added.
Victim's mother had filed a case against Ramiz with Raipura Police Station on August 6.
Mominul Islam, officer-in-charge of Raipura Police Station, said acid was available at their residence as Ramiz is a gold bar trader.
"We are trying to arrest Ramiz who is on the run," he added.
http://www.thedailystar.net/beta2/news/woman-dies-from-acid-attack/
---------
Gun Assault: ANP Leader, Najma Hanif Killed Inside Her House
August 17, 2013
PESHAWAR: An Awami National Party worker was shot dead inside her house in the Hayatabad area of Peshawar late Friday night.
Najma Hanif, who was also a candidate for reserved seats in the provincial assembly, was shot by unidentified men who broke into her home and killed her.
According to officials she and her school-going son were inside the house at the time of the incident and the assailants managed to flee the area without being challenged. The police was informed 30 minutes after the incident.
She is survived by a son. Her husband, Hanif Jadoon, who was the district Nazim was killed in a bomb attack in Malai village Swabi in 2011.
Police launched a search operation in the area soon after the incident and arrested a number of suspects while the dead body was sent for post-mortem.
Pakistan Tehreek-e-Insaf chief Imran Khan condemned the attack and directed an inquiry into the incident.
http://tribune.com.pk/story/591374/gun-assault-anp-leader-killed-inside-her-house/
---------
URL: https://www.newageislam.com/islam,-women-and-feminism/new-age-islam-news-bureau/rock-of-(young)-ages--music-camp-for-girls-in-dubai/d/13067