New Age Islam News Bureau
10 March 2021
• Rutgers University Issued A Statement Expressing Support For Audrey Trucshke
• Women's Healthcare Start-up Planning Saudi Expansion
• Saudi Female Biker Eyes 2022 Dakar Rally
• Pakistan- Women Can Do Wonders If Empowered
• Equal Opportunities Sought For Women In Health, Education Sectors
• Yet Another Incident of Violence against Woman As Issue Remains Rampant In Turkey
• On International Women's Day, Sisi's Wife Praises Egyptian Women
Compiled by New Age Islam News Bureau
URL: https://www.newageislam.com/islam-women-feminism/rights-group-criticizes-ongoing-intimidation/d/124507
--------
Rights Group Criticizes the Ongoing Intimidation of Female Human Rights Defenders in Saudi Arabia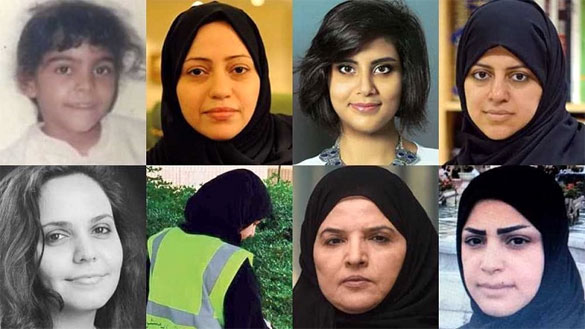 A human rights group says Saudi Arabia has intensified its crackdown on women in recent years, despite promises of improving their social standing
-----
09 March 2021
A human rights group says Saudi Arabia has intensified its crackdown on women in recent years, despite promises of improving their social standing, stressing that female activists in the kingdom are paying an "exorbitant" price for forcing the regime to make a set of reforms in favour of women's most basic rights.
The European Saudi Organization for Human Rights (ESOHR) published a report on March 8, marking the International Women's Day.
It explained that the Saudi regime has in the recent years expanded the repression of women and treated them boldly "in horrible ways" in a campaign that has seen the use of brutal torture, widespread arrests, intimidating investigations, and pledges that instill fear and limit their activities.
The rights group criticized the ongoing intimidation of female human rights defenders, saying such a treatment belies the regime's official propaganda about "reforms" in the area of women's rights.
According to statistics gathered by ESOHR with great difficulty, at least 47 women, including human rights defenders, are still in prison for political reasons.
"Likewise, other women are still under trial, and restrictions are still imposed on those who were released. Women who are accustomed to raising human rights demands on social networks are today more anxious and filled with dread that they will be exposed to repression," the organization said.
It added that the relentless and influential struggle of women's rights defenders has forced the Saudi government to change its attitude towards women's rights as it has issued a number of decisions and promises.
The ESOHR cited the lifting of the driving ban on Saudi women, the only ban of its type in the world, in June 2018 as the most notable example of change, which came after successive campaigns launched by female activists.
However, it said, the Saudi government detained the most prominent activists who demanded the lifting of driving ban just days before it took effect.
"After that, the activists were subjected to multiple violations and crimes, including torture and denial of the right to a fair trial, among others," the rights body added.
It pointed to Saudi Arabia's various types of violence against women in public life and said the government cannot still protect women in their family lives.
"In spite of new laws, which the government stated will protect women, the mechanism to protect them from domestic violence is still deficient and unable to protect the victims of violence."
The ESOHR also reported that a bad reputation continues to haunt the care homes, which "in reality are prisons for women and have many defects."
It cited the Saudi Press Agency as reporting in August 2019 that the Passports and Civil Status Departments began the implementation of the travel documents law and its amended regulations, which give women the right to travel without a guardian's permission.
However, men in Saudi Arabia are legally allowed to impose restrictions on women's travel in a number of ways, including filing disobedience cases before the courts, the report added.
It said Saudi Arabia amended laws with regard to the employment sector in July 2019 to ensure that "citizens are equals in terms of the right to work without any discrimination based on sex, disability, age, or any other form of discrimination."
However, the government refrained from taking any serious measures to stop the discriminatory acts as women still need male approval to open a bank account, leave a government-run prison, or file a lawsuit.
https://www.presstv.com/Detail/2021/03/09/646938/Saudi-Arabia-women-human-rights-ESOHR-driving-ban-travel-International-Women%E2%80%99s-Day
--------
Rutgers University Issued A Statement Expressing Support For Audrey Trucshke

Audrey Truschke. Photo: Twitter
-----
March 10, 2021
New Delhi: Rutgers University in Newark, US has issued a statement expressing support for Audrey Trucshke, who teaches South Asian history there, after people from the Hindu right-wing wrote an open letter to the varsity "expressing concerns" over the views she expressed on Twitter. In addition to this open letter that was reportedly signed by more than 5,000 people, the historian was subjected to a vicious online campaign and a number of violent threats.
"Rutgers emphatically supports Professor Truschke's acadmic freedom in pursuing her scholarship, abhors the vile messages and threats that are being directed at her, and calls for an immediate end to them. Scholarship is sometimes controversial, perhaps especially when it is at the interface of history and religion, but the freedom to pursue such scholarship, as Professor Truschke does rigorously, is at the heart of the academic enterprise," the university said in a statement.
In addition, the university has also said that it will begin a dialogue with members of the Hindu community who are studying at Rutgers. "…Rutgers emphatically affirms its support for all members of the Hindu community to study and live in an environment in which they not only feel safe, but also fully supported in their religious identity. After all, our academic excellence is inseparable from our diversity of perspectives and voices. We remain committed to fostering full, open, and respectful engagement on ideas across this spectrum."
Truschke thanked the university administration for calling for an end to the online harassment she has been facing.
On Monday night, Truschke said she had been facing an "avalanche of hate speech, anti-Muslim sentiments, misogyny, violent threats, things endangering my family (yes, I have to leave that vague for safety reasons), and aggression towards my students". Saying she was blocking thousands of accounts, she too called for the harassment to stop.
Hindus for Human Rights, a US-based advocacy group, expressed its support for Truschke and said she is "not alone in the resistance to hate".
Truschke has been attacked by the Hindu Right several times in the last few years for her research on medieval India and her opinions.
https://thewire.in/rights/rutgers-university-stands-by-audrey-truschke-after-online-attacks-statement-from-hindu-group
--------
Women's Healthcare Start-up Planning Saudi Expansion
March 09, 2021
JEDDAH: Nabta Health, a UAE-based startup dedicated to supporting women's health, is planning to expand into Saudi Arabia this year, amid growing demand for its services in the Kingdom.
The company offers personalized healthcare to women in emerging markets. Its platform allows users to diagnose conditions at home using an Al-powered health assistant.
"We have 225,000 women every month across the MENA who interact with our platform, and Saudi Arabia is the fastest-growing market," Sophie Smith, CEO and co-founder of Nabta Health, told Arab News.
"Currently, we are speaking to a number of high-profile doctors and scientists for potential collaboration opportunities both in clinical research and piloting our model of care," she added.
The startup is focused on expanding across the Middle East, then Africa and Asia, with Saudi Arabia currently in its sights.
"Saudi Arabia is a really interesting market for us for many reasons. The healthcare ecosystem is growing very fast, the compound growth rate is said to be at 7 percent by 2024," Smith said.
She noted that the company has also initiated contact with Saudi authorities to help work with the new Accountable Care Organisations, which are being set up as part of the Vision 2030 goals to develop the Kingdom's healthcare sector.
Saudi Arabia's healthcare transformation plan seems akin to what NHS England has built, Smith said. "It will look like the next generation NHS without its legacy infrastructure problems… and it is very interesting to see." Launched in March 2017, the startup spent the first three and half years at the Research and Development phase, before recently beginning to commercialize the platform.
"We first raised a seed-round for $500,000 to develop the platform and now we are raising a seed-plus to commercialize it," she said.
"And before we launch in Saudi Arabia, we will raise first a Series A growth round."
https://www.arabnews.com/node/1822226/business-economy
--------
Saudi Female Biker Eyes 2022 Dakar Rally
March 09, 2021
MAKKAH: Saudi biker Dania Akeel sustained three pelvic fractures while participating in the Bahrain Season, but she has not been discouraged from planning to compete in the 2022 Dakar Rally.
She is one of the most prominent names in next year's event, after arduous rounds in different rallies and getting being trained by professionals in the UAE and Spain.
Akeel took part in competitions in Dubai in 2019, as well as in Bahrain Season.
"In the last season, I suffered an accident and sustained three pelvic fractures, affecting my spine in the Bahrain in March 2020, which forced me to return to Saudi Arabia to undergo medical tests and physical therapy," she told Arab News.
She described the Saudi rally's standards as very high and said that champions from around the world traveled to the Kingdom to take part in the Dakar Rally, one of the toughest events.
Akeel has been a fierce competitor in races including the Hail and Northern Region Rally, which is a stage of the International Motorsport Federation's world rally championship.
"I was lucky that rallies in Saudi Arabia are very advanced internationally, and I was encouraged by the Saudi Automobile and Motorcycle Federation (SAMF). I also became the first Saudi woman to have received the Speed Bikes Competition license after competing in the UAE."
She thanked SAMF Chairman Prince Khalid bin Sultan and Sports Minister Prince Abdul Aziz bin Turki for supporting women who were entering events at an international level.
She said that Saudi women had been given the maximum opportunity to discover themselves and become key partners in all occasions, celebrations and diverse sports.
It was the element of adventure that attracted her to rallies, she explained, because racing was a sport that required a comprehensive partnership and navigation with a co-pilot. The diversity of rallies, in terms of distance and duration, also appealed to her.
"The Sharqiyah International Baja Toyota Rally is my personal first race. It is an incentive for me to participate in the 2022 Dakar Rally and a race that introduces me to the future world of racing."
She aimed to continue in the rally with good health and safety measures in place and learn from her experiences which, she said, was important for the "real takeoff and acquisition of essential skills in this kind of races."
There was a great passion for the sport, she observed, especially among ambitious Saudi women who had discovered challenging worlds and areas that reflected their reputation.
"They can now prove to the world their ability to compete and participate in international racetracks in different sports."
Akeel, who holds a master's degree in international business, said that motorbikes had helped her to discover herself and learn about concentration, mastery, responsibility and participation skills. She also learned about mental clarity.
"This is a sport that needs full commitment to training, physical and mental fitness and control."
Akeel has been passionate about driving since her childhood. She rode her first quad bike aged 8, and her first 150cc dirt bike in the desert at 14.
"I believe it is only natural for me to partake in one of the most challenging desert championships around the world, which also happens to take place in our sandy backyard," she said.
Akeel was also the recipient of the "Rookie of the Year" award during her first racing season, for the Ducati Cup in the UAE National Sportbike Super series 2019/2020 season.
https://www.arabnews.com/node/1822201/saudi-arabia
--------
Pakistan- Women Can Do Wonders If Empowered
3/8/2021
8th March is always celebrated in honour of women all over the world as a recognition of their contributions to society and is observed as a national holiday in many parts of the world.
The empowerment of women is pivotal to bring forth the hidden talent which always remains unserved because of the patriarchal society we live in.
Especially in a province like KP, where, even today, women are not allowed to study let alone have a voice of their own.
But as the clock of time is ticking by, slowly and gradually things have been changing, for the good, as women of KP are now emerging in almost every field to showcase their skills and have a recognition of their own.
This has also set the trend of women's politics in Khyber Pakhtunkhwa.
Today we will celebrate the achievements of a couple of Pakistani females from KP, who have accomplished much to make Pakistan proud.
The names that appear are not the only ones that deserve a mention, those that have been left out are just as worthy of our admiration. In All women of Pakistan deserve recognition for their contribution to making this country and world a better place.
Among these amazing women is Sabia, a cyclist from Haripur, Hazara Division, who started training on her maternal uncle's old bicycle inside her home as she couldn't ride the bike outside the house because of the fear of society.
In 2013, she won the National Cycling Championship surprising people including her family.
Upon seeing her determination, the Cycling Federation supported her in terms of training and Sabia is a member of the national, provincial and Army team.
Sabia not just has the support of her family now but also of her husband who support her dearly in pursuing her dreams. She has taken part in international cycling events too.
The second of these two amazing women is Tabassum Adnan, from Swat Valley, who is an activist and a humanitarian. This courageous lady did something amazing no woman has ever done in the history of the patriarchal society such as Swat.
She became the voice of the oppressed women by forming a Jirga (Council) of her own where she would solve the problems of the women who in the traditional society don't have a say even about the matters of their own lives.
Normally women and children are never allowed in jirgas that are led by men but she broke that taboo and formed a council of her own where the unheard voices would find a way to be heard and solved.
Because of this bold step, she got many life threats from extremist forces to which she paid a deaf ear and continued serving the women in Swat.
She is famous in Pakistan as well as abroad by the name of 'da Khwendo Jirga Mashra' (Leader of the Women Jirga Council).
Her most striking achievement, the Women Jirga has emerged as a necessity due to the continuous violence against women in Pashtun society.
Her achievements were acknowledged by the 'Grand Male Jirga' and she was invited to attend the male-led jirga sessions which is a great milestone for any woman in the history of Pakistan, ever.
Apart from this, she has also raised her voice for the minorities i-e Hindus and Christians, advocating the idea of the nonviolent relationship between people from different faiths resulting in getting life threats from extremist forces. But nothing could waver her courage and faith as she continued serving women. She, indeed, is one gem of a person and the pride of Khyber Pakhtunkhwa.
Of course, there are a lot of women whose struggles and achievements don't get to the media as their success stories are infinite.
So salute to all those women who face all the hurdles of their lives gracefully and with a strong determination of not putting their guard down in the face of many challenges they have to encounter daily. More power to them.
https://menafn.com/1101718335/Pakistan-Women-can-do-wonders-if-empowered
--------
Equal Opportunities Sought For Women In Health, Education Sectors
March 9, 2021
PESHAWAR: Different events were held in various areas of Khyber Pakhtunkhwa to mark International Women's Day on Monday wherein rights activists demanded of the authorities to provide equal opportunities to women in health, education and business sectors besides politics.
One of the major functions was organised in Peshawar by Aurat Foundation in collaboration with other organisations including Feminist Fridays, Women Action Forum and others. Singing, poetry recitation and speeches were parts of the event that were followed by a charter of demands for the government.
Regional head of Aurat Foundation Shabeena Ayaza, head of Enlighten Lab Tahira Kaleem, writer Asia Jamil and others addressed the function. They lauded enactment of law to check domestic violence and demanded of the government to frame its rules for early implementation.
Events held across KP to mark International Women's Day
The participants also demanded elimination of discrimination against women and transgender persons in provision of reproductive healthcare service and access to health services. They said that violence against women on the basis of gender of newborn, for not being able to conceive or for their decision of not giving birth for any reason should be acknowledged as violence and proper policy procedures should be undertaken in the light of KP Reproductive Health Policy.Apart from ensuring right to property and inheritance of women, the participants demanded of the government to take additional measures for transgender persons, who were deprived of their inherited properties. They also demanded 33 percent representation of women in all tiers of elected governments.
Also, a community dialogue was organised at Peshawar Press Club by Blue Veins in collaboration with directorate of social welfare and women development department. The theme of the dialogue was 'Creating an inclusive and gender just community.'
Meanwhile, Absar Welfare Foundation celebrated the day with 18 energetic young girls, who aim to become world champions. Girls were engaged in different modified games of table tennis and teqball with message of life skills in each activity.
In Lower Dir, Progressive Alliance Khyber Pakhtunkhwa arranged a seminar on the status of working women to mark International Women's Day in Adenzai Press Club.
Speakers on the occasion demanded of the government to take practical measures to eliminate discrimination against women and ensure that poor segments of society could also get higher education easily. They said that all discriminatory laws against women in the country should be abolished immediately. He said that women should be provided with equal opportunities of education and employment.
Also in the day, civil society organisations like Development Empowerment Women Association (Dewa), Women Voices and Leadership Pakistan (WVL-P) in collaboration with Global Affair Canada and social welfare department arranged a function in Balambat to mark the day.
In Mansehra, the participants of a seminar attended by men and women from different walks of life demanded of the government to initiate sustainable development programmes for economic empowerment of women in the province.
The seminar was organised jointly by district social welfare department and Social Empowerment through Education and Knowledge (Seek) to mark International Women's Day.
In Swabi, a function was held in Women University Swabi that was attended by faculty members, students and leaders of the ruling Pakistan Tehreek-i-Insaf.
Addressing the function, speakers said that lifestyle of Pakhtuns was totally different from other societies. They added that family system in other communities had been destroyed and people had become more materialistic.In Chitral, two different functions including a khuli kutcheri were held in connection with International Women's Day.
Women from different villages of the district attended the khuli kutcheri in a large number. DPO Sonia Shamroze Khan issued directives for resolution of the problems faced by women and ordered inquiries into other issue mostly related to domestic issuesto ascertain the fact.
She asked them to reach the women desk, established in every police station of the district, for lodging complaints. She asked the women in distress to call at helpline 15 round the clock if they could not attend the women desk.
The other function was held by social welfare department, special education and women empowerment. The first ever shelter home for women in the district was also inaugurated on the occasion.
https://www.dawn.com/news/1611436/equal-opportunities-sought-for-women-in-health-education-sectors
--------
Yet Another Incident of Violence against Woman As Issue Remains Rampant In Turkey
March 07 2021
A woman was filmed being beaten up on the street by a man before the eyes of her child on March 6, as the video went viral on Turkish social media, with users calling out the issue which has failed to come to an end in the country where femicide are also rift.
An abusive man in the Black Sea province of Samsun was detained and later arrested on March 7, after a video of him beating up his 24-year-old ex-wife went viral on social media.
The video footage shows İbrahim Zarap brutally punching and kicking his ex-wife, identified only by the initials E.M., in front of their child on a street while residents in the neighborhood shouted at the man to stop.
Zarap was prevented from escaping the crime scene by passersby, who then handed him over to the police.
The perpetrator said that he was beaten by the people who intervened in the incident and that he will file a complaint against them.
He was arrested on charges of "attempted murder," while the Samsun Chief Public Prosecutor's Office announced that the woman and her child were taken under protection.
Multiple Turkish authorities released statements on the issue after the massive fury on social media, with Justice Minister Abdülhamit Gül saying that the perpetrator will receive the sentence he deserves.
Family, Labor and Social Services Minister Zehra Zümrüt Selçuk said that the ministry would join the criminal case so that the perpetrator receives the heaviest punishment.
"All necessary social service models and psychosocial support will be provided to the mother and our child," she said.
Turkey is no stranger to acts of violence against women or femicides, where a woman is killed by someone she knows almost every day.
Some 67 women were murdered only in the first 65 days of 2021, according to the Kadın Cinayetlerini Durduracağız Platformu (We Will Stop Femicide Platform), a women's rights organization that monitors violence against women. Women's rights groups are continuing to call for the full implementation of the Council of Europe's Istanbul Convention, an international treaty obliging signatories to combat violence against women.
https://www.hurriyetdailynews.com/yet-another-incident-of-violence-against-woman-as-issue-remains-rampant-in-turkey-162955
--------
On International Women's Day, Sisi's Wife Praises Egyptian Women
March 8, 2021
On Monday, Egyptian President Abdel Fattah al-Sisi's wife Entissar Amer paid compliments to the women of Egypt in light of International Women's Day.
On her official Facebook page, the First Lady praised Egyptian woman for their work, production, patience, and sacrifice, asserting that Egypt derives from its women strength and honor.
She added that Egypt celebrates its women on this day, which reflects each woman's giving journey, enthusiastic spirit, and sincere determination in the face of all challenges.
Amer's public appearances and involvement in the community were scant during the first two year's of her husband's presidency, but since 2016, she has stepped into the traditional role of First Lady.
https://egyptindependent.com/presidents-wife-entessar-el-sesi-presents-her-complements-to-egyptian-woman/
--------
URL: https://www.newageislam.com/islam-women-feminism/rights-group-criticizes-ongoing-intimidation/d/124507
New Age Islam, Islam Online, Islamic Website, African Muslim News, Arab World News, South Asia News, Indian Muslim News, World Muslim News, Women in Islam, Islamic Feminism, Arab Women, Women In Arab, Islamophobia in America, Muslim Women in West, Islam Women and Feminism