New Age Islam News Bureau
29 Jan 2013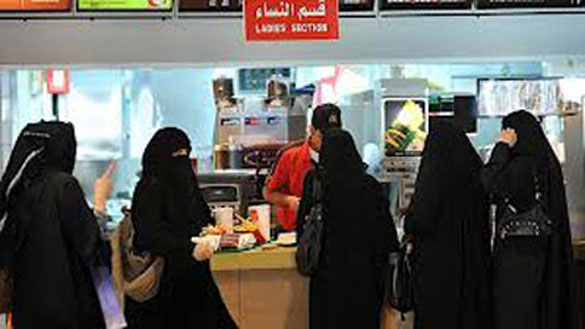 • Saudi Arabia shops told to build sex-segregation walls
• Islamic Clothing Getting More Hip In Southern California
• PLO Fury over Al Aqsa University's Female Dress Codes
• Israel Orders Halt to Injectable Contraception for Ethiopian Women
• Newlyweds Fight Together On Syria Frontline
• Sharjah Girl Guides Get New Identity
• Accused Attack Family Members of 15 Yr. Old Victim, In Bangladesh
• U S Congresswoman urged France not to release Abdallah
• Woman Muslim Minister to Bring Sense of Community to Alma Mater
• Sri Lankan Woman's Body Found in International City, Dubai
• Abandoned Three-Year-Old Girl's Father Arrested
Save 2-yr-old Tasmia
Compiled by New Age Islam News Bureau
Photo: Saudi Arabia shops told to build sex-segregation walls
URL: https://newageislam.com/islam-women-feminism/rights-group-challenges-'discriminatory'-citizenship/d/10188
----------
Rights Group Challenges 'Discriminatory' Citizenship Laws for Arab Wives
January 28th, 2013
An international human rights group has called on the government to amend the Citizenship Law, which prohibits Jordanian women married to foreigners from passing on citizenship to their spouses and children.
In a report published earlier this month, the London-based group Equality Now listed Jordan among 58countries with nationality and citizenship laws "which discriminate on the basis of sex [and] should be urgently revised in line with international legal obligations".
"This is a global issue that leads to the suffering of millions of people in several countries worldwide. The fact that some women are unable to pass on citizenship to their children and husbands has serious consequences on their rights as it puts them at risk of statelessness, vulnerability to abuse, and limited access to education and job opportunities," Equality Now Director Jacqui Hunt told The Jordan Times in a recent interview.
The report, which is based on case studies examining the individual impact of citizenship laws on families, stated that discrimination in these laws increases women's and girls' vulnerability to forced and early marriages.
"In one of the case studies provided by our local partners, some women who could not pass on citizenship to their children said they would marry off their girls at a young age to a Jordanian man to ensure they did not suffer the same as their mothers," Suad Abu Dayyeh, Equality Now's programme consultant for the Middle East and North Africa, told The Jordan Times.
According to Laila Naffa, director of programmes at the Arab Women's Organisation, about a quarter of a million people are "suffering" because of the Citizenship Law in Jordan.
"There are approximately 60,000 Jordanian women married to non-Jordanians. Half of them are in Jordan, so if we count that their children and husbands are affected, it is nearly 250, 000," said Naffa, whose organisation is a leading participant in the campaign "My mother is Jordanian and her citizenship is my right," which lobbies for amending the law.
According to the Chief Islamic Justice Department, 3,528 marriages between Jordanian women and foreigners were registered in the year 2011 alone. The total number of marriages registered was 65,054.
Jordan ratified the Convention on the Elimination of All Forms of Discrimination Against Women (CEDAW) in 1992, but still holds reservations on two articles related to citizenship and marriage and its dissolution.
Last November, at the opening of an international conference on human rights in Amman, Prime Minister Abdullah Ensour said that Jordan "will review the issue of the reservations" to CEDAW "very soon".
According to Naffa, such promises are only "lip service" until "real changes take place".
Naffa, however, said members of the "My mother is Jordanian" campaign were positive that the new parliament could help end discrimination against women married to non-Jordanians with the help of "growing support" from civil society groups."This year, we noticed that several female candidates listed changing the Citizenship Law on their agendas. Also, around 90 per cent of them showed support for ending such discrimination and changing the law when we met with them," she noted.
"We are also looking to form a coalition of all civil society groups that show support for the campaign as we have seen increasing support from several local groups and individuals. Hopefully, this will create more pressure to amend the law."
http://www.albawaba.com/news/nationality-women-arab-466901
----------
Saudi Arabia shops told to build sex-segregation walls
AJan 29, 2013
RIYADH: Saudi Arabia authorities have ordered shops employing both men and women to build separation walls to enforce the strict segregation laws of the ultra-conservative kingdom, local press reported Monday.
The order that was issued by labour minister Adel Faqih also had the stamp of Abdullatif al-Sheikh, the head of the Commission for the Promotion of Virtue and Prevention of Vice, commonly known as Mutawa and religious police, several dailies reported.
It stipulated that a separation barrier, not shorter than 1.6 metres (over five feet), should be erected to divide working men and women.
Authorities in June 2011 told lingerie shops to replace their salesmen, mostly Asian, with Saudi saleswomen. This directive was later extended to cosmetic outlets.
Saudi women have long complained they feel uncomfortable having to buy lingerie from men and would prefer female sales assistants.
In December, the head of the religious police strongly criticised the labour ministry, claiming that saleswomen do not have a proper working environment and that some have been harassed.
The labour ministry had said the decision to employ women at lingerie shops should create some 44,000 jobs for Saudi women, among whom unemployment is more than 30 percent, according to official figures.
http://timesofindia.indiatimes.com/world/middle-east/Saudi-Arabia-shops-told-to-build-sex-segregation-walls/articleshow/18233486.cms
------------
Islamic Clothing Getting More Hip In Southern California
Muslim Clothing Companies Flourishing In Southland
Southland designers are launching clothing companies that cater to fashion-forward Muslim women who won't settle for dowdy black outfits. Jewel-coloured, rhinestone studded caftans fill the void.
By Shan Li, Los Angeles Times
January 26, 2013
Islamic clothing is getting a bit more hip in Southern California.
Home to one of the largest Muslim communities in the nation, the Southland has become fertile ground for a new generation of designers crafting clothes for women who are limited by faith and conviction from flashing too much skin.
Although Muslim women have been dressing fashionably for years, many in the U.S. say they still face tricky challenges when getting dressed — and especially dressed up.
"We are Muslim and we can still express ourselves, be fashionable, as long as we do it in a halal way" or in keeping with Islamic law, said LaTanya Maassarani, 30, a postal carrier from Long Beach. "But unless you have lots of money or lots of time to shop, it's been hard for years to find clothes in America that aren't dowdy."
Filling that void now are designers such as Afra Said-Ahmed and her sister Eiman Ahmed, both Muslims, who launched Irvine clothing company Mohajababes. The name is a mash up of the words "babe" and "Muhajiba," or one who wears a hijab scarf.
"Trying to conform to Muslim dress codes, you get stuck in a rut of black, black, black all the time," said Ahmed, 26. "It's definitely very difficult, especially in the U.S. You want to fit in, but still be appropriately dressed."
So she and her sister scraped together $2,000 and began selling caftans and rhinestone accessories for head scarves at the end of 2011. The line is modest — caftans sweep the floor and hang loosely on the body. Yet the jewel-coloured clothing comes with feminine frills such as silky fabrics and metallic embroidery.
Said-Ahmed said their goal was to dress fashion-conscious shoppers who are faithful to Islamic mandates but want nothing to do with traditional black coverings such as Abayas and Burqas, which are too hot for the California sun.
"There is a huge market here for Muslims who can't access clothing like this," she said. "People were saying, 'Oh my God, that's amazing. I have been looking everywhere for this.'"
Local designers in Irvine, Long Beach, San Diego, Newport Beach and Los Angeles are opening stores, showing off wares at conventions and sending models down runways in the Southland.
They're hoping to make serious money: Southern California has a ready pool of more than half a million Muslims concentrated in areas such as Anaheim, Irvine and West Los Angeles, said Munira Syeda, spokeswoman at the Council of Islamic-American Relations.
Fashion shows such as "Fashion Fighting Famine," an annual charitable runway event in Irvine, have focused on home-grown Muslim talent in recent years.
Nida Chowdhry, executive director of the runway show, said Muslims in Southern California are ready to spend for fashion.
"Many here are more ahead of the curve in following fashion trends," she said. "Designers know there's a local community hungry for different ways to wear what is on trend with a few adjustments."
Muslim Americans say the new designers make getting dressed in the morning — and avoiding stares from people nervous about anyone who looks remotely Middle Eastern — much easier.
Amira Mertaban, 21, said young Muslim women like herself now have the confidence to remain true to Islam. Even a few years ago, she said, women who didn't want to look dour resorted to layering miniskirts on top of jeans.
"If a non-Muslim looks at you, it obviously makes them more comfortable if they don't see the standard black that they see in the news all the time," the Chino Hills college student said as she proudly showed off her pale pink Hijab, striped maxi dress and stylish Marc Jacobs glasses. "Fashion has given Muslims a sense of relief."
Aside from the challenges of running a small business, designers churning out Muslim clothing must navigate tricky cultural norms and interpretations of Islamic law. Some conservative, older members of Muslim communities — and even younger members — frown upon anything brightly coloured or remotely flashy, said Anna Secor, a University of Kentucky professor who has studied Islamic fashions.
Secor said Islamic laws mandating modesty are open for wide interpretation. In Saudi Arabia, most women wear Abayas and many also cover their hair with Hijabs, she said. In Turkey, on the other hand, some young women dress in skin-tight bodysuits with strappy sundresses on top.
"What exactly is the boundary of modesty is contested and a lot of people don't agree," she said. "This tension of fashion and Islamic modesty is something women deal with every day of their lives."
Mohajababes carefully tailored the marketing to the audience: Models show very little skin. Its website has links to tutorials on stylish ways to wrap head scarves. And the company's tag line delivers the message: "We've got it covered."
Even so, Ahmed penned a long blog post on the firm's site in response to "violent" online diatribes against popular Muslim fashion bloggers and designers. But the company has made some concessions, shelving plans for a shorter, knee-length caftan and embroidered trousers.
"If we sold pants, people would say, 'These trousers — you can see the legs, that is totally inappropriate,'" she said, adding that their vibrantly coloured clothing has already drawn harsh critics. "We have heard people say 'It's too bright, the caftans are too pretty, and they attract too much attention.'"
Some local designers are hoping to inch away from controversy by angling for an audience beyond the Muslim community.
In December, sisters Nadia Rayan and Nora Ghaneian launched the evening-wear line Rayan, designed and manufactured in Los Angeles.
Like many Muslim American designers, they first began making clothes for themselves — designing gowns to wear to family weddings — after finding few alternatives at the mall besides flesh-baring dresses or frumpy frocks.
"Pretty much the only options were mother-of-the-bride dresses or a strapless or one-shoulder gown where you have to wear a long-sleeved bodysuit underneath or a cardigan over," Ghaneian said.
"For people who are trendy and keep up with fashions, those are not valid options," she said, "so there is definitely a void in the market."
The Rayan line includes gowns, priced between $250 and $400, in shades of fuchsia, plum and navy decorated with trendy details such as lace and peplums. The designers have sold about 25 dresses already and hope to eventually expand beyond the Muslim women who are their customer base.
"Our ultimate goal is to sell in a department store like Bloomingdales and Nordstrom," she said. "Right now we are marketing toward our Muslim community because we know there's a void, but many women would want a long-sleeved dress every now and then."
shan.li@latimes.com
http://www.latimes.com/business/la-fi-muslim-fashion-business-20130126,0,1905259.story
----------
PLO Fury over Al Aqsa University's Female Dress Codes
Organisation launches attack on 'Taliban decision'
By Nasouh Nazza
January 28, 2013
Ramallah: The Ramallah-based Palestinian Ministry of Higher Education has strongly criticised and attempted to nullify a decision taken by the management of Gaza-based Al Aqsa University requiring female students to adhere to Islamic dress codes on campus.
In Ramallah, the Palestinian Minister of Higher Education Ali Al Jarbawi sent an official letter to the university's acting head informing him that the university's women's dress code decision was legally invalid and will be rejected as the decision cannot come into practice.
The board of Al Aqsa University, a public university in Gaza, on Sunday unanimously approved the decision which forces female students to adhere to a 'decent dress code', including the Hijab while on campus, which was to be effective starting the next academic semester.
Al Jarbawi said in his letter that the Palestinian minister of higher education alone has the authority to issue the necessary regulations and the dress code law will therefore be scrapped. He stressed that the ministry had never been consulted before the decision was taken.
He argued that there has been no specific definition for 'decent dress code' in the agenda of the Palestinian National Authority (PNA).
The minister stressed that there will be no room for standards to be imposed on the clothing of the women students or moves to force them to put on uniforms, highlighting the importance of personal freedom, a natural right that is enshrined in the Palestinian National Authority's (PNA) Basic Law.
Gaza, however, has been operating outside the jurisdiction of the PNA since 2007, when Islamist group Hamas seized power and expelled PNA officials.
The Cultural and Information Department of the Palestinian Liberation Organisation (PLO) too denounced the procedures Al Aqsa University Council took.
The PLO branded the university's decision as a "Taliban decision", referring to the ultra-conservative Afghan group which will have serious social and political consequences for Palestinian society, which, he said, should firmly confront the implementation of the decision legally, culturally and morally.
The PLO said in an official statement that the decision grossly violates human rights and Islamic teachings, which he said had left no place for forceful implementation. The PLO said that the decision also violates the university's mission, which had been founded to develop the society and enhance the collective respect for human rights, the use of law, respect, tolerance, forgiveness and equality.
The PLO condemned in strong terms the verbal and physical violence female students are alleged to have faced at the hands of security personnel at the University for Not adhering to the dress code. Security members are accused of having imposed the dress code already, harassing even those women who wear veils under the pretext that those women were dressed 'indecently' by not wearing closing that was loose enough.
The university elaborated on the directive saying that women's clothes should cover "the entire body in an Islamic way", adding that the decision was binding. The university administration rejected accusations that the decision is a violation of personal freedom.
The university's decision is believed to be inspired by a major campaign launched by the Gaza-based Hamas Ministry of Awqaf and Islamic Affairs.
http://gulfnews.com/news/region/palestinian-territories/plo-fury-over-gaza-university-s-female-dress-codes-1.1138950
----------
Israel Orders Halt to Injectable Contraception for Ethiopian Women
January 28, 2013
Israel's Health Ministry has ordered the four public health maintenance organizations to stop giving Ethiopian Israelis a long-acting contraception injection.
The order comes more than a month after an Israeli Educational Television report alleging that Ethiopian immigrant women have been coerced into taking contraceptive shots, which is behind a 50 percent decline in the Ethiopian birth rate in Israel over the last decade.
Ethiopian women interviewed in the program, called "Vacuum" and hosted by Gal Gabbai, said they were coerced into receiving injections of Depo-Provera, a long-acting birth control drug, at Jewish-run health clinics and following their move to Israel.
A letter issued by Health Ministry director-general Ron Gamzu told the HMOs "not to renew prescriptions for Depo-Provera for women of Ethiopian origin if for any reason there is concern that they might not understand the ramifications of the treatment," Haaretz reported Sunday.
The letter came after the practice was questioned by the Association of Civil Rights in Israel, which represents several women's rights and Ethiopian immigrants' groups. It was the first time that an Israeli official has acknowledged that Ethiopian women In Israel have been given the drug.
The American Jewish Joint Distribution Committee, which runs the health clinics in Ethiopia for prospective immigrants to Israel, says it offers contraception among its array of services but that it is purely voluntary.
"At no time did JDC coerce anyone into engaging at family planning at its clinics," a JDC spokesman in New York told JTA in December after the news show aired. "Those options were totally voluntary and offered to women who requested it. They chose the form of contraceptive based on being fully informed of all the options available to them."
Dr. Rick Hodes, the medical director of JDC's operations in Ethiopia, said injectable contraceptives are the option of choice in Ethiopia.
"We do not inform the Israeli authorities who is on family planning, and I have no idea what happens once they arrive in Israel," Hodes wrote in a letter on the Failed Messiah website that was published Sunday.
"Injectable contraceptives are the most desired throughout the country. They are easy, culturally preferred, and offer the ability to be on birth control without a woman informing her husband, which is an issue here."
http://www.jewishjournal.com/israel/article/israels_health_ministry_orders_halt_to_injectable_contraception_for_ethiopi
----------
Newlyweds Fight Together On Syria Frontline
A couple fighting against government forces discover love and tie the knot amid death and destruction.
Basma Atassi
28 Jan 2013
Aleppo, Syria - Mahmoud al-Halabi was once the driver of a Syrian minister's wife. Nour al-Hassan was a stylish hairdresser. In the early days of the Syrian uprising, their personal rebellions brought them together and have since pushed them both to become fighters in Aleppo's battle against President Bashar al-Assad's forces.
Mahmoud, a 28-year-old rebel fighting on the frontline in the Sheikh Saeed neighbourhood, was fired from his job three years ago. He said he was jailed and tortured by the regime for a year, and then forced to leave Syria.
Full report at:
http://www.aljazeera.com/indepth/features/2013/01/201312871343706714.html
----------
Sharjah Girl Guides get new identity
Lily B Libo-on / 29 January 2013
In the next five years, Sharjah Girl Guides (SGG) will be perceived as the model chapter of UAE Girl Guides and of the World Association of Girl Guides and Girl Scouts (WAGGGS) by turning it and UAEGG into front runners in the Girl Guiding movement in the Arab region and the world said Shaikha Jawaher bint Mohammed Al Qasimi, wife of His Highness Dr Shaikh Sultan bin Mohammed Al Qasimi, Member of Supreme Council and Ruler of Sharjah.
Shaikha Jawaher, Chairperson of UAE Girl Guides Association and patron of Sharjah Girl Guides (SGG) was speaking at the launch of SGG's new identity under the slogan 'Take The Lead' during the 40th anniversary of the guiding movement in the UAE, on Sunday at the SGG's headquarters in Al Badee'a Area in Sharjah.
Full report at:
http://www.khaleejtimes.com/kt-article-display-
----------
Accused Attack Family Members of 15 Yr. Old Victim, In Bangladesh
January 29, 2013
Kotwali police yesterday arrested eight people on charge of attack on the family members of slain schoolgirl Zakia Akter Chanpa on Saturday.
The arrestees are Fatema Begum, 45, Hazera Begum, 60, Amena Begum, 25, Monoara Begum, 52, Anwara Begum, 45, Renu Begum, 63, Shima Begum, 28, and Bablu Sheikh, 40, of Kashemabad village under Kanaipur union in Sadar upazila.
Zakia Akter Chanpa, 15, a class nine student at Pordia Girls' High School in Kanaipur union, 'went missing' from a wedding ceremony at her relative's house near their residence at Kashemabad village in the same union on the night of December 13.
Full report at:
http://www.thedailystar.net/newDesign/news-details.php?nid=266937
----------
U S Congresswoman urged France not to release Abdallah
January 29, 2013
NEW YORK: A U.S. congresswoman urged France Monday not to release George Abdallah, despite his being granted parole after nearly three decades behind bars.
U.S. Representative Grace Meng said she would draw up a bipartisan letter with other members of Congress calling on France to scrap the possible release of Abdallah.
"We cannot stand idly by while an ally frees the murderer of another American in diplomatic service," said Meng, a member of the House Foreign Affairs Committee.
Full report at:
http://www.dailystar.com.lb/News/Local-News/2013/Jan-29/204157-congresswoman-wants-abdallah-jailed-for-life.ashx#ixzz2JLcc16Wy
----------
Woman Muslim Minister to Bring Sense of Community to Alma Mater
Rashad is a Penn grad and a host of radio show Islam Today
By CLAIRE COHEN
January 28, 2013
Although Penn's new Muslim minister is still in her first week on the job, she is no stranger to campus.
Kameelah Mu'Min Rashad — who graduated from the College in 2000 with a major in psychology and a minor in women's studies and has a masters' from the Graduate School of Education — was hired in January 2013 and hopes to bring her outside knowledge back to her alma mater.
Full report at:
http://www.thedp.com/article/2013/01/new-muslim-minister-to-bring-sense-of-community-to-alma-mater
----------
Sri Lankan Woman's Body Found in International City, Dubai
Sri Lankan woman allegedly jumped from the fourth floor
By Bassma Al Jandal
January 27, 2013
Dubai: A woman allegedly committed suicide in International City on Saturday night, according to Dubai Police officials.
Police said on Sunday the Sri Lankan woman, who was in her 30s, died on the spot after she reportedly jumped from the balcony of the fourth floor in a building in the Morocco Cluster.
According to police the woman was reported to be frustrated after talking to her family back home over the phone. She was at the internet cafe waiting to talk to her family at least one and half hours before she allegedly committed suicide. She suddenly started shouting and screaming in the cafe after talking on the phone before dashing to her flat.
Full report at:
http://gulfnews.com/news/gulf/uae/crime/woman-s-body-found-in-international-city-1.1138470
----------
Abandoned Three-Year-Old Girl's Father Arrested
Afkar Abdullah / 29 January 2013
The police have arrested the father of the three-year-old girl who was found abandoned in Kuwaiti Hospital, for torturing her and failing to provide her the necessary care, before dumping her on the hospital premises.
Colonel Abdulgadir Al Amri, Acting Director of the Search and Investigation Department, said the social media and newspapers helped in quickly finding the parents of the girl, identified as Amna, who has no identification documents. The girl was found by a woman around midnight on January 26, crying and roaming in the hospital. The woman pacified the girl and on failing to find her parents, she handed her over to the police post at the hospital.
Full report at:
http://www.khaleejtimes.com/kt-article-display-
----------
Save 2-yr-old Tasmia
28 January 2013
Tasmia Islam, a two-year-old girl, is suffering from heart diseases and has been undergoing treatment at different hospitals, including National Heart Foundation Hospital and Research Institute.
She needs an immediate life-saving operation, as per recommendation by doctors, estimated to cost around Tk 5 Lakh, says a press release.
Her father Syed Fahad ul Alam, a farmer from Lohagara thana in Narail, already spent his savings for the treatment and is unable to arrange the amount needed for the operation.
Full report at:
http://www.thedailystar.net/newDesign/news-details.php?nid=266818
----------
URL: https://newageislam.com/islam-women-feminism/rights-group-challenges-'discriminatory'-citizenship/d/10188