New Age Islam News Bureau
26 Oct 2019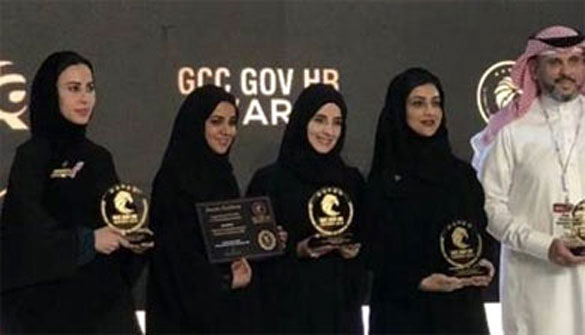 "Women Leadership Award of the Year 2019 in the GCC.''
Rasha Bint Abdulrahman Bin Saleh Al-Shubaili said she was awarded the prize during a recent ceremony held in Abu Dhabi
------
• 178 Trained Saudi Women to Join Security Agencies
• Women Parliamentarian in Sindh Rise above Political Affiliation
• Al-Shubaili wins 2019 Gulf Women Leadership Award
• Women Take On Manual Labour Jobs In War-Torn Yemen
• Nigerian Girl, Held Captive For Refusing To Renounce Her Christian Faith And Convert To Islam. Takes Boko Haram Heads-On
• Voices of Muslim Women Announces 2019 VMW Award finalists
• Jordanian Woman on Hunger Strike in Israeli Prison Transferred To Hospital
• Women Can Change Fate of Entire Muslim World: Moot
Compiled by New Age Islam News Bureau
URL: https://www.newageislam.com/islam-women-feminism/revolutionaries-babes-lebanon-women-protesters/d/120098
--------
Revolutionaries, Not 'Babes': Lebanon's Women Protesters Call Out Sexist Arab Men For Objectifying Them
22 October, 2019
As images and videos of Lebanon's anti-government protests flood social media platforms, a number of Arab media outlets and high-profile Arab figures have come under fire for their objectification of the movement's women protestors.
A number of public articles and comments from leading daily newspapers and primary figures of the Arab political elite have sought to judge the appearance of women participating in Lebanon's anti-government protests.
A wave of condemnation has labelled these as sexist and symptomatic of the gender inequality in parts of the region.
The Saudi daily Okaz on Tuesday led its coverage of Lebanon's protest movement with a piece entitled "Lebanese babes: All the beautiful women are revolutionary".
The article itself was mainly a montage of pictures of those protesters the paper deemed "attractive" and "not just beautiful, but also revolutionary".
Lebanese media and social media users were quick to slam the paper in response. Critics condemned Okaz's coverage for objectifying women, for being unprofessional, and for seeking to reduce the importance of a movement that many are now considering a watershed in Lebanon's recent history.
"This is poor journalism that employs the language used by perverts. The images selected are provocative and should not be published by a reputable newspaper," a Twitter user said.
"This is embarrassing and stupid! How can an official newspaper descend to this level?" another Twitter user said.
Women in Saudi Arabia have been protesting for decades to have basic rights upheld, including the right to refuse the mandatory abaya dress code enforced by the kingdom's authorities.
A number of Saudi female protesters remain imprisoned with accusations of sexual abuse and torture after having publicly rejecting the kingdom's policy against women drivers.
Okaz's article however followed a number of other public comments that together have been criticised for their demeaning of women and for minimising the importance of the protest movements in other places of the Arab world.
Sexist memes and belittling remarks
The son of former Egyptian President Hosni Mubarak, Alaa, was the subject of rebuke after sharing a meme appearing to show Lebanese women protesters and captioned: "If people like these had come out here on 25 January, Alaa and Gamal themselves would have gone to the square and chanted against their father."
The post referred to the events of January 2011 - which marked a highpoint of the Arab Spring - that saw protestors overthrow the rule of Hosni Mubarak after the Egyptian regime sought to violently suppress the movement.
Alaa Mubarak's comments on women were for some social media users especially galling, given the sexual abuse rife in the Egyptian regime's security apparatus.
Alongside the brutal force used by Mubarak's regime to suppress the revolution, leading to the death of over 800 protesters, sexual assault against women became a prominent factor during the uprising.
The post sparked fury as the plague of sexual harassment in Egypt and lack of political freedoms came to the fore.
"[Lebanese] women are able to be that way in their everyday lives because they do not face sexual harassment like we do," a Twitter user said.
"You noticed what Lebanese women were wearing, but you did not notice that they were not being sexually harassed," another twitter user said.
"The Lebanese people have proven that they can hold protests in a civilised and peaceful country without being attacked," another twitter user said.
Egyptian billionaire tycoon Naguib Sawires also lent his voice by sharing a comment that belittled the suffering of war-torn Yemen.
"I was sitting watching the demonstrations in Lebanon. As soon as my wife entered, I changed the channel to the war in Yemen," he said in a tweet that garnered over 24,000 likes.
Many slammed his comments as demeaning both to the Lebanese protests and the suffering of the people of Yemen.
"What Naguib Sawires wants to do with his silly joke is to portray the events in Lebanon as a porn film for which you have to change the channel. This is not strange for those who described women protesters as sex jihadists and even more so, from virginity tests to stripping the bodies of Egyptian women in front of the world," one Twitter user said.
Egypt's military regime has been widely condemned for subjecting female protesters to virginity tests after their arrest since the uprising in 2011.
https://www.alaraby.co.uk/english/indepth/2019/10/22/revolutionaries-not-babes-stop-objectifying-lebanons-women-protesters
--------
178 Trained Saudi Women to Join Security Agencies
26 Oct 2019
Saudi: A batch of 178 Saudi women have graduated after completing training at the Public Security Training Centre.
The women were honoured during a ceremony held at the Prince Mohammed bin Naif Hall and presented with graduation certificates.
This is the second batch of women to graduate and work in different departments of the Public Security, including police, the traffic, road security, security patrols, Haj and Umrah security in addition to security in at the two Holy Mosques in both Mecca and the Medina.
The graduates underwent training in military preparedness, shooting, computer skills, English language and communications, forensic evidence, first aid among other tasks.
The Riyadh authorities have allowed women to serve as lance corporals, corporals, sergeants, and staff sergeants in the Royal Saudi Land Forces, Royal Saudi Air Force, Royal Saudi Arabian Navy, Royal Saudi Air Defense Forces, Royal Saudi Strategic Missile Forces and Armed Forces Medical Services.
Last year, Saudi women have been in military ranks of Public Security, including the General Directorate of Narcotics, General Directorate of Prisons, Criminal Evidence, and Customs.
http://www.gdnonline.com/Details/635014/178-trained-Saudi-women-to-join-security-agencies
--------
Women Parliamentarian in Sindh Rise above Political Affiliation
Faizan Hashmi
25th October 2019
Women members of Sindh Assembly, representing both treasury and opposition benches here Friday pledged to unanimously support the cause of gender sensitivity, including provision for economic empowerment of women and excluded groups
KARACHI, (UrduPoint / Pakistan Point News - 25th Oct, 2019 ) :Women members of Sindh Assembly, representing both treasury and opposition benches here Friday pledged to unanimously support the cause of gender sensitivity, including provision for economic empowerment of women and excluded groups.
Actively participating in a session organized by Home Net -Pakistan and UN Women to mark World Home Based Workers (HBW) Day they also committed to rise above their respective political affiliations to help actual implementation of laws for protection of rights, coupled with social, political and financial empowerment of women and the members of transgender community.
They on the occasion demanded speedy finalization of the Rules of Business for the HBWs Act that was approved by the Sindh Assembly in May 2018, however, is yet to be implemented.
Sindh Minister for Women Development, Shehla Raza said the provincial government is committed to protect the rights of HBWs and the law introduced for the purpose was fast on its way of implementation.
"We are linking up the HBWs with other streams of women empowerment network at district level in order to bring them to a level where they are able to take their decisions and acquire the rightful benefits they are entitled to as a community," she said.
The Minister mentioned that province has also entered into an agreement with the Government of Japan for strengthening HBWs and facilitating products development on their part with equal attention towards better businesses opportunities for them.
MPA Nusrat Seher Abbasi, representing Grand Democratic Alliance (GDA) said the law related to HBWs was a significant achievement of the PPP government, however, need is that of its early and efficient implementation.
"Despite being part of a major work-force HBWs remain hidden and unrecognized," said the parliamentarian representing her constituency for their third consecutive of the assembly.
Expressing her satisfaction that women members of the provincial assembly are on the same page, the senior MPA said once the HBW Act 2018 was implemented their right to be registered as a worker would be recognized ensuring that they avail of the social security and other relevant benefits.
"It is the need of hour to recognize the contribution of the workers contributing to the economy from their homes," Nusrat Seher Abbasi said.
The MPA also appreciated the online platform set up by HomeNet Pakistan for direct marketing of the HBWs products.
"The registration of HBWs and their access to the social security would not only empower in a holistic manner but also help them earn better," said Sidra Imran the PTI MPA from Sindh.
Highlighting the importance of the unionization of the workers in the home base sector, she said the Federal government too was committed to strengthen the women labor force with equal provision for their recognition at every level.
Sindh Secretary for Women Development, Alia Shahid said the notification related to Women Economic Empowerment Council, will address the gaps in order to address a smooth pathway for the economic empowerment of the women across sectors.
A senior official of provincial labour department, Farrukh Zaidi in his brief remarks said the rules of business related to HBW Act 2018 was presently being vetted by the law department and assured that these would be forwarded to before the assembly in a week's time.
MPA Marvi Rashdi, Chairperson of Sindh Commission of Status, Nuzhat Shirin, Director of PILER and senior labour rights activist Karamat Ali, Majyd Aziz from Employers Federation of Pakistan, Executive Director of HomeNet Pakistan, Ume Laila Azhar along with home based workers from different parts of the province also addressed the ceremony.
MPAs Mangla Sharma, Heer Soho, Shahazad Wali, Tanzila Habiba, Adeeba Arif, Sarwat Fatima, Regional Director of Aurat Foundation, Mehnaz Rehman and Naheed Syed of Home Net Pakistan (Sindh) and a large number of human rights activists were also present on the occasion.
Some 30 HBWs were presented shields by the MPAs and activists in recognition of their outstanding work in terms of innovation, leadership, mobilizers etc.
https://www.urdupoint.com/en/pakistan/women-parliamentarian-in-sindh-rise-above-pol-746241.html
--------
Al-Shubaili wins 2019 Gulf Women Leadership Award
October 23, 2019
RIYADH – A Saudi woman in charge of the women's section in the Shoura (Consultative) Council has been awarded the "Women Leadership Award of the Year 2019 in the GCC.''
Rasha Bint Abdulrahman Bin Saleh Al-Shubaili said she was awarded the prize during a recent ceremony held in Abu Dhabi, for the seventh year consecutively, at the Government Summit for Human Resources. The ceremony was held under the auspices of the Human Resources Development Fund (Hadaf) of Saudi Arabia, aSaudi Press Agency (SPA) report said.
A special prize titled "The Leading Woman Prize" was created this year for the first time to be added to the other categories. This year the Kingdom, and the Shoura Council leadership specifically, won the prize because of the continuous support for Saudi women by the prudent Saudi leadership.
The objective of the ceremony for "Government Summit Prizes for Human Resources at the level of GCC countries 2019," which is held simultaneously with the summit events, is to honor outstanding contributions and accomplishments by governments, business organizations and individuals, who presented an example to be followed in leadership at the level of the institution and the working team in terms of human resources management, diversity and strategic planning.
It is noteworthy that the Government Summit for Human Resources is held for three days under the motto "Building the nation comes via developing the human capital and the basic principles for molding the personality of the future world leader".
The participants in the Government Summit for Human Resources include the elite regional and international human resources leaders and decision-makers in the world. Foremost among these is the executive coach for Steve Jobs Group, John Matton, who is at the top of the list of executive coaches in the world. He ranks 10th in the list of the best international leaders.
http://saudigazette.com.sa/article/580593/SAUDI-ARABIA/Al-Shubaili-wins-2019-Gulf-Women-Leadership-Award
--------
Women Take On Manual Labour Jobs In War-Torn Yemen
by Sara Khairat
October 26, 2019
Five years of war in Yemen have seen many men killed in the fighting.
So, women are increasingly becoming the sole bread-winner and forced into traditionally male-dominated jobs.
https://www.aljazeera.com/news/2019/10/women-manual-labour-jobs-war-torn-yemen-191026085259703.html
--------
Nigerian Girl, Held Captive For Refusing To Renounce Her Christian Faith And Convert To Islam. Takes Boko Haram Heads-On
24 OCTOBER 2019
CAJ News Agency (Johannesburg)
By Emeka Okonkwo
Abuja — Pressure is mounting from across the globe on the Boko Haram to release a brave Nigerian schoolgirl held captive for refusing to renounce her Christian faith and convert to Islam.
Leah Sharibu was aged 14 when the Islamist terror group abducted 110 students from a girls' boarding school in the northeastern state of Yobe in February last year.
Five students were killed while being held captive.
Some 104 of the girls were released four weeks after the abduction.
It is believed Sharibu is still held captive because of her refusal to renounce her Christian faith.
This is in defiance of orders by the Boko Haram.
Her bravery in the face of a terror group feared as the most lethal in the world has attracted international acclaim.
In a video released exactly a year ago, Boko Haram warned that Sharibu would be a slave for life.
"Based on our doctrines, it is now lawful for us to do whatever we want to do with her," the group stated.
The 21 Wilberforce Alert is encouraging people to stand in solidarity with the teenage girl by participating in a global prayer vigil on Saturday.
Sharibu's family and friends have sought the attention of the federal and local governments in Nigeria and traveled to the United States to plead with the government with hopes of prompting action, but to no avail.
The Boko Haram has killed more than 37 500 people in the past decade. Nearly 2 million Nigerians have been displaced.
https://allafrica.com/stories/201910240199.html
--------
Voices of Muslim Women Announces 2019 VMW Award finalists
October 25, 2019
VOICES of Muslim Women (VMW) has announced finalists for the third annual VMW Awards, honouring the achievements of 22 phenomenal Muslim women. This year's finalists are:
● Allies of Muslim Women – Grace Club, Janice Morris and Ershad Fawcett
● Arts & Culture – Sumaiya Tufail and Noor Fadel
● Athletic Excellence – Rakiia Lolieva and Naadiya Ali
● Business & Entrepreneurial Leadership – Sabrina Samy, Sidra Subzwari and Humaira Qayum
● Lifetime Achievement – Kuresa Buksh and Dr. Amera Murabit
● Media & Entertainment – Ziyana Vasaya and Iayisha Khan
● Social Justice – Turnisa Matsedik, Hira Rashid and Humaira Hamid
● STEM – Fouziah Khairati and Hanieh Shakeri
● Young Women in Distinction – Zeba Khan, Sofia Slater and Fizza Rashid
"The VMW Awards Gala not only celebrates the successes of women in our community, it also creates connection, collaboration, and inspiration," said Aisha Amijee, Executive Director of Voices of Muslim Women. "It is my honour to congratulate this year's finalists on their amazing achievements."
Founded in 2017, the VMW Awards are given annually to self-identifying Muslim women of British Columbia who excel socially and professionally in the various award categories. Each year, VMW calls out for members of the community to nominate women they believe are deserving of this prestigious award. A panel of award judges have shortlisted the finalists and selected the winner for each category after much deliberation and consideration.
The winner for each category will be awarded on October 26 at 7 p.m. during a ceremony held at Aria Banquet Hall at 12350 Pattullo Place, Surrey.
https://www.voiceonline.com/voices-of-muslim-women-announces-2019-vmw-award-finalists/
--------
Jordanian Woman on Hunger Strike in Israeli Prison Transferred To Hospital
Oct 25, 2019
Israeli authorities have transferred to hospital a Jordanian woman who is being held at a detention center in the occupied territories, following deterioration in her health condition more than a month after she went on hunger strike in protest against her administrative detention.
Sufyan al-Qudah, a spokesman for Jordan's Ministry of Foreign Affairs and Expatriates, said in a statement published on his Twitter page that Heba Abdel-Baqi Labadi had been taken to hospital on Thursday, and provided with the necessary treatment before being returned to prison on the same day.
Sufyan Qudah سفيان القضاة
✔
@Squdah
تابعت سفارتنا في تل أبيب اليوم باهتمام التطورات الصحية المتعلقة بالمواطنة #هبة_عبدالباقي، والتي تم نقلها اليوم للمستشفى وتقديم العلاج اللازم لها ثم عادت إلى مركز احتجازها. وأن السفارة طالبت السلطات الإسرائيلية بتوفير الرعاية الطبية الخاصة لهبة، كما بين أن وضعها الصحي الان مستقر
View image on Twitter
76
9:07 PM - Oct 24, 2019
Twitter Ads info and privacy
59 people are talking about this
"Heba's health condition is now stable," Qudah affirmed.
Ahmad al-Labadi, the Jordanian woman's father, said in statements to the Palestinian Arabic-language Quds Press news agency that his daughter is currently suffering from fatigue, dizziness and heart-related complications.
On October 18, the Jordanian foreign minister rejected a ruling by an Israeli military court to extend the detention of Labadi as illegal and invalid.
Qudah said at the time that his ministry had informed the Israeli side of its complete rejection of the verdict, and called for the immediate release of the Jordanian woman.
On October 14, Qudah said Jordan's Ambassador to Tel Aviv Walid Obeidat had demanded the immediate release of Labadi and Abdurrahman Marei and their repatriation in his meetings and frequent contacts with Israeli officials, Jordan's official news agency Petra reported.
The spokesman for the Jordanian foreign ministry added that Amman rejects the Israeli authorities' decision to arrest the two. Amman, he added, follows up on their case on a daily basis and has instructed its diplomats in Tel Aviv to visit them periodically.
Labadi holds a Palestinian identity card. She was arrested on August 20, when she crossed the King Hussein Bridge, also known as the Allenby Bridge, which crosses the Jordan River near the Palestinian city of Ariha and connects the West Bank with Jordan, with her mother and aunt on their way to a relative's wedding in the northern West Bank city of Jenin.
According to her attorney, Raslan Mahajna, she is suspected of meeting with people affiliated to the Lebanese resistance movement Hezbollah during trips to Beirut both last year and early this year.
Mahajna added that Labadi often voices her views against the Israeli regime's occupation of Palestinian territories on social media networks.
"She was interrogated intensively for 35 days, and in the end, there was no basis for indicting her, so she was slapped with an administrative detention order," he said.
"She's been on hunger strike, because in her view, this was an arbitrary, unjustified arrest."
Labadi is reportedly being held at Kishon prison, also known as the al-Jalame detention center.
Arabic-language Arabi 21 online newspaper reported that Marei was arrested on September 2 as he was going to attend the wedding of a relative in the northern West Bank city of Nablus.
The 29-year-old man, a resident of the Abu al-Zayegan area in the central Jordanian city of Zarqa, had traveled with his mother through the King Hussein Bridge.
His family said they have not been able to contact him since his arrest, and have not been told the reason for his detention. Marei is said to be suffering from cancer. His relatives are concerned his medical condition will deteriorate in jail.
https://www.presstv.com/Detail/2019/10/25/609565/Jordanian-woman-hunger-strike-in-Israeli-prison-transferred-to-hospital
--------
Women Can Change Fate of Entire Muslim World: Moot
OCTOBER 26, 2019
Speakers at a conference here on Friday maintained that the women have the power to change the fate of the entire Muslim world, adding that empowerment of women is vital to establishment of peace and development of a country.
The conference titled 'Women of Excellence' was organised by the Lahore College for Women University in collaboration with Dukhtaran-e-Pakistan and Paigham-e-Pakistan. Senator Kausar Firdous, former MNA Dr Sameea Raheel Qazi, Dr Bushra Nadeem, Afia Sarwar, Aroosha Amir and Anum Butt were prominent among those who spoke on the occasion. A large number of academicians, faculty members, civil society activists and students attended the conference.
Addressing the participants, the speakers underlined that women have an important role in nation building. They said Islam provided equal opportunities to the women, adding that development of a society is unachievable without participation of the women. They elaborated the role of women in Islamic history and correlated the examples to the contemporary requirements. They urged the women to take the life of Hazrat Khadija (RA) as a role model and play their due role in establishment of a harmonised and sustainable society.
The speakers said educational institutions are a vital place as those can effectively train the youth to counter extremism and terrorism in the society and spread the message of peace and harmony. They maintained that contribution of women in national development cannot be overlooked because their participation in nation-building is an important ingredient to obtain an equitable, peaceful and prosperous society. The speakers stressed the need to promote a behavioural change through dissemination of laws related to women, mainstreaming gender into education and facilitating access to justice mechanisms for women and girls. They said the dream of building a healthier, better educated, more peaceful and more prosperous society cannot be realised without recognising the inherent dignity of women and ensuring their active and robust role to build foundations of the society stronger.
The speakers said women are central to the democratic and economic development of a country and their empowerment, equal status and effective participation in social, political and economic spheres is vital to moving democracy, good governance and development forward.
In the end, the speakers threw light on the objectives of Dukhtaran-e-Pakistan and Paigham-e-Pakistan initiatives of the government of Pakistan. They urged the women to become envoys of peace and help promote a positive image of Pakistan in the world.
https://dailytimes.com.pk/489611/women-can-change-fate-of-entire-muslim-world-moot/
--------
URL: https://www.newageislam.com/islam-women-feminism/revolutionaries-babes-lebanon-women-protesters/d/120098
New Age Islam, Islam Online, Islamic Website, African Muslim News, Arab World News, South Asia News, Indian Muslim News, World Muslim News, Women in Islam, Islamic Feminism, Arab Women, Women In Arab, Islamophobia in America, Muslim Women in West, Islam Women and Feminism