New Age Islam News Bureau
9 May 2016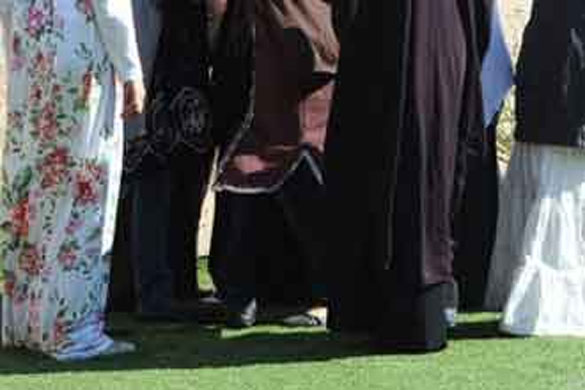 Photo: A teenage Muslim girl was barred from entering her school grounds for wearing a long black skirt seen as too openly religious.
---------
• Islamic State Terrorists Target Australia's 'Pure Pearls' To Become Jihadi Brides
• Writer Slams Pakistan for Censoring Her Article on Sex, Muslim Women
• Islamic Organisations Publish Controversial New Rules for British Women
• Meet India's Youngest Pilot Ayesha Aziz
Compiled by New Age Islam News Bureau
URL: https://newageislam.com/islam-women-feminism/reverted-islam,-catholic-teen-banned/d/107244
--------
Reverted To Islam, Catholic Teen Banned From School for Wearing Long Skirt
Monday May 9, 2016
A teenage Catholic girl who converted to Islam has been banned from attending a school in the eastern Paris suburbs because her skirt is too long.
The headteacher of the school in Montereau-Fault-Yonne told the 16-year-old that the length of her skirt meant that it was an "ostentatious religious symbol" – something forbidden in state schools in France since 2004.
A meeting will be held at the school with the pupil's parents to try to resolve the dispute, following a rash of similar incidents in other French schools last year.
Long skirts if worn as a fashion statement are allowed in French schools. Long skirts worn as sign of allegiance to Islam – or any other religion – may fall foul of the 2004 law which enforces the principle that state schools are secular.
The council of state, the final arbiter of the meaning of French laws, has been asked to rule on the "long skirt" issue but has not yet done so.
The girl has been named only as K De Sousa, French of Portuguese origin. She converted to Islam, with the blessing of her family, a year ago. The French education system investigated whether she was part of a radical Islamic movement and decided she was not.
Her mother Marie-Christine de Sousa told French magazine L'Obs: "My daughter respects the law. I respect her religion. Until now, the school has made no comment on the way she dresses.
"Apart from chattering in class, she has no problems and doesn't say much about her conversion. People shouldn't jump to conclusions."
K De Sousa wears a headscarf in public but takes it off when she reaches school, as the 2004 law demands. The law was enacted after a series of rows in French schools about the wearing of headscarves. It was broadened to ban all "ostentatious religious symbols" to avoid seeming to stigmatise Islam.
A handful of schools in France have begun to interpret long skirts won by Muslim girls as a religious symbol. Most do not.
The education board covering K De Sousa's school admitted that dialogue between the school and her family had "not gone entirely serenely".
"Talks will resume on Monday," a spokesman said.
"It is in everyone's interest that this young woman should pursue her schooling normally. A long dress or skirt is not, in itself, a motive for excluding a pupil."
independent.co.uk/news/world/europe/muslim-girl-sent-home-by-school-in-france-over-long-skirt-a7019706.html
---
Islamic State Terrorists Target Australia's 'Pure Pearls' To Become Jihadi Brides
May 8, 2016
WHITE western women and especially Australian women are prized possessions, referred to as 'pure pearls', and are currently being courted by the murderous ISIS regime.
Researcher Robyn Torok, who has spent four years observing radical and extremist Facebook pages and Jihadi social media, says that at the moment there is a strong call for women from Australia and the west who are described as 'pearls' and as 'precious'.
She says the imagery of the precious pearl, hidden by a veil, is prevalent at the moment online and is part of the ISIS art of war.
"They are wanting to recruit prized recruits, particularly Australian women,' Ms Torok says.
"They are definitely recruiting for women and particularly for Australian women because they are prized because of their skin. There is definitely a strong call for this type of woman," she said.
A researcher and PhD candidate at Edith Cowan University Ms Torok monitors jihadi social media and online recruitment tools used by ISIS in its propaganda to persuade women to Syria to become ISIS brides.
Ms Torok spent four years observing radical and extremist Australian Facebook pages, collecting data for about 50 hours per week from more than 5000 pages, groups and profiles as part of her research, which is ongoing.
News Corporation has revealed that one of the biggest recruiters and propagandists was Australian woman Shadi Jabar who fled Sydney on October 1 last year, one day before her 15-year-old brother shot dead police accountant Curtis Cheng.
The 21-year-old from western Sydney used the nom de guerre Umm Isa al Amrikiah and a Telegram channel to spread propaganda and recruit to the cause. Jabar and her Sudanese husband Abu Sa'ad al-Sudani were killed on April 22 in a targeted Coalition air strike in the Syrian town of Al Bab.
Jabar's rants on social media focused on the way women should live in the Caliphate and lambasted men too cowardly to come to Syria to fight. She was very careful to ensure that her posts never included anything negative about life under IS and she hit out at women who criticised and gossiped about her.
American authorities say that Jabar and her husband were "active in recruiting foreign fighters in efforts to inspire attacks against Western interests".
Jabar's death, seven months after she arrived in Syria, is a sobering warning for all those women seeking to go to war torn nation. She has been eulogised on jihadi social media.
Australian authorities are working hard to counter the narrative and stop young women seeking to become ISIS brides.
Ms Torok says the rhetoric coming out of the jihad world is that white women are precious pearls.
"The pearl is the most important word they are using in terms of women because you are hidden with the veil; you are masking that beautiful pearl. They are definitely targeting women here in Australia," Ms Torok said.
She says the imagery and language revolves around the pearl being a "strange stranger", a "stranger to this world".
The language is all about the preciousness of the pearl, she said.
Ms Torok says that online recruitment romanticises life in Syria and doesn't mention anything about the fact that if you go there and your husband dies in battle you risk becoming a sex slave to the regime.
"It is cleverly marketed and anything to do with negativity is totally stripped from the discussion, it is stripped from the threads," she said.
Australian authorities currently estimate that about 30 Australian women are either in Syria or in the region supporting them. Another group provides moral support in Australia. Victorian police say that another five women left in the last nine to twelve months for Syria and that one Victorian woman has died.
adelaidenow.com.au/news/national/islamic-state-terrorists-target-australias-pure-pearls-to-become-jihadi-brides/news-story/9e782ce7e0d64b55a920b34050fadb63
---
Writer slams Pakistan for censoring her article on sex, Muslim women
Monday May 9, 2016
ISLAMABAD, May 9 — A feminist author hit back today at Pakistan for censoring her article on Muslim women and sex, saying the ban exposed the depth of gender discrimination in the deeply conservative Islamic country.
Egyptian-American Mona Eltahawy, an award-winning journalist who is a vocal public speaker on women's rights, penned a opinion column entitled Sex Talk for Muslim Women that ran in Friday's edition of the International New York Times.
The article was available online in Pakistan, but the newspaper version, published by the local Express Tribune, featured a blank spot in the opinion pages where Eltahawy's article had been.
Eltahawy told AFP that the decision to ban her article exposes that authorities think a woman "who claims ownership over her body is dangerous... and must be silenced".
"You can't afford to publish such controversial articles about Islam," a senior source at the Express Tribune told AFP on condition of anonymity when asked about Eltahawy's article.
In the piece, Eltahawy discussed her decision to have sex before marriage in defiance of her own upbringing and faith, and detailed her many conversations with other women of Muslim and Arab descent suffering under the "sexual straitjacket" of virginity imposed on them by men.
"Where are the stories on women's sexual frustrations and experiences?" she wrote.
"My revolution has been to develop from a 29-year-old virgin to the 49-year-old woman who now declares, on any platform I get: It is I who own my body. Not the state, the mosque, the street or my family. And it is my right to have sex whenever, and with whomever, I choose."
'Taboo and shame'
Women have fought for decades to establish rights for themselves in Pakistan, where so-called honour killings and acid attacks remain commonplace.
Last week a teenage girl in the country's northwest was strangled and her body set ablaze after a village council ruled she must die for helping a friend to elope. The killing sparked fresh anger from rights activists.
Eltahawy said the censorship showed "a woman who disobeys and who openly claims sexual liberation and pleasure is dangerous and must be silenced".
She cited backlash in the country to Pakistani director Sharmeen Obaid-Chinoy's Oscar win in February for a documentary about honour killings.
"So many Pakistanis attacked her for making Pakistan 'look bad' and not enough attacked what is actually making Pakistan look bad: men who are ready to kill women for daring to believe they have the right to consent and agency over their bodies."
Conversations about Muslim women and sex must be had, she said, adding she was unaware if the article had been censored in any other country.
"That sex is happening but shrouded in taboo and shame... As women of colour and women of faith, we need to see women who look like us. Sex positivity isn't the domain just of white feminism."
But, she said a recent trip to Lahore for a literary festival introduced her to "wonderful young feminists" who "keep my tenacious optimism intact".
"The more feminists such as the ones I met push, the greater the space they'll create for everyone."
themalaymailonline.com/world/article/writer-slams-pakistan-for-censoring-her-article-on-sex-muslim-women
--
Islamic organisations publish controversial new rules for British women
Monday May 9, 2016
Islamic organisations in the UK are under fire for decreeing that women should stay off Facebook and seek their husband's permission to leave the house.
The controversial new "rules", published online by Green Lane Masjid in Birmingham and endorsed by several mosques, even prohibit women from wearing trousers.
Such garments "show off the detail of (women's) bodies", which the publication deemed inappropriate, "even in the company of their husbands".
In lockstep with Green Lane were the Blackburn Muslim Association, Croydon Mosque, and the Islamic Centre.
They went so far as to state that women should not be able to travel more than 75km without a male chaperone.
Blackburn's Central Masjid also warned against the "dangers of Facebook", claiming the social media platform has "opened the doors for sin. Muslim girls and women alike have become prey to this evil."
The extreme "guidelines" have outraged "moderate" Muslims and sparked calls for the Muslim Council of Britain to sever ties with the staunchly traditional mosques.
But a spokesperson for the Council told Russia Today that the MCB: "does not dictate jurisprudential positions to its affiliates."
Islamic Sharia Council of London female scholar Khola Hasan said that kind of out-dated orthodoxy sets a bad example.
"These views are clearly outdated and reflect a patriarchal, narrow world view that is out of step with the rest of the Muslim world," Ms Hasan told The Times.
"Some men of an older generation may find these freedoms hard to stomach, but they will have to accept them."
9news.com.au/world/2016/05/09/19/03/islamic-organisations-publish-controversial-new-rules-for-british-women
---
Meet India's Youngest Pilot Ayesha Aziz
By Akhila Damodaran: 07th May 2016
BENGALURU: Her dream was to do something challenging and unconventional. Ever since she was a child, Ayesha Aziz knew she wanted to fly a plane. At 16, she fulfilled her dream by becoming India's youngest woman pilot.
Ayesha, now 20, says, "More than being India's youngest pilot, I am happy for having accomplished my childhood goal." Based out of Mumbai, the fondness for the flights and airports grew in her when she would visit her native Kashmir twice or thrice every year a year since she was a child.
"While I would enjoy take-off and landing of the plane, my brother would be scared and always sleep during the flight."
The young inspiration also got the chance to visit NASA where she met John McBride. She happiness knew no bounds when she got an opportunity to interact with her second greatest inspiration Sunita Williams in person. She recalls, "I met her when she came to Worli in 2013 or 2014. I shared my experiences with her. I told her about the activities I participated in NASA like scuba diving, moon walk and bunny walk which an astronaut should know."
Passion is the driving force in this male dominated industry. One also needs to have focus, consistency, hard work and confidence. In her batch of 40 at Bombay Flying Club in Bombay, where she is pursuing her BSc third year in Aviation, there are only four women. She adds, "You should hold your head high and not let others put you down." She would get her commercial pilot license after she completes her BSc for which she has to complete 80 hours of the total 200 hours of flight.
She joined the flying school after she completed her Class X. She took her ground classes and cleared the five viva sessions. Immediately after turning 16 in October, she got her student pilot licence in November 2013. But due to some monetary issues, her training for commercial pilot licence got delayed. She currently flies single engine Cessna 152 and Cessna172.
Her encouraging family is the reason behind her success. She says, "When I told my father I wanted to be a pilot, he pushed me into it immediately after completing my Class X." She says it's great to have understanding parents where on the other hand people still look for girls who know to cook biryani when they want to get hitched.
What more? The young inspiration has done several photo shoots for a magazine and an ad commercial for Whisper. She is happy to be multi-tasking.
newindianexpress.com/cities/bengaluru/Meet-Indias-Youngest-Pilot-Ayesha-Aziz/2016/05/07/article3419248.ece
URL: https://newageislam.com/islam-women-feminism/reverted-islam,-catholic-teen-banned/d/107244
New Age Islam, Islam Online, Islamic Website, African Muslim News, Arab World News, South Asia News, Indian Muslim News, World Muslim News, Womens in Islam, Islamic Feminism, Arab Women, Womens In Arab, Islamphobia in America, Muslim Women in West, Islam Women and Feminism