New Age Islam News Bureau
10 March 2013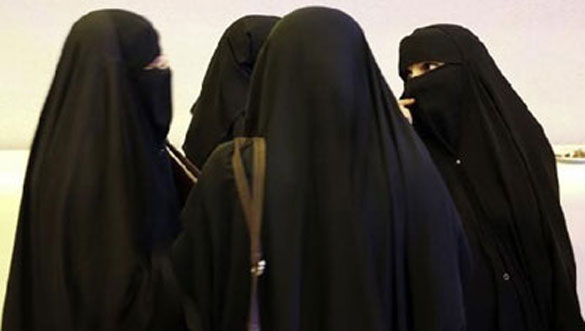 Photo: A number of these women said they only opted to marry again because of their poor financial situation. (Reuters)
----------
• Saudi Set To Curb Child Marriage
• Thai Woman with 2kg Cocaine on Trial in Dubai
• Bangladesh Govt Urged To Reserve A Third of JS Seats for Women
• Muslim Helpline Reveals Majority of Faith Attacks In Britain on Women
• Sex and the Citadel - Intimate Life in a Changing Arab World
• Rise of Bosnian Mayor with a Head Scarf Challenging Assumptions about Islam
• Tunisian Women Fight to Keep Jasmin Revolution Alive
• Women Have Had Enough Discrimination
• Help Ensure Equal Role of Women: Bangladesh PM
• A Tale of Wisdom by an Autistic Teen
• Women Continue Long Battle for Rights in Indonesia
• Nigeria: SEC Calls for Greater Financial Independence for Women
• When an Award Becomes an Embarrassment
Compiled by New Age Islam News Bureau
URL: https://newageislam.com/islam-women-feminism/remarried-saudi-women-keep-new/d/10713
--------------
Remarried Saudi Women Keep New Status A Secret To Cash In On Social Security
March 10, 2013
JEDDAH — A number of Saudi women who remarried have kept their marriage a secret from the concerned authorities so as to continue cashing in on the monthly financial assistance provided by the social security to single mothers.
By not registering their second marriage in the courts, the women have actually violated the regulations of the social security agency that make it imperative on beneficiaries to update their status if changed. Their new husbands are aware of this fraud and have in fact have given their tacit consent.
"These women prefer to keep their divorcee title at the social security registry to continue cashing in on the monthly social security assistance," Al-Madinah daily said in a recent report.
A number of these women told the newspaper that they only opted to marry again because of their poor financial situation.
"I have the right to continue receiving my monthly social assistance of SR800 following my second marriage. I made it a condition on my second husband not to register our marriage in the court or add my name to his family card so that I may be able to continue receiving the assistance," said Muna Z., a Saudi woman who got remarried.
She said she had no income other than the social security assistance so she made it a condition on her new husband not to reveal their marriage to the concerned authorities.
Sanaa A., who had five children from her first husband, said when her second husband proposed to her she made it a condition that he does not register their marriage in courts. "I am spending the monthly financial assistance of SR800 on my children who are living with me," she said.
She said her present husband does not spend any money on her so she is using the assistance to cater to the material needs of herself and her children.
Zahra A.M. said she was obliged to remarry because she had no place to go. "My second husband has a wife. We told her that we will not announce our marriage and she readily agreed," she said.
Salwa M. said she has been benefiting from the social security assistance for 18 months without any one knowing about it.
"My second husband only provided me with accommodation so I am using the social security money for my expenses," she said.
She made it clear that the social assistance was a bonus from the government so no one had the right to prevent her from getting it. "It is true that I am not a divorcee anymore but I need the money to buy my personal needs, including clothes, makeup and other essentials," she said.
Lawyer and legal consultant Adil Hammad said, "This is a gross violation of the law. The social security organization has the right not only to stop paying them monthly assistance but to get reimbursed all money paid to them after their remarriage," he said.
Director General of Social Affairs in Makkah Abdullah Al-Tawi said any woman who does not update her status after marriage will be violating the law and as such should be deprived of this assistance.
"When a woman is remarried she loses her title of divorcee. The social security agency then has the right not only to stop paying her the assistance but also to regain all previous payments made to her after her second marriage," he said.
http://www.saudigazette.com.sa/index.cfm?method=home.regcon&contentid=20130310156159
--------------
Saudi set to curb child marriage
Kingdom drafts law restricting marriage of girls under 16 years
March 10, 2013
Saudi Authorities have drafted a law to curb child marriages after a surge in such cases triggered bitter criticism by the local media and protests by human rights groups inside and outside the Gulf Kingdom.
The Ministry of Justice has drafted the long-awaited legislation which only restricts such marriages but does not totally ban them as it will give the bride's father the final decision and does not include penalties for offenders.
The draft law, to be endorsed by the cabinet and passed by Shura (appointed parliament), bars Maazoun (Sheikh who performs marriage rites) from conducting the marriage without a prior approval by a special court.
The bride's father can decided on marriage but has to obtain court consent if she is below 16 years old and must present a medical report showing his daughter is eligible for marriage physically and psychologically. The report must state that marriage does not endanger the girl's mental and physical health.
The London-based Saudi Arabic language daily Sharqalawsat, which published part of the proposed legislation, said the court also requires the bride's consent for consummating the marriage, especially those whose mothers are divorced.
"Once all conditions are met, the marriage contract must not be signed before the bride's father makes sure she is fully prepared for the marriage life…his daughter must have training for the new family life before she is married," the report said.
Quoted by the paper, Ministry of Justice spokesman Fahd Al Bakran said the draft law would be presented soon to the seven-man supreme scholars authority for endorsement before it is sent to the cabinet and Shura.
"Under the new draft law, fathers still have the powers to have their daughters married but they must have prior approval from a special court," he said.
"As for penalties, it does not include punishment of fathers because they are the custodians of their daughters and have the final word regarding their daughters' marriage…they know their daughters' interests more than anyone else and we hope they will just comply with the new rules for the sake of their daughters."
Saudi Arabia, one of the most conservative Moslem nations, have considered curbing marriages of minors for many years following a sharp rise in such cases and growing criticism of the absence of relevant legislation.
In recent comments, a Shura member who pushed for the enforcement of such laws, lambasted child marriages as a "murder of innocence and childhood."
Zuhair Al Harthi said the majority of the council supports a law to end child marriage in oil-rich country, with a population of around 28 million.
His comments followed a chorus of criticism by local newspapers and human rights groups against fathers who sell their little daughters to rich bridegrooms. The campaign gained momentum in 2011 after reports that a 55-year-old man married a 12-year-old girl with the blessing of her father.
"To be frank, I want to say that the marriage of minor girls amounts to a murder of innocence and violation of childhood…it is an already losing deal," Harthi said.
"These little girls are being subject to crimes involving manipulation, quick profit and mere pleasure…they are not capable yet of shouldering the burden of marriage nor can they even realize its meaning."
Saudi Justice Minister Mohammed Al Issa has said the Kingdom is planning to enact a law to regulate the marriage of minor girls.
He said the new regulations are needed to put an end to what he described as widespread controversy and confusion about such marriages.
"The marriage of under-age girls in the country is not a phenomenon yet as some claim... those who say this are wrong. We are considering regulations in line with the Islamic Shariah to govern this kind of marriage."
Al Issa said he hoped the new law would contribute to "ending all problems and confusion associated with female teen age marriage".
In 2011, Saudi Arabia's newspapers opened up the heat against authorities for their failure to enact laws banning child marriage following reports of the wedding of the 12-year-old girl to the 55-year-old Moslem cleric.
The cleric married the girl, a student at a Koran memorization centre in the southern province of Jazan, despite strong objections from her grandfather. The marriage also sparked angry reaction from a local human rights group.
In a strongly-worded statement, Saudi Arabia's main activist group, the National Human Rights Commission, said the marriage violated the girl's rights.
"The marriage constitutes a violation of the rights of this child, who at this age needs to be cared by her family, pursue her education and enjoy her childhood… we call upon all members of the community to rally against the marriage of children and teenagers. Media institutions should also play a bigger role in defending children and their rights."
http://www.emirates247.com/news/region/saudi-set-to-curb-child-marriage-2013-03-10-1.497934
--------------
Thai Woman with 2kg Cocaine on Trial in Dubai
Marie Nammour / 9 March 2013
A woman was caught trying to smuggle more than 2kg of cocaine under her clothes and in her underwear as she was transiting through at Dubai International Airport, a court heard.
The 29-year-old Thai woman, currently in provisional detention, has been charged by the Court of First Instance with smuggling drugs while on transit.
A woman police inspector told the prosecution that she was on the night shift duty at Terminal 3 of the airport on December 7 last year when she was ordered by a corporal to search the defendant. She did not find any narcotics in the defendant's purse. She took her inside the inspection room and as she reached down her waist, the accused allegedly grabbed the inspector's hand.
She found that the accused had strapped herself with a belt under her shirt. She used the belt to hide three small transparent bags.
She also found two similar bags the woman had hidden in her underwear. The five bags contained a white powder suspected to be drugs. The defendant told the officer that she did not know what was in the bags and claimed she was to deliver the quantity elsewhere and was passing here on transit.
The accused admitted during the prosecution investigation that she hid the drugs under her clothes and in her underwear and her job was to transport it to Brazil for $4,000.
According to the Criminal Lab report, the quantity seized from the defendant was cocaine and it weighed more than 2kg.
mary@khaleejtimes.com
http://www.khaleejtimes.com/nation/inside.asp?xfile=/data/courtroundup/2013/March/courtroundup_March15.xml&section=courtroundup
--------------
Bangladesh Govt Urged To Reserve A Third Of JS Seats For Women
March 10, 2013
The government should reserve a third of parliamentary seats for women and hold direct elections to those seats, prominent women's leaders said yesterday.
They demanded a legal amendment in the current parliamentary session to this effect.
This is a primary step to end discrimination and violence against women, the leaders told a rally at the capital's Central Shaheed Minar to mark International Women's Day, observed worldwide on March 8.
Samajik Protirodh Committee (social resistance committee), a joint movement of 68 women's and rights organisations, organised the programme.
Currently, the Jatiya Sangsad has 300 seats, which are directly elected and 50 reserve seats for women who are chosen through selection.
Executive Director of Manusher Jonno Foundation Shaheen Anam said appropriate female representation in parliament would speak for eliminating discriminations and addressing the challenges in the way to establishing women's equal rights.
It was an election pledge of the ruling party to reserve one third of seats, but they have not kept words despite having a two-thirds majority in parliament, she said.
The women's leaders also demanded that women constitute one third of representatives in all political parties and in decision-making processes at garment factories and all other industries.
Shaheen Anam said a change in the patriarchal mindset, not mere laws, and due recognition of women's contribution to development, were also vital.
Though the presence of 70 female lawmakers in the current parliament indicates some achievement, they have not been instrumental in voicing the women's causes, apparently due to their party allegiance, she said.
According to media reports, the rate of occurrence and scale of women repression have increased over the past year, she said.
Referring to the Shahbagh youth movement, the rights activists said it was an achievement in establishing a respectable, healthy and normal relationship of men and women and that it should be replicated at all levels of society.
The participants demanded speedy trials of rapists and acid attackers and highest punishment for war criminals who helped commit rapes, among others, in 1971.
Hundreds of women from different organisations joined the rally and brought out a procession with scores of festoons inscribed with their demands.
http://www.thedailystar.net/beta2/news/govt-urged-to-reserve-a-third-of-js-seats-for-women/
--------------
Muslim Helpline Reveals Majority of Faith Attacks In Britain on Women
Tell MAMA, for victims of Islamophobia, logged more than 630 incidents during its first 12 months
Mark Townsend
9 March 2013
The majority of Muslims physically attacked, harassed or intimidated because of their faith are women, according to the first results from the UK's official helpline for victims of Islamophobia.
More than 630 incidents were logged during the first 12 months of the helpline, launched in an attempt to quantify the scale and nature of anti-Muslim violence in Britain.
Some of the most egregious attacks recorded include a family being forced from their Nottinghamshire home, a five-year-old girl knocked over by a hit-and-run driver and a Somali lady who had dog faeces placed on her head by a white man while shopping in south London.
Full report at:
http://www.guardian.co.uk/uk/2013/mar/09/muslim-helpline-faith-attacks-women
--------------
Sex and the Citadel - Intimate Life in a Changing Arab World
Love God, love one another
RACHEL HALLIBURTON
09 MARCH 2013
'In the Arab world, sex is the opposite of sport. Everyone talks about football, but hardly anyone plays it. But sex – everyone is doing it, but nobody wants to talk about it." So declares one interviewee at the start of Shereen El Feki's remarkable book. It's a witty encapsulation of the central difficulty that El Feki has faced in chronicling aspects of sex in the Arab world. Yet her persistence pays off, yielding an extraordinary collection of opinions on everything from online flirting to female genital mutilation.
Full report at:
http://www.independent.co.uk/arts-entertainment/books/reviews/review-sex-and-the-citadel--intimate-life-in-a-changing-arab-world-by-shereen-el-feki-8527723.html
--------------
Rise of Bosnian Mayor with A Head Scarf Challenging Assumptions About Islam
By Michael Birnbaum
March 10, 2013
VISOKO, Bosnia and Herzegovina — For years, Bosnian Muslims embraced a form of religion so moderate that many capped dinners during the holy month of Ramadan with an alcoholic drink.
But the bloody war that pitted Muslims here against their Serbian Orthodox and Croatian Catholic neighbours tested the faith of one of the few European countries where Islam is the most common religion. It was once rare to see public expressions of faith on the street. Now, more women are donning head scarves — and one who does so just became mayor of this small town in the mountains of central Bosnia.
Full report at:
http://www.washingtonpost.com/world/europe/rise-of-bosnian-mayor-with-a-head-scarf-
--------------
Tunisian women fight to keep Jasmin Revolution alive
March 10, 2013
It has been some 60 years since Tunisia granted women some of the most far-reaching rights in the Arab world, becoming a pioneer in the region.
Where is the country now? – two years on from the Arab Spring and on Friday of all days – International Women's Day?
In the mid-1950s, Tunisia abolished polygamy, scrapped repudiation and allowed abortion and divorce.
Full report at:
http://www.euronews.com/2013/03/08/tunisian-women-fight-to-keep-jasmin-revolution-alive/
--------------
Women have had enough discrimination
March 09, 2013
Samar Fatany
International Women's Day is celebrated this year with the UN theme: "A promise is a promise." It calls on all governments, civil society, women's organizations, the private sector, the media and all men and women to unite to end violence and discrimination against women.
This year Arab women commemorate the day with greater commitment to confront the wave of violence and unrest that is threatening the region and endangering the lives of their children and loved ones. The Arab Spring has been hijacked by irresponsible elements that have spread chaos and enraged the public especially the vast majority of the youth. Social development and economic prosperity seem very difficult to achieve in the absence of strong leadership that could guide the troubled Arab countries of Iraq, Egypt, Tunisia, Sudan and war-torn Syria to a better future.
Full report at:
http://www.saudigazette.com.sa/index.cfm?method=home.regcon&contentid=20130309156062
--------------
Help Ensure Equal Role of Women: Bangladesh PM
March 10, 2013
Prime Minister Sheikh Hasina yesterday urged the people of all professions and classes to help ensure equal participation of women in all nation building activities.
Every man and woman should come forward to establish the rights of women, she said.
The prime minister was addressing the inaugural function of the International Women's Day at Bangabandhu International Conference Centre in the capital as the chief guest.
Full report at:
http://www.thedailystar.net/beta2/news/help-ensure-equal-role-of-women-pm/
--------------
A Tale of Wisdom by an Autistic Teen
March 10, 2013
RIYADH – "Wisdom of the Five-Pointed Star," is a tale of wisdom from a 15-year-old autistic teen, Muneera Al-Muheish.
The book authored and illustrated by Muneera was launched at the Riyadh International Book Fair, Saturday.
The book, the first by the author, centres around an argument between two characters: The square and the rectangle and a resolution by the book's hero, the five-pointed star.
"The idea for the book came to me during an assignment given to me by my teacher, Miss Amal Hamdan, for my math class," said Muneera.
Full report at:
http://www.saudigazette.com.sa/index.cfm?method=home.regcon&contentid=20130310156242
--------------
Women Continue Long Battle for Rights in Indonesia
Yohannie Linggasari, Dian Manafe & Yuli Krisna | March 09, 2013
As the world celebrated International Women's Day on Friday, activists in Jakarta and Bandung held a rally to raise awareness of the violence, discrimination and marginalization of women.
In Jakarta, members of 53 local women's groups marched from the Hotel Indonesia traffic circle to the State Palace.
"In this rally we made eight demands, asking the government to fulfil its promises to protect women in the form of policies that to this day remained unrealized," said Luviana, a coordinator of the rally.
Full report at:
http://www.thejakartaglobe.com/news/women-continue-long-battle-for-rights-in-indonesia/578495
--------------
Nigeria: SEC Calls for Greater Financial Independence for Women
8 MARCH 2013
The Securities and Exchange Commission, SEC, on Friday called for financial and economic empowerment for women; to enable them face social and cultural challenges.
Arunma Oteh, the Director-General of the Commission, made the call during the financial empowerment forum for women to commemorate the International Women's Day with the theme: "Enabling Women's Financial Inclusion."
March 8 is celebrated annually as the International Women's Day. Nigeria's theme for the 2013 celebration is "The Gender Agenda: Gaining momentum."
Ms. Oteh stressed the importance of empowering women economically to enable them cope with the various challenges they are faced with.
Full report at:
http://allafrica.com/stories/201303090175.html?viewall=1
--------------
When an Award Becomes an Embarrassment
March 09, 2013
CAIRO – In an embarrassing about-turn, the US Thursday said it would delay giving a prestigious award to an Egyptian activist to check reports she had made anti-American and anti-Semitic remarks.
Samira Ibrahim was to have been honoured Friday along with nine other women with the International Women of Courage Award at a glittering event to be hosted by top US diplomat John Kerry and First Lady Michelle Obama.
Full report at:
http://www.saudigazette.com.sa/index.cfm?method=home.regcon&contentid=20130309156053
--------------
URL: https://newageislam.com/islam-women-feminism/remarried-saudi-women-keep-new/d/10713