New Age Islam News Bureau
11 Nov 2018
• Political Leadership Seeks To Empower Women: Egypt's First Lady
• Women Employees in Private Sector Up 8.8% In Saudi Arabia
• Iran Lets Hundreds of Women Attend Asian Champions League Final
• Asia Bibi 'Not Offered UK Asylum amid Concerns of Unrest and Attacks'
• The Middle East Needs More Female Comedians like Reem Nabil to Challenge the Status Quo
• Egyptian Woman Assaulted With Shoes By 5 Kuwaiti Women
Compiled by New Age Islam News Bureau
URL: https://www.newageislam.com/islam-women-feminism/religious-crisis-university-ibadan-school/d/116848
--------
Religious Crisis: University of Ibadan School Bars Female Muslims from Wearing Hijab
November 10, 2018
By Musliudeen Adebayo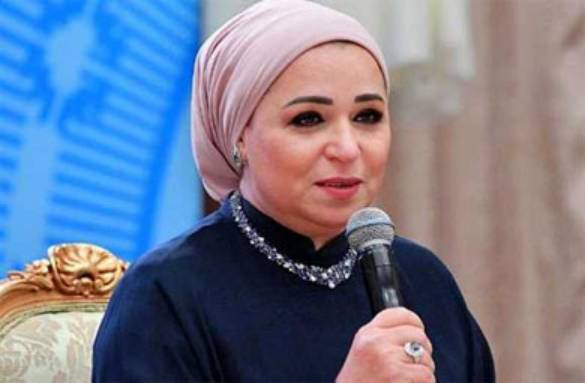 Egypt's first lady Entessar al-Sisi
----
Fresh religious crisis is currently looming at the University of Ibadan International School over the alleged denial of female Muslim students in the school the right to wear Hijab (head scarf), by the principal of the school, Mrs. Phebean Olowe.
DAILY POST exclusively gathered on Friday that the principal of the school had over the years denied female Muslim students the right to wear the Hijab without any reason.
Parents of the affected students under the auspices of International School Ibadan Muslim Parents' Forum in a petition addressed to the principal, a copy which was obtained by DAILY POST, argued that "Hijab wearing for young Muslim girls, apart from the fact that it is part of their religious belief, is part of their God given fundamental human right as well as the constitution of the Federal Republic of Nigeria".
The parents in the petition entitled "Notification of Muslim parents' resolution on Hijab for our Muslim girls in ISI", signed by Alhaji Abdurrahman Balogun (Chairman) and Mrs. Bilikis Badiru (Secretary), maintained that there were two Court of Appeal judgments affirming that the use of hijab is a fundamental right in Nigeria under the 1999 Constitution of the Federal Republic of Nigeria, hence the management of the institution should desist from denying their wards the right to use Hijab in the school.
The duo in the petition, copies which were also sent to: Chancellor of University of Ibadan and Sultan of Sokoto, Pro-Chancellor and Chairman of Council, University of Ibadan, Ibadan, The Chairman, ISI Parents Teachers Association, ISI, Vice – Chancellor, University of Ibadan, Deputy Vice – Chancellor (Academic), University of Ibadan, Registrar, University of Ibadan, Chairman, University of Ibadan Muslim Community, Chief Imam, University of Ibadan Muslim Community, Minister, Federal Ministry of Education, Commissioner, Oyo State Ministry of Education, Executive Secretary, Muslim Ummah of South West Nigeria (MUSWEN), Chairman, Muslim Community of Oyo State, President, Muslim Students Society of Nigeria (MSSN), President, Muslim Lawyers Association of Nigeria (MULAN), President, Muslim Media Practitioners of Nigeria (MMPN), President, Nigeria Supreme Council of Islamic Affairs (NSCIA), President, Muslim Rights Council (MURIC) and Chairman, Hijab Advocacy Groups, remarked that the use of Hijab, for Muslim girls, was now a global phenomenon irrespective of personal or professional callings; student, lawyer, nurse, Doctor, security personnel, teacher among others, who willingly adorn it.
The parents, while urging relevant stakeholders to prevail on the principal and management of the institution to allow the female students to commence the use of Hijab from 2018/2019 academic session, however, regretted that there were brilliant female Muslims students who have refused to come to the institution because of its perceived no Hijab doctrine.
The duo said, "On behalf of ISI Muslim Parents Forum we extend our warm greetings to you and other members of the school management. Over the years, the forum has wondered why our willing Muslim girls have not been adorning the head scarf (Hijab) in line with their religious belief just as their counterparts elsewhere do.
"Hijab wearing for young Muslim girls, apart from the fact that it is part of their religious belief, is part of their God given fundamental human right as well as the constitution of the Federal Republic of Nigeria.
"Part of what distinguishes an institution is the ability to demonstrate a high level of tolerance of the rights of every child, including female Muslim children; one of which is the use of Hijab as desired by their parents, enjoined by their faith( Islam) and also permitted by the constitution of the federal government of Nigeria.
"It is our considered opinion and resolution that the school authority should not disallow or discourage willing Muslim girls who wish to wear uniformed mini hijab to protect their chastity in line with their religious belief. A mini-hijab is a piece of cloth covering the head, side face and neck neatly blended. This is personal and has no effect on other fellow students.
"Our resolution is premised on the ground, inter alia; that section 38 of the 1999 Constitution of the Federal Republic of Nigeria guarantees right to freedom of religion including the right to manifest religious belief within the ambit of the law. Using a mini-hijab to cover the head is a manifestation of and a fundamental requirement of our children's religion.
"That the fact that a Muslim girl not using the hijab in ISI is a mere tradition (a colonial heritage) without a justification in the school dressing code and That such a tradition cannot override the provision of section 38 of the 1999 Constitution of the Federal Republic of Nigeria (1999 CFRN).
"Moreover, there are two Court of Appeal judgments affirming that the use of hijab is a fundamental right in Nigeria under the 1999 Constitution of the Federal Republic of Nigeria. The use of Hijab, for Muslim girls, is now a global phenomenon irrespective of personal or professional callings; student, lawyer, nurse, doctor, security personnel, teacher among others, who willingly adorn it.
"The Body of Benchers in Nigeria recently endorsed the use of mini-hijab not only at the call to the bar ceremony but also at the Nigeria law school and indeed in the legal practice. We wish to let you know that there were brilliant female Muslims students who have refused to come to ISI because of its perceived no hijab doctrine. Our children have, up to this time, suffered undue psychological stress due to the fact that their natural mode of dressing has hitherto been denied when in school.
"We are mindful of the need to maintain uniformity and moderation in line with the dress code of the school and have taken appropriate measures to ensure this. This Forum hereby puts the school management on notice of this resolution on the rights of our female children to commence the use of Hijab from this academic session of 2018/2019. "We are ready to shed more light on this resolution should opportunity arises. May ISI grow from strength to strength in peace, unity, fairness and justice. Ameen".
However, all efforts made by DAILY POST to get reactions of the Principal, Mrs. Olowe proved abortive as several calls put through her telephone on Saturday were not answered.
Similarly, an SMS sent to her mobile phone to react to the allegations has not been replied as at the time of filling this report on Saturday.
http://dailypost.ng/2018/11/10/religious-crisis-looms-ui-school-principal-bars-female-muslims-wearing-hijab/
--------
Political Leadership Seeks To Empower Women: Egypt's First Lady
November 7, 2018
There must be political, economic and social action to support gender equality, Egypt's first lady Entessar al-Sisi said on Tuesday, stressing that the political leadership of the Egyptian state is making a strong effort to empower Egyptian women.
"Today I was honored to attend a session on reducing the gender gap, one of the most important challenges in the world," she wrote on her Facebook page.
A session entitled "Reducing the Gender Gap in the Labor Market" was held on Tuesday at the International Conference Center in Sharm el-Sheikh and was attended by First Lady Entessar al-Sisi, Social Solidarity Minister Ghada Waly and Planning Minister Hala al-Saeed.
President of the National Council for Women Maya Morsy started the session by talking about the economic benefits that will result from the empowerment of women and their equality with men in the labor market, pointing out that the Egyptian constitution ensures equality between the two sexes. She called for applying the constitution and stressed the importance of empowering women in the field of entrepreneurship.
Morsy added that the National Council for Women provides material support of LE20 billion in the form of training and awareness programs for women that reduce the gender gap significantly.
Egypt has a wonderful model in the training of women and equalizing them with men, Saeed said. According to Saeed, this wonderful model is the presidential program for the rehabilitation of youth for leadership, which trains women to reach leadership positions.
Women must be supported by each other first, so that the gap with men is narrowed, Executive President of the Women's Union Association of India Harbin Aurora said.
Funding is one of the problems hindering women's progress, Aurora said, stressing the need for a financial system that supports women's education and training programs so as to be up to date with the job market requirements.
Saudi lawyer and the legal researcher Ghaida Bajia stressed the need to activate the legal and legislative mechanisms related to women empowerment and the role of NGOs in this regard.
The most important factors for the empowerment of women is providing economic support that in turn provides good education and training programs.
International Labor Organization researcher Luca Vidi called for a review of working hours and making them flexible. Vidi also called for a change in the means of measuring efficiency to be the employee's production rate, rather than their working hours. If this happens, there will be significant economic returns to the family and society, Vidi mentioned.
https://egyptindependent.com/political-leadership-seeks-to-empower-women-first-lady/
--------
Women Employees in Private Sector Up 8.8% In Saudi Arabia
2018-11-10
RIYADH — About 48,000 Saudi women have entered the job market in the second quarter of 2018, which is an increase of 8.8 percent over their number in the same period the previous year, according to a labour market bulletin.
Issued by the General Authority for Statistics (GaStat), the bulletin said there as many as 593,400 Saudi women are now working in the private sector in various parts of the Kingdom.
It said the department of the nationalization of jobs in the Ministry of Labor and Social Development is working on developing the remote employment centers to accommodate more than 50,000 women job seekers.
Officials of the department held a series of meetings with 18 government and private establishments including a number of international companies such as the IBM and the Chinese company Huawei to create more jobs for Saudi women in the sectors of the renewable energy, communications, IT, engineering, commerce, tourism, transport, accounting, contracting, retail business and others.
The representation of female workers in the private sector is 6.3 percent of the total workforce, which has reached 9.37 million.
The Ministry of Labor has launched number of initiatives within the National Transition Program to face the high unemployment rate among Saudis.
The ministry aims to raise the number of job opportunities available in the private sector for Saudi men and women from 1.8 million when the program was launched to 3 million by the end of 2020.
The program also targets reducing the unemployment rate from 12.3 percent to 9 percent by 2020.
The program also aims at increasing the ratio of female workforce in Saudi Arabia from 22 percent to 28 percent by 2020.
Meanwhile, the ministry said it would continue its inspection tours of establishments in all regions to closely follow up on the implementation of the Saudization decision.
According to the ministry, the nationalization of jobs in shops selling electric and electronic appliances, watches and glasses started on Friday.
It said in January, the nationalization of jobs will cover the shops selling medical equipment, car spare parts, carpets and sweets.
The ministry in September started the Saudization of jobs in car and motorbike showrooms, and stores selling ready-made garments, children's clothes, home and office furniture and household appliances.
It said the move was aimed at providing more job opportunities for the Saudi men and women. It warned violating establishments with severe punishments.
http://saudigazette.com.sa/article/547663/SAUDI-ARABIA/Women-employees-in-private-sector-up-88
--------
Iran Lets Hundreds of Women Attend Asian Champions League Final
2018-11-10
DUBAI — Iran allowed hundreds of local women to attend the Asian Champions League final in Tehran on Saturday, Iranian news agencies reported, in a possible step towards ending their decades-old exclusion from top soccer matches in the country.
The semi-official news agency Tasnim said an unspecified number of women had entered the Azadi (Freedom) Stadium to watch Persepolis seek to overturn a 2-0 first-leg deficit against Japan's Kashima Antlers and claim their first continental crown.
It said the women had joined in with chanting in support of Persepolis, Iran's best-supported club. Iranian women and girls have not been allowed to attend any men's sporting events in the country for much of the 39 years since the Islamic revolution, and have not been granted access to matches involving top clubs since 1981.
However, in a rare move last month, about 100 women were allowed to watch a friendly soccer match between Iran and Bolivia.
As 80,000 people gathered at the Azadi to watch Saturday's game, Iranian social media reports said most of the women who had been let into the stadium were relatives of players or members of Iran's female football and futsal teams and football federation employees.
The ISNA news agency said fans around the stadium cheered as the women entered the stands set aside for them, which an official said had a capacity of 850 seats.
Elaheh Hamidikia, a reporter for ISNA, said on Twitter that about 500 women were admitted. Female fans from other countries have previously been permitted to attend games at the Azadi Stadium.
Parliament member Fatemeh Zolqadr said earlier that world soccer's governing body FIFA had demanded women be allowed to attend top-level games. "This should be done to avoid any problems for the country's football," she was quoted as saying by the parliament news website ICANA.
Campaign group Open Stadiums has been lobbying for access to venues for women in Iran, and representatives of the organization met with FIFA general secretary Fatma Samoura this week to hand over a petition signed by more than 200,000 people.
Speaking before Saturday's game, a spokesperson for the group said overturning women's exclusion "has been our dream for decades"
"We are always excluded from public happiness and excitement," the spokesperson told Reuters by e-mail on condition of anonymity. — Reuters
http://saudigazette.com.sa/article/547703/Sports/Iran-lets-hundreds-of-women-attend-Asian-Champions-League-final
--------
Asia Bibi 'Not Offered UK Asylum amid Concerns of Unrest and Attacks'
11 NOVEMBER 2018
Britain has not offered asylum to a Pakistani Christian woman freed after eight years on death row for blasphemy because of fear it would prompt "unrest" in the UK and attacks on embassies, her supporters claim.
Asia Bibi and her family had appealed for sanctuary in Britain after her conviction was quashed by Pakistan's supreme court.
The acquittal of the 53-year-old Catholic farmworker prompted days of demonstrations by hardline Islamist parties in Pakistan who had campaigned for her to be hanged.
The mother-of-five remains hidden in Pakistan after Imran Khan's government agreed to allow a petition against the court decision, as part of a deal to halt the protests.
A UK campaign group in touch with the family said the British government was working to help Asia Bibi, but had stopped short of offering asylum.
Wilson Chowdhry of the British Pakistani Christian Association, said: "Britain was concerned about potential unrest in the country, attacks on embassies and civilians.
"They have not offered automatic asylum, whereas several countries have now come forward. They won't be coming to Britain. The family will definitely not be coming to Britain."
He said Britain was "being helpful", but it was "an enduring shame that a country with such a lauded history of helping refugees and asylum seekers, that when the Asia Bibi case has come before them, they haven't been as generous as they have for many victims in the past".
He went on: "It does seem to me that Britain is now a country that is unsafe for those who may be tarred with an allegation of blasphemy. We are very aware that there are extremist elements in this country."
"Britain would have been one of their first choices. America, Britain and Canada, these would have been their first choices. It was a bit of a kick in the teeth."
Mr Chowdhry said a plan for her to leave the country was being drawn up, but that none of her supporters would give details until she and her family were safely out, adding that Mrs Bibi is unable to leave the country until the legal petition has run its course.
Supporters of Mrs Bibi in this country have reacted with alarm at the suggestion she may be turned down for asylum.
Damian Green MP, the former Cabinet Office Minister, who with 19 other Catholic MPs and Peers has written to the Government urging it to allow her to come here, said: "It would be very disturbing if that was on ministers' minds. It would clearly be unacceptable if that was the case."
A candlelight vigil for the Mrs Bibi will be held outside Pakistan's High Commission in London on Monday afternoon.
Mrs Bibi's conviction caused outcry among Christians worldwide and attracted the attention of the Pope.
Her case has also divided Pakistan and focused attention on the country's harsh blasphemy laws.
Her difficulties began as she picked berries with other farmworkers in a Punjab field in June 2009. A quarrel with two Muslim women erupted after she was asked to fetch water and they said they would not drink from a vessel touched by a Christian.
The women later alleged to a village mullah that Mrs Bibi had insulted the Prophet. She has always denied blasphemy and said she had been falsely accused to settle a score.
A spokeswoman for the Home Office said it could not comment on individual cases, but Whitehall sources added that: "We welcome the assurances the government of Pakistan has given on keeping her and her family safe.
"It is important that all countries seek to uphold the rule of law and afford security and protection for the rights of all citizens irrespective or faith or belief."
https://www.telegraph.co.uk/news/2018/11/11/asia-bibi-not-offered-uk-asylum-amid-concerns-unrest-attacks/
--------
The Middle East needs more female comedians like Reem Nabil to challenge the status quo
Raya Al-Jadir
Nov 11, 2018
When the wave of protests called the Arab Spring rippled through the Middle East in 2011, they brought with them hope, plans for change and the start of a new dawn. The protesters were calling for political and social reform that would enable the masses to have a choice and say in their leaders. Behind it followed a wave of new NGOs, charities and organisations booming with people eager to build a society that can benefit and contribute to that same dream that fuelled the revolution – freedom and equality. Seven years on and many find themselves living the same reality they experienced before the uprisings, but others were given a voice during the protests and they refuse to be silenced. These new voices are emerging to keep the dream within reach.
Arab society is patriarchal – women are often marginalised. But in 2011 women at the forefront of protests began to change this. Alongside men, female activists in Egypt were calling for reform, women such as Rasha Azab, Sana Seif, Mona Seif, Salma Said, Gigi Ibrahim, Aida El Kashef, Asma Mahfouz, and Nawara Nejm were fighting for a more equal society.
Female Egyptian stand-up comedian Reem Nabil hoped the revolution would change her industry and found a way to use her art to try to challenge social norms in Egypt and in the wider world. Over various conversations I've had with her, Nabil told me that she began to speak out about issues she was passionate about, drawing attention to customs that no longer fit with our contemporary time.
During my conversation with Nabil she recalled how, as a child, she was notorious for the way she impersonated and imitated her friends and teachers at school, and she was always the source of entertainment at family gatherings. But in the Arab world, comedy is not widely recognised, and remains a male-dominated field. The few Arab women who have made a name for themselves on the circuit are all based in the west, such as Maysoon Zayid, who is Palestinian-American. Nabil didn't see this as a career path.
But Egyptian political satirist Bassem Youssef changed her view. Known as the Arabic Jon Stewart, Youssef's innovative approach to challenging political and social orders inspired many to speak out. He encouraged Nabil to discover more about this "new form of art" which was slowly emerging and in it she found her calling. She enrolled in a "comedy workshop to learn how to perform and understand the basics of comedy writing".
Once she became well known, Nabil used her voice to break taboos and talk publicly about human interactions and relationships, challenging traditional customs and norms.
But the majority of the Arab community still do not understand or accept the idea of comedy as an art form. Female comedians face even greater challenges: they are restricted and limited to what materials they can cover or speak about, topics that would seem indecent for a woman to discuss such as boyfriends, adultery and going out at night are off limits. This is on top of restrictions that apply to all comedians in authoritarian regimes and conservative societies – jokes about politics, religion or sex are a non-starter.
After 2011, Arabs began to open up to the world, helped further by the power of internet, and views towards women have begun to change in the Middle East.
Accepting a new idea or seeing a female performer is somewhat easier than before the Arab Spring. But Nabil's stand-up comedy is something different, mainly due to her gender. While you may find female comedians who act in films, theatre and TV, they are classified as mainstream actresses who support male-led production – they are not expected to have their own stand-up show.
Earlier this year, Nabil was the only female Egyptian to appear on the Arabic version of the American programme Comedy Central in Dubai. This is already a sign of progress, that change is coming as a result of the Arab Spring. It is also a positive indication that reform in social structure is taking place, albeit at a slow speed, from an essentially a patriarchal society towards one where those who, like Nabil, seek change can be welcomed and supported to encourage others to defy and redefine the norm for themselves.
We need more women like her in all areas of the arts – but especially in comedy – to break the boundaries of what is expected of Arab women and continue to challenge the status quo.
https://www.independent.co.uk/voices/middle-east-comedians-arab-spring-reem-nabil-female-comic-egypt-a8627821.html
--------
Egyptian Woman Assaulted With Shoes By 5 Kuwaiti Women
Nov 11, 2018
KUWAIT CITY, Nov 10: An Egyptian woman has lodged a complaint at a police station against five Kuwaiti women accusing them of hitting her with their shoes, reports Al-Rai daily.
She explained that the incident took place at a beach where she was with her friend and son. One of the five women hit her son's bicycle, causing her to become angry.
http://www.arabtimesonline.com/news/egyptian-woman-assaulted-with-shoes-by-5-kuwaiti-women/
--------
URL: https://www.newageislam.com/islam-women-feminism/religious-crisis-university-ibadan-school/d/116848
New Age Islam, Islam Online, Islamic Website, African Muslim News, Arab World News, South Asia News, Indian Muslim News, World Muslim News, Women in Islam, Islamic Feminism, Arab Women, Women In Arab, Islamophobia in America, Muslim Women in West, Islam Women and Feminism