New Age Islam News Bureau
30 Jul 2019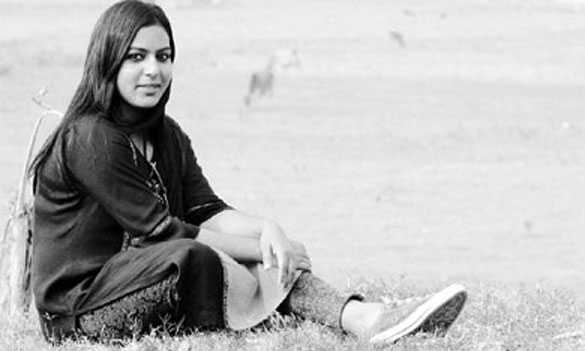 'Mother', Rehana Sultana wrote, 'you hate me, because even though
I was born in your lap, I am that 'cursed Miya'.'
-------
• Sadaf Jaffer, From NJ Mayor to Congress: Muslim Women Targets of Hate
• Saudi Ministry of Justice Announces Notary Public Vacancies for Women
• Women Taking Photos Of Themselves Without Headscarves Face 10-Year Prison Sentence In Iran
• The Curious Reaction to a Niqab-Wearing Homophobe
• The Overlooked Wisdom of Arab Women Journalists in the Middle East
• Pakistan HR Minister Plans To Expand 'Women Police Station' In Rural Areas
• Leila Hosseinzadeh, Tehran U Student Activist, Taken To Evin Prison
Compiled by New Age Islam News Bureau
URL: https://www.newageislam.com/islam-women-feminism/rehana-sultana-muslim-woman-hit/d/119340
--------
Rehana Sultana the Muslim Woman Was Hit With 4 FIRs, Rape Threats For Writing Poetry In Her Mother Tongue, in Assam
By Piyasree Dasgupta
30/07/2019
'Mother', Rehana Sultana wrote, 'you hate me, because even though
I was born in your lap, I am that 'cursed Miya'.'
Sultana was 18 when she first heard the word 'miya' being used as an insult. She had just moved to Guwahati from her village in lower Assam, and had stepped out with a group of girls from her hostel when they spotted a thin, dishevelled rickshaw-puller coming their way. As the man stopped near them, the teenage girls shook their heads vehemently, motioning him to move ahead even though they needed a ride. Then one of them rolled her eyes and said, "I knew he was a miya when I saw him coming." The others laughed.
"I still remember the sound of the word, the laughter and my silence," said Sultana, now a 28-year-old doctoral student in Gauhati University.
When, in 2016, she wrote her first poem in the dialect she spoke at home, she felt shaken and raw, like she had just had a painful conversation she had been putting off for way too long.
After she uploaded 'I'm Miya', written in the Miya dialect, people wrote to her on Facebook expressing how necessary and important her writing was. Someone even said, "May your pen never rest."
But three years later, Sultana's poems have been dug up on social media and her inbox flooded with threats and insults. She has also had four police complaints lodged against her.
Sultana is not alone. Over the past month, four FIRs have been lodged against Assamese poets who identify themselves as 'Miya' poets—'Miya' being a colloquial expression used in Assam, almost as a pejorative, to refer to Bengal or Bangladesh-origin migrant Muslims in the state. The accusations against them range from promoting disharmony in Assam to painting a discordant picture of Assamese society outside the state, ironic, given the negative press that the National Register of Citizens (NRC) itself has attracted even internationally.
Three of these FIRs were based on complaints filed by indigenous Assamese Muslim organisations who have traditionally wanted to distance themselves from those Muslims whose forefathers migrated from Bangladesh. Speaking to HuffPost India, the president of one of the organisations repeatedly said that their organisation represented Muslims whose forefathers were from Assam and "are Assamese first and Muslims later".
The attack on the poets is an extension of a larger cultural and political conflict that has intensified as the deadline for the NRC—August 31—approaches. As lakhs of people in Assam live in fear of losing their citizenship and being declared illegal immigrants through the error-prone process, people like Sultana, whose work is perceived as a threat to the Assamese subnationalist project, are also paying a heavy price.
Reclaiming identity through poetry
Sultana grew up speaking both Assamese and the Miya dialect at home, but she had never thought there could be anything 'literary' about the latter. The dialect, written in the Assamese script—and easy to read if one knows Bengali or Assamese—is spoken by a majority of migrant Muslims, especially those living along the Brahmaputra river in Assam.
The dialect, which is influenced by Assamese and Bengali, represents the cultural trajectory of Muslims who migrated from Bangladesh to Assam over many decades, beginning from the 19th century.
In 2016, poet Hafeez Ahmed was the first to write a poem in the Miya dialect—a loose translation of the title would be "Right Now, I Am A Miya"—and upload it on Facebook. And the first time Sultana read poetry in the Miya dialect, she felt like the words were painting pictures in front of her.
"I could see the tears in the eyes of the men the words spoke about, I could see them struggling to cope with the oppression and poverty they face," she said.
It took her some time to realise that while she spoke many languages — English, Hindi, Assamese — Miya was the language she felt in.
And hence was born Miya poetry, a genre which helped writers from the community appropriate a word that had only been bandied about as abuse until then.
Kazi Sharowar Hussain, a 23-year-old poet and a student at Tezpur University, said that Miya poetry was born from the need to articulate the oppression faced by poor Muslims living in the fringes of Assam, in a language they spoke.
"The hatred they face for being a 'miya', the discrimination against them when they go to work as migrant labourers, there was a need to document their lives without villainising them," Hussein, who goes by the name Kazi Neel, told HuffPost India. With Ahmed's poem, young people like Neel and Sultana realised that the language they spoke it could also be the language they wrote literature in — a political assertion that came at a time the Bengali Muslim identity in Assam was facing threats of state persecution and organised political oppression.
While the dominant narrative about immigrant Muslims in Assam — whose forefathers migrated from Bangladesh — seeks to paint them as encroachers and troublemakers, this genre of poetry sought to speak about the systemic oppression they allegedly face. In 2016, the emergence of the trend was covered by Al Jazeera—this report is now being used by detractors to claim that Miya poets are 'insulting' Assam in front of the world.
Hussein, for instance, has been accused of creating a false narrative of sexual violence against poor Muslim women in the state. In one of the poems, about the discrimation faced by economically backward minorities in the country, Hussein wrote the lines: "The land that makes my father an alien that kills my brother with a bullet, and gangrapes my sister…"
"It is a metaphor for all Muslims and women irrespective of their religions. Haven't women, especially poor women, been gangraped in India? Haven't men been killed for belonging to a certain religion? Isn't there an attempt to call many poor Muslims 'illegal immigrants' in Assam? There have been cases where 7-year-old children have been left out of the NRC," explained Hussein.
Critics, however, have read the lines literally to contest the poet's argument and file police complaints.
"They said, my father was not shot, my sister was not gangraped, I was lying," he said.
The deliberate misreading doesn't end there.
One of the police complaints refers to a line in Hussein's poem—'your torture has burnt my body black'—and demands to know: "Did you file FIR or complaint before the appropriate authority? What is the case number? Where is the medical report? Can you show?"
It picks out another line that says 'my mother is a D-voter' and declares that it is her duty to prove her citizenship before an 'appropriate forum'.
"Writing poetry is not the solution," says the complaint.
'You're the one I love'
To Sultana, the Miya language is a 'khichdi', but also the one she feels closest to. One in which she can speak about that time her college went for a day trip and the girls giggled and rolled their eyes at a group of young women wearing bright, red and yellow sarees. "Look, look, miyas," they laughed, making faces at the 'shiny' clothes.
Or the time a friend told her about a 'miya' sewer cleaner whom her family threatened to turn over to the police because he asked for the amount they had agreed upon earlier.
"You are my mother,
I was born in your lap,
My father and brother were born in your lap,
Mother,
Even then, you say I am not yours
I am nothing to you…"
Quoting the opening lines of her first 'Miya poem', Sultana said that accusations that she was trying to 'malign' Assam especially rankled.
"I have studied in Assamese medium in school. I did my graduation in Assamese literature and then my Masters in it. Later, when I began writing my doctoral thesis, that too was in Assamese. In fact, I did not think that Miya language was something that I could write in till very recently," she said. In fact, some of her poems on the miya community, have been written in Assamese. "That is still the language I am most comfortable writing in," she said.
Her poems mostly speak about the experiences of poor Muslim families she has worked with since her student days. Sultana's doctoral thesis is on the folk traditions of Muslims who live in 'chars' — temporary river islands on the Brahmaputra — a community known to be the poorest, least educated and most oppressed among even the minorities in Assam.
During the course of her doctoral research, she frequently made trips to the chars and heard stories of hungry children waiting all day for their fathers to return home from selling odds and ends in the villages for food. But the men couldn't return, because they would be spending the night in police lock-ups on suspicion of being thieves or 'Bangladeshis'.
Sultana's first poems, therefore, was about an average poor migrant Muslim's desperation in to be counted as an Assamese. "They have given up their mother tongue, they gave up their culture to try to fit in. 'Mother, you don't trust me, because I have a beard, I wear a lungi, I am distraught from trying to prove my identity to you, yet, despite tolerating thousands of insults, pain and deprivation, I will stay say that you're the one I love' — I wrote this to capture their cries of desperation, to be accepted even after being born here like any other Assamese," Sultana said.
And the poems don't deal with just one angle. Because they have been denied education and are cut off from most amenities, these societies are also deeply superstitious. Sultana's poems do not just talk about discrimination but also protests the doubly oppressive lives of women in that society. "Child marriage is rampant, so is domestic violence. I wrote extensively on those issues as well," she said.
And then, the abuse
After Sultana's first poem was published in 2016, she didn't receive a single critical or abusive message. So she was taken by surprise in June this year when she saw the toxic language being unleashed on the comments section of a friend's status update on Miya poetry.
"Don't let this affect you and don't stop, keep writing," she commented.
On 17 June, a message landed on her inbox, calling her a prostitute and asking how much it would cost to 'have a night with her'. The man, called Manash, did not try to hide his identity and messaged Sultana from a profile which he seemed to be using to post regular content and interact with friends and family. When Sultana did not respond, he followed up with more messages, asking her to go to Pakistan and taking a dig at 'beef-eating Muslims'.
While most of the miya poets were getting trolled, being the only woman miya poet of the group meant Sultana received a special kind of abuse.
She was sent graphic descriptions of how 'miya' men must be masturbating at women like her, long messages about the alleged sexual excesses of her community, accusations that she probably wants '40 children', and assertions that miyas are rapists who should be cut up in public. And, unsurprisingly, multiple rape threats. Once Sultana changed the privacy settings of her Facebook profile and the men couldn't comment on her posts, she received messages saying that they wanted to write things about "her vagina, nipples" on the posts. They dared her to change the privacy settings.
One man wrote, "We are so disgusted by you that we won't come near miya girls even if they stood naked in front of us."
"I thought of reporting them but how many will I report? I am one person," she said.
In some of the screenshots Sultana shared with HuffPost India, women also participated in degrading conversations about her and when the men wondered who she was, some of them posted links to her Facebook profile in the comments threads.
One of Sultana's friends, a Hindu Assamese woman, who defended miya poets on Facebook, had to deal with torrents of men commenting on the nature of her relationship with the male miya poets, each conversation sexually coloured and obscene. Sultana's WhatsApp inbox also started getting flooded with threatening messages.
"I work and study in Guwahati University. Many people have my number, it's not difficult to get it," she said.
The messages were so graphic and disturbing that Sultana was forced to switch off her phone. When this correspondent tried to get in touch with her two weeks ago, her brother informed HuffPost India that she had stopped using the phone because it was flooded with threatening, abusive messages. Even her family could only get in touch with her by calling people around her—friends when she was at university, relatives when she was visiting their homes.
"It became unbearable and honestly, the slew of obscene messages made me feel deep shame. Every time my phone buzzed, I froze, thinking someone will message me asking for sex or threatening to rape me," she said.
Initially, Sultana thought she would file police complaints against these men and women. But she decided against it because in her village where her parents live, getting embroiled in 'police cases' was always made out to be a statement on a woman's character, not the perpetrator's.
"They will not understand any Miya poetry, or Facebook or protest. They will think I must have done something terrible to have gotten the police involved. It's a matter of deep shame there," she said.
And the police were not far behind, either. Over the next few weeks, as Sultana wondered how to deal with this onslaught of verbal violence, four FIRs were lodged against her in quick succession.
The NRC connection
Sultana and her friends did not know most of the people who had filed the FIRs, but they weren't surprised.
"Almost the whole of Assam were talking about our poetry and from the hatred I was getting, it was clear that people had been tracking us for a while and were waiting for the right opportunity to pounce on us," she said.
While Miya poetry is a literary expression of the social challenges of the Muslims in Assam, Sultana and some others writers had gone beyond that to help poor people make sense of the many layers of the hard-to-understand NRC process, including foreigner tribunals, biometric databases and court summons.
She has often participated in camps organised by activists across Assam's poorest minority belts to help people understand the nitty gritties of the complex process they have unwillingly been thrown into.
"There are times these men and women who live on chars go to villages to sell the fruits and vegetables they have grown. A Border Police person will pick them up, take them to the police station and take their names and addresses down. They are so poor and scared that they do not question the authorities. Days, months and at times years later, they will get a notice asking them to prove their citizenship before a foreigner tribunal or go to jail," she said.
While working on her doctoral thesis, Sultana realised that many villagers often land in detention camps because they could not read a summons, did not understand what documents were needed from them and where to get them and when asked to produce papers, showed something else, angering the government officials.
"A large part of their fate depends on the babus not getting angry or irritated with them when they mistakenly mess up documents. So we organise camps to look at their documents and direct them to the right authorities to get documents," Sultana said.
Her work includes getting the right forms, filling them out, writing appeals to government offices for copies of documents to help prove citizenship and then patiently explaining this to the men and women and marking out the documents they needed to furnish.
Though she has been doing her research for some years now, Sultana says that it is the advent of the BJP government in Assam and the rise of majoritarian chauvinism that has especially targeted people like her and those she has been helping.
"It is clear that the multiple FIRs against us are meant to scare us and thwart the work we are doing to help these people get their paperwork sorted, so that they can't be declared foreigners or kept out of the NRC," she said.
Us versus them
So why did Muslim organisations themselves file police complaints against the Miya poets?
"These Bengali-speaking immigrant Muslims… the Assamese people cooperated with him, let they stay with love, let them cultivate land and rear animals, taught them Assamese and now they are saying they were tortured?" Hafijul Ahmed, president of Sadou Assam Godia Moria Deshi Jatiya Parishad (An Indigenous Assamese Muslims Body) told HuffPost India.
According to him, Sultana and her fellow poets were disturbing communal harmony before the publication of the NRC. It was the reach they had through social media that seemed especially worrying to him.
"It was okay if it was in a book. But they are writing on social media, making videos and spreading them. So we appealed that the people responsible for law and order in the state look into them and stop them," he said, emphasising that his organisation did not represent migrant Muslims.
Ahmed's organisation is a subsidiary of the powerful student's organisation All Assam Students' Union (AASU), which has been at the forefront of leading the stir against "illegal immigrants".
Jyotirmoy Talukdar, a professor at Ashoka University, said that Miyas face deep persecution in the state, and that no indigenous Muslim will want to do anything with them and be targeted themselves.
"Indigenous Muslims have always sided with Assamese subnationalism and Assamese subnationalism is staunchly linguistic," he said.
Last week, Sultana finally got bail in all the three FIRs filed against her, and decided that she would give her parents some idea of what was happening to her.
"I stay in Guwahati and both my parents are old and suffer from high blood pressure. If my mother heard about a FIR, she would die," she said.
https://www.huffingtonpost.in/entry/nrc-miya-poets-assam-woman_in_5d3f3e2ee4b0d24cde03f6d6
--------
Sadaf Jaffer, From NJ Mayor to Congress: Muslim Women Targets of Hate
Jul 30, 2019
Sadaf Jaffer made headlines after she became the first female Muslim mayor in New Jersey, and possibly in the nation, in January. Then came the hate.
Hundreds of tweets poured in saying that the new mayor of Montgomery would implement sharia law and warning of a Muslim "invasion" and "jihadist takeover."
"It was exhausting. How much of this can you take in?" said Jaffer, noting that she spent days going through messages and reporting them to Twitter. "There are some really very dark corners out there and unfortunately our president is really stoking the hatred."
The bigoted comments directed at Jaffer lay bare the incredible contradiction of public expectations for Muslim women in America. Muslim women are stereotyped as oppressed, silent and failing to assimilate. But when these women take leadership positions in community and government, proving their critics wrong, they are still maligned for being involved while Muslim.
It's a pattern that has spanned from a mayor's office in a New Jersey township up to Congress, where two Muslim congresswomen, Ilhan Omar and Rashida Tlaib, have been called pro-terrorist and un-American, where they've had to hire extra security because of death threats, where their every word is scrutinized and, sometimes, distorted.
Still, female Muslim leaders and organizers said in interviews they would not back down because of the backlash they or others have faced.
SadafChanging minds at the local level Jaffer, who has degrees from Harvard and Georgetown University School of Foreign Service and is a postdoctoral researcher a Princeton University, envisioned a career in diplomacy.
When she grew unhappy with her local representation in Congress, she became involved in local politics. She saw it an effective way to make a difference by interacting with residents and building bridges among communities.
"People are so focused on state and national and international issues that they neglect the local," said Jaffer, 36. "A lot of our problems are at the local level where you meet face to face."
In her community, she heard a handful of negative comments alluding to her faith and saw fliers calling her ideas "extreme" and "dangerous." But she said it was mostly outsiders, people who did not know her, who sent her messages of hate.
"I think locally my being Muslim is not really very relevant," she said. "It's just incidental."
Jaffer helped start a New Jersey-based group, called Inspiring South Asian American Women, that promotes civic involvement and public service. She's glad to serve as an example to others.
https://wisconsinmuslimjournal.org/from-nj-mayor-to-congress-muslim-women-targets-of-hate/
--------
Saudi Ministry of Justice Announces Notary Public Vacancies for Women
29 July, 2019
The Saudi Ministry of Justice announced Grade 7 notary public vacancies for women, who will work at notarial offices across the Kingdom.
The ministry has been focusing on female employment within the legal sector as part of its plans to support and empower women, widen career options and help them play a bigger role in this sector.
The new announcement of notary public posts is considered a milestone for the ministry to offer women an opportunity to enroll in such important government positions.
Previously eligible female employees worked in private notarial offices, helping them provide wider notarial services options to clients and offering greater efficiency.
The ministry explained that applications will be announced on July 30 and applicants will have a week to apply through its website.
https://aawsat.com/english/home/article/1834941/saudi-ministry-justice-announces-notary-public-vacancies-women
--------
Women Taking Photos Of Themselves Without Headscarves Face 10-Year Prison Sentence In Iran
July 29, 2019
Iranian women who post photos of themselves online without their headscarves on could face up to 10 years in prison.
They face the punishment for posting images or video online, and for sending them to Masih Alinejad, a US-based activist who founded the "White Wednesdays" campaign in Iran to oppose the compulsory hijab.
The campaign encourages women to post photos of themselves without headscarves.
The semi-official Fars news agency quoted the head of the Tehran Revolutionary Court, Mousa Ghazanfarabadi, saying "those who film themselves or others while removing the hijab and send photos to this woman ... will be sentenced to between one and 10 years in prison."
Wearing the Islamic headscarf is mandatory in public for all women in Iran. Those who violate the rule face up to two months in prison and a fine of £20.
Scores of women in Iran have been arrested for removing their headscarves as part of the "White Wednesdays" campaign.
Last year, an Iranian woman was sentenced to two years in prison and 18 years probation for removing her headscarf in a protest.
Shaparak Shajarizadeh said she had been sentenced for "opposing the compulsory hijab" and "waving a white flag of peace in the street".
https://news.yahoo.com/women-taking-photos-themselves-without-132854251.html
--------
The Curious Reaction to a Niqab-Wearing Homophobe
Brendan O'Neill
29 July 2019
Are we allowed to criticise the niqab yet? This question crossed my mind as I watched that viral clip of a niqab-clad woman hurling homophobic invective at a Pride marcher in Walthamstow in London. Surely now it will become acceptable to raise questions about this medieval garment (banned in several Muslim countries) and about the views and attitudes of those who wear it?
On one level, the footage of the niqab-wearering lady spouting anti-gay hate wasn't very surprising. Shocking, yes, but not surprising. It's not as if someone who covers themselves from head to toe in archaic black cloth (which, as Qanta Ahmed has said, is not in the least suggested let alone mandated by the Koran) is going to hold enlightened views on sexuality. Stop the press — religious fundamentalist is not a fan of gay sex!
Disgusting homophobic abuse at those on Waltham Forest Pride today.
No matter what form hate comes in, we must stamp it out and say no to all forms of hate! Also, very importantly we cannot call out one form of hate but be silent/complicit on others. @GalopUK @stonewalluk pic.twitter.com/kDAFoAb8Vw
— Yusuf Patel (@YusufJP_) July 27, 2019
'Shame on you', the woman shouts at the man who is draped in a Pride flag. 'God made Adam and Eve, not Adam and Steve', she continued, bizarrely adding a dash of old, Alf Garnett-style homophobia to her broader Koran-inspired loathing of homosexuality. I guess this is a kind of 'melting pot' of cultures — 1950s-style homegrown homophobia with a dash of Eastern-inspired extremism.
The clip has caused much discomfort in woke-left circles. After all, the woke crew like gay people and women who wear the niqab. How are they meant to respond to such a public spat between two of their favourite identity groups?
What a pickle. Condemn the religious nutter and risk joining Boris Johnson in that camp of nasty Islamophobes who slag off niqab-wearers? Or be soft on the screaming lady and risk implying that it is sometimes okay to bark insults at gay people? What is an intersectional leftist to do!
Their solution, it seems, is to be more gentle with this homophobe than they would be with other homophobes. The local MP Stella Creasy says she was 'gutted' to see this clash — a tellingly passive word.
The Independent's coverage dances around the fact that the woman was wearing a niqab, informing its readers that the abusive woman was 'dressed in black, with a black veil and black-rimmed glasses'. Okay. Can we be more specific? She was wearing 'clothing commonly associated with female followers of Islam', the paper said. We got there in the end! Strikingly, the Indie report doesn't mention the word 'niqab'. Perhaps it thought mentioning the N-word would set off the Islamophobes.
And is it only me who finds it pretty alarming that the victim of the woman's abuse says in response to her, 'We still love you'? Another Pride attendee can be heard informing her that 'fascists' say the same thing about her as she is saying about gay people. Why such leniency? Why didn't they tell her to eff off, as they undoubtedly, and rightly, would have done if it had been any other kind of anti-gay hysteric?
All you have to do is imagine if the person shouting anti-gay abuse had been a big white bloke with an east London accent and loads of tattoos and a St George's flag hanging from his back pocket. Do you think Ms Creasy would only have been 'gutted' in that instance? Or that the Twitterati would have been as cagey as they have been in response to the niqab loon? Of course not.
And herein lies the problem. It is precisely the obsessive ringfencing of Islam from normal levels of scrutiny that encourages some of its adherents — some, note — to cling to backward views.
If your views are never confronted, and in fact are protected from confrontation by an Islamophobia industry that depicts virtually any criticism of Islam as a hate crime, how are you ever meant to rethink what you think? To change your mind? To analyse your beliefs and try to move forward to a more progressive view of the world?
If this niqab-wearing woman thinks she can waltz through her community hurling backward religious hatred at gay people, should we really be surprised? After all, she lives in a country where even criticising the niqab itself is a no no, as Boris discovered when he rightly called it an oppressive and ridiculous garment, and also rightly said it should not be banned.
Boris was right. The niqab is ridiculous and oppressive. It is also anti-social, a big, black 'screw you' to contemporary society. It is a hostile garment, declaring the wearer's fealty to archaic religious values and her disdain for the liberal, licentious society she lives in.
It shouldn't be banned, of course. Women must be free to wear it. But by the same token the rest of us must be free to say that it is a stupid and offensive thing to wear and that the Waltham Forest homophobe is probably fairly typical of those who wear it.
Things have now been made worse by the involvement of the police, who are investigating this woman's alleged hate crime. We don't need more authoritarianism. We don't need more speech-policing. We just need a more open and critical public sphere in which everything, including Islam, is up for debate.
https://blogs.spectator.co.uk/2019/07/the-curious-reaction-to-a-niqab-wearing-homophobe/
--------
The Overlooked Wisdom of Arab Women Journalists in the Middle East
Eloise Blondiau
July 29, 2019
"Even in wartime," writes journalist Hannah Allam, women in Najaf, Iraq, wear abayas—"long billowy robes that leave only their faces, hands, and feet exposed."
After she repeatedly came under fire, Allam learned how to run in an abaya. "You use your left hand to hold the silky fabric under your chin to keep it in place and your right hand to hike up the bottom to free your feet. Then you run in a zigzag pattern to avoid giving a clear shot to the snipers."
This is just one small snapshot of life in Iraq during the war, provided by one of the 19 safiyat—or women journalists—in Our Women on the Ground: Essays by Arab Women Reporting from the Arab World. Lebanese-British journalist Zahra Hankir has compiled a collection of gripping and illuminating essays by Arab women reporters who have worked in the Middle East and North Africa, with a foreword by the formidable Christiane Amanpour, CNN's chief international anchor. Hankir's goal was to bring attention to "underreported tales and the women who tell them."
In her contribution to the anthology, Allam (currently a correspondent at NPR, formerly of McClatchy and Buzzfeed News) describes how in 2004, she hid with women inside the besieged Imam Ali shrine—a Shiite Muslim mosque in Najaf—during a siege that dragged on for weeks, with the bodies of local men continually being brought inside. When Allam escaped with her translator, two Iraqi women saved them and drove them to their hotel. "Every time Iraq began to unravel," she writes, "it was women who worked the hardest to stitch it back together."
Earlier this year, the Daily Mail published an article that pushed a familiar and misleading picture of journalists in the Arab world. "EXCLUSIVE," the tagline read. "Tinder sex with Muslim women, tequila and drugs until dawn: My real life as a Washington Post war correspondent—and how Jeff Bezos' paper wouldn't pay for me to deal with my PTSD."
The piece glorified the trope of a self-destructive, James Bond-esque white male reporter bravely traipsing into the Middle East to cover conflict, all the while cavorting with local women who are—horror!—Muslim. (A later edit, possibly due to backlash, changed "Muslim women" to "Middle Eastern women"—not that it altered the paper's exoticization of them.) The article also completely overlooked the trauma of local people that the featured journalist was covering.
The piece bothered readers like Buzzfeed's global director of news curation, Sara Yasin, who wrote on Twitter: "There are loads of traumatized local reporters who talk about their experiencing [sic] without degrading anyone else."
Our Women on the Ground is proof of that. Some of the essayists talk about covering their home communities in places like Syria, Palestine, Yemen and Egypt. Others report on the home countries of their forebears or travel even farther afield across the Middle East and North Africa. But all of the writers offer careful consideration of their own relation to the people they interviewed and the context they worked in.
Jane Arraf, a Palestinian-Canadian journalist at NPR who has previously worked at CNN and Al Jazeera, reflects on her time reporting on the Iraq war. She writes about finding an imam in a courtyard, surrounded by the severed limbs of people killed in a suicide bombing near the Kathimiya shrine in Baghdad. Grasping for words, she said: "I'm so sorry," in Arabic and English. "You're sorry?!" he replied. There was nothing to say.
Arraf later asks herself: Would it have been equally painful to watch the war unfold had she not been Arab? "I think the tragic miscalculations of the war would have been [equally painful to watch]," she decides. "But I might not have been as conscious of the depth of misunderstandings as worlds collided."
https://www.americamagazine.org/arts-culture/2019/07/29/overlooked-wisdom-arab-women-journalists-middle-east
--------
Pakistan HR Minister Plans To Expand 'Women Police Station' In Rural Areas
Jul 30, 2019
ISLAMABAD: Federal Minister for Human Rights Dr Shireen Mazari said on Monday that Ministry of Human Rights has planned to expand women police stations in rural areas of the country to ensure easy access for women victims of violence to law and justice.
She said her ministry would launch women police stations in typical rural areas of the country with trained officers to attend female complaints in cases ranging from domestic abuse to property disputes.
The task of women police stations would be to investigate all such cases involving women either when they were victims or accused, she added.
She said that the purpose of setting up the women police station at district levels was to provide the persecuted women in the male-dominated society a safe way to report their grievances to police.
"Women police officers in their areas will provide necessary information regarding the prevention of domestic violence because prevention is the most effective way of security of the female," she added. These women police station would be fully operational and all records facility will also be computerized, she added.
Her government is committed to ensuring the empowerment of women as their participation in all walks of life is necessary for sustainable development, she mentioned. She said the government was continuously undertaking reforms so as to enable women to participate in all walks of life. She also expressed his concern on child abuse incidents in the country and said all walks of society should come forward to root out this menace.
Minister said her ministry has already launched a special mass awareness drive to sensitize public about the rights of Children. After the Eidul Azha Human Rights ministry would start an awareness drive in the capital at school and higher education institutional level to raise awareness on violence against children and child protection where we will decide to train police for this purpose as well, she added.
Mazari said Human Rights Ministry would soon launch a massive campaign to sensitize people on accessibility issues concerning persons with disabilities, rights to children and transgenders besides creating awareness on improving facilities for them.
Minister of HR said HRM has also started awareness campaigns for women s right to inheritance and provision of free legal aid to the women. We are working with law ministry to establish a statutory body to provide legal services and assistance, especially for women through providing free of cost lawyers, she added.
She said an anti-corporal punishment bill will also be tabled soon in the parliament to discourage physical punishment and abuse at schools, as will a bill named Zainab Alert to stop child sexual abuse. She said the government had taken marvellous steps for the welfare and progress of women in society so that they could play an effective role in the prosperity of the country.
A solid strategy has been devised to fulfil the basic needs of the masses, adding, public service agenda of PM Imran Khan would be fulfilled and no one would be allowed to hinder the journey of public service.
Minister said that the incumbent govt was working to provide the best basic facilities to all its citizens and assured that deprived areas would be brought at par with the developed cities. She said that development and prosperity were the fundamental rights of every citizen.
A helpline 1099 has also been launched by the Human Rights Ministry to provide free legal advice in this regard, she said, adding where almost 1000 complaints were registered daily.
https://www.pakistantoday.com.pk/2019/07/29/hr-plans-to-expand-women-police-station-in-rural-areas-says-mazari/
--------
Leila Hosseinzadeh, Tehran U Student Activist, Taken To Evin Prison
Jul 29, 2019
Student activist Leila Hosseinzadeh was arrested by intelligence forces on Sunday, July 28, 2019, and transferred to the Evin Prison to serve her jail sentence.
Tehran Province's Appeals Court upheld the 2.5-year sentence of Leila Hosseinzadeh on June 24, 2019. She is also deprived of leaving the country for two years after serving her sentence.
Leila Hosseinzadeh is a master's student of Anthropology at Tehran University. She was the secretary of Tehran University students' central council who had gotten arrested during the nationwide uprisings in December 2017-January 2018, but was later released on bail.
In other developments, women's rights activist Esrin Derkaleh was arrested by intelligence agents and security forces on Sunday, July 28, 2019, and taken away to an unknown location. Along with Maryam Mohammadi and Narges KHorrami, she had been summoned to the Prosecutor's Office on June 16, 2019. The three women's rights activists are members of The Voice of Iranian Women Association (Anjoman-e Neday-e Zanan-e Iran) and were mainly active in women's literacy movement. Maryam Mohammadi and Esrin Derkaleh had addressed the March 8 gathering of the Voice of Iranian Women Association, this past March on the International Women's Day.
Previously, on July 8, 2019, Maryam Mohammadi had been arrested at home and taken away to prison.
Another female civil activist, Parvin Nokhostin, whose activities focus on the rights of children lacking identity papers, was summoned to the Department of Intelligence on July 24, 2019. She had delivered a speech on the International Women's Day at a ceremony organized by the Voice of Iranian Women Association.
A number of members of this association have so far been arrested, including the arrests of Akram Nasirian in April, and Nahid Shaqaqi in May.
Akram Nasirian is an activist in the literacy movement and had been actively engaged in sending aid to flood victims.
https://women.ncr-iran.org/2019/07/29/tehran-u-student-activist-leila-hosseinzadeh-taken-to-evin-prison/
--------
URL: https://www.newageislam.com/islam-women-feminism/rehana-sultana-muslim-woman-hit/d/119340
New Age Islam, Islam Online, Islamic Website, African Muslim News, Arab World News, South Asia News, Indian Muslim News, World Muslim News, Women in Islam, Islamic Feminism, Arab Women, Women In Arab, Islamophobia in America, Muslim Women in West, Islam Women and Feminism