New Age Islam News Bureau
15 Jul 2015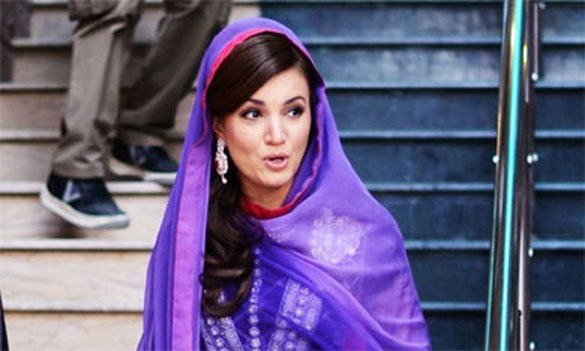 Reham labels the claims as "senseless propaganda
----------
• Reham Khan Wife of Imran Khan Dismisses Daily Mail Over Degree Report
• 9-Year-Old Shreya's Burger with 'Garam Masala' Shines at the White House
• Heard of Monika Naik, who just won a German Honour for her Selfless Service in the Field of TB?
• 15-Member Gang Led By Women in Pakistan Busted
• Girls Beaten Cruelly At Barisal Orphanage in Bangladesh
• Nigerian Muslims Speak Up Against Banning Hijab
• Runaway UK Schoolgirl, Amira Abase, Marries Daesh Militant
• Another Case of Child Abuse in Bangladesh Goes Viral On Social Networking Sites
• Iraqi Govt, U.N. Agencies Begin Training Women to Farm
• Girls Take Top Positions In AKU-EB Exams in Pakistan
• Makkah Youngsters Help Elderly Italian Women Perform Umrah
Compiled by New Age Islam News Bureau
URL: https://newageislam.com/islam-women-feminism/reham-khan-wife-imran-khan/d/103910
--------
Reham Khan Wife of Imran Khan Dismisses Daily Mail Over Degree Report
DAWN.COM, 15 07 2015
Broadcast journalist and wife of Pakistan Tehreek-i-Insaf (PTI) chairman Imran Khan on Wednesday dismissed British daily Daily Mail for calling into question a journalism course she is said to have registered for.
Social media was abuzz Wednesday morning when Daily Mail published a report which claimed that the 'Broadcast Journalism' course that Reham has made known as part of her education does not exist.
The report quotes from Reham's personal website, which maintains that she clinched her post as BBC reporter after starting a postgraduate course in Broadcast Journalism from North Lindsey College in Scunthorpe, Lincolnshire. However, officials at the institute have told Daily Mail it does not offer such a course nor has Reham's name in its records.
"We do not have anyone by those names or date of birth having attended this college," says a spokesman. "We have never done a degree in broadcast journalism."
While she did not out-rightly respond to the allegations, Reham Khan took to Twitter to say that she never "never picked up the Daily Mail", implying its lack of credibility.
She also labeled the report "senseless propaganda" and said that a "select lobby will attack you" if one chooses to address certain issues in Pakistan through their work.
Reham also tweeted an image of the passage from her website which mentions her education and credentials, which mentions that she had "started" a postgraduate degree in Broadcast Journalism, but does not specify that she completed it.
Tweeting the hashtag "Educate Pakistan", Reham said she would be "happy to help" those who are having trouble with reading.
Earlier today, PTI spokesperson Naeem ul Haq while speaking to news channels, said that this issue is Reham Khan's "personal matter" and can only be clarified by her.
He also said that on her website, Reham did not say anything related to the degree itself, nor did the Daily Mail say that Reham obtained her degree.
Reham Khan is a British Pakistani journalist who started her career in the BBC as a weather forecaster. Later she worked for the network as a broadcast journalist. She joined Pakistani news channel News One in 2013 and is currently working as an anchor at DawnNews.
http://www.dawn.com/news/1194628/reham-khan-dismisses-daily-mail-over-degree-report
-------
9-Year-Old Shreya's Burger with 'Garam Masala' Shines at the White House
July 15, 2015
Shreya's burger not just had Garam Masala and raita but also a hint of cumin, ginger and serrano chillies. Now this is what we call a burger with a twist. Shreya's dish was chosen as the winning entry from Illinois and she was also invited for dinner at the White House.
How often do your cooking skills give you a chance to have dinner at the White House? Meet the nine-year-old Shreya Patel who served a 'Garam Masala' Quinoa Burger with 'raita' to none other than the US President Obama and his wife.
Shreya was among the 55 young cooks who walked the red carpet at the White House during the fourth annual "Kids' State Dinner".
This Indian American girl from Schaumburg, Illinois gave an Indian twist to a burger and the President could not help getting awestruck by the unique dish. Her Garam Masala Quinoa burger with raita was chosen as the winning recipe from Illinois.
Following the victory she was invited for the lunch with none other than the First Lady Michelle Obama on July 10. Shreya came up with the winning recipe with the help of her grandmother.
Apart from the Garam Masala and Raita, Shreya's burger also had a hint of cumin, ginger and grated serrano chillies.
The young chef grew watching her grandmother and mother cooking dishes with an Indian twist which developed her interest in cooking. She would often help the two elder ladies of the house in cooking even when she was just three. And surprisingly, she loves every bit of the process – measuring, cooking, chopping and even cleaning up afterwards.
http://www.thebetterindia.com/29006/kids-state-dinner-in-us/?utm_source=The+Better+India+Newsletter&utm_campaign=375fbeb829-RSS_EMAIL_CAMPAIGN&utm_medium=email&utm_term=0_cd579275a4-375fbeb829-73844649#sthash.t8mlw3qL.dpuf
-----
Heard of Monika Naik, who just won a German Honour for her Selfless Service in the Field of TB?
Sushmita Samaddar July 15, 2015
Monika Naik may not have cleared high school, but that did not stop her from contributing to social service in the highest way possible. Her efforts and diligence, recently, won her the German Cross of the Order of Merit.
Recently, Monika Naik, secretary of the Batra St Thomas Home Welfare Society, received the prestigious German Cross of the Order of Merit, which was handed to her by the President of Germany, Joachim Gauk, himself. She received this for her relentless service in the field of Tuberculosis.
Naik was in profound disbelief when she first got the call from none other than the German Consul General Rainer Schmeidchen, in May, to inform her of this wonderful news.
"Not only caring the patients, I also go out to create awareness on TB. As the in-charge, I even need to look after the staff attendance and whether patients are getting their medicines and meal properly. It's a huge responsibility" – Monika Nair was quoted telling The Times of India.
Naik has not cleared high school and has never been to any university, but that did not stop her from giving back to the society. Earlier in her life, she was a para-medical volunteer, but now she manages the Batra St Thomas Home Welfare Society. Her service demands nothing and is selfless beyond comparison. This win of hers stands witness to that.
http://www.thebetterindia.com/28995/monika-naik-awarded-german-honor/?utm_source=The+Better+India+Newsletter&utm_campaign=375fbeb829-RSS_EMAIL_CAMPAIGN&utm_medium=email&utm_term=0_cd579275a4-375fbeb829-73844649#sthash.k1uuYppm.dpuf
-----
15-Member Gang Led By Women in Pakistan Busted
July 15, 2015
LAHORE: Police claimed to have busted a 15-member gang of robbers on Tuesday involved in robberies and thefts and recovered an illegal weapon as well as Rs3.3 million.
According to a news release, Crimes Investigation Agency Superintendent of Police Umar Virk constituted teams on the directions of Capital City Police Officer Amin Wains after receiving complaints that the gang was carrying out robberies across the city.
Police carried out raids and arrested ringleader Shamshad alias Pathani along with her gang members Abida Bibi, Naveza Bibi, Salma, Sabra, Mahek, Iqra Shahzadi, Nadia alias Nadi, Muhammad Farooq alias Butt, Waheed Qaiser, Muhammad Sohail, Muhammad Nadeem, Tahir Mahmood, Waqas Ahmad and Muhammad Nadeem. Police also recovered Rs3.3 million, jewellery and illegal weapons from them.
The suspects confessed to 19 house robberies in Defense, Gulberg, Iqbal Town, Nawab Town, Lytton Road, Ghaziabad and Nishtar Colony.
Investigations revealed that Shamshad, Nadia, Farooq and Qaiser were also proclaimed offenders and wanted to Shahdara Town, Green Town, Ghaziabad and Harbanspura police.
Published in Dawn, July 15th, 2015
http://www.dawn.com/news/1194557/15-member-gang-led-by-women-busted
--------
Girls Beaten Cruelly At Barisal Orphanage in Bangladesh
July 15, 2015
- Two orphanage girls beaten up cruelly, video leaked on social media
- Orphanage staff suspended following public outrage
- 5-member probe committee formed to investigate
Amid countrywide outrage over child abuse concerning the death of 13-year-old boy Rajon, two Barisal orphanage girls have been subjected to cruel corporal punishment.
The incident took place last Saturday in Babuganj upazila, but came into public attention after the video went viral in social sharing platform Facebook.
The victims are Akhi, daughter of Taslima Begum from Barisal Sadar, and Dalia, daughter of Bilkis Begum from Babuganj upazila, both around eight/nine years of age and students of class three at a local school, our Barisal correspondent reports.
Both victims were taken in by the orphanage a few months ago.
According to locals and witnesses, they were caught wandering off from the orphanage premises last Saturday. They were then beat up by Md Dulal, health assistant of the girl-orphanage.
The 18-minute long video showed the orphanage staff beating up the two children all the while long with the two minors begging for them to be spared.
"We felt homesick. We tried to flee home," Akhi later told reporters.
Seeking anonymity, many of the girls sheltered at the orphanage told The Daily Star they were often victims of corporal punishment, tortures and assaults.
Barisal deputy commissioner speaking to the two victim girls Akhi and Dalia, both of who faced cruel corporal punishment from an orphanage staff, on July 14, 2015. Photo: Star
Corporal punishment has been deemed illegal in Bangladesh by the High Court in 2011.
Dulal, the health assistant, acknowledged beating up the girls as punishments under instructions from the orphanage in-charge as they were wandering off the premises.
Ismat Ara, deputy superintendent and in charge of the girl-orphanage, expressed indifference in the matter and said the girls were subjected to "disciplinary actions".
Dr Gazi Md Saifuzzaman, deputy commissioner Barisal, after hearing about the incident rushed to the spot and talked to the victims, staffs and officials of the institution.
Meanwhile, a five-member probe committee, headed by acting ADC General Abul Kalam Azad, was formed this morning over the incident, the DC told The Daily Star.
In an emergency order from the director general of social welfare department last night, Md Dulal was suspended for his actions, he said.
http://www.thedailystar.net/country/girls-beaten-cruelly-barisal-orphanage-video-112882
---------
Nigerian Muslims Speak Up Against Banning Hijab
14 July 2015
Nigeria's highest Muslim body, Jama'atu Nasril Islam (JNI) has declared its opposition to mounting calls to ban the hijab following a spate of suicide bombings in which the perpetrators used the head covering to conceal explosives.
"We are certainly not going to support any ban on the hijab under whatever guise," Khalid Aliyu Abubakar, secretary-general of the JNI.
According to Abubakar, the policy of singling out Muslim women wearing hijab – within the context of government counterterrorism measures – "would amount to profiling" on the basis of religion.
Amid a rising tide of suicide attacks by the Boko Haram militant group in Nigeria's volatile northeast, security agencies have deployed more female agents to stop and search women wearing the Muslim headscarf.
Abubakar, however, said the JNI was also opposed to the frisking of "all Muslim women" by security agencies, "except, of course, where there is strong suspicion."
"In law, everyone is presumed innocent until the contrary is established," he said.
According to Abubakar, such measures aren't only discriminatory, but also fail to resolve the root cause of the problem.
"The hijab is being blamed as if it were the hijab itself that was carrying out these dastardly acts," he said.
"Some women [smugglers] hide cocaine in their pants, but I haven't heard of the government banning pants," he asserted, noting that – in some cases – male suicide bombers had used the hijab to conceal their deadly payloads.
Rather, he called on the country's security agencies to combat the trend by adopting modern methods of crime detection.
"The rest of the world now uses forensics and takes a scientific approach to crime detection," he said. "Nigeria should do the same."
http://www.worldbulletin.net/world/162107/nigerian-muslims-speak-up-against-banning-hijab
---------
Runaway UK Schoolgirl, Amira Abase, Marries Daesh Militant
July 14, 2015
ABU DHABI — A British teenager who fled the UK for Syria earlier this year has married a Daesh (the so-called IS) militant, who sent a message to the Mail on Sunday threatening attacks on Britain.
Sixteen-year-old Amira Abase, who travelled to Syria with two other school friends from East London via Turkey, has reportedly married 18-year-old Abdullah Elmir, who left Australia June last year.
As cited by the Mail Online, Elmir confirmed that he has married the British schoolgirl, who was only 15 when she travelled to Syria, in a warning sent to the newspaper, telling them not to contact her again.
Following the incident, police have launched an investigation as Elmir's warning to newspaper also mentioned that supporters of Daesh are "itching to do an attack" on targets in London.
In an undercover investigation recently carried out by the Mail on Sunday, communicating via Kik messages with a reporter who was posing as a 16-year-old girl from East London, Abase declined to confirm whether she was married herself.
However it now appears that Abase was trying to persuade the reporter who posed as a young girl to marry a man who fits the description of her own husband.
She described that groom as being aged 18, half-Lebanese and half-Australian and a frontline fighter, matching that of Elmir.
She said: 'Hes born Muslim, not Asian thow [sic], hes half Lebanese and half Australian.'
Elmir was working as a butcher in Sydney before he left for Syria. After arriving in Syria, he appeared in a Daesh video saying, "Until we put the black flag [of IS] on top of the Buckingham Palace, until we put the black flag on top of the White House, we will not stop, and will keep on fighting.'" — Al Arabiya News
http://www.saudigazette.com.sa/index.cfm?method=home.regcon&contentid=20150715250458
---------
Another Case of Child Abuse in Bangladesh Goes Viral On Social Networking Sites
July 15, 2015
Corporal punishment against two girls at an orphanage run by Social Welfare Directorate in Barisal has caused uproar among the public after its footage went viral on social networking sites.
Although the incident took place on July 4, the district administration became aware of it after the footage went viral.
The footage uploaded on Facebook shows Md Dulal, health assistant at the institution, is indiscriminately beating two girls as they try to flee from the shelter home.
Yesterday, Deputy Commissioner Dr Gazi Saifuzzaman went to the orphanage and asked officials concerned to take stern action against the people responsible for the abuse after a proper investigation.
According to orphanage sources, Akhi, 9, daughter of Taslima Begum of Tajkati village, Sadar upazila, and Dalia, 10, daughter of Bilkis Begum of Bhuterdia, Babuganj upazila have been living in the home for a few months. Both are students of class III at a local
primary school.
Bilkis Begum had come to the orphanage to meet with her daughter. Then, Dalia wanted to leave with her mother, but authorities had not given her permission to leave the home. Later, Akhi and Dalia were seen at a mobile phone shop at Sagardi Bazar. Afterward, the orphanage authorities forcefully brought them back, said the sources.
Then, Health Assistant of the orphanage Md Dulal beat them indiscriminately, leaving them critically injured.
A student of class IIII who preferred to be unnamed told the Dhaka Tribune that almost all the girls were tortured by orphanage staff over trivial matters. After the incident on July 4, residents of the shelter home have been asked to keep their mouths shut by the authorities, she added.
Md Dulal said he lightly beat the girls so they would not dare to go out of the orphanage.
He, however, said: "I am health assistant of the centre. I am not entrusted with guarding the girls, so why should I beat them severely? It was only for their well being."
Ismat Ara, in-charge of the orphanage, said she was not aware of the corporal punishment. She said Dulal was asked to bring the girl back from Sagardi as there was a shortage of staff in the institution.
Deputy Commissioner Saifuzzaman said a probe committee would be formed to investigate the matter.
http://www.dhakatribune.com/crime/2015/jul/15/another-case-child-abuse-goes-viral-social-networking-sites
---------
Iraqi Govt, U.N. Agencies Begin Training Women to Farm
15 July 2015
The Iraqi government and United Nations agencies have earmarked $2.5 million this month to boost literacy and train women and girls in rural provinces to work in agriculture.
"Rural women have great potential and enhancing their skills and access to resources and services will contribute tremendously in national development," Iraq's Minister of Women Affairs Baiyan Nouri said in a statement.
Women and girls in Iraq face a slew of challenges including lack of access to education -- some 3 million children, many of them girls, are out of school in Syria and Iraq, according to U.N. figures -- and mass displacement due to conflict, sexual violence and exploitation.
Earlier this year, rights campaigners estimated some 14,000 women have been killed since the U.S.-led invasion of 2003, and many women and girls - including children as young as four - were raped during that time.
In remote rural areas, where entrenched discrimination is rife, it can be even harder for women to access basic services.
The program aims to create a network of female agricultural workers in some of the country's most marginalized rural communities who will reach out and train other women to help boost their productivity and income, among other things.
It was championed by UN Women and the Iraqi government in partnership with the United Nations Food and Agriculture Organization (FAO), the U.N. Population Fund (UNFPA) and the U.N. Educational, Scientific and Cultural Organization (UNESCO).
In addition, the initiative will provide women and girls living at the margins of society with legal assistance, psycho-social support and reproductive health as well as raise awareness about their rights.
"Rural women are key agents for achieving the transformational economic, and social changes required for sustainable development...Investing on rural women is timely in achieving the goals," said U.N. Women's Sadiq Syed
https://english.alarabiya.net/en/perspective/features/2015/07/15/Iraqi-govt-U-N-agencies-begin-training-women-to-farm.html
---------
Girls Take Top Positions In AKU-EB Exams
July 15, 2015
KARACHI: Girls once again kept the upper hand as the Aga Khan University Examination Board (AKU-EB) announced the results for Secondary (SSC) and Higher Secondary School Certificates (HSSC) for their May 2015 examination session.
This year, the board assessed students in 94 subjects at 29 centres in 24 cities across Pakistan.
The overall passing rate for SSC Part I was 88.4 per cent with 45 per cent of the candidates scoring A Grade and above. Meanwhile, the overall passing rate for SSC Part II was 90.6pc with 54.5pc of the candidates obtaining A Grade and above.
Among the successful candidates Mariam Sajjad from PECHS Girls' School, Karachi, scored 94.9pc and secured the first position for SSC. "I plan to take admission in pre-medical and will continue my studies with AKU-EB," said Mariam, who also clinched the first position in elective subjects of Science group. The reason for her preference for the board, she said, was that it encouraged conceptual learning and during the exams they had to give short answers based on their concepts. "So there is no rote learning at all," she added.
Second SSC position holder Asifa Maqbool from the same school obtained 93.18pc. "I am very excited and feel on top of the world right now. Ever since I came into grade nine, I have been working very hard and dreamt about securing the top position. Initially, I thought that AKU-EB examinations will be difficult but actually they are not. The course of study is designed towards the practical side of life," said Asifa.
Uzma Durre Sameen from Maryam Siddiqa Girls Higher Secondary School, Chenab Nagar, Punjab, scored overall third position in SSC examination.
Anoosha Rahim from Habib Girls' School, Karachi, secured the first position in elective subjects of Humanities group.
Both first and second positions in HSSC examination were also secured by girls from Aga Khan Higher Secondary School Karimabad, Karachi.
Not only did Fatema Quaid Johar clinch the overall first position in HSSC examination with 93.45pc, she also topped in the elective subjects of pre-engineering group.
The second position holder for HSSC examination, Marium Zehra scored 91.45pc.
Faiza Jamal from Habib Girls' School, Karachi secured the overall third position in HSSC examination and also stood first in pre-medical elective subjects.
HSSC group-wise position holders for elective subjects in commerce, humanities, general science and pre-engineering include Muneeba Hamid and Ramsha Abdul Karim from Habib Girls' School Karachi; Rajnesh Roop Chand from St. Bonaventure's High School, Hyderabad; and Hissam Karim from Aga Khan Higher Secondary School Karimabad, Karachi respectively.
This year passing rate for HSSC Part I examination was 88.3pc with 35.2pc of the candidates scoring A Grade and above. The passing rate for HSSC Part II examination was 92.2pc with 46.2pc of the candidates obtaining A Grade and above.
"Congratulations to all the candidates who worked hard in preparing for the exams. The students who have successfully passed AKU-EB examinations demonstrate higher-order cognitive skills and the ability to use critical thinking and problem solving skills," said Dr Shehzad Jeeva, Director, AKU-EB.
Published in Dawn, July 15th, 2015
http://www.dawn.com/news/1194475/girls-take-top-positions-in-aku-eb-exams
---------
Makkah Youngsters Help Elderly Italian Women Perform Umrah
15 July 2015
MAKKAH: Signs of joy were visible on the face of a 74-year-old Italian lady of Tunisian origin, who was accompanied by her 54-year-old daughter in performing Umrah for the first time in her life.
She was amazed when she saw the Holy Kaaba, as well as the majestic projects and infrastructure of the Grand Mosque.
Seham, who is visiting Makkah with her daughter, had dreams of visiting the Holy Mosque since childhood to perform Umrah. She still aspires to perform Haj.
They are performing Umrah under the patronage of the youth of Makkah who are serving visitors and pilgrims of the Holy Mosque under the program "Youth of Makkah at Your Service."
Because these two ladies cannot walk, they are going around the nooks and corners of the mosque in wheelchairs. This is all possible with the help of youth of Makkah.
Khaled bin Abdullah Al-Wafi, director of the program, said that immediately after the hotel informed the management of the program, it contacted these two elderly ladies. They had checked into the hotel and needed wheelchairs to perform Umrah.
Two youth were given charge of them to accompany them in the Holy Mosque and help them in performing Umrah and returning them to the hotel.
http://www.arabnews.com/saudi-arabia/news/776786
---------
URL: https://newageislam.com/islam-women-feminism/reham-khan-wife-imran-khan/d/103910