New Age Islam News Bureau
3 Aug 2014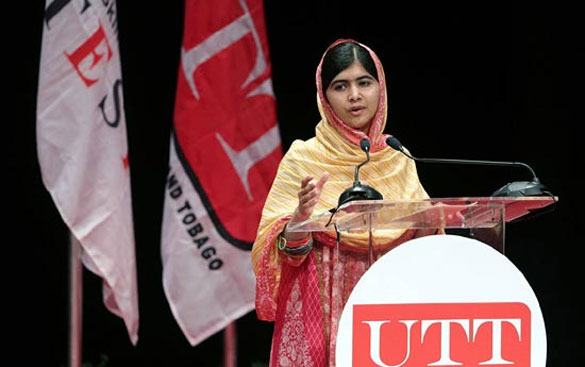 Malala Yousafzai delivers the feature address at a gala event in her honour at the National Academy for the Performing Arts in Port of Spain on Friday. – Reuters Photo
----------
• Do Guardians Have The Right To Get Daughters Divorced?
• Manchester Twin Wants To Be a Doctor for Islamic State
• Moroccan Women Reject Image in Arab Media
• Saudi Women with Master's Degrees Complain of Unemployment
• Mystery 'Woman in Black' Dubbed 'Gaza Ghost'
• Martial Arts Star to Become First Muslim Female to Fight in Islamic Country
• Malala Honoured In the Caribbean
• Girl Talk: Calling Western Women to Syria
• Young Saudis Reject 'Trivial' Fashion Concerns
• Women's Share in Saudi Commerce Records Sharp Rise
Compiled by New Age Islam News Bureau
URL: https://www.newageislam.com/islam,-women-and-feminism/new-age-islam-news-bureau/rehab-program-for-saudi-female-extremists/d/98397
-------------
Rehab Program for Saudi Female Extremists
August 03, 2014
The Interior Ministry has confirmed the establishment of a special rehabilitation program for women previously involved with Al-Qaeda.
"Women who have been arrested in connection with terrorism activities will be involved in a special rehabilitation program like men, but rehab will take place in cooperation with their families," Interior Ministry spokesman Maj. Gen. Mansour Al-Turki told local media.
Only a limited number of women are detained on suspected terrorism charges compared with men.
Al-Turki did not clarify whether there would be a special female department at the Mohammed bin Naif Consulting and Care Center, which is devoted to correcting behavioral patterns and ideas that lean toward terrorism.
The centre also plays a big role in promoting moderation.
Yemen recently handed over a Saudi woman who had joined Al-Qaeda in Yemen. The woman was among eight Saudis extradited to the Kingdom on charges of associating with the terrorist group.
The woman had illegally left the Kingdom for Yemen without the consent of her family and husband.
Saudi Arabia has released 166 former Al-Qaeda members and former militants after they underwent a long-term state-sponsored counselling program (Munasaha) in 2013 aimed at reintegrating them into society, said Al-Turki.
http://www.arabnews.com/news/saudi-arabia/610986
---------
Do Guardians Have The Right To Get Daughters Divorced?
August 03, 2014
JEDDAH — Many parents are questioning whether or not they have the right to ask for the divorce of their daughters in the event their husbands' manners and ethics change or if they break the terms of their marriage contract.
Such terms may include the wife's right to complete her education, work, separate housing, living in a place close to her family, protection from abuse and insults and other conditions families may deem necessary to ensure the happiness of their daughters.
According to a report in Al-Riyadh daily, the majority of people believe that fathers cannot include their right to ask for the divorce of their daughters in marriage contracts. However, many continue to do so and the question remains: Is there a Shariah text that allows fathers or guardians to ask for the divorce of their daughters?
Human rights activist Aql Al-Bahli believes couples should have to meet the minimum requirements to set up a partnership that is acceptable religiously, morally and financially.
"Similar to the pre-marital medical examination requirement of couples, there should also be family guidance sessions to ensure that a couple is compatible," he said.
He stressed the need for clear laws to protect women and the need for a clause in the marriage contract that gives the woman guardian the right to ask for divorce. In the event a judge asks the guardian for proof that the husband is not suitable for marriage, divorce cases may take years in courts, especially if the couple has children.
"The solution would be through the governorates as they can force the man to divorce his wife if it is proven that he is not suitable as a husband. Divorce cases should be settled quickly so women are not subjected to the current humiliation they face at the hands of their estranged spouses, especially during lengthy court proceedings," he said.
Professor of Jurisprudence at Umm Al-Qura University Dr. Mohammad Al-Saeedi said the guardian does not have the right to ask for the divorce of his daughter as it is only her right, but guardians should exert efforts before the marriage of their daughters in verifying the suitability of the husband.
Human rights activist Suhaila Zainul Abideen also said women should have the right to seek a divorce by themselves and they need to be aware of their rights. She believes that seeking divorce should not be the guardian's right.
"Guardians may misuse the right to ask for their daughters' divorce as they may have differences with the husbands," she said, adding that such guardianship may be transferred to the woman's brothers when the father dies and the brothers may take decisions that serve their best interests.
A professor of contemporary doctrines at King Khalid University, Dr. Abdulaziz Al-Ghamdi, said only the woman herself has the right to ask for divorce as the guardian's responsibility ends when he hands his daughter over to her husband.
"If the woman can prove the bad manners and behavior of her husband, the judge can intervene and force the man to divorce his wife," he said.
http://www.saudigazette.com.sa/index.cfm?method=home.regcon&contentid=20140803213379
---------
Manchester Twin Wants To Be a Doctor for Islamic State
August 03, 2014
Salma and Zahra Halane, the 16-year-old twins who left Manchester, England in July to join the Islamic State (formerly ISIS) in Syria now claim that one of them wants to be a doctor for the terrorist group.
One of the twins produced a series of zealous tweets, possibly to mock those who praised the 28 GCSE qualifications the twins accomplished between them before leaving for Syria.
From The Sun:
One says "Training to be doctors to Training to be killers" and "I will become a doctor for Isis not for these pagans".
Another post suggests they are in Isis stronghold Raqqa — where 50 Syrian soldiers were executed last week.
It said: "May Allah make the whole of Syria follow Sharia law just like Raqqa."
The Daily Mail said that the accounts were checked: "and they are thought to be genuine." No outlets have so far published the Twitter handles. A search of their names reveals two accounts with no tweets.
On July 25th, the girls revealed they married ISIS fighters. They were delighted to see AK-47s, grenades, and weapon belts and claimed that when their husbands are out of the house, other "sisters" come over to read the Quran.
Officials believe the girls were with female British national Umm Khattab in Manbij.
Yilmaz, a Dutch national in Islamic State, said he taught young girls to fight, but did not specifically mention Salma and Zahra.
The twins left their house in the middle of the night in July. Officials believe the girls went to Turkey and crossed into Syria to join a 21-year-old brother.
Britain revoked Ahmed Halane's passport last month, a year after the man left to supposedly join "White Widow" Samantha Lewthwaite in Somalia and join al-Shabaab. But others said he left to join IS, which formed in Syria in March 2013 after al-Qaeda broke down in the war-torn country.
http://www.breitbart.com/Breitbart-London/2014/08/02/Manchester-Twin-Wants-to-be-a-Doctor-for-Islamic-State
-------------
Moroccan women reject image in Arab media
August 03, 2014
Female politicians, artists and journalists met last week in Casablanca to discuss what they consider the negative and prejudiced portrayal of Moroccan women in Arab television.
Producers and directors need to be aware of Moroccan women's pioneering role in society, said Nezha Meghari of the Moroccan Network of Women Journalists, which organised the July 23rd event.
Participants in the symposium described the Arab media's belittling of women as a national problem, since the matter affects society as a whole.
In her comments, Family Minister Bassima Hakkaoui underscored jealousy as the main motive driving other countries to deliver a false, unjust image of the Moroccan woman, who had made gains those countries weren't able to achieve.
Women's struggle and competence have led to the situation being corrected in Morocco, she noted. Today, six female ministers are in office in various fields, she said.
"Neglecting women meant neglecting national talents," Hakkaoui said, adding that the current awareness of the issue from society must be matched by awareness in the media.
Depicting the Moroccan woman as "a family destroyer, a sorceress, or a careless character" constitutes a vicious attack, public policy researcher Malika Najib agreed.
According to Najib, Moroccan women have already experienced great gains, thanks to laws that promote their status. Pending legislation will help them achieve further equality and parity. These advances "anger women in countries that have yet to reach this level of progress", she explained.
Nonetheless, the researcher held the government responsible for the poor level of dramatic production in Morocco. Najib provided examples of Moroccan television series that did nothing to promote a positive image of women.
Actress Latifa Ahrar, director Azelarab Alaoui, singer Amal Ayouch and other attendees called for a joint strategy to promote women as creative, intellectual, political, and skilled, and end the stereotypical, harmful images used by biased people.
http://magharebia.com/en_GB/articles/awi/features/2014/07/30/feature-02
-------------
Saudi Women with master's degrees complain of unemployment
August 03, 2014
RIYADH — A number of Saudi women who hold master's degrees have spoken out against the unemployment they have faced for the past several years and the lack of appreciation for their degrees and social circumstances.
Several of these women spoke about their suffering with sorrow.
After earning her bachelor's degree, A.T. said, she went on a government scholarship abroad to study special education. After several years of hard work, she obtained her master's degree in 2011. However, she remains unemployed despite speaking English and having advanced educational qualifications.
Even though there is a need for people specialized in special education, the Ministry of Civil Service has completely sidelined her specialty, she told Al-Riyadh daily.
"It breaks my heart when I see female graduates from different specializations who, instead of working in fields of their specialization, hold administrative jobs. I am still hopeful especially after meeting Minister of Education Prince Khaled Al-Faisal at his office in Jeddah," she said.
Fatin F. also studied abroad on the King Abdullah Foreign Scholarship Program, obtaining a graduate degree in biology in 2012. Since returning to the Kingdom, her hopes and dreams of finding a job have been dashed.
"After graduation and returning to the homeland, we submitted our resumes to different Saudi universities, but they refused to employ us, giving various unconvincing excuses for keeping expatriates in available jobs. The only choice we had was to submit applications for jobs through the Ministry of Civil Service, which did not take the trouble to find ways to employ us. The ministry does not have jobs for female graduates holding master's degrees," she said.
After visiting the ministry several times, Fatin said she was advised not to submit her master's degree and instead apply for a job using her undergraduate qualifications.
"This matter has affected us emotionally. We have no financial security or stability and we have spent many years working hard to obtain our degrees, but after all this, we face the specter of unemployment. Several people around us have started asking, 'Why should we work hard if we are going to end up unemployed like so and so?' Instead of being a source of pride, our degrees have become a source of embarrassment," she said.
Fatin suggested a committee should be formed to study the predicament of unemployed women holding master's degrees as they can help contribute to the country's economy.
http://www.saudigazette.com.sa/index.cfm?method=home.regcon&contentid=20140803213369
-------------
Mystery 'Woman in Black' dubbed 'Gaza ghost'
August 03, 2014
The mysterious woman in black, who finished her journey across the United States last week, is still fascinating many social media users who suspect she is linked to the escalating conflict in Gaza.
Responding to the hashtag #womaninblack, one twitter user wrote on his personal account: "People are talking about a mysterious #WomanInBlack.. Does it have anything to do with #Gaza?"
Meanwhile, some other media users speculate that the woman in black may be a Muslim.
@Othmanbay described her as the "#Muslim woman wearing black abaya," while Rich Gillis, a Facebook user simply questioned if she was a Muslim given her black attire and veil.
Despite seeking anonymity, the woman in black who ended her journey last week when she arrived in Winchester, Virginia gathered a fan base across the world.
A Facebook page called "Where is the woman in black?" was launched last month and has more than 77.000 followers.
The woman dressed in fluttering black robes and veils became a social media phenomenon several weeks ago when she started wandering across the United States.
During her trip, social media lit up with users documenting sightings of her in different parts of the United States.
The woman, who is reportedly a widow and a mother of two, is a devout Christian and a U.S. army veteran, according to the Australian daily newspaper the Sydney Morning Herald.
http://english.alarabiya.net/en/variety/2014/08/03/Mysterious-Woman-in-Black-dubbed-Gaza-ghost-.html
-------------
Martial arts star to become first Muslim female to fight in Islamic country
August 03, 2014
Malaysia's first female mixed martial arts (MMA) professional Ann Osman is due to make history in Dubai this month by becoming the first Muslim female to fight professionally in an Islamic country, the UAE based newspaper Gulf News reported Saturday.
"Initially when I took up MMA, I never actually thought about how being a Muslim woman mattered with my involvement in the sport," Osman said.
"But after making my MMA debut, and receiving words of encouragement and messages from fellow Muslim friends on how it has inspired them too, then only I realized what I have actually been doing," she added.
Osman, who will participate to the One Fighting Championship's (One FC) "Reign of Champions" in Dubai, will face former boxing world champion Ana Julaton.
The 28-year-old athlete, whose background is predominantly in muay thai, will take part in the sports event that due to be held at Dubai World Trade Centre on Aug. 29.
http://english.alarabiya.net/en/sports/2014/08/03/Ann-Osman-to-become-first-Muslim-female-to-fight-in-Islamic-country.html
-------------
Malala honoured in the Caribbean
August 03, 2014
Pakistani schoolgirl activist Malala Yousafzai took a trip to Caribbean where she was not only honoured with scholarships and book signing ceremonies but enjoyed herself with family at gala events and local festivals.
http://www.dawn.com/news/1122650/malala-honoured-in-the-caribbean
-------------
Girl Talk: Calling Western Women to Syria
By: SITE Staff
August 03, 2014
They say that "behind every great man, there is a great woman." This is also true in the Islamic State.
Long an aggressive recruiter of Western men to fill their ranks, women claiming to be with the Islamic State have gradually developed an expanded recruitment platform targeting foreign women. Prominent among this outreach are English-language social media accounts allegedly maintained by Western women who are married to jihadi fighters and who live in territories controlled by the Islamic State.
By creating content specifically targeting female jihadi supporters, the Islamic State is able to establish a pipeline to assist Western women in traveling to Syria to marry jihadi fighters and contribute to the formation of their new society. Significantly, these online networks have expanded in prominence and sophistication during the summer of 2014, suggesting that the Islamic State has already been successful in recruiting foreign women to leave their lives in the West, and is looking to build upon this strength.
Raising Mujahideen
Constant calls and encouragement for women to emigrate to the Islamic State takes a vastly different form than does the propaganda aimed at male jihadis. Instead of tales of adventure, glory, and brotherhood, the content aimed at English-speaking women emphasizes the development of the private sphere of the state, and the satisfaction of serving as the emotional and domestic bulwarks of individual fighters and of the newly emergent Caliphate. This emphasis can be seen in an essay written by one of the most established alleged-female online recruiters, who writes under the name "Umm Layth [Mother of the Lion]."
Purportedly a British woman in Syria, in activity on Twitter and a personal blog she has issued "blunt" advice for prospective female migrants ranging from expectation management to security advice for traveling through Turkey to Syria. Pressuring women to migrate to Syria immediately, she tweeted to her 2000 followers:
Biggest tip to sisters: don't take detours, take the quickest route, don't play around with your Hijrah by staying longer than 1 day for safety and get in touch with your contacts as soon as you reach your destination.
Despite her straight-forward instructions, Umm Layth has not failed to glorify life in the Islamic State. In two tweets on November 29, 2013, she posted text screen captures—both titled "The Ansaar [Supporters] of Shaam"— explaining the kinship she felt with her fellow sisters and brothers in the Islamic State. Before referring to the place as "paradise," she concluded:
Wallahi [I swear] I will never be able to do justice with words as to how this place makes me feel or what Ansaar of Shaam [helpers of Syria] have done for me and Allah only knows how much I love and appreciate these people for His sake…
Assisting newcomers, Umm Layth distributed an English-language essay titled "Diary of a Muhajirah [migrant]" online on April 9, 2014 that presented guidance for future emigrants from the vantage point of a woman who had been in the country for three months. In a five-point document, she emphasizes what Western women should expect while living in Islamic State-dominated areas, reassuring readers that the Islamic State will provide accommodation and support, but also underscoring that women should plan to marry a fighter quickly upon arriving in Syria. As well, she strenuously warned that female jihadis should expect to be involved in the domestic sphere upon arriving in Syria, flatly announcing that it is "completely impossible" for women to participate in battle.
Through her message, which was circulated between jihadi social networks, Umm Layth alluded to the role that women have for the Islamic State's state building project. She instructed her readers to expect that "a normal day" for a female Emigrant "revolves around the same duties as a normal housewife." Yet, despite indicating that boredom can be a significant challenge for female migrants, she glowingly described the emotional and religious satisfaction that many women face for doing their part to establish the domestic sphere of the Islamic State. Indeed, her essay describes the challenges- such as lack of medical care, conveniences, and entertainment as well as distance from family and friends- in much the same manner as would colonists heading to a new land far away from their old lives.
Toward the end of the essay, she further expanded on the role of women as educators when she reflected on historical female Islamic figures, stating:
Their role as mothers were so important since their upbringing resulted in the future of their child - through which they gained countless ajr [reward].
She followed up:
you may gain more ajr by spending years of sleepless nights by being a mother and raising your children with the right intentions and for the sake of Allah than by doing a martyrdom operation.
Similarly, another female recruiter, who uses the name Umm Anwar, makes the same dignified appeal toward the role of Islamic educator through motherhood and indicated a professional role for women trained in medicine. In a question posted on June 26, 2014 asking what she is able to contribute to the Islamic State as being "just a housewife," she responded that along with being able to use her background as a med student, "women give birth to the mujahideen and they are the ones who raise them and teach them also in the usal of fiqh [foundations of jurisprudence]."
Women Travel to Syria
Beyond generic encouragements to violence and jihad, the women's address specific concerns relating to jihadi women, who, for example, must have the consent of a guardian to travel and marry. The jihadi social networking community abounds with questions from female jihadi supporters whose guardians do not support their travel to Syria and who are looking for a religiously-based way to circumvent these restrictions. For jihadi women, the lack of a willing guardian for both their travel and their eventual marriage in Syria is a significant concern, as they believe themselves to be religiously obligated to be accompanied by a male family member. Western jihadi supporters who want to travel to Syria, often over the objections of their parents, propose a number of methods to fulfill the requirements. For example, in a July 26, 2014 Twitter exchange between Umm Layth and a prospective emigrant, Umm Layth noted that women whose family is broadly in support of their actions can turn to electronic means to obtain permission to marry, writing that:
the Wali [guardian] can be contacted over phone, skype, whatsapp, email etc. So him being abroad can't stop you
Similar points have been made by other female Twitter users. In response to a series of posts made by Twitter user "Umm Anwar" on proper Islamic marriage approval procedure, an Arabic-titled account translating to "Sun" stated that her "Qadhi [judge]" appointed an English-speaking brother to ask for her dad's consent via phone, writing:
in my case, the Qadhi [judge] appointed an English speaking brother to ask for my dad's consent via phone. He agreed & they proceed it
Full report at:
http://news.siteintelgroup.com/blog/index.php/entry/218-girl-talk-lives-of-western-women-migrated-to-syria
-------------
Young Saudis reject 'trivial' fashion concerns
August 03, 2014
JEDDAH — The fashion-conscious and brand aware youth of today are so eager to buy the latest designer clothes and show them off that they often don't realize the clothes they are wearing are laced with occult symbolism.
In many cases, the symbols on clothes and accessories represent religious beliefs that, according to some, violate the teachings of Islam, prompting many to question why clothes that depict esoteric material are openly being displayed and sold in stores across the Kingdom.
However, young trendy Saudis have said the issue is being blown out of proportion by people obsessed with "trivial concerns," Al-Madinah daily reported.
According to Fawaz Al-Zahrani, symbols such as the inverted triangle, skull and crossbones and hexagram are used by Satan worshippers and clothes and accessories depicting such symbols should be banned in the Kingdom.
Echoing the same view, Abdulaziz Al-Qahtani said the Saudi Customs Department has to clear all goods that enter the market.
"It is the only way such clothes enter the country," he said and called on customs officers to be alert and cautious when dealing with imported clothes.
"It is regrettable that some of our youth are so keen to wear Western clothes. The concerned authorities are to blame for the spread of such clothes in local markets, hence enticing the youth to purchase them," Al-Zahrani said.
Fares Atiyyah called on young Saudis to boycott clothes containing offensive symbols, skinny jeans due to their tight fit, Bermuda shorts since they expose legs and also avoid sagging (wearing jeans well below the hips).
"Parents should watch what their kids wear and fortify them with Islamic values. The Ministry of Commerce and Industry and local municipalities should shoulder their responsibilities and counter such phenomena," he said.
Sheikh Saleh Al-Mufadhili, former director of Makkah Dar Al-Hadith, said it is impermissible to perform prayers in such clothes because they nullify the act of worship.
He further said: "A Muslim man is allowed to wear stylish clothes and pray except if they contain silk threads. Wearing tight and transparent clothes and those with pictures of Western sports stars is in imitation of others is not allowed because Muslims are not supposed to imitate non-Muslims."
Sheikh Al-Mufadhili called on religious preachers, scholars, mosque imams, teachers, parents and the media to explain the dangers of wearing such clothes to the youth. He also said young Saudis should improve their religious knowledge so they do not imitate the West.
Many young Saudis, however, rejected such generalizations. Marwan Fatani accused certain people in society of creating a fuss over what he termed "trivial concerns" and said just because young people wear trendy clothes, it does not mean they are imitating Western culture.
"We don't imitate them in word and deed nor their players, singers and actors. We don't imitate their customs and traditions as claimed by some people. It is just that we admire these styles that keep pace with the latest trends. Honestly, I don't know when these trivial concerns will come to an end. Why don't they leave us alone and let us wear what we want? Nobody has been harmed by the jeans and t-shirts worn by this country's youth."
Ibrahim Barnawi, another young Saudi, said it is a well-known fact that Saudi youth safeguard social values and traditions and keeping up with the latest fashion trends does not mean that the youth have failed to uphold their values.
http://www.saudigazette.com.sa/index.cfm?method=home.regcon&contentid=20140803213370
-------------
Women's share in Saudi commerce records sharp rise
August 03, 2014
JEDDAH — Saudi businesswomen have increased their share in the commercial sector by registering 10,184 new firms in 2013, Al-Madinah newspaper reported.
The Ministry of Commerce and Industry's annual report showed the total number of commercial registrations by Saudi businesswomen reached 54,231 in 2013, compared to 44,047 in 2012.
The report said the ministry has enacted a number of programs to enhance the role women play in society and their participation in the country's economy.
Of the most important procedures is the establishment of businesswomen service centers in Riyadh, Jeddah, Makkah, and Madinah, while other similar service centers are under consideration in various parts of the Kingdom, the report noted.
The report pointed out that the ministry is allowing women to be members of boards of directors and it has also allowed them to participate in all commercial and industrial activities.
"Businesswomen have become more aware of commercial opportunities, and are playing an important role in contributing to the national economy, in addition to active participation in local and world economic events," the report stated.
The report showed that women's investments in the commercial sector have reached SR3 billion and women-owned companies make up 4.3 percent of all companies in the private sector.
The Ministry of Commerce and Industry has taken up measures to facilitate the issuance of commercial registrations and the time required for registration has dropped from two days in 2012 to 24 hours in 2013.
New commercial registrations are now issued electronically and Riyadh was at the forefront of issuing electronic commercial registrations in 2013 with 21,550 such registrations, compared to 21,961 in 2012.
http://www.saudigazette.com.sa/index.cfm?method=home.regcon&contentid=20140803213367
-------------
URL: https://www.newageislam.com/islam,-women-and-feminism/new-age-islam-news-bureau/rehab-program-for-saudi-female-extremists/d/98397