New Age Islam News Bureau
28 Oct 2018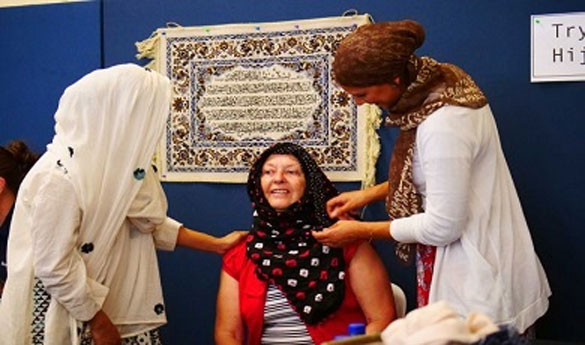 Photo: PHOTO: Nusra Noorudheen and a friend show Sue Finnigan how the hijab is worn. (ABC Capricornia: Amy McCosker)
--------
• Report: Young girls stripping for camera due to peer pressure
• Haj alone! Bengal women fulfil lifelong wish
• How basketball is helping to raise awareness about breast cancer
• Conversation with Sana Afouaiz, author of 'Invisible Women of the Middle East'
• Sudanese women can still be whipped for wearing pants
• Social media 'aids oppressors', says Saudi rights campaigner
• Aramco continues to champion professional careers for women
• Unemployment rate of women in Iran rises 25% in 7 years
Compiled by New Age Islam News Bureau
URL:https://www.newageislam.com/islam-women-feminism/regional-mosque-throws-its-doors/d/116731
--------
Regional mosque throws its doors open and shows women what it's like to wear a hijab
Oct 28, 2018
The hijab has courted plenty of controversy, and now Muslim women in Queensland are harnessing people's interest in the headscarf to start conversations within their community.
At a recent open day at Rockhampton mosque, 34-year-old, mother-of-three Nusra Noorudheen and her friends showed non-Muslim women how the hijab was worn.
Ms Noorudheen said it opened up plenty of interesting conversations.
"If you have a hajib, niqab or burka on some people find it objectionable and think it's against women's rights," she said.
"When you have a negative image like that and then you try it on you see that it's not that bad, you still look beautiful — sometimes you even look better in a hijab!
Ms Noorudheen said it was also a humanising experience to share your culture with someone directly.
"Sometimes when you are showing it to them they will tell you how they feel about it," she said.
"It opens up conversations because sometimes people don't talk about hijabs but this makes it more casual."
'Beautiful experiences' in growing community
The city of Rockhampton is better known for its beef than its religious and cultural diversity, but a growing Muslim community is calling central Queensland home.
Ms Noorudheen, who moved to Australia from Dubai eight years ago, said she had not encountered many problems when wearing her hijab in the city.
"I was worried when I first came that people could be prejudiced against me or judge me harshly, but I have had really beautiful experiences," she said.
But what about wearing a head covering during brutal Queensland summers?
Ms Noorudheen said it was about choosing the right scarf and remembering the meaning behind the garment.
"You have to choose the right material," she said.
"The one I am wearing is light cotton and I don't feel it as much.
"It is also for a religious reason and you have to make some sacrifices if you want the reward.
"I've just had a baby recently but before that I used to go the gym regularly and I was always in my hijab, I also go to the beach for a swim, I have my burkini, as they call it. It doesn't stop me from doing anything."
A chance for connection
Sue Finnigan tried on a hijab for the first time today and said while it was a warm accessory in the Rockhampton heat, it was nice to speak one-on-one with Ms Noorudheen.
"I don't think they should be judged — it's a part of their culture," she said.
"It's been nice to experience wearing it and, not only that, I think it's also about experiencing the whole thing, trying on the hijab, tasting the food … I have nothing but pleasant thoughts about today; it was absolutely wonderful."
Community open to learn
The day's activities were a part of the Lebanese Muslim Association's National Mosque Open Day.
Islamic Society of Central Queensland president Binil Kattiearambil said welcoming 200 people through the doors of the mosque aimed to demystify their community.
"The purpose is to break down barriers and any sort of stigma around Muslims and Islam," he said.
Mr Kattiearambil said the conversations had between women about the hijabs were as important to the Muslim women as they were to the visitors.
"The Muslim women feel quite empowered when they see people from other faiths come forward and try on the hijab," he said.
He said women wearing hijabs were mostly treated well within the broader central Queensland community.
"There are a few instances, maybe a shove of a trolley at a supermarket, but you expect that everywhere," Mr Kattiearambil said.
"There are much more things that happen in the bigger cities. The people of Rockhampton are really lovely and they are welcoming; they like to live a really relaxed life.
"What we do see is sometimes they don't understand different cultures because they haven't experienced it, but they are willing to learn."
https://www.abc.net.au/news/2018-10-28/could-trying-on-a-hijab-break-down-misconceptions-about-islam/10437400
--------
Report: Young girls stripping for camera due to peer pressure
28 October 2018
KUALA LUMPUR, Oct 28 — Teenage girls, some of whom are minors still in school, are increasingly posting suggestive photos of themselves on social media.
A report by English daily The Star shed light on the happening, citing peer pressure as one of the most common reasons these girls are behaving as such.
The report claims these girls, some in their school pinafores, would strip for the camera with the photos later being circulated online.
The report cited a website which is said to contain raunchy content featuring such girls, some of whom are captured lifting their blouses to expose their breasts and in other suggestive poses.
Some of these videos and photos have reached 16,000 views, with certain websites openly offering pictures of school children purportedly from Malaysia.
The report quoted Dr Chong Yew Siong, a mental health and family wellness advocate, who claimed the rate of young girls exposing themselves online was increasing.
Dr Chong, who practices medicine at the Ayer Keroh Pantai Hospital, attributed the decline in moral behaviour to peer pressure, or being coerced by their boyfriends.
"Girls sending nude pictures or videos of themselves is like a badge of honour — to prove their sense of self-worth," he was quoted as saying in the report.
Dr Chong explained these girls were attempting an "impossible balancing act", by looking for their identity and trying to attain freedom, making them vulnerable to negative influences.
He also warned of cyber bullying that would stem from posting such material online, with possible depression, self harm, and even suicide on the cards should the trend carry on uncontrolled.
Dr Chong also highlighted how depression among teenagers was on the rise at an alarming rate, with several seeking treatment from him having discovered their photos were being circulated online.
"Some of the teenagers suffer from bipolar disorder, or Opposi­tional Defiant Disorder (ODD) that could be misconstrued as being rebellious and stubborn," Dr Chong was quoted saying.
Also quoted was social activist RA Saravana, 48, who warned of the deterioration of moral values among the younger generation.
"It will be bad for future generations if the trend is not nipped in the bud," he said in the report.
Saravana suggested an intervention and prevention task force be formed to address the problem.
https://www.malaymail.com/s/1687391/Report-Young-girls-stripping-for-camera-due-to-peer-pressure
--------
Haj alone! Bengal women fulfil lifelong wish
Oct 28, 2018
KOLKATA: The first batch of women from Bengal to undertake the Haj pilgrimage without a mahram or male guardian have come back home with stories that they believe will inspire others to break yet another glass ceiling for women in their community.
Forty-eight women from Bengal set off for Haj in July without a male guardian for the first time in history. They flew to Saudi Arabia in clusters of at least four to perform the pilgrimage, considered to be one of the five pillars of Islam.
TOI spoke to four of these women, all widows, after they returned to their homeland. All four agreed that the "excellent arrangements" made by the Indian government, which included women security guards and Haj assistants and specialised doctors, and the "smooth handling of logistics by the Saudi government" ensured that they could focus on their pilgrimage without worrying about other issues.
Maqsooda Begum felt Allah had granted her prayers when she heard that the Saudi government had reformed its Haj requirements that used to make it mandatory for women to be accompanied by a mahram for Haj.
"It was my desire to visit the sacred land but I could not as my husband passed away more than two decades ago. My children are young and preoccupied with their jobs. My prayers were answered when the mahram clause was removed for women fulfilling certain criteria," Maqsooda, wife of IPS officer Mohammad Shahabuddin, who passed away in 1997, said.
'Haj arrangements very reassuring'
According to Maqsooda Begum, the accommodation that was provided to the women pilgrims was very close to the Holy Kaaba, which made the commute comfortable for them.
Kazi Samsunnehar Begum of Santoshpur and her children were apprehensive before she embarked on the pilgrimage she had only dreamt of all her life. However, the arrangements, especially for women travelling without male guardians, instilled a feeling of reassurance in them.
"There were regular medical checkups and doctors were available round the clock. There was a comprehensive mechanism to keep ensure the security ofwomen without mahram," the 63-year-old said.
Razia Bibi, whose husband passed away decades ago, was waiting for this moment for the last 15 years. "I am a widow and I don't have a son. But I still dreamt of going on Haj," the South 24 Parganas resident said.
Maqsooda felt the smooth manner in which she and the others in the first batch could perform Haj and return should inspire other women to take the pilgrimage on their own.
"Many women are apprehensive about how they will manage but the government makes excellent arrangements," she said.
Muslims, who are physically and financially able, undertake the Haj pilgrimage at least once in their lifetime to visit Mecca and nearby holy sites in Saudi Arabia.
It makes up the five pillars of Islam along with the profession of faith in one God, prayer, charity and fasting during the holy month of Ramzan.
https://timesofindia.indiatimes.com/city/kolkata/haj-alone-bengal-women-fulfil-lifelong-wish/articleshow/66398232.cms
--------
How basketball is helping to raise awareness about breast cancer
October 29, 2018
JEDDAH: Jeddah United basketball club has held a "friendly game" event to support the Zahra breast cancer association. Studies show that more active women are less likely to suffer from breast cancer so the event was very relevant for the international month of breast cancer awareness.
More than 50 women from five Saudi females basketball teams enjoyed the friendly challenge, including two teams who flew in from Riyadh — Riyadh United and Al-Azem — to support today's event and help spread awareness by highlighting the importance of sports and physical activities.
The event took place at the Jeddah United club in Shatea district from 5p.m. to 10p.m. and aims to support breast cancer awareness among Jeddah women under the slogan "We are here to live and be loved."
The teams were:
1. Al-Azem
2. Riyadh United
3. Jeddah United
4. Swish Academy
5 Jeddah Athlete
The event organizers were former players from Jeddah United Academy who are now assistant coaches.
Every year Jeddah United makes sure it holds at least one event to support breast cancer awareness.
Lina Almaeena, co-founder of Jeddah United Sports Co. (JUSC), told Arab News: "The tournament aims to support breast cancer awareness. This was planned from last year by Alia Abu Alola, the director of Jeddah United Academy."
"Such events help us in reaching our goal of raising female sports activities from 30 to 40 percent; it really symbolizes Vision 2030 and how we are trying to be active and reach our targets."
"Special thanks to Princess Haifa Al-Faisal who is the chairwoman of the Zahra society and Princess Reema bint Bandar, because she has done so much to promote and change the mindset in the country toward women's sports," Almaeena said.
Tribute
The event was also in memory of Super Dima BalhJelah, who died this summer from breast cancer and was Leena Almaeen's soulmate. Deema's family are doing an Al-Hijrah walk from Makkah to Madinah as they coordinated the initiative together.
Alia Abu Alola said: "I was always wishing for basketball teams in Saudi Arabia to be able to play friendly games with a cause so we all can be winners, and it is really good to have awareness about breast cancer and to combine it with sports."
The event was attended by Reham Afandi Saudi, a Saudi zumba coach and breast cancer survivor, who said that she was there to share the positive spirit and give a zumba class for all the women at the event. She said it was all about being active and united in sports. It also shed light on citizens who were responsible for spreading awareness about looking after health as so many of the Saudi population are under the age of 30.
An audience member, Bashayer Abdul Aziz, one of the player's sisters, said: "I am really glad to have such events which really have such a meaningful propose to spread among the community."
Jeddah United and Riyadh United, sister academies for female basketball, were established in 2005. The leader of Riyadh United team, Fahdah Al-Saud, told Arab News: "Breast cancer awareness is crucial and spreading awareness about a healthy lifestyle is also important as physical movement helps to make the body immune from many diseases. Today I believe is a very important step for us to help in spreading awareness and also to support Saudi women in sport."
Darin Sabban, the captain of Swish Academy, said: "Whether you are a breast cancer fighter or a normal person, it is really important to know that sports adds a lot to our lives as females. Supporting breast cancer awareness and being part of the campaign shows the community how both topics are related and helps ladies to exercise more and to get check-ups." The media sponsor of this event is Arab News.
http://www.arabnews.com/node/1395031/saudi-arabia
--------
Conversation with Sana Afouaiz, author of 'Invisible Women of the Middle East'
28/10/2018
Sana Afouaiz was born in Agadir, Morocco, in 1993 and she was just 5 years old when she first wondered about women's lot. Women seemed to suffer a lot more, the little girl thought.
In 2016 Afouaiz founded Womenpreneur, a network for female entrepreneurs. The next year, she co-founded Womequake, which re-examines myths and beliefs about gender in different cultures. She recently published "Invisible Women of the Middle East: True Stories."
The World Bank this year nominated Afouaiz as a regional influencer.
In a conversation via Skype with The Arab Weekly (TAW), she discussed the contradictions in Arab and Muslim society with respect to women.
TAW: "Do you think it's rather different to be a woman in the Arab world than anywhere else?"
Afouaiz: "Historically speaking, being female in the Arab world is not much different than being a woman in any other part of the world. Different complex forces, imagined or otherwise, influence the way in which the female gender is perceived by different societies and indeed by different cultures.
"Being a woman in our part of the world simply means that our image and our destiny are already carved in the minds of others. What was handed down was all you knew. You had no say in it. Your self-image, your worth, your future were mapped out by your family and by the ideas and beliefs that governed the society of which you were a member.
"The mirror image that you are led to believe in as a young woman is seemingly a simple choice — between being 'a good girl' or being 'a bad girl.' As you grow into adulthood, being a 'good girl' means acceptance and inclusion, whereas being labelled a 'bad girl' means rejection and exclusion. The choice is a no-brainer: be what is expected of you to be.
"For me, being a woman in this region has led me into my daily struggle of questioning and rebelling against the false and questionable ideas and beliefs that define the female gender in general and women in particular. Those ideas and belief systems are kept alive for no reason other than that 'it is what it is' and that they are what 'the sacred scriptures allegedly confirm.'
"I strongly believe that our societies' better future depends on creating a peaceful revolution in the ideas and images we utilise to drive our actions and govern our behaviours. The salvation is in examining the root causes of our maladies and not only in trying to suppress the apparent symptoms."
TAW: "How crucial is it for women to be independent?"
Afouaiz: "I firmly believe that the first step to positive societal change would be to start thinking about and questioning freely our role, impact and actions in our societies: Why do I do what I do, think what I think, feel what I feel?
"Thus, to me at least, 'independence' begins in our minds, in the images that are created by our minds, in the mindsets that drive our individual and societal actions and behaviours.
"The mental and psychological ideal any healthy society should aim for is that the apparent physical gender differences cannot provide the basis for conceptions of power and subjections. These human constructed conceptions of dominations have served us badly throughout history.
"The best and healthiest conceptions that translate the relations between the male-female gender is that of equal interdependence. It cannot be otherwise. It is like a coin with two sides. Each side different in certain features but are equal in defining the coin.
"Finally, it is worth remembering that the world is witnessing an unprecedented exponential technological transformation and it is so important for the future of our region that we do not repeat the same costly mistakes of exclusion and discrimination based on sex, gender or colour.
TAW: "How does the social class of a woman in the Arab world influence the course of her life?"
Afouaiz: "Oppression is not the same for all women in the MENA region. Women do not represent a homogenous group. They experience and interpret life. Thus, they create their own realities. Their social class, education and access make their views on subjects like honour, hijab, religion, freedom and so on, individual.
"In 2012, I met Aicha, a rural woman. She told me that girls in her village are forbidden to talk to boys. Aicha knew that 'honour' was one of several prescriptive norms of her culture. She grew up hearing other words like 'shame,' 'purity,' 'modesty,' 'chastity' and above all 'obedience.'
"In 2014, I met Maysoon, an educated woman, who came from a liberal and well-to-do family. She lived in Cairo and had a boyfriend. Her 'Western' lifestyle was accepted by her peers, although it would be disdained by societal norms. She was fully aware of this paradox."
TAW: "How do gender beliefs perpetuate the exclusion of women in the region?"
Afouaiz: "History does not occur in a vacuum, neither does the idea of the exclusion of women. The agricultural revolution was the period in which people translated so-called physical strength into political power. This belief in muscle power translated into discriminatory beliefs, which converted into unequal laws that limited access to education and created a culture of prejudices. These prejudices were carried on for centuries through sacred scriptures and traditions.
"In Saudi Arabia, it was considered outrageous and against God if women were allowed to drive. One cleric said: 'Women who drive give birth to unhealthy kids.' Yet women drive in almost all countries across the globe and give birth to healthy children.
TAW: "Beyond the awareness campaigns, global conferences, women's funds and initiatives, what is it that really should be done that hasn't been done?"
Afouaiz: "We need to examine the roots of our thoughts, behaviours, ideas and actions upon which our gender realities are constructed. We need a revolution of ideas and thoughts."
https://thearabweekly.com/conversation-sana-afouaiz-author-invisible-women-middle-east
--------
Sudanese women can still be whipped for wearing pants
28/10/2018
LONDON - Most countries pay little attention to people's appearance and sartorial choices. In fact, societies have become overwhelmingly tolerant of styles from various cultures and subcultures. In most Arab societies, women are just as free as men to wear clothes of their choice. So why are women in Sudan struggling for their sartorial freedom?
Is it believable that women in Sudan can be fined and whipped for wearing pants? Article 152 of the Sudanese Public Order Law stipulates punishment if a woman is convicted of wearing a "revealing outfit" but the law does not specifically define "revealing." Some say the law purposely left the matter up to the whims of police.
Human rights activists in Sudan have strongly opposed repressive practices by the state against women. They demanded that public order regulations that severely restrict a range of personal rights and allow police and security personnel to arrest, humiliate and flog women because of their appearance be reformed.
Sudanese authorities justify their refusal to repeal the article in the Public Order Law by their desire to preserve Sudanese values and fight vice and delinquency among girls.
The issue of Sudanese females wearing trousers does not seem to be the origin of the problem, insofar as it is a tiny detail imposed by the ruling Islamist parties on Sudanese society regarding women and their rights. Extremist interpretations of sharia lead to humiliating interference in the lives of women from dress and behaviour to all aspects of their personal lives.
Human rights activist Winnie Omar is facing a range of charges, including prostitution and undermining constitutional order. "The irony is clear when talking about the rights of women in Sudan," Omar said. "Sudanese women won their right to vote and to participate in politics rather early compared to women in many other Arab countries, as well as their right to equal pay and the right to a maternity leave, but when we look at what is happening now we clearly see that the path to more rights has been blocked."
"This blockage is originally a political and ideological transformation led by the Islamic movement in Sudan in June 1989. In fact, it was a political coup against democracy that ended up colouring political and social life in Sudan with religious tones," added Omar.
"This coup has created a significant shift in the legal framework and has rebuilt the social understanding of women and their role in public life. These policies were extended to touch on other women's rights, like the right to travel, which has been restricted, or the right to naturalise their children from non-Sudanese fathers or the right to marry without the agreement of a guardian.
"A whole legal system called the 'public order system,' with its own special courts, its own police force and its ideologically inspired laws, was put in place and used, along with a package of criminal laws. This system specifically targets women, their appearance, their movements and even their choice of jobs," Omar said.
She said she was involved in two incidents with police. In the first, she was accused of wearing a scandalous outfit, even though she was wearing a skirt and a headdress while waiting for public transport in Khartoum. She was acquitted of the charge.
In the second instance, which is pending, Omar was accused of prostitution while visiting a friend. Police stormed the house, even entering through windows, and arrested Omar and others.
Article 154 of the Public Order Law states that "a person who commits a crime of prostitution or is in a brothel where he or she is likely to engage in sexual acts or materially profit from them" could be sentenced to 100 lashes and imprisoned for three years.
Article 155 provides for a possible penalty of 100 lashes and a 5-year prison sentence for anyone who "manages a brothel, rents a space or permits its use for sex knowingly."
The opposition Sudanese Congress Party expressed solidarity with Omar. The party accused Sudanese authorities of monitoring Omar's movements and of conspiring to arrest her after she had been acquitted from the charge of wearing an indecent outfit. The party called for the abolition of the Public Order Law which, it said, is unconstitutional and violates fundamental human rights.
Using the court case against activist Omar as a backdrop, the US Embassy in Khartoum last year urged the Sudanese government to review, amend or repeal Article 152.
https://thearabweekly.com/sudanese-women-can-still-be-whipped-wearing-pants
--------
Social media 'aids oppressors', says Saudi rights campaigner
28 Oct 2018
One of Saudi Arabia's most prominent exiled activists has quit Twitter and Facebook, saying that the social media giants have become tools for oppressive governments and trolls to harass and silence campaigners.
Manal al-Sharif, one of the leading figures in Saudi women's long fight for the right to drive in their homeland, deleted her Twitter account live on stage at the SingularityU Nordic "global innovation" conference last week.
"Twitter is really a powerful tool, and its being used against us," she said, before closing the account, which has nearly 300,000 followers. In a video posted the next day on YouTube, she said Twitter had saved her life as a campaigner in Saudi Arabia, but today had become a playground for mobs of "trolls, pro-government mobs and bots", many paid for by oppressive governments.
"If the same tools we joined for our liberation are being used to oppress us and undermine us, and used to spread fake news and hate, I'm out of these platforms," she said, adding she would continue to campaign, calling for the creation of more ethical social media.
Sharif, who left Saudi Arabia several years ago for self-imposed exile, and remains a prominent voice on human rights and feminism, said she had also deleted her Facebook account. Her protest comes at a time of increased concern about how social media has been used to spread disinformation, and intense debate about how companies should balance controls on abusive behaviour with stated commitment to free speech.
The Saudi government is among many autocratic regimes to have poured huge amounts of money and energy into creating a pro-government Twitter presence.
Inside Saudi Arabia, activists have been effectively silenced by several waves of detentions. Among those jailed are many of the other women who campaigned with Sharif for the right to drive, while Crown Prince Mohammed bin Salman tries to garner credit for the change.
But the brutal killing of dissident Jamal Khashoggi inside the Saudi consulate in Istanbul at the start of this month has highlighted the Saudi state's determination to crush dissent beyond its borders.Sharif said online harassment was another face of that campaign, but vowed she would not be silenced.
"Twitter now is becoming a trap, and it's being used in a very efficient way by those governments, dictatorships and tyrants to silence us, and not only that, to spread their own propaganda, their own hate speech, misinformation and disinformation," she said.
"I'll continue speaking up because tyrants and dictators are the ones who should be afraid, not us."
https://www.theguardian.com/world/2018/oct/28/twitter-facebook-saudi-oppression
--------
Aramco continues to champion professional careers for women
2018-10-27
MANAMA — Saudi Aramco chaired the "Leadership Excellence for Women Awards and Symposium" (LEWAS), a leading industry event held at the Bahrain International Convention & Exhibition Center last Oct. 23-25, promoting efforts to increase professional opportunities for women engagement and leadership in the downstream sector of the energy industry.
LEWAS operates by empowering, engaging and developing women professionals working in the sector through focused workshops, leadership seminars and networking symposia, alongside awards that celebrate and recognize professional excellence. It is one of the few gender diversity initiatives in the GCC energy industry and this year's Symposium was held concurrently with the Gulf Downstream Association (GDA) Conference and Exhibition event at the same venue.
Saudi Aramco continues to champion the professional development of its women employees through the implementation of company functions such as the Diversity Division which provides programs to help leaders develop their inclusive leadership capabilities, and to develop professional careers for women. The company is also home to a number of women in senior positions including Diversity and Inclusion Leader Reem Al-Ghanim, who has been chairing LEWAS since 2017, and all of whom attended the event in Bahrain. Saudi Aramco also established the prestigious Saudi Research Science Institute, a rigorous summer research program hosted by the King Abdullah University of Science and Technology (KAUST) which enjoys healthy levels of women participation. In addition, the company's STEMania program delivers science, technology, engineering and math – STEM skills to young girls and the joint Saudi Aramco, GE and TATA Consultancy operation in Riyadh employs over 1,000 women professionals.
As the event sponsor and chair, Saudi Aramco fielded a senior delegation comprising the women leaders in attendance, Senior Vice President of Downstream Abdulaziz Judaimi, Vice President of Refining & NGL Fractionation Suleman Al Bargan, and the company's Executive Director of Human Resources Nabil Dabal.
Judaimi, opened proceedings with a keynote address on best practices in recruiting, developing and advancing women in downstream. Welcoming delegates, he identified three key corporate drivers which deliver healthy numbers of women professionals in a company — a strong belief in the role of women, strategic recruitment and effective professional support.
"I am pleased to say that Saudi Aramco has been investing in tailored outreach programs for some considerable time. These programs are helping women to compete before they even enter the workplace and specifically in our industry. Furthermore, it is due in large part to these programs that we have doubled the number of women working at Saudi Aramco over the past decade," he said.
"When businesses enable women to thrive in environments that empower their strengths, this leads to increased performance and productivity levels which benefits individual companies and the wider industry."
Reflecting on Saudi Aramco's commitment to women empowerment and the importance of the Symposium's objectives, Dabal added: "Here at Saudi Aramco we apply an extremely disciplined approach to developing women empowerment and we have devised specific recruitment strategies to hire, train and retain supremely talented professional women. We have recently increased women recruitment to more than 20% of all new hires and there is every reason to think that this proportion will rise over the coming years. This solid result, coupled with our commitment to delivering tailored women professional development, demonstrates our commitment to women empowerment which is again reflected in our doubling of women hires over the last decade." — SG
http://saudigazette.com.sa/article/546589/BUSINESS/Aramco-continues-to-champion-professional-careers-for-women
--------
Unemployment rate of women in Iran rises 25% in 7 years
27 October 2018
The unemployment rate of women in Iran has risen 25% in seven years according to the latest statistics released by the Iranian Labor Ministry.
The number of unemployed women in Iran has increased from 830,996 in 2011 to more than 1,037,000 women in 2017.
The figures have been just recently announced by the Centre of Strategic Statistics and Information of the Labor Ministry, indicating an increase of 200,000 unemployed women in the said period, which is 25% in seven years.
Unemployment is rampant among women in Iran. From the 27 million women over the age of 10 in Iran, only three million are employed and the remaining 24 million are not in the workforce. (The state-run Mehr news agency - June 8, 2016)
The state-run media had previously announced that based on the results of the Labor Force Survey, the unemployment rate for women had increased 3% in five years. The unemployment rate of women rose from 16.8% in 2009 to 19.8% in 2013.
Statistics in 2009 also showed that nearly 30.5% of women were employed in the agricultural sector, 25.5% in the industrial sector, and 44% in the services' sector. (The state-run Asr-e Iran daily - July 19, 2015)
The unemployment rate of young women under 30 has been reported 85.9%. (The state-run Mehr News Agency – January 5, 2016 / the state-run Tabnak website – December 26, 2015)
The state-run Donya-e Eqtesad described women's employment as being "on the decline," while asserting that women's employment rate in Iran is the world's lowest. (The state-run Donya-e Eqtesad – September 29, 2015)
In November 2013, it was announced that the average unemployment rate of women is only 21.6% in Tehran despite the highest concentration of industrial plants and administrative centers in the nation's capital.
Iranian women are the first victims of layoffs, unequal wages and gender discrimination.
https://women.ncr-iran.org/iran-women-news/5540-women-s-unemployment-rate-iran-rises-25-7-years
--------
URL: https://www.newageislam.com/islam-women-feminism/regional-mosque-throws-its-doors/d/116731
New Age Islam, Islam Online, Islamic Website, African Muslim News, Arab World News, South Asia News, Indian Muslim News, World Muslim News, Women in Islam, Islamic Feminism, Arab Women, Women In Arab, Islamophobia in America, Muslim Women in West, Islam Women and Feminism