New Age Islam News Bureau
16 Oct 2018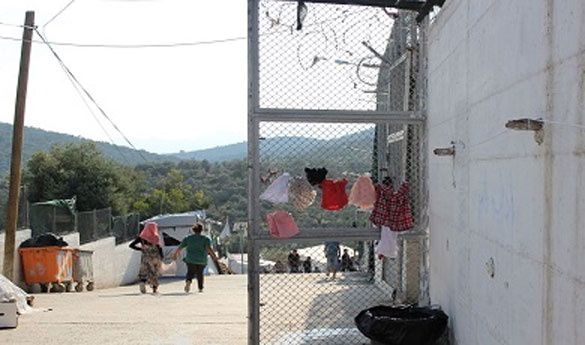 Photo: Women walk through the Moria refugee camp in Lesbos, Greece, Friday, Oct. 12, 2018.Janice Dickson / THE CANADIAN PRESS
---------
• CII drafting new comprehensive nikahnama
• Jurisprudential challenges of women's rights to be studied
• The female car mechanic driving change in patriarchal Pakistan
• KS Relief launches vocational training program for Yemeni women
• Sharia Law Scholar Defends M&S School Headscarves, Some Nine-Year-Olds 'Mature'
• 'PM cares for honour of Muslim women'
• Nigeria: Boko Haram executes second female aid worker
• Confessions of a modern Muslim girl
• Beyond religion... Muslim and Catholic girls to be worshipped as Durga
• The Palestinian women refugees using Arabian motifs and poetry to create art
• Saudi women-only gym chain NuYu to expand after Arcapita investment
• Female Iranian MP elected as member of IPU presiding board
Compiled by New Age Islam News Bureau
URL: https://www.newageislam.com/islam-women-feminism/refugee-women-live-fear-avoiding/d/116641
--------
Refugee women live in fear, avoiding washrooms because of sexual harassment
October 15, 2018
LESBOS, Greece — The washrooms at the Moria refugee camp on the Greek island of Lesbos sit on a slope next to rows of tents and makeshift containers.
They should be a space of privacy and safety.
But often they're a place of terror.
The camp sits on a hill covered in olive trees just a few kilometres from the island's capital, Mytilene. Women living there and in the informal settlement beside it say they are in constant fear of harassment, with most avoiding the washroom at night and limiting the number of times they leave their tents.
Men dominate the public space, taking up work in makeshift coffee stands and barber shops, their voices filling the air. Women, meanwhile, huddle together in their tents or metal containers, some rarely venturing into the main square and staying away completely at night.
"We don't feel safe. They are drunk left and right," said one woman who fled Syria with her aunt and five other relatives, from the entrance of her container.
Moria is Greece's largest refugee camp on Lesbos. Because of the island's close proximity to Turkey, it saw hundreds of thousands of refugees fleeing war arrive on its shores at the height of the refugee crisis in 2015, with migrants showing up in dinghies in fishing villages, and locals pulling people from the water, saving many lives and seeing countless others die in their arms.
The Greek government established Moria, which was meant to be temporary, but fast became the primary camp on the island.
About 8,500 refugees and migrants are currently living on Lesbos, with the overwhelming majority in overcrowded tents in Moria, despite the fact the camp is meant to accommodate 3,100 people. Most are from Afghanistan, Syria and Iraq, and made the dangerous journey by boat from Turkey.
Women make up 21 per cent of refugee camps on Lesbos, while girls make up 12 per cent of the population.
A woman who fled Afghanistan and who lived in Moria for three months before being transferred to a smaller camp for vulnerable families, said she was careful and feels lucky nothing happened to her or her daughter when she lived there.
"But we heard that in the night single men are drinking a lot and they go directly to the washroom and no one can limit them."
She said her family came to Greece with "many hopes" but soon after arriving "the only thing we understood is maybe we will die here," she said through tears.
Some women wear diapers at night to avoid having to make the trek to communal washrooms, said Marion Bouchetel, a policy adviser with Oxfam Greece.
The woman from Afghanistan, who asked not to be identified by name, said when she lived in Moria, she avoided the washrooms at night. Eventually, because she's pregnant, police agreed to escort her to a private washroom.
While the majority of refugees and migrants arrived during the height of the refugee crisis, people fleeing war-torn countries continue to make the short but dangerous journey across the Mediterranean.
Some have been there for years and feel trapped because of the European Union's controversial deal with Turkey aimed at eliminating the flow of migrants from Turkey to Greece.
The deal was signed in 2016 and is meant to prevent refugees and migrants from reaching Europe. But it has resulted in thousands of newcomers being contained on a few of Greece's islands until their asylum claims can be evaluated. If their claims are not approved, they could be deported back to Turkey.
Greek authorities have started moving hundreds of refugees out of Moria to the mainland so their claims can be considered and to alleviate some of the pressure the island is facing. But people continue to arrive. According to the United Nations High Commission for Refugees, 235 people arrived on Lesbos in the first week of October and over 1,000 people arrived in September.
Because the camp is overcrowded, conditions have deteriorated. Ask anyone what it's like living in the camp and they will say it's "hell" or call it "prison."
A stream of sewage water runs through the grounds, garbage is everywhere, and a stench fills the air. Inhabitants say they spend their days waiting — for food, to use the washroom, or to talk to a lawyer about their asylum case, which can take months. According to Oxfam, in June there was one functioning toilet for about 70 people and one shower for about 80.
Medecins Sans Frontieres reported recently that its specialists are witnessing an unprecedented mental health crisis, especially among children in Moria. They see multiple cases every week of teens who have tried to kill themselves or hurt themselves. And one-quarter of children have self-harmed, attempted suicide or have had suicidal thoughts.
Because Moria is overcrowded, refugees who now arrive in Lesbos have started living in an overflow site just outside the camp's barbed wired gates.
The area is known as "the Olive Grove" but most people who live there call it "the jungle." One section is dedicated entirely to single men, with another section occupied primarily by Afghan families.
The upper part of the Olive Grove is undeveloped and chaotic, with families constructing their own tents, using limited supplies given to them by non-governmental organizations, but also using branches and whatever they can find to build shelter. Children run wildly between the tents, playing with each other, and with garbage.
One refugee woman from Iran said she's scared at night and so are her children. Holding a baby in her arms, she said men fight, drink and yell.
She hopes, one day, to move to Canada. But for now she is worried about keeping her children warm as winter approaches. It's already started to cool down at night and the plastic sheets that make up the four walls of her tent offer little protection and no security.
https://nationalpost.com/pmn/news-pmn/canada-news-pmn/refugee-women-live-in-fear-avoiding-washrooms-because-of-sexual-harassment
--------
CII drafting new comprehensive nikahnama
By Sehrish Wasif
October 16, 2018
ISLAMABAD: The research section of the Council of Islamic Ideology (CII) has chalked out preliminary draft of a new comprehensive nikahnama (marriage contract) and talaqnama (divorce paper) that seek to ensure the due rights of women.
"The existing nikahnama drafted in 60s has become obsolete. Now time and trends are changing. A need was felt for drafting a new nikahnama and talaqnama which include certain clauses for addressing emerging issues," said CII Chairman Dr Qibla Ayaz while talking to The Express Tribune.
He said the new draft nikahnama also includes a provision for the bride to dissolve the marriage. "This provision does exist in the present nikahnama, but it is not clear and most nikahkhwans delete this provision and deprive a woman of her due rights," he said.
The CII chief said the CII members along with other stakeholders will try to make this provision more obvious and shall suggest some restriction on it so that nikahkhawn are not able to delete it without the consent of the bride-to-be.
"Last month the CII also announced drafting a comprehensive talaqnama containing punishment for a man who gives 'triple talaq'," he said, adding that both the drafted documents need to be improved further.
"Therefore I have sent them back to the research wing for adding new points. This process might take another week," he added. He said some useful points were also found in the All India Muslim Personal Law Board (AIMPLB) and the research section is advised to take into account the relevant points.
Fatwa on electricity theft
Talking about the Senate Standing Committee on Energy's recommendation regarding seeking the help of prayer leaders to curb electricity theft across the country, he said ulemas belonging to various schools of thought have already declared that power theft is forbidden in Islam.
A sub-committee on power earlier prepared a plan for curbing the electricity theft. The plan recommends that mosques that announce a fatwa against the use of stolen electricity be given 400 free units of electricity each month.
https://tribune.com.pk/story/1826664/1-cii-drafting-new-comprehensive-nikahnama/
--------
Jurisprudential challenges of women's rights to be studied
October 16, 2018
Thaghaleyn cultural institute is to manage the event which will be held on Nov. 29 and Dec. 13, 2018 and Jan. 3 2019 respectively in the cities of Tehran, Mashhad and Qom, Shafaghna website reported on Monday.
The meeting subjects on the general principles of women's rights in Islam, necessity of same religion in marriage, polygamy, women's positions (management, judgment and authority).
It also deals with marriage rights, women's alimony and family management including, education, employment after marriage, woman's departure from home and husband's permission.
The subject of equality or inequality of men and women in retribution, divorce right and many other jurisprudent subjects will be discussed at the meeting.
https://www.tehrantimes.com/news/428591/Jurisprudential-challenges-of-women-s-rights-to-be-studied
--------
The female car mechanic driving change in patriarchal Pakistan
Oct 16, 2018
MULTAN: Since picking up a wrench as one of the first female car mechanics in conservative Pakistan, Uzma Nawaz has faced two common reactions: shock and surprise. And then a bit of respect.
The 24-year-old spent years overcoming entrenched gender stereotypes and financial hurdles en route to earning a mechanical engineering degree and netting a job with an auto repairs garage in the eastern city of Multan.
"I took it up as a challenge against all odds and the meagre financial resources of my family," Nawaz told AFP.
"When they see me doing this type of work they are really surprised."
Hailing from the small, impoverished town of Dunyapur in eastern Pakistan's Punjab province, Nawaz relied on scholarships and often skipped meals when she was broke while pursuing her degree.
Her achievements are rare. Women have long struggled for their rights in conservative patriarchal Pakistan, and especially in rural areas are often encouraged to marry young and devote themselves entirely to family over career.
"No hardship could break my will and motivation," she says proudly.
The sacrifices cleared the way for steady work at a Toyota dealership in Multan following graduation, she adds.
Just a year into the job, and promoted to general repairs, Nawaz moves with the ease of a seasoned pro around the dealership's garage, removing tyres from raised vehicles, inspecting engines and handling a variety of tools- a sight that initially jolted some customers.
"I was shocked to see a young girl lifting heavy spare tyres and then putting them back on vehicles after repairs," customer Arshad Ahmad told AFP.
But Nawaz's drive and expertise has impressed colleagues, who say she can more than hold her own.
"Whatever task we give her she does it like a man with hard work and dedication," said coworker M. Attaullah.
She has also convinced some of those who doubted her ability to make it in a male-dominated work environment, including members of her own family.
"There is no need in our society for girls to work at workshops, it doesn't seems nice, but it is her passion," said her father Muhammad Nawaz.
"She can now set up the machinery and can work properly. I too am very happy
https://timesofindia.indiatimes.com/world/pakistan/the-female-car-mechanic-driving-change-in-patriarchal-pakistan/articleshow/66232136.cms
--------
KS Relief launches vocational training program for Yemeni women
October 15, 2018
RIYADH: The King Salman Humanitarian Aid and Relief Center (KSRelief) has launched a vocational training program for women in Yemen's Shabwah governorate.
The program is "part of KSRelief's continuous efforts to improve livelihoods in Yemen," its spokesman Abdulmajeed Al-Humaydhi told Arab News on Monday.
He said the program will train 100 women over two months in four vocations: hairdressing, sewing and embroidery, making pastries and sweets, and making perfume and incense.
http://www.arabnews.com/node/1388236/saudi-arabia
--------
Sharia Law Scholar Defends M&S School Headscarves, Some Nine-Year-Olds 'Mature'
16 Oct 2018
Sharia law council scholar Dr Amra Bone has defended Marks and Spencer selling hijabs for primary school pupils, saying that some nine-year-olds are "mature" enough to wear them, while Muslim MP Khalid Mahmood said the retailer should apologise and withdraw the item from sale because it "oppresses" girls.
"It is oppressive and what it does is sexualises girls as young as nine," Labour's Mr Mahmood said on ITV's Good Morning Britain on Monday, pointing out that girls "even younger" were wearing the Islamic modesty garment, calling it "not acceptable".
The quintessentially British retailer selling hijabs in sizes small enough for three-year-olds was brought to the fore last week by anti-extremism campaigner and LBC radio host Maajid Nawaz, who condemned the department store for "facilitating medievalism".
Speaking to the radio host on Friday, the Labour MP for Birmingham Perry Bar, a multicultural area he acknowledges as having "strict communities", called the hijab for young children "an issue of segregation" which leads to "'extreming' them into being 'misogynised' by men".
"This is not about religion, this is not about piety, this is about enclosing the horizons before young girls moving forward," Mr Mahmood said, adding that Marks and Spencer should "apologise" and remove the item from sale.
Dr Bone, the UK's first female sharia judge who said she would be using her position to "champion[] women's rights", called "modesty a form of grace" on Monday and evoked consumer demand — Marks and Spencer "is a business, responding to the need of British Muslims" — to defend the selling of hijabs for children.
When challenged by host Susanna Reid, "Why does a nine-year-old girl need to cover her hair from a modesty point of view — she's nine?" Dr Bone said girls "mature at different ages, and they should –"
To which cohost Piers Morgan interjected: "Nine-year-old girls aren't mature, though, in any world."
Dr Bone contended that in a "diverse society", women need to be able to choose for themselves what to wear; in 2015, the sharia council scholar also said that Muslim men had the right to choose how many wives to have, regardless of British law, saying "the [British] government cannot — ask Muslims not to have more than one wife. People have a right to decide for themselves."
Last year, it was revealed that girls as young as four were being forced to wear hijabs as part of their uniform — even at some schools funded by the British state.
"The debate is whether girls should be wearing it at such an early age, and that is why Marks and Spencer should not be selling it," Mr Mahood said.
Rejecting Dr Bone's assertion that the retailer was responding to consumer demand, he added: "This is about the oppression of young girls."
https://www.breitbart.com/europe/2018/10/16/sharia-law-scholar-defends-school-headscarves-some-nine-year-olds-mature/
--------
'PM cares for honour of Muslim women'
16 October 2018
BJP president Amit Shah on Monday said Prime Minister Narendra Modi has ensured that triple talaq has no place in the country despite facing opposition from the Congress that never cared for the honour of Muslim women.
Shah was addressing a gathering, where a sizeable number of Muslim women were in attendance. "The Congress never cared for the honour of Muslim mothers and sisters. It has no courage to deal with issues like triple talaq. Despite stiff opposition from the Congress, (Prime Minister) Modi has ensured that it (triple talaq) has no place in the country," Shah said.
The Muslim Women (Protection of Rights on Marriage) Ordinance was promulgated on September 19 under which instant triple talaq has been declared illegal and punishable with a jail term of three years for the husband.
Shah said the BJP has encouraged women not just by words but by giving them important responsibilities, including as defence and external affairs ministers, governors and chief ministers. He said that the BJP had created a record in honouring women while the Congress had done nothing for them despite being in power for a long time.
"Not just by words, but Modi government has given them (women) space in the Union Cabinet by inducting nine women ministers including Nirmala Sitharaman as defence minister and Sushma Swaraj as external affairs minister," Shah said at the 'kamal shakti samvad' function.
Swaraj has been given the prime responsibility of establishing good relations with countries and enhancing trade with them, Shah said.
He added that during the BJP rule, six women were appointed as governors of states, including that of Madhya Pradesh who earlier was Gujarat's first woman chief minister.
He hit out at the opposition party for disrespecting senior BJP leader, late Vijaya Raje Scindia, affectionately known as Rajmata, claiming that she had been oppressed and jailed. He added that Scindia never gave up despite the Congress troubling her for long, and this had led to the "lotus (BJP symbol) blooming in the entire region".
https://www.dailypioneer.com/2018/state-editions/---pm-cares-for-honour-of-muslim-women---.html
--------
Nigeria: Boko Haram executes second female aid worker
Oct 16, 2018
A second aid worker has been executed by Boko Haram in Nigeria after a deadline imposed to release imprisoned members of the armed group expired, the government said.
The Nigerian government was "shocked" and "saddened" by the killing of the woman, who was not identified, the information ministry said in a statement.
A clip of the execution of 24-year-old Hauwa Leman was seen on Monday by a correspondent of Nigeria's online news platform, The Cable.
"Leman was forced to kneel down, with her hands tied inside a white hijab which has a crest symbol, and then shot at a close range," The Cable reported.
Leman, a nurse with the International Committee of the Red Cross (ICRC), was kidnapped by the armed group in March along with two other medical workers in Rann, Borno State in the country's northeast.
A midwife with ICRC, Saifura Ahmed, who had been abducted at the same time, was executed by Boko Haram in September.
"We have kept our word exactly as we said, by killing another humanitarian worker, Hauwa Leman, who is working with the International Committee of the Red Cross (ICRC) that were abducted during a raid on a military facility in Rann, Kala Balge in March 2018," the group said in a short statement sent to the Cable.
"Saifura and Hauwa were killed because they are considered as Murtads (apostates) by the group because they were once Muslims that have abandoned their Islam, the moment they chose to work with the Red Cross, and for us, there is no difference between Red Cross and UNICEF," the group added.
"If we see them, we will kill the apostates among them, men or women, and chose to kill or keep the infidels as slaves, men or women."
Plea for mercy
The armed group had earlier released a video message in which it threatened the immediate execution of one of the employees.
The ICRC implored the hostage takers to show "mercy" and release the employees.
The armed group is also holding a 15-year-old schoolgirl, Leah Sharibu, who was abducted in February from her school in the town of Dapchi, Yobe state.
More than 20,000 people have been killed and two million others forced to flee their homes in northeastern Nigeria since Boko Haram launched a campaign in 2009, aimed at forming a breakaway Islamic state.
Over the years, the armed group has kidnapped thousands of adults and children.
https://www.aljazeera.com/news/2018/10/nigeria-boko-haram-executes-female-aid-worker-181015194542623.html
--------
Confessions of a modern Muslim girl
16 October 2018
by Shazmeen Zahid
Are you this quiet because most Muslim girls are oppressed in their households?
My self-proclaimed guardians and well-wishers have often told me that if I'm more subdued, less opinionated and agreeable towards everything that a man says, I can be better Muslim woman and more favourable in Allah's eyes.
Growing up in a family that respected all religions, my parents never questioned my choice of friends and welcomed them all with the same love that any other family member would have received.
I am sure every non-hijabi Muslim girl has been asked why she does not wear a hijab and later advised to follow Islam completely by orthodox clans. It is also common for us to be told by non-followers how it's a sorry state that we have to wear one.
A woman who chooses to wear a hijab is in no way superior or inferior to anyone, nor does the presence or absence of a hijab play any role in enticing a man (a common argument used by patriarchs to justify the hijab).
I would like to clarify by saying that not all families impose their will upon women forcing them to wear a hijab. Most women wear it out of their free will and most Muslim families give their daughters the liberty to make that choice themselves.
What happens is that you end up constantly educating and re-educating people about this, but, honestly, do you really have to? After a point, you just becomes numb with all the mindlessness around.
It also comes as a rude shock when your liberalism is questioned by orthodox clans who try to 'correct' your views, saying you are spoilt and blinded because you didn't have a Muslim female friend as a course corrector.
Most of the time I am too baffled to react to such statements where every argument is converted into a religious appropriation by people who themselves are no great examples.
If you ever try explaining to these wonderful people that in order to follow Islam, one does not always have to hate the world or atheists, you might end up being attacked with inappropriate remarks on your character and how your future is doomed if you don't mend your views. On top of this, all this may conveniently be garbed by hardliners as a means of showing love and care.
Whenever I have expressed my resentment towards such questions, people have often retaliated saying that they are just trying to have a healthy debate, and then laughed over it. It's difficult for them to accept that one cannot entertain such questions because they are extremely offensive towards the entire community. These people fail to understand that we already have a set of people whom we respect and as much as we try to respect their views, they should not take the liberty to impose theirs on us.
As women, we face gender disparity everywhere, irrespective of what religion or caste we belong to. We often end up being shamed for everything that is wrong with the world. Often, sexist comments are hurled upon us based on our clothing or lifestyle just because it's considered that as women we should be okay with it. Sadly, religion is most commonly used as the basis to justify such arguments.
It's a struggle to follow your religion and still welcome the changing world and its views. When there are multiple ways to pull each other down, religion should be the last of them.
Why make it toxic for others when everyone has their own battles to fight!
https://in.news.yahoo.com/confessions-modern-muslim-girl-055215264.html
--------
Beyond religion... Muslim and Catholic girls to be worshipped as Durga
15th October 2018
BENGALURU : Provident Harmony Apartment owners at Thanisandra are organising a unique amalgamation of regional celebrations of this festive season, that include Durga Puja, Navaratri, Ayudha Puja, and Dasara. The intent is to connect all festivals form the North, South, East, and West. In keeping with the festive spirit, the celebrations here not only cut across different regions but also holds no bar against religion.
On Navami, the ninth day of the festival, a Kumari Puja will be conducted where 17 young girls, below the age of 12, will be worshipped. Traditionally, this ritual of Kumari Puja is celebrated by worshipping a Brahmin girl. It was first practiced by Swami Vivekananda in Kolkata, as a way of empowering women. This apartment complex is trying to diversify this ritual with children from different religions, to highlight how it goes beyond religion and has a spiritual essence.
Of these 17 girls, a nine-year-old Muslim girl and a five-year-old Catholic girl will also be worshipped. Talking about how these girls were nominated, president of the association, Ramachandran Nair VM, says, "When we held nominations, that's when these girls came forward. It was a nice gesture on their part and we wanted to showcase this to the city as a whole."
On the importance of highlighting the 'diversity and unity' in today's times, Mayukh Patra, a member of the association says, "There are so many atrocities that are committed towards children and women in the name of religion. We wanted to set an example and teach our children about women empowerment. We wanted to showcase it to the world that it's not only a religious event, but an event with a social cause."
Kumari Puja
Kumari, Kumari Devi, or Living Goddess, is the tradition of worshipping young pre-pubescent girls as manifestations of the divine female energy or Devi or Goddess. A Kumari is generally chosen for one day and worshipped accordingly on festivals like Navaratri or Durga Puja.
http://www.newindianexpress.com/cities/bengaluru/2018/oct/15/beyond-religion-muslim-and-catholic-girls-to-be-worshipped-as-durga-1885936.html
--------
The Palestinian women refugees using Arabian motifs and poetry to create art
Hala Khalaf
October 15, 2018
It made perfect sense for the UAE social enterprise 81 Designs to collaborate with Lebanese furniture house Bokja.
Ever since 81 Designs was founded three years ago, by Lebanese-Palestinian mother-­daughter team Nesrine El Tibi and Nadine Maalouf, its mandate has been to collaborate with artists from across the Arab world, to create art tempered with humanity and produced by women living in Palestinian refugee camps in the south of Lebanon. This way, the women put their imagination and skills to good use and receive a livelihood.
Beirut-based Bokja, on the other hand, was founded in 2000 by Lebanese friends Hoda Baroudi and Maria Hibri. The ladies rescue, transform and create joyous furniture pieces. What were once discarded antiques are repurposed through layers of vintage textiles, which are meant to mirror the many layers of Beirut. The end products are standalone pieces of artistic furniture that marry design aesthetics from the East and West.
Additionally, Bokja embarks on collaborations with artists and organisations such as 81 Designs, to deliver a message. Over the past 18 years, it has been involved in more than 20 partnerships and installations.
"It was only natural that when this project came along, and it involved women in the refugee camps, we would be on board. We are crying out for collaborations like this, something we seek, always," say the Bokja duo.
For 81 Designs, this is their third art collection that features the Palestinian embroidery art of tatreez, carried out by refugee artisans. The debut collection reinterpreted works by acclaimed Tunisian artist eL Seed through embroidery, and last year's collection had the women cross-stitch renditions of 14 pieces of pop art by renowned British-Moroccan artist Hassan Hajjaj.
"For our third, we just told the ladies of Bokja how eager we were to work with them, and they were just as excited as we were," says El Tibi. "81 Designs is about three things: empowerment of women, making a difference in the community and mixing art with humanity." In these goals, she says, the art houses are united. "We share the same passion, the same vision. They are passionate about female empowerment, and they have a love of textiles that translated perfectly to the women in the refugee camps, who deal with fabric and thread and textiles in their tireless work to create art from these materials, doing it all by hand."
The idea for the project, to be unveiled at Abu Dhabi Art next month, began with paying tribute to the UAE's Founding Father in the Year of Zayed. Sheikh Zayed was renowned for his work towards empowering women and bettering their status in society, says El Tibi.
"It fit together, and because Bokja deals with textiles, it made sense to create 100 scarves or shawls, to mark the 100 years of Zayed."
Hibri adds that they drew on Sheikh Zayed's poetry for inspiration. "We are suckers for Arabic poetry, and we chose verses from a beautiful poem of Sheikh Zayed's, a personality we admire greatly. We asked the refugee ladies to embroider these verses on the textiles, together with certain motifs that represent the UAE, such as Burj Khalifa, the oryx, palm trees, and more classical motifs to fit the design."
The scarves will retail for about US$600 (Dh2,200).
"The second part is the Standing Tall sculptures," says Bokja's Baroudi. "We consider them sculptures, but they are and they aren't. They can be deconstructed and interpreted in so many ways, but that's where the fun started for us, because we asked the ladies of the camp to adopt a free rein in the design and in the stitching. It took them two months to finish the scarves and we expected it to take them just as much time. But now that they understood our approach to this work, to this art, and how free we are in our approach to design, how we felt everything goes and how we wanted to liberate them to transcend all their inhibitions and limitations, to understand there are no taboos, they blew us away."
In two weeks, the 30 Palestinian women, from Ein Al Hilweh refugee camp in Saida, expressed their fears, dreams, anger, aspirations and hopes onto the textiles from Bokja, creating sculptures that represent them "standing tall" in the face of adversity.
The five totems mimic the female form and represent independence, empathy, compassion, nurturance and strength. Each sculpture will sell for $8,000 (Dh29,300). The stacked cylindrical cushioned seats are upholstered with textiles from around the world and hand-embroidered.
"Both Bokja and ourselves at 81 Designs believe in women standing tall," explains El Tibi. "It's what Sheikh Zayed always wanted as well. And our job is to help them [do so]. We started with just eight women three years ago, and now for this project, we had 30 women working at a time, and we're so proud of that. We're helping them provide for their families. When you look at the designs you become really emotional. Some of those designs on the scarves and the sculptures were created by the women themselves, they were their own designs, their own messages."
https://www.thenational.ae/lifestyle/the-palestinian-women-refugees-using-arabian-motifs-and-poetry-to-create-art-1.780842
--------
Saudi women-only gym chain NuYu to expand after Arcapita investment
15 October 2018
Bahrain-based investment firm Arcapita has invested an undisclosed sum in NuYu, a chain of women-only boutique gyms in Saudi Arabia.
The funding will help NuYu deploy over SAR250m ($67m) to grow its network from seven gyms to over 30 across the kingdom, a statement said.
NuYu's existing gyms are located in Riyadh (five), Khobar and Dammam (one each).
The new centres are expected to create "hundreds of jobs" and provide women access to fitness outlets in currently underserved locations, the statement added.
Princess Sara Al Saud, NuYu's co-founder and creative director, said: "With support from Arcapita, we are excited to be able to accelerate our expansion plans and grow our 6,000-strong membership base.
"Launching new boutique gyms across the country will make it easier for Saudi women to access fitness and reap the benefits of regular exercise."
The move comes after a recent decision by Saudi's General Sports Authority to grant licenses for female boutique gyms.
From a base of over 50 facilities nationwide, the female fitness market in Saudi Arabia is expected to grow at an annual rate of 30 per cent over the medium-term, according to Arcapita.
Also read: Investcorp to fit out some of its part-owned Saudi gyms for women
Martin Tan, Arcapita's chief investment officer said: "The female fitness segment in Saudi Arabia is virtually untapped with a penetration rate of less than 1 per cent, while having one of the highest revenues per member globally.
"Given Saudi Arabia's young and growing population, combined with rising health awareness in the kingdom, there is significant potential for outsized growth within this highly underserved segment."
Atif A. Abdulmalik, Arcapita's CEO added: "We look forward to working in partnership with NuYu, helping it realize its full potential during this exciting period of social change.
"The investment in NuYu is underpinned by robust fundamentals and demonstrates our confidence in the long-term growth prospects of Saudi Arabia's sport and leisure industry. It is also aligned with the Kingdom's Vision 2030 goals of empowering women and for citizens to lead healthy and active lifestyles."
http://gulfbusiness.com/saudi-women-gym-chain-nuyu-plans-sar250m-expansion-arcapita-investment/
--------
Female Iranian MP elected as member of IPU presiding board
October 15, 2018
IPU is an organization made up of national parliaments from around the world. IPU protects and builds global democracy through political dialogue and concrete action.
The female MP gained the majority of votes in a meeting of the group of Asia-Pacific countries held on Sunday, IRNA reported.
She was elected to the position of a representative for the Asia Pacific Parliamentary Forum (APPF), the report added.
Consisting of eight Majlis members, the Iranian delegation entered Geneva to take part in the event on October 14-18.
Iranian delegation is to partake in the Committee on Peace and International Security, Committee on Democracy and Human Rights, Committee on Sustainable Development, Finance and Trade, Committee on United Nations Affairs, Forum of Women Parliamentarians, Forum of Young Parliamentarians, and specialized panels.
Majlis trying to reduce gender inequity
Empowering women and promoting their rights and dignity are the prerequisites for development in any society, said Parvaneh Mafi, another female MP, at the same meeting on Sunday.
"Discovering and supporting scientific elites, especially women researchers, commenced in Iran's National Elites Foundation a decade ago," IRNA quoted Mafi as saying.
"'Nowadays, Iranian girls form a significant part of the scientific festivals and Olympiads," she added.
Mafi went on to refer to the large population of Iranian female university students in Iran.
"Girls in Iran constitute 69 percent of university students in fundamental sciences, while 23 percent of engineering students, 52 percent of agriculture students and 53 percent of medicine students in Iran are also female."
The 139th Assembly of the IPU is taking place in Geneva, Switzerland on 14-18 October.
All IPU statutory bodies, including the Governing Council, Standing Committees, Committees on the Human Rights of Parliamentarians and on Middle East Questions, as well as the Forum of Women Parliamentarians and the Forum of Young MPs, will meet on this occasion, wrote the IPU official website.
Currently, IPU has 178 member parliaments and 12 associate members. It works closely with the United Nations and other partner organizations who share the same goals.
Today, the IPU is an organization that most closely reflects world public opinion. More than 6.5 billion of the world's 7 billion people live in countries whose parliaments are members of the IPU—and it is their elected representatives who engage in and steer IPU policies. By bringing parliaments together, IPU bring people together.
IPU is financed primarily by its members out of public funds. IPU headquarters are in Geneva, Switzerland.
https://www.tehrantimes.com/news/428590/Female-Iranian-MP-elected-as-member-of-IPU-presiding-board
--------
URL: https://www.newageislam.com/islam-women-feminism/refugee-women-live-fear-avoiding/d/116641
New Age Islam, Islam Online, Islamic Website, African Muslim News, Arab World News, South Asia News, Indian Muslim News, World Muslim News, Women in Islam, Islamic Feminism, Arab Women, Women In Arab, Islamophobia in America, Muslim Women in West, Islam Women and Feminism