New Age Islam News Bureau
01 June 2022
• Nurulhidayah, Daughter of Umno President: 'Woman Is Not Born To Be a Leader'
• KAUST #HeretoLead Campaign Opens New Horizons For Saudi Women
• GCAM bans Arab female Snapchatter from advertising in Saudi Arabia
• Pakistani Woman Fights Prejudice, Becomes First Deaf Doctor In Balochistan
• Dubai Women's Run, Largest Sporting Event for Women in the Arab World, Returns for Its 9TH Edition
• Turkish Women's Groups Rally behind Anti-Femicide Platform
Compiled by New Age Islam News Bureau
URL: https://newageislam.com/islam-women-feminism/women-ministers-australia-muslim/d/127149
---------
Record 13 Women Ministers, Including the First Female Muslim, In Australia's New Government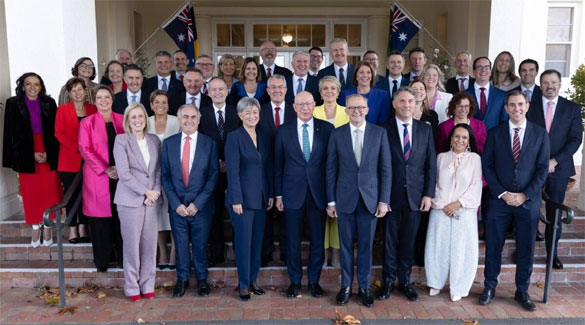 Of the 30 ministers appointed to the new government, nearly half are women. Women also hold a record 10 spots out of 23 in core Cabinet roles. (Twitter/@AlbonMP)
----
June 1, 2022
A record 13 women, including the first female Muslim, were sworn in as ministers in Australia's new government on Wednesday.
The ceremony conducted by Governor-General David Hurley in the capital, Canberra, came 11 days after new Prime Minister Anthony Albanese led the center-left Labor Party to an election victory over the incumbent conservatives.
Proud to lead an inclusive government that is as diverse as Australia itself, Albanese wrote on Twitter.
Welcome to all these new Labor members.
Anne Aly was sworn in as Australia's first female Muslim minister while Ed Husic became the first Muslim to serve in Cabinet.
Linda Burney became the first woman, and only the second Indigenous person, to serve as Indigenous Affairs minister.
Albanese and Foreign Minister Penny Wong were sworn in early last week so they could fly to Tokyo for a summit with President Joe Biden, Japanese Prime Minister Fumio Kishida and Indian Prime Minister Narendra Modi.
Of the 30 ministers appointed to the new government, nearly half are women. Women also hold a record 10 spots out of 23 in core Cabinet roles.
With some votes still to be counted from last month's election, the Labor Party has secured enough seats to hold an outright majority in the 150-seat House.
Albanese's Cabinet includes some new faces as well as some lawmakers who served in the previous Labor government that last held power nine years ago.
We have an overflow of talent on our side of the parliament," Albanese said, adding that "it's the most experienced incoming Labor government in our history since federation.
Albanese has been getting support from an unusual source: British singer-songwriter Billy Bragg.
Bragg wrote on Twitter that he'd awoken to find that "the new prime minister of Australia had quoted my lyrics in his first press conference.
Bragg went on to say he wasn't surprised as he's been friends with Albanese for more than 20 years after they met at a theater in Sydney and bonded over a shared love of music and compassionate politics.
The challenges he faces are daunting and I don't envy him his success, Bragg wrote. Some of us just sing about making the world a better place he now has the responsibility of delivering on that promise.
Source: Business Standard
https://www.business-standard.com/article/international/albanese-led-australian-government-includes-record-13-women-ministers-122060100163_1.html
---------
Nurulhidayah, Daughter of Umno President: 'Woman Is Not Born To Be a Leader'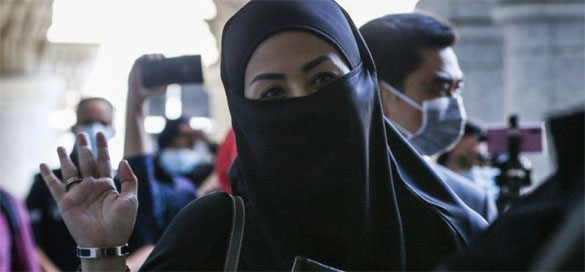 Nurulhidayah appeared to suggest that leadership was unique to only men who are somehow born with a natural aptitude. — File picture by Yusof Mat Isa
----
By Justin Ong
01 Jun 2022
KUALA LUMPUR, June 1 — Women are not natural leaders, argued Datuk Nurulhidayah Ahmad Zahid, the daughter of Umno president Datuk Seri Ahmad Zahid Hamidi.
Speaking in a video excerpt of her unpublished interview with Sinar Harian, Nurulhidayah appeared to suggest that leadership was unique to only men who are somehow born with a natural aptitude.
"I think... I think woman is not born to be a leader, tahu (you know)" she said in the video with a smirk, before pausing to consider her argument.
"Yeah, women are not born to be a leader. A man are born to be a leader, so... I think for human rights, for woman rights, I think semua patut ada 'the rights', because we are all human."
The context of her response is not immediately clear as the video did not include the question to which the former deputy prime minister's daughter was responding.
However, her remarks have bewildered Malaysians on the internet, including some who noted that Nurulhidayah appeared to hold corporate leadership positions in apparent contradiction to her own views about gender roles.
Source: Malay Mail
https://www.malaymail.com/news/malaysia/2022/06/01/umno-president-zahids-daughter-says-woman-is-not-born-to-be-a-leader/10026
---------
KAUST #HereToLead campaign opens new horizons for Saudi women
GHADI JOUDAH
May 31, 2022
JEDDAH: King Abdullah University of Science and Technology has launched a nationwide awareness campaign #HereToLead to promote gender equality and reinforce women's advancement in Saudi Arabia.
As part of the initiative, a survey carried out at KAUST among Saudi women, both staff and students, showed that participants regard the university as a fostering environment with pioneering initiatives to encourage women's professional development and empowerment.
The campaign is expected to run throughout the year to showcase the success stories of Saudi women at KAUST, highlighting their achievements, as well as their contributions to the Saudi community and economy.
Vice-Chair of the Institutional Biosafety and Bioethics Committee at KAUST, Dana Al-Sulaiman, said the university "has been instrumental in my professional advancement, providing me with a wealth of opportunities and a vibrant environment that respects equity and inclusion. As a Saudi female faculty member, I have the chance to play a major role in educating the next generation and advancing the roles of women in the workplace."
Linda Al-Zaben, a Ph.D. student in applied mathematics and computational sciences, said that the university gave her the opportunity to practice leadership skills, and acquire and develop coaching techniques.
"It also made me a better researcher because of the wide exposure it has," she said.
KAUST is acclaimed for the opportunities to gives women to pursue graduate degrees. It is the first campus university offering Ph.D. degrees in engineering for women in the Kingdom and has allowed gender integration since opening in 2009.
The Saudi women who took part in the survey agree that KAUST supports their goals, bolsters their confidence and offers a path to greater possibilities.
"KAUST is an institutional role model in encouraging every woman to seek all opportunities even in male-dominated fields," one respondent said.
Another said that "KAUST is supporting women's advancement by running programs such as the KAUST Gifted Students Program targeting young Saudi women and other initiatives that celebrate women's talents. Hiring women in leadership and faculty positions within KAUST inspires this generation."
Vice President of KAUST Strategic National Advancement, Najah Ashry, said: "We have seen tremendous interest from women in science, technology, engineering, and mathematics. Our firm belief is that through the #HereToLead platform, we will be able to give them a voice to empower and encourage more women to embark on this professional journey."
KAUST President Prof. Tony Chan said that 40 percent of the university's students are women, "and we remain steadfast in creating innumerable opportunities for them."
Source: Arab News
https://www.arabnews.com/node/2093881/saudi-arabia
---------
GCAM bans Arab female Snapchatter from advertising in Saudi Arabia
May 31, 2022
RIYADH — The General Commission For Audiovisual Media (GCAM) banned a famous Arab female Snapchatter from advertising in Saudi Arabia after she violated several laws in the Kingdom by promoting smoking.
GCAM slapped a fine amounting to SR400,000 on the female Snapchatter for practicing work without a license, according to Saudi Press Agency (SPA). The Ministry of Commerce seized the violating facility that was promoted and imposed legal penalties on it.
The Arab female violated several regulations, including: the audio-visual media law, the e-commerce law, and the anti-smoking law by practicing advertising without a license, and publishing videos and promoting tobacco through her accounts on social media.
Regulations in the Kingdom prohibit promoting, marketing or advertising tobacco and smoke products directly or indirectly, GCAM said.
The violation was also referred to the committee of penalties of the e-commerce system to impose legal penalties on it and the commercial establishment for committing a violation of promoting tobacco products online.
The authority issued a circular calling on not dealing with the advertiser or advertises with it, and to notify the visitor to stop advertising in the Kingdom or in content directed to the Saudi audience.
GCAM and the Ministry of Commerce stress the obligation to adhere to the laws and regulations in force in the Kingdom.
Source: Saudi Gazette
https://saudigazette.com.sa/article/621215/SAUDI-ARABIA/GCAM-bans-Arab-female-Snapchatter-from-advertising-in-Saudi-Arabia
---------
Pakistani woman fights prejudice, becomes first deaf doctor in Balochistan
May 31, 2022
QUETTA: As Dr. Mahwish Sharif enters the tuberculosis ward at the Fatima Jinnah Chest Hospital in southwestern Pakistan, she reaches up to her ears to make sure her hearing aid is in place.
This is a routine check for Sharif, the first doctor in Balochistan with a hearing impairment, who overcame years of prejudice to finish medical school and be appointed as a doctor at the Fatima Jinnah Chest Hospital, the only health facility in the provincial capital, Quetta, for the treatment of respiratory and viral diseases.
The 29-year-old doctor comes from a remote village in the central Balochistan district of Kachi and dreamt of becoming a doctor as a child, even after she lost hearing at aged 4 due to eardrum damage.
"I used to act like a doctor while playing with my brothers when I was a little girl," Sharif told Arab News at her office, smiling. "The white coat that doctors wear and the stethoscopes always inspired me."
But though her family supported her, Sharif's graduation from Bolan Medical College in 2021 came after many long years of discrimination and insensitive comments, including from faculty members.
"I found my teachers often complaining about my hearing disability," she said. "Even in my last medical exams, they did not allow me to use hearing aids since they thought they were headphones."
She recalled another instance of discrimination when she was required to submit a permission letter to use a hearing aid for an exam she had sat for at the Balochistan University.
"I got the letter and when I went to the professor, who was also head of the department of surgery, he saw me and asked my name," she said. "I told him my name and he said 'you can hear, you have submitted a fake letter'."
"Even after asking me all the questions, he failed me in the final," Sharif said.
Sharif's experiences are not uncommon in a country where people with disabilities have to live with prejudice and lack of opportunities. In the absence of reliable data, estimates of the number of people living with disabilities in Pakistan vary from 3.3 million to 27 million, according to Human Rights Watch.
In January 2020, Pakistan passed the Disability Rights Act to provide a comprehensive legal framework to protect and promote the rights of people with disabilities.
In July of the same year, Pakistan's Supreme Court directed the federal and provincial governments to implement the new law which requires that 2 percent of people employed by an establishment be persons with disabilities.
But despite the passage of the law and the top court's support, those with disabilities remain underrepresented in higher education and in the workforce in Pakistan.
Sharif had "worked very hard" to overcome all obstacles, said Dr. Sadiq Baloch, the medical superintendent at the hospital, adding that he had never received any complaints about the doctor from her patients or their attendants.
"Mahwish has become a role model for our society where persons with disabilities are even marginalized by their own family members," he told Arab News. "She has set a new precedent that people with disabilities can also fulfill their dreams."
Haji Basit, who had brought his mother to the hospital from Harnai district for the treatment of tuberculosis, said he did not face any communication problems with Sharif. "She is very caring and loving with her patients and my mother feels more comfortable with Dr. Mahwish than any other doctor," he said.
For Dr. Noor Qazi, the director general of the provincial health department of Balochistan, Sharif is an inspiration.
"While we have allocated a specific quota for persons with disabilities in the medical profession, Dr. Mahwish has fulfilled her dream of getting this job on merit and set a new precedent for others," he said.
She is now planning to work to achieve equality for people with disabilities and wishes more parents would allow their children to face "the challenges of the outside world."
"Parents should allow them to develop other skills to live an independent life rather than a life of dependency," she said. "I am disabled myself and I want to give a message to all disabled people that they don't lose hope, rather accept the challenge. Society will not let us excel until we strive for ourselves."
Source: Arab News
https://www.arabnews.com/node/2093871/world
---------
Dubai Women's Run, Largest Sporting Event for Women in the Arab World, Returns for Its 9TH Edition
June 1st, 2022
Dubai Women's Run, the largest sporting event for women in the Arab world, is returning for its 9th edition on 06 November 2022 at Bluewaters Island in Dubai.
Organised by Plan b Group, in collaboration with the UAE Athletics Federation and Dubai Sports Council, Dubai Women's Run is being held
This year's edition will have over 6,000 runners who are expected to register for the event in a 10km and 5km race with a 3km fun run/walk that will be open to women and girls from 14 years and up.
Major General Dr. Mohamed Abdullah Al Murr, President of the Emirates Athletics Federation said "The level of the race will have a special character, and it is expected to elicit a great level of excitement and strong competition, in line with the vision of the Athletics Federation to reach the game's horizons of development that translates the desired aspirations, because the winner in the end is the woman who enhances her prestigious position in the society, and that women's sport embodies the commitment of women to ensuring the integrity of the mind and body, achieving a productive and happy life for herself and the community around her, enriching life and developing society and people, and achieving communication, coexistence and peace in society and in the whole world."
This year's route will take runners around Bluewaters which is a vibrant island destination and home to some of the city's most original retail concepts and attractions. Participants can soak in views of Dubai's iconic skyline and the Arabian Gulf as they soar through the stylish district and past quintessential experiences. Entertainment activities for the entire family will be taking place alongside the event that will include cultural performances, kids' activities, food and beverage kiosks, as well as a DJ to liven up the atmosphere for the entire duration of the event.
A regular fixture on the UAE's sporting calendar since 2010, Dubai Women's Run is returning for the first time since the Covid pandemic hit. It aims to encourage women of all ages and from all walks of life to adopt a healthier lifestyle. Popular Bollywood actor Sunjay Dutt has confirmed his support for the event, along with other socio-civic organizations who will be running the race to support charitable causes in the UAE.
His Excellency Nasser Aman Al Rahma, Assistant Secretary-General of the Dubai Sports Council, welcomed the attendees, and said: "Today we announce the organization of the ninth edition of the Dubai Women's Run next November, which is the most important event in the world of women's running that brings together amateurs and professionals of various categories, which will be organized this The year is in a unique tourist area that shines in Dubai and grabs the attention of the world, which is Blue Waters Island, where the contestants will take place in various streets of the island, and the start and conclusion will be next to "Ain Dubai" the largest of its kind in the world. The event has reached the ninth edition after achieving great successes in the eight editions. In the past, where the number of participants in the eighth edition reached nearly 5,000, and it is expected that the number in the ninth edition will reach more than 6,000 participants from various categories.
He added, "We are pleased that women of various nationalities, including amateurs and professionals, will participate in the race, and that among the participants are female runners from our national team in the 10 km category, where they will compete with international runners and be an opportunity to develop the level and continue to compete in different competitive races."
Since taking over the reins of the race in 2017, Plan b Group has made the event the biggest race for women in the Arab world and has taken it to a stature that has placed it among the more popular running competitions in the international sporting scene.
Dr. Harmeek Singh, Chairman and Founder of Plan b Group said "Being a part of the ninth edition is an achievement for Plan b and speaks volumes for Dubai which has been the frontrunner for equality and undoubtedly Dubai Women's Run stands tall as a resilient message not only regionally but globally. I stand by the vision that our able leaders have infused in all of us and in my personal capacity backed by a passionate team, we are here to revive the initiative of Dubai Women's Run on a bigger and better platform. This platform will contribute towards a strong social fabric with values associated with Dubai and UAE in general."
Source: Al Bawaba
https://www.albawaba.com/business/pr/dubai-women%E2%80%99s-run-largest-sporting-event-women-arab-world-returns-its-9th-edition
---------
Turkish women's groups rally behind anti-femicide platform
Nazlan Ertan
May 31, 2022
Turkey's opposition politicians, bar associations and rights groups are set to make a joint show of force in front of Istanbul's main courthouse on June 1 to protest the lawsuit that threatens to shutter Turkey's oldest and most vocal anti-femicide group.
The We Will Stop Femicides Platform, which provides legal advice and advocacy to women who need protection from violence, is fighting for survival as it faces half a dozen charges that range from "undermining the family" to "insulting the president." 
"We are very unclear on just what the charges are," Leyla Suren, one of the organization's lawyers, told Al-Monitor. The indictment, seen by Al-Monitor, cites complaints that date back nearly six years and claim that the platform has deviated from its aims in a way that violates Turkish law and morality. 
The public prosecutor calls for the closure of the award-winning nongovernmental association, which has more than 700 members and a wide network of collaborators and volunteers. The platform was founded 12 years ago after 17-year-old Munevver Karabulut was killed and cut to pieces by her boyfriend. The platform's online tally, updated daily to count the women who fall victim to domestic violence and what it calls suspicious deaths, tells a very different story from what the government agencies share. It reports that there have been 159 femicides so far this year. Last year, it recorded 280 femicides and 217 suspicious deaths. 
The lawsuit is founded on a complaint made in 2016. Ahmet Eliacik, a man outraged at spending two nights behind bars for failing to pay alimony, wrote an angry letter to the Interior Ministry, the prosecutor's office and a hotline that allows citizens to air their grievances and opinions. Eliacik told HalkTV's Ismail Saymaz that the platform has broken up many families, his own included, under the guise of protecting women and children. "What they do is to undermine the family structure of our country and set the country one against the other," he said. "It supports jailed [Kurdish] deputies and has links with FETO," in a reference to the alleged crime gang of US-based cleric Fethullah Gulen, which Ankara holds responsible for the 2016 coup attempt.
Eliacik, who allegedly escaped jail only after the local AKP branch paid his alimony for him, was not alone. "Several others had similar complaints, all reading as if written by the same hand," Suren said. However, none of them — nor their estranged spouses — had any previous contact with the platform.
All the complaints bore the fingerprints of the conservative camp, with allegations that family is under attack, resentment over alimony (which, under Turkish law, is only paid if the woman has no income, though courts do ask for child support), and references to "immorality" — which may refer to LGBTI Turks or female musicians wearing revealing clothing.  
When served with the lawsuit in April, the platform's first reaction was disbelief, saying in a statement, "Trying to make up crimes against us with these unlawful and baseless allegations is deplorable even in terms of the current legal order." Saymaz pointed out during his show that even Eliacik was surprised that his complaint six years ago had led to a lawsuit.
Suren said that while the investigations may appear to have been going on since 2018, the platform members were never invited to testify or respond to the claims made. "What we have seen so far in the indictment is several social media posts by our volunteers, not the staff, criticizing the attack against the Cumhuriyet newspaper or criticizing some statements of the president. They have also put in the indictment the police reports — not criminal records because there is no conviction — about some of our members during a Women's Day march," she said.
The indictment hints that the platform — which also advocates for the LGBTI+ community — has deviated from its original aim of protecting women. "This simply is not true," said Suren. "Our founding charter makes it clear that we support the LGBTI." Various LGBT groups said they would also be present at court.
Suren and other lawyers think that the case could drag on, as many human rights cases do. "If the court dismissed these flimsy charges in the first trial, I would be very happy for my country's justice," she told Al-Monitor. "But given the recent moves against nongovernmental groups, it is likely that the case will be prolonged."
"You will not be able to stop us," Gulsun Kav, the platform's chair, said in a video, pledged to fight the charges. "But we, through our determined efforts, will stop femicides." 
"We shall all be in front of the courthouse to support the platform," tweeted Aylin Nazliaka, the head of the CHP women's branch. The government, she said, "should be working on stopping the femicides, not the women who fight to end them." 
The lawsuit follows Turkey's withdrawal from the Istanbul Convention, the landmark Council of Europe accord that holds states responsible for protecting women from gender-based abuse and violence, prosecuting abusers and promoting policies to prevent harassment. President Recep Tayyip Erdogan, who scrapped the accord with a midnight decree in March, said that Turkey's laws were sufficient to protect women from violence. 
But Human Rights Watch, which has carried out a series of interviews with Turkish domestic violence victims and their lawyers as well as police officers, judges and prosecutors after the withdrawal from the Istanbul Convention, reported that the government has failed to enforce Turkish courts' restraining orders.  
"While police and courts in Turkey are responding to women's complaints of domestic violence by issuing more restraining orders, the failure to enforce them leaves dangerous protection gaps,"  Emma Sinclair-Webb, Human Rights Watch's Europe and Central Asia Division associate director, said last week when the report was released. "The lack of enforcement has meant that women on the authorities' radar have been killed by their abusers or subject to recurrent violence over years."
The 85-page report, "Combatting Domestic Violence in Turkey: The Deadly Impact of Failure to Protect," cites the case of  Yemen Akoda, shot dead by her husband Esref outside her home in the central Anatolian town of Aksaray in 2021.  Before the murder, courts had on four separate occasions issued preventive orders directing Akoda to stay away from his wife after he harassed her when she filed for divorce. Though he repetitively violated them, the court had not taken any of disciplinary sanctions due to what it said was a "lack of evidence." 
The report says that lawyers and women's rights groups expressed concerns about the withdrawal from the Istanbul Convention. While Turkey still has its own low on protecting families and preventing violence against women (Law No. 6284), one lawyer describes it as "like a building whose foundations have been removed." 
Conservative groups in Turkey, giddy with the withdrawal from the convention, have stepped up their attacks on the law, saying that swiftly issued restraining orders break up the family unit before giving it a chance for reconciliation.  Moreover, the alimony lobby, highly organized and vocal with its online supporters tweeting hashtags like #notolifelongalimony and #alimonyvictims, has pushed the ruling Justice and Development Party to draft a new law.
The platform and other women's groups have objected to the bill, saying that limiting the period of alimony or child support would be another way to trap women in violent marriages. "The draft aims to please a small group of men who have been promoting propaganda against alimony. It is just like the government's move to withdraw from the Istanbul Convention to please the same people," read the platform's statement.
Source: Al Monitor
https://www.al-monitor.com/originals/2022/05/turkish-womens-groups-rally-behind-anti-femicide-platform
---------
URL: https://newageislam.com/islam-women-feminism/women-ministers-australia-muslim/d/127149
New Age Islam Islam Online, Islamic Website, African Muslim News, Arab World News, South Asia News, Indian Muslim News, World Muslim News, Women in Islam, Islamic Feminism, Arab Women, Women In Arab, Islamophobia in America, Muslim Women in West, Islam Women and Feminism