New Age Islam News Bureau
12 Sept 2019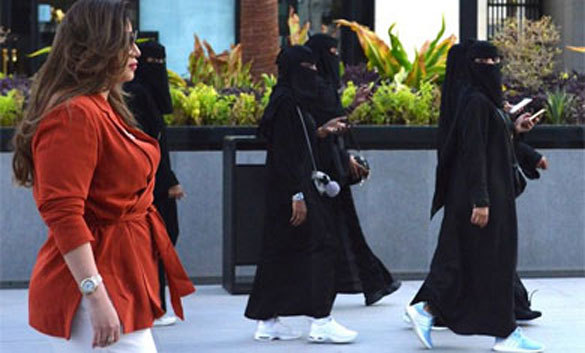 Saudi human resources professional Mashael al-Jaloud, walks in western clothes past women wearing niqab, an Islamic dress-code for women, at a commercial area in the Saudi capital Riyadh. PHOTO: AFP
-----
• Four Arab Women and Their Quest to Scale Mount Everest
• 283% Increase in Number of Working Saudi Women
• Despite Tensions, BCCI Hopeful Of Hosting Pakistan Women Cricket Team
• Arab Woman Loses Dhs194,000 In Attempt To Marry Sales Executive
• Iran Insists On Banning Women From Sports Events Despite Protests
• Yazidi sex slave survivor to face one of her ISIS rapists in German court
• As Peace Talks With the Taliban Collapse, Afghan Women Demand To Be Heard
• Muslim Apprentice Nurse Chases Men on M25 Saying They Threw Eggs At Her And Called Her A 'Terrorist'
• Meet the Women with Guns Who Fought Isil in Syria - And Are Now Battling Its Patriarchy
• Pakistan Sikh Girl 'Conversion' Case: FIR against Muslim Man Quashed
Compiled by New Age Islam News Bureau
URL: https://www.newageislam.com/islam-women-feminism/rebel-saudi-women-shun-obligatory/d/119725
--------
'Rebel' Saudi Women Shun Obligatory Abaya Robe
September 12, 2019
RIYADH: Her high heels clacking on marble tiles, a defiant Saudi woman turned heads and drew gasps as she strutted through a Riyadh mall – without a body-shrouding abaya.
The billowy over-garment, usually all-black, is customary public wear for women in the ultra-conservative Islamic kingdom, where it is widely seen as a symbol of piety.
Last year, de facto ruler Crown Prince Mohammed bin Salman hinted during an interview with CBS that the dress code may be relaxed, saying the robe was not mandatory in Islam.
But despite his sweeping liberalisation drive, the practice continued as no formal edict followed.
Some women subsequently mounted a rare social media protest against the restriction, posting pictures of themselves wearing the figure-concealing garment inside out.
Despite the risk of provoking archconservatives, many others now leave their cloaks open in the front or wear them in bright colours.
Mashael al-Jaloud has taken the cultural rebellion a step further – she stopped wearing the robe.
In a stunning sight, the 33-year-old human resources specialist strolled through a mall in central Riyadh last week wearing nothing but a burnt orange top over baggy trousers.
In the crowd, there were audible gasps and arched eyebrows. Women veiled head-to-toe stared askance. Some mistook her for a celebrity.
"Are you famous?" asked a woman who sidled up to her.
"Are you a model?"
Jaloud laughed and said she was a normal Saudi woman.
I just want to live
Jaloud is one of only a handful of women who have abandoned the abaya in recent months.
But the trend underscores a bold push for social liberties by young Saudis that may outstrip the monarchy's capacity for change.
Manahel al-Otaibi, a 25-year-old activist, has also foregone the garment.
"For four months I have been living in Riyadh without an abaya," said Otaibi, walking along Tahlia street, a restaurant-lined thoroughfare, in casual overalls.
"I just want to live the way I want, freely and without restrictions. No one should force me to wear something I don't want."
The abaya, which has existed for thousands of years but only became obligatory in recent decades, is also mandatory for non-Muslim women in the kingdom.
The dress code was once fanatically enforced by the now-neutered religious police, and uncovered women still face random harassment in a conservative nation where attire is often associated with chastity.
"There are no clear laws, no protection. I might be at risk, might be subjected to assault from religious fanatics because I am without an abaya," Jaloud said.
In July, she posted a video on Twitter revealing that another Riyadh mall had stopped her from entering without an abaya.
She said she had tried unsuccessfully to persuade its guards by playing Prince Mohammed's television interview, in which he said women were only expected to wear "decent, respectful clothing" – not necessarily an abaya.
In response to her post, the mall tweeted that it would not permit entry to "violators of public morals".
A Saudi royal also condemned her on Twitter, calling her a publicity seeker and demanding that she be punished for the "provocative" act.
Jaloud said she recently faced similar hostility at a Riyadh supermarket, where a fully veiled woman threatened to call the police.
Not linked to religion
Jaloud remains defiant, but she is still forced to wear an abaya and headscarf to work, or risk losing her job.
In a regulation that seems to be arbitrarily enforced, the Saudi labour ministry says on its website that working women are expected to be "modest, well-covered" and should not wear anything "transparent".
Prince Mohammed has sought to shake off his country's ultra-conservative image by allowing cinemas, mixed-gender concerts and greater freedoms for women, including the right to drive.
As part of the liberalisation, the kingdom has invited a host of international musicians to perform, such as rapper Nicki Minaj, well known for her skin-baring music videos.
"(Minaj) is going to shake her backside and all her songs are about sex … and then everyone tells me to wear the abaya," a young Saudi woman fumed in a recent online video that went viral.
"What the hell!"
Minaj eventually cancelled her visit, citing the kingdom's poor human rights record.
But the sentiment encapsulates the tussle between a mostly young population clamouring for greater freedoms and hardliners alarmed by the pace of reforms they see as un-Islamic.
But Jaloud argued that the abaya is "not linked to religion".
"If it was, Saudi women wouldn't take them off when they go outside the kingdom," she said.
https://www.freemalaysiatoday.com/category/world/2019/09/12/rebel-saudi-women-shun-obligatory-abaya-robe/
--------
Four Arab Women and Their Quest to Scale Mount Everest
September 12, 2019
by Gautam Viswanathan
'What do you want to do when you grow up?'
If you're an adult reading this, chances are you were asked that question over and over again as a child. If you're a child or a teen, then be warned, you're going to be asked that question for at least a few more years.
Irrespective of who you are, though, the question of pursuing what we want to do as adults has been asked by many, and that includes us asking the question to ourselves. The answer will have changed over the years as ideas have grown and perspectives developed.
Some might want to be a police officer, one who is out there ensuring the world is just a little bit safer for all of us. Others might aspire to be an astronaut, picturing themselves wearing one of those bulky white space suits, complete with Plexiglas helmet and air hose connecting them to a space shuttle as they make delicate repairs on a satellite in outer space.
Many have such idealistic plans . Few however have had the will, desire or opportunity to pursue a career that continuously gives them joy and feeds their passions. Whether you've thought of being an architect or a zookeeper or anything in between, at some point, you have surely thought about making your passion your career.
For Elia Saikaly, following his passions meant combining his love of mountaineering with his appetite for filmmaking. Of mixed Lebanese and Canadian origin, Elia recently finished producing his documentary 'The Dream of Everest', which chronicles the tales of four Arab women and their quest to scale Mount Everest, the world's highest mountain peak.
Straddling the border between Nepal and China, and at a height of 8,848 metres above sea level, climbing the legendary peak is no mean feat. Over 300 people have died on the mountain, since lanky New Zealander Sir Edmund Hillary and brave Nepali Sherpa Tenzing Norgay first conquered its peak on the 29th of May 1953.
The mounting number of deaths of people who attempt to scale Everest and fail has been well documented in media outlets around the world, as many underestimate just how perilous the climb to the top actually is. Elia himself knows of the dangers of Everest far too well, having been on the mountain an amazing eight times.
"I've been on Everest eight times, survived two avalanches, climbed its summit three times and have been forced to turn around twice because of bad weather," said Elia, in an exclusive interview with T Weekly. "Everest was the first mountain I chose to climb. All of my projects run much deeper than climbing mountains, they always have a social cause attached to them with an aim to inspire and make a difference in the world.
"I chase the stories, not the summits," he went on. "I specialise in adventure documentaries and stories of the human spirit. My athletic background and mind set allow me to perform in extreme environments such as Everest and I'm humbled by the fact that my imagery from the top of the world is internationally recognised."
In Oman, the award-winning filmmaker is probably known for his association with Nadhira Al Harthy, who became the first Omani woman to scale the mighty peak. She was one of four Arab women who had plans to climb the mountain, and Elia decided to unite Nadhira with her fellow Arab sisters – Saudi Arabian Mona Shabab and Lebanese Nelly Attar and Joyce Azzam – to mount a joint expedition to climb the peak.
In doing so, while the four of them would be there for each other to provide tremendous, invaluable mental and physical support to each other, Elia also saw the value in the four of them banding together to showcase Arab unity and show people the possibilities of just what could be achieved when they worked together.
"The women each had their own plans to climb Everest," said Elia. "I saw the potential of an incredible story of unification and merely helped bring them together on one team. All too often, Arabs are divisive. We saw this with over 14 Arab climbers this year on the mountain. I'm not interested in a 'first' or world record in an industry where the mountain has already been summited thousands of times. What I'm interested in is the power of unification. One heart. One voice, the messages that are shared by the living examples that these women are".
He explained, "There are traditional expectations for women from the region and those expectations do not take into account the dreams or desires the individual seeks to fulfil their hearts and souls. As Joyce herself said, 'I was not given permission as a girl to dream.' All too often, cultural and societal expectations are imposed on men and women. We are showing what happens when you step outside the lines, while respecting the culture and trying to show others the positive benefits that come along with the achievement of a dream like Everest."
The journey from the Middle East to Mount Everest and back took 50 days. Preparation for it, however, had been going on for a good 14 months before their trip earlier this year. A lack of preparation – as so many have found out – can lead to death on the mountain, where temperatures plummet to as low as -36 degrees Celsius. A number of deaths have been caused due to the intensely bitter cold and merciless winds high up in the Himalayas, or by frostbite, which is caused when skin freezes on exposure to extreme cold.
While numbness and a tingling sensation are initially experienced by those who suffer from frostbite, this can soon worsen into blistering, before causing ulceration and a blue-grey discolouration of the affected areas, normally the fingers and toes. The final stages of frostbite, however, can severely affect tendons, muscles and bones, leading to an amputation of the affected area.
If that isn't enough of a challenge, then there are the continual avalanches, to which people sometimes have just a few seconds to react after their tell-tale rumblings are heard, or shards of ice (some as big as boulders and as jagged as saws) which can fall without warning. The landscape of Everest and the craggy mountains around it are treacherous and unpredictable to both experienced and intrepid climbers.
If the constant sub-zero temperatures and inhospitable conditions aren't enough of a deterrent, then consider the hidden crevasses – deep cracks found in the ice, and often blanketed with deceiving snow, making it difficult to see them until climbers are nearly on top of them – which see mountaineers plunge several feet, often suffering severe fractures, crippling them and imprisoning them within, leaving them to die a sorry death in their icy prison, their bodies often found when it is too late.
"The beautiful thing about mountains is that they beat you down and break you," admitted Elia, who did not hesitate to speak about the dangers the team faced. "Everest doesn't care about your race or gender. We are all human beings. We are all equal. The adversity we face brings us together. We are all humbled by the power of nature up there and are fighting to survive. This tends to break down the ego and unify team members. We saw an evolution, from four women who barely knew one another to sharing a dream of standing on top of the world, while navigating a very difficult situation on a night where several people lost their lives. Each woman is an extraordinary example of a compassionate and conscious human being.
"Our film crew on summit night was comprised of five local ethnic workers who supported my filming efforts by carrying oxygen, equipment and facilitating logistics," explained Elia. "We were part of a larger commercial expedition with Madison Mountaineering. It's fair to say there were over 30 support staff on the mountain and over a dozen working at basecamp. When you factor in all of the effort on the trails arriving to Everest basecamp, dozens upon dozens of people are involved from the local porters, the yak herders, the tea house owners and their staff. The logistical infrastructure in Nepal with organised expeditions is impressive. All too often the locals are forgotten. This would not be possible without them and we share our accomplishment with them."
But while the four women had been preparing for their climbs for more than a year, and their local mountain Sherpa guides have spent a lifetime scaling the mountains and are seasoned climbers, Elia Saikaly had no such fortune when it came to his latest Everest expedition. It is here where his combined mountaineering experience came to his aid.
"To be honest, I did not have any financial support for this project," revealed Elia. "Five days before departure, after 14 months of work trying to raise money in the region for the documentary, I had no financial resources. I was committed to the team of women and believe in this dream and took the risk myself, invested everything I had and used the five days to pack my equipment and fly to Nepal to begin filming. I did not have time to train. I took the risk and was able to make it happen on a physical level because of my previous mountaineering experience and seven previous Everest expeditions. It was not ideal, but sometimes you just have to take a risk when it comes to something you believe in. I'm happy that I did."
While Everest poses a myriad number of challenges – enough to dampen the zeal of the average mountaineer – Elia seems to be cut from a different quality of cloth. He had his own personal challenges to deal with – which included both falling sick and staying up late into the night to edit footage – while the rest of the team and the four women mountaineers slept to gather enough strength to attempt the next day's climb.
Elia told T Weekly: "Every day was a challenge on Everest. The number one rule of mountaineering is 'slow and steady'. I'm always running ahead, falling behind, catching back up and filming as much as I can. The women moved at their own pace and rarely stayed together. This was one of the most difficult parts for me as I had to capture as much as I could within my own physical limitations. I paid the price with my health many times, suffering quietly at night and during the climb as I could not adequately recover.
"I was in bed and very sick for almost 10 days prior to the summit push. I had exhausted myself to the point of contracting a serious lung infection which can be deadly. I recovered in time to capture the final climb. I was also editing in my tent in sub-zero temperatures during the rest days, up every night capturing the stars and the Milky Way while most slept - compromising important sleep and recovery time."
As the team continued their ascent ever upwards, the challenges they faced grew in tandem as the oxygen continued to dwindle in the ever-thinning atmosphere of the upper Himalayas. The group had to be wary of entering the death zone, an area in the mountains where atmospheric oxygen is so sparse that it alone is not enough to sustain the human body's need to respire normally.
It is in this zone that a number of deaths take place, with the path so precarious and the way so treacherous for some that the bodies of many climbers are left there by search and rescue teams who cannot reach them for fear of endangering their own lives. Worries like this can definitely add to the burden of climbers, but Elia's advice to those who are determined to scale the mountain is to not be overwhelmed.
He said: "The only way to tackle a mountain like Everest is one day at a time and one step at a time. I don't worry about things that are beyond my control. We tend to create unnecessary stress in the mind. This will defeat you on a mountain like Everest. I made good decisions with who to hire to support the climb and filming from a logistics standpoint, and this alleviated much of the pressure and worry.
"I needed to focus on the grand task of chasing four women up the world's tallest mountains with my cameras," Elia added. "Anything can happen on Everest as I've experienced in the past having survived two of the deadliest days in mountaineering history, where over 40 people died. I relied on my Sherpa support team and they delivered. I could not do what I do without them."
What climbing Everest is actually like
With Elia having scaled Mount Everest on eight occasions, he is perhaps the best person to speak of what it is actually like to climb the mountain. But reaching the summit is only half the battle. There's still the matter of coming down the mountain, and that is just as hard as getting to the top.
"There is a tremendous amount of infrastructure on Mt. Everest. This is put in place by the commercial logistic teams to ensure maximum safety. The mountain is 'fixed' with safety lines. The real challenge of climbing is removed as much of the work has been done. All you need to do is walk in your crampons, clip into the safety lines and place one foot in front of the other and remain healthy. While this seems simple, it is no easy task due to the lack of oxygen in the atmosphere. The invisible challenge of Everest is the extreme altitude which wreaks havoc on the body and mind.
:Teams, as in our case, hire a logistics company to facilitate the climb. They provide food, tents, power, local Sherpa or other ethnic tribal support to help carry personal equipment, etc. It's a follow the leader scenario in most cases. The view of Everest is less intimidating from the Nepalese side as you cannot see the full prominence of the peak during the walk in to basecamp.
When you view Everest from the Tibetan plateau in China, you stop immediately and wonder whether you've lost your mind. The North Face is very impressive and intimidating. I am always humbled when I see the mountain. Safe passage and descent are all that really matters.
"I felt a great sense of relief reaching the summit, as for me, it was the third time standing up there. Of the 25 minutes we were on the summit, I only had one minute for myself as I was filming and taking pictures of the team. I asked my climbing partner Pasang to photograph me with a picture of my late father who is Lebanese. I did not even have time to feel the emotions as I had other responsibilities.
"It isn't until you descend that the magnitude of the achievement begins to sink in. I was more concerned with seeing everyone descend safely than I was to rejoice in the summit accomplishment. Once you're on top, you're really only halfway there as you still need to descend.
"When all is right in the world, it's a beautiful experience. The views are extraordinary. The local people you climb with bring such joy to the experience. You're in a place human beings are not meant to exist and yet you are living the dream that has captivated the world over. Stack a meaningful project on top of that and nothing could be better."
The physical challenges of Mount Everest
Climbers and mountaineers sometimes begin their preparations years before their expeditions to Mount Everest and other daunting peaks across the world, with good reason. You need to be both physically fit and mentally alert for everything you're about to face on Everest, a fact Elia Saikaly knows only too well.
"From a physical standpoint, Everest throws everything at you. She beats you down. Pushes you to your limit. Tests you mentally, emotionally and physically on every level. Mountaineering is a test of how much you can suffer physically.
"It's both freezing cold and extremely hot at times lower on the mountain. In the Khumbu Icefall, you are playing Russian roulette with your life. Anything can happen, a serac (large block of ice) could crush you at any moment, a ladder could dislodge, and you could fall into a crevasse and die. You're also never quite comfortable and never quite right in your mind due to the low oxygen environment. In my case, I'm experiencing all of this, but I also have to shoot, direct and produce content.
Summit day was incredibly challenging for me. We had 4 women climbing to the summit, 200 climbers making their way to the top, all of us are breathing supplemental oxygen at this point, it's -20c and I'm running around with the cameras trying to document as much as I can. There were deceased climbers on the path at times, which added a layer of complexity I've never experienced.
"We typically move at a snail's pace, above 8000m in the death zone. I had to move much quicker, exposing my fingers to frostbite every time I took a shot. Every shot I took on the summit ridge was excruciating as I could not stop anyone, slow anyone down or ask anyone to wait for me. I had to be faster than the team to capture the shots I did. Each time I decided to take a shot, I calculated the amount of energy it would cost me.
"It often takes a minute to recover from a very short burst of energy because of the low levels of oxygen in the atmosphere. It's not easy! It took weeks to recover from the climb. I embrace the extra layers of complexities that are imposed on me. I program my mind to deal with this and integrate it as the new 'temporary normal' and just get on with doing my job. Whenever it becomes too much, I remind myself of the goal. In our case, it was the story of the four Arab women and their collective missions.
"Some say descending is difficult. I find the route on the south side of Everest quite easy to descend. It's vertical and there are safety lines in place which makes it very manageable. If you've gone beyond your limit and do not have the strength to descend, that's another story. If you've reached that point, then you're putting your own life and others' lives at risk."
What do your family say of your adventures?
With Elia having shown the bravery needed to scale Everest on not one, not two, but eight different occasions, his family at home would surely be concerned about his safety. The next time he travels away from home, for example, might actually be the last time they get to see him.
"In the beginning, my family was petrified, after all, Everest was my first mountain. After 14 years of experience, it's become quite normal for them to see me leave on expeditions. My mother worries quite a bit and my other siblings each have their coping mechanisms which I believe includes a form of denial. They pretend it's not happening. They know I am responsible and have no trouble turning around when the situation is not favourable.
"I've seen the best and worst of Everest in my eight expeditions to the top of the world. Other than the natural disasters, most of what we see and read about in sensational headlines is human error. The risks can be managed with smart decision making, good preparations and responsible planning.
"I have a very good relationship with my own mortality. I learned this from the Buddhist people of Nepal and Tibet. We are all impermanent. I choose to live my life, doing what I love. I'd prefer to live knowing I have no regrets. I follow my heart, my passions and seek fulfilment and happiness. Being in acceptance of the unknown and the risks, knowing you made very good decisions from the onset of how you climb, alleviates any fear.
"If there is fear, then I'm out of my comfort zone and I need to pay very close attention".
https://timesofoman.com/article/1909010/HI/Recreation/Four-Arab-women-and-their-quest-to-scale-Mount-Everest
--------
283% Increase in Number of Working Saudi Women
September 11, 2019
RIYADH — The number of Saudi women working in the public and private sectors has reached 596,700 by the end of the first quarter of 2019 rising by 282.5 percent, business daily Al-Eqtisadiah reported on Wednesday quoting official statistics.
There was an increase of 440,700 working women during the current year going up from 156,000 in 2018.
The number of economic establishments of the government, the private sector and the non-profitable domain has reached 1.005 million by the end of the first quarter of this year with a slight decrease of 0.3 percent over their number last year which was 1.007 million.
The overall number of the workforce of the public and private sectors was 8.67 million of whom about 6.74 million were non-Saudis representing 77.7 percent while the Saudis were 1.93 million representing 22.3 percent.
The operational revenues of the government and private economic establishments have increased by about five percent this year to stand at SR865.1 billion while the operational expenses were SR336.8 billion.
http://saudigazette.com.sa/article/576983
--------
Despite Tensions, BCCI Hopeful Of Hosting Pakistan Women Cricket Team
12th September 2019
By firoz mirza
CHENNAI: Pakistan men's team last visited India for a bilateral series in 2012-13. Political tensions between the two countries meant the arch-rivals never played a bilateral series since then and have been kept out even from the ICC Test Championship. The situation still doesn't look favourable for the Men in Green to visit India. Not to mention the recent developments on the Davis Cup clash front, which is in limbo due to the current political situation between the two countries.
But Pakistan's women team could soon play a three-match ODI series in India under the ICC Women's Championship. If it happens, it will also be the Pakistan women's team first bilateral series against India.
As part of the championship, all eight sides — Australia, England, India, New Zealand, Pakistan, South Africa, Sri Lanka and West Indies — play each other in series of three ODIs on home or away basis. The top four and hosts New Zealand will gain direct qualification for the 2021 Women's World Cup. The remaining three will get a second chance through qualifiers.
The India-Pakistan series is scheduled between July and November. Despite prevailing tensions, BCCI is hopeful. "Communication is going on between the government and the board. As far as I know, the government is not averse to the idea. We're hopeful of a positive response," a source familiar with the development told this newspaper. Repeated attempts to contact the sports ministry went in vain.
Pakistan women have never played a bilateral series against India. They last visited India in March 2016 to participate in the Women's World T20. They last played on ODI in India in 2013 during the Women's 50-over World Cup. Despite BCCI's affirmative, the series remains doubtful with the government yet to approve the tour. In 2016, the India women's team had to forfeit each of the three matches after refusing to play with Pakistan. After considering written submissions from both the sides, ICC's technical committee awarded points to Pakistan.
When queried, ICC's response was: "We would not speculate on any hypothetical situation pertaining to the ICC Women's Championship. As and when a situation should arise, we will consider all facts presented by our members and make a decision accordingly." Sources, though, asserted that points were awarded to Pakistan in 2016 as BCCI was unable to establish "acceptable reasons" for not playing.
It might be different this time, as a call in this regard can only be taken after taking into account the merits of the case if such a situation arises.
India are currently placed third on the points table, with 16 points after 15 matches.
Pakistan are fifth in the standings with 15 points from as many matches. Given the precarious positions both the countries are occupying, either team is unlikely to endanger qualification by skipping the ODI series.
http://www.newindianexpress.com/sport/cricket/2019/sep/12/despite-tensions-bcci-hopeful-of-hosting-pakistan-women-2032446.html
--------
Arab Woman Loses Dhs194,000 In Attempt To Marry Sales Executive
Sep 12, 2019
A woman who was eager to find a husband lost Dhs194,000 in an attempt to win the heart of a sales executive, a jury heard on Wednesday.
The Arab sales executive, 28, was referred to the Dubai Criminal Court over allegations that he employed lies and fraudulent means to swindle Dhs194,243 from the Jordanian female programmer, 29.
He stole and used her credit card. He threatened that he landed on her private photos in her old mobile that he would use to shame her. He vowed to land her father in jail unless she continued giving him money.
The saga started in April 4, 2018 and ended in January this year when her father advised her to seek police help. Records showed he had conned several single women around the UAE and one Brazilian woman.
The jury learnt he was detained in Ajman over another case. The jury adjourned the hearing till Sept.22 for the Dubai Public Prosecution to ask the Ajman Central Jail management to hand him over for questioning.
The woman narrated that she announced on Facebook she was looking for a flat to stay in with her parents. The defendant posed as a woman and asked her number. He later asked to meet her about the flat.
They met inside a restaurant in Al Gharhoud. He learnt from her that she was single. He said he wanted to tell her father something. She gave him his number. He claimed he told her father he wanted to marry her.
He visited her residence in Sharjah and claimed she did not deserve to stay there. He showed her a photo of his alleged bank statement claiming he had Dhs206,000 and would find her a hotel room in Al Barsha.
There, he took her mobile. She bought a new one as she did not want to end her relationship with him. He stole her credit card. He advised her to go to Jordan where the marriage ceremony would take place.
He booked her a ticket using the card. She travelled. He contacted her claiming he was an airline engineer and had to travel to Riyadh. He later claimed he ran over a man in Riyadh and had to pay for his treatment.
He later claimed his passport was confiscated and wanted money for it to be released. He later claimed he was detained at the airport in Jordan and slapped with fines. He claimed he had nothing to eat and dress.
She later sent him money to find a ticket to Dubai in addition to rent fees. He claimed he landed in bounced cheque cases. He cooked up stories and conned her out of more money that she kept borrowing from friends.
https://www.gulftoday.ae/news/2019/09/11/arab-woman-loses-dhs194000-to-husband-to-be
--------
Iran Insists On Banning Women From Sports Events Despite Protests
SEP 11, 2019
TEHERAN (DPA) - Iran intends to stick to banning women from attending sports events in stadiums despite a countrywide protest, a government official said on Wednesday (Sept 11).
"Under the current circumstances, the presence of women in stadiums is not advisable," the news agency Mehr quoted the president's Chief of Staff Mahmoud Vaezi as saying.
In Iran, women have been banned from attending football matches in the stadium for four decades. A woman killed herself in protest earlier this week by setting herself on fire, triggering a wave of protests.
Mr Vaezi said while the government has no objections in principle, the "moral requirements" must be met in advance.
That was not yet the case because male fans continue to make "vulgar insults" in the stadiums.
Such an atmosphere is not suitable for Islamic women, President Hassan Rouhani's chief of staff said.
The woman had who killed herself had wanted to watch a match by her favourite club, Esteghlal Tehran.
She tried to get into the stadium disguised as a man, but was arrested and later sentenced to six months in prison for insulting an official.
In protest against the conviction, the 30-year-old set herself on fire.
Her death led to protests across social networks against the Islamic Republic's police and the judiciary.
The captain of the Iranian national team, Mr Masoud Shojaei, spoke of a "disgrace".
His deputy Ashkan Dejagah urged those responsible to rethink their position.
"When will you finally stop with such things? Enough is enough," the player wrote on Instagram.
https://www.straitstimes.com/world/middle-east/iran-insists-on-banning-women-from-sports-events-despite-protests
--------
Yazidi sex slave survivor to face one of her ISIS rapists in German court
Sep 12, 2019
On a bitter day in the dead of winter, as 2017 was drawing to a close, Shatha Salim Bashar was rescued from hell.
The Yazidi made it home after almost three-and-a-half years as an ISIS sex slave in Iraq and Syria.
"I can't forget the first time I was raped," Shatha, 28, told Fox News. "I was traded 14 times among the jihadists."
She was kidnapped alongside her mother, her sister, and two younger brothers. In the beginning, she pretended to be the mother of her youngest brother, aged just 3 – in the hopes she would be spared violation if ISIS militants believed she was not a virgin.
But Shatha was violated by every one of her 14 enslavers. Moreover, the tiny young woman was used as a human shield by ISIS, thrust onto the frontlines in Syria and forced to watch her best Yazidi friend die on the battlefield. Her reunification months later should have been one of jubilation – but her friend's family also arrived with smiles, thinking the women were rescued together. Shatha was the one to break the shattering news.
In spite of all she has endured since ISIS suddenly stormed her village of Kocho, in the foothills of Iraq's Sinjar Mountain on August 15, 2014, Shatha's scars – inside and out – have become her stories.
Next month, Shatha will travel to Germany and face one of her alleged rapists in the court of law as he stands trial for ISIS membership in his European home of origin, a representative for the Kurdish President's Office told Fox News. She intends to testify against him.
It has been more than five years since ISIS ravaged the villages of Iraq's Sinjar Mountain – slaughtering thousands of Yazidi boys and men and abducting thousands of girls and women into their ranks of sex slavery.
And Shatha wants to be a voice for the voiceless. She wants to remind the world not to forget their fractured community who are left languishing with little in the way of help.
According to statistics issued to Fox News from the Office of Kidnapped Affairs – established in 2014 by the now President of the semi-autonomous Kurdistan Regional Government, Nechirvan Barzani, to rescue kidnapped Yazidis – 550,000 Yazidis remain in war-ravaged Iraq. Some 360,000 of them are still in displacement.
At least 1,293 Yazidis were killed on August 3 and over the following few days at the beginning of the ISIS invasion. A total of 6,417 Yazidi were kidnapped at that time – 3,548 females and 2,869 males. Some 3509 Yazidis are documented as having survived the ordeal: 1192 women, 337 men, 1033 girls, and 947 boys. Chillingly, 2,908 Yazidis are deemed still missing – 1323 females and 1585 males.
The number of orphans produced by the invasion stands at 2,745 and the number of Yazidis who have emigrated out of Iraq, their ancestral homeland, is documented to be more than 100,000.
Moreover, 80 mass graves have been discovered in the Sinjar region, and the Islamic terrorist outfit blitzed 68 of their religious temples throughout the four-year war.
While the Office of Kidnapped Affairs rescued Shatha, along with her mother and sister, her brothers – who were just 8 and 3, remain unaccounted for. The last she saw of the small boys, they were carted off to ISIS training camps.
"We need help to rescue the rest of the people that are still missing," Shatha said.
The Office of Kidnapped Affairs made its most recent rescue last week – two Yazidi girls were brought back from the rebel-stronghold of Idlib, Syria. Since the "Caliphate" formally crumbled earlier this year, the Office has spread its resources into locating the lost girls and boys across Syria and Turkey. Many of them are believed to be disguised as Muslim wives; still entangled in their terrorist purgatory.
Shatha's brothers are two of thousands of Yazidi boys yanked into the ISIS lair of forced conversion, indoctrination, and violence.
"Yazidi boys who are forced into Cubs of the Caliphate training often are the amongst the most courageous fighters and volunteer for suicide missions, believing they will go to the 'The Paradise,'" said Anne Speckhard, director of the Study of Violent Extremism (ICSVE) and Adjunct Associate Professor of Psychiatry at Georgetown University. "These boys were separated from their older male relatives by ISIS who shot them dead and from their mothers and sisters. Of course, they would opt for any escape offered to them – a palatable escape from overwhelming psychic pain and unbearable traumatic grief."
Subsequently, Hussein al-Qaedi, the Yazidi Director of the Office for Kidnapped Affairs, is calling for permission from the central government to conduct DNA testing inside the detainment facilities where foreign ISIS fighters and their families are held. "We believe Yazidis are among them. If countries take back foreign fighters, they might take Yazidi kids with them," he stressed. "And then they will be disappeared forever."
The tight-knit Yazidi faith, which prohibits interfaith marriage and conversion into the religion, is also grappling with integrating babies conceived-out-of-rape to ISIS fathers. Community leaders have called for the infants to be embraced, but the notion is a strange and unsettling one for the ethnicity who have long lived reserved lives dotted across quiet farmlands.
It's unclear exactly how many babies have been born from the tragedy, but official estimates hover between 100-200. While Yazidi's religious authorities have announced that they will subvert their ancient traditions and accept the babies as Yazidis, the matter is further complicated by Baghdad's law that children must take the paternal religion.
It's a decree many hope will be formally changed.
As it stands now, most Yazidis live in tattered tents in displacement camps, and in ravished and abandoned dwellings across the Nineveh Plains. Funds are fast falling, and the despair is searing.
"Infrastructure is disintegrating. Public washrooms need to be renovated. There is an ongoing lack of electricity and water in the camp and in local areas. Some Yazidis are still struggling for food," Lisa Miara, Founder of Springs of Hope Foundation Inc., lamented. "Some women suffer from a kind of Stockholm Syndrome and (want to) return to their captors. There are still women being held as ISIS wives."
Speckhard also noted that the trauma for some Yazidi women runs so deep that they are known to "re-enact their rape," which she referred to as "pseudo-seizures."
"The young girl woke up out of it tearful and disorientated," Speckhard said of one case. "Her sisters say it is the reason they avoid talking about ISIS and their rape experiences, to avoid triggering one of these seizures and that it happens multiple times a day to their sister."
Shatha and her family are among the tens of thousands left languishing in a displacement camp on the outskirts of the Kurdish city of Duhok. They have little in the way of help when it comes to gluing together what is left of their lives, but she said her camp – called Rwanga – at least has prefabricated caravans.
Many other camps are stuffed with tethered tents from 2014, and she wants to see that small but pivotal improvement.
"Yazidis need not only boxes of food; we need a guarantee that we can survive. We can't spend our whole lives in camps. We want to go home. But we cannot go home without security," Shatha underscored. "There is still a lot of armed conflict and illegal groups there. If we can feel safe, we can start rebuilding our areas."
Safety, for now, feels something of an illusion. The black flags of ISIS still wave in the shadows.
"Insurgent-style attacks by ISIS still happen regularly, with some of those attacks targeted specifically at Yazidis. The Yazidi community knows these realities," said Ian Bradbury, CEO of 1st NAEF, a non-profit focused on humanitarian aid and assisting victims of all gender-based violence. "After 5 years, there is little hope of a return to any semblance of their former lives living off the mountain and the valley lands around Sinjar."
https://www.foxnews.com/world/yazidi-sex-slave-survivor-isis-rapist-germany
--------
As Peace Talks With the Taliban Collapse, Afghan Women Demand To Be Heard
September 11, 2019
KABUL, Afghanistan — On the 16th day that Parwaneh was locked in her room, a group of armed men visited her, banged on the door, and demanded she followed their orders. It was 2016, and Parwaneh had been taken hostage after she refused to marry the man to whom her father had promised her — hardly surprising given he was much older than her and already had one wife. Worse, he was a member of the Taliban, the Islamist group that has long made Afghanistan one of the worst places in the world to be a woman.
If Parwaneh refused to marry him — as she had done each day she had been held captive at her uncle's home in northern Afghanistan — she would be taken by force. She was warned that her father, who had already been paid for the promised engagement, would be killed.
Nearly three years later, Parwaneh, 21, is now in hiding at a women's shelter in the Afghan capital of Kabul. Wearing a black headscarf loosely over her long brown hair, she told the story of her forced engagement as coolly and evenly as if she were speaking to friends at a dinner party, dropping in the occasional bitter joke. It's a story that took her from the southern coast of Iran, where her family lived as refugees, to a Taliban-dominated town in northeastern Afghanistan, where her once-loving father tried to sell her to a man she had never met.
But it's also a story of triumph and possibility. A brilliant student who spent her childhood immersed in Persian novels, Parwaneh escaped her captivity with the help of a borrowed cellphone and a lie told via text to the man she was being forced to wed. Her father once burned her schoolbooks, but she's now studying to become a computer programmer. Someday she hopes to visit Paris, go to grad school in the United States, and run her own tech company.
Saving women like Parwaneh — young, educated, and with a bright future ahead of them — has always been at the heart of the US rationale for invading and then remaining in Afghanistan.
Or at least that's the story the White House has often liked to tell.
The US first carried out airstrikes as part of Operation Enduring Freedom in October 2001 in response to 9/11. The objective was bombing the training bases and strongholds of al-Qaeda and the Taliban across Afghanistan, and capturing al-Qaeda leader Osama bin Laden dead or alive. But in November that year, the White House assigned first lady Laura Bush to deliver its weekly radio address so she could make an emotive appeal to the international community on behalf of Afghan women.
"Only the terrorists and the Taliban forbid education to women. Only the terrorists and the Taliban threaten to pull out women's fingernails for wearing nail polish. The plight of women and children in Afghanistan is a matter of deliberate human cruelty, carried out by those who seek to intimidate and control," she said. Immediately after the speech ended, the US State Department released an 11-page report on "the Taliban's War Against Women."
The narrative of rescuing Muslim women, oppressed not just by patriarchy but by terrorists, found universal appeal in the US — including in Hollywood, where celebrities and journalists mingled at benefit parties, pledging their support.
Nearly 18 bloody, turbulent years later, the future of Afghanistan lies in the balance this week after President Donald Trump tweeted that he had secretly organized and then canceled peace talks with the Taliban and, separately, the Afghan government at Camp David. According to his tweets, Trump called off the meeting after a series of attacks orchestrated by the Taliban killed at least 100 people, including a US soldier.
Peace talks between the US and the Taliban have been going for the better part of a year, and this latest development only follows the pattern of Trump's reckless approach to diplomacy as the US tries to pull out of the seemingly never-ending war in Afghanistan. He once called the conflict a "waste of resources," then changed his mind after he was shown a picture of Afghan women in miniskirts in the 1970s, before later suggesting that he might decide to "wipe Afghanistan off the face of this earth."
The US has sunk more than $132 billion on reconstruction in Afghanistan, on top of an estimated $800 billion on a war that has cost thousands of American lives. Nearly 40,000 Afghan civilians have been killed, and thousands more injured. And the violence may yet escalate: A suicide bombing at a wedding in Kabul recently confirmed fears about the growing threat of fighters for the Islamic State in Afghanistan. Whether a peace deal is signed or not, the possibility of a civil war looms large, with the Taliban, the Islamic State and the Afghan government forces all vying for power.
But there may be no bigger admission of defeat for the US than the results of its other war: the one waged for women's rights. Amid the focus on the return of the Taliban and the deaths of US soldiers, barely a word has been spoken about the future of Afghan women, who have been almost entirely excluded from the peace talks.
The US is the primary outside power capable of pressuring the Taliban and the Afghan government to give women a say over their futures. But instead, the subject is now being treated as an internal dispute, something that the women of Afghanistan must take up with their own leadership at another set of talks, to take place if the US does end up signing a deal with the Taliban.
"Nobody can change Afghanistan in 20 years to make it Switzerland," said Sima Samar, who was until recently the head of the Afghan Independent Human Rights Commission. "We want a country where people can live without fear — if the US doesn't achieve that, then all this time has been wasted."
Over the years, narratives about Afghan women have focused mostly on their helplessness and victimhood, and now their fear that the Taliban are set to return to power. But feminism was not exported to Afghanistan by the US — Afghan women across the country and from the diaspora have long been cajoling, negotiating, and even working with the Taliban behind the scenes to push for their rights and autonomy. Afghan women now want the US to fulfill what it set out to accomplish, to be an ally and to amplify their voices, instead of playing to the trope of a weary savior.
"We're tired of the narratives of victimhood assigned to us as Afghan women and we will no longer accept others speaking for us. Afghan women resisted the Taliban long before the US got involved in Afghanistan, and continue to fight for our rights and spaces every day," said the Afghan writer and human rights campaigner Sahar Halaimzai.
Parwaneh grew up mostly in Bandar Abbas, an Iranian seaside city that lies on the narrow Strait of Hormuz near the Persian Gulf. She did well in school; after she was finished studying, she would often read late into the night. She inhaled anything she could get her hands on at the market — often Reader's Digest–style magazines with stories about ordinary lives.
Parwaneh's parents supported and encouraged her and her younger sister in their studies. The family had a bookcase made out of dark wood, and she filled it slowly — the bottom shelf with old magazines, another shelf with textbooks, and at the top, her favorite novels.
Parwaneh and her family had come to Iran as refugees in the '90s, fleeing the Taliban-controlled Afghanistan. When she was 17, in her last year of high school, her father was forced to return to Afghanistan by Iranian authorities. He sent for his wife and children to join him. Parwaneh was nervous — she had spent her whole life in Iran and it was home to her. But she also knew that, as a refugee, it would have been hard for her to gain access to a university in Iran, and her father promised her she could continue her education at a university in Kabul.
Parwaneh and her family packed up their most important possessions and prepared to fly to Kabul. Her mother told her that her book collection would be too heavy to take, but she and her younger sister picked up as many as they could and shoved them into the backpacks they took on the plane.
When they arrived in Kabul, the family stayed for just one night. The next day their father took them to a place Parwaneh had never seen before — his home village in Baghlan province, in the country's northeast, deep in Taliban territory.
Life didn't change overnight for Parwaneh and her sister. They kept their cellphones and computers and occasionally wore jeans with their headscarves.
But for many in the village, including members of their extended family, this was scandalous. It began to affect how Parwaneh's father treated her and her sister. "It wasn't like we were naked or without hijab, but still we wouldn't dress as conservatively as he would tell us," she said. "Our uncles would really put pressure on our father about the way we used to dress, like, 'Why they are wearing jeans or pants?'"
He forced Parwaneh and her sister to live in a separate section of their family's house and would often lock them in their rooms. If they went out into the courtyard, he would scream that they were trying to run away. Often he wouldn't let them come out for days at a time. He told their brother, then 6 years old, not to listen to his sisters because they were women.
"They would give us food like [they were] giving food to an animal — that's how they treated us," Parwaneh said.
Parwaneh felt herself begin to change too. Nobody told her that she had to wear a burka — the garment for women favored by the Taliban that covers a woman's entire head and body, with only a layer of mesh over her face. But one day she put one on. The constant sneers and shaming from her uncles and other relatives had become too much to bear.
Parwaneh's father had never bothered her about her cellphone and computer when they had lived in Iran, but now he'd taken the electronics away. It made this transformation all the more jarring.
When winter came in 2016, he began taking the books from Parwaneh and her sister too — the ones they had painstakingly carried by hand from Iran. He burned them one by one in the fireplace in the family's home. As she remembered that winter, Parwaneh began to cry.
There have been few periods in history crueler to women than the rule of the Taliban, which governed Afghanistan from 1996 to 2001. Women and girls were little more than chattel, and the list of restrictions on their movement was endless. Girls were banned from school and forced to wear a burka outside the home lest their appearances "excite men." Women could not work at all, or even leave the house without a male chaperone. Any violation of this code by men or women was punishable with public flogging and executions.
Life for many women like Parwaneh has undeniably improved since the Taliban was in power. Some women can visit doctors, go to schools and offices again, run for office, and play sports. But human rights defenders are still under attack from armed groups and the Afghan government, women are still jailed for failing virginity tests, sexual harassment is rampant, and the maternal mortality rate remains high.
In the past few years, the Taliban has sought to remake its image as a more moderate force. Maulvi Qalamuddin, a cleric who once served as the chief of the feared religious police under the Taliban, and now heads his own political party, is typical of this apparent change of face.
Qalamuddin is perhaps best known for his ministry's decree banning television and videos; religious police officers hung confiscated reels of film from street signs at the time. But sitting in his office in Kabul in August he almost sounded reasonable, by the standards of the previous Taliban rhetoric. "It was wartime then," he said of the years the Taliban held power. "We couldn't let women go out alone and risk something happening to them. When we have a stable government, it will be different."
Asked how things would be different if the Taliban were to return to power, he said he believed women could hold all positions except head of state — but that workplaces would have to be segregated. How exactly a woman judge or politician could do her job without interacting with men was left unclear.
Qalamuddin's views largely echo the Taliban delegates at the peace talks but the group's commanders on the ground could still rebel against even these limited steps towards moderation. The Taliban leadership still believes the country should be governed according to Islamic law, and that schools and offices should be gender-segregated. The views of men like Qalamuddin leave room for interpretation — so much room that it's left women's rights activists concerned.
"Which kind of Islamic system do they mean? Would it be Iran-style or Turkey-style?" said Sima Samar. "We are not the only Muslim country in the world."
There has been scant evidence of this apparent moderation in the official negotiations between the US and the Taliban. In 2018, when the US ramped up peace talks with the Taliban in Doha, women were again left trying to make the case for themselves from the outside.
In February 2019, two women were present in Moscow when Taliban officials met prominent Afghan politicians from the opposition — including former president Hamid Karzai — but these were unofficial talks. At the conclusion of the meeting, Sher Mohammad Abbas Stanikzai, the Taliban's political leader, suggested that women would indeed be better off than in the '90s. The Taliban, he said, was no longer opposed to women-run businesses, education, work, the choosing of one's husband, security, health, and their right to a good life.
But Stanikzai also held women — specifically those who cared about women's rights — responsible for "immorality, indecency, and circulation of non-Islamic cultures." By this he meant such apparent transgressions as watching un-Islamic TV shows, and participating in any kind of activism for women's liberation, which he saw as a form of corruption.
The Afghan government's absence from the Moscow talks meant even these limited commitments were at best only a vision for post-conflict Afghanistan, not a binding agreement.
Anticipating that things were unlikely to improve as the talks progressed, the Afghan Women's Network, an NGO that has fought for women's rights since 1996, released a six-point agenda for the peace process. Its message was concise: Women's rights are not the sole concern of women; they are indicative of progress, sustainability, and peace for an entire society. "You do not have to be a woman to defend women's rights! We are your partners in the development of the country," the statement read.
On paper, the US was on board with the message from AWN. In 2017, Trump signed the Women, Peace, and Security Act, which made the US the first country in the world to have comprehensive legislation acknowledging "the diverse roles women play as agents of change in preventing and resolving conflict, countering terrorism and violent extremism, and building post-conflict peace and stability." But that law has meant very little on the ground in Afghanistan, and women were still largely absent from the negotiating table.
The hypocrisy hadn't gone unnoticed in some corners of Washington, but it fell to a woman to point it out. On February 5, at a Senate Armed Services Committee, Sen. Jeanne Shaheen, a New Hampshire Democrat, brought up the issue of Afghan women with Joseph Votel, commander of the US Central Command (CENTCOM). Shaheen quietly and politely demanded to know whether women were finally going to take part in the peace process. Votel prevaricated and told her it was "a question best posed" to Zalmay Khalilzad, the US special envoy to the peace talks and former ambassador to Afghanistan.
In war and diplomacy, timing is everything. Days after the Moscow talks, on February 8, Khalilzad addressed the US Institute of Peace and echoed the Taliban's claims that it was repentant about its treatment of women in the past. "They [the Taliban] said they made a mistake in how they dealt with women when they ruled the country," he said, and insisted the US would speak up for women's rights.
On February 25, Khalilzad arrived in Doha for the peace talks between the US and the Taliban. "Now the work begins in earnest," he tweeted.
But just two days later, Khalilzad's wife set off a firestorm among Afghan feminists and activists when she wrote an article for the National Interest, a US foreign policy magazine, entitled, "Afghan Women Are in Charge of Their Own Fate."
"It's time for Afghan feminists to put their shoulders to the wheel and start doing what women everywhere have had to do when they wanted their rights: fight for them," wrote Cheryl Benard, a researcher and author. "As women in Western civilization, we didn't get our rights because people from a different culture far away felt sorry for us and sent their soldiers and tons of their money to lift us out of oppression."
"If I were an Afghan feminist," Benard wrote, "I'd march up to the table on my own."
Afghan feminists were — understandably — furious. On Twitter, Benard's take was called out for being ill-informed, Orientalist, reductive, and "total trash."
When asked about the criticism of her article, Benard said that there were "millions if not billions of women" around the world who would give anything to have benefitted from the "money, time, soldiers, training seminars," and other programs that have been "lavished" on Afghan women. Benard said she blamed "Afghan elite women" in large part for the suffering of rural women.
And Benard's op-ed didn't appear in a vacuum — it was a sign of things to come.
In March, a delegation of women from the Afghan Women's Network and other advocacy groups traveled to Washington to meet with members of Congress. The response from Congress members was largely sympathetic — but it was unclear to the women what influence the people they met had with the decision makers in the White House.
In April, Shaheen was asking questions again, this time challenging the US secretary of state, Mike Pompeo, at another Senate hearing. Shaheen wanted to know how the US would ensure Afghan women were able to participate in the peace talks.
Pompeo was evasive. He nodded gravely, but said there were multiple issues the US had to deal with first. Finally, in an echo of Benard's op-ed, he said: "I hope the [Afghan] women will make themselves heard to their leadership."
After nearly two decades of war, ostensibly with the aim of liberating Afghan women, amid talk that the US troops were about to withdraw, those very women were being told to buck up and fight their former oppressors themselves.
What angers so many Afghan women about the way they have been treated at the peace talks is that they have been trying for years to confront the Taliban and make themselves heard — from within and outside the country.
Khatol Momand is one such woman.
Momand left Afghanistan as a 9-year-old with her family in the '90s. The Taliban had just come to power in Kabul, and Momand recalled seeing a woman being publicly whipped by Taliban officials.
"Fear became a part of my DNA," she said.
After they left Afghanistan, Momand and her family spent several years in neighboring Pakistan. The Taliban had banned cinema and music, but away from home Momand grew passionate about Bollywood and learned to speak fluent Hindi.
Eventually, her mother's French teacher put in a request with a refugee organization and helped the family move to Europe.
Momand, a single mother, now lives in Norway, where she teaches and writes for a living. Her work, she said, was how a group of Afghan journalists found her in April and invited her to be part of the highly anticipated round of intra-Afghan peace talks in Doha.
"I knew immediately that I had to go. It was a matter of facing my fear, and for speaking on behalf of Afghan women," she said.
For the first time since the beginning of the US-Taliban peace process, the Taliban had finally agreed to meet with members of Afghanistan's government and civil society, even if only in an unofficial capacity. Momand was told that she only had a week to prepare before she flew to Qatar for the talks, which were scheduled to begin on April 19.
But when she reached Doha, Momand learned that the talks had been indefinitely postponed after the Taliban objected to the size and composition of the 200-strong delegation drawn up by the Afghan government. The Taliban instead drew up its own list of people it was willing to meet: government officials were no longer welcome.
On the 19th, the Taliban sent a three-member envoy to Momand's hotel and requested an audience with select members of the Afghan diaspora, including professors and businessmen. Momand was one of just two women, the other an Afghan who worked as a teacher in the UK.
This caused some tension among Afghan women not present. "There were other Afghan women who felt disappointed at not being included. They took their anger out on me online," Momand said. "I felt bad for them. Many of them were activists with the Afghan Women's Network, but the Taliban was never going to meet 200 people."
The next day, Momand said, the Taliban sent transportation to pick up the delegates it had invited and brought them to the Ezdan Hotel in Doha.
"They were all waiting for us in the lobby," Momand said. "I was wearing a lot of makeup and no hijab. I just wore casual clothes with a dupatta [scarf] loosely draped on my head. I wanted to see their reaction on seeing a woman like me since they force women to cover up all the time but were claiming to have changed their ways."
As the delegation sat down for its first conversation, Momand raised her hand to speak. "I said, 'Sir, I need to speak first because there's a large group of men here, and I'm sure I won't get enough time to speak.' The Taliban leader Stanikzai said 'Yes, let the women speak first. The men can have a discussion later.'"
As Momand spoke, she said, one member of the Taliban delegation grew visibly upset. It was a face she recognized from photographs in the news, every time there was a blast in Afghanistan — Zabiullah Mujahid, one of the few official spokespeople for the Taliban.
"I was talking about closing down madrassas [religious schools] that functioned as training camps so children could no longer be groomed as terrorists," Momand said. "He looked at me and I knew that if I were not part of this delegation, I would be killed right then."
"I was scared then, you know," she added after a pause. "But I also knew it was now or never."
The meeting lasted six hours, during which time Stanikzai was a surprisingly gracious host, Momand said. "It was funny, the way he ran around to make sure we were all fed. I remember saying, 'You are so good to us here. Why does it have to be different otherwise?' But he just said, 'Please eat. Let's discuss this later.'"
The meeting ended with the Taliban assuring the delegates that they would meet often to discuss intra-Afghan issues, but Momand said she doesn't expect to be invited again, and that her inclusion at the unofficial meeting in Doha had been a token gesture at best.
"I am willing to meet them again and again and repeat the things I said, because what they are doing is wrong. But neither the Taliban nor the Afghan government really cares about women's rights. They will do anything to come back to power," said Momand.
"They are using women as a tool to achieve their goals," she said.
The trouble with a one-size-fits-all, Lean In brand of Western feminism, which asks Afghan women to "walk up to the table" and "demand their rights" is that it ignores the story of Afghanistan itself.
Afghan history is replete with tales of women negotiators, peacemakers, and go-betweens. Even the founding of modern Afghanistan in 1747, which is credited to Ahmad Shah Durrani also relied on a woman; the poet and warrior Nāzo Anā had helped unite warring tribes to create the nascent Afghan state.
Palwasha Kakar, an Afghan American who works as senior program officer for religion and inclusive societies at the US Institute of Peace has spent the past decade researching why women make the most effective negotiators in conflict zones.
At a Senate hearing in Washington, Kakar told the story of a woman she'd interviewed in southern Afghanistan, whom she called Bibi Halima. An elderly religious scholar, Halima was known for negotiating with the Taliban to resolve family disputes. One day she was approached by a family whose daughter had eloped with her lover, a crime punishable by death under the Taliban. The family told Halima that the couple had been taken by Taliban officials and were expected to be killed soon.
Halima walked to a Taliban checkpoint to intervene on behalf of the family. At the camp, Halima quoted Quranic verses, invoking concepts of forgiveness and family. She pleaded until Taliban leaders allowed her to spend the night with the kidnapped girl, and the next morning, they let her take the girl home to her family.
"It's interesting because these women go up to Taliban soldiers, particularly the older women, and they tell them that, 'You're like my son. You shouldn't be doing these things, as a good Muslim boy,'" said Kakar. But while women like Halima might understand the language of their oppressors best, they also know it's in their interest to draw as little attention as possible to their negotiations with the Taliban, said Kakar.
Women were also often able to find room to talk with the Taliban by navigating the Pashtunwali code — or Pashtun way of life — common in parts of Afghanistan. While the present-day rank and file of the Taliban may not be aware of this specific tradition, Kakar said, it still had echoes in their dealings with women.
These women, Kakar argued, deserve a seat at the table alongside the politicians, their advisers, and military negotiators.
This July, a handful of Afghan politicians and civil society representatives, including six women, traveled from Kabul to Doha for a conference with Taliban officials. Once again, the meeting was set to take place as part of the so-called intra-Afghan talks — separate from the ones the US was carrying out with the Taliban. But as before, the Taliban refused to negotiate directly with members of the Afghan government and only agreed to the meetings if the officials went in a "personal capacity."
This time, the women didn't even know who else was going to be part of their group. "We didn't get to coordinate before because nobody told us who was going — we saw each other at the airport," said Mary Akrami, director of the Afghan Women Skills Development Center.
Luckily, the flight was delayed for an hour. Akrami and the other women's rights advocates in the group spent time convincing the other delegates that women's rights had to be raised and were not just a niche issue.
Facing off with the Taliban was no small thing. But in Akrami's telling, the atmosphere was cordial. There were no arguments; rather, everyone had five to seven minutes each to say their piece. "They behaved so nicely. They took pictures with us. I was teasing them. I asked about their families," Akrami said.
Kakar, who monitored the talks closely from Washington, said this intra-Afghan meeting was evidence of how women could find room to negotiate, even when the Taliban was not particularly forthcoming.
"The Taliban were amazed at one particular Islamic scholar, a woman named Zainab Muwahida," Kakar said. "They disagreed with the women on several points, but still wanted to engage in long discussions of the scripture with them, including during breaks."
Nonetheless, the Afghan women Kakar interviewed after the talks told her they were disappointed because Stanikzai had told a media delegation that the meeting had merely been a summary of "their hopes" and was not binding.
But Kakar learned that a week after the talks, the Taliban sent shabnameh — or night letters — across northern Afghanistan asking soldiers to de-escalate violence and refrain from attacking women and children.
"The question remains: Was this just for show? Was this just to win them over?" she said.
Central to the legacy of the US war in Afghanistan is the billions of dollars it has poured into building schools and hospitals, alongside core government functions, from policing to courts. These programs — which have often benefited from US aid — have frequently been criticized for their inefficiency, but they are the core of what the US will leave behind when it eventually leaves Afghanistan.
The Trump administration has made clear that foreign aid is not a priority, and while the US has not yet withdrawn a significant amount of aid to Afghanistan, many organizations are already facing a tightening of funds as donors flock to other conflict zones. And they have said they were told by State Department officials that the US is expected to significantly curtail funding by 2020.
If that happens, they say, it is certain to have a disproportionate impact on women.
"You'd be hard-pressed to find a USAID health program that doesn't help women in some way. Just about all USAID programs have a gender component," said an official with the Special Inspector General for Afghanistan Reconstruction, a US government accountability organization that examines USAID programs.
The US has obligated $1 billion on programs specifically aimed at women in Afghanistan throughout the conflict, and another billion on programs that had a gender component, according to the most recent data from SIGAR. The money sometimes flows directly from the US government to the Afghan government, sometimes through NGOs or contractors, and sometimes through multinational bodies like the World Bank.
Two years ago, SIGAR took a team to Afghanistan to speak to women across the country who had been beneficiaries of US aid programs. The results were mixed — some women said the support significantly helped them, while others said the results hadn't been so obvious.
"In general, they thought what was more important than any specific program was the US presence in Afghanistan and the continual pressure the US and international community [has] exerted on the government to keep women's issues a priority," said a SIGAR official with knowledge of the research behind the project. "That's what made the difference more than any specific program."
The State Department did not respond to a request for comment for this article.
Najia Nasim, who runs Afghanistan's largest chain of domestic violence shelters, and whose organization depends heavily on foreign aid, said she was struggling to keep her employees' spirits up because they know the organization could be shut down.
"I'm not optimistic," she said. "It's very uncertain. But I don't want to lose hope, because then my staff will lose hope."
Maintaining aid to women and children should be a top priority, she said. "We have cases like child marriages, marriages of 9- and 10-year-old girls. Honor killings, rape cases, domestic violence," she said, counting them off on her fingers.
Parwaneh was stuck at home with her increasingly conservative father and surrounded by relatives who had no interest in her reading, watching TV, or any of the other million things a young woman like her might want to do. Life became unbearable. She had an inkling that her father would push her into a marriage she wasn't ready for. She felt like the walls were closing in.
Parwaneh decided to escape. She ran away with her sister to a local women's shelter, which a shelter official said is supported by US aid money.
They were safe there for a while, but their father begged them to return to their family, saying he would rent Parwaneh an apartment and that she could continue her education after all. She decided to believe him.
Parwaneh moved in with a relative and went back to high school. Things seemed fine for a while. But one day, her uncle approached her and said her father had promised her to a much older man who was in search of a second wife.
Parwaneh refused immediately. "I know my rights," she thought. In retrospect, she credits the fact that she had gone to school throughout her childhood for that realization.
"It would make them more angry because I knew my rights. And they would be like, 'Why does she know all this? Why can't we make her do what we want her to like we make other girls do as we say?'" Parwaneh said.
In response, her uncle locked her in a room at his house.
"For 16 days I was locked in that room," she said. "They wouldn't open the door for me because they were scared I would run away."
Every day, the brothers of the man to whom she had been promised would visit and try to persuade her to agree to the marriage. When she refused, she said, her uncle would beat her in front of them. She could barely eat, and the white lace collar of her tunic turned gray from her washing it every day. She had brought only the set of clothes she was wearing.
On the last day, the man's brothers returned, and this time they were armed. They had a car with them and were prepared to take Parwaneh away at gunpoint. Her uncle begged her one last time to agree, saying they would kill her father if she didn't go with them. As bitter as she felt toward her father, she knew she couldn't live with herself if he were killed.
"I was afraid that they would kill my father. And if they did, I'd never be able to forgive myself," she said.
She finally gave in.
But Parwaneh had no intention of actually getting married. She bided her time until she could take a trip home, where she borrowed her mother's cellphone. She used it to text the man she was supposed to marry to ask for permission to go shopping with her sister for an engagement dress. She knew if she baited him — saying that they were engaged, that it was his responsibility to allow her to go out, rather than her father's — he might acquiesce.
She was right. He granted her permission to see her sister.
"When my sister saw me, she didn't recognize me because I had lost so much weight," Parwaneh said. "I was so skinny that my clothes were coming off me."
Alone together at last, the two girls later escaped again to the women's shelter.
This time, the women at the shelter helped her and her sister get to Kabul. They now live in another women's refuge in the capital, part of the same network dedicated to protecting women.
The existence of the shelter has given Parwaneh the ability to escape her family and do what she first came to Kabul to do — study, and one day to travel outside Afghanistan.
"If I had run away from home and this shelter hadn't been here, I would have been in big trouble," Parwaneh said. "Where would I go? Look at me — I'm going to university. If this hadn't been here for me, I don't know where I would go and what I would have done.
"I am scared that I will lose this home and education and life that I have." ●
https://www.buzzfeednews.com/article/meghara/afghanistan-women-peace-talks
--------
Muslim Apprentice Nurse Chases Men on M25 Saying They Threw Eggs At Her And Called Her A 'Terrorist'
By Easton Contributor
September 11, 2019
'They picked the wrong Muslim girl!' Apprentice nurse chases men onto M25 saying they threw eggs at her and called her a 'terrorist'
A Muslim apprentice nurse chased two men on to the M25 after she said they called her and her sister 'terrorists'.
The girl filmed the confrontation and posted it on Twitter, claiming that the two men threw eggs on her car before hurling racist abuse towards her and her sister.
Known as Mskahin, the girl documented the incident on social media.
She said: 'Just been a victim of Islamphobia and eggs were thrown on my car when exited Feltham Cineworld.
'But they picked the wrong Muslim girl cos I chased them unto M25 whilst my sister was talking to the police and taking videos of their faces. See you in court.'
Mskahin decided to mute the videos because they 'swearing'.
The video has already garnered 1.13million views and has attracted the attention of TellMAMA – a project which records anti-Muslim incidents in the UK.
Mskahin added: 'They called us 'Muslim terrorists' and laughed it off.
'Little they knew I am experienced car driver and didn't stop until I got clear picture evidence. Never in my life have I received racist abuse nor will I tolerate it.
'I am a proud Muslim and hijabi.'
A Met Police spokesman said: 'A hate crime allegation was reported to police on the evening of Saturday, 26 May.
'The victim reported being subjected to Islamophobic abuse in Air Park Way, Feltham at around 2030hrs.
'Officers have arranged to meet the victim this week, to take a statement.'
A TellMAMA spokesman said: 'The abuse and eggs that were thrown at the Muslim female just highlights a problem that we have been raising for a number of years.
'The fact is that visible Muslim women or those considered or deemed to be Muslim in the eyes of the perpetrator, are the ones more likely to have something said to them or done to them in a minority of cases.
'In this case, the victim took some video footage of the perpetrators when she felt safe and confident to do so.'
https://eastoncaller.com/muslim-apprentice-nurse-chases-men-on-m25-saying-they-threw-eggs-at-her-and-called-her-a-terrorist/203372/
--------
Meet the Women with Guns Who Fought Isil in Syria - And Are Now Battling Its Patriarchy
11 SEPTEMBER 2019
In June 2017, twenty-year-old Nisha Gawrie was deployed to the front line of one of the most vicious urban conflicts of her generation – the campaign to retake the Syrian city of Raqqa from the so-called Islamic State.
One of the founding members of the first ever all-female Syriac Christian militia, the Bethnahrain Women's Protection Forces (HSNB) – Nisha was tasked with leading a unit of fighters into battle.
Founded in 2015, in response to a violent Isil attack on the historically Christian Khabour region, the HSNB became a small but key component of the Syrian Democratic Forces - the US-backed military coalition waging war against Isil in northeastern Syria. For four months, Nisha fought...
https://www.telegraph.co.uk/women/life/meet-women-guns-fought-isil-syria-now-battling-patriarchy/
--------
Pakistan Sikh Girl 'Conversion' Case: FIR against Muslim Man Quashed
Kamna Arora
Sep 11, 2019
Lahore: The Pakistan Police have quashed an FIR against a Muslim man and others for purportedly kidnapping a Sikh teenage girl and converting her to Islam.
The FIR was quashed after both families inked a written agreement, said a senior police officer of the Punjab Police on Wednesday.
19-year-old Jagjit Kaur, the daughter of a Sikh priest at Gurudwara Tambu Sahib, was allegedly kidnapped by Mohammad Hassan, who resides in her locality in Nankana Sahib, in August. Reports suggested that he married Kaur later.
"The families of Kaur and Hassan have signed a written document agreeing to resolve the matter between them. Kaur's family has withdrawn all charges against Hassan and his family members and friends, thereby, the FIR against them stands quashed," the police officer said.
In the wake of the agreement, Hassan and his other family members have also withdrawn their protective bails, added the officer.
A video had gone viral showing one of the girl's family members claiming that a group of men barged into their house, abducted Kaur, forcibly converted her to Islam and made her marry Hassan.
The news had triggered concerns not only in Pakistan but also in India.
The Pakistan Police, on August 29, filed an FIR against six people for purported kidnapping and forcibly converting Kaur to Islam.
Police later arrested Hassan's friend Arsalan.
Kaur was sent to Lahore's Darul Aman (shelter home) as per the court order after the 19-year-old told the judge that she married Hassan as per her own will.
In order to water down the anger of the Sikh community, Punjab Chief Minister Usman Buzdar and Governor Chaudhry Sarwar were made to intervene in the matter.
"In the agreement, it has been decided that Hassan will not force Kaur to stay with him and will divorce her if she asks for it. Kaur's family has also pledged that it will not harm the girl by any means on her return to the home," said the official.
The cop alleged that the girl is still in the shelter home as she is not "mentally prepared" to return to her parents' residence.
"It has also been agreed that Kaur will not see Hassan or vice-a-versa even he doesn't divorce her," the official said.
India had expressed its concern with Pakistan over the issue of Jagjit Kaur's forced conversion to Islam and called for "immediate remedial action". Punjab Chief Minister Amarinder Singh had even offered help to the Sikh girl to come and settle in India.
https://www.timesnownews.com/international/article/pakistan-sikh-girl-conversion-case-fir-against-muslim-man-quashed/487045
--------
URL: https://www.newageislam.com/islam-women-feminism/rebel-saudi-women-shun-obligatory/d/119725
New Age Islam, Islam Online, Islamic Website, African Muslim News, Arab World News, South Asia News, Indian Muslim News, World Muslim News, Women in Islam, Islamic Feminism, Arab Women, Women In Arab, Islamophobia in America, Muslim Women in West, Islam Women and Feminism