New Age Islam News Bureau
7 Aug 2020
• Children's Book on The Hijab Puts Muslim Girls in Spotlight
• Amanda Wolf Charged with Attempted Terrorism in Lombard
• Pakistan- How Swat's Tabassum Got Nominated For USIP Award?
• Muslim Women in Indore Write To PM, Hail His Leadership
• Three Muslim Women Take Delaware Kids Dept To Court, Claiming Discrimination
• Tunisia's Boubakri, Frenchwoman Georges To Take Part in Women's Sports Committee Forum
• UN Women, W20 Call on G20 Members to Recognize Women As Drivers Of Economic Recovery
• Group Launches Fundraising Campaign To Support Girls And Women In Afghanistan
Compiled by New Age Islam News Bureau
URL: https://www.newageislam.com/islam-women-feminism/rashida-tlaib-palestinian-ameri-congresswoman/d/122572
--------
Rashida Tlaib, Palestinian-American Congresswoman Poised For Second Term
06/08/2020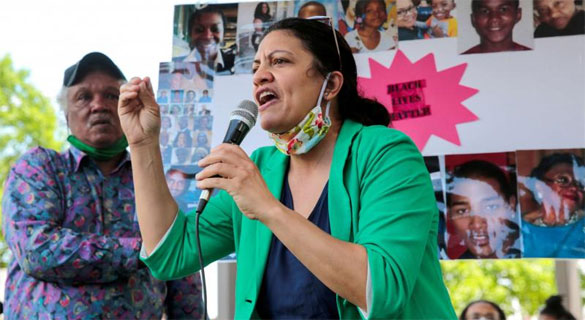 Michigan Democratic US Representative Rashida Tlaib addresses a rally protesting against racial inequality in Detroit, Michigan, last June. (AFP)
------
WASHINGTON — Palestinian-American Congresswoman Rashida Tlaib won a hard-fought primary race Wednesday, setting her on the path to a second term in office.
The freshman congresswoman bested challenger Brenda Jones with 66% of the vote in the heavily Democratic district in the US north-eastern state of Michigan. She said she was "confident" in her victory and highlighted her journey that brought her from a working-class immigrant family to the halls of Congress.
"My father had a fourth-grade education, my mother eighth-grade," Tlaib said, "and to see their daughter, a daughter of Palestinian immigrants, to be able to serve these incredible people, the community that raised me, and the United States Congress is truly an honour."
Tlaib became one of the two first Muslim women to be elected to Congress in 2018 as part of a progressive "Squad" that also includes Minnesota's Ilhan Omar, New York's Alexandria Ocasio-Cortez and Massachusett's Ayanna Pressley.
Her solid primary win seems to have added steam to their movement at a time of increased political polarisation ahead of presidential elections in November.
"Voters sent a clear message that they're done waiting for transformative change, that they want an unapologetic fighter who will take on the status quo and win," Tlaib said in a statement on Wednesday.
Tlaib has frequently taken aim at US President Donald Trump since her ascent to office, even beginning her congressional career with a highly publicised call for him to be impeached.
Last August, Tlaib said of Trump: ""He's scared of us… He's afraid of women of color … because we're not afraid of him and we're not afraid to speak up and say that we have a white supremacist in the White House who has a hate agenda.
"He's afraid because we have a real agenda for the American people," she added.
Tlaib found herself at the centre of controversy later that month over plans to visit Israel, whose policies she is often critical of, alongside fellow congresswoman Ilhan Omar.
Encouraged by Trump, Israel initially made the unprecedented decision to block the trip of the two US Muslim congresswomen, who are both supportive of the pro-Palestinian Boycott, Divest and Sanctions movement.
Israel later approved a request by Tlaib to visit Israel on "humanitarian" grounds so that she could see her 90-year-old grandmother in the West Bank on the condition that she not promote boycotts against Israel. However, Tlaib decided against the visit, saying it would not be right to make the trip "under these oppressive conditions meant to humiliate me."
"The Israeli government used my love and desire to see my grandmother to silence me and made my ability to do so contingent upon my signing a letter — reflecting just how undemocratic and afraid they are of the truth my trip would reveal about what is happening in the State of Israel and to Palestinians living under occupation with United States support," Tlaib said in a statement.
Tlaib's bold support for the Palestinian cause and advocacy for US minorities has gained her a strong following in her Michigan district, which hosts a large Muslim-American population.
Ali Dagher, an Arab American poll worker in Dearborn Heights, told Arab America news website that Tlaib had "crushed it" at the polls and even drawn strong support from the African American community.
"I was particularly awed by the number of African American women who all told me that she speaks for them," Dagher said.
https://thearabweekly.com/palestinian-american-congresswoman-poised-second-term
--------
Children's book on the hijab puts Muslim girls in spotlight
Aug 6, 2020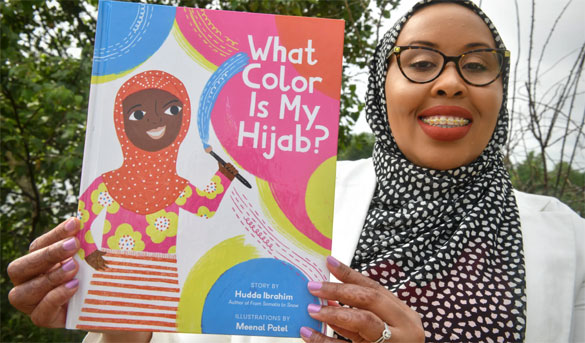 ST. CLOUD, Minn. (AP) — Children want to see characters who look like them, said Hudda Ibrahim.
Last year, her niece Fatima asked why books don't have characters like her.
"I said, 'I'll do it. I'll fix it,'" Ibrahim said.
In April her children's book came out under the title, "What Color is My Hijab?"
Ibrahim's book features Muslim women in various professions — pilot, businesswoman, politician — doing their work while wearing a hijab, a traditional head scarf.
Because of COVID-19, Ibrahim didn't hold a typical book launch. She may do so next year and hold Facebook events in the meantime.
The book had support before it was published, and Ibrahim crowdfunded it through Kickstarter. A Spanish version of the story is in the works now, she said.
Ibrahim is excited about her first children's book with colorful art by California-based illustrator Meenal Patel. She talked about it with the St. Cloud Times at Lake George in late June.
"I'm so excited to have this opportunity to produce such a work so that kids who look like me and kids who don't look like me will read this book and learn something from it," she said.
"This book helps both those kids who want to see themselves represented in the literature and those who are wondering why these kids dress different or look different."
Ibrahim sees herself as a bridge builder and cultural broker.
She does that work as president and founder of Filsan Talent Partners, which helps companies diversify their workforces. And she does that work in classrooms at St. Cloud Technical and Community College, where she teaches diversity and social justice.
"What Color is My Hijab?" is significant because it features the hijab and because it features diversity among Muslim women, said Megan Kalk, who works with Ibrahim at Filsan Talent. The women in the book are different races. They wear different types of clothing. They have different abilities
Kalk likes that the book shows Muslim women with various skills, including athletics and professional skills. Her 9-year-old daughter wears a hijab.
"She's got all these opportunities open to her," Kalk said. "It's empowering for girls to see women in a lot of different careers."
Ibrahim told Kalk about the book idea before she wrote it. The next day, it was finshed, Kalk said.
"She works all the time with about a million ideas on the table at once," Kalk said.
Ibrahim's book about the Somali refugee experience, "From Somalia to Snow," was published in 2017.
Ibrahim didn't attend kindergarten as many of her young readers do, she said. Her family was fleeing civil war when she was kindergarten age.
Ibrahim grew up in Africa and her younger sister Lula Ibrahim grew up in the U.S.
"At some point in childhood you start to realize that none of those characters relate to you, other than being a kid," said Lula Ibrahim. "If I would have come across a book like this (as a child), it would have made me happy."
Lula and Hudda's nieces love "What Color is My Hijab?" and want Hudda to write more books, Lula said.
Ibrahim has suggested that Fatima, the now 8-year-old who inspired the book, become her illustrator, because she's an artist.
"Little kids are encouraging this which shows how much this is needed," Lula said. "I would like to encourage more authors of color and of different faiths and different kinds of people to know that there are children waiting to see things like this."
Ibrahim wrote the book for girls like Fatima. And she wrote it for other children who don't wear a hijab, so they can better understand the kids who do.
Her students at the technical and community college ask her why she wears a hijab. Others have asked her if she wears it because her husband or father insist, Ibrabim said. But it's her decision. She wears a hijab to show modesty and to show pride in her heritage, culture and values, she said.
"We — I'm talking about the refugees and immigrants who are coming to this country — we are educating ourselves every single day about our new country and culture and its values," Ibrahim said. She hopes her book will educate kids and parents about their Muslim neighbors.
"This book is really telling the story of diversity and inclusion and inspiring young girls to be proud of who they are."
https://www.newspressnow.com/childrens-book-on-the-hijab-puts-muslim-girls-in-spotlight/article_51079dc4-d821-11ea-9acc-cb10fc83b78b.html
--------
Amanda Wolf Charged with Attempted Terrorism in Lombard
August 5, 2020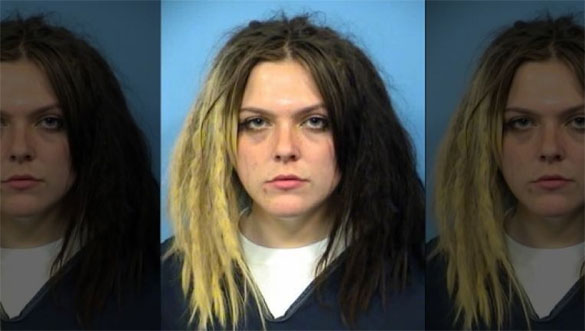 Amanda Wolf, 23
-----
A woman is facing charges after allegedly helping a man who attempted to fire-bomb municipal vehicles last month in west suburban Lombard.
Amanda Wolf, 23, is charged with attempted terrorism and possession of an incendiary device, the DuPage County state's attorney's office said.
Wolf allegedly supplied Christian Frazee, 25, with materials to make the Molotov cocktail he was seen holding as he walked toward village-owned vehicles about 12:30 a.m. on June 1, prosecutors said.
She had allegedly been texting with Frazee throughout the day, including an exchange where Frazee told her he was going to "Throw sh– at the cop car," prosecutors said.
In another text exchange, Frazee asked Wolf if peroxide is flammable and she responded "Wya I got that stuff for ya I also threw in some acetone I know that's flammable lol," prosecutors said.
Frazee was previously charged with attempted terrorism and possession of an incendiary device, prosecutors said.
Wolf appeared at a hearing Wednesday where her bail was set at $750,000. She is expected back in court Aug. 28.
https://www.nbcchicago.com/news/local/woman-charged-with-attempted-terrorism-in-lombard/2317656/?utm_source=iterable&utm_medium=email&utm_campaign=1418800_
--------
Pakistan- How Swat's Tabassum got nominated for USIP award?
8/7/2020
PESHAWAR: Tabassum Adnan from Swat district of Khyber Pakhtunkhwa has been nominated for the Women Building Peace Award in the US.
The Women Building Peace Award is given to women who work for peace in countries affected by conflicts or confronted by security issues. The US Institute of Peace (USIP) will announce first winner of the $10,000 prize at a virtual ceremony on September 15.
It is interesting to note that Tabassum had not applied herself for the award and someone else sent her name. This year, 150 applications were sent from 51 countries for the award and 10 women have been selected including two from Pakistan, i.e. Tabassum and Aasia Jamil.
Tabassum is working for human rights, with particular emphasis on women rights, in Swat since 2010. She has the honour of being the founder of first women Jirga of Pakistan. For this effort, she won Nelson Mandela Award, International Woman of Courage Award and several other awards. She possesses honorary citizenship of the US and is a community member in Florida.
Tabassum said in a special interview with TNN that she has worked a lot on human smuggling, Swara, early marriages and share of women in ancestral property. She said she is now planning to work on the use of ice and other drugs by children to save their future.
'When I arranged a sitting with women of my area, I realised that they are being denied their rights and they must have representation in the Jirga. Earlier, Jirgas only had male members and no one listened to the problems of women. A woman can better understand the problems of other women. I also used to raise voice for women's rights by attending Jirgas of men,,' she told TNN.
Tabassum is the first woman in Pakhtun history who was invited to a Jirga of men which was hearing a case about alleged sexual abuse of a child in Swat. She said once a case of Swara (giving a girl in marriage to rival family as compensation to settle dispute) was given to her in which all the accused Jirga members were arrested. She said the family members of the arrested people were requesting her to forgive them, but she asked them to approach the court for this purpose. She said if the girl's father has committed a crime then he, and not his daughter, must be punished for it. She said she also has a daughter and she can understand how the girls suffer due to this obsolete tradition.
The rights activist said she initially included eight such women in the Jirga who had the ability of public speaking and decision making. She said the number of women in the Jirga has increased now. She explained her Jirga has resolved about 2,000 cases so far and many other cases are in process of being resolved.
About her personal life, Tabassum said she was born in Swat and then went to Qatar with her father. She said she returned to Swat for marriage and settled there. She said she started working for women's rights after her divorce and set up Khwendo Jirga platform for women for resolution of their problems. She has three sons and a daughter.
Tabassum faced many hardships while carrying out her mission for women's rights. Besides problems on local level, Jamia Ashrafia of Lahore also issued a fatwa (edict) against her by accusing her of spreading obscenity.
'I never asked any woman to uncover herself. I only want to give them confidence to fight for their rights. There is no harm if a woman sitting in her home decides to raise voice for her rights,,' she said.
Tabassum said now men have also started contacting Khwendo Jirga for resolution of their domestic disputes involving women. She said men feel comfortable in discussing problems of women with women members of the Jirga. She said she is also the first woman member of Dispute Resolution Council of Swat Police Station where many women arrive for resolution of their problems. She said she also encourages young girls not to afraid and speak up for their rights.
The rights activist enjoys full support of family for her work, but she sometimes receives threats from those affected by the Jirga decisions. About major problems of women in Swat, she said the ratio of divorce is increasing and prostitution has also increased besides the property disputes. She said the practice of Swara has reduced significantly.
Tabassum said she gets more recognition abroad as compared to Pakistan. Although she got a certificate from the district police chief, but she complains of not receiving much encouragement from the government.
https://menafn.com/1100599783/Pakistan-How-Swats-Tabassum-got-nominated-for-USIP-award
--------
Muslim women in Indore write to PM, hail his leadership
06 AUGUST 2020
Indore, Aug 6 (PTI) A group of local Muslim women has written a citation letter addressed to Prime Minister Narendra Modi, hailing his leadership and ensuring peace and harmony in the country on the day of Ram temple ''bhoomi pujan'' in Ayodhya.
Nearly 20 burqa-clad women, under the banner of Sahja Sanskriti, a social organisation, on Thursday handed over the letter to Indores BJP MP Shankar Lalwani at Regal Square here where the background was decked up with saffron flags and a cut-out of Lord Ram.
They also raised slogans of Bharat Mata ki Jai" and Modiji Zindabad on the occasion.
They were holding placards stating they welcome the construction of a Ram temple in Ayodhya, where Modi performed ''bhoomi pujan'' for the grand structure on Wednesday.
One of the women, Sakina Bi, while reading out the citation letter, said, Because of your foresighted leadership there was peace and harmony in the entire country when the verdict was announced in the Ayodhya matter by the Supreme Court (in November last year) and also during the foundation stone laying ceremony of the Ram temple."
People belonging to all faiths readily accepted the verdict and the construction of the temple, she said.
Another woman from the organisation, Rukhsana, said, We are very happy and we are confident that in the future also peace and harmony will prevail in the country.
Lalwani, speaking on the occasion, said, I will handover this citation letter to the Prime Minister. Everybody is happy that with the bhoomi pujan at Ayodhya, the 500-year- old dispute has been resolved peacefully. PTI HWP MAS RSY RSY
https://www.outlookindia.com/newsscroll/muslim-women-in-indore-write-to-pm-hail-his-leadership/1910646
--------
Three Muslim Women Take Delaware Kids Dept To Court, Claiming Discrimination
By JOE IRIZARRY
07 AUGUST 2020
Three Muslim women are suing Delaware's Department of Services of Children, Youth, and their Families for discrimination, including prohibiting them from wearing a hijab at work.
The Council on American-Islamic Relations (CAIR) and the Wilmington-based law firm of Jacobs and Crumplar are representing Tia Mays, Madinah Brown, and Shakeya Thomas in the suit.
Last year, Brown filed a complaint with the Equal Employment Opportunity Commission and the Delaware Department of Labor saying she faced discrimination because she wasn't allowed to practice her Muslim faith by wearing a hijab, or a head covering worn by some Muslim women. Brown had worked at the New Castle County Detention Center since 2012.
Both Mays and Thomas have since come forward with the same complaints.
In Mays' case, she says she was working at the Ferris School Boys for a couple of weeks when she was presented a packet with the dress code highlighted, specifically no head coverings, no hat, or scarf on the head.
"I let the lady know that this wasn't a head covering, it wasn't a hat or a scarf, it was religious," said Mays."She said she understands that and the supervisor will be out to talk to me. We went into a conference room, he let me know that they spoke with the director. She said it may have been a miscommunication and I couldn't wear it. They asked me was I able to take it off or was I willing to take it off and I told them no."
CAIR Attorney Gadeir Abbas says they were put in an illegal position of choosing religion or work.
"Presented with the option of adhering, maintaining their religious beliefs in the workplace or being fired and unfortunately for all three Muslim women when presented with that choice they were put in the position of having to choose between their jobs and their religious beliefs and that is an illegal choice to put employees in," sais Abbas.
Jen Rini is Community Relations Coordinator for the Dept. of Services for Children, Youth and Their Families, and she provided this statement.
"The Department of Services for Children, Youth and Their Families cannot comment on pending litigation or personnel matters. As a Department, we are committed to supporting diversity, inclusion and religious freedoms. The Department has always valued the diverse beliefs and experiences of our staff and the clients we serve, and we are dedicated to maintaining an inclusive environment for all."
https://www.delawarepublic.org/post/three-women-take-states-kids-dept-court-claiming-discrimination
--------
Tunisia's Boubakri, Frenchwoman Georges to take part in Women's Sports Committee forum
July 17, 2020
DUBAI — Tunisian fencer Ines Boubakri, winner of a bronze medal at the Rio 2016 Olympic Games, and Frenchwoman Laura Georges, one of the top stars of international women's football, will headline a virtual forum being organized by the Women's Sports Committee of Dubai Sports Council (DSC) to discuss the challenges being faced by women's sport in the times of COVID-19.
The "International Forum for Women and Sports" will take place on July 22, between 11 a.m. and 12.30 p.m., on video conferencing app Zoom, and will feature a number of prominent UAE and regional advocates and officials of women's sports.
The include Sheikha Shamsa Bint Hasher Al Maktoum, board member of the UAE Volleyball Association, Mouza Ibrahim Mohamed Al Suwaidi, undersecretary at the UAE Ministry of Community Development, and Rawda Al Mahrazi, chairperson of Women's Sports Committee.
Al Mahrazi will make the opening address before Mouza Al Suwaidi takes centerstage, sharing her insight on the "Impact of COVID-19 on women's and community sport" in the opening session.
The second session titled "The future of women's sport in light of the current challenges" will feature Sheikha Shamsa Bint Hasher Al Maktoum alongside Kuwait's Sheikha Naima Al-Ahmad Al-Jaber Al Sabah, head of the Organizing Committee for Women's Games in the Gulf Cooperation Council (GCC).
Georges, who is the Secretary General of French Football Federation, and Boubakri, a winner of the Mohammed Bin Rashid Creative Sports Award and an MBR Sports Creativity Ambassador, will then discuss the "Impact of COVID-19 on the performance of sportswomen" in the third session alongside Nadia Khadim, captain of Al Wasl's women's volleyball team.
In the fourth session, Nada Askar Al Naqbi, director general of Sharjah Women's Sports, and Dr. Mai Al Jaber, who is a board member of Fatima Bint Mubarak Ladies Sports Academy, will discuss institutional support for the future of women's sports programs.
Fouzeya Faridoon, manager of Dubai Sports Council's Women's Sports Development section and manager of Women's Sports Committee, will then bring the curtains down on the forum by enumerating on the conclusions and recommendations made by the panelists. — SG
https://www.saudigazette.com.sa/article/595618/Sports/Tunisias-Boubakri-Frenchwoman-Georges-to-take-part-in-Womens-Sports-Committee-forum
--------
UN Women, W20 call on G20 members to recognize women as drivers of economic recovery
July 22, 2020
NEW YORK/ RIYADH — Amidst a COVID-19 pandemic that is expected to cause an unprecedented global economic downturn, UN Women, the UN entity dedicated to gender equality and the empowerment of women, and Women 20 (W20), the official G20 engagement group on women, recently called on G20 Finance Ministers and Central Bank Governors to put women at the heart of recovery efforts.
In a joint statement, both groups called on addressing women's distinct economic roles, contributions and constraints, and seizing the opportunity to put women at the center of investment design to realize sustainable recovery.
Women contribute 37 percent of the global GDP. Moreover, all types of women's care work, including unpaid work, generate $11 trillion globally (9 percent of global GDP).
Enabling women's potential fully and equally with men promotes sustainable, balanced, inclusive growth, improves the representation of women within institutions and intergenerational development outcomes, and is also crisis-cushioning.
Already encumbered by gendered labor-market disadvantages, women workers have been disproportionately affected by job loss, reduced working hours and bankruptcy due to the current pandemic.
Also, health risks to health workers, paid and unpaid care work and violence against women have escalated with COVID-19 and lockdowns. G20 economies have introduced a firepower support package of $8 trillion to cushion households and businesses and facilitate recovery
Despite evidence that the socio-economic impacts of COVID-19 are worse for women, it is unclear how much the sizable G20 (or non-G20) economic packages have invested in women.
Phumzile Mlambo-Ngcuka, executive director of UN Women said, "Women are drivers of economic recovery and resilience. G20's sizable investments in response to COVID-19 and beyond must be intentional about this and be designed with women at their center in order to realize sustainable rebuilding."
Dr. Thoraya Obaid, Women 20 Chair, said, "While we work to recover from the damage caused by this global crisis, we have an opportunity to correct a historical fault regarding women and their role in the society.
"G20 leaders must grasp this opportunity to enable women's potential fully and equally with men — this is critical to economic recovery now and for future crisis-cushioning."
In their joint statement, UN Women and W20 called on G20 Finance Ministers and Central Bank Governors to implement gender-responsive impact reviews of the crisis, recovery packages and plans worldwide, especially for the worst-affected women and girls, in order to guide investment priorities.
They also appealed for greater fiscal space for countries of the Global South, including through debt relief or cancellation, and expansionary monetary policies that enhance credit availability for women-specific sectors via loan guarantees and other loan instruments as well as greater investment in gender-responsive budgeting.
The organizations also urge G20 Finance Ministers and Central Bank Governors to promote inclusive governance and decision-making, sustainable employment and entrepreneurship, expanded, accessible social safety nets and inclusive, quality, sustainable health care systems and gender-based violence services.
UN Women and W20 concluded, G20 leaders have an opportunity to develop policy responses to the pandemic that immediately address women's roles in healthcare, unpaid care and the workforce. — SG
https://saudigazette.com.sa/article/595830
--------
Group launches fundraising campaign to support girls and women in Afghanistan
August 6, 2020
Canadians for Women in Afghanistan, the Kingston chapter of the national non-profit charity Canadian Women for Women in Afghanistan, has initiated a summer fundraising campaign that sees the group selling tickets to mitigate the loss of revenue due to the cancellation of its annual gala, scheduled for May 1, over COVID-19 pandemic concerns.
"C4WAfghan is asking past gala guests and former and possibly new supporters to consider contributing at the same level as the annual cost of a gala ticket ($100), with a tax receipt for the full amount," Marg Stewart, the C4WAfghan treasurer, said. "Our guests usually enjoy a lovely evening with a sit-down dinner and program. This time around, the $60 per guest normally spent on those amenities will be diverted to feed a school (Fatema Tul Zahra) family for a week."
The "UNGala" campaign closes on Aug. 27.
Anyone who buys a ticket will be eligible for a number of draws, including special Afghan dinners, an air fryer, Afghan saffron and more.
"C4WAfghan is grateful for donations of any amount, given the many demands made on families during this unprecedented time," organizers said.
With most of the fundraisers in the chapters across Canada being cancelled due to COVID-19, this has left the organization in "dire straits, especially the operation of its school, Fatema Tul Zahra, in Kabul."
According to local organizers, the annual nationwide fundraisers "contribute an average of $120,000 towards the organization's programs. The annual budget for FTZ is approximately $90,000. The organization is fortunate that a number of its other programs are funded by the Government of Canada or by the Aga Khan Foundation. These programs have paused and will resume without loss of funding."
The rest of the funding for FTZ is covered by Canadian Women for Women in Afghanistan, with the exception of paying the salaries for the cooks.
"Among other things, they are also beneficiaries and would be destitute without their salaries," organizers said. "They are working on curriculum packages for students and the CW4WAfghan online learning platform, personal professional development, finding ways to safely deliver learning materials to FTZ students, communicating with students, where possible, electronically or by phone, and assisting with food distribution."
All other overhead costs also must be covered. As it is, the setbacks caused by COVID-19 around the world will cause profound challenges for girls to return to school.
To learn more about the organization, go online to cw4wafghan.ca.
To purchase a ticket for the UNGala, contact Marg Stewart to register and make payment by phone 613-634-0984 or email margstewart29@gmail.com.
Payment can be made by cheque, made payable to CW4WAfghan and mailed to M. Stewart, 2970 Unity Rd., Elginburg, Ont., K0H 1M0, or by e-transfer at margstewart29@gmail.com (no password required).
https://www.thewhig.com/news/local-news/group-launches-fundraising-campaign-to-support-girls-and-women-in-afghanistan
--------
URL: https://www.newageislam.com/islam-women-feminism/rashida-tlaib-palestinian-ameri-congresswoman/d/122572
New Age Islam, Islam Online, Islamic Website, African Muslim News, Arab World News, South Asia News, Indian Muslim News, World Muslim News, Women in Islam, Islamic Feminism, Arab Women, Women In Arab, Islamophobia in America, Muslim Women in West, Islam Women and Feminism