New Age Islam News Bureau
15 March 2014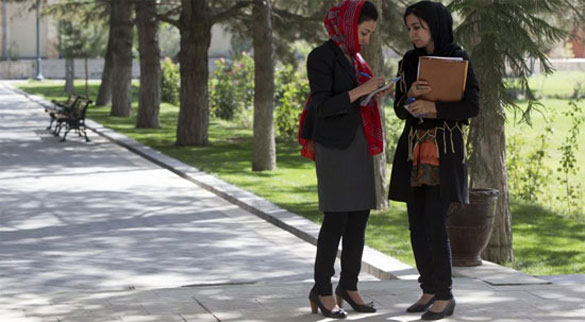 Photo: Adela Raz (L), Afghan President Hamid Karzai's deputy spokeswoman, speaks with an Afghan journalist at the Presidential Palace in Kabul, Oct. 12, 2013.
-----------
• Pakistan: Group Declares Laws against Child Marriage Are "Un-Islamic"
• Let Saudi Women Drive in Their Own Country
• Saudi Women Demand Employers Resolve Workplace Problems
• UN, Iranian Women's Rights Activists Blast Lack of Progress under Rouhani
• Breakthrough Gives Emirati Women Hope To Soar High
• 14 Powerful Photos Show a Side to Afghan Women That Americans Don't Usually See
• Nurses in Pakistan Hurt As Police Storm Their Camp
• Saudi Winner of Women's Award for Courage Calls for Resilience
• Saudi Women's Rights Still a Contentious Issue
Compiled by New Age Islam News Bureau
URL: https://www.newageislam.com/islam,-women-and-feminism/new-age-islam-news-bureau/rape-rooted-in-feudal-system-of-pakistan--mukhtaran-mai/d/56157
------------
Rape Rooted In Feudal System of Pakistan: Mukhtaran Mai
XARI JALIL
2014-03-15
LAHORE: "It was one of the most saddening experiences when I saw her lying on the hospital bed, most of her body burnt," says Mukhtaran Mai, in an interview with Dawn. Her voice thickens with tears but she swallows them back.
'A' was a student of first year and a resident of Meerwala as is Mukhtaran. After she had filed the FIR, she found out that one of her 'rapists' were set free on bail. Mukhtaran alleges the investigating officer was bought for Rs70,000.
"She first came to me two days after the incident, asking for help. I offered her shelter at my home for survivors of sexual harassment but she refused the offer, saying she wanted to stay with her family.
My team and I were with her throughout but after learning what the police had done, she was shocked."
Mukhtaran said her team's psychologist kept explaining to her not to lose heart because these things took time and that the case was yet to go to court. But like many other young women who are left confused, depressed and angry, 'A' was impatient.
And when she went to the police station again, the officer involved hid himself in his room, not appearing and she doused herself with a bottle of petrol and set herself on fire.
The Nishtar Hospital in Multan where she was admitted announced her to be in a precarious condition with 80pc burns and she succumbed to the burns on Friday. But was it really burn injuries that killed her or it was the level of injustice that women in the country have to face everyday?
Even the Punjab government seems to have taken its time to respond.
On Friday, women's rights activists protested in front of the Punjab Assembly to show their anger at the Muzaffargarh police and insisted that the Punjab government should itself take action and do some research as to why number of crimes against women was on the rise in the province. They demanded that the accused, including police officer involved, must be dealt with strictly.
In a press statement, Zohra Yousuf of the Human Rights Commission of Pakistan (HRCP) said it was common knowledge that only the courageous rape survivors in the country took the matter to police or court.
"It leads to only one conclusion: she had become convinced that she would not get justice. It is sad and ironic that only a week after celebrating the International Women's Day with such fanfare the state and its justice system have let a woman down so brazenly."
Meanwhile, Mukhtaran Mai, who herself is a rape survivor, says that problems are deep rooted and many.
"The problem starts with the government and police and ends with the judiciary but this is just the tip of the iceberg. The concept of sexual harassment does not seem to exist in Pakistani society. Men look at women as mere commodities."
Referring to her own case, she says: "It takes a lot of consistent courage to face the men who have assaulted you.
Sometimes when I get out of the school, I see those men in front of it, sitting under a tree and when I go past them, they comment and whistle at me. But women cannot go on living in fear."
Psychiatrist Dr Nazia says rape leaves a feeling of hopelessness and paranoia which is exacerbated with the lack of justice in the country's judicial and police systems.
"The mentality of the rapist is not normal. He yearns to exert his power and male dominance sexually. This mentality cannot be changed in an individual but only through collective change."
Incidents of rape in the country are far from falling. Statistics presented to the Senate in October 2013 showed that about 10,703 rape cases were registered in Pakistan since 2009.
These were only the ones which were reported. Most cases occurred in Punjab and experts believed that this might be only because of a higher population.
However, Mukhtaran Mai is of the opinion that huge supporters of the "rape-friendly" culture in Pakistan are the 'Biradari' and feudal systems.
http://www.dawn.com/news/1093288/rape-rooted-in-feudal-system-mukhtaran
------------
Pakistan: Group declares laws against child marriage are "un-Islamic"
By Zofeen T. Ebrahim
14 March, 2014
The Council of Islamic Ideology (CII) have pronounced that laws prohibiting child marriage in Pakistan are un-Islamic. The move has been slammed by a coalition of over a hundred Islamabad-based civili society organisations, who have labelled it a violation of Pakistani women's and girls' fundamental human rights. The CII is a constitutional body but its advice is non-binding on both the government and the parliament.
The CII's declaration on early marriage follows hot on the heels of another controversial proclamation by its chairman Maulana Mohammad Khan Sheerani, saying that the current law requiring a man to seek written permission from his wife before contracting a second marriage should be amended.
Experts see these the CII's priorities skewed at a time when the country is already reeling from an extremist onslaught for which there has been little condemnation from the same quarters. Instead, it has found fit to pick on issues that had long been settled and accepted by the Pakistani society.
"We are not conspiracy theorists, but are forced to wonder why such deliberately anti-women/girls advice comes now, 53 years after the Muslim Family Law Ordinance, 1961, was promulgated?" asked a group of civil society organisations, including Women Action Forum and Pakistan Reproductive Health Network, in a joint press release. The CII's advice, it stated, came at a "critical juncture", when the government was holding talks with the Taliban.
"Does the government wish to further appease and placate the bloodthirsty killers of 60,000 Pakistanis with further Islamisation and shariatisation measures? If so, why does the so-called Islamisation begin and end only with a violation of Pakistani women's and girls' fundamental human rights, enshrined in the unanimously endorsed constitution, and even before that, inherent in our humanity?" the statement read.
"This shows a mindset that is regressive," says rights activist and documentary film maker Samar Minallah, who has worked extensively on highlighting traditions like Vani (women and girls given in marriage to hostile families as compensation for a relative's crime to end feuds) and child marriage.
"It shows how Islam continues to be misinterpreted and distorted for political reasons," Minallah continued, adding: "The shocking part is that the parliamentarians reinforce this mindset by remaining silent. It is a deliberate effort to create confusion and degrade women."
Rafia Zakria, a lawyer and regular Dawn columnist, fears this may well legalise child abuse. She argues CII's edict is unacceptable because "there are many Islamic scholars who have issued rulings opposing child marriage, highlighting the contractual aspect of Islamic marriage and the fact that minors cannot give consent hence making such marriages prima facie unacceptable."
Zakaria also points out that Pakistan has ratified and signed several international treaties underscoring the necessity of protecting children especially girls. "Cumulatively it will serve to substantiate stereotypes about Pakistan as a country that cannot respect the rights of women and children, and which is oriented backwards into ignorance as opposed to forward into enlightenment."
"Health consequences of early marriage are grave and many," explains Dr Farid Midhet who heads the Maternal and Child Health Integrated Program (MCHIP) in Pakistan for USAID.
The adolescent girl, he says, is incapable of fully understanding and bearing the burden of pregnancy and childbirth. "Probability of maternal death and neonatal death is significantly higher in the early ages (under 20 years)." Having worked in the field and with communities, Midhet says premature births and congenital abnormalities are higher among births to young mothers. In addition, he finds, there is an increased risk of malaria, sexually transmitted diseases and cervical cancer among women who marry early.
Apart from the physiological toll early marriage takes on a young girl, the social consequences are as grave. "Early marriage denies the girl child her right to education, bonding with her peers, personality development and mature thinking. Young girls are almost always married against their wishes, or they are unable to fully understand and give consent for the marriage," he said.
And so Midhet feels it is important for public health experts to voice their concerns by "making a case against early marriage, listing the social, health, economic and religious factors, and then approach the CII (or other scholars/institutions) to request them to declare, or at least recommend, that girls must not be married while they are in puberty, and that delaying marriage is not against Islam."
In their statement, the civil society coalition has urged the government to abolish CII and in the meantime replace chairman Maulana Mohammad Khan Sheerani with someone who is "educated, enlightened, progressive and a real Islamic scholar". It also demanded that the government ensure at least 50 percent of CII members are female and 5 percent non-Muslims.
http://www.indexoncensorship.org/2014/03/pakistan/
------------
Let Saudi women drive in their own country
15 March 2014
I am writing with regard to the article "Prominent businesswoman drives her car in Al-Khobar" (Mar. 11). There should be thousands of women on the road being responsible for themselves and their families. Women are usually much better drivers than men anyway. Don't Saudi women drive regularly in other countries? What possible difference could there be in driving in their home country.
http://www.saudigazette.com.sa/index.cfm?method=home.regcon&contentid=20140315198637
------------
Saudi Women Demand Employers Resolve Workplace Problems
15 March 2014
Several women here say that they are hampered by various workplace challenges including lack of affordable transport, access to toilets and prayer rooms, training and gender discrimination.
Walaa, who works for a store selling items for women, said she spends SR600 a month on transport, which is a huge chunk of her salary.
Walaa said other women have the same problem, and called on the government to ensure employers either provide free transport or give them an allowance for this expense.
Walaa also called on the authorities to force employers to provide private sector workers two days off a week. She said one day off was not enough for married women, who need to spend more time with their children and families.
Another woman employed at an old market on Sitteen Street in Makkah said she has to walk a long distance to a shopping mall to use the toilet because there are no facilities for women where she works.
She said this was one of the greatest difficulties facing female workers. She said employers must provide women special areas where they can rest and pray. This would ensure women workers are more content and productive during their long working hours.
Kawthar, who works in the same shop, said the community needs to be educated about the needs of women, especially those men who do not want women to work.
She said these men should realize that women are doing an honest day's work for the benefit of their families. It was unfair for husbands to threaten their wives with divorce if they want to work, she said.
Ru'a Takrouni, who works in a cosmetics shop, said an additional problem is that women need training to take up sales jobs, which is based on how much goods they can sell to the public.
Takrouni said feminizing shops was a good move because it has helped women enter the workplace away from the "impossible conditions imposed by some private sector firms."
Amal Mohammad, a saleswoman, said: "I was able to achieve financial independence and eased the burden on my family. I hope to become a manager at some stage."
http://www.arabnews.com/news/540491
------------
UN, Iranian Women's Rights Activists Blast Lack of Progress Under Rouhani
03.14.14
Journalists and analysts continued on Thursday to unpack a report on Iran issued this week by United Nations Secretary-General Ban Ki-moon, in which the U.N. diplomat broadly emphasized that there had been no fundamental improvement in Iranian human rights since the election and inauguration of Iranian President Hassan Rouhani, "despite pledges made by the president during his campaign and after his swearing in."
Deutsche Welle reported on aspects of Ban's report that dealt with the plight of Iranian women, extensively quoting the U.N. diplomat's assessment that "women's rights activists continue to face arrest and persecution" and that "[w]omen are subject to discrimination, entrenched both in law and in practice." The report cited multiple examples of institutionalized discrimination: Iran's penal code officially deems a woman's life and her testimony in court to be worth half of a man's, while the country's civil code among other things allows girls as young as 13 to be married off. DW quoted Faraz Sanei, an Iran researcher attached to Human Rights Watch:
"Rouhani has talked a good talk on what he feels women's role in civil society should be," Sanei said. "But he is not going to put himself out on a limb. He is merely nibbling at the periphery."
"There is a huge disconnect between these laws and reality," Sanei said. "The majority of graduates from universities around the country are women. So this relatively educated pool of women comes out [after graduation] and faces all these barriers and restrictions in society."
Meanwhile the Huffington Post on Thursday ran an expose on anti-gay discrimination in Iran, quoting one refugee bluntly evaluating that "either you want to leave, or you want to die." The punishment for sodomy under Iran's criminal code is death.
"It's really hard to leave all you have behind and go to another country," said Farzam Z., an Iranian refugee who joined HuffPost Live, but refused to reveal his last name or identity. "You regret it every single moment, but there is nothing you can do. Either you want to leave, or you want to die, so I prefer to leave."
http://www.thetower.org/iranian-womens-rights-activists-blast-lack-progress-rouhani-u-n-report-cites-institutionalized-gender-discrimination/
------------
Breakthrough Gives Emirati Women Hope To Soar High
By Habib Toumi
March 14, 2014
Manama: "The next time I read or hear utter nonsense about Emirati women unable to succeed or to assert themselves in male-dominated jobs, my riposte will be only two words," Sarah Al Mansouri, a Bahraini businesswoman, said before marking a short pause to get the full attention of the other business people in the conversation.
"Reema Al Marzooqi. She is an undeniably successful woman who has been highly recognised in Bahrain and well beyond for her skills and aptitudes as the Emirates area manager in Manama.
"She represents the new breed of outstanding women from the UAE who do not feel suffocated by the fabulousness of their tasks, are passionate about their work and career and are remarkably determined to overcome all challenges and to contribute generously to the forward-looking vibrancy of their country."
Thanks to the spiralling figures of her office, Reema has made a name for herself in Bahrain where she is regarded as among the successful managers and one of the most outstanding professional women.
Yet, it has not been a smooth flight for the Emirati woman who one day dared to dream that she could make into a world where very few Gulf women soared. "I have always been fascinated by planes and the world of aviation," she said as she said behind the large mahogany desk in her modern office in the Seef District in the Bahraini capital Manama.
"I, like all young girls, was pushed by family traditions and social norms towards gender-based games. But I wanted something beyond those moulds and I was inexorably attracted by planes. I wanted to learn everything about them from the oldest ones to the ultra-modern ones. It is a whole world there and I wanted an active part in it, so I decided to take the challenge," she said.
Reema studied business administration at the American University of Sharjah and she also did her Masters, in Human Resources and Industrial Relations at the University of Western Sydney.
Typical of her challenge-prone character, she also pursued additional courses in Human Psychology, Organisational Behaviors and International Human Resources as well as courses in intercultural communication, body language and psychology at the same university.
Recalling with obvious fondness the time in Australia, she said that her college years there were crucial in building her character.
"I think my education in Sydney was important because going to college abroad gives you invaluable insights into a wealth of different cultures and if you take one element from each of these cultures, you are a truly international person with a global outreach. As a woman, I learnt, the hard way at times, to be truly self-reliant, build my character, make decisions and assert myself as an Emirati woman in a cosmopolitan environment," she said.
"One of the greatest merits of our leaders in the UAE is their profound belief in empowering people with advanced knowledge and sound education and providing them with opportunities to be at the forefront. There is no gender discrimination in their generous acts, so it is up to the young women to believe in themselves and use the assets to charter their way. To reach here, I had to be put to really through tests and I had to prove constantly that I deserved this chair. I am grateful to all those who believed in me and pushed me to the maximum. I will do my utmost to honour their trust," she added.
When she joined Emirates, she started as a sales executive then she moved to the human resources department. As one of her tasks were advising and guiding outstation managers and staff members on company policies and procedures.
A few years later, she had gone through the Management Outstation Training scrutiny and was coached in numerous departments and different stations to acquire the necessary knowledge about them. The panel of senior Emirates employees assessed her every step, always ready with remarks in case she floundered.
"They were really strict, and made sure that no one could move on to the next stage if the standards they are entrusted with keeping are not met. Giving successful presentations and passing tests were the sacred rules for everyone. No exception, man or woman," she said.
She was appointed commercial manager, where as a key member of planning, development and implementation team, she seized potential opportunities for enhancing revenue and yield by adopting "Best Sales Working Practices."
After a successful training programme, in January 2011 she was appointed sales manager for Jordan and the West bank before she was given the responsibility of running the Bahrain station as its manager.
Through her meteorite rise to the leadership position, she made history, becoming at the time one of the few UAE women to be appointed station managers.
"It was a great moment of elation because we proved that UAE women could do it.
"My bosses are professionals who believed in a string merit system built around advanced human capabilities and competencies. I had to go through all the tough tests to prove that I deserved the position. There were no roses because I was a woman.
"In fact, I was never given any special treatment at any moment and I am honestly happy about this positive mindset in the company," she said.
Her position in Manama meant that she had to oversee every single thing in the Bahrain station, including Sales, ticketing, finance and administration to the operational sides of Airport and Cargo.
Whatever the task was, she had to inspire the employees while commanding their respect and their commitment to the company ideals, mission and objectives.
With 21 flights a week out of Bahrain, and amid incredibly high competition, managing the office is not easy at all.
"I have made it a point never to complain and to always look forward to a vibrant future. I have developed a positive state of mind that allows me to pilot my way through the challenges and difficulties, just like I nurtured my methods to promote a team spirit within our small community and with our clients," she said. "I have benefited a lot from the training I received and the policies of the company," she said.
"Loving what you do is the secret key to happiness and success, I advise every woman, either an Emirati national or not, to find the thing she loves and to go after it. She should never give up no matter what the difficulties and obstacles are, stand strong and believe in herself because then, she will definitely reach where her dreams take her," she said.
For Reema, women can be strong, building on their inner capabilities. "We have many successful women who are great examples in UAE. I am really proud of all those who work hard and reach the highest positions, and yet create time to take care of their families and their kids perfectly," she said.
"In my case, and after a long day at work facing all the challenges and working hard and closely with my amazing team in Bahrain station to represent the company we love the way it deserves, I come home to take care of my beautiful family which gives me the strength to go back to office the next day, more positive and more determined about the job I love."
http://gulfnews.com/news/gulf/bahrain/breakthrough-gives-emirati-women-hope-to-soar-high-1.1301580
------------
14 Powerful Photos Show a Side to Afghan Women That Americans Don't Usually See
By Hyacinth Mascarenhas
March 14, 2014
In the West's mainstream media, the images that depict women in Afghanistan are often oppressed, miserable and, more often than not, burqa-clad.
When talking about the war-torn country, people outside of Afghanistan hear stories of Afghan women living within their deeply conservative Taliban-controlled and tribal controlled cultures, suffering at the hands of the men in their lives, invisible under the powder blue cloth that covers them from head to toe. Take the photographs in this Slate article, which used photographs of women in burqas to illustrate life for women in Afghanistan, rather than the female poets that were actually the subjects of the article.
Of course, the "classic portrayal" of Afghan women is true in some cases, but it is still a one-dimensional view that fails to give us a real glimpse at the reality and experiences of women in the region. After all, a woman in a burqa is still a human being, and this flat portrayal of Afghan women often times helps us forget that.
Yes, many women still wear burqas after the U.S.-led invasion of Afghanistan in 2001. But Afghan women, burqas or not, deserve to be represented as the diverse group that they are.
These photographs capture and celebrate the many kinds of women that live in Afghanistan, that the media doesn't usually show you:
1. Women in power
Adela Raz (L), Afghan President Hamid Karzai's deputy spokeswoman, speaks with an Afghan journalist at the Presidential Palace in Kabul, Oct. 12, 2013.
2. Colorful activism
An Afghan woman holds a portion of some 10,000 pink balloons handed out by artists and activists in Kabul, May 25, 2013. Each balloon contains a written message of peace.
"This brings color to Afghanistan and I want to see my people smiling and happy," said 22-year-old Afghan volunteer Nargis Azaryun as she passed out the balloons. "We hope that by giving away 10,000 pink balloons, we will give this city 10,000 ideas of life beyond war."
3. Modeling in Kabul
An Afghan model practices wearing a dress creation by Shahar Banoo Zeerak, prior a fashion show in Kabul, Feb. 8, 2013.
4. A fashion show
Organized by a local Afghan group, the fashion show was a rare event but is seen as a step forward for women to break down barriers in the conservative country.
5. Playing sports
Via: isafmedia
Since 2001 Afghan women have been making their way into the international sports arena, competing in the Olympics, soccer, cricket and volleyball.
6. Photographers
Via: Humans of Kabul
Similar to the "Humans of New York" photography project, the "Humans of Kabul" project also aims to offer a glimpse into the lives of the people of Kabul.
One of the project's subjects, Sourya Afzali, is a student at the American University of Afghanistan.
"This is Afghanistan and I am an Afghan," said Afzali. "I feel like not all of us should leave! I was happy to get a scholarship from an American university, but it was a dream come true when I received a full scholarship from a private Afghan university."
"I believe that there is so much I can learn and do if I am in Afghanistan," she added. "I can volunteer, I can pass on what I learn, I can be an activist, I can protect rights, I can vote, I can develop a business, I can make the unheard voice heard."
7. Studying at university
Via: Afghanistan in Photos
Students walk through campus at the American University of Afghanistan.
8. Competing in music competitions
Via: Humans of Kabul
"I'm here to make a difference for women,'' Afghan singer and The Voice of Afghanistan judge Aryana Sayeed, 28, said. "I want women to have rights, to talk freely, to walk freely, to be able to go shopping when they wish. I'm not saying that they have to take their clothes off, or even remove their head scarfs. Freedom is being able to live as a human being.''
9. Women in Kandahar
Via: AP
Photograph by Martien Van Asseldonk
10. Female pilot
Via: Scott Saldukas/ Afghanistan in Photos
Afghan Air Force 2nd Lt. Niloofar Rhmani made history in 2013 when she became the first woman to successfully complete undergraduate pilot training and become a pilot in more than 30 years.
"It's my honor to serve my country and be the first female, and being an example for other females behind me," Rhmani said.
11. Graffiti artists
Via: Shamsia Hassani
"Women of Afghanistan have had to carry the greatest of burdens on their shoulders, and have always needed to be careful," said Shamsia Hassani, Afghanistan's first female graffiti artist. "I want to remind the world of what we've had to live through. I am making sure the cultural heritage of Afghanistan stays alive for the world to see."
12. Female rappers
Sosan Firooz, Afghanistan's first female rapper, sings in a studio in Kabul.
13. In Afghanistan's army
Via: The U.S. Army
Women from the first graduating class of the Afghan National Army Female Officer Candidate School stand for the playing of the national anthem during their graduation ceremony in Kabul, Sept. 23, 2010.
14. Playing soccer
Via: Afghanistan in Photos
After coaching the Afghan national soccer team in national women's soccer team at a clinic in 2012, former U.S. Olympic soccer player Lorrie Fair said her Afghan students taught her more than she taught them.
"I can say that I'm definitely impressed," Fair said. "They're skilled, they're passionate. They're pretty courageous to even be here. If this country has a future, it's going to be in these women here, because they were pretty amazing."
http://www.policymic.com/articles/84727/14-powerful-photos-show-a-side-to-afghan-women-that-americans-don-t-usually-see
------------
Nurses in Pakistan Hurt As Police Storm Their Camp
2014-03-15
LAHORE: A seven-month pregnant nurse and her three other colleagues suffered multiple injuries as police thrashed them severely when they along with their other colleagues reached The Mall on Friday to register their protest.
The police also 'detained' five nurses and sent them behind the bars, but they were set free after some time on the direction of the provincial government.
The injured nurses were rushed to Sir Ganga Ram Hospital where doctors kept the pregnant nurse under observation to prevent 'intrauterine death of her fetus due to the abdominal trauma'. Her other colleagues suffered head and bone injuries.
Nurses had been staging a sit-in on Egerton Road for four days to press the government to regularise their services.
Finding the Punjab government unmoved, the nurses decided to shift their protest camp on The Mall on Friday in a bid to get attraction of the chief minister and other parliamentarians.
As soon as they left their camp, the male police in anti-riot gear intercepted them. The nurses resisted and many of them managed to reach The Mall in groups.
Witnesses said the police resorted to baton charge and also used kicks and punches against nurses in a bid to disperse them.
They said the seven-month pregnant, Asia of Sir Ganga Ram Hospital, could not bear severe pain and slipped into coma after facing severe torture at the hands of merciless policemen.
Knowing that Asia was pregnant, her colleagues started crying and cursing police. She was rushed to the Sir Ganga Ram Hospital where she underwent ultrasound and other diagnostic tests which suggested abdominal bleeding and some other gyne-related complications. The doctor, however, said the baby was safe.
In the meantime, hundreds of nurses from various government teaching hospitals of the city also joined their colleagues on The Mall when electronic media ran breaking news about the death of a nurse which was later turned out to be false.
The nurses staged a sit-in at the Faisal Square (Charing Cross) on The Mall and continued their protest there.
Asma, a representative of protesting nurses, told Dawn that the policemen turned unruly to the extent that they chased some of her colleagues who ran for shelter in some nearby shops. They did not even spare a seven-month pregnant nurse, she said.
"We were in a state of shock and disappointment when the Punjab government did not take notice of our four-day agitation on Egerton Road, she said adding that nurses wanted to register their peaceful protest on The Mall.She alleged the police had arrested their 10 colleagues and shifted them to the Racecourse Women Police Station.
The Young Doctors Association, Punjab, the Lahore Chapter of Pakistan Medical Association and Punjab Paramedics Alliance called their emergent meetings and strongly condemned the 'police torture' on nurses.
YDA senior office bearer Dr Amer Bandesha said the meeting had decided not to extend treatment to any police official/officer at state-run hospitals of the province.
He said the YDA had also demanded judicial probe into the grave incident.
PMA secretary-general Dr Izhar Chaudhry held the health department responsible for the ugly situation saying the delaying tactics in regularising ad hoc nurses led to the unfortunate incident.
He said that nurses were demanding their right by holding peaceful protests. He demanded immediate suspension of the policemen involved in the torture of nurses.
http://www.dawn.com/news/1093294/nurses-hurt-as-police-storm-their-camp
------------
Saudi Winner of Women's Award for Courage Calls for Resilience
15 March 2014
A female Saudi doctor was recently chosen as one of 10 winners of a prestigious American award in recognition of her contribution to raising awareness on the prevalence of domestic violence in Saudi society.
Dr. Maha Al-Muneef, a specialist in infectious paediatric diseases and head of the National Family Safety Program, was the only Arab woman among the group to have received the International Women of Courage Award.
Al-Muneef was inspired to enter into this field after being exposed to numerous cases of violence as a practicing doctor.
"This award demonstrates the progress of Saudi women and their ability to change their societies for the better," said Al-Muneef. "On a national level, this award is a sign of significant development through the establishment of this protection program thanks to the support of Custodian of the Two Holy Mosques King Abdullah."
Al-Muneef has been in the field for ten years.
"Domestic violence is a national security issue that links the law, elements of social health and society members," she said. "You acquire the courage to fight for these helpless children and women when you see them enter into the ward because you know that if you don't do it, no one will."
A staggering 60 percent of women visit hospitals after suffering domestic violence. The number of cases that are being reported are increasing nonetheless, although figures do not necessarily reflect reality.
"This security program against domestic violence is a true milestone in helping reduce the rate of abuse among Saudi women," she said. "The Ministry of Social Affairs is now putting regulations and procedures in place for the implementation of this program."
The program consists of seventeen items, including literature on mechanisms for reporting and responding to such complaints and intervening and rehabilitating victims. It also works toward the criminalization of domestic violence.
Statistics show that more than 25 percent of children have been subjected to some sort of abuse in Saudi Arabia.
The vast majority of these incidents occur in said-to-be safe environments. Al-Muneef calls for educating children on ways to protect themselves against sexual predators and ensuring that parents are aware of the danger signs and their kids' whereabouts at all times. The focus of the program last year, she said, was the "white campaign" aimed at protecting children against abuse and its scarring effects.
Al-Muneef is an avid public advocate for survivors of domestic and sexual violence. Her extensive work at hospitals has helped to change protocols and introduce new regulations for victims of rape and abuse. Her relentless campaign has also lead to the introduction of training programs for medical personnel to handle such cases, a rarity in the country.
"We are in dire need of a ministry for women and family affairs," she said. "Such a ministry would act as a pillar of support to the backbone of any country. Marginalizing women's development is impeding national development. As such, it is imperative to tend to their social, economic, health and legal affairs."
Al-Muneef has been an adviser to the Shoura Council since 2009. "I believe that the women who have made it into the Shoura Council will stop at nothing to contribute to sustainable development," said Al-Muneef. "A lack of women's right does not mean they do not exist, but that the implementation of these rights are hampered owing to social traditions. It is our religious duty to spread awareness on legal rights."
http://www.arabnews.com/news/540441
------------
Saudi women's rights still a contentious issue
March 15, 2014
When you talk about the rights of women, most often you end up in controversy. Some people think that such talk is not in the spirit of Islam and they claim that this may result in the spread of immorality among women in society. Interestingly, the people who criticize or oppose women's rights argue that their positions are based on the principles of Islamic Shariah. On the other hand, if we look at the fundamental principles of Islam, we can see that it is only Islamic Shariah that gives women their full rights and takes measures to protect their rights. Islam says that a woman has her rights as well as her duties and responsibilities.
Even though this is a fact, some people still object to talk about the rights of women, and this triggers arguments between those who support women's rights and those who oppose them. Due to such arguments, we have made the rights of Saudi women an insoluble issue. In my personal opinion, if we had separated religion from our inherited customs and taken the time to properly understand religious values, we would have already given women their due rights in line with the instructions of Islam.
It is the basic right of a woman to be able to approach any government department and process paperwork without relying on any middleman. It is her right to practice any activity and fulfill her requirements in life by herself if she cannot find anyone to do it for her.
The Supreme Judicial Council has ruled that the courts should rely on the ID of a woman as proof of her identity. In light of this directive, those who support or oppose the rights of women are not in a position to object to this but only to obey it.
I want to draw attention to the bitter experience that a Saudi woman had with a notary public before the issuance of this directive by the Council. The woman approached the notary seeking a power of attorney, and for this she presented her ID as proof of her identity. But the notary refused to accept it and demanded that she produce two men to verify her ID. The woman had no option but to approach two unfamiliar men – one Saudi and one expatriate - whom she found in the vicinity. They agreed to appear as witnesses to prove her identity!
It is strange that a woman's ID, which is issued by the government, is not sufficient to prove her identity but the testimony of two unknown men is completely okay. Is there any logic to this from a legal standpoint?
http://www.saudigazette.com.sa/index.cfm?method=home.regcon&contentid=20140315198631
------------
URL: https://www.newageislam.com/islam,-women-and-feminism/new-age-islam-news-bureau/rape-rooted-in-feudal-system-of-pakistan--mukhtaran-mai/d/56157